Thanks everyone for entering the Rub 'n Buff giveaway!  That was so much fun.
The winner is Vicky from Decor & Harmony @ 4290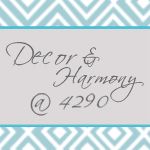 Go over an visit her, she recently took an upholstery class—I'm so jealous.  She is a versatile blogger, she paints furniture, decorates, makes pillows, does upholstery—the list goes on!
Have a great day!