This is a sponsored post written by me on behalf of Marie Callender's for IZEA. All opinions are 100% mine.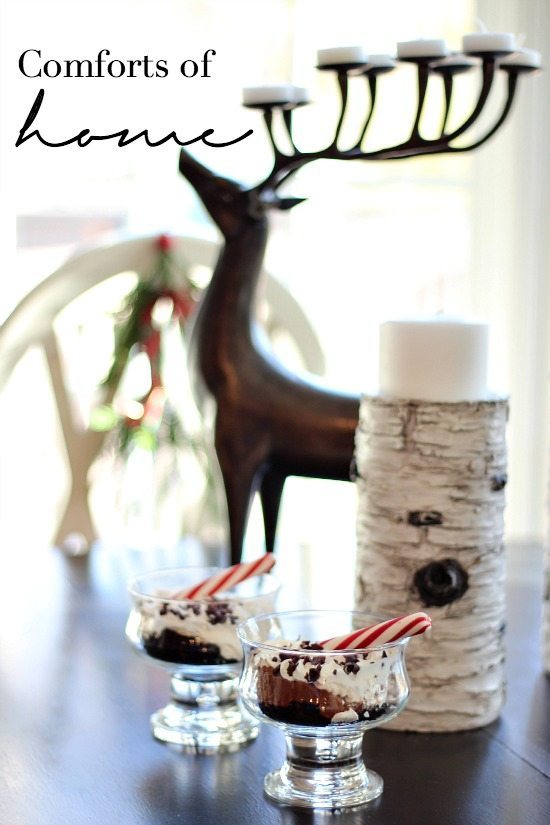 If you're like me, you just enjoyed a Thanksgiving meal with family and friends.  Most of our family lives in Alabama. For the first time in years we stayed home, Thanksgiving dinner for 2!  But we weren't the only ones that didn't make it home for the family feast.  My nephew Mitchell is a Marine and he's currently deployed, for the 4th time in 8 years.
We've had several family members serve our great country, when they're deployed we know what a sacrifice it is at home and we can only imagine what it's like for them!  Today I'm excited to share that Marie Callender's will launch the Comforts From Home project by bringing the comforts of home to those who protect America's homes every day: the brave men and women of the U.S. military.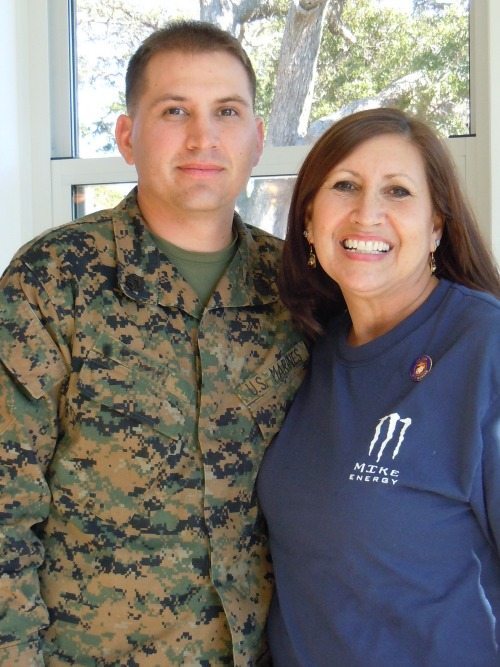 Here's our Marine with his Mom, my sister 🙂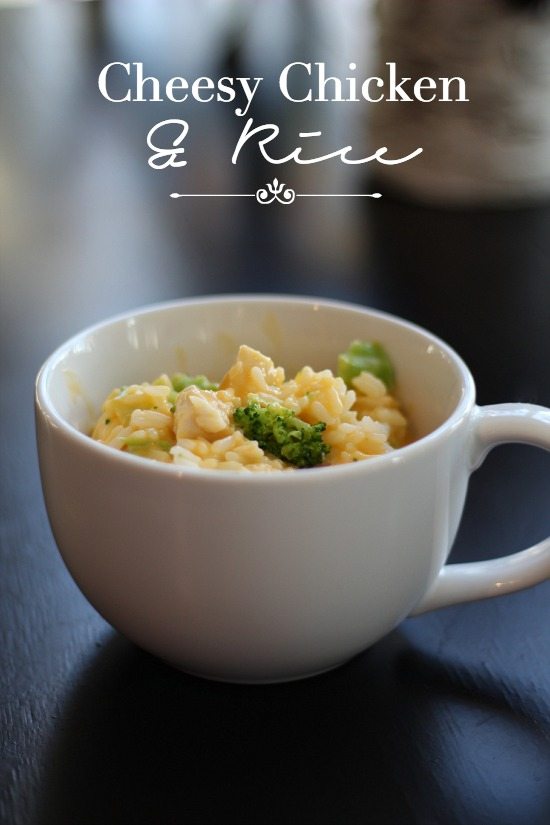 Marie Callender's Cheesy Chicken & Rice – lunch!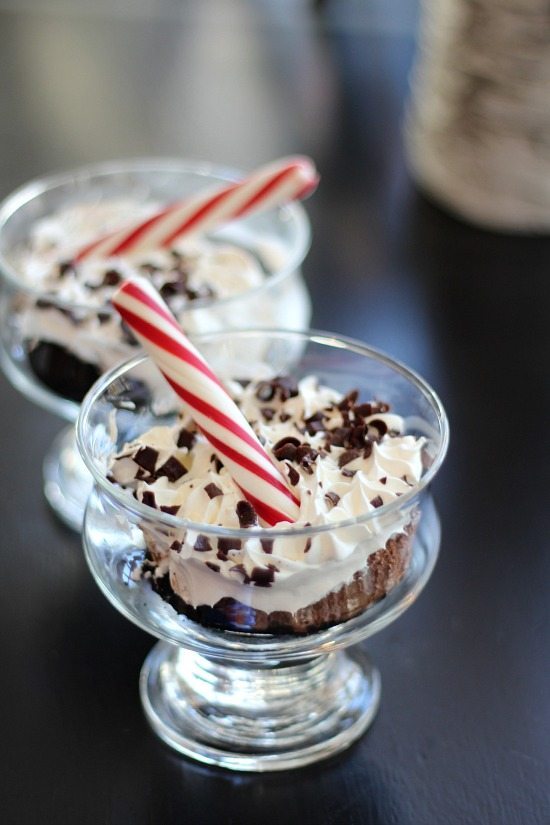 Marie Callender's Chocolate Satin Pie with peppermint sticks. No-fuss dessert, easy and delicious!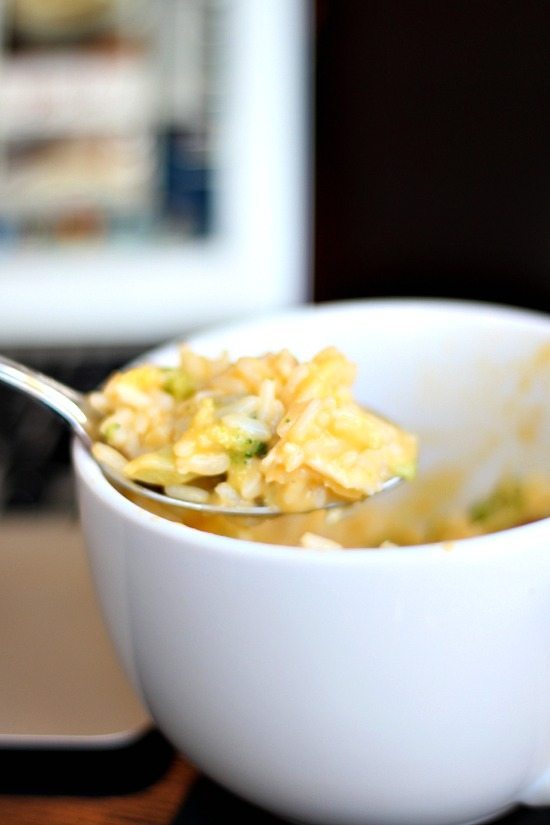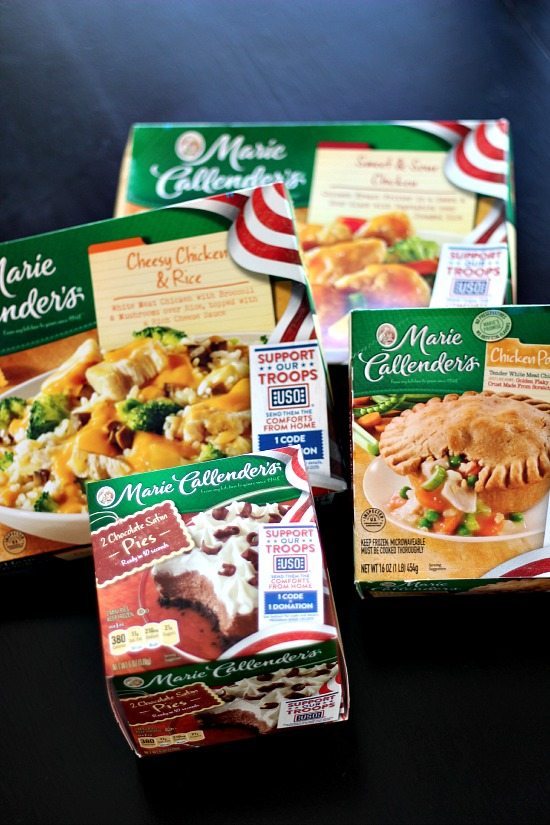 Here's how you can help:
Simply enter the eight-digit code found on specially marked packages of Marie Callender's dinners and desserts online at www.ComfortsFromHome.com, and we'll send a donation to USO2GO. Each code entered equals a $0.50 donation to the USO2GO program.
USO2GO is a USO program that brings kits filled with electronics, sports gear, books, games and more to troops stationed in remote locations around the world.
Each kit will contain the comforts of home, such as games, athletic equipment, books and furnishings. USO2GO kits help to transform a remote base into a place where troops can organize a pick-up football game, relax in beanbag chairs and swap stories, or send e-mails to loved ones back home.
Visit Comforts From Home to learn more about how you can join Marie Callender's in helping to bring a little bit of home sweet home to our U.S. service men and women overseas.
For every entry by 1/31/2015 of an 8-digit code found on participating products, Marie Callender's will donate $.50 to the USO2GO program. Guaranteed minimum donation: $100,000. Maximum donation: $250,000. Limit 5 code entries per person/computer each day. Valid in U.S. Only.
You can learn more at Marie Callender's Facebook about Comforts From Home and the Thunderclap tool that helps promote wider reach of messages by broadcasting them at the same time through the social media channels of friendsto stay up to date!
Personally, I want to say thank you to Marie Callender's, I know my nephew and  the other brave men and women of the U.S. military will really appreciate a little comfort from home!