I had just finished my modern farm table, and was talking to the best daughter in the world.  What can I build next?  She says, you can build me a bedside table!  My mind went to that place where it goes, and I said that's a good idea!  I had just made a run to one of the best little bargain stores in town, also known as Goodwill.  I bought this cute end table made of bamboo, with a glass top.  I had no idea what I was going to do with it, but for $14, I was bringing it home!  I kept looking at it thinking how cool it would be to incorporate it into the bedside table.  Low and behold, I came up with idea, after idea and this is what happened: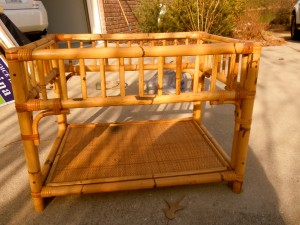 The little legs had to go, it needed a tall base. She has a very tall bedroom suit/mattress. The finished height is 32″. We used MDF for the base, to start with we made a box. Then after many drawings, I decided on the design for the cutout.  It's hard cutting that much with a jigsaw, it turned out good though!   The sides are joined with glue and nails. I primed the base and used Krylon Satin Avocado indoor/outdoor spray paint, to paint the entire piece. The most difficult part has been the weather.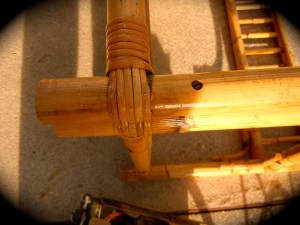 Here she is getting her first can!
It's been a fun process and I look forward to my next, until then…