Guest Room Essentials!
This post is sponsored by Better Homes and Gardens at Walmart.

Be guest ready anytime!  Today I'm sharing a few affordable ideas and a free printable checklist, make your guest feel right at home! 
I added a few new items to freshen up what I already had.  I started with a neutral palette and added pops of tangerine.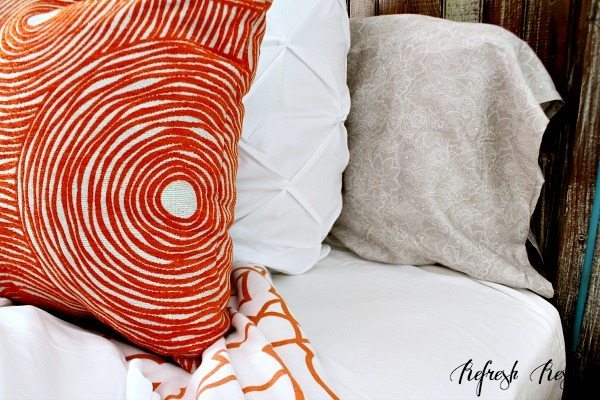 A cozy bed is number one on the guest list!  Lots of pillows, some to lean on, some to lay your head on, some to snuggle with!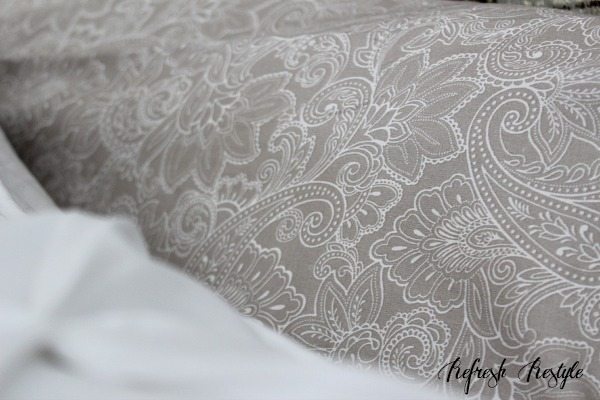 I picked up a set of beautiful BHG pillow cases in paisley pattern (available in-store), just to add a little interest.
When I was at Better Homes and Gardens Style Showcase, I spotted this tufted comforter mini set.  I knew it would be perfect for the guest room.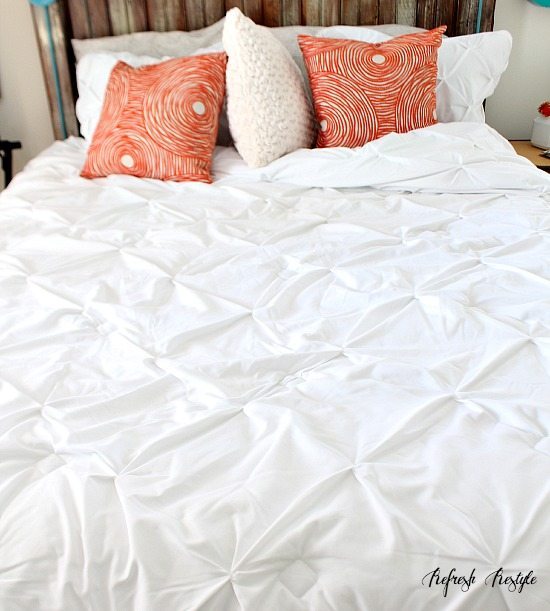 It never fails, I always forget something when I travel.  Your guest probably will too.  So create a basket of goodies, let them know that you're thinking of them! Fill it with extra tooth brushes, toothpaste, pain reliever.  Grab a couple new fluffy white towels (or whatever color you like). Liquid soap and scrubbies, just because.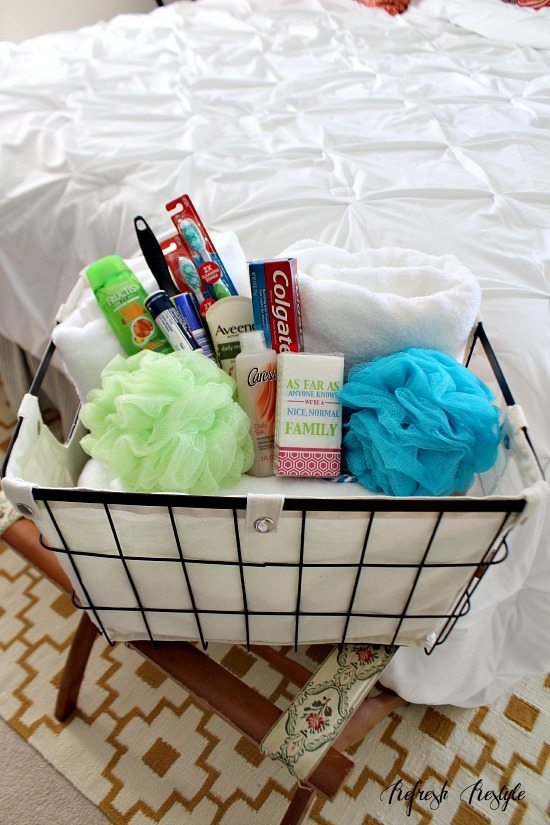 This  BHG Medium Wire Basket with removable liner  at $12.44, will make freshening up easy.  Just unsnap and throw it in the washer, before your next guest arrives fill it with all the goodies.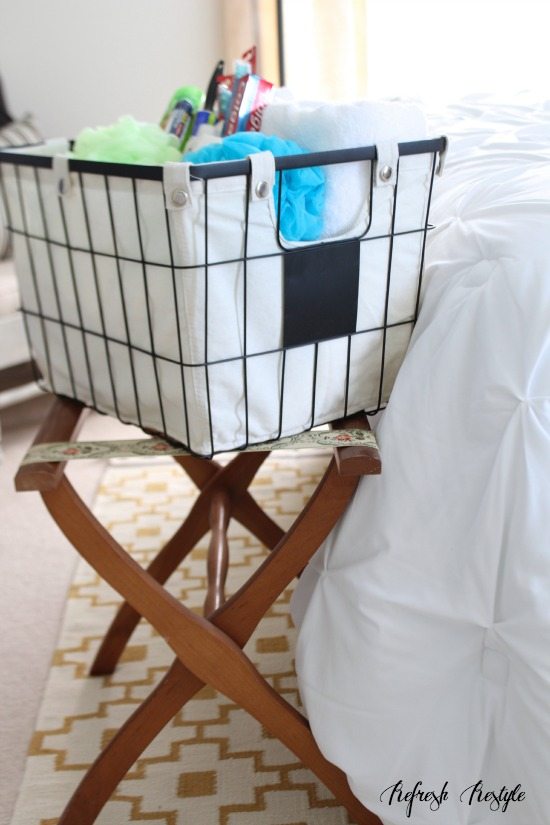 I picked up the vintage luggage rack at Goodwill. My guest room is decorated with all my favorite thrifted finds.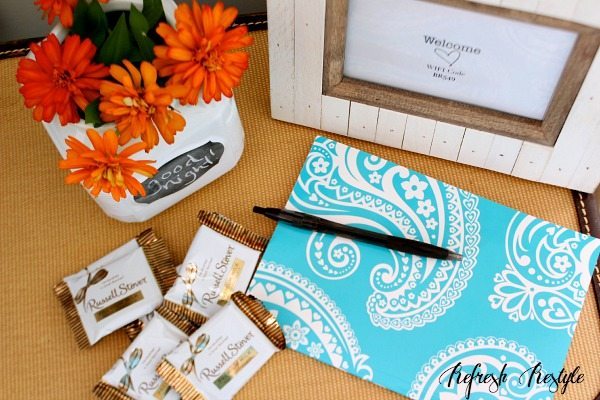 Fresh flowers, a note pad and pen, the wifi code in a cute Better Homes and Gardens Picture Frame are just a few of my favorite essentials. The frame is available in the store and so is the candy 🙂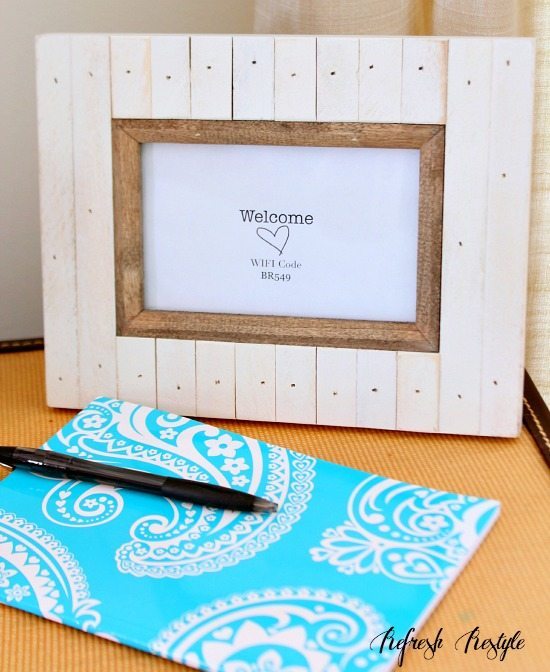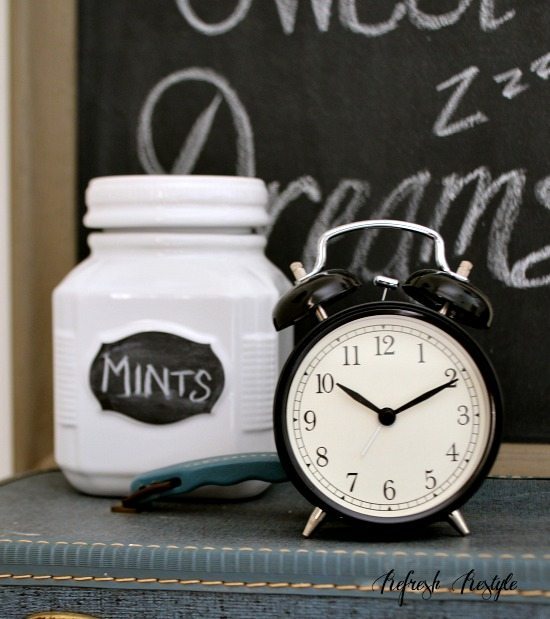 You're not trying to wake them up early 🙂 but I know they will appreciate knowing what time it is!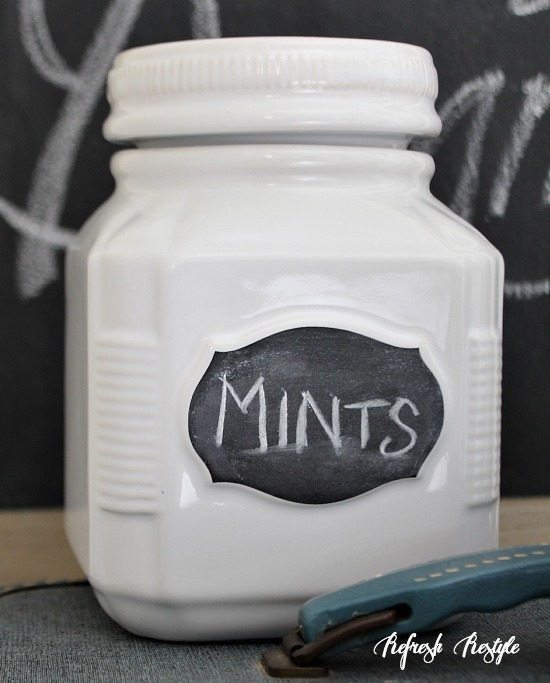 I added two of these white canisters, mints in one and fresh flowers in the other. I couldn't resist the chalkboard cuties. The canisters were found at my local Walmart.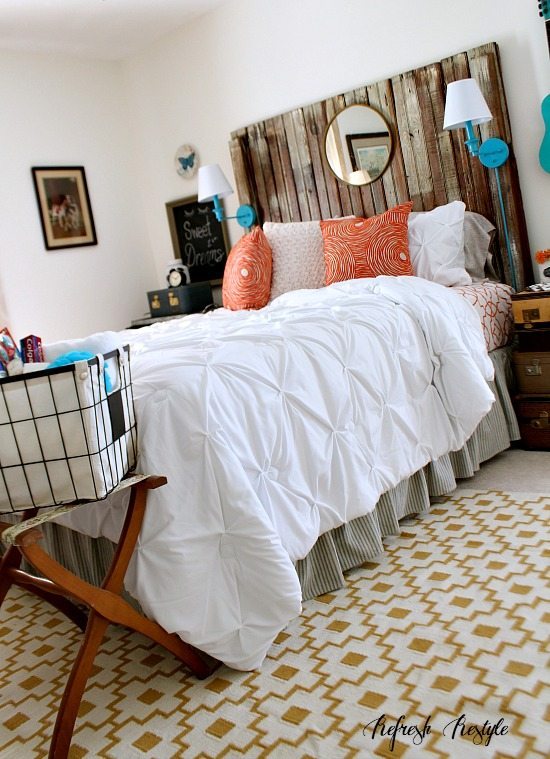 I love mixing pattern and color.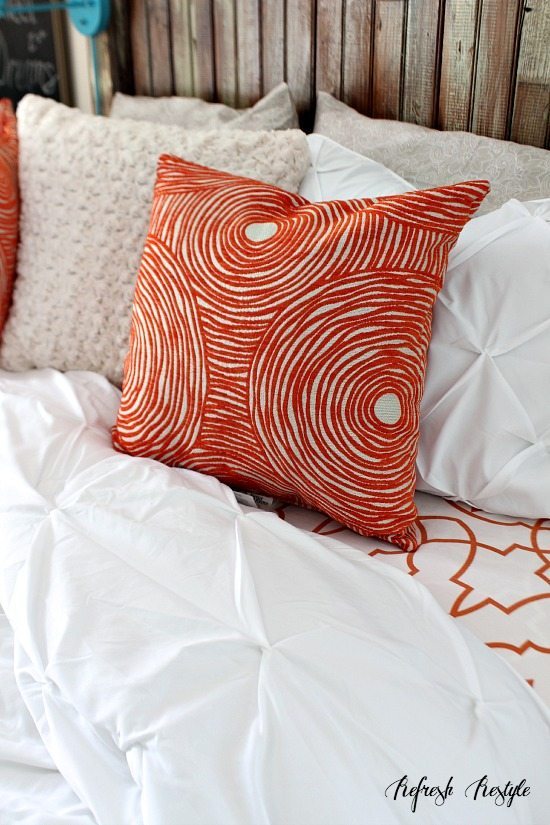 I already had the orange and white duvet cover.  It's from Walmart.com, I've had it 4 or 5 years and I bring it out in the fall.  To freshen up the look I added the BHG Chenille Swirls Decorative Pillow, in tangerine $11.97.  They play well with the duvet 😉 .  Soft and cozy  BHG 300 Thread Count Sheets in white $39.88.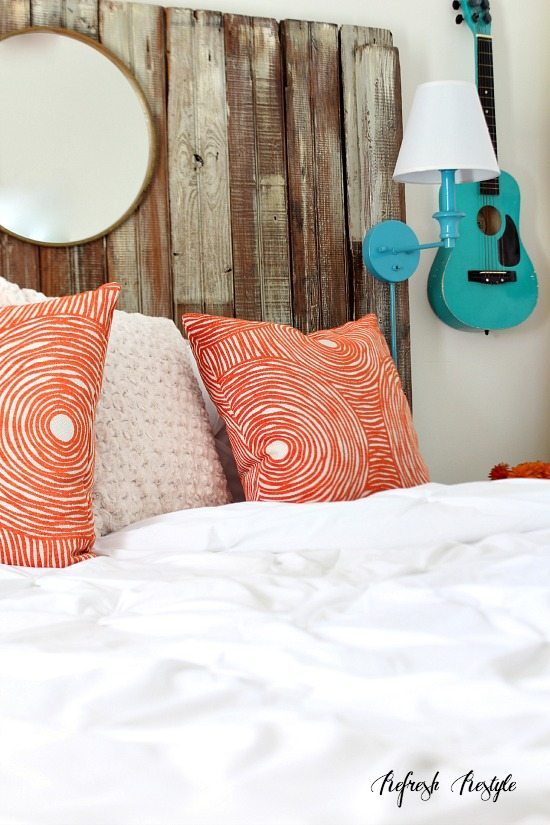 Grab this check list! Click here to download your free copy.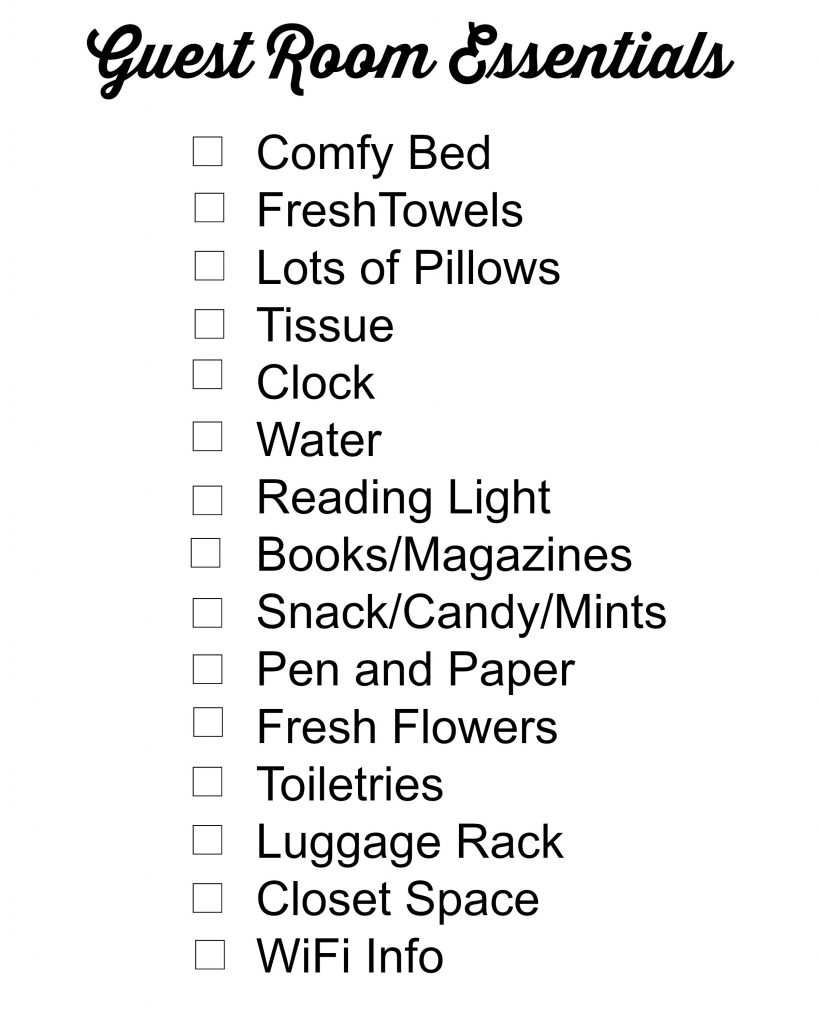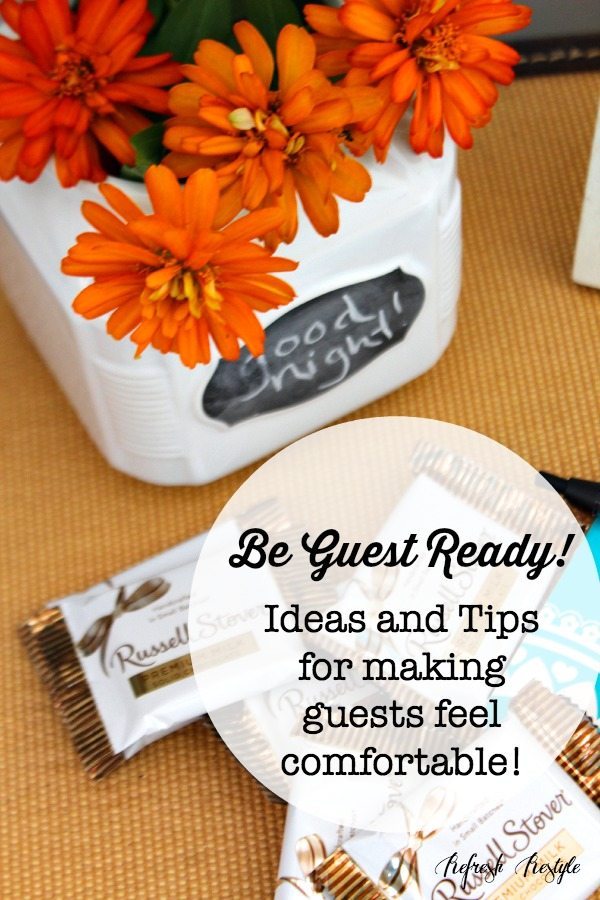 Get that guest room ready, you never know when I might be knocking at your front door!

Here's a list of the items used in the room, all available at Walmart or Walmart.com :
Better Homes and Gardens White Mini Comforter Set (ordered on-line)
Better Homes and Gardens White Queen Sized 300 Count No Iron Sheets
Better Homes and Gardens Grey Pumice Paisley Pillow Cases
Better Homes and Gardens Medium Wire Basket with Chalkboard, Black (ordered on-line)
Better Homes and Gardens Thick and Plush Bath Towel Collection
Better Homes and Gardens 4×6 Frame
Better Homes and Gardens Tangerine Chenille Swirls Pillow (2)
Better Homes and Gardens Ivory Rosette Pillow
Better Homes and Gardens Ceramic White Canisters w/chalkboard
All toiletry items.
Russell Stover Candy
Note Pad/Pen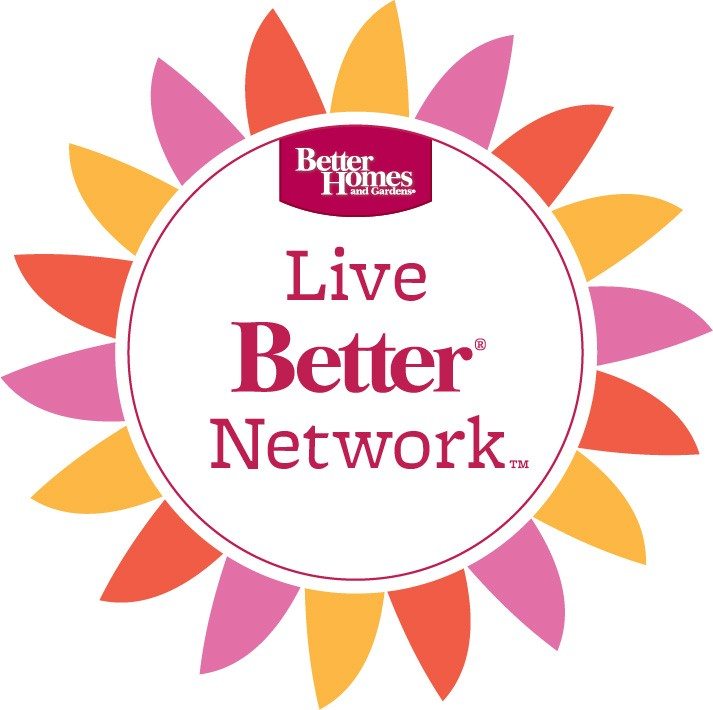 Keep up with BHG at Walmart right here:
Twitter: https://twitter.com/BHGLiveBetter
Facebook: https://www.facebook.com/BHGLiveBetter?ref=br_tf
Pinterest: http://www.pinterest.com/bhglivebetter/
Instagram: http://instagram.com/bhglivebetter_