How to build a floating shelf under the television or anywhere you need one.
These shelves look way more expensive than they are. You can make them any size, they are easy to custom build for your space. This is a budget friendly idea for how to build a floating shelf DIY that anyone can do.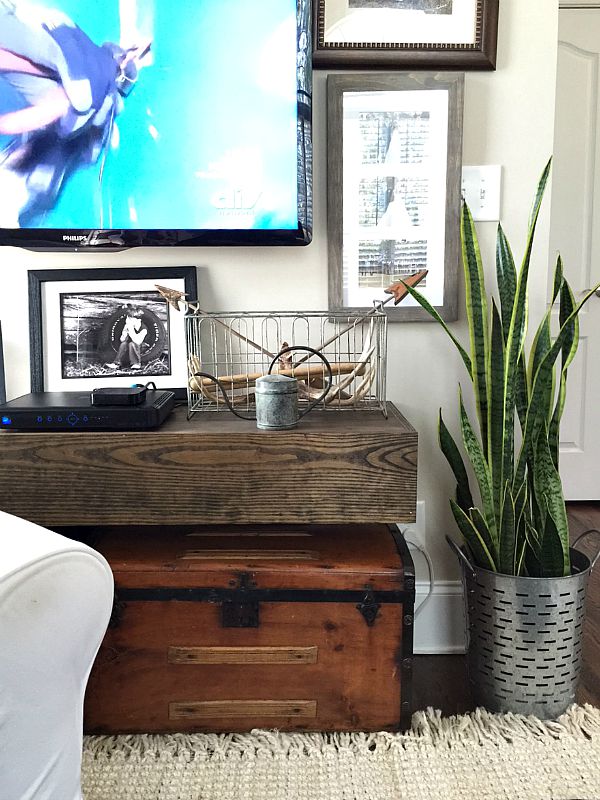 Our family room is a cozy spot, I guess you would say it's pretty small…in order to have as much seating as possible and to accommodate the tv components, we built a custom shelf. This wasn't our first option, we started out with a couple different pieces of furniture, none of which really worked for the space.
I wanted something compact but efficient. After looking at several tutorials for shelves we came up with one that we were happy with. I wanted a shelf that looked substantial but didn't weigh a ton.
You can use these basic instructions to create a custom shelf for your space.
Here's what we did.
Supply and Cut List
for the frame
1 – 2″ x 3″ 48 1/2″ long
3 – 2′ x 3″ 13 1/4″ long
level
drill and drill bits
lag screws
6 – 3″ wood screws
stud finder
for the shelf
1 – 1″x12″ board cut at 48″ long
1- 1″x4″ board cut at 48″ long
1 – 1″ x 8″ board cut at 50″ long
2 – 1″x8″ board cut at 15″ long
finishing nails or nail gun
stain or paint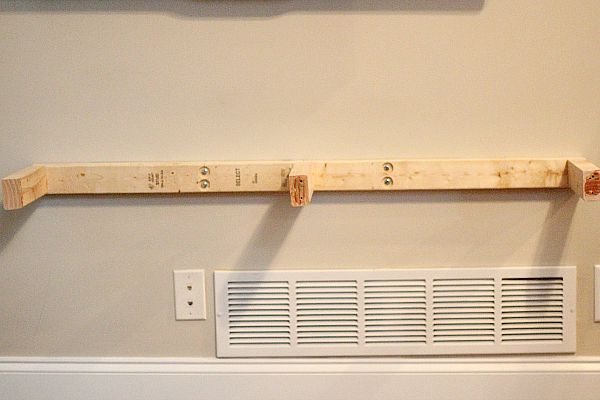 Use the 3″ wood screws to attach the 3 arms to the 48 1/2″ frame, do this from the back before it's attached to the wall, are you saying DUH ;). One arm on each end and one in the middle.
Decide where you want your shelf, use a level to mark your wall.
Use the stud finder to find the studs. Pre-drill your frame and attach to the wall with lag screws, these guys hold a lot of weight really well.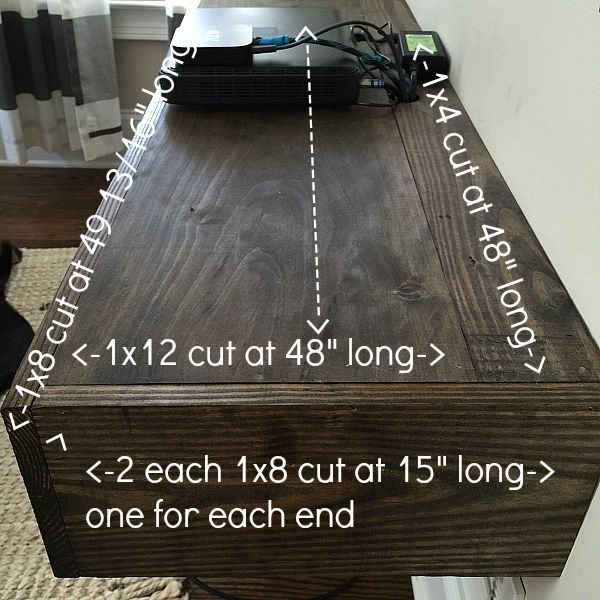 Cuts as listed above for the floating shelf.
I stained my boards before they were attached, you can paint or stain them to coordinate with your home.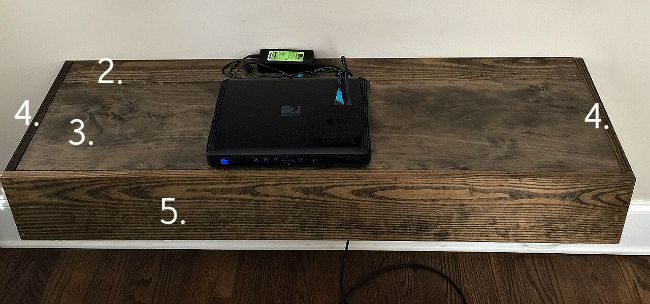 Attaching the shelf to the frame.
2. Attach the 1″ x 4″ with finishing nails or nail gun to the top of frame. We also drill a hole for the cord in this piece above the outlet below.
3. Attach the 1″x 12″ to the frame by nailing it to the left, right and center with nails. Position next to the 1″ x 4″ above, to create a seamless look.
4. Attach both of the ends – 1″ x 8″ cut at 15″ with nails on the side to the 1″ x 15 1/2″ top (you can use glue here too) we didn't and it looks just like it did when we built it months ago.
5. Attach the front 1″ x 8″ cut at 49 13/16″ with nails along the top and sides.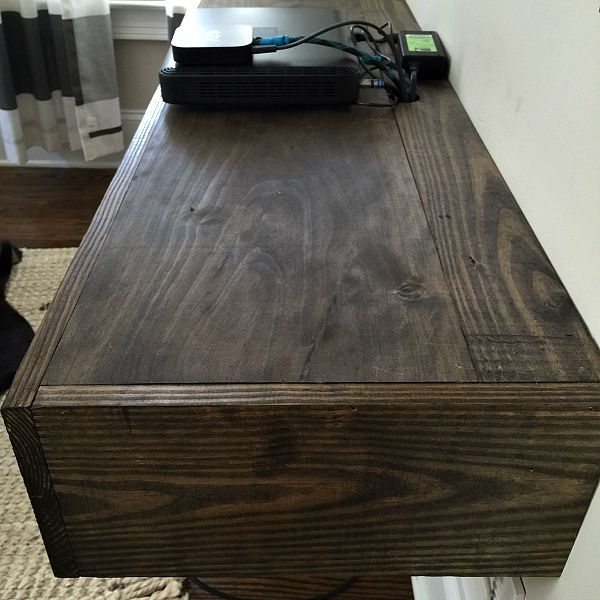 In this photo you can see where we drilled the hole for the cords. This easy DIY for floating shelves makes it easy to customize for any space.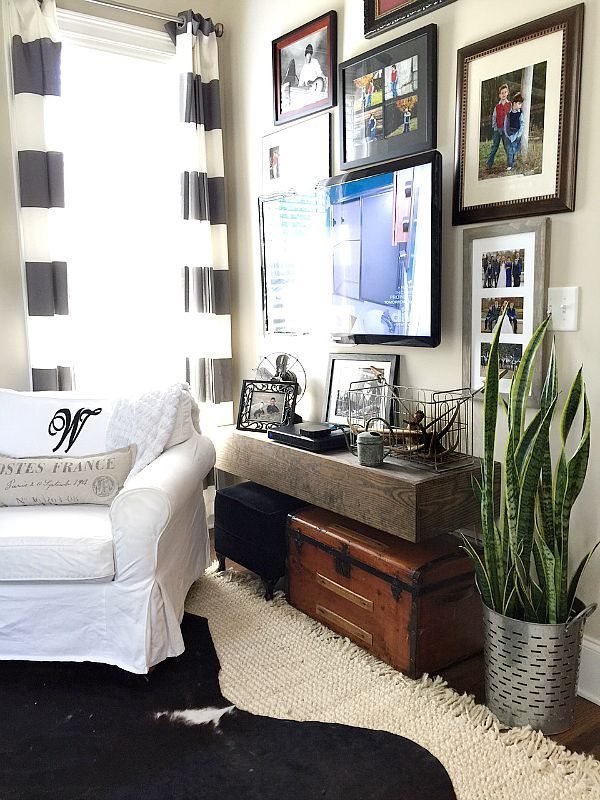 Overall dimensions for this shelf: 50″ w x 15″ d x 7 1/4″ h and it's 18″ off the floor.
The addition of the wide board makes this floating shelf look very substantial. But we know better!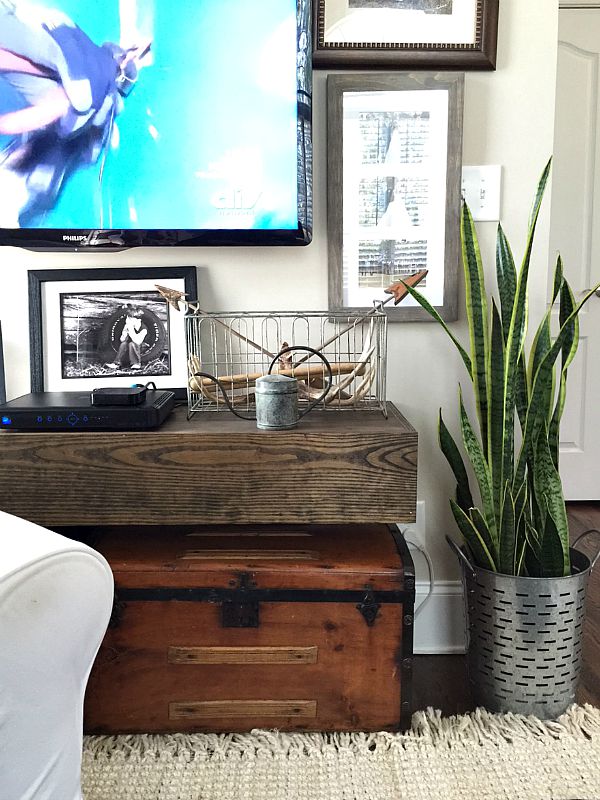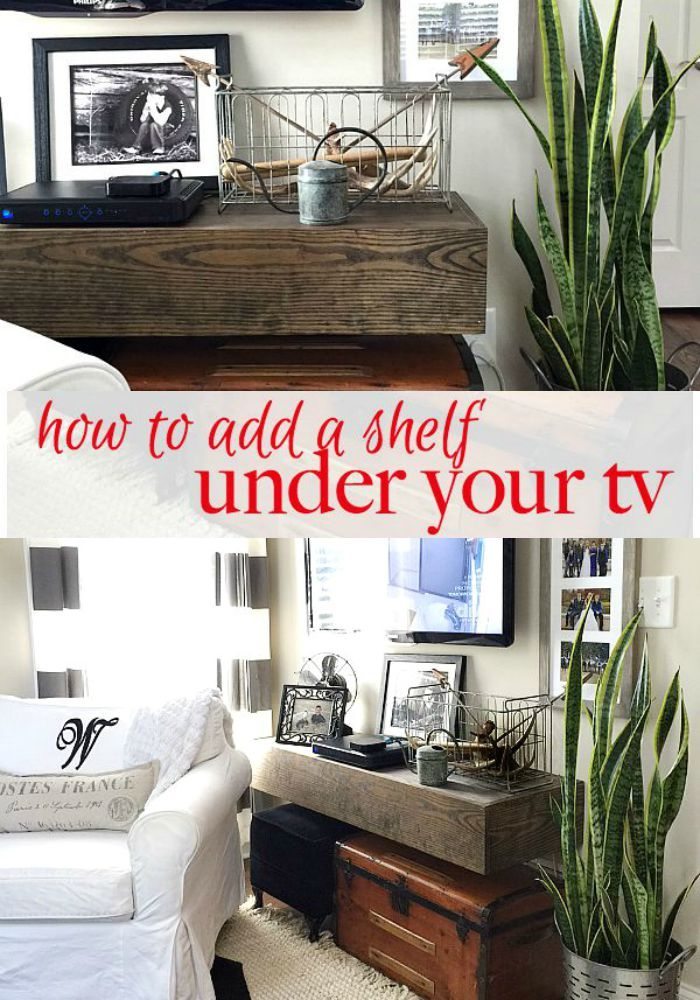 Do you have a spot for a floating shelf? Please let me know if you have any questions!
Thanks,
Debbie