The resent door decor contest over at Inspired By Charm was quiet a whirlwind! I came in second, the other wreath had me by 2 votes! It was still a win for me!  One for being nominated to begin with and two, because I had so many people helping, cheering, begging (voting) for me!!!  My fans are the best and I would love to offer a Door Decor for one of you!  To be eligible you must have voted for me!!! There are at least 3 possible ways to enter:
1.  Make a comment on this post (please mention that you voted for me).
2.  Follow my blog, by entering your email in the Feedburner area on the right.
3.  Follow reFreshreStyle on Facebook, just search for it and hit the Like button.
I will randomly choose a winner by Friday, March 25th @ 10 am (est)!  I will then contact you and discuss the colors!
The results: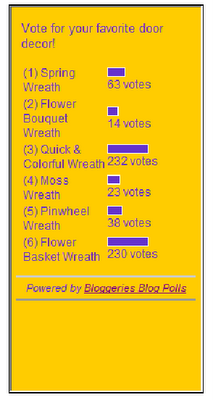 Please  check out Inspired by Charm blog, it's great!  I know you all were just going over there to vote, and there is more to see!  He was a wonderful contest host, the excitement seemed to never end!
I really appreciate everyone!