AFFORDABLE CHRISTMAS DECOR IDEAS
It's starting to look a little like Christmas around here and I have a few affordable ideas to share with you.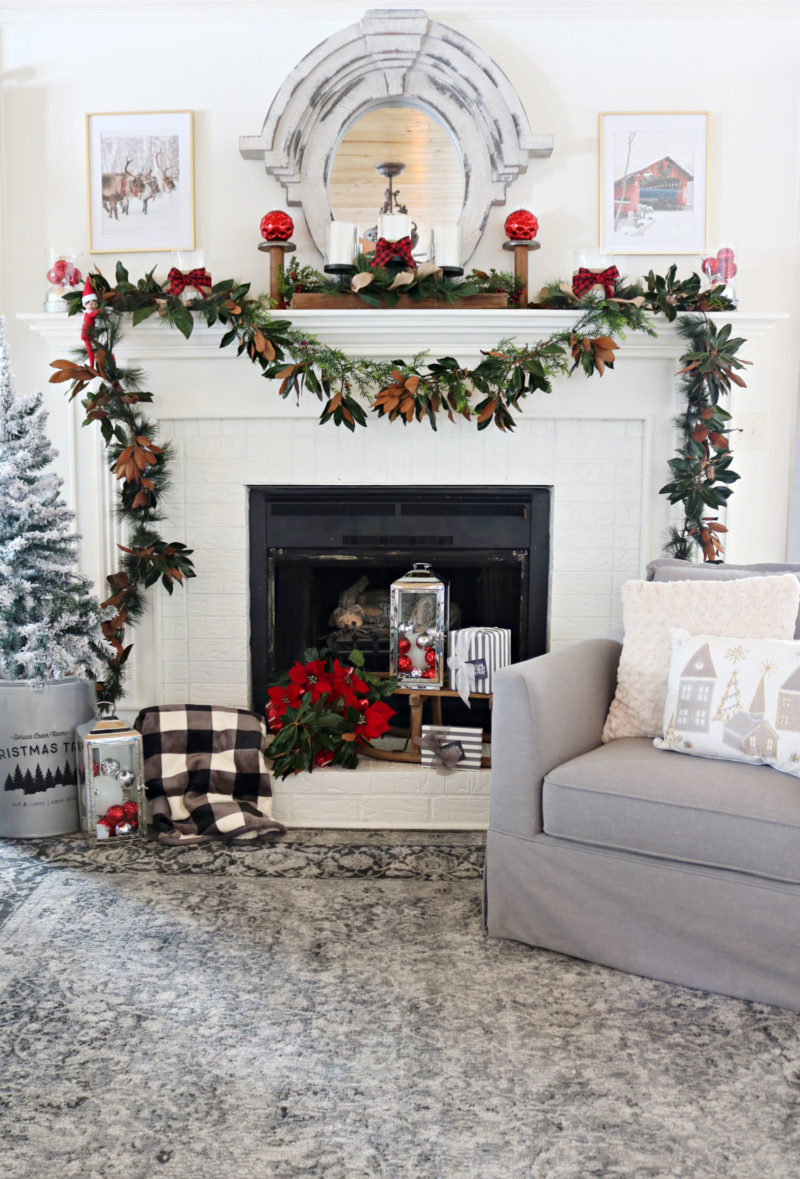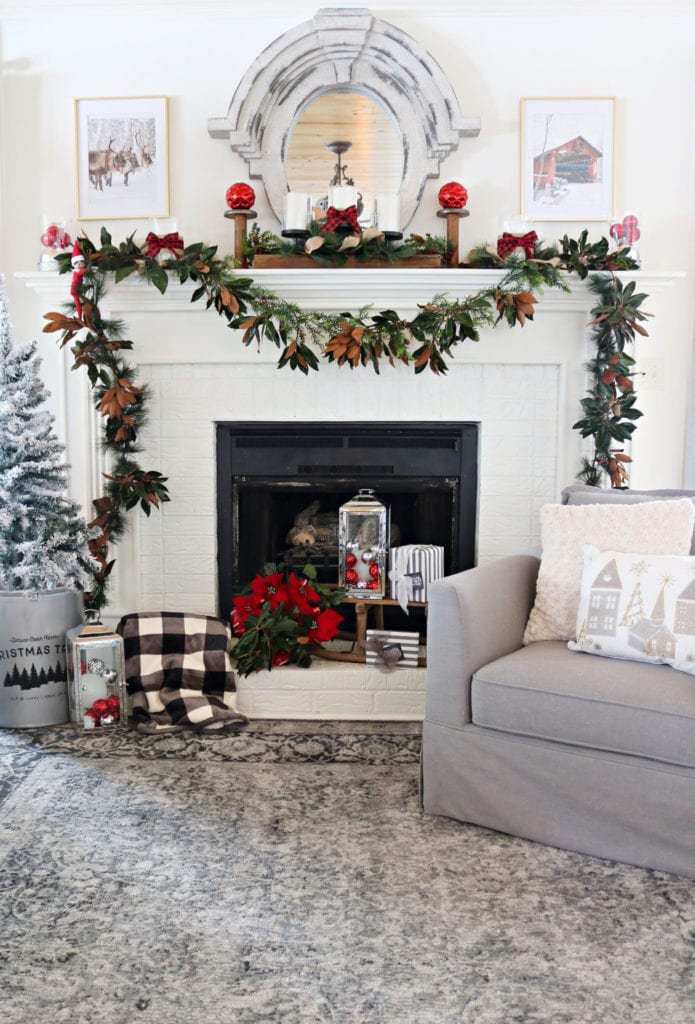 As a brand ambassador for Better Homes & Gardens at Walmart, I'm excited to share my finds with you this month. I will be adding my affiliate links below each area so you can find the items that I used. Just click on the picture.
Traditionally we decorate for Christmas early each year, we start celebrating the season at Thanksgiving while the majority of the family is here. Decorating early makes the weeks leading up to Christmas less stressful and gives us plenty of time to spend with family doing fun things; like gingerbread house decorating contests, jumping in the car at night to ride around looking at Christmas lights and having fun with the Elf on the shelf, my grandsons love that little guy! Truth be told, I do too, let's have some fun and play find the Elf in my blog post. See if you can find him in one of my photos.
Now Let's DECORATE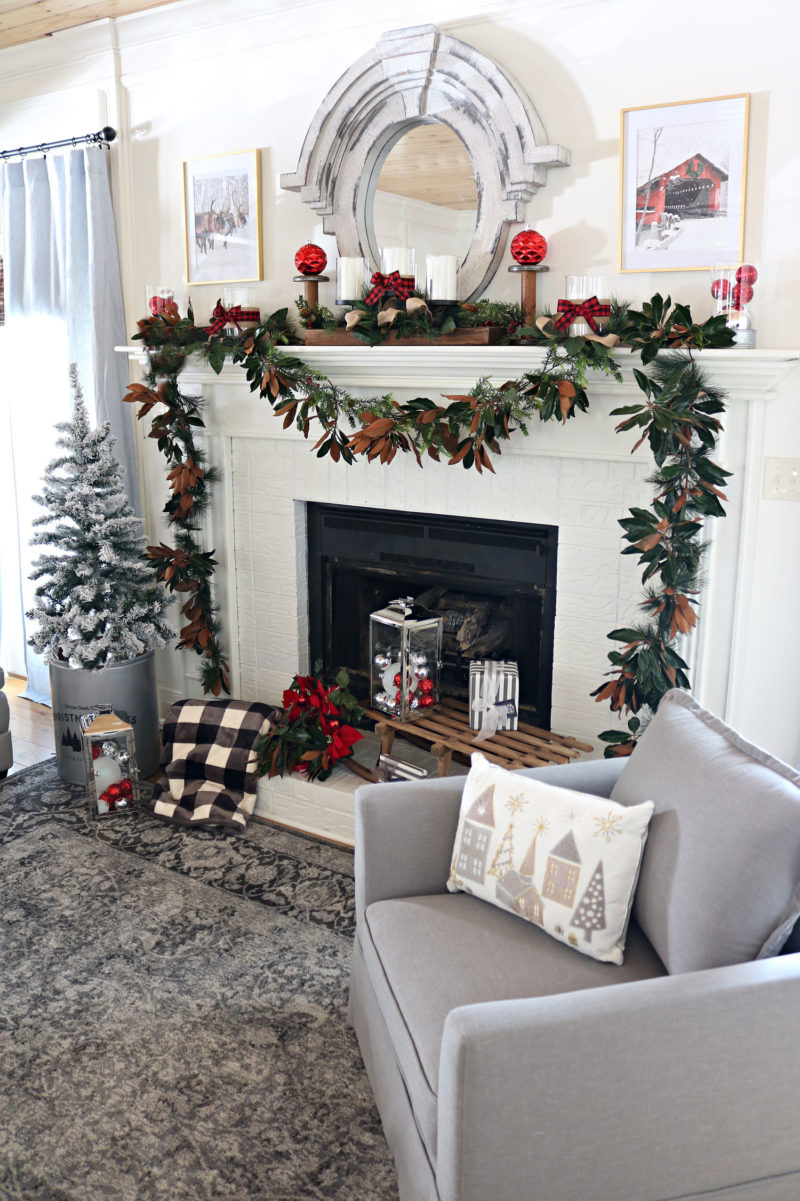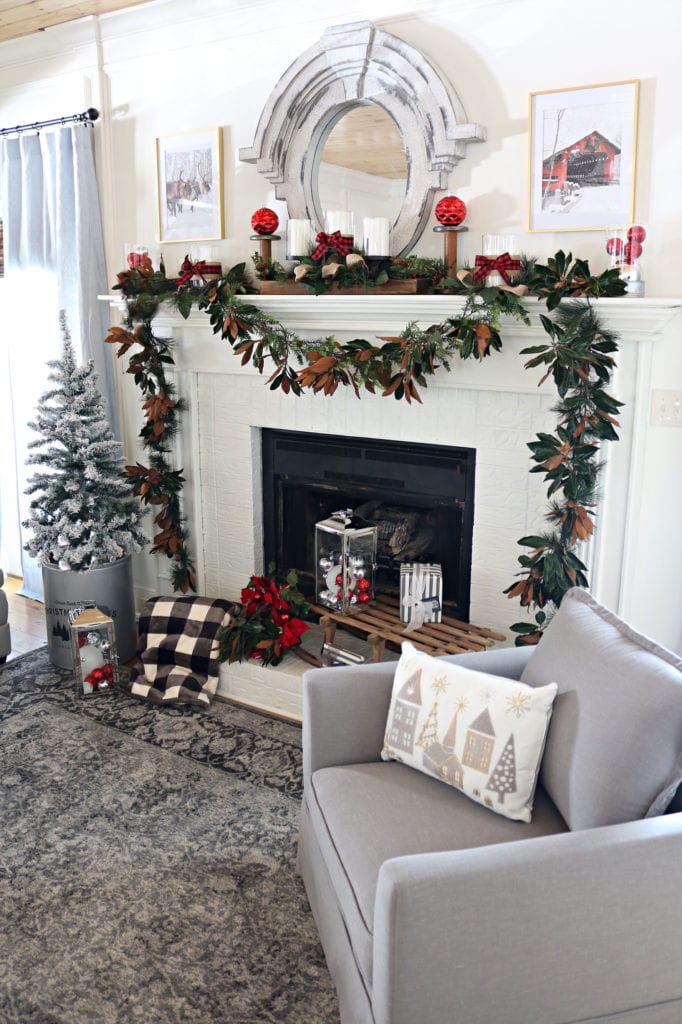 CHANGE OUT YOUR FRAMED ART
Ok, this is a fun and very affordable idea, for several years I have changed out my framed art with beautiful gift bags. I am amazed at the fabulous art used on bags these days. These Gold Picture Frames showcase the red covered bridge and reindeer perfectly.
find an artful gift bag
trim the bag to fit
Shop the look:
[show_shopthepost_widget id="3351825″]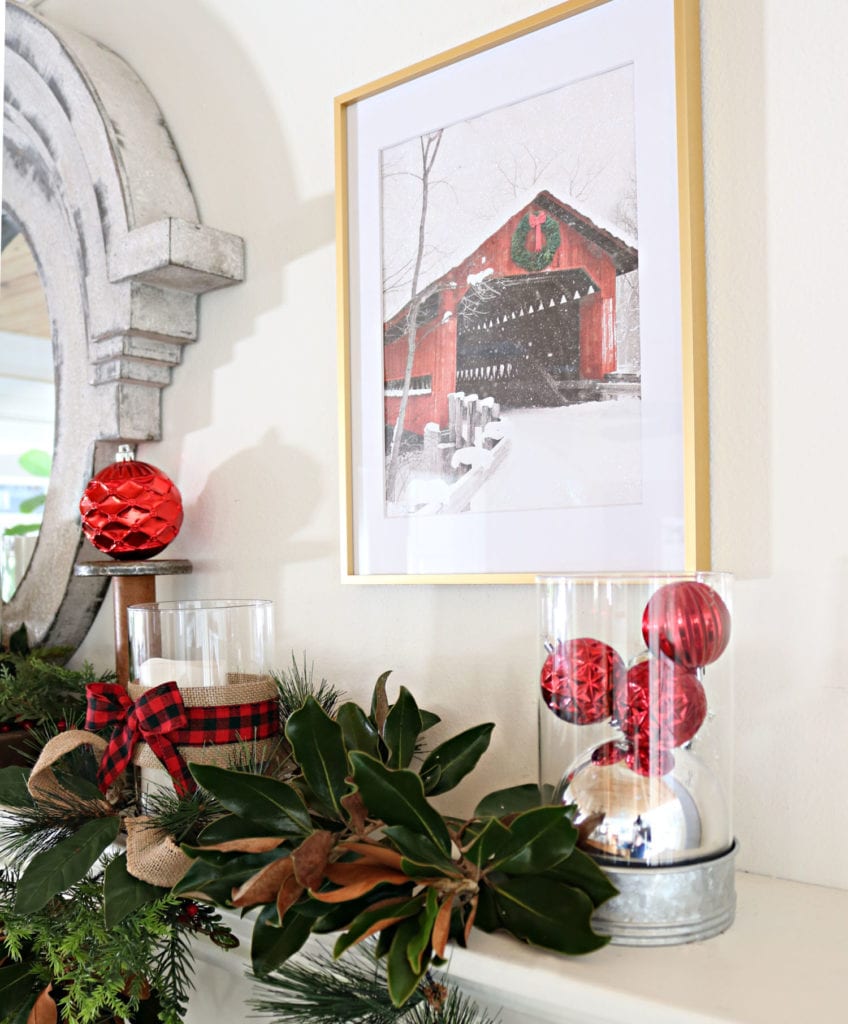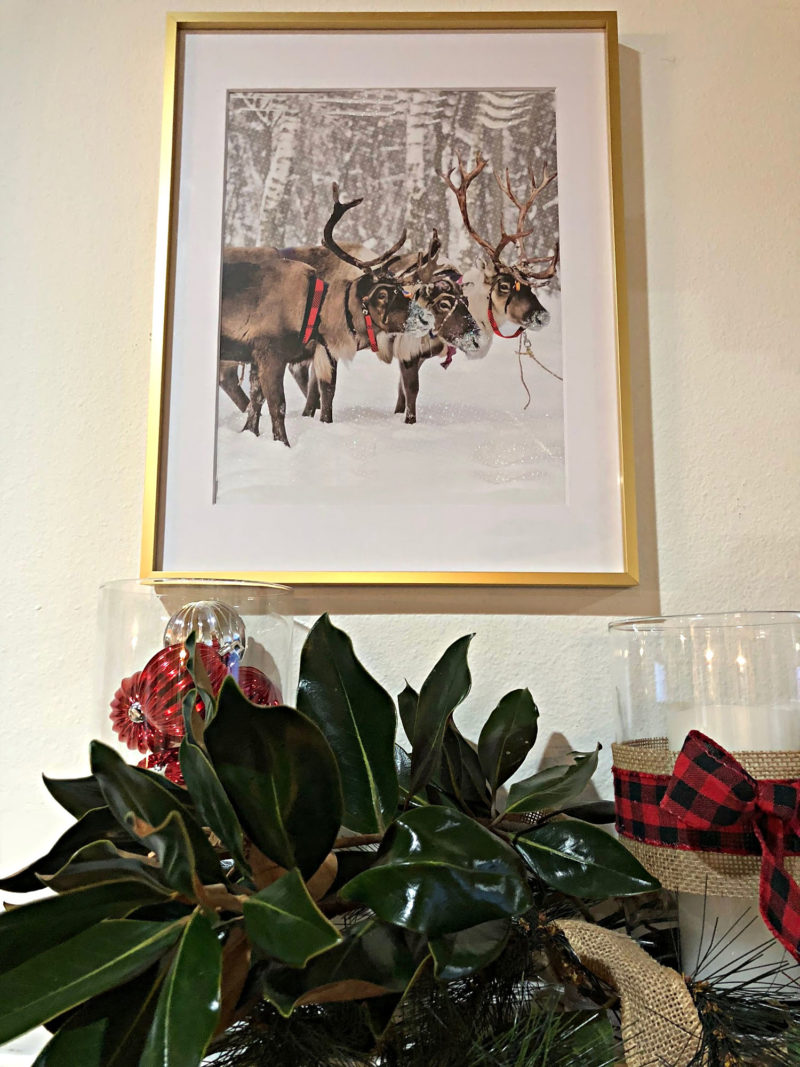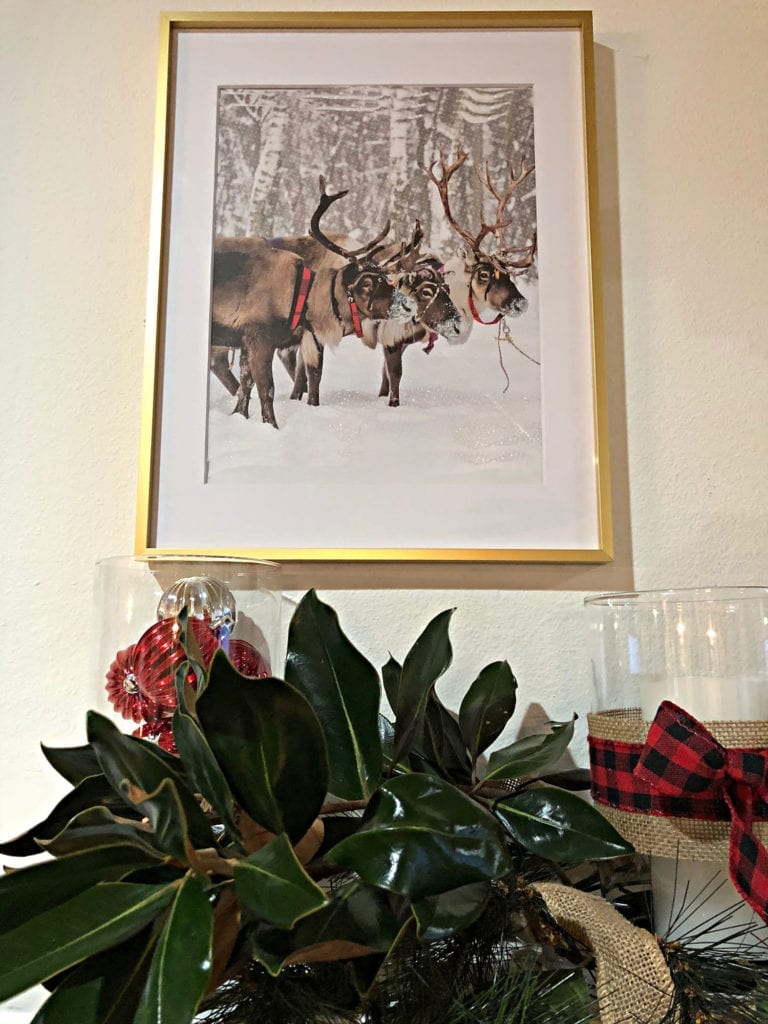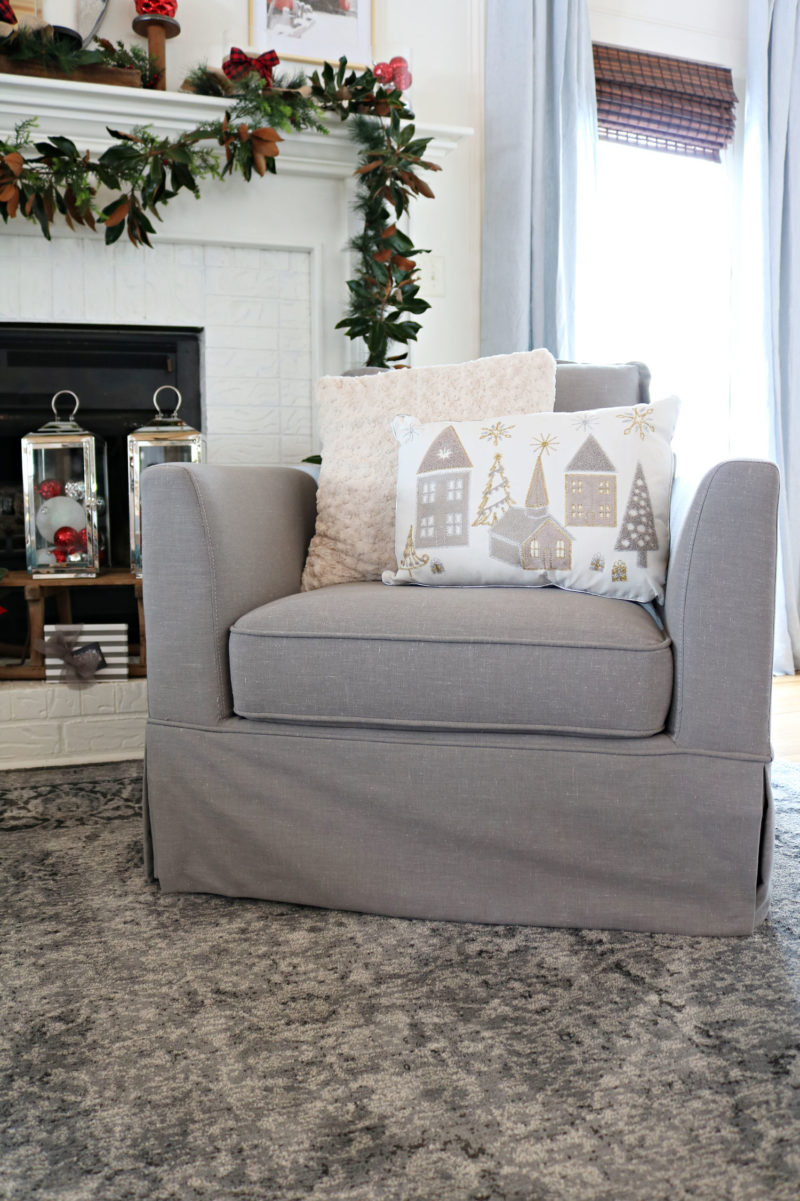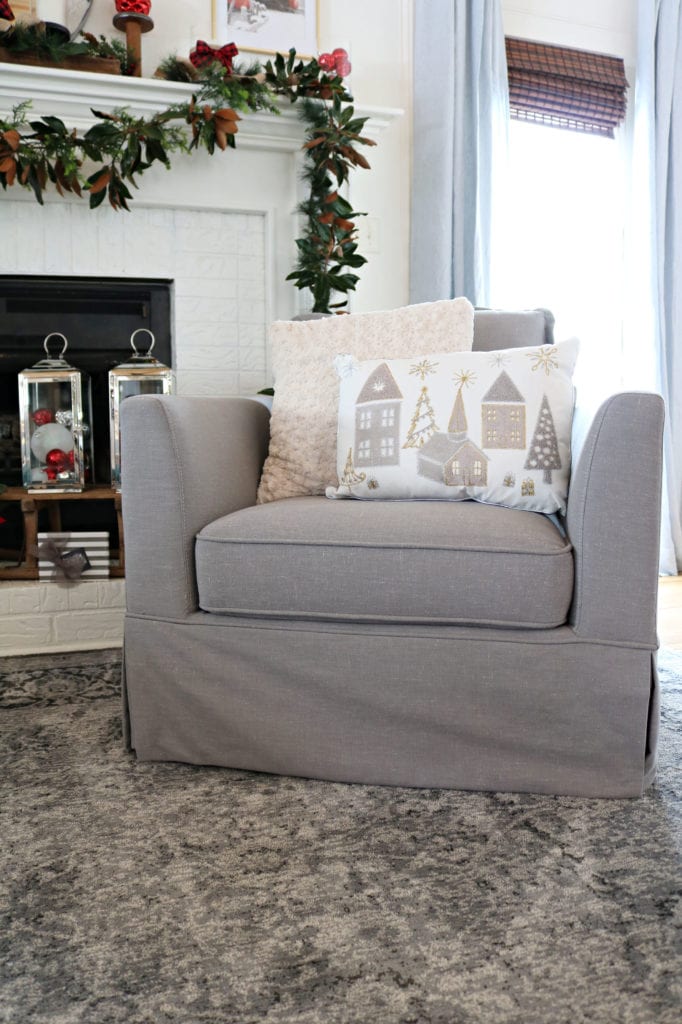 HOLIDAY PILLOWS AND COZY THROWS (you can never have too many of either)
Shop the look:
[show_shopthepost_widget id="3351829″]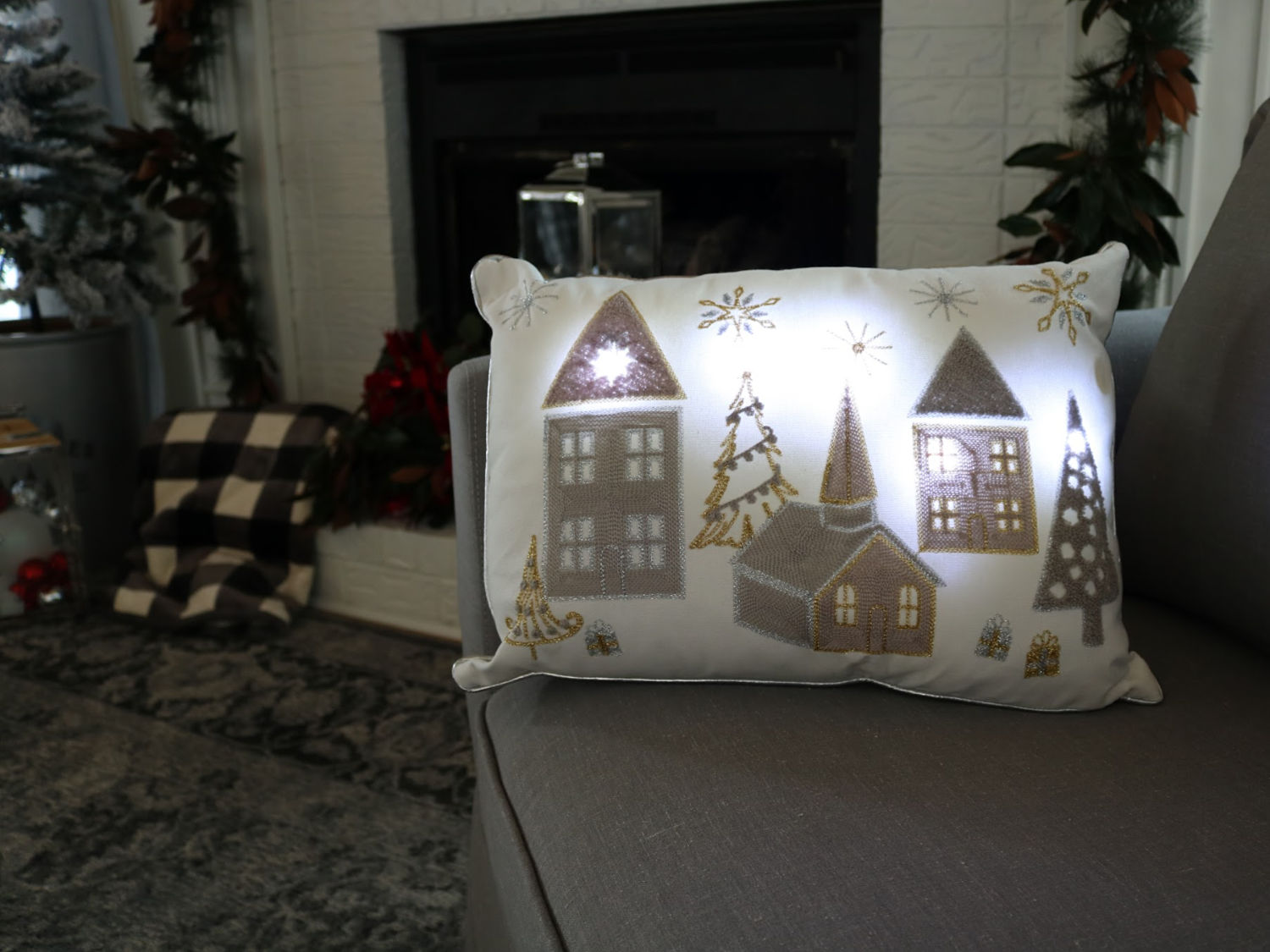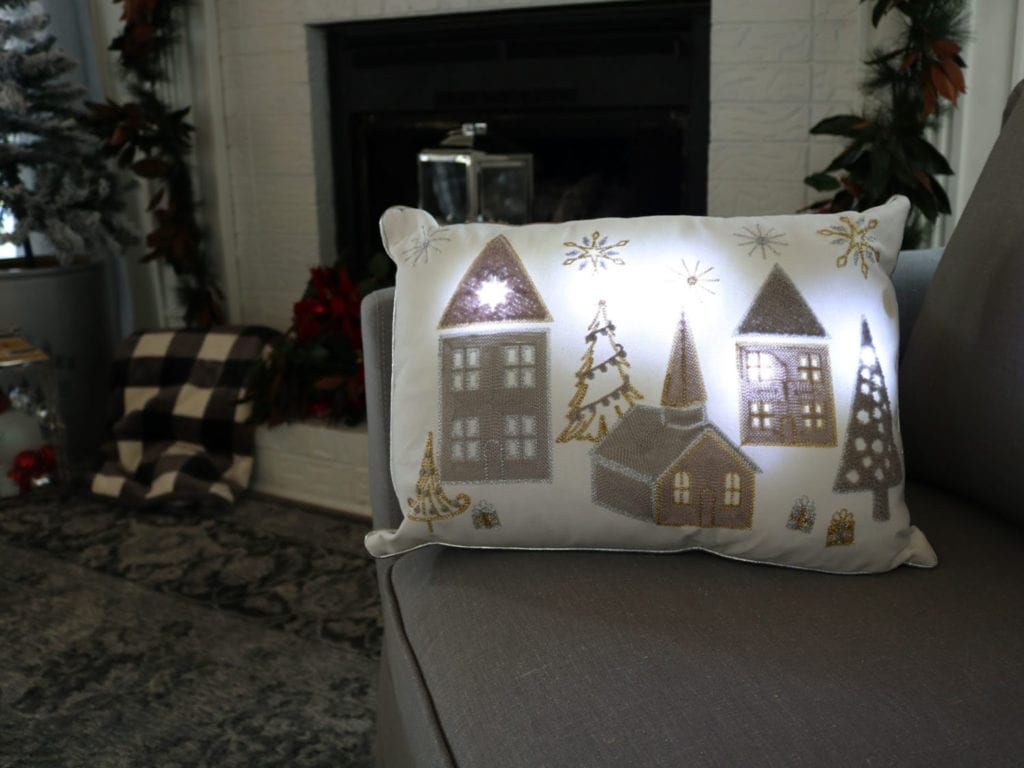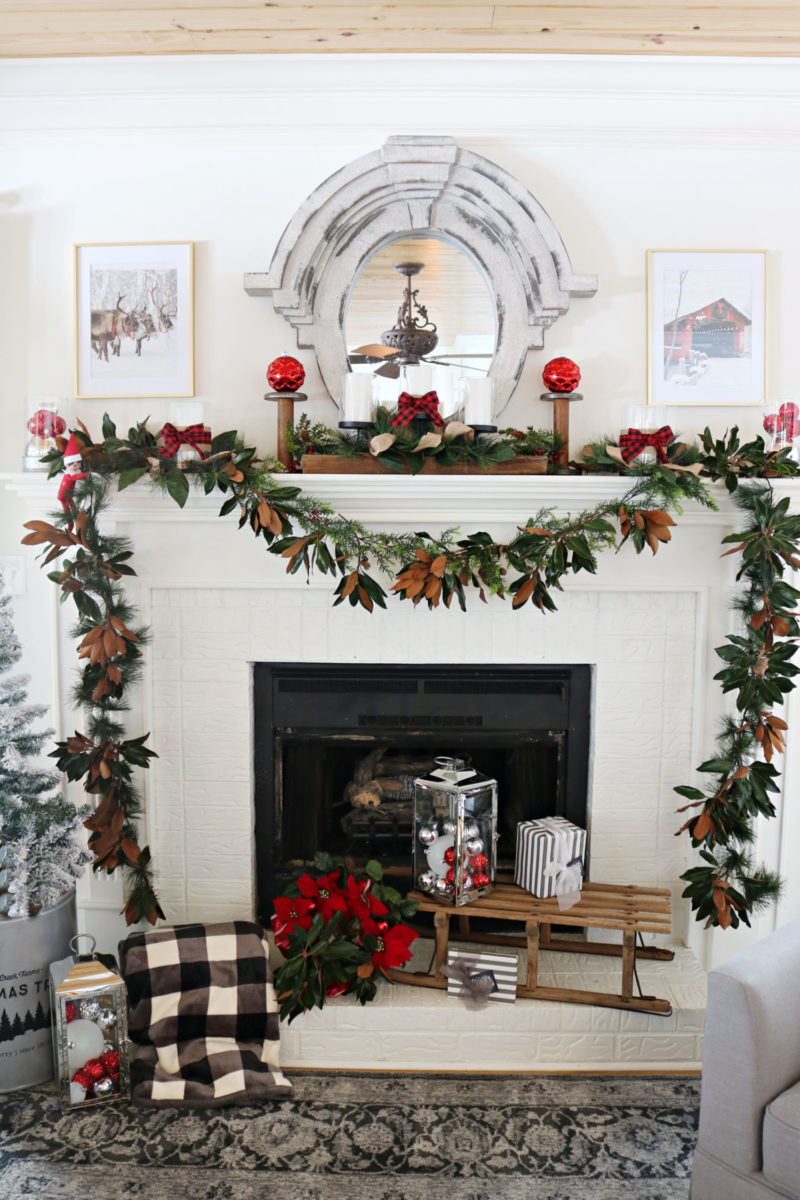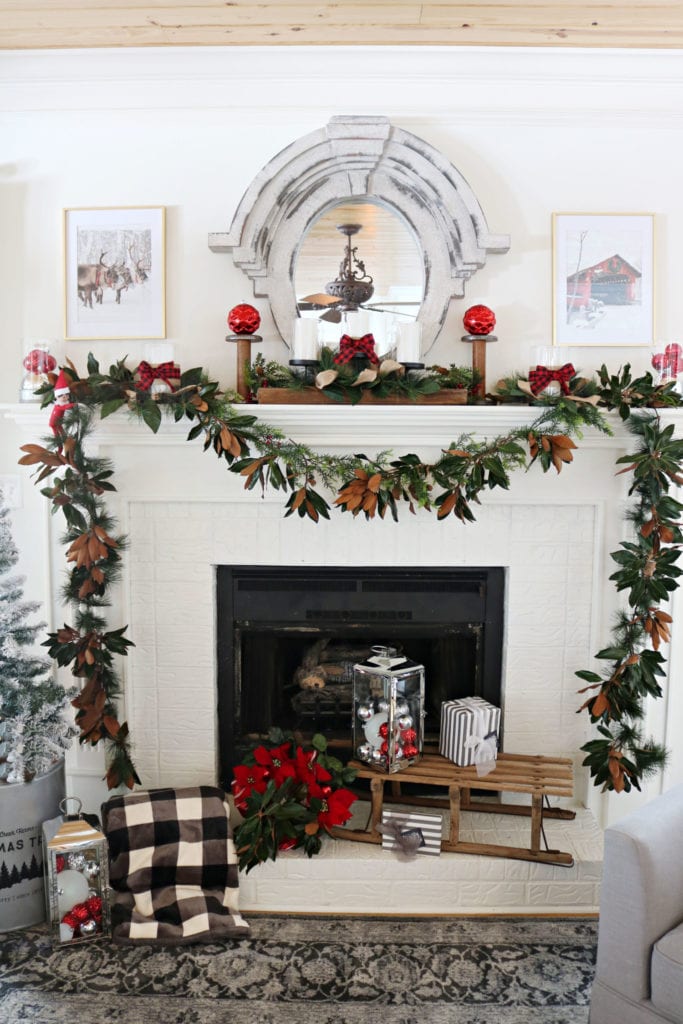 I gathered a large bag of magnolia leaf branches at my niece's house last weekend. It's hard to believe with all these trees in my yard, I don't have a magnolia tree.
REFRESH YOUR GARLAND
use floral wire to attach magnolia leaves/branches to inexpensive garland
add floral picks for additional fullness and color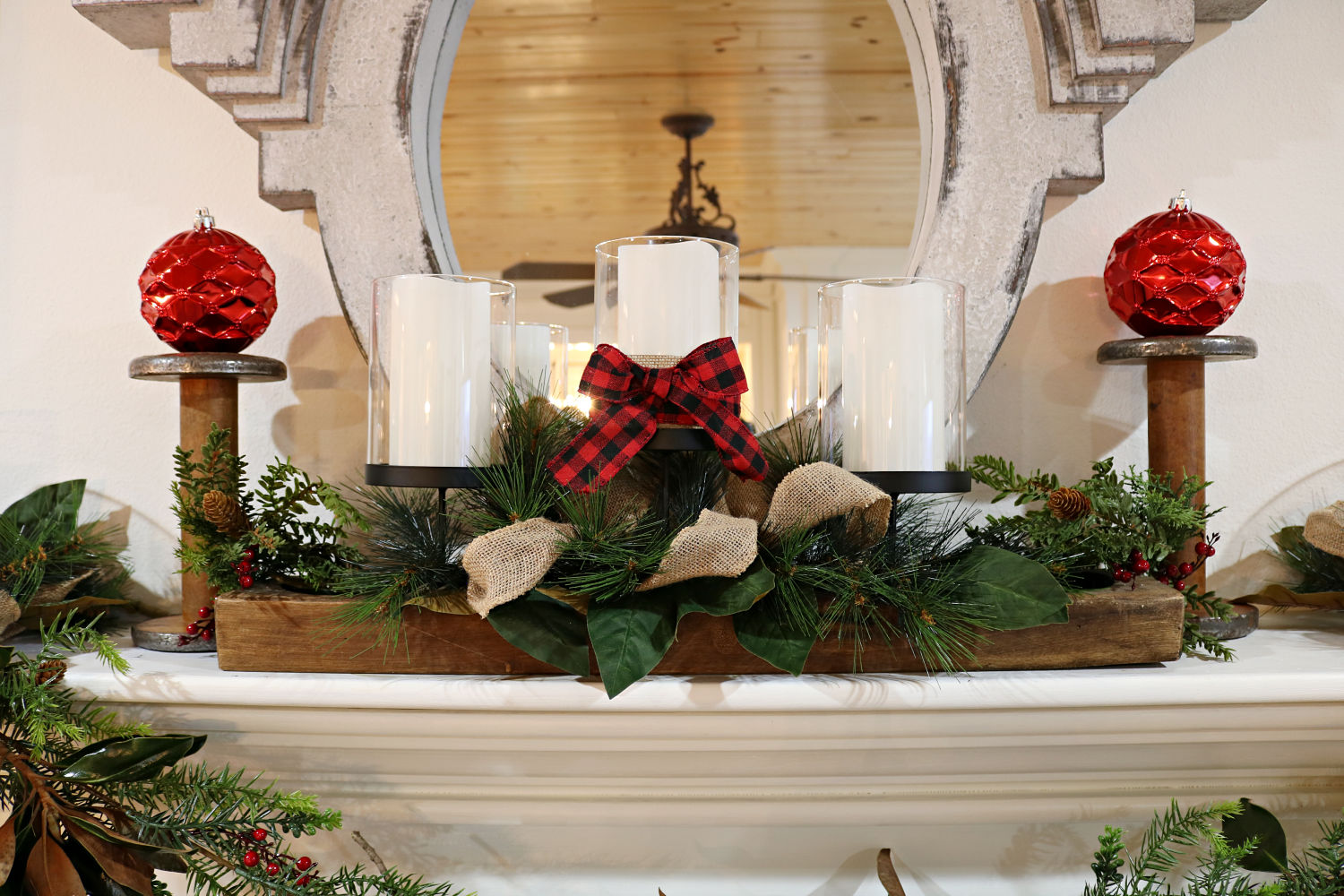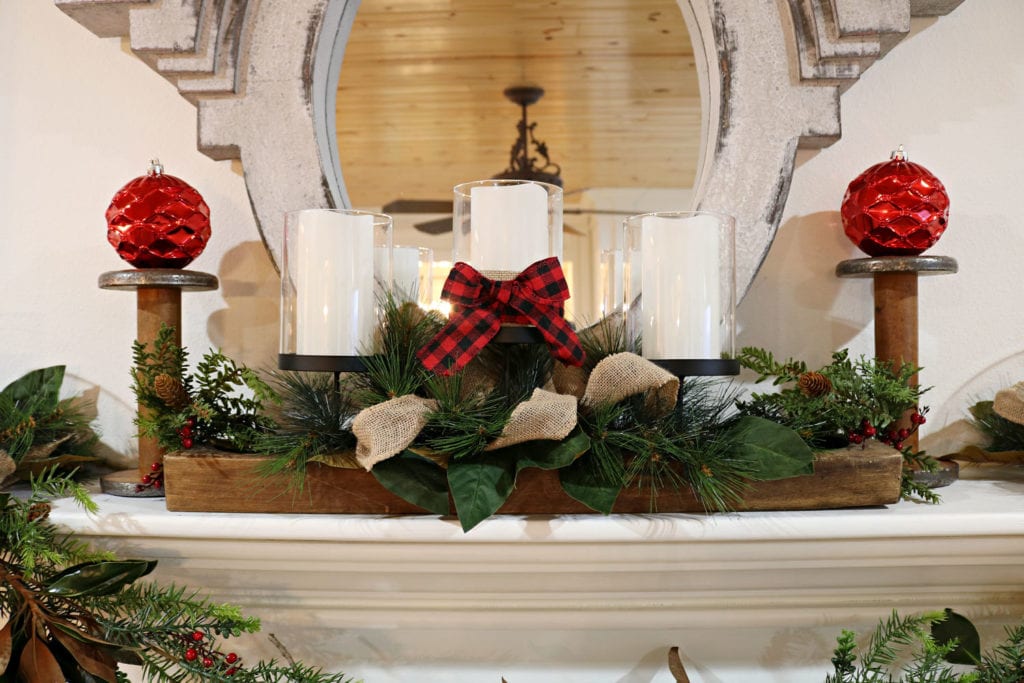 CANDLE HOLDERS
Shop the look:
[show_shopthepost_widget id="3351793″]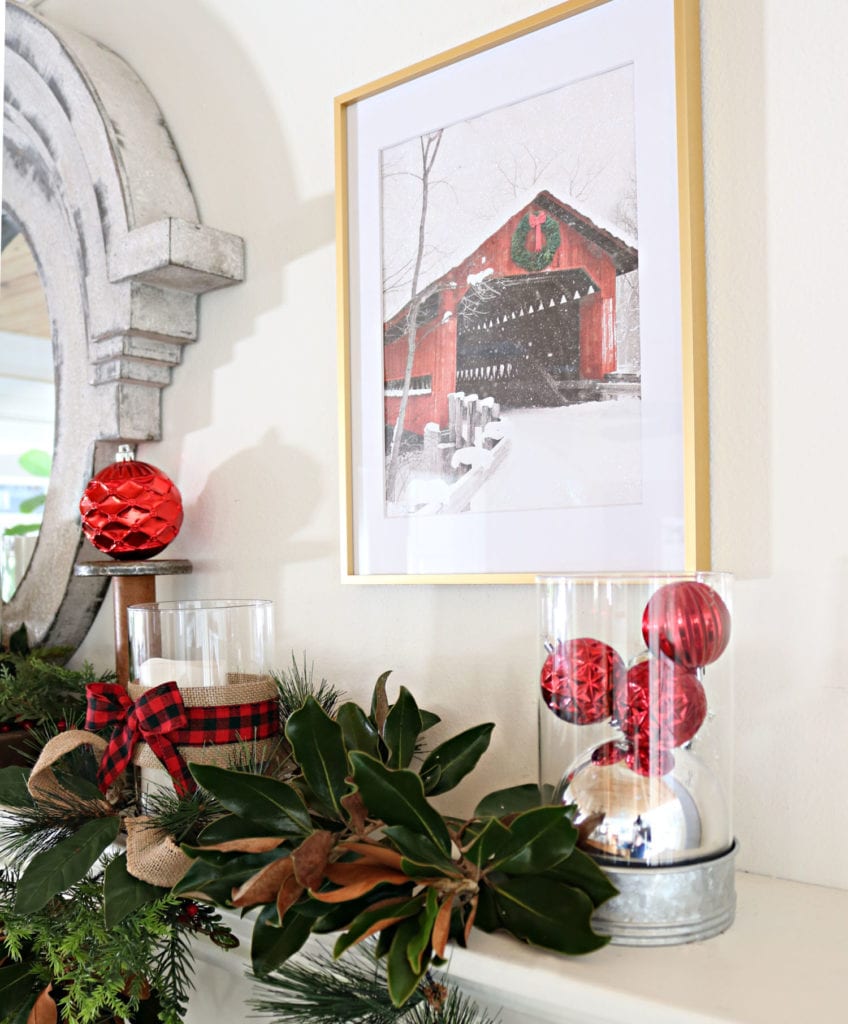 Grab a large container of ornaments to fill candle holders and place a few on vintage spools. I love mixing silver, gold and wood tones. The collected wood pieces compliment the brown on the leaves and the silver and gold combined with the shiny ornaments add sparkle by reflecting light.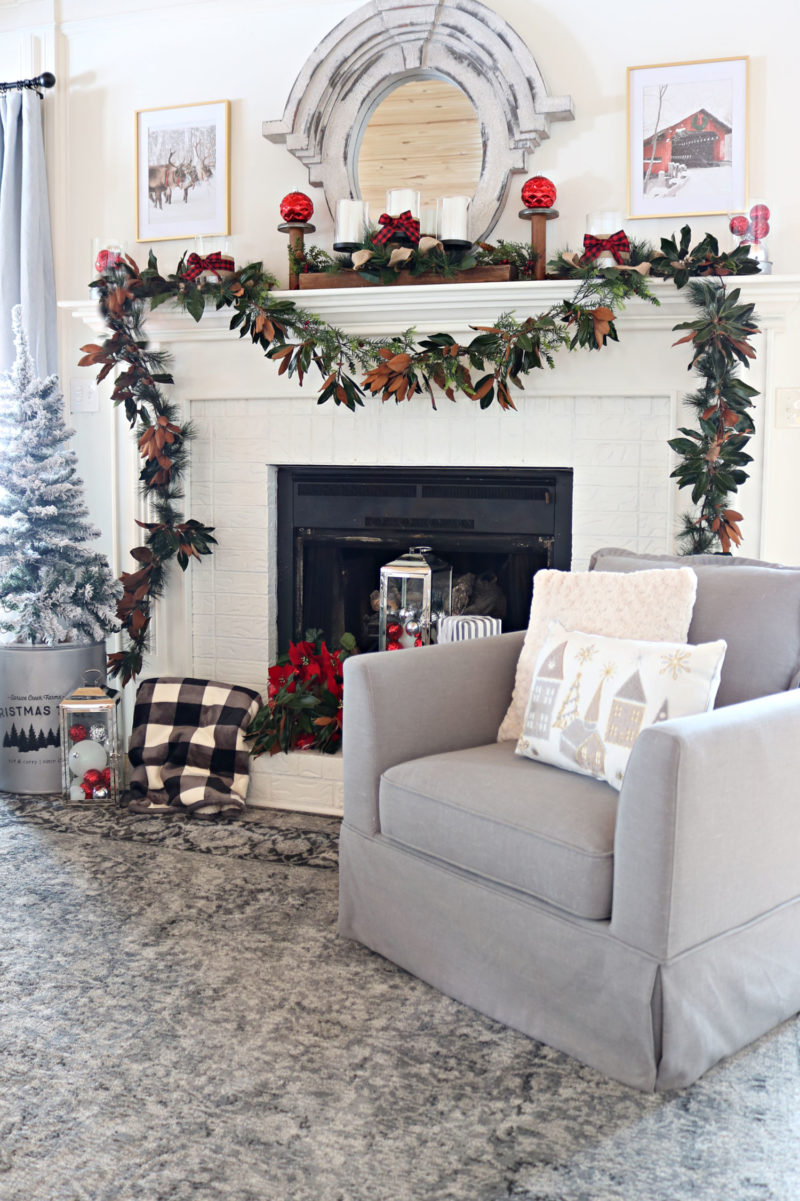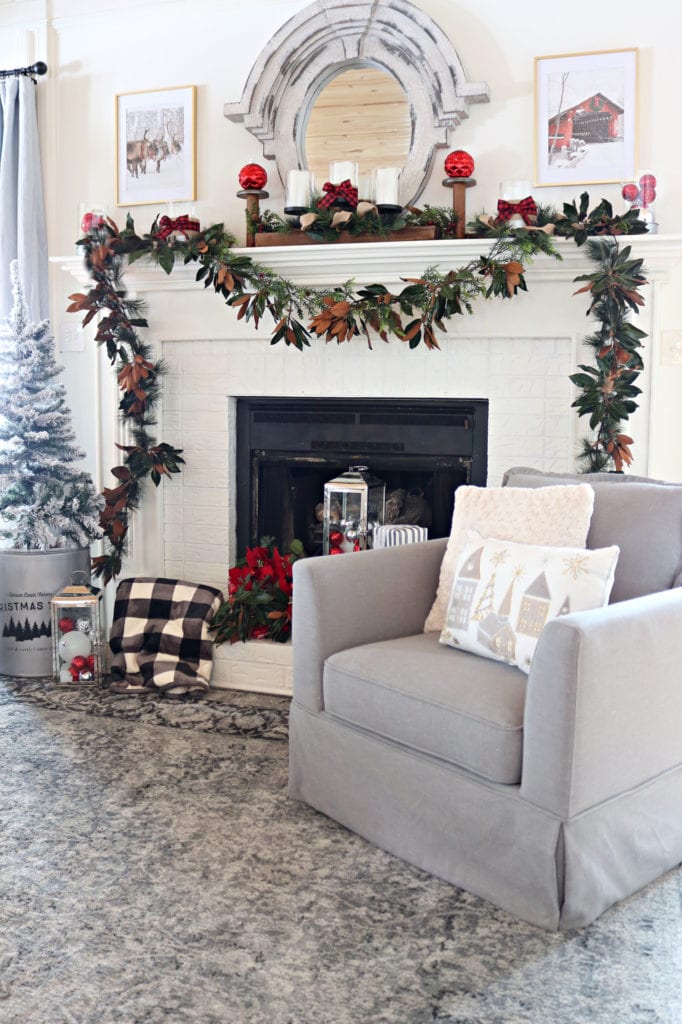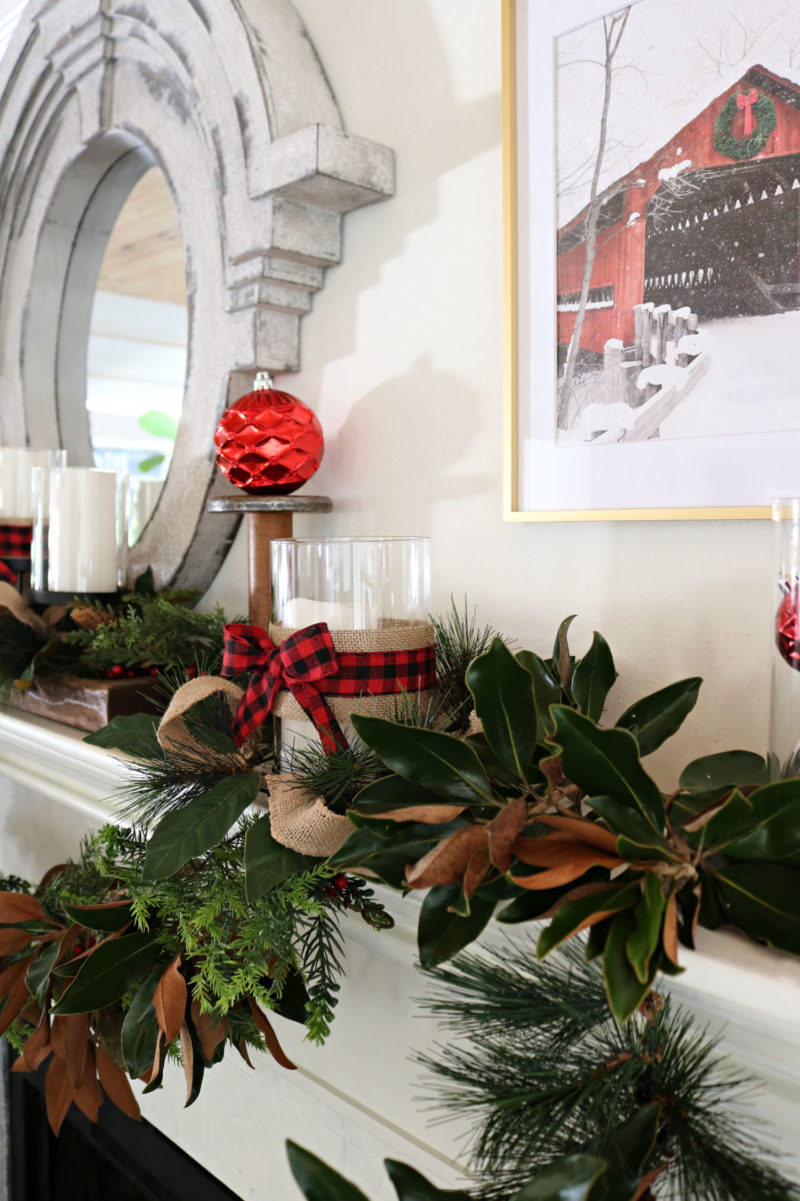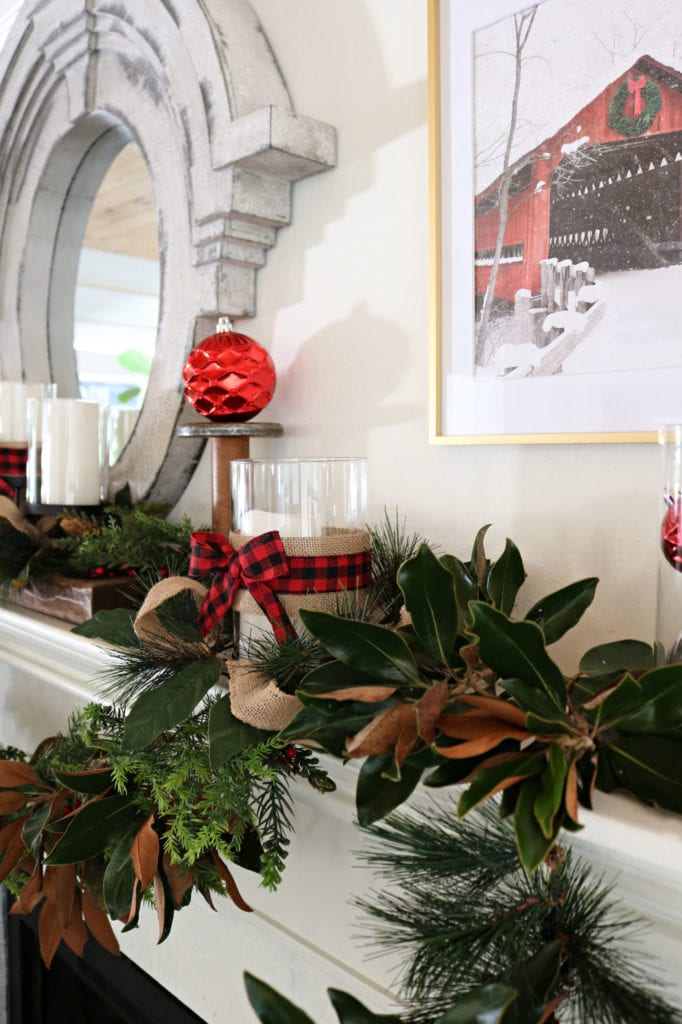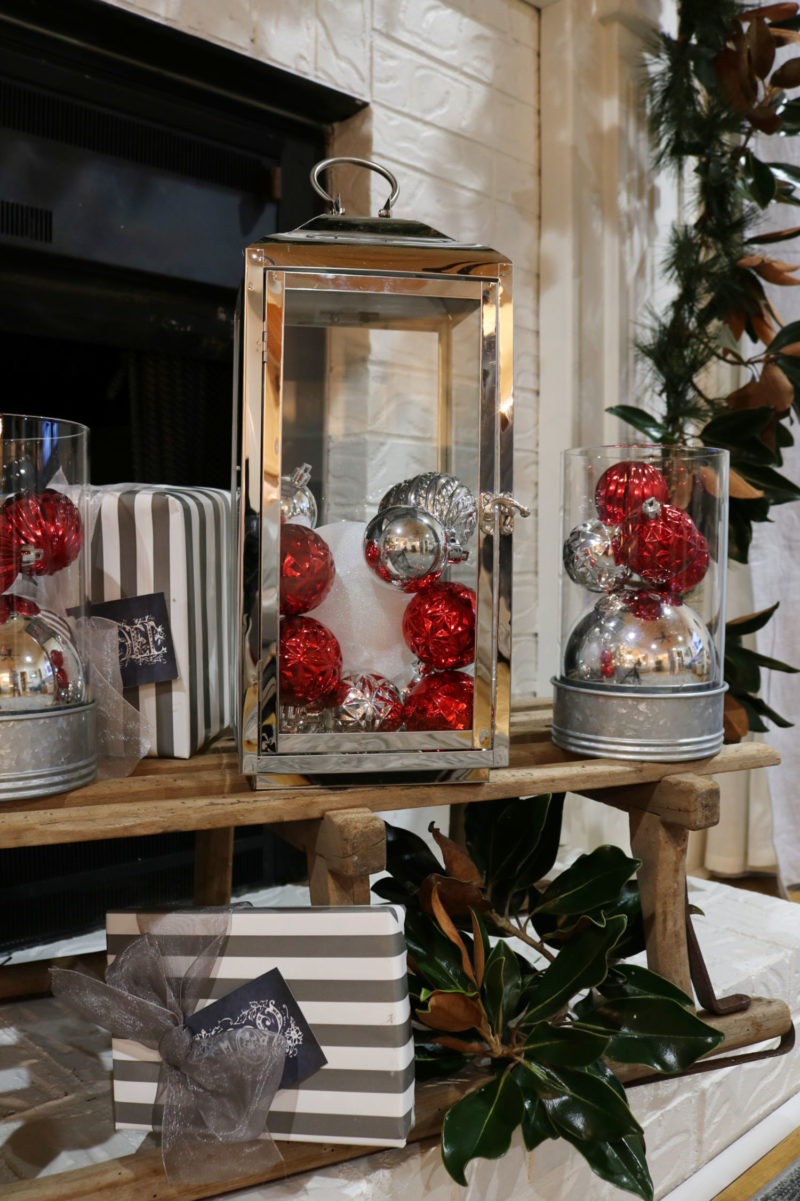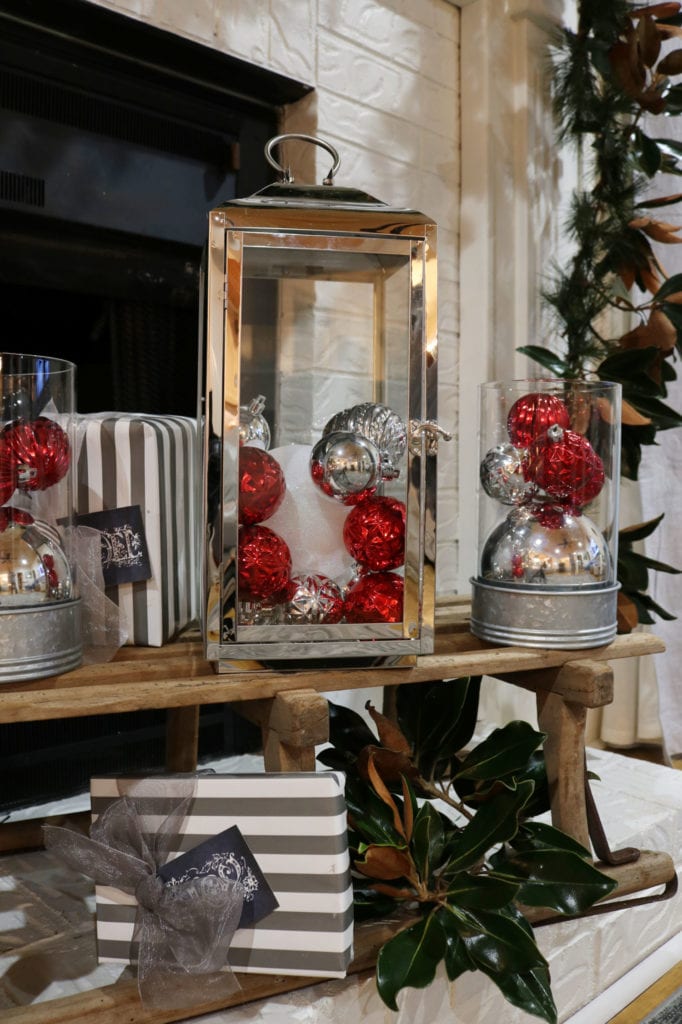 Red, silver and white ornament help to spread the color story. Who says lanterns were just made for candles.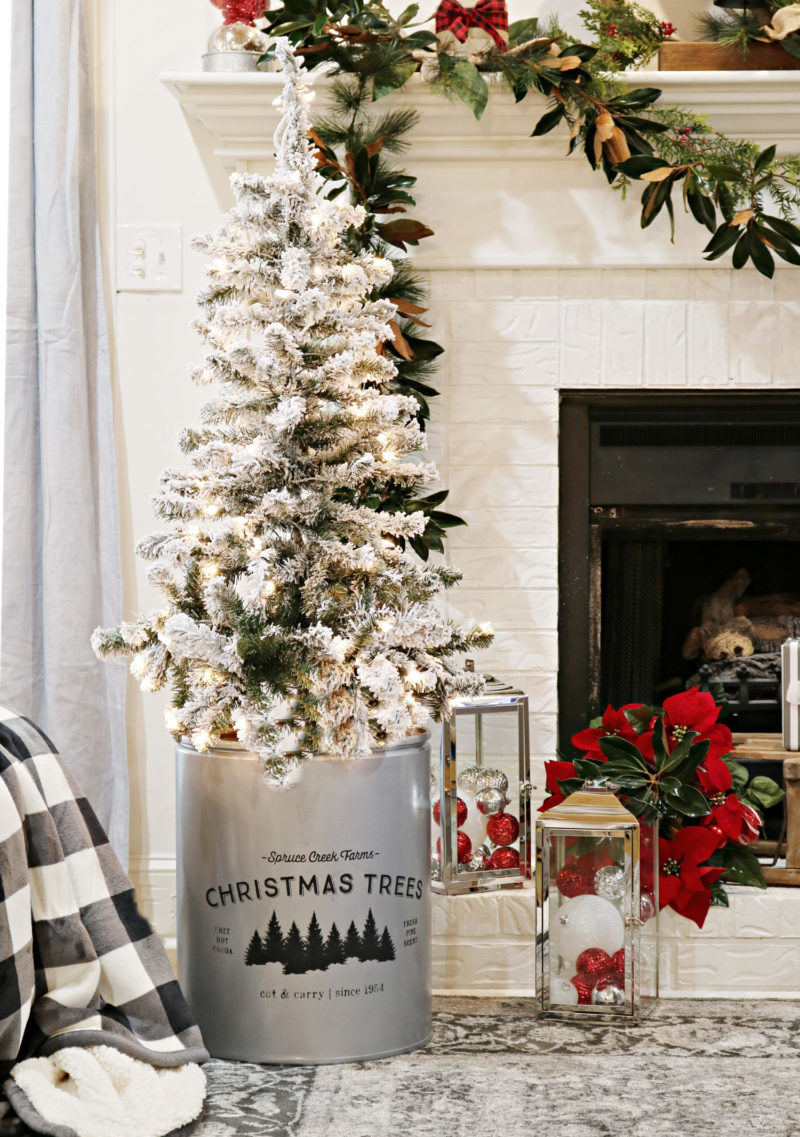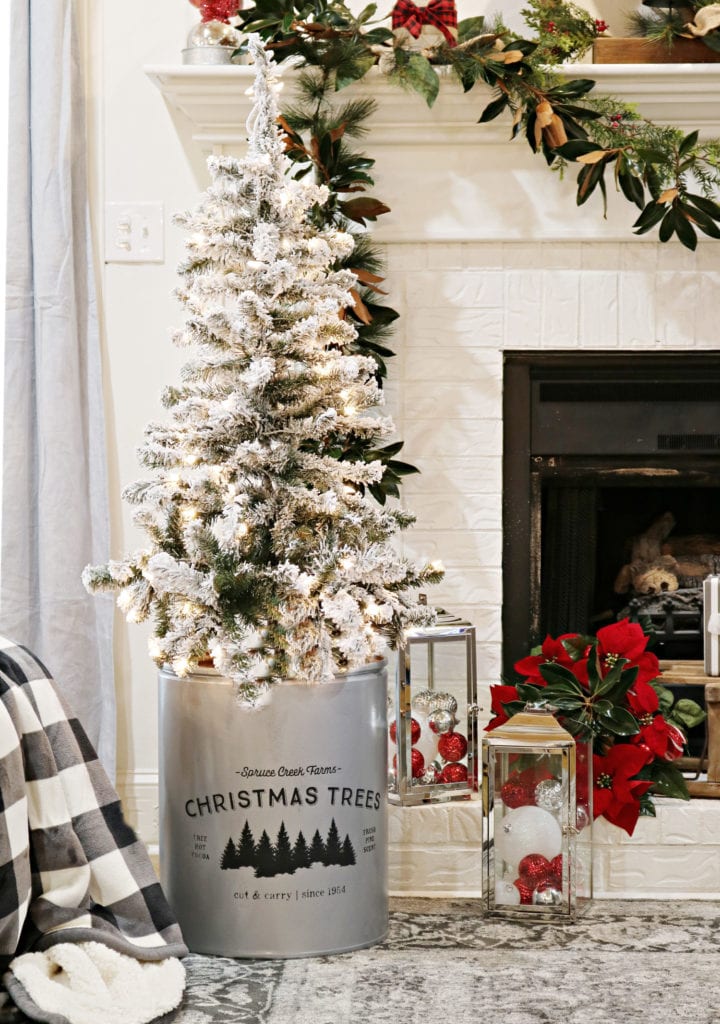 Seasonal decorating is the perfect time to add a new rug and chair. Especially when you gave your old ones to your kids 😉
[show_shopthepost_widget id="3351816″]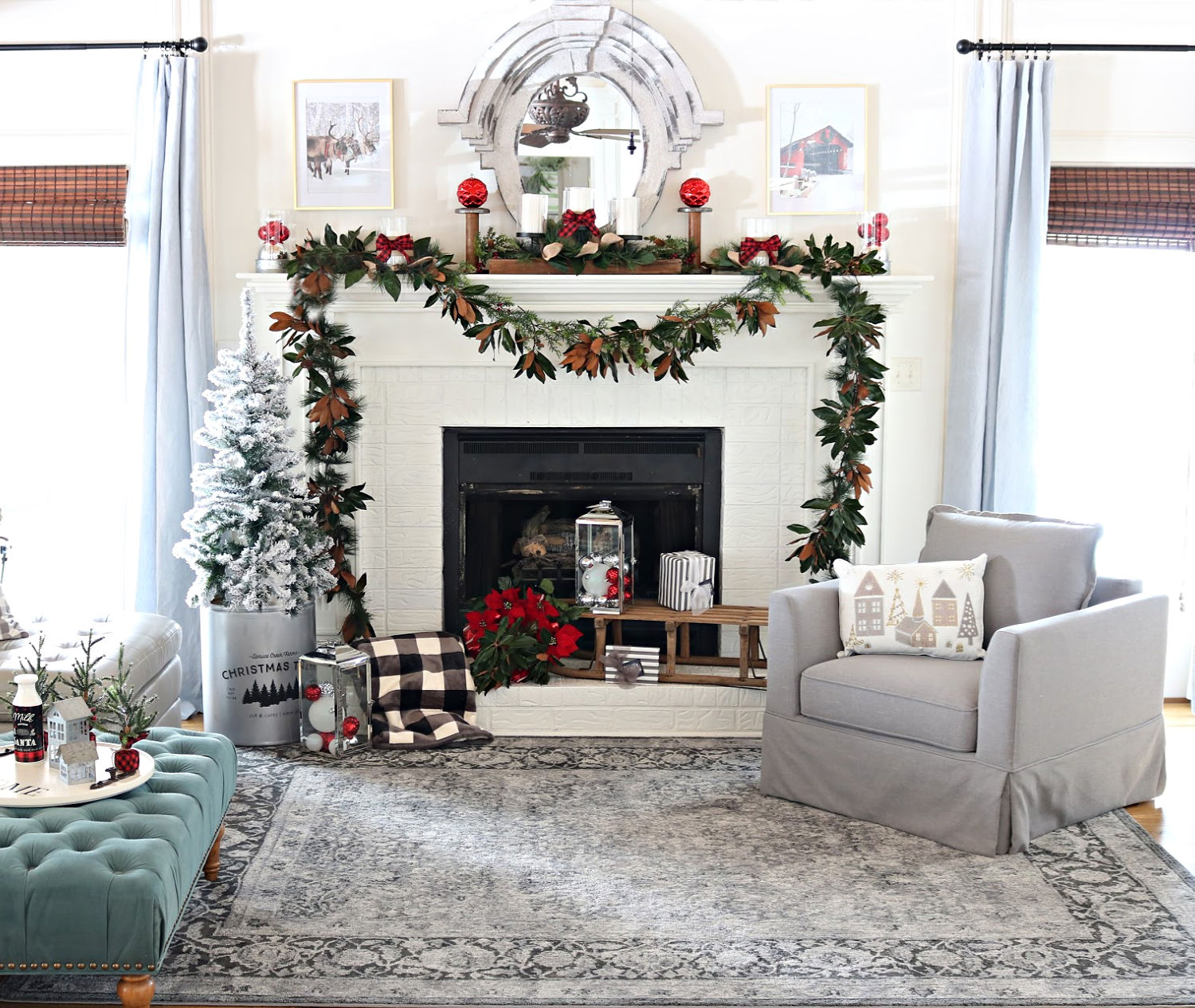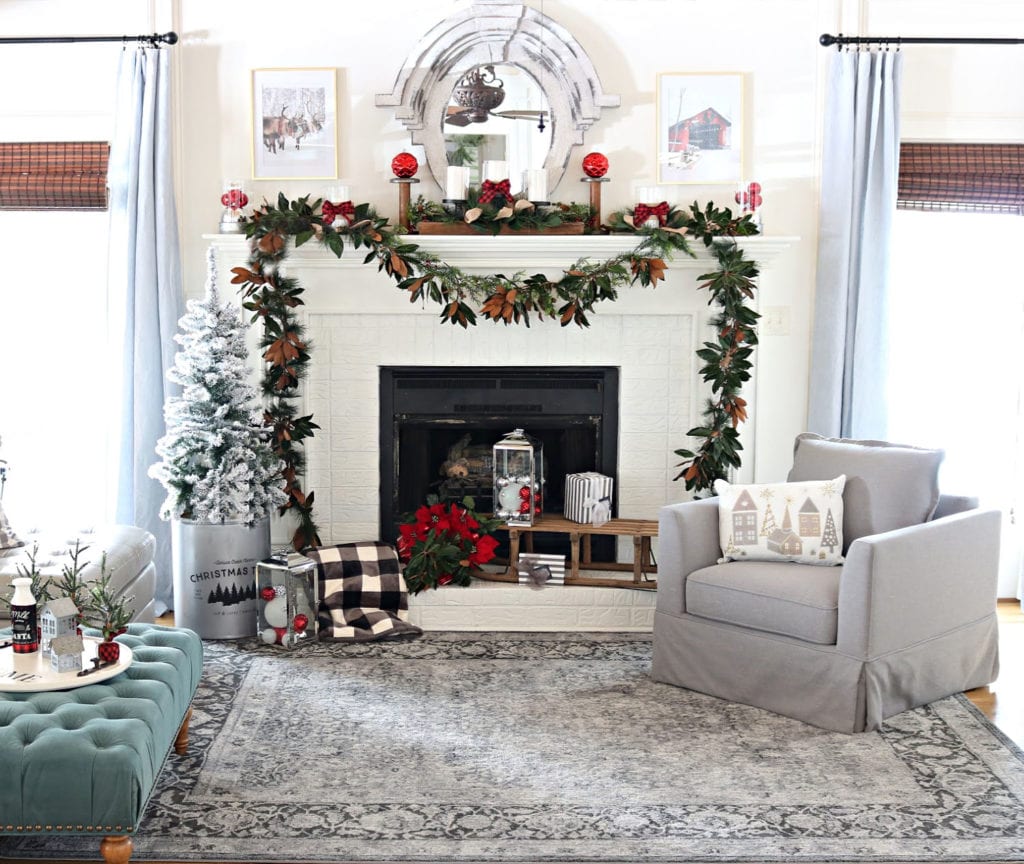 We're looking forward to filling the house with family, food and laughter. Murphy (and I) love having a house full of our favorite people, especially when they bring a covered dish of our favorite food 😉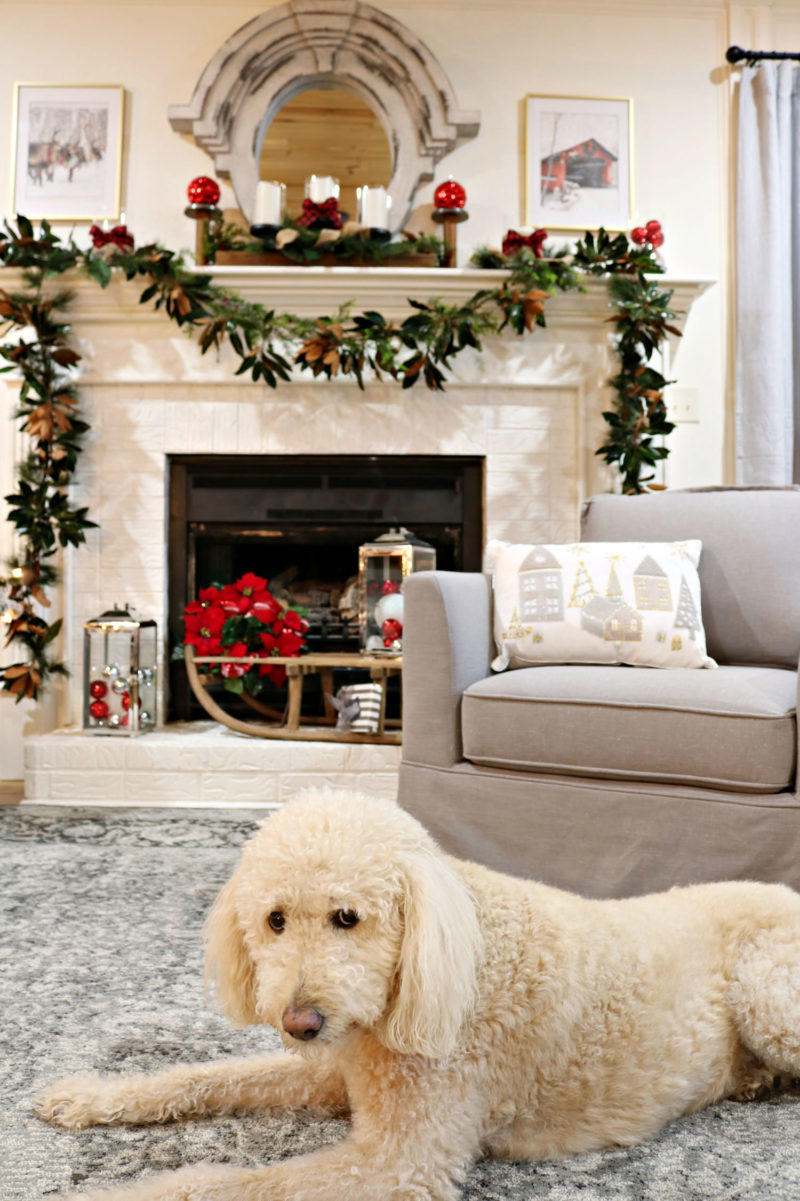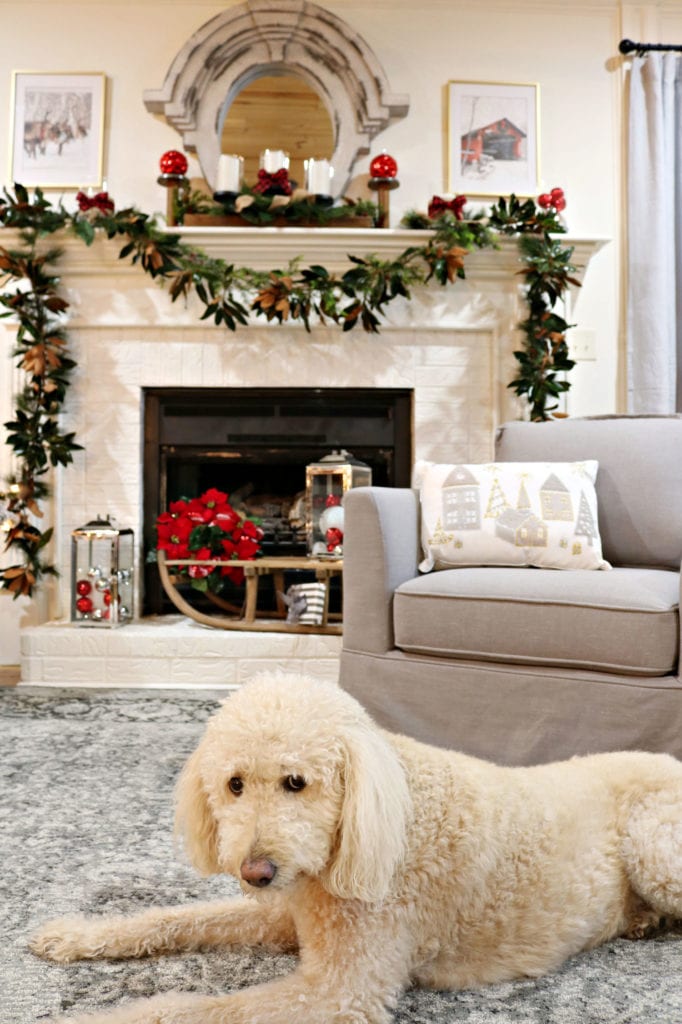 Leave a comment about the Elf on the shelf, did you find him?
Keep up with all the beautiful Better Homes & Gardens at Walmart choices: Instagram – Twitter – Facebook – Pinterest – Website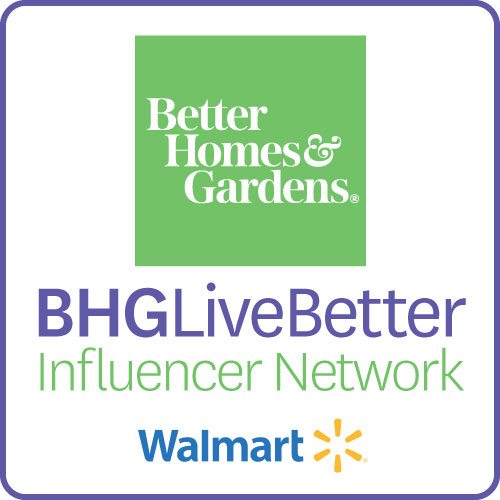 Pin it for later: