The decorators are back! It's time for our monthly posts filled with fun ideas for clay pots!
Clay Pots are Not Just for Planting

 I created serveware pieces with my clay pots.
First up:
Beverage Dispenser Stand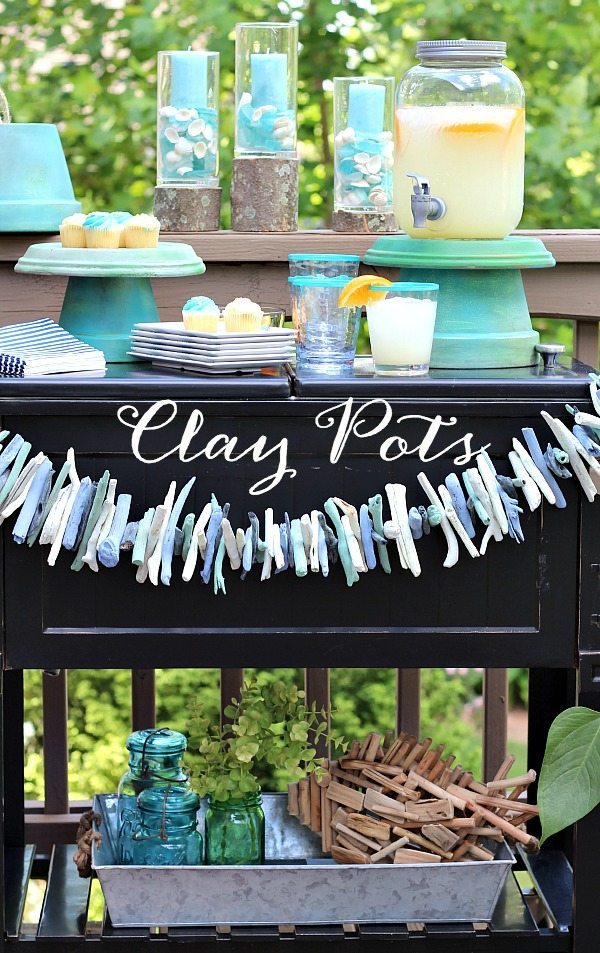 We all have those cute beverage dispensers and some people (like me) have more than one! If you don't have one, let me know…I may have one for you 😉
I came up with this cute garden party look with clay pots and saucers.  Choose a terracotta saucer that fits the base of your drink dispenser. Make sure that the clay pot has a large base, to handle the weight of your dispenser.
What you need to create a beverage dispenser stand:
10″ Clay Saucer
8″ Clay Pot
Spray paint of your choice
E6000 Glue
Spray paint each piece. I used three colors and randomly sprayed each piece. After they were dry, I used a sanding block and distressed each piece. Use the E6000 glue to secure each piece together.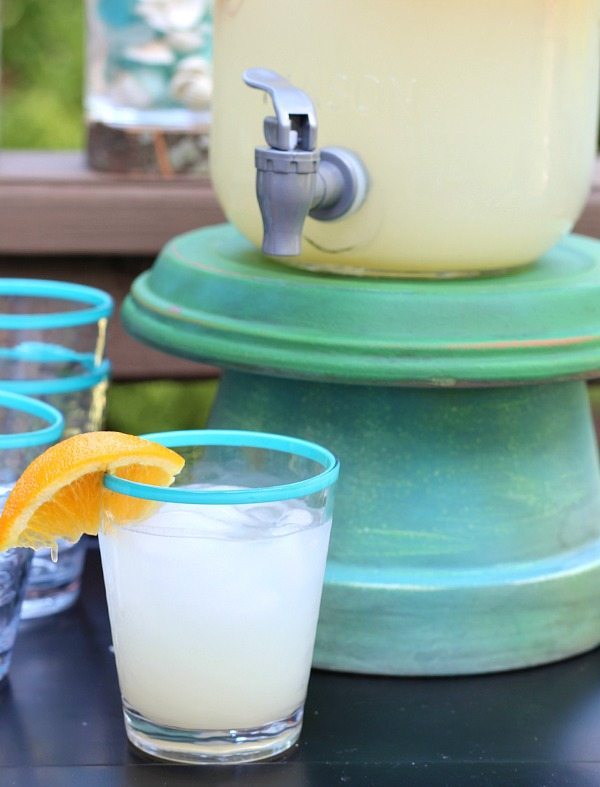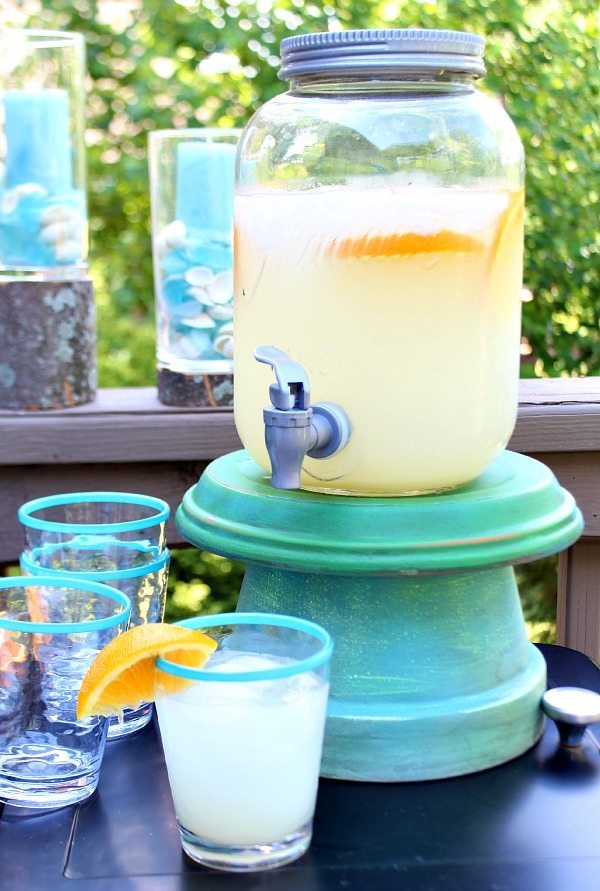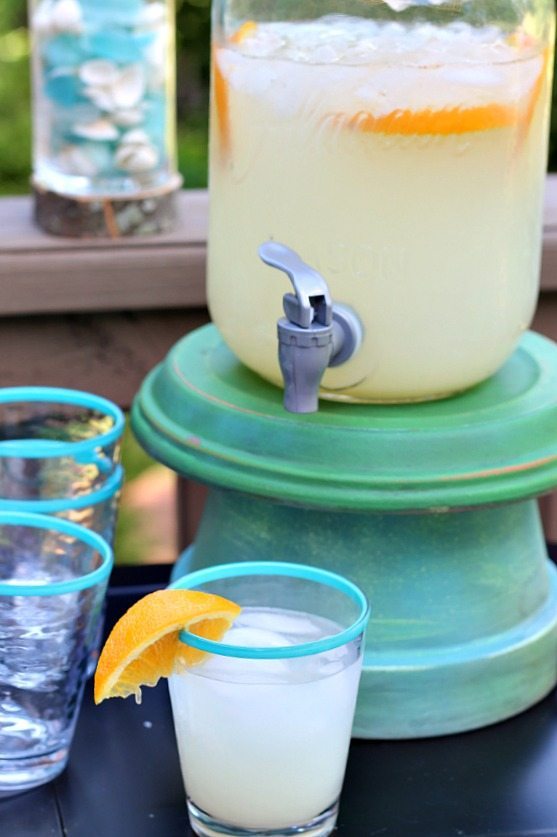 Idea # 2
Clay Pot Cloche with a rope handle: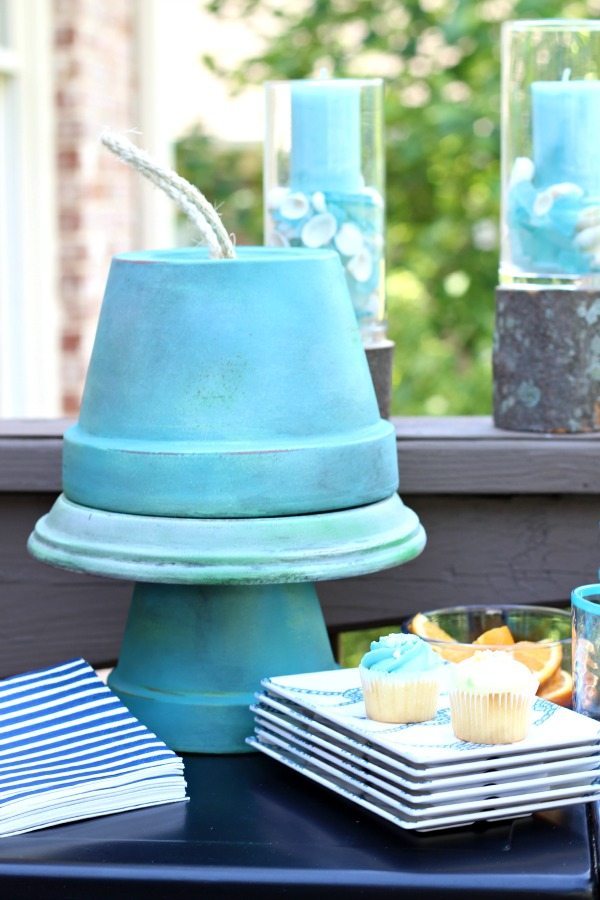 These colorful pottery cloches are perfect for keeping the insects off your food until it's time to serve!
Here's what I used for this one:
8″ Clay Pot
10″ Clay Saucer
6″ Clay Pot
Spray paint
E6000 glue
Rope
Spray paint your pieces – this is optional – you don't have to paint it.  Glue the 10″ saucer to the 6″ pot. Cut a length of rope for the handle, tie a knot on one end. Thread the end without a knot through the drain hole from the bottom and then back through the top. Tie a knot in the second end. Test it to make sure the knot is large enough, so it doesn't slip through.
Both of these were very inexpensive projects but they look great party!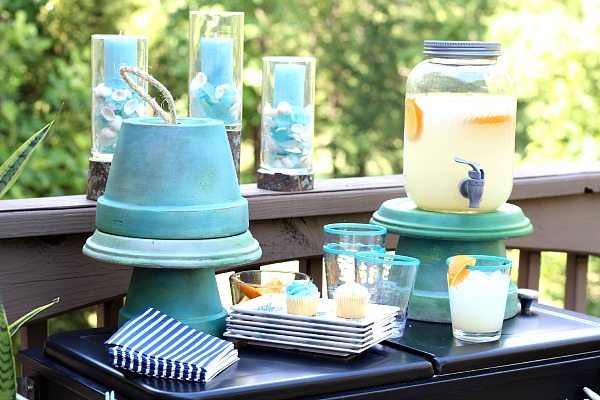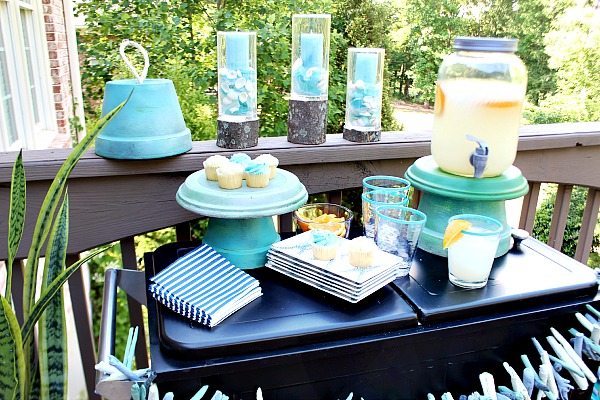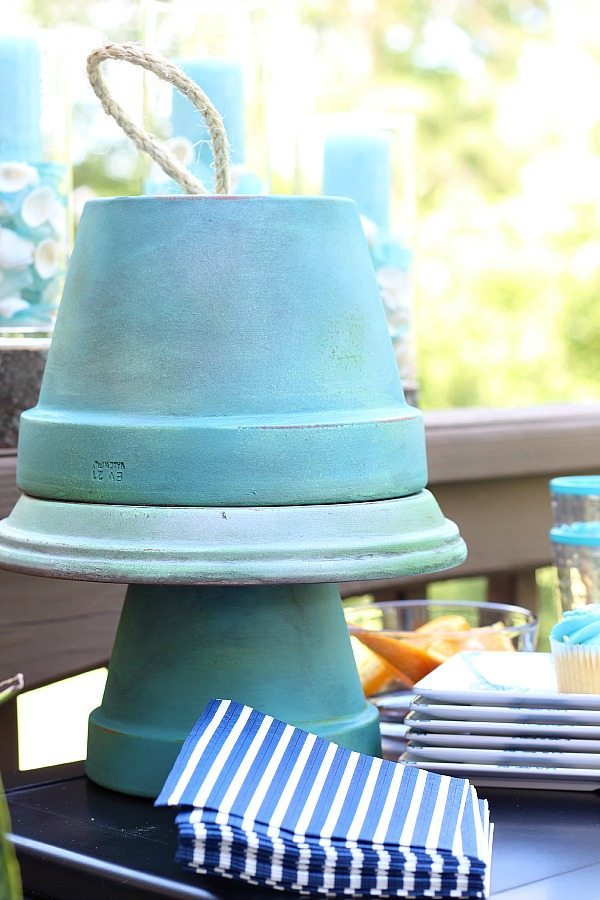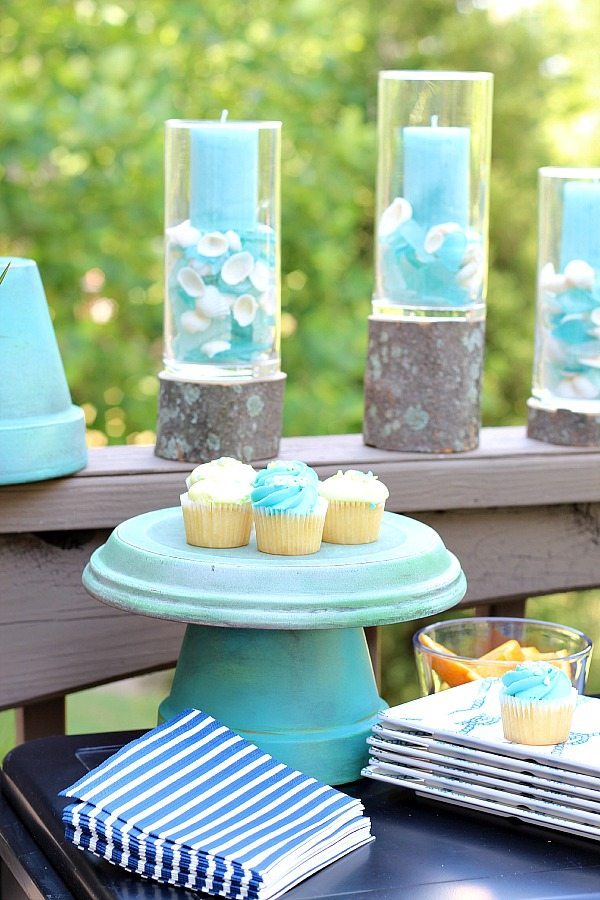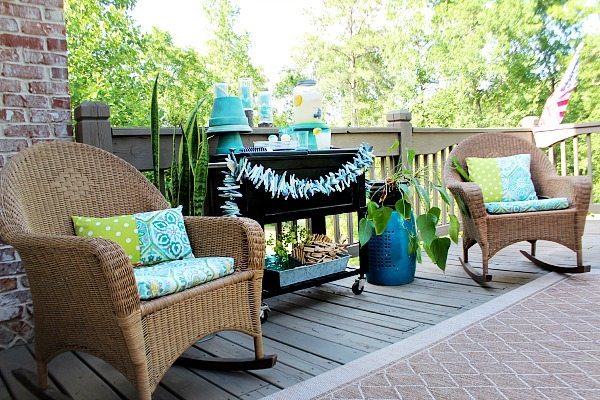 I love greens and blues. Keeping the same color palette through out my outdoor design makes everything look cohesive.
And beachy…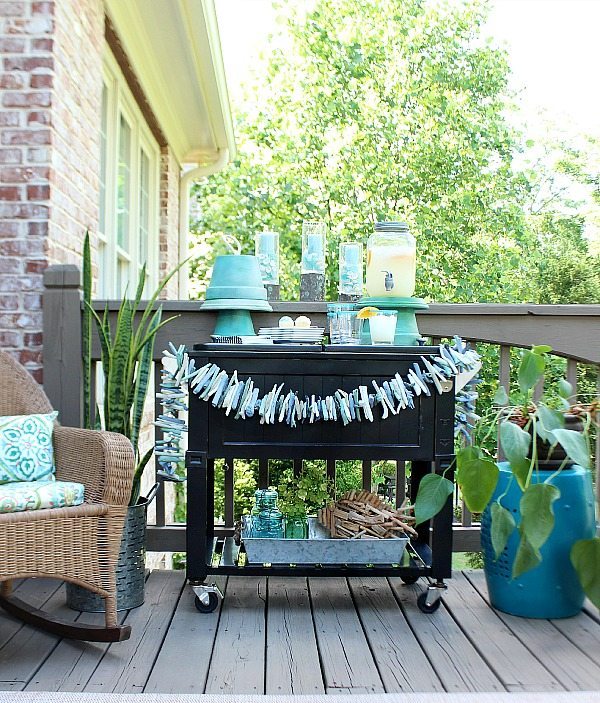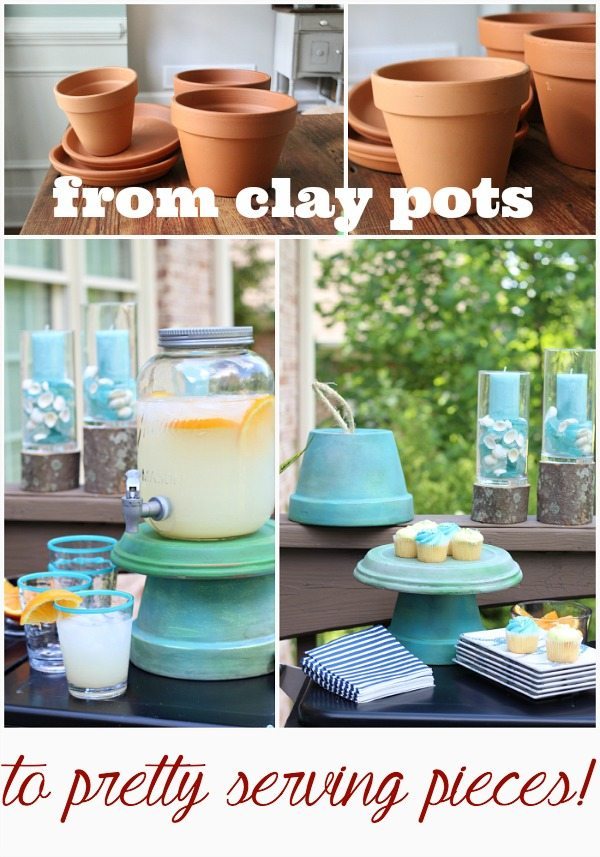 Be sure to visit these fabulous ladies below and see what they did for our Clay Pot challenge!!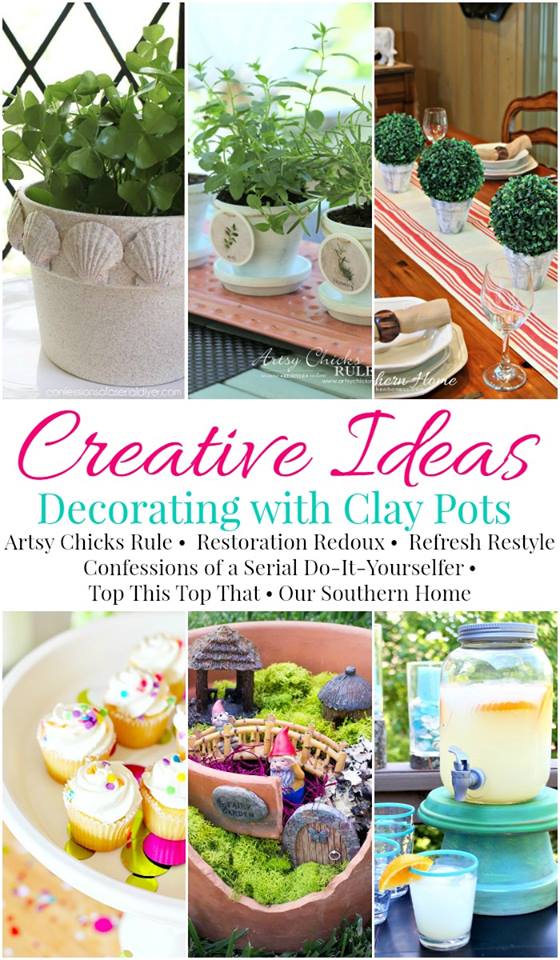 Join us on Facebook:

Are you ready to participate with us? You can!!! We wanted to give you a chance to share your amazing decorating tips and projects and to ask questions and advice, so we have created a forum specifically to do that on Facebook. Visit the Decorating Enthusiasts page HERE to begin chiming in and sharing what you have done.
I hope you will join us for our June Challenge to be announced soon!