Coral and Aqua Patio Decor Ideas and a Recipe
I'm working on creating the outdoor space of my dreams by incorporating a few new items along with projects from the past: like my thrifted candle sticks and tree stump side tables.  I shopped my house for others decor items,
that quiet honestly, I'm just tired of.
Rather than just getting rid of them, I'll use them outside.
This is a sponsored post written by me on behalf of BHG at Walmart. All opinions are my own.
It's true, I rather be outside than inside.
I had a blank patio to start with. While I was in Alabama visiting family, Barry picked up this patio set (we had already being eyeing it) and had it put together by the time I returned home. He even pressure washed the concrete. What a man!
You may recognize most of the things you see here, they were at our old house.
The candlesticks are Goodwill finds that I spruced up just for the patio.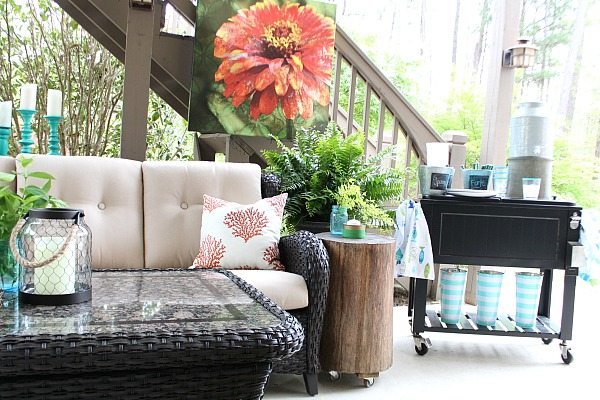 After taking inventory of the stuff that I shopped the house for, like this large outdoor print/painting that I scored from the clearance isle at  Hobby Lobby years ago, I knew coral would be a great color to bring in to the space! I found these Coral Reef indoor/outdoor pillows for only $13.97.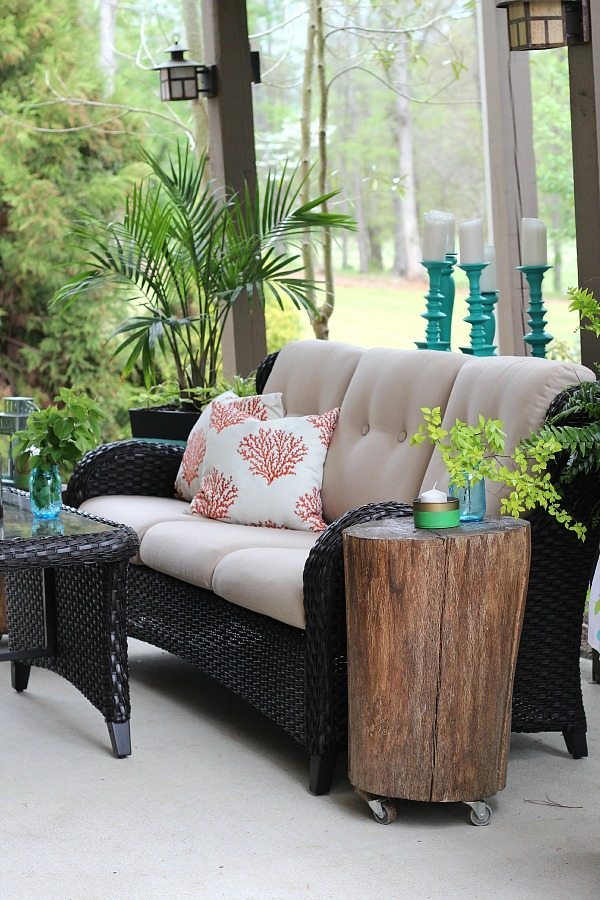 The tree stump tables will live on forever, if I have anything to do with it. They add a little rustic element to every space that I've used them in.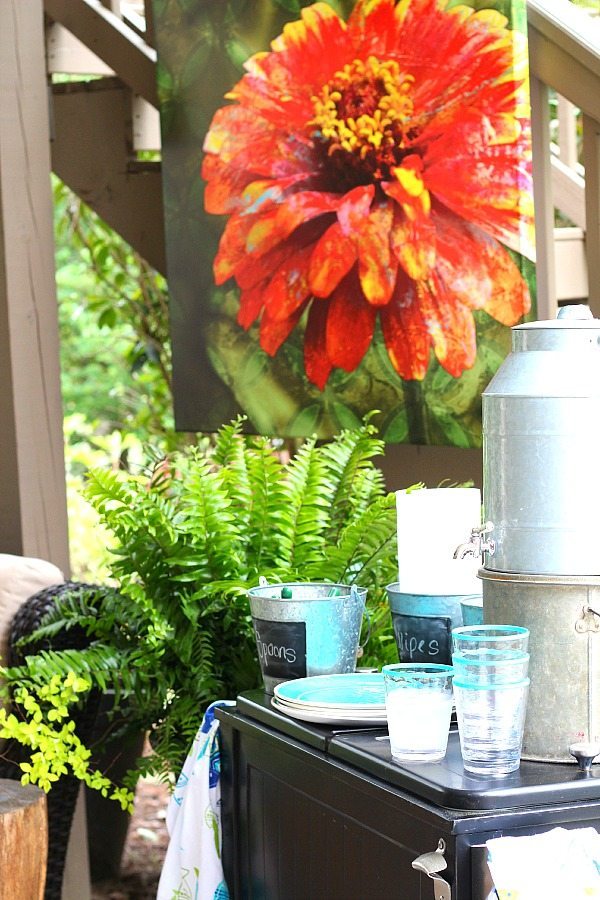 We've had the cooler on wheels forever, I just used the top of it as a buffet. I stacked my Galvanized Drink dispenser on top of an old minnow bucket. The height is great for getting glasses under the spigot.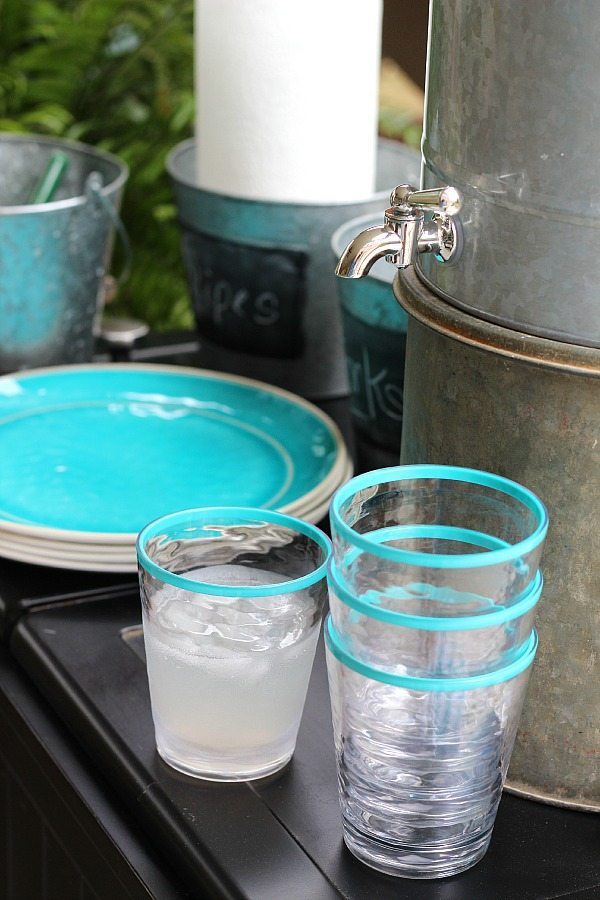 Keeping with my color story, these Aqua rim melamine cups and Aqua Watercolor plates . I guess it's more of a color addiction, than story. I can't help myself, I love aqua!
Aqua and Coral are a few of my favorite color combinations!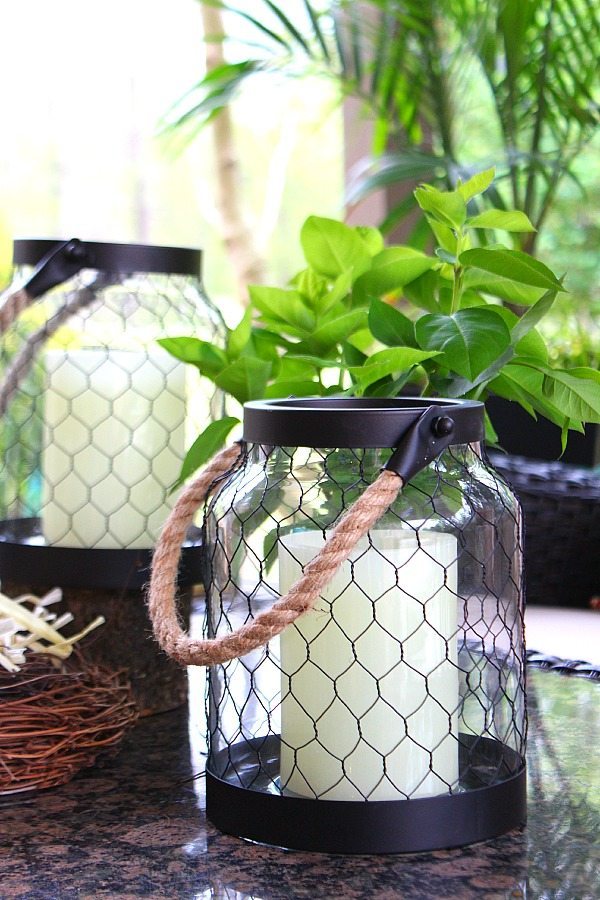 Chicken wire Rope Handled lanterns had my name all over them! I elevated one with a little tree stump. They really keep the space casual and speak my decorating style language.
A little rustic farmhouse look.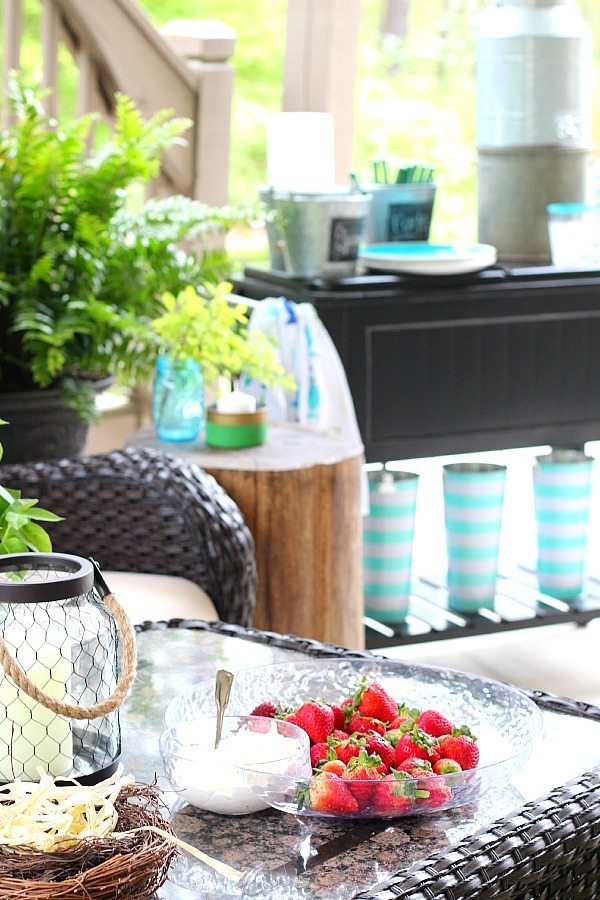 My neighbor Chris introduced me to this dip, it's so easy and I can eat it by the spoonfuls, I mean lightly dip my fruit in to it 😉
Fruit Dip Recipe
Recipe Type
:
Appetizer or Dessert
Author:
Prep time:
Total time:
Super easy and delicious!
Ingredients
8 oz. Cream Cheese
7oz. Marshmallow Fluff
1 tsp. Vanilla Flavoring
Instructions
Let the cream cheese become room temperature.
Mix fluff and cream cheese.
Add vanilla flavoring, stir until smooth.
Refreshing and Delicious Fruit Dip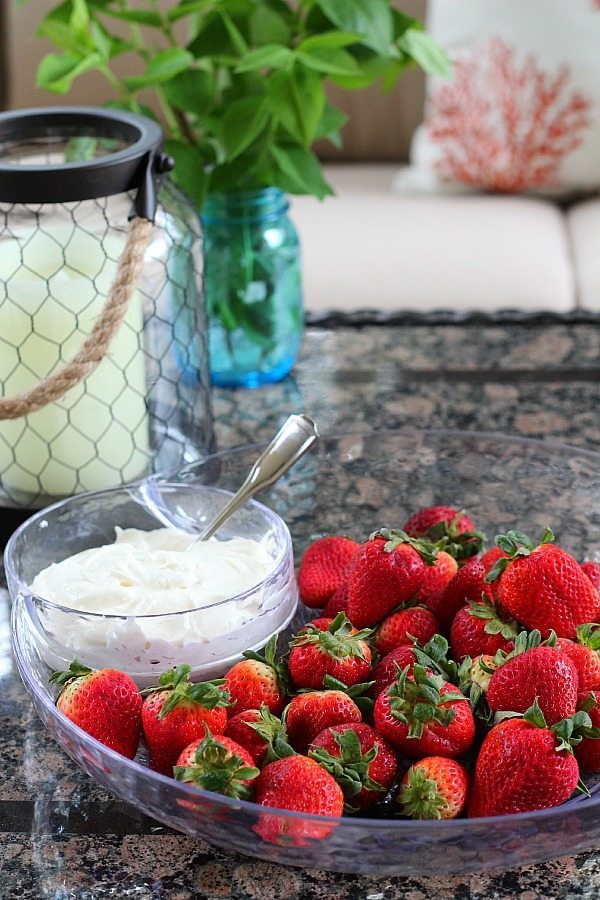 This Clear serving tray is great for my fruit dip and fruit or you can use it for chips and salsa.  I love having multi-use items.
Gather a few things from your house, spray paint them and repurpose for your outdoor space. Buy a few things to freshen it up, create your dream outdoor space 🙂
You may have noticed a few other things that I stumbled across at Walmart, like the aqua striped buckets, the chalkboard galvanized buckets – that I used to hold the silverware and paper towels. Crazy cute, right? Oh and the patio set is from Sam's Club.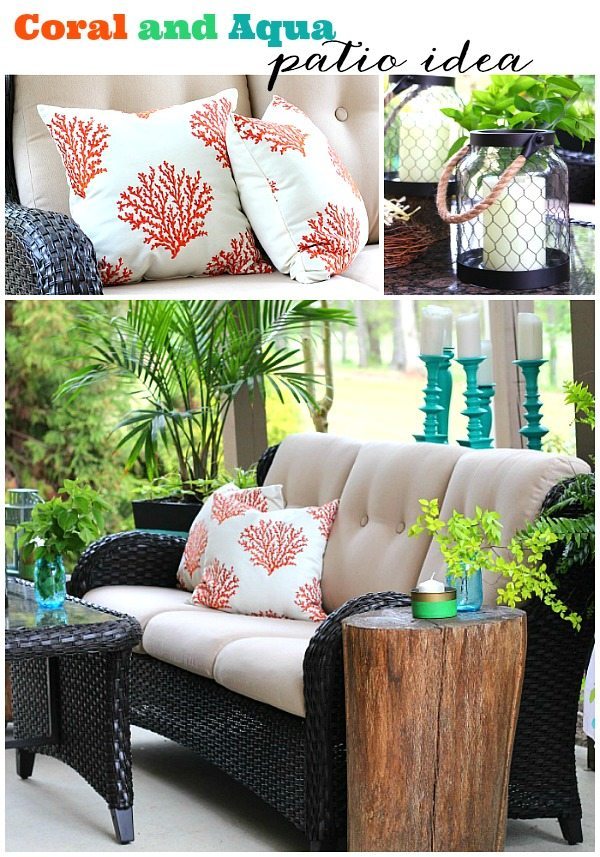 Come on over and relax with me!
Coral and Aqua Patio Decor Refresh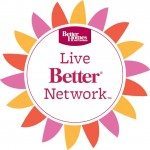 I'm so thankful to be a part of the BHG Live Better Network.
Get the latest ideas and product information from
Better Homes and Gardens Live Better here:
BHG Live Better Website
BHG Live Better on Pinterest
BHG Live Better on Facebook
BHG Live Better on Twitter
BHG Live Better on Instagram