Hosting a spa party at home is so easy and perfect for a night in!
Create a relaxing atmosphere for pampering yourself and friends. It's a great reason to get together for a night of fun. There's something so refreshing about spending time with friends/family and there will be food.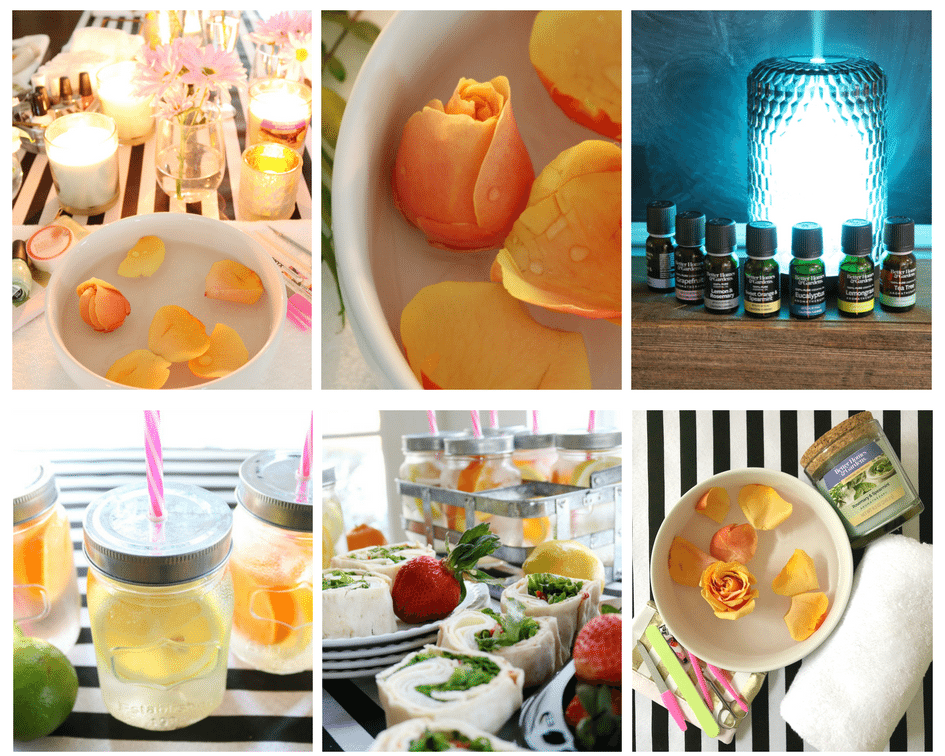 You will need:
Do It Yourself Manicure Baskets
Food
Drink
Aromatherapy
Music (optional)
For the manicures:
I grabbed these wire baskets, they came in a pack of two and were only a couple of dollars. Perfect for putting together all the ingredients needed for a little pampering. I included a Better Homes & Gardens Aromatherapy essential oil infused candle, a nail kit, lotion, nail polish, a hand towel and polish remover in each basket. When your guest go home it will be easy for them to recreate the night, there's also a finger bowl included, aka Better Homes & Gardens salad bowl.
For our night in, I added warm water to the bowls and rose petals. So pretty and appreciated by your friends, a simple idea to let them know that the night is all about pampering them.
Manicure Gift Basket: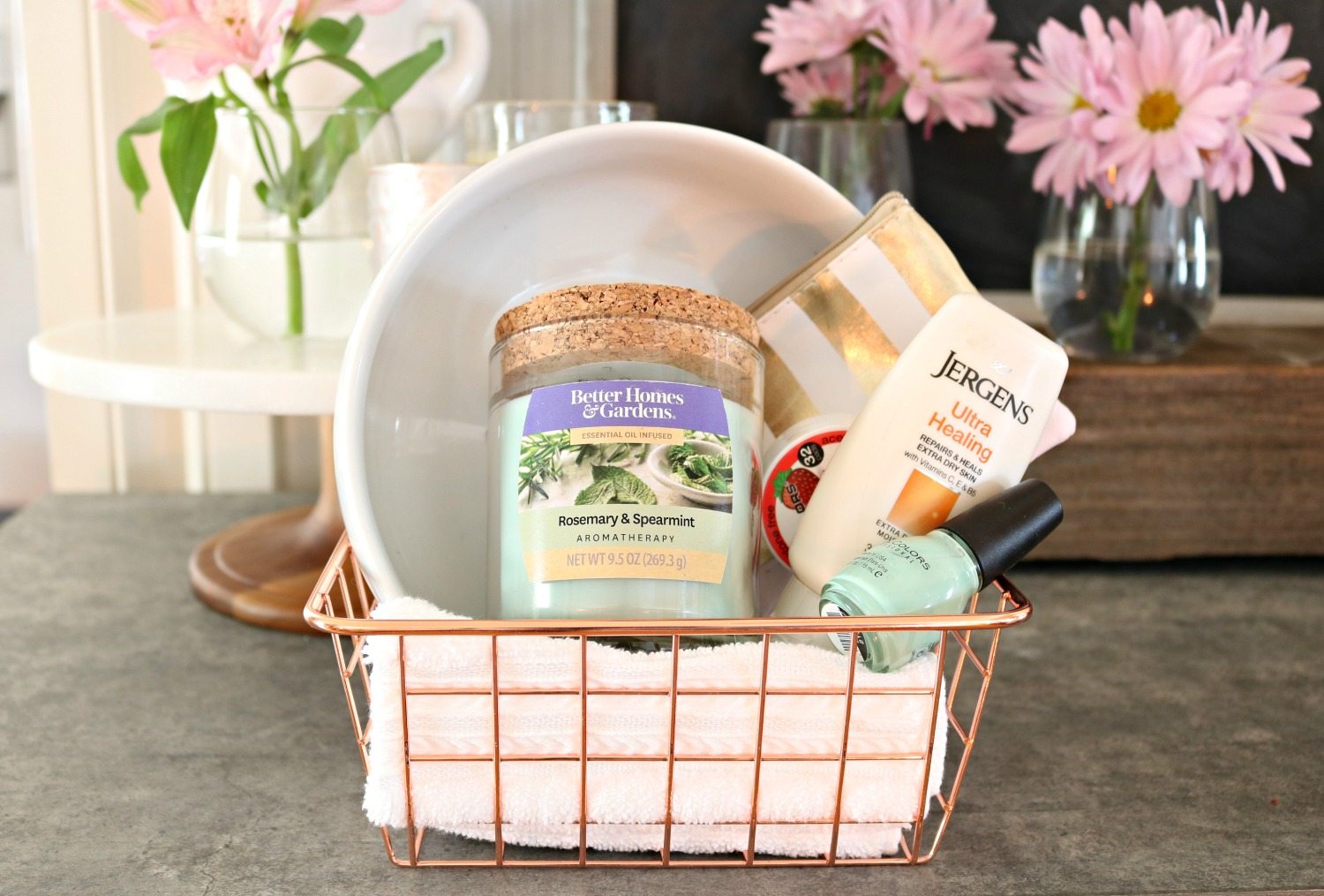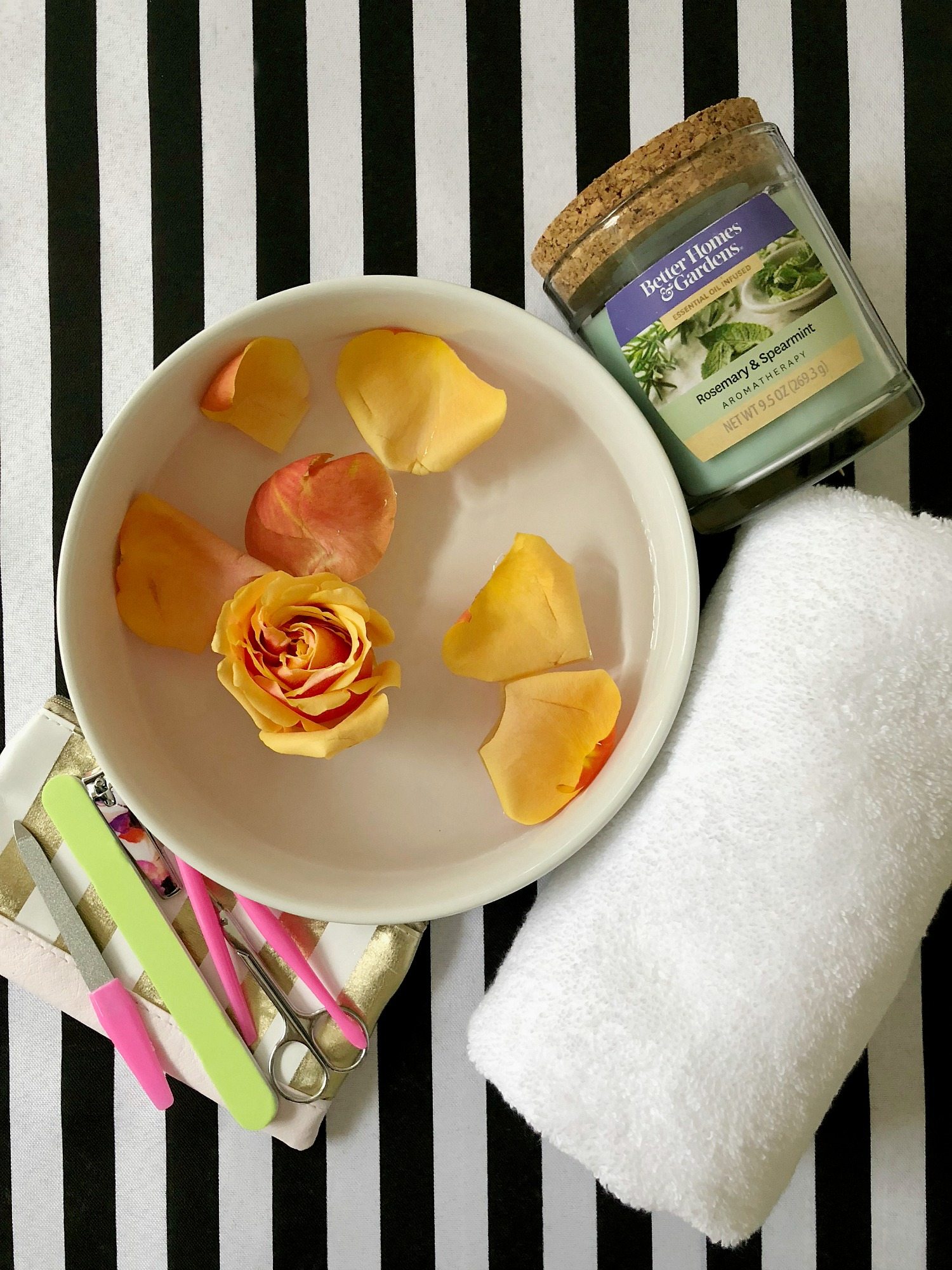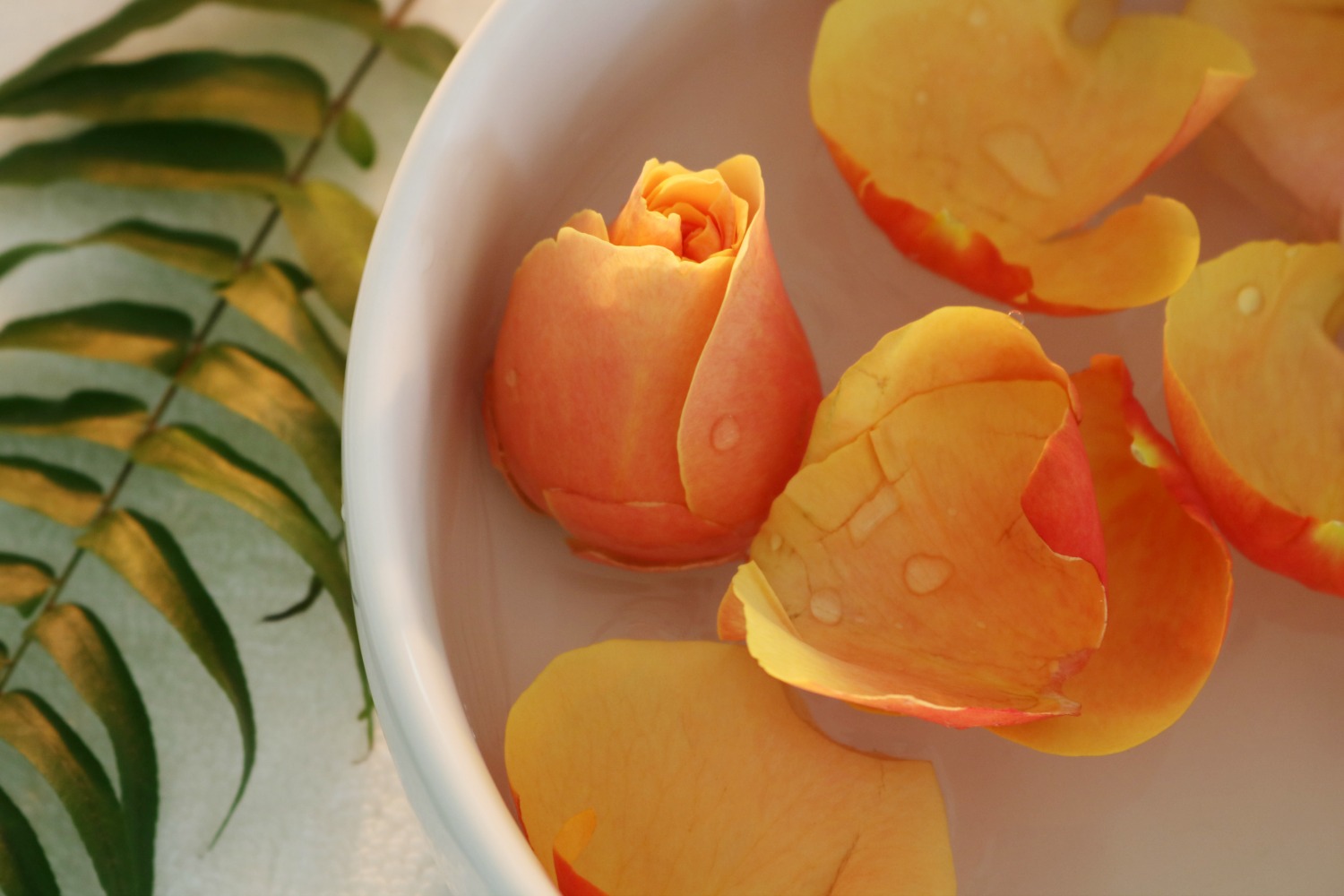 Set the mood with candles and aromatherapy:
I filled my Better Homes & Gardens diffuser with water and added lavender & birch essential oil, it's one my favorites. I'm excited about the variety of aromatherapy essential oils available from Better Homes & Gardens at Walmart. The diffuser light rotates through soothing colors or you can choose the steady option and stop at your favorite color. Another option is white or you can turn off the light and just diffuse the oil.
Watch how I use my diffuser: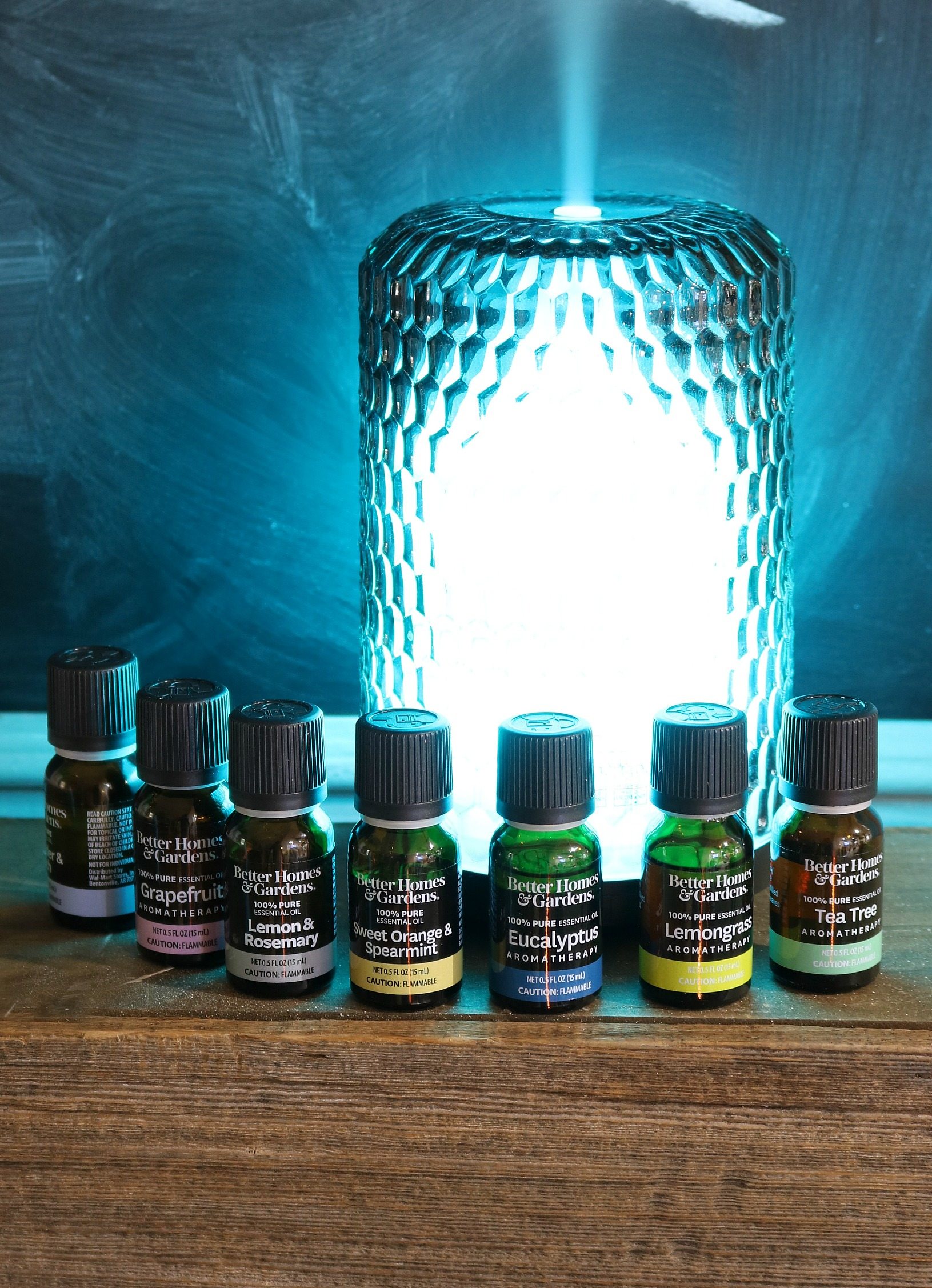 A few lamps and candle light are sure to keep the mood relaxed.
The Better Homes & Gardens essential oil infused aromatherapy candles come in yummy scents. Spread them around the house.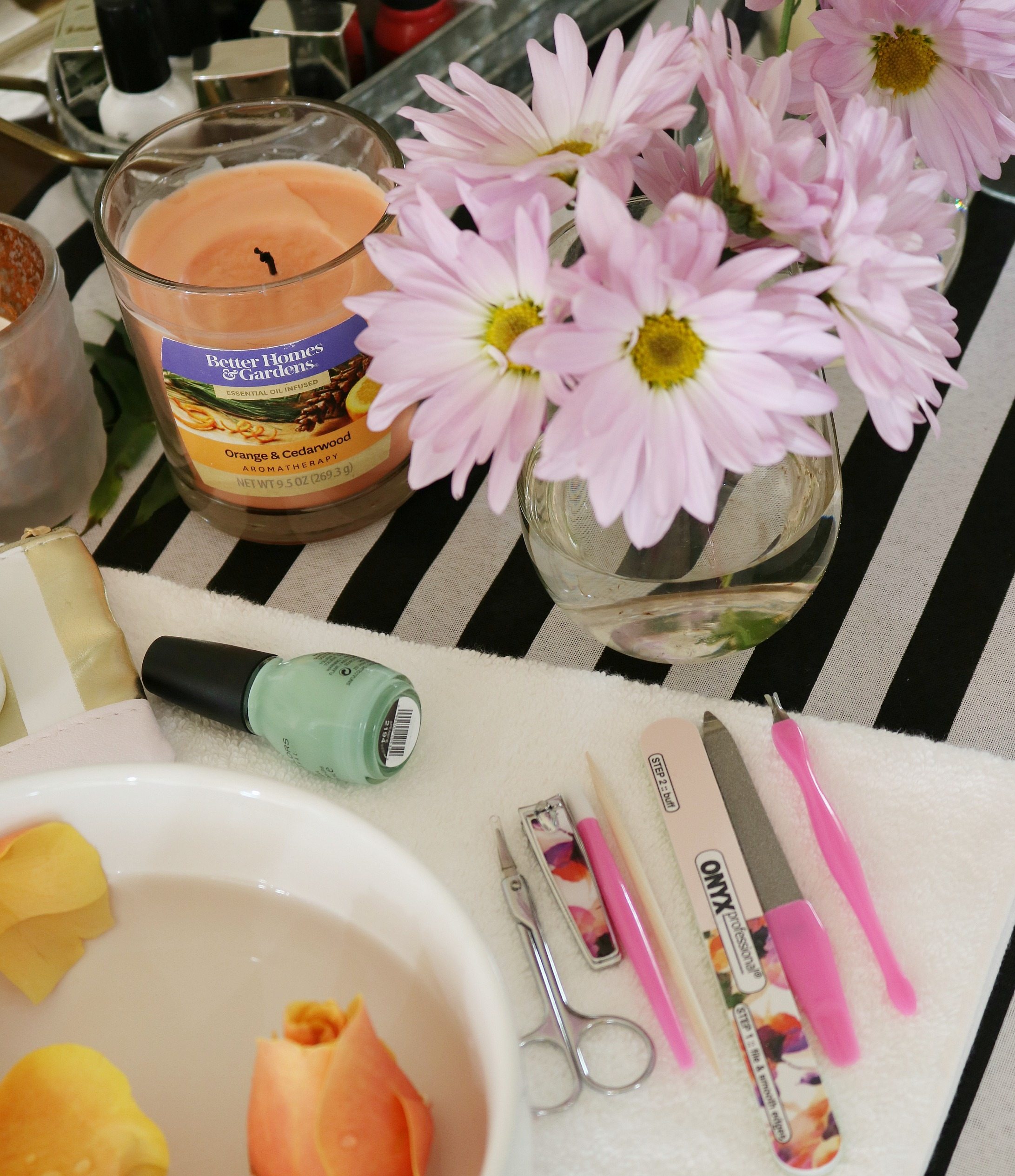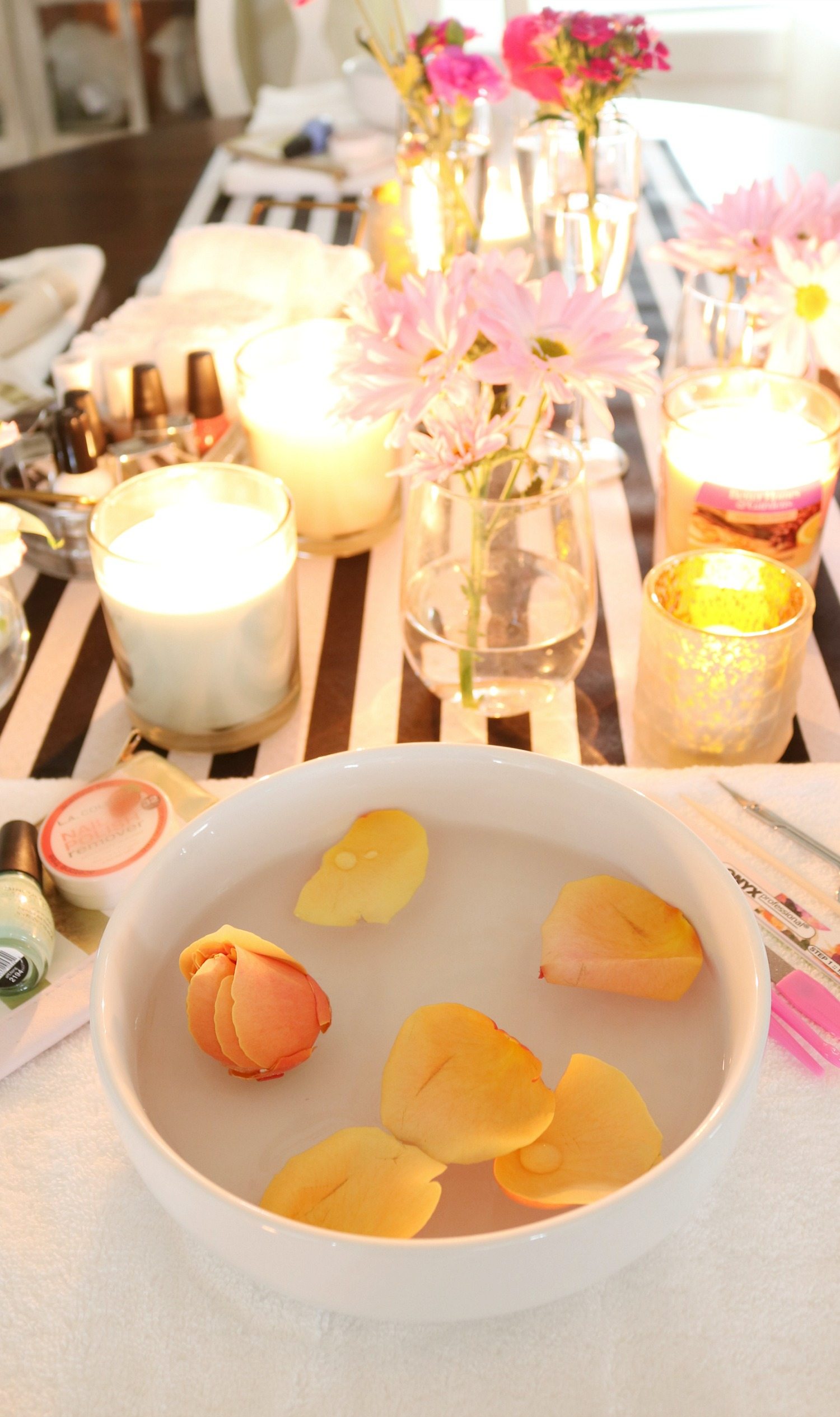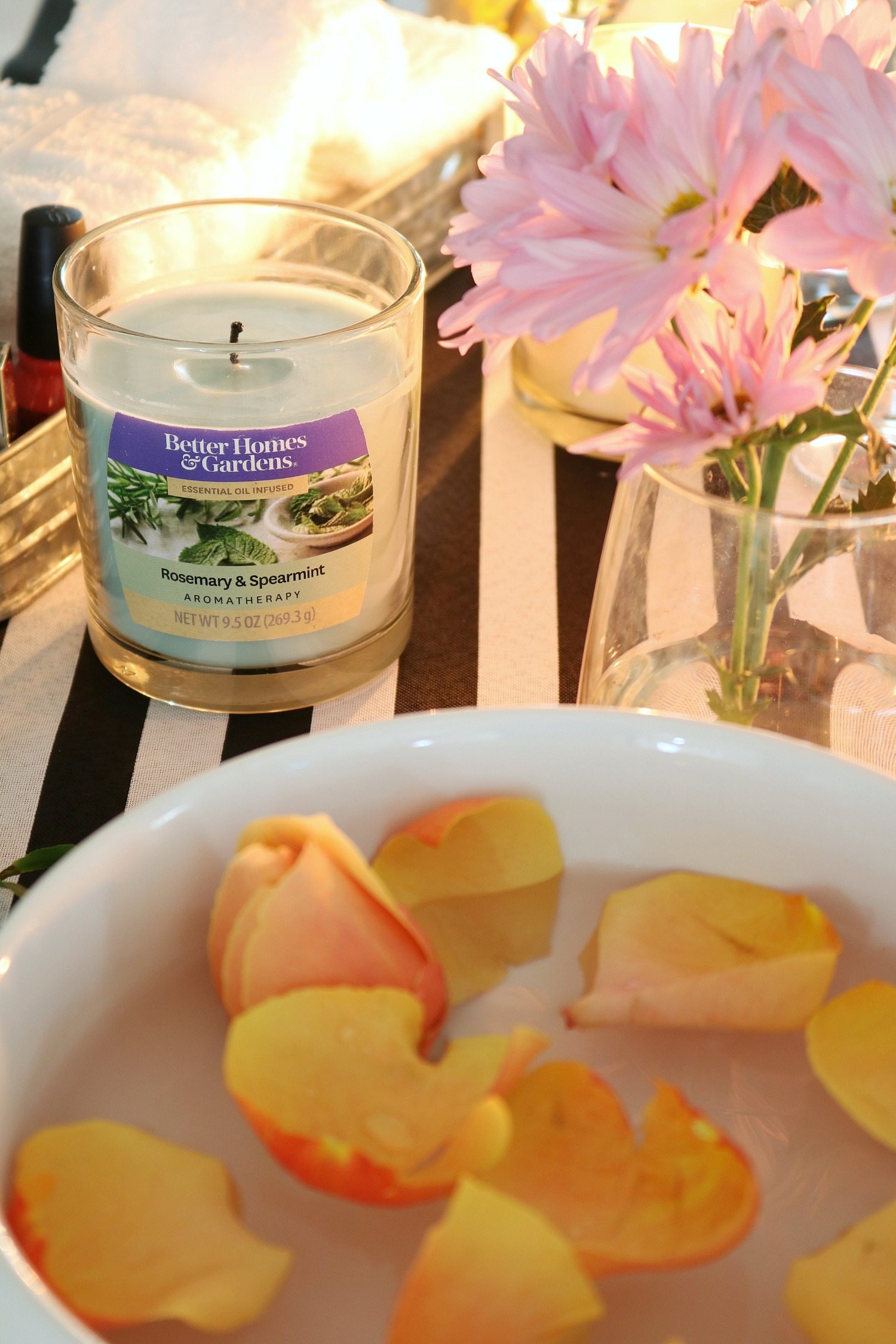 Simple Food Selection:
Fruit and cheese tray.
Turkey wraps
Fruit infused water
All of these were purchased, I take the credit for styling. The night before, I sliced oranges, lemons and limes, placed them in a pitcher. Use a wooden spoon to muddle the flavors, add water and refrigerate overnight.
Everything was delicious and looked so refreshing.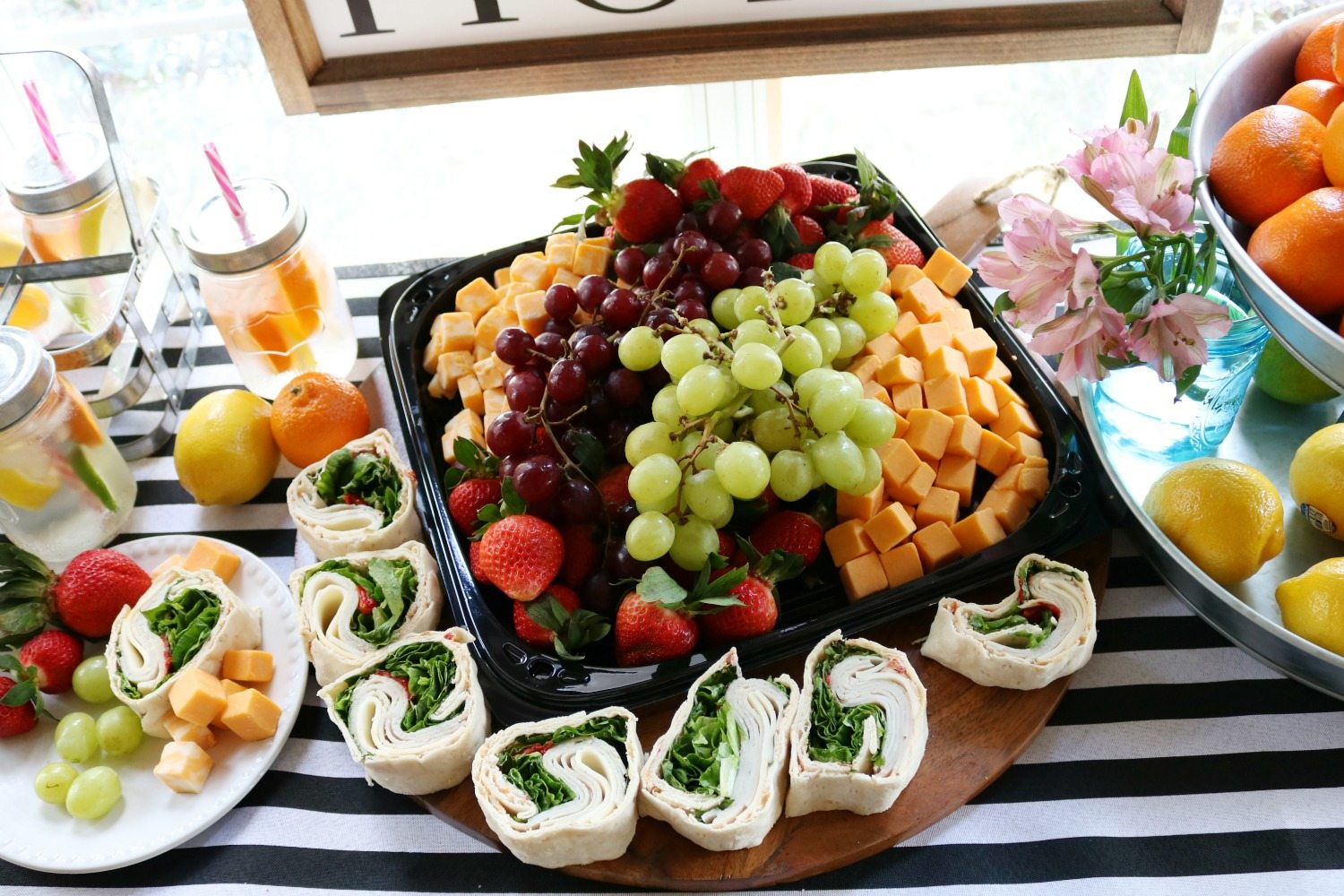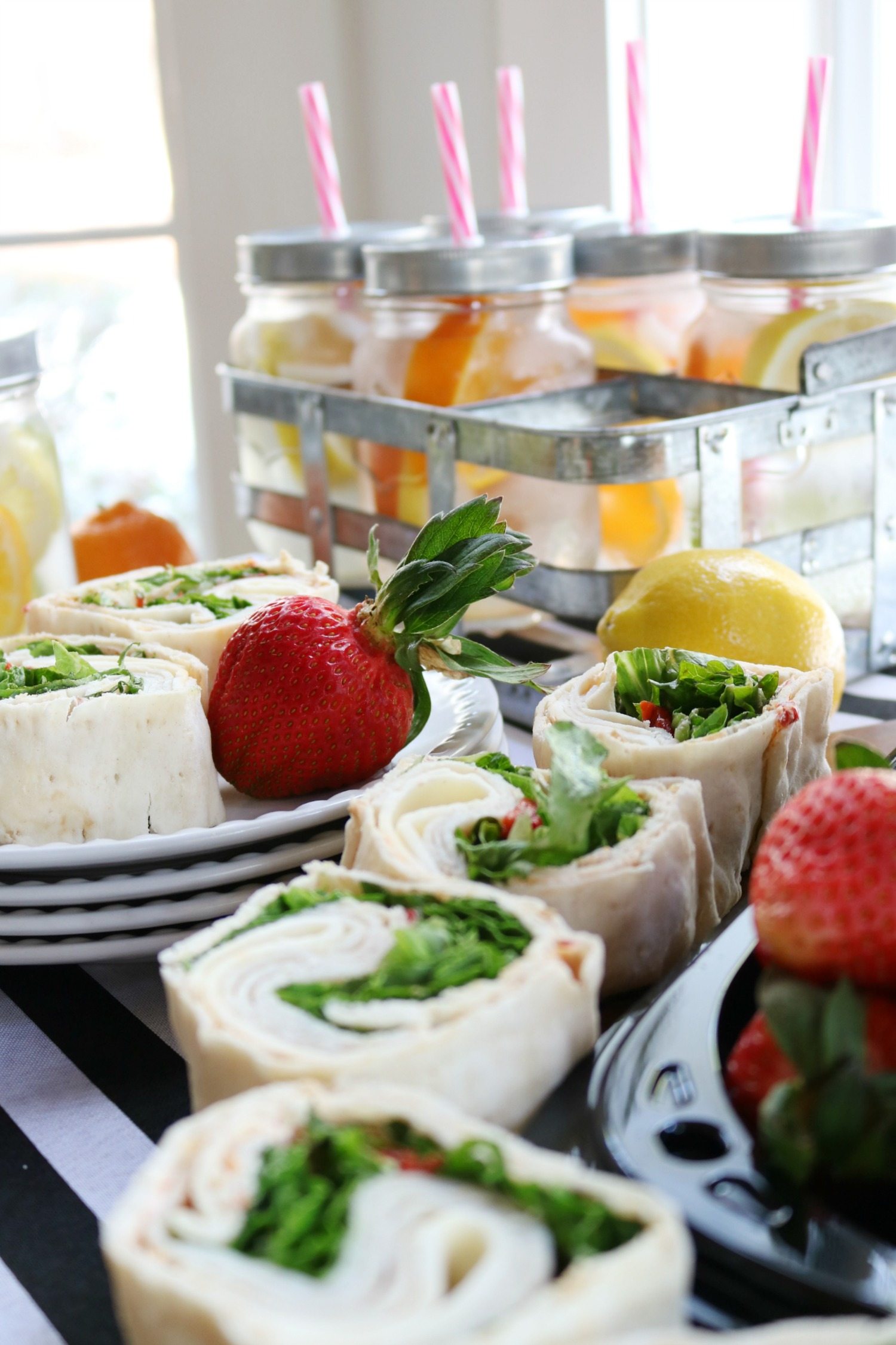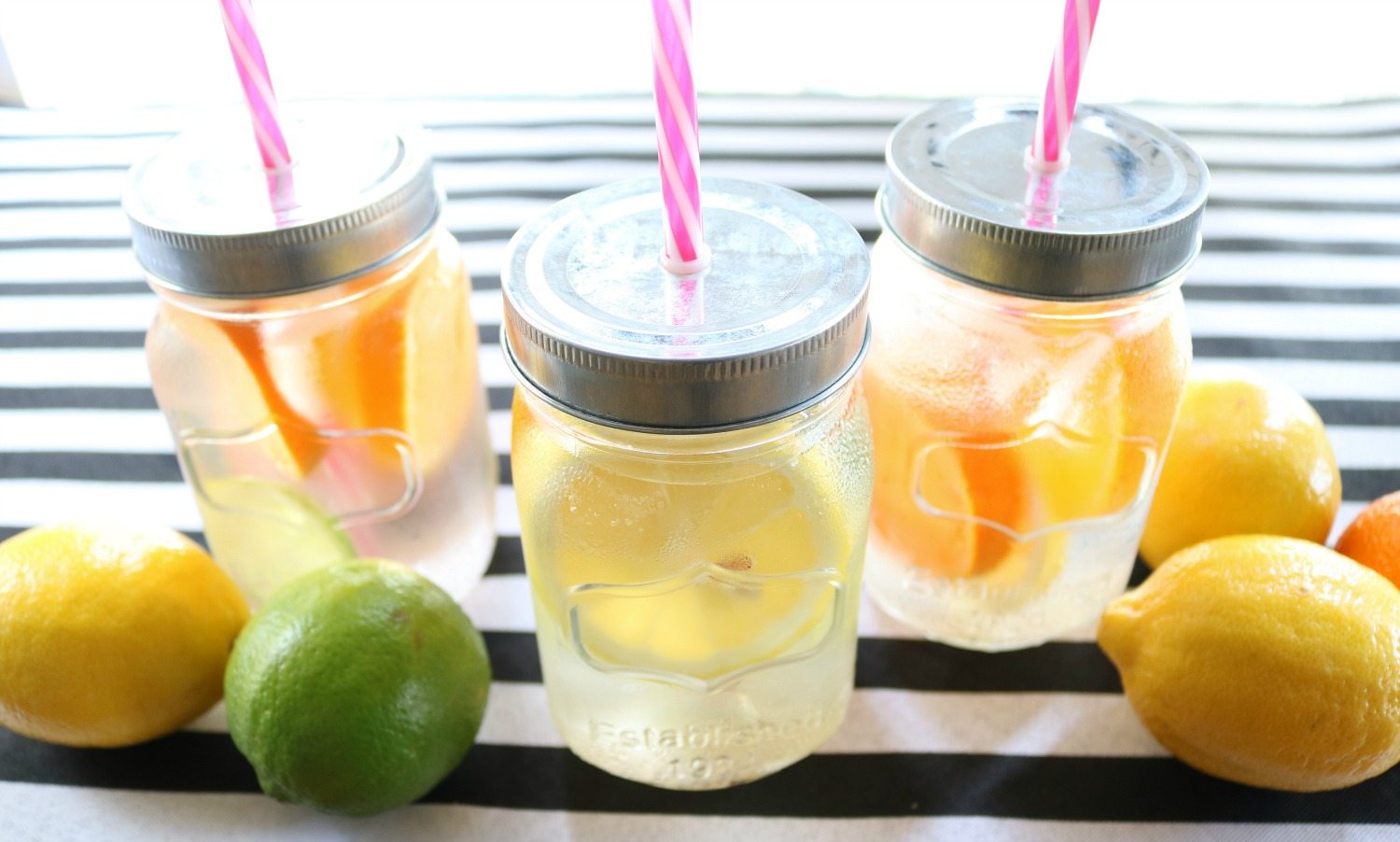 As you can see it didn't take much effort on my part to put it all together. All simple ideas, that are so worth it for your friends and you!
Better Homes & Garden Essential Oil Diffusers – check your local store for the aromatherapy jar candles. I found several cute oil diffusers there also. 
From Walmart:
The Better Homes & Gardens mason jars in a cute galvanized metal tray.
Wire baskets
Nail kits with cute striped zipper bags.
Lotion
Small container of polish remover
The food and flowers were from Sam's Club.
Be sure to Better Homes & Gardens at Walmart,  check online, they have so many beautiful items! I love finding affordable decor and organization items at Walmart and sharing it with my readers, I am proud to be a part of the Better Homes & Gardens Live Better Blogger Network!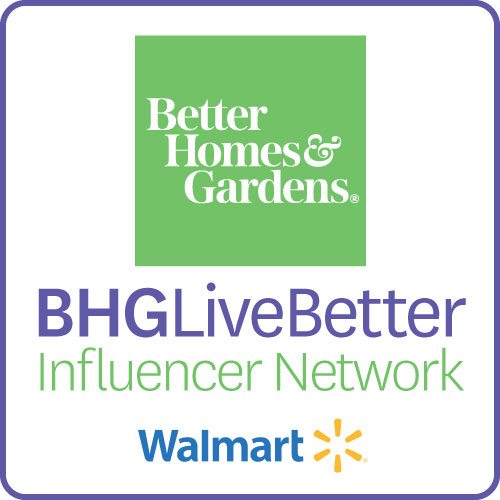 Keep up with all the beautiful Better Homes & Gardens at Walmart choices: Instagram – Twitter – Facebook – Pinterest – Website