How to Create a Gallery Wall…
Hey Guys, you're in for a treat today!
Our decorating team is back this month and we're talking about gallery walls! Gallery walls are a way to display photos of family, friends, trips  and anything else that you love or collect.
There are no rules as far as I'm concerned. If you can hang it on the wall, it's fair game.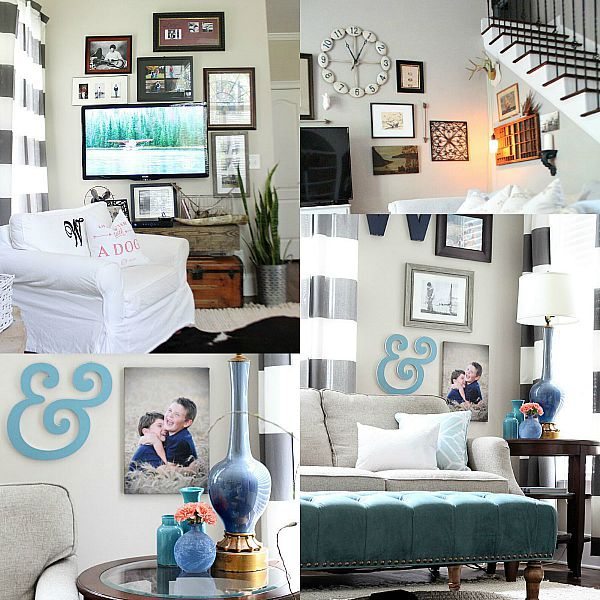 For the small wall on the right side of our sofa I gathered my supplies and used my favorite method of hanging items to create a gallery wall. Eyeball it method, that is!
I hang my first piece and then eyeball the rest.
Here's how I created a small gallery wall:
The first photo that I hung is a favorite black and white of my oldest grandson. I remember that day oh so well. My daughter wanted him to wear that vest. Yes, she did. So he wore the vest after about an hour meltdown. She had even changed her mind, ok, you don't have to wear the vest!! You can imagine. Anyway, he wore the vest and was perfectly happy just like nothing happened. 
I spaced the next one about 2″ above it. Another favorite photo is one that I took of our daughter on the beach, she was pregnant with my second grandson and she's holding my first.
I added the third, at 2″ below the first photo. It was a printed canvas of the boys in a wheat field.
I fell in love with this blue "&" sign, I found it at HomeGoods. I used it to fill in to the left or the 3rd photo.
I finished this wall up with a "W" that I found at Goodwill.
When you're thinking about creating a gallery wall, shop your home first. Decide what photos you're going to use and look for meaningful objects to add to your mix. Head to Goodwill, think about spray painting an item if it doesn't fit just right in your decor. If you still need that special addition to your wall, a trip to HomeGoods or TJ Maxx may be necessary 😉 I can find something I love every time I walk in to a HomeGoods or TJ Maxx, I bet you can too!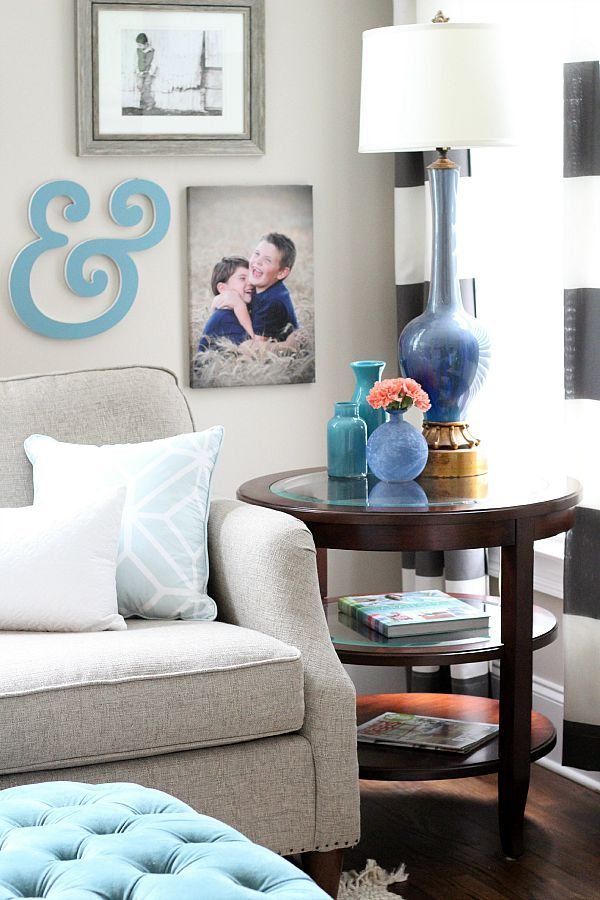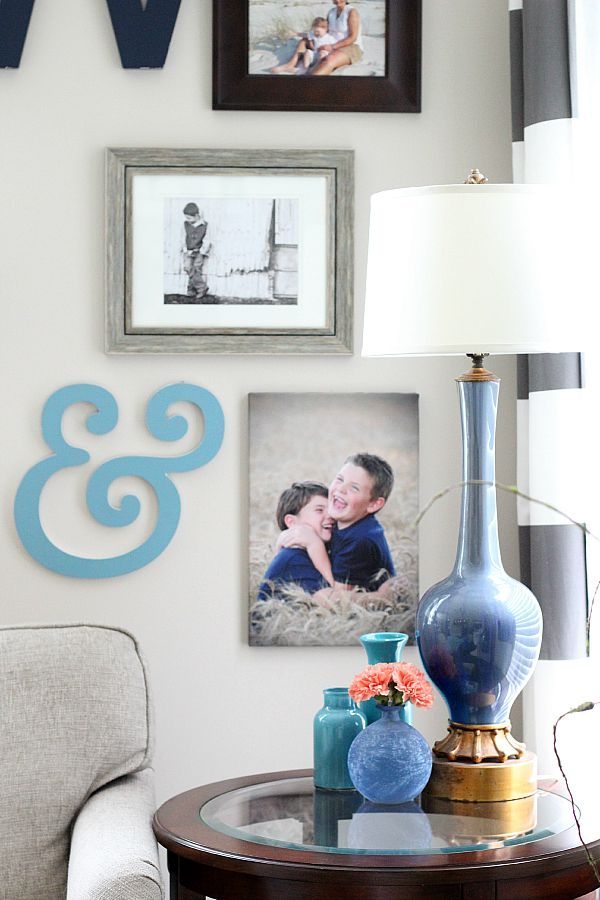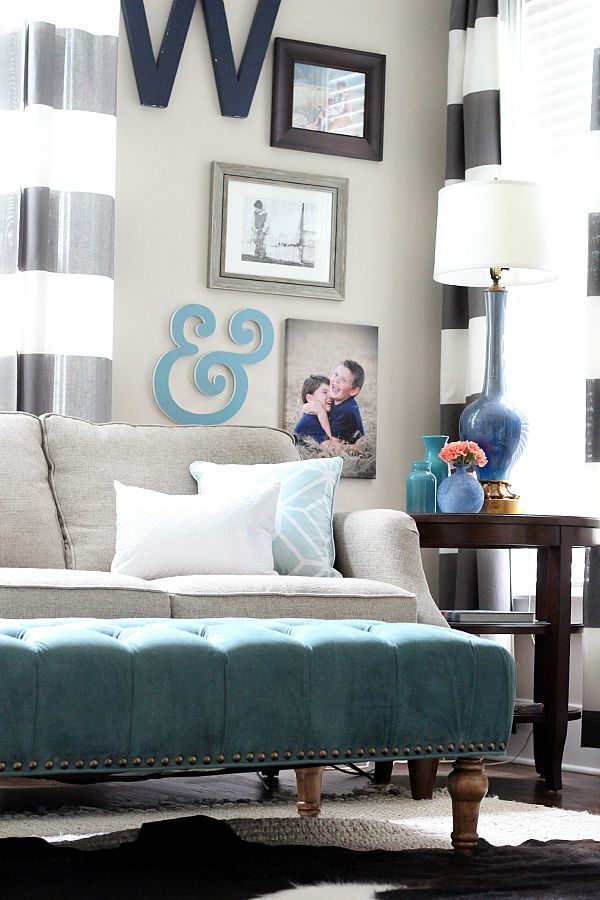 On the opposite wall, I have another gallery wall…are you surprised?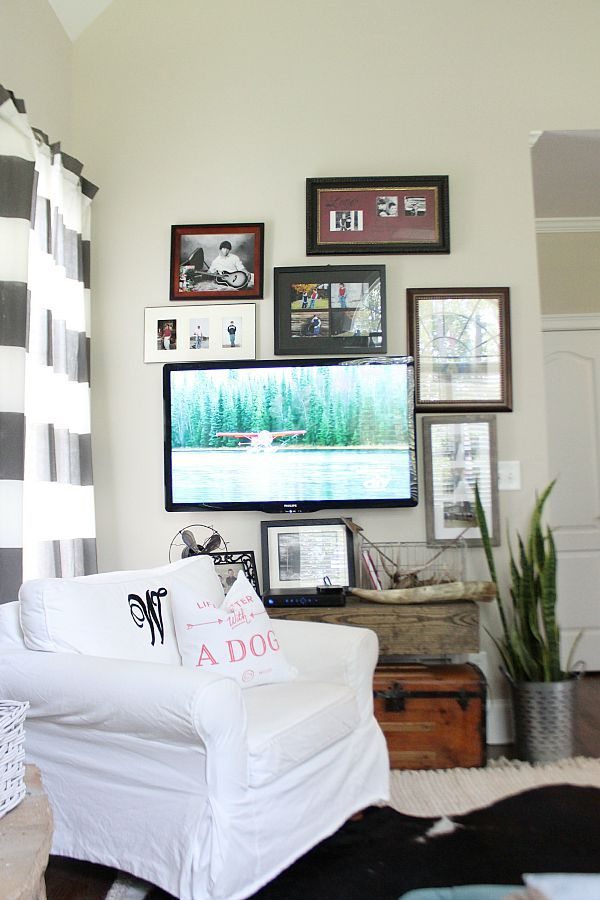 I arranged this one around the television.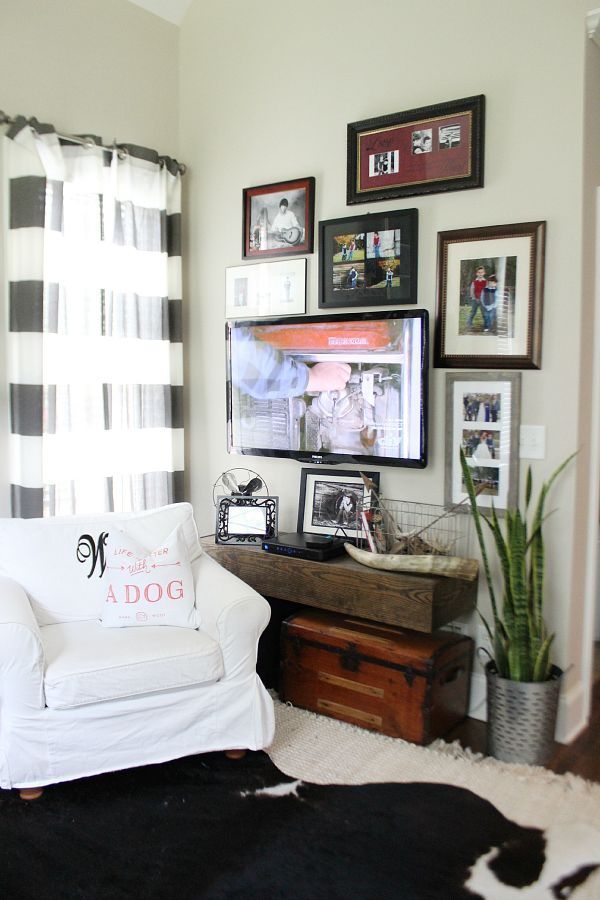 Most of these photos came from a gallery wall in our last house, but you can see how different they look now: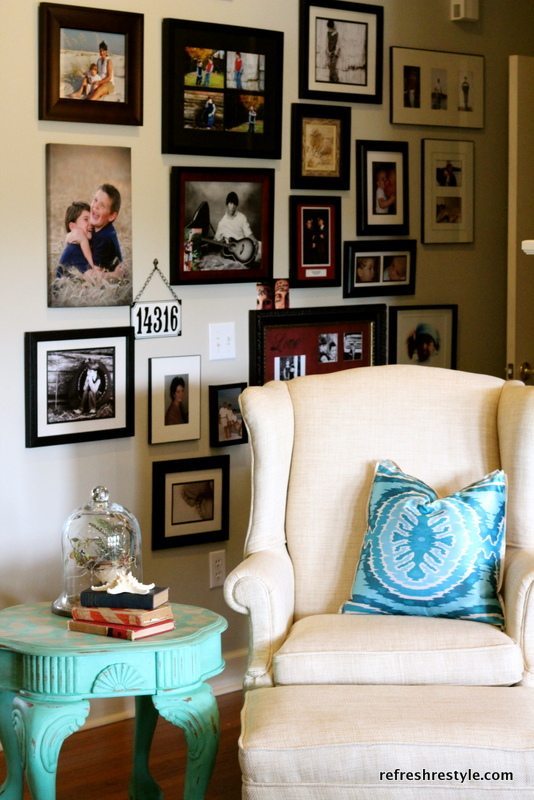 Now on to the living room wall: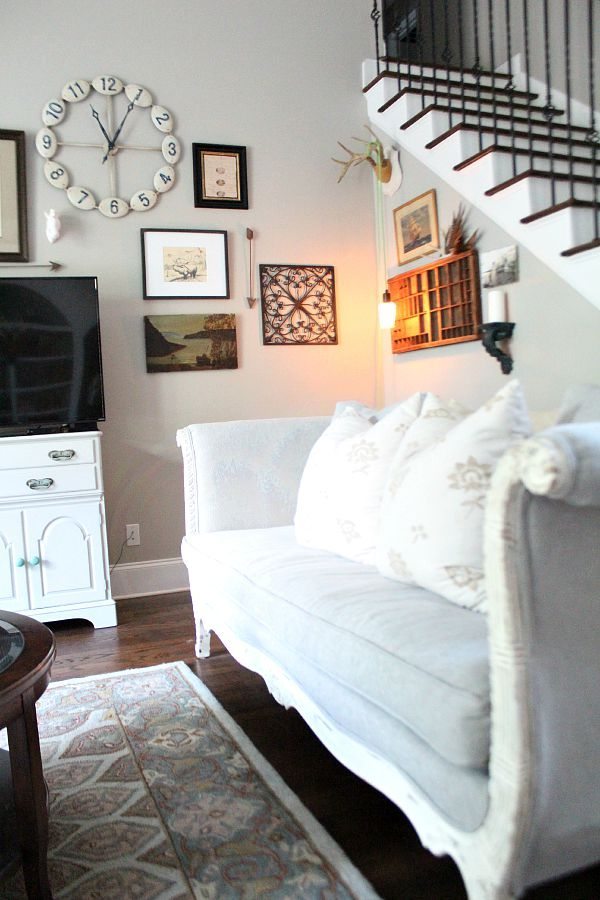 This one is a work in progress. We have this tall wall in the neighboring living room and I've started adding some of the photos and goodies that I collected over time.
I believe in slow decorating. Finding those special items over time.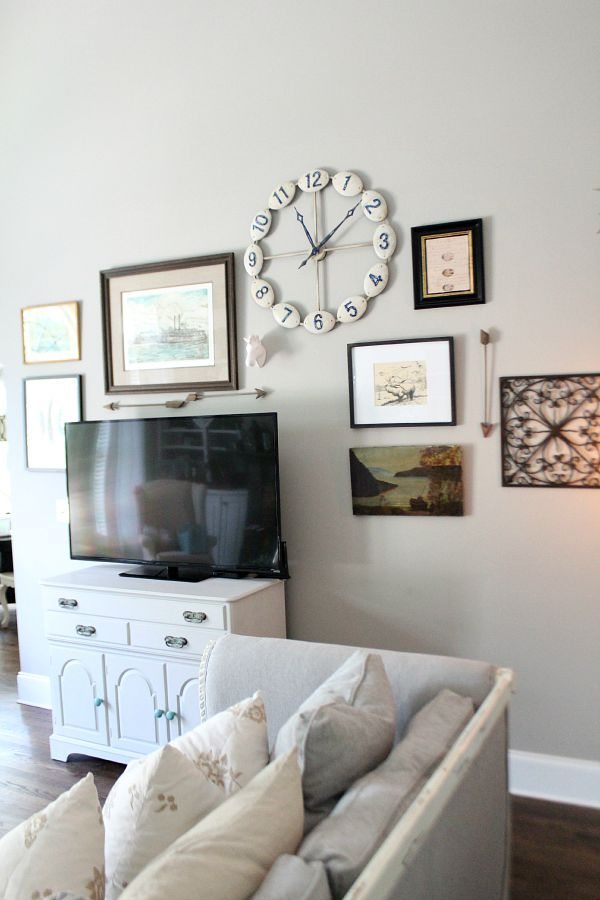 I'm also in search of a larger piece of furniture to place the television on.
I'll keep you updated on this one 🙂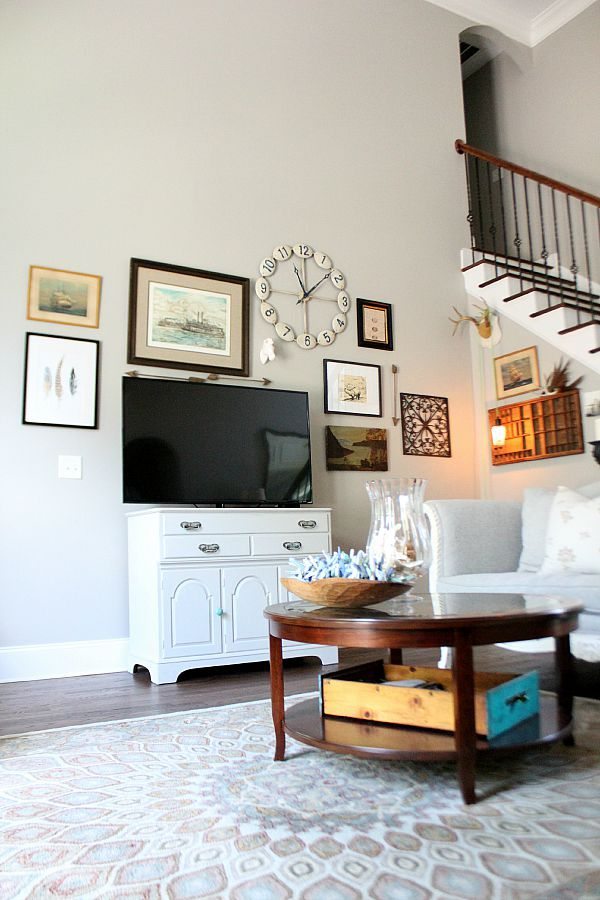 An idea from my archives:
How to Hang Silver on the wall, the easy way! Create a wall of collect silver pieces from Goodwill or other thrift stores.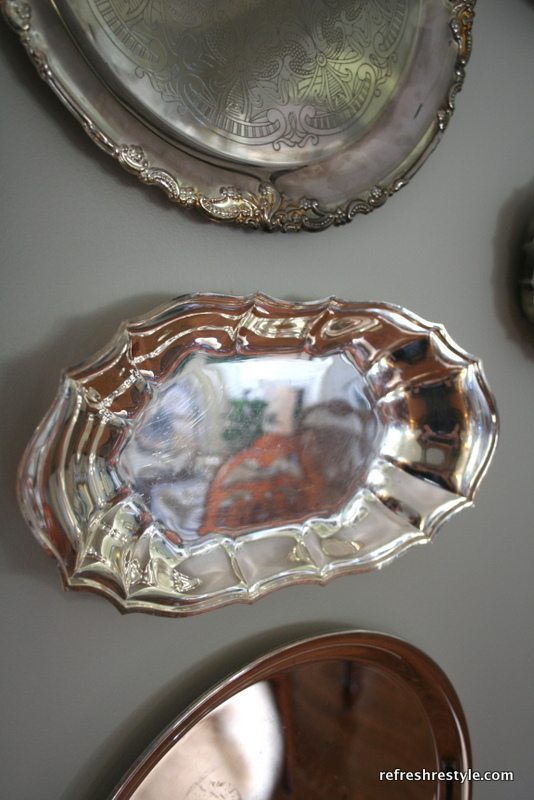 Gallery walls don't have to be just photos, add your favorite items collected over time.
The meaningful stuff. Every time you look at it you'll see a memory.
Now it's time to see what my decorating friends did
Click for each link for more ideas:
Guess what? We're excited to have
joining our Decor Enthusiast Team next month! 
Join us on Instagram: Refresh Restyle use #DecorEnthusiast so we can see your gallery walls!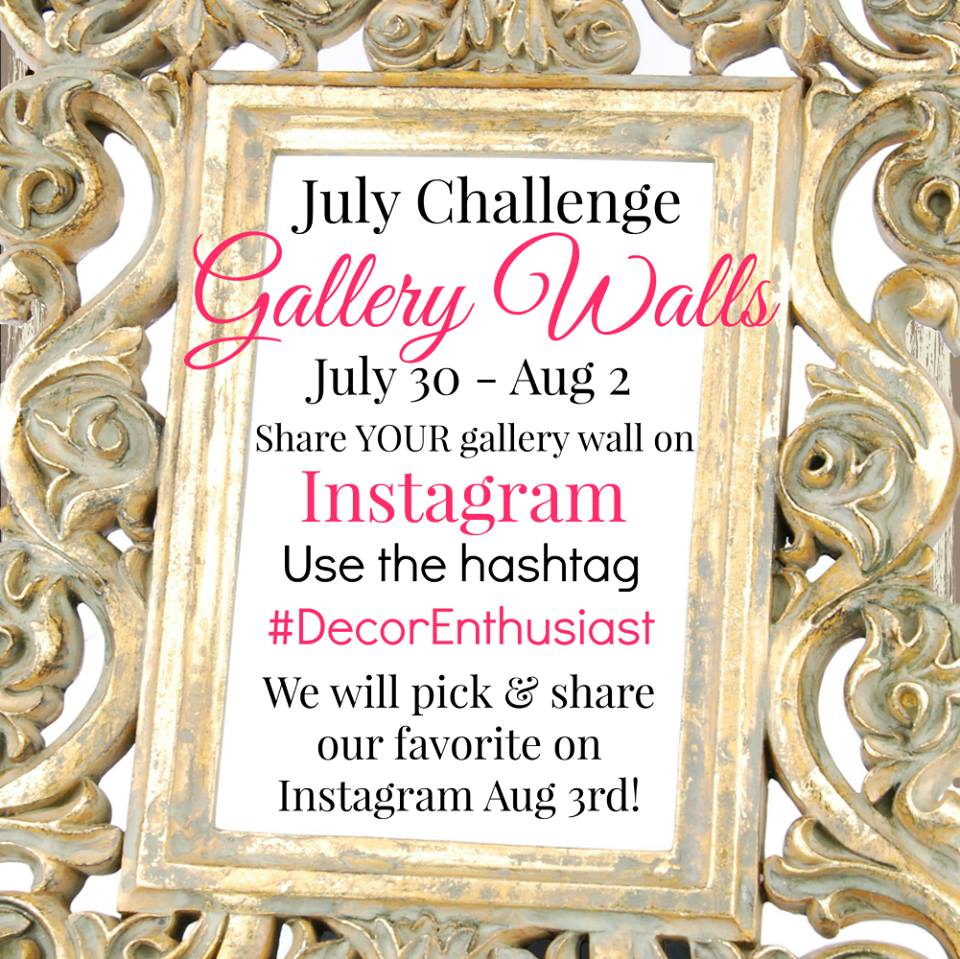 Join us on Facebook:

Are you ready to participate with us? You can!!! We wanted to give you a chance to share your amazing decorating tips and projects and to ask questions and advice, so we have created a forum specifically to do that on Facebook. Visit the Decorating Enthusiasts page HERE to begin chiming in and sharing what you have done.