Sometimes you build something out of necessity, like when you've got way too many throws!
How to Build a Blanket Ladder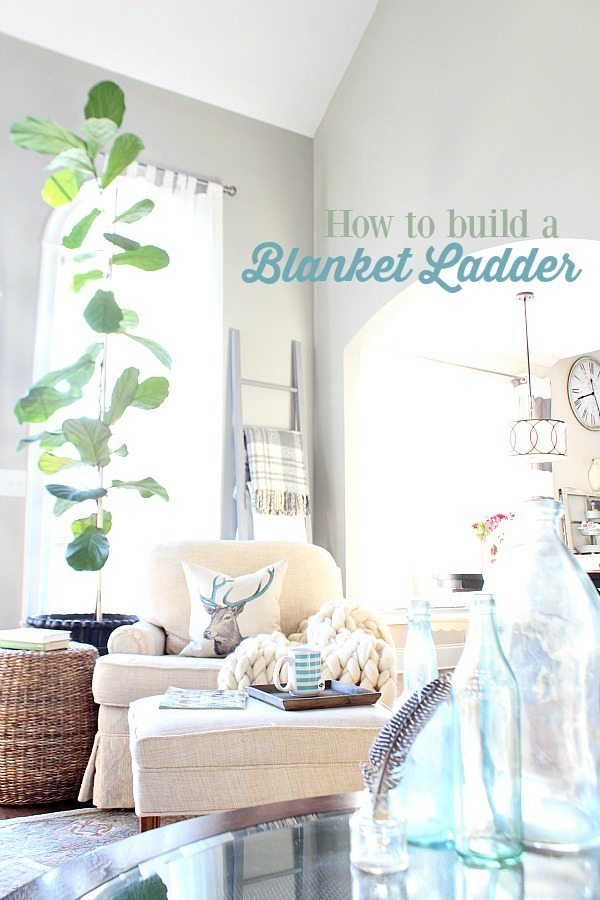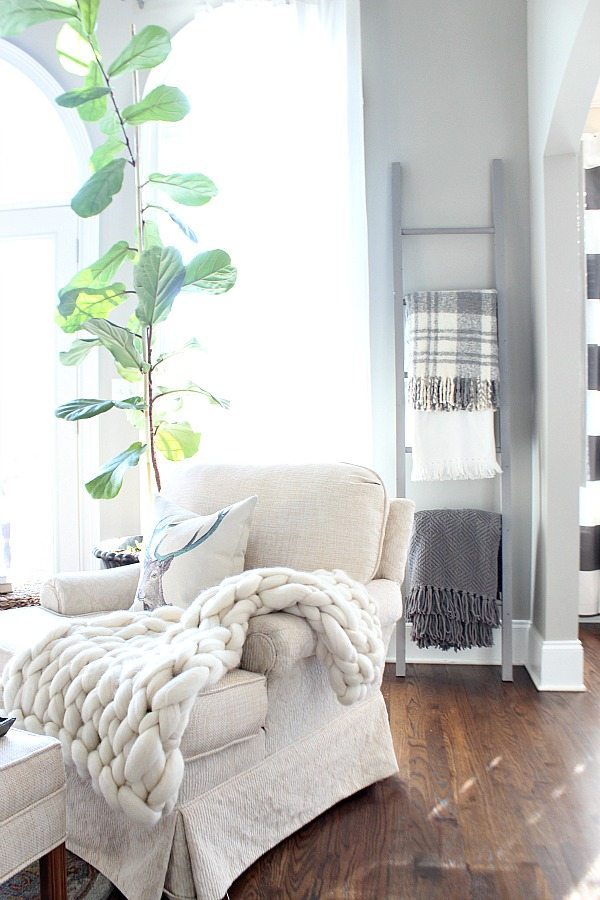 As you can see I have little obsession with throws! Most of the time they are piled 10 deep across the back of a chair.
And since I'm drawn to the pretty ones, I thought they would look great hanging on a ladder.
This was an easy DIY project that anyone can do. I guess the hardest thing about it will be keeping my grandsons off, trying to climb it! It is for decorative purposes only!
So boys, back away from the ladder 😉
You will need the following wood for this project:
2) 7′ – 2″ x 2″ pine pieces (these are from our scrap wood pile)
2) 1″ dowels 48″ long
Tools needed:

Cut the dowels at 16″ – you will need 6 dowels for this project.
Cut the 2″x 2″ to 7′ – or have it done at Lowe's or Home Depot
Measure and mark your placement for the dowels. Secure the 2″ x 2″ with a clamp and use a Forstner bit to drill the holes. Add a piece of tape on the drill bit to measure the depth. I practiced on a piece of wood to see how deep the holes needed to be.
Add a little Gorilla Glue to every hole.
Position every dowel (this was hard to do by myself – but I did it!) Tap each location with a mallet to make sure that they are secure.
I used my Ryobi air strike, with 1 1/2″ staples to secure each intersection of the dowel to wood. The glue and staple are strong enough to hold throws but not grandchildren 😉
I placed the ladder on a level flat surface for the glue to dry, at this time you can use clamps to secure and until the ladder dries.
Paint or stain to your liking. I painted mine gray,with one of the small samples from Lowe's.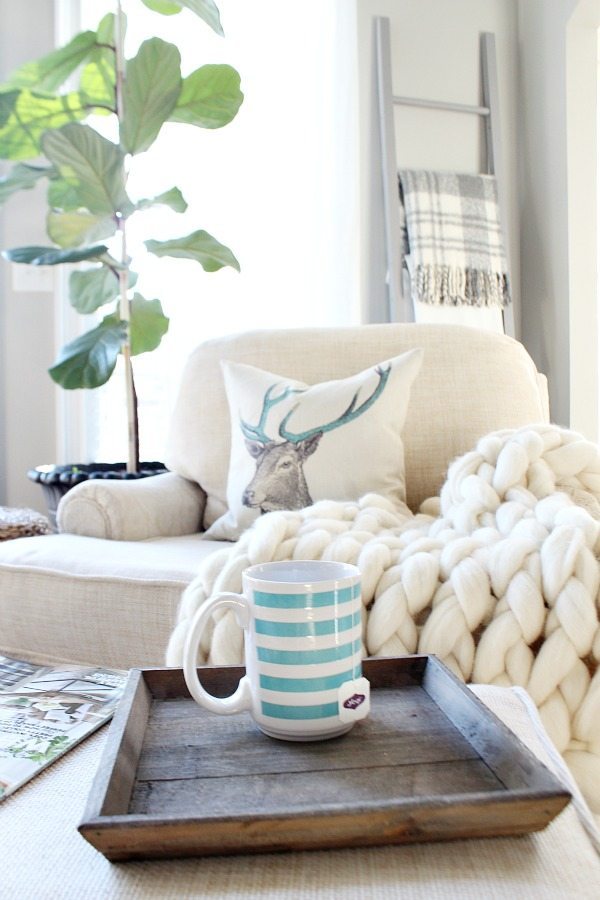 Don't be afraid to use power tools! This is an easy beginner project that any one can do! At the end of this post you will find more ideas for creating with power tools!
Now Grab some tea and a throw and admire your easy Blanket Ladder!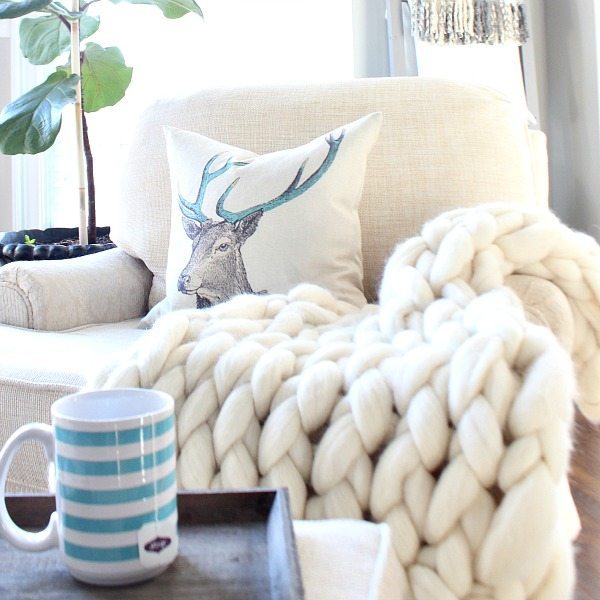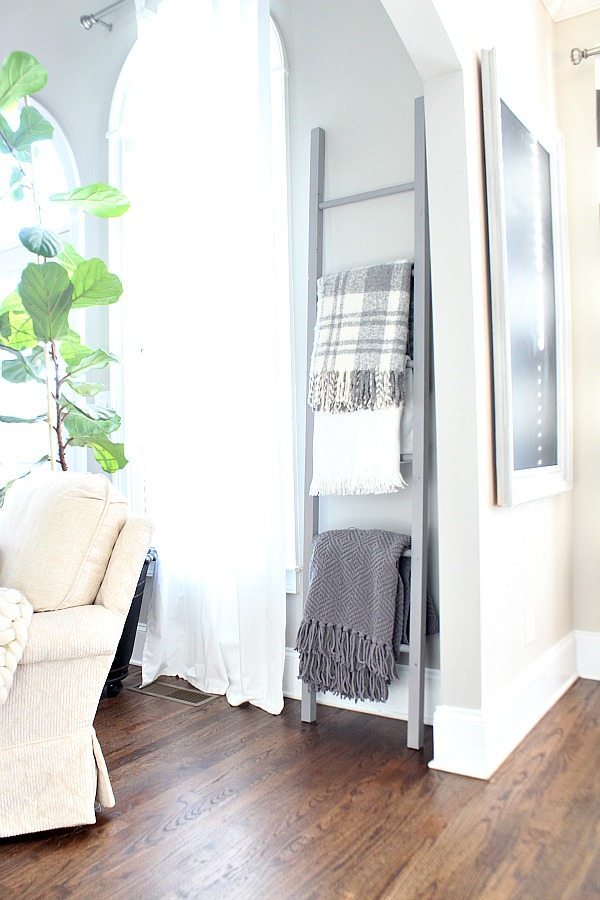 I'm joining a group of bloggers haling power tools and sharing their creative ideas for home improvement! Please be sure to check out all the projects!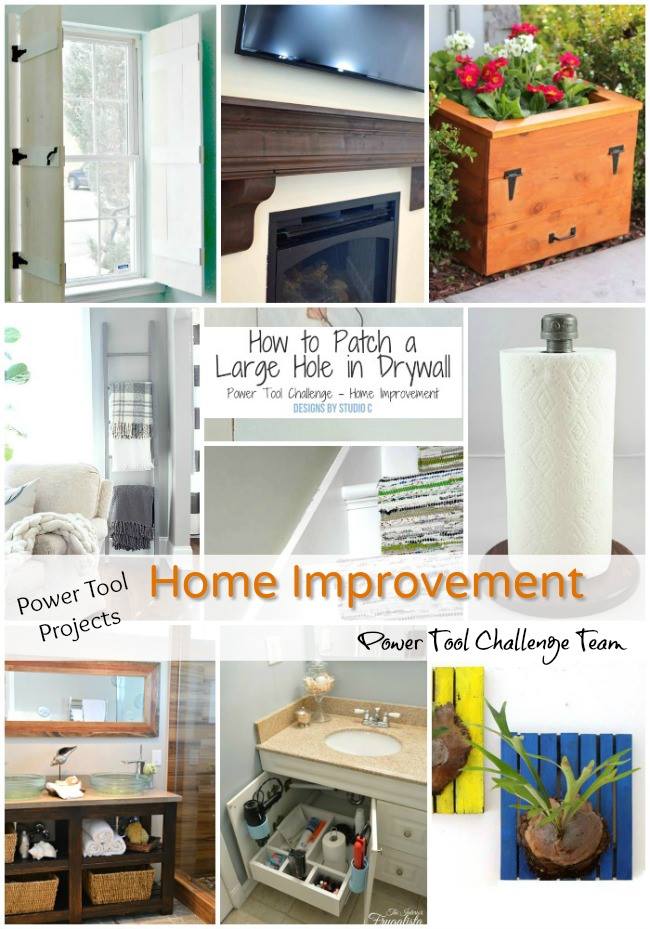 Click each link to see these awesome Power Tool Projects!
DIY Shutters Create And Babble
DIY Fireplace Mantel Shelf Her Tool Belt
Industrial Paper Towel Holder by Virginia Seweet Pea
Blanket Ladder by Refresh Restyle
Cedar Hose Planter by Kim Six Fix
DIY Vanity Sliding Drawer by Interior Frugalista
How To Patch A Hole In Drywall by Designs By Studio C
Wall Mount Staghorn Fern by A Piece Of Rainbow
DIY Painted Stairs Makeover by Thrift Diving
DIY Modern Rustic Mirror by H2OBungalow