email that is from Knock Off Decor. My Pottery Barn Copy Cat Christmas Tablescape is going to be featured tonight(12/15) at 8 pm. I love it over there, you can find perfect knock offs from PB, Ballard Designs, C & B, Pier 1, the list goes on. You name it, they've probably got a knock off for it. Spread the word, great place for inspiration!
On a lighter note, last night I was pinning over at Pinterest. This is what I found and it's how Mr. reFresh feels too. I just wanted to share with you.
Sometimes I look around and forbid myself to go thrifting again, until I get some of these projects done Then I see something like this and I realize it's ok.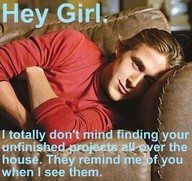 Or I get a crazy idea, like buying all the ugly owls that I can find, just to spray paint white.
If you're not pinning and you want to, let me know. I'll send you an invite. I don't want to be the only one with bags under my eyes or 10,000 project ideas pinned that I'll never get to.
Both of these photos came from my Pinterest Bless his heart board by way of Handmade Ryan Gosling
I also pin other inspiration 🙂
Please visit these wonderful places: