This post is sponsored by Maison Blanche Paint Company
A few years ago when I created an office space in a spare bedroom, I purchased this metal daybed. I loved the ticking mattress and bolsters that came with it, I bought it even though I felt like the black finish was a little more modern than I wanted. I needed an office and the option for sleeping. This week I transformed it, thanks to Maison Blanche vintage furniture paint. I love the new look with the flat, chalk painted look plus random distressed areas.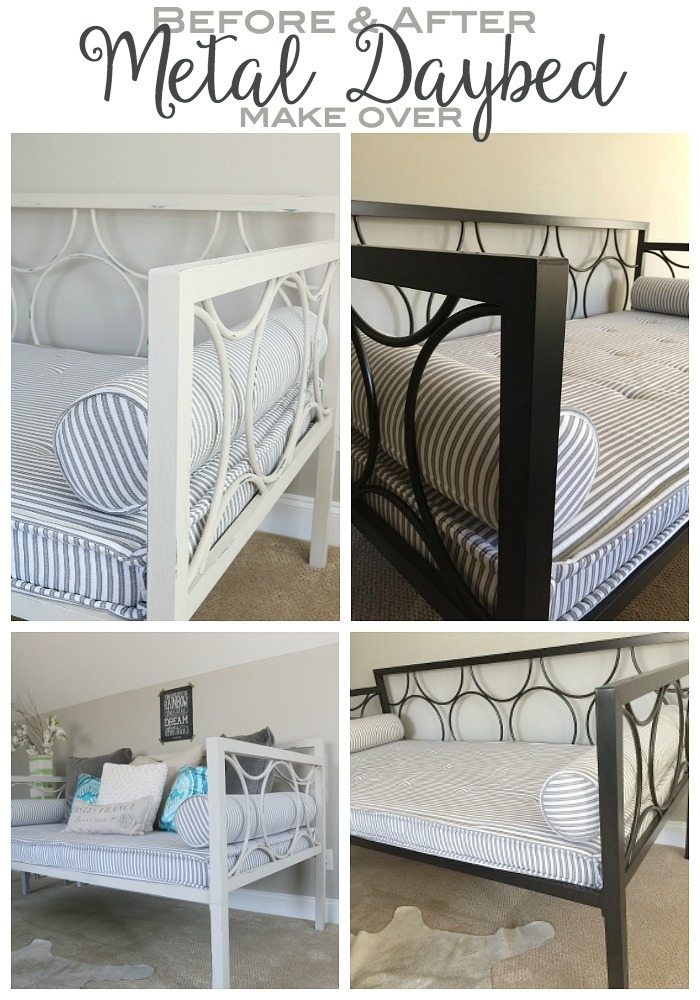 I'm a risk taker, I wasn't worried at all about painting over this slick metal finish.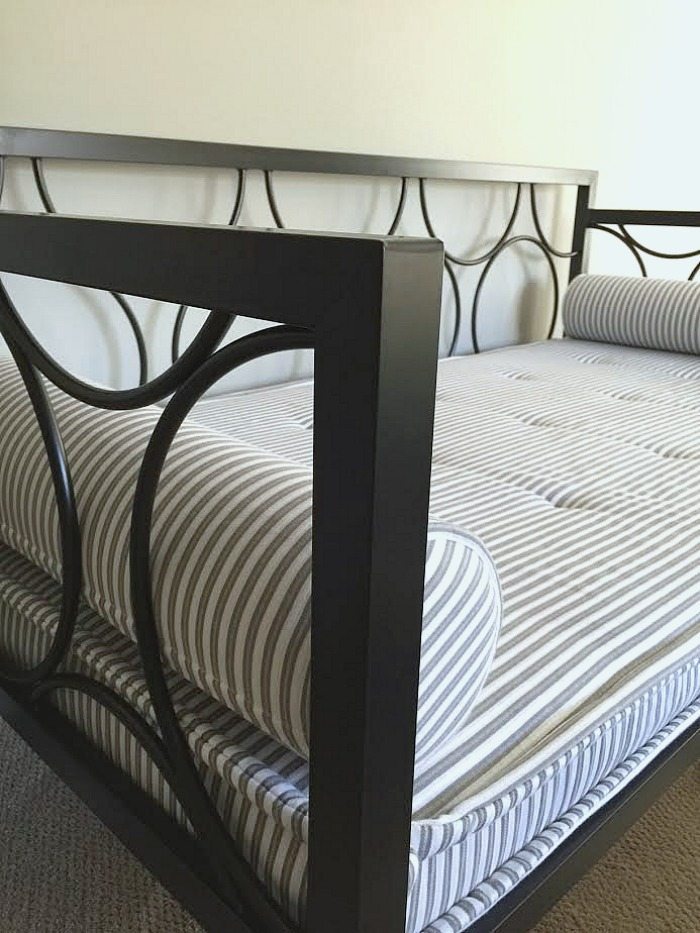 Tip: I did my usual finger nail test. I painted a spot with 2 coats of paint and tried to scratch it off with my fingernail. From years and years of experience, I've found this method to be very scientific and telling as to whether the paint will adhere to a surface.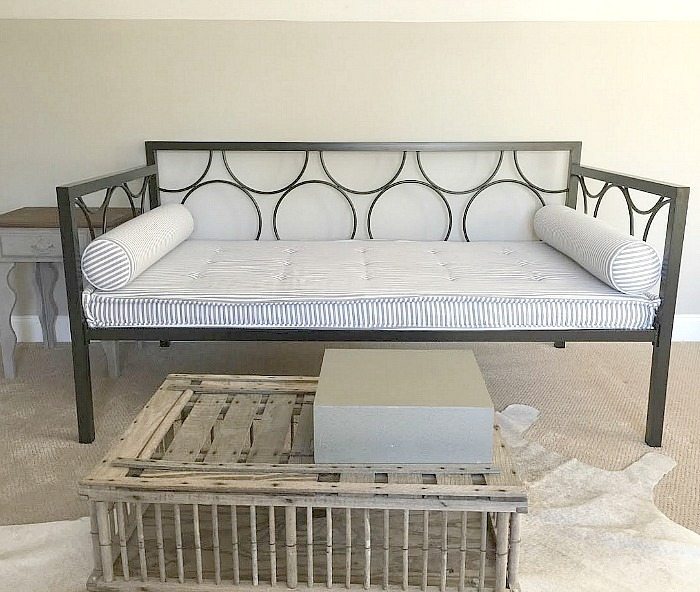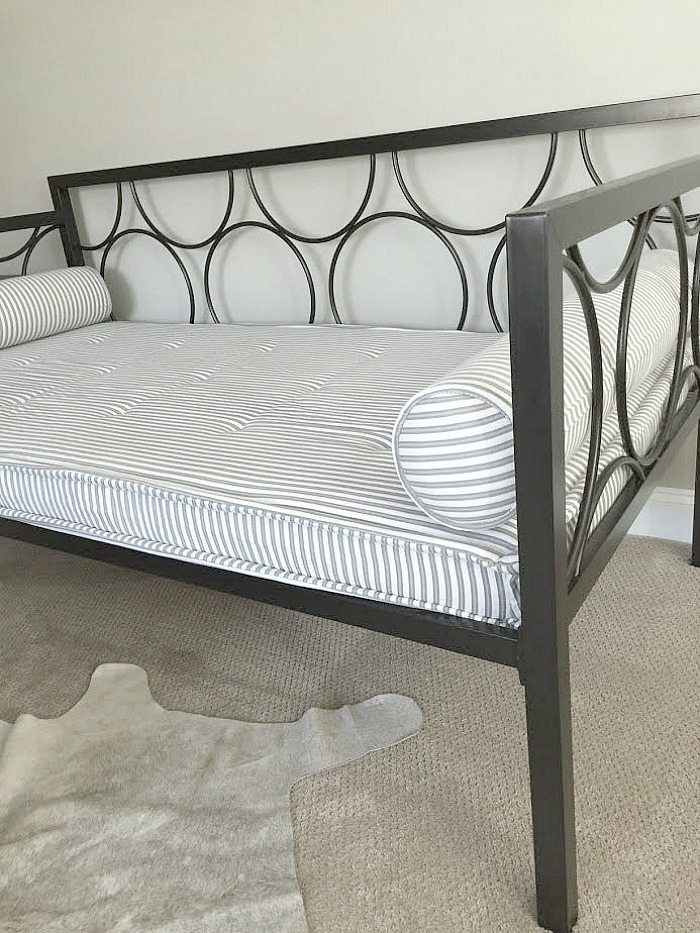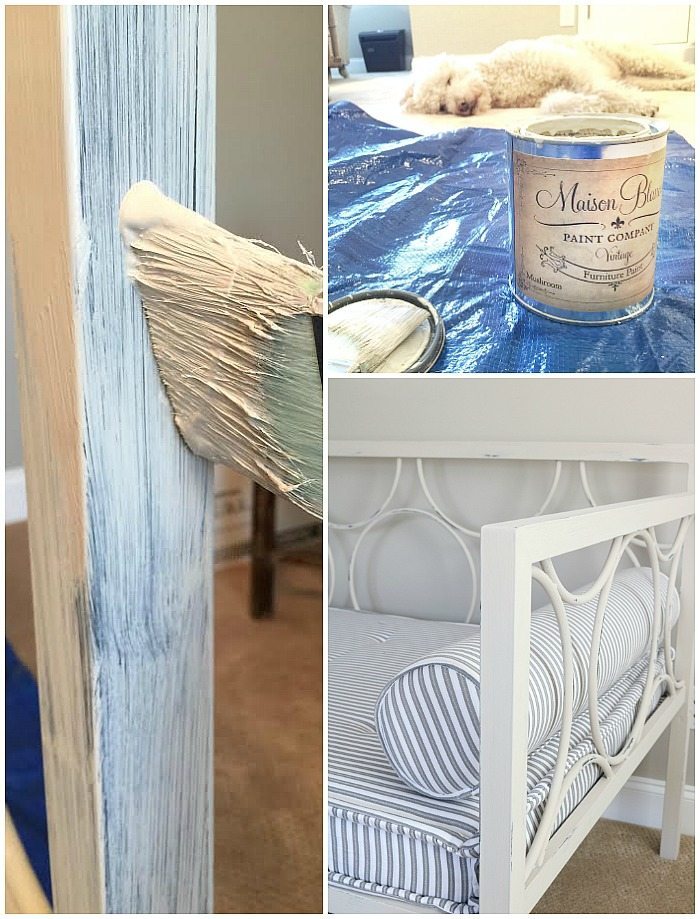 How to Paint a Metal Daybed
Clean the bed with a mixture of warm water and vinegar to remove any oil or debris.
Test a spot, to make sure the paint will adhere without sanding;
Using a quality brush, like Purdy, apply one coat of Maison Blanche furniture paint.
Apply a second coat for desired look.
Wet sand lightly in areas to distress for a worn shabby look.
Apply wax or matte varnish
I used the color Mushroom, I love it! It's such a versatile neutral color. The bed looks shabby vintage, exactly as I had hoped.
You can find the bed here, my affiliate link: Rebecca Metal Daybed with Ticking Mattress/Bolsters it's available in white now, but it wasn't when I ordered mine.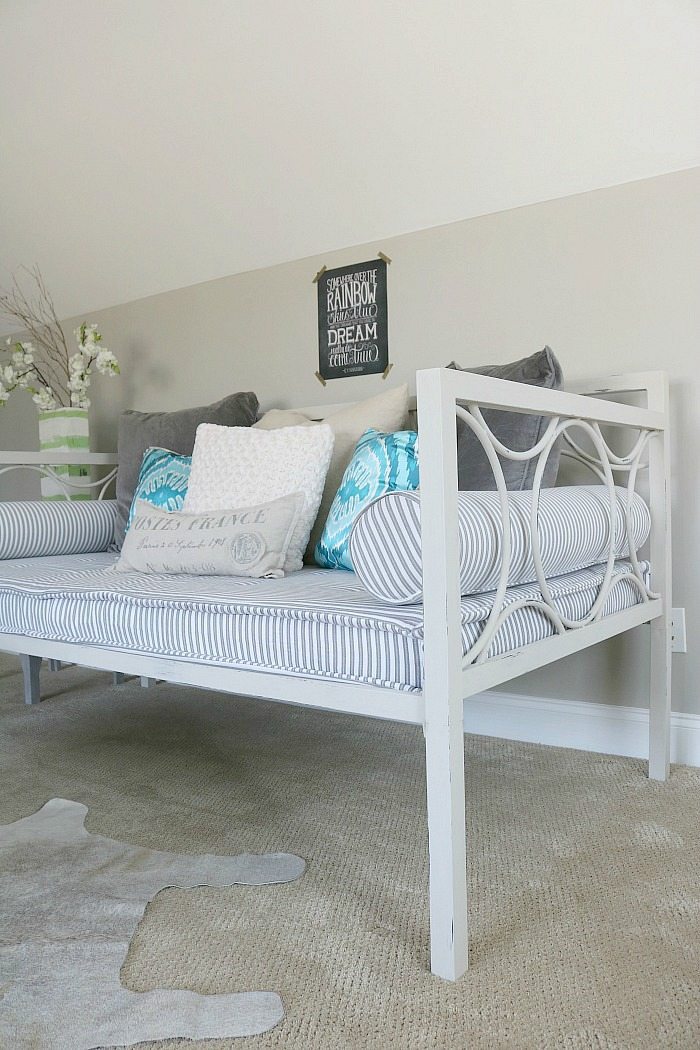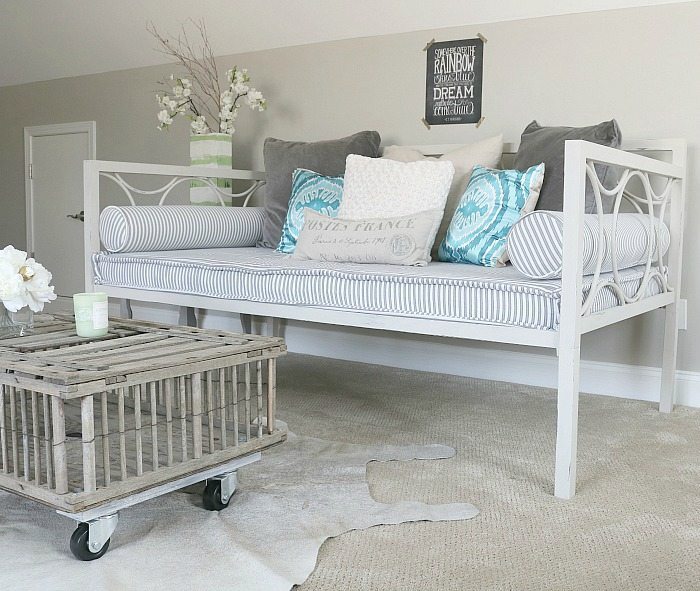 The finish is perfect! I love that it looks like a worn metal bed, instead of the shiny black sleek one. We're in the middle of a big move and I had been eyeing this bed, we're downsizing and I'm only keeping things that I love. She's a keeper now!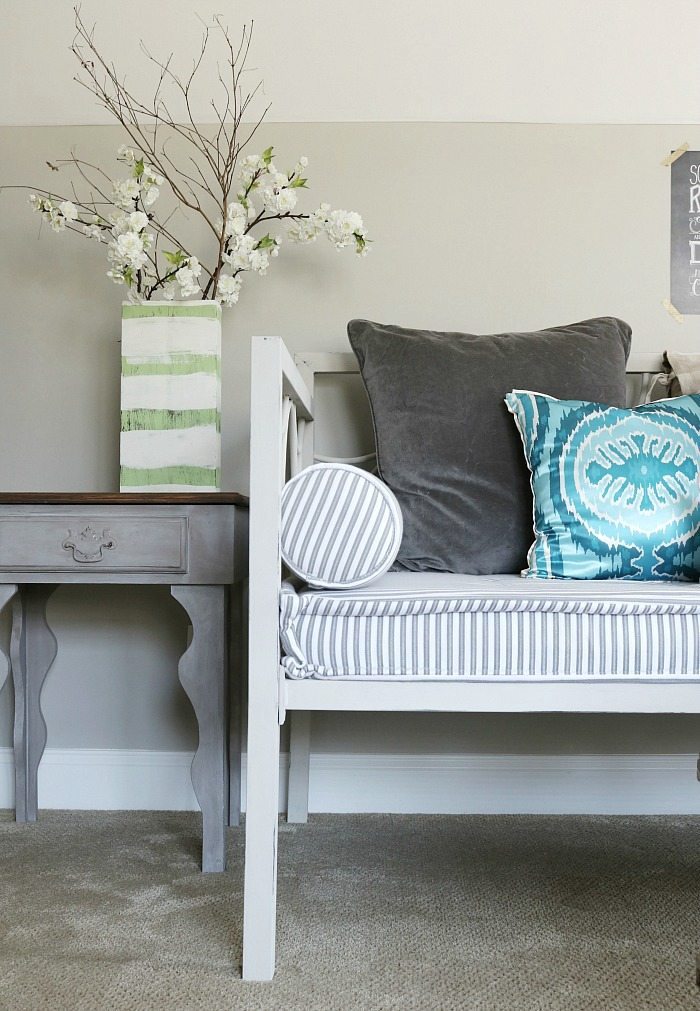 You can find more information about this cute as a button table here: Curvy Side Table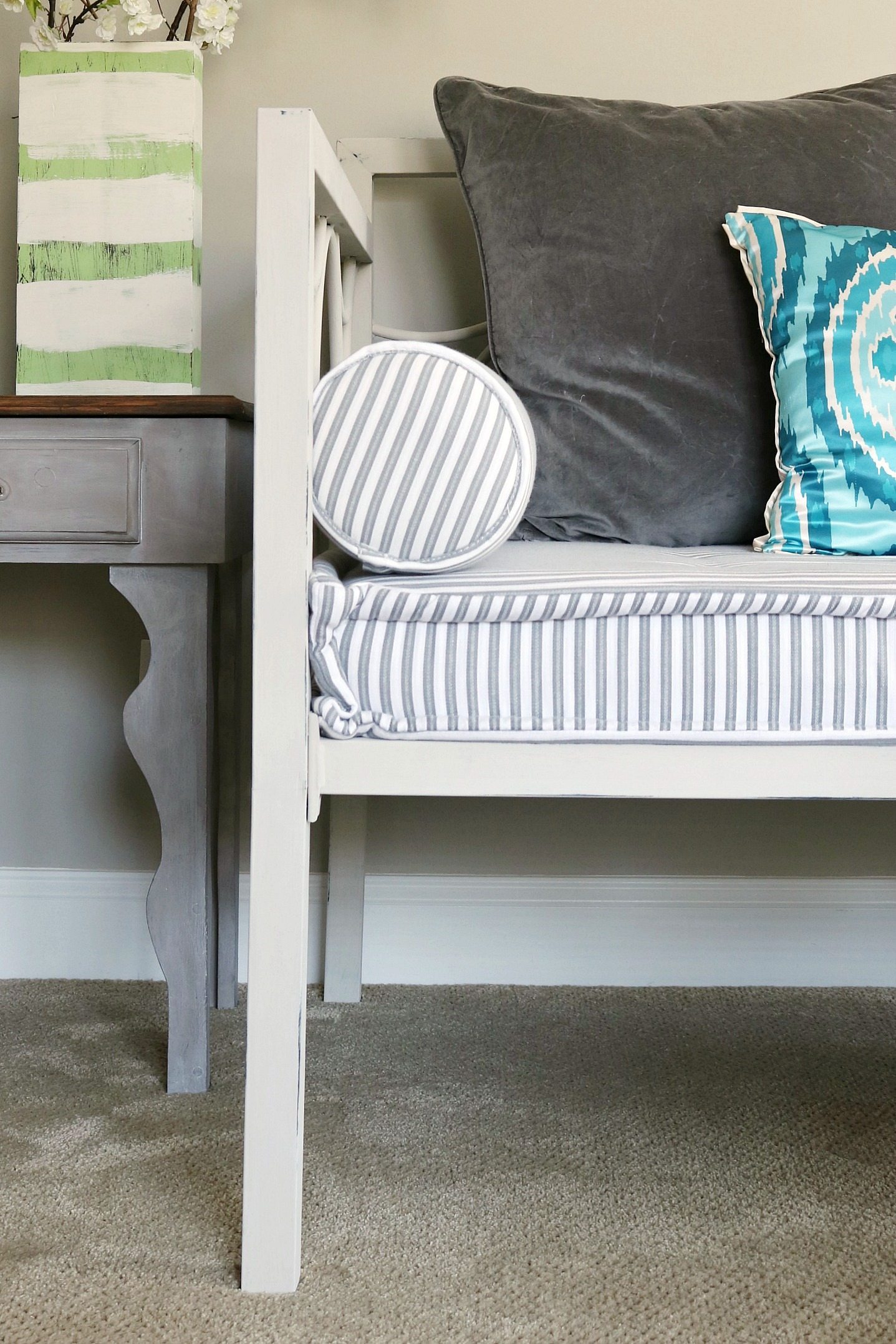 Go ahead and use Maison Blanche to paint metal, you'll love it!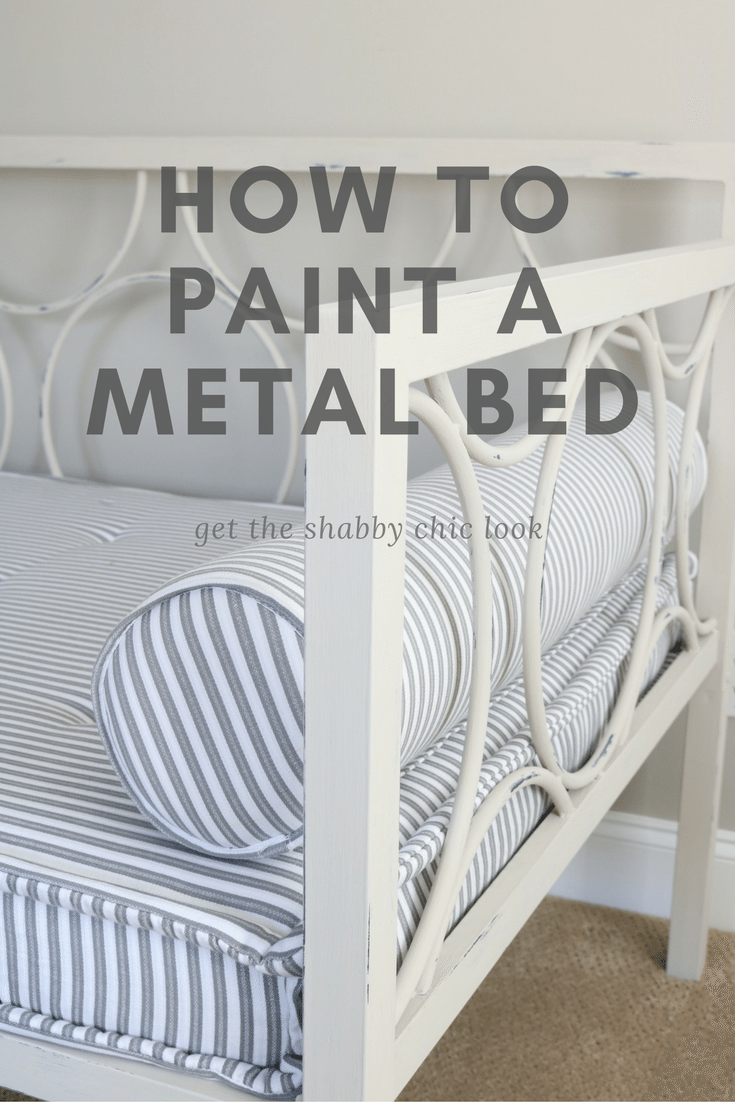 Check here to find a retailer near you!
Follow Maison Blanche Paint Company on Facebook to keep up with all the excitement – new products coming soon!
Watch detailed videos and see how to create the look you love: Maison Blanche Paint Company on YouTube