Hey, hey all you freshie Refresh Restyle fans!~
I can see why you are such a fan of Debbie, or as we like to call her "Fresh Deb's" style, home and furniture makeovers.
I met Debbie back about the time she first starting blogging.
I believe she stumbled upon my newbie party, and let's just say the rest is history.
Debbie has been a great friend of mine and never let's me down..whether it be with her posts or if I ever ask a favor of her.
With that being said, Debbie kindly asked me to guest post for her while she has other family commitments and YES, the answer was YES…I will come up with something.
Hmmmm…Now what?
Ok, well I guess I can tell you a little about myself, my blog and what I have going on.
If you are new to blogging, I host a newbie party every Monday for you to come link up to, meet some new friends and start building your relationships and friendships out there. I like to think of my blog as a stepping stone per say.
Aside from the newbie party I also host a monthly magazine copy cat challenge party.
NOW that is FUN.
You find inspiration from magazines, pinterest or even other bloggers and put your own fun twist on the copy.'
This was my latest party round up. It's super easy to join in. So start looking for inspiration and hop on over next time.
Let's see what else…
I also co-host a weekly Power of Pinterest party.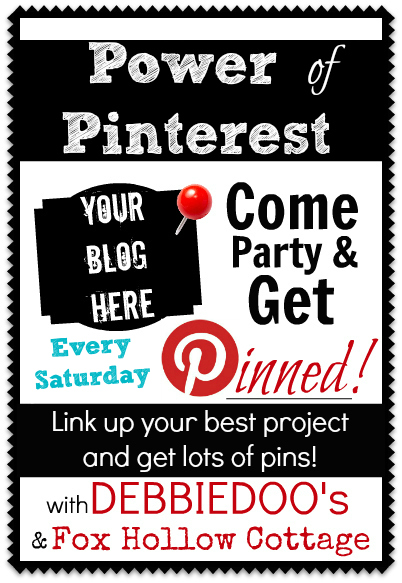 Pinterest is the ticket now…aside from Facebook being mine and many others number one source of traffic, Pinterest is a close second now. So come get your pins on. This is an easy party, link your favorite pin, pin a few around you and move on.
I do a little bit of this and a little bit of that…
from Stenciling, burlap, spray painting, upcycling, and like I said something in between.
I hope to see you drop by sometime.
You can find me on Facebook where I live, I mean spend a lot of my free time.
Thanks Debbie for letting me blab today!
You are welcome Debbie and thank you for sharing all the fun things at Debbiedoo's!!!