Today I have a special guest, my friend Gail! I can't wait for you to see her repurposed door hall tree!
Hi! I'm Gail from My Repurposed Life. I'll tell you a little about me—I love junk, and cutting up furniture! Free is best, but I've been known to spend up to $10 to buy stuff for my projects. This entire project cost me about 10-12 dollars to complete.
Repurposed Door Hall Tree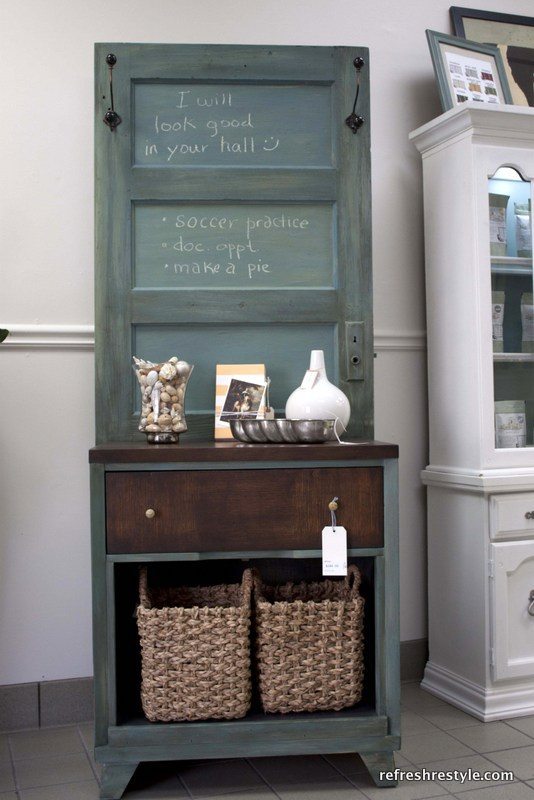 My DIY Hall Tree that I'm sharing today was inspired by the one that Debbie made and shared in her post How To Make A Hall Tree.
I was so excited when I realized that this $5 sewing cabinet and a $2 hollow core door were the perfect match! Thank you Debbie for the inspiration!
I started by removing the sewing cabinet top.
All the parts of the sewing machine needed to be removed as well—every screw and cord!
Because the front had a cut out in it, I replaced it with a scrap board, just enough to hold the sides together and help support the top when I put it back on.
Plywood makes great shelving for projects like this. I added a top and bottom shelf to give more storage area.
Because the door was a hollow door I added 1x's to make it look more like a paneled door (like Debbie's) I used a speed square to make sure all the angles were square, then glued it with Gorilla wood glue and tacked it with my nail gun. (I only added detail to the area ABOVE where the sewing cabinet would rest)
Using some clamps I get an idea of how it's going to look. I used spackling to fill the nail holes.
I painted it Beluga Black using my favorite Homeright Finish Max.
I used some blue paint and a dry brush technique to get an aged look to the door and the cabinet.
I wish I could tell you exactly how I mixed the stains, I just kept going until I got the look I wanted on the front door and the top of the cabinet. (see below) I had sanded the top down, but didn't do anything but clean up the doors.
I think they match really well, don't you?
A couple of coat rack hooks were added to make this the perfect addition for an entryway or hallway.
What you may not know about me is this—for the most part, I don't make items for my home. I make them JUST so I can write tutorials to show YOU how to make them. Because of this, I don't want to haul the items into my home for pictures, so I built a portable wall for staging. In addition I made a faux hardwood floor to go with the wall.
Here's another DIY entryway table I made from another one of these $2 doors and a $5 dresser mirror.
I hope you stop by My Repurposed Life to see more great projects.
Thank you Debbie for allowing me to crash your place today! It was fun, and I hope your friends liked my project—if not, it's your fault since you inspired me.
gail