These benches were purchased at the Country Living fair in Atlanta for $10 a piece. They are a basic design, a little dated but built very well. I used them on the patio for a while, and then decided to refresh them so I can use them for side tables.
Today I'm sharing how I transformed them with the new Wagner Home Decor sprayer available at Home Depot.
Find it, spray it, display it!
How to spray paint with the Wagner Home Decor Sprayer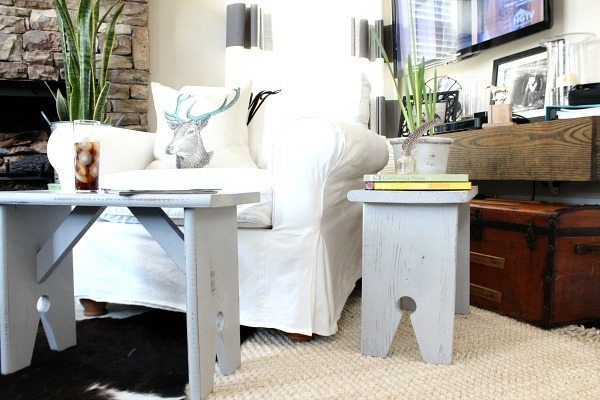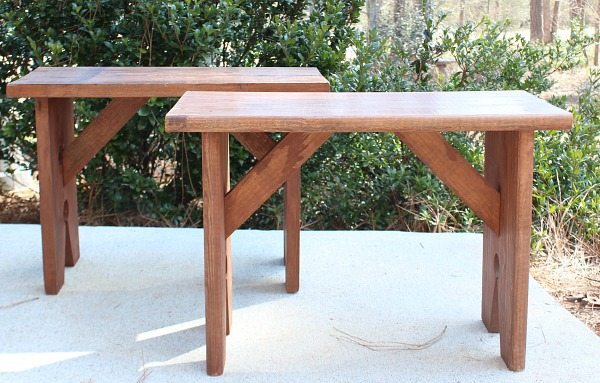 It's amazing what a little paint can do!
Products needed and instructions:
paint of choice – I used Rustoleum Chalked Paint – Aged Gray
furniture or decor item that needs a makeover
Clean your furniture piece. I add a cup of vinegar to warm water.
Add paint to the paint cup, follow the instructions and use the handy ruler to measure the amount of water you need for thinning.
Mix well.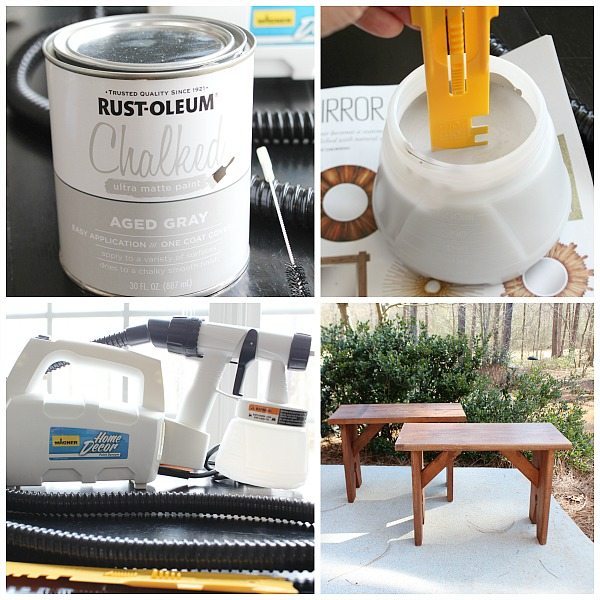 Attach the paint cup to the sprayer. You can adjust the air flow and spray pattern. Turn the knob at the base of the handle to control the over spray, by adjusting the air flow. For directional spray, horizontal and vertical, just twist the head where the paint comes out.
I tested the sprayer on a piece of scrap wood to make my adjustments.
Place the benches upside down on the drop cloth, start spraying at the bottom. Flip to finish the top and sides. When using chalk based paint, I finish with one coat of paint. If your paint requires two coats, apply a light coat first, let it dry and apply a second coat.
After the paint dries, you can distress the piece if you like an aged look. Finish with a top coat. I distressed my benches and finished with furniture wax.
The Wagner home decor sprayer is easy to use and easy to clean. Perfect for a quick makeover with a variety of paint finishes. The ease of cleaning makes it perfect for those times when you're spraying several different colors too.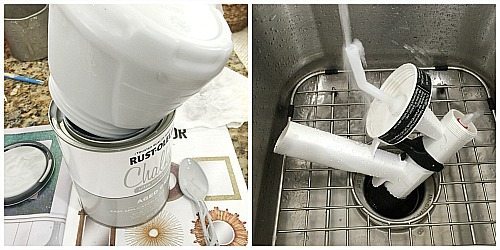 Empty the remaining paint back in to your can. Run water through gun and remove all the pieces and rinse until clean. The sprayer was very easy to clean, see below, this is after I cleaned it, dried it and put it back together. Store it in the box that it came in.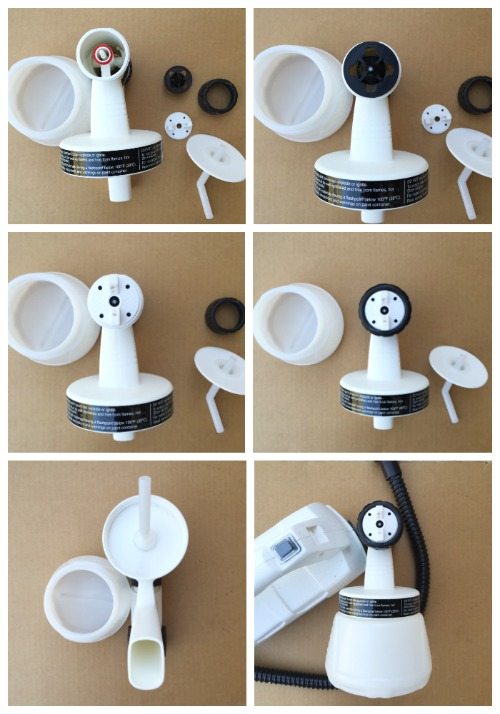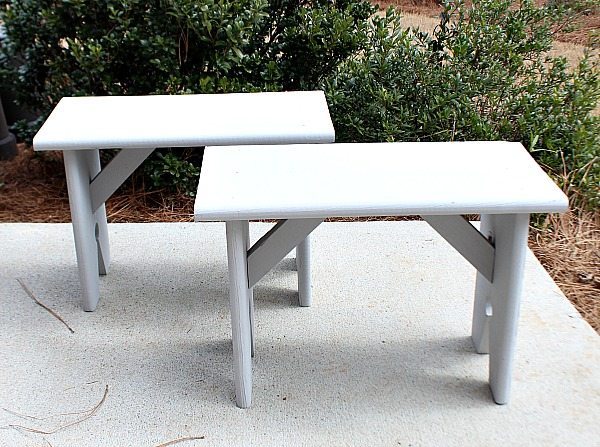 Here's the after, just before I sanded to create a distressed, worn look! Smooth finish, quick and easy makeover! I could have stopped with this but you know I love distressed furniture.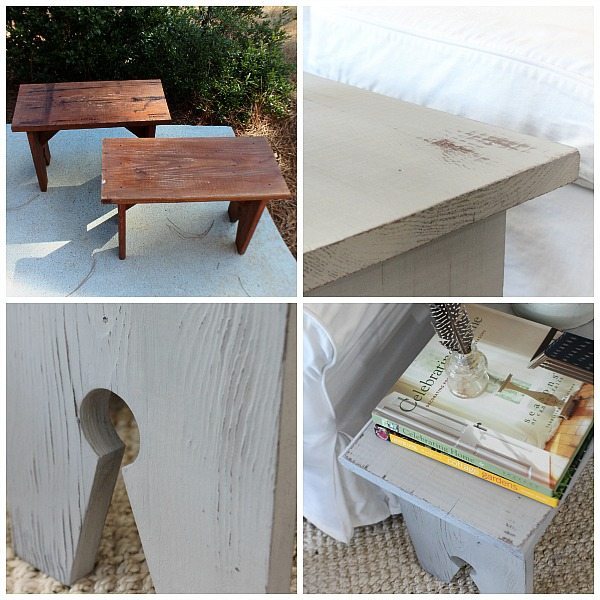 The Wagner Home Decor Sprayer is available at Home Depot in Atlanta, GA and Boston, MA. For all other locations product can be purchased from: http://www.wagnerspraytech.com/. It's great for smaller home decor projects. Quick makeover with chalk based paints, like I love, or any paint of your choice.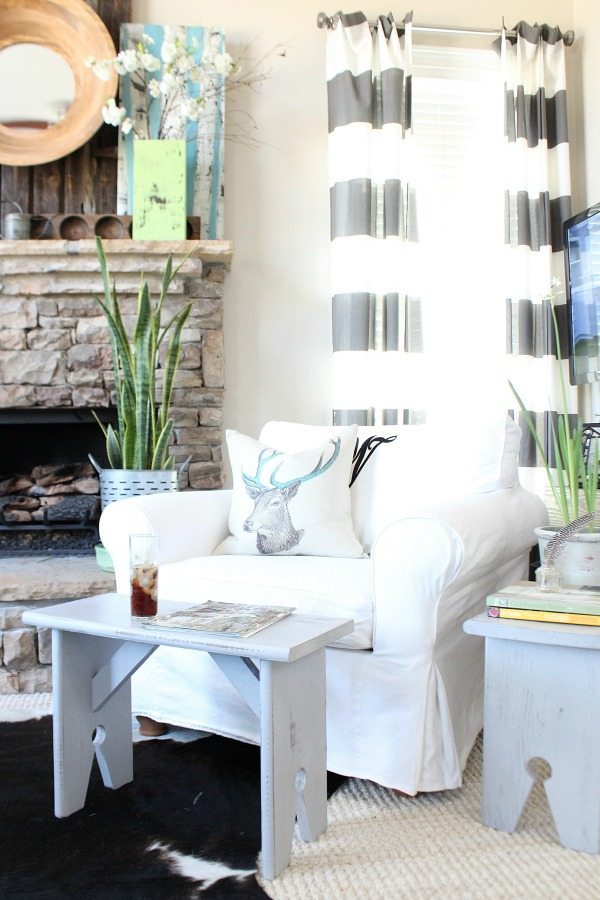 There's nothing like the thrill of the hunt, when you're trying to find that perfect thrifty decor piece. The only thing more satisfying is bringing it back to life and making it fit your style!
Keep with the latest from: Wagner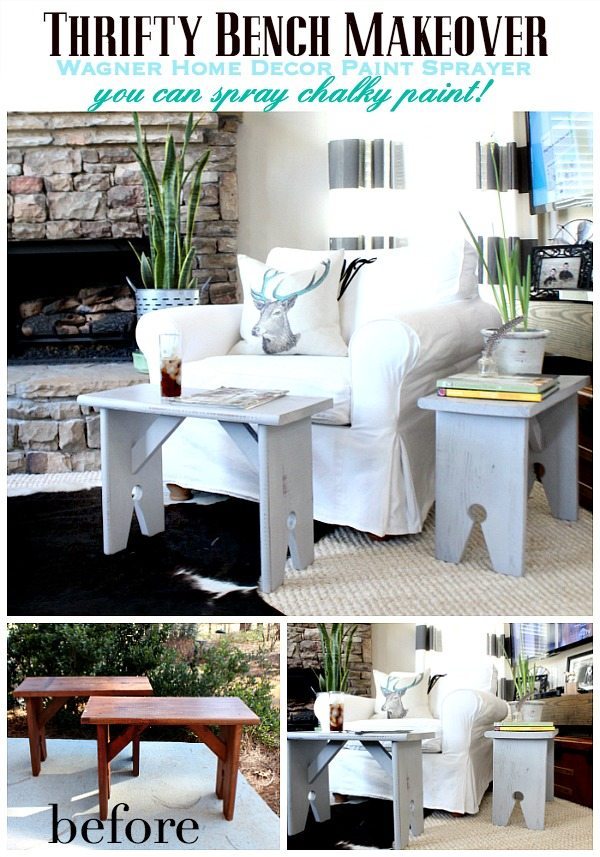 This is a sponsored conversation written by me on behalf of Wagner SprayTech. The opinions and text are all mine.