Hello! I have some fun DIY ideas for you today! One is a thrifty find, an 80's dish rack. A $1 chalkboard from the Dollar Spot at Target and the other is a cupcake topper and all I used was a vintage art decor mould by Iron Orchid Designs, thanks to Prima Marketing and IOD for partnering with me!
Bonus – They are food safe, you can use them with chocolate melts, as I have 😉
What do all of these things have in common?
Prima Vintage Art Decor Moulds by Iron Orchid Designs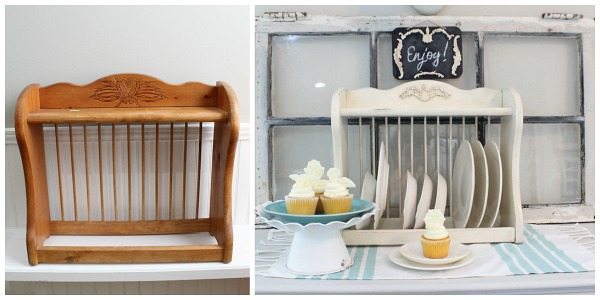 Perfect for my farmhouse look!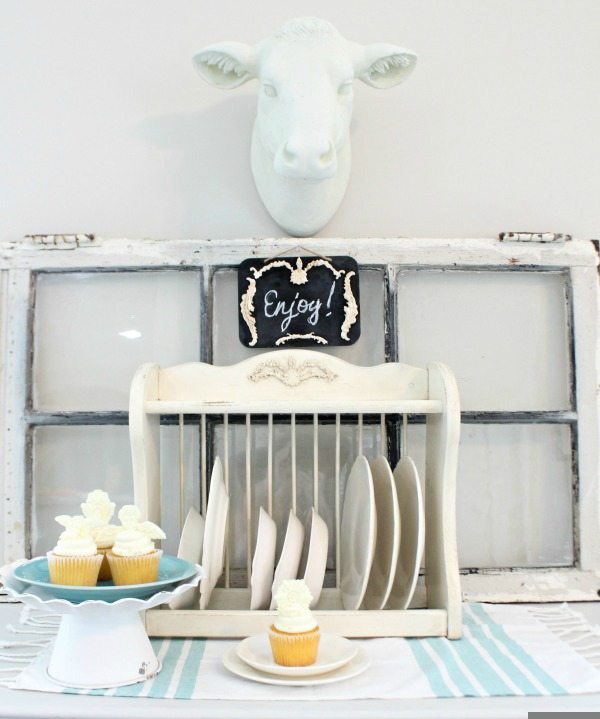 Be sure to enter the GIVEAWAY AT THE BOTTOM! Easy entry and you will love repurposing and creating with these! We will have 2 winners! Each winner will receive 6 moulds and 2 packages of Paper Clay!
These moulds will change the face of dated thrift store finds! Or you can get really creative with new finds. I found an 80's plate rack at Goodwill, and put a vintage spin on it. The little "enjoy" chalkboard is from the Target $1 – Bonus, the moulds are food safe! As you can see I dressed up some store bought cupcakes!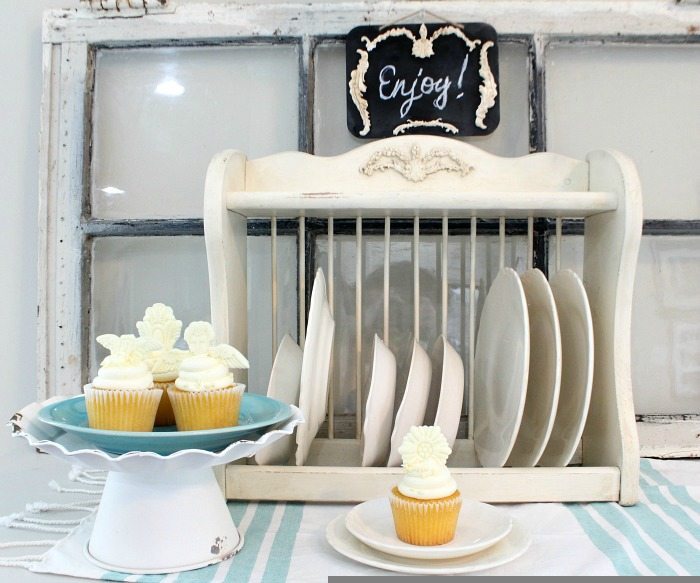 Supplies needed:
Plate rack
Prima IOD Vintage Art Decor Molds
Wood Glue
Wood putty
Rustoleum 2x Spray Paint or Paint of your choice
Dark wax or glaze
Project #1 – Plate Rack Transformation: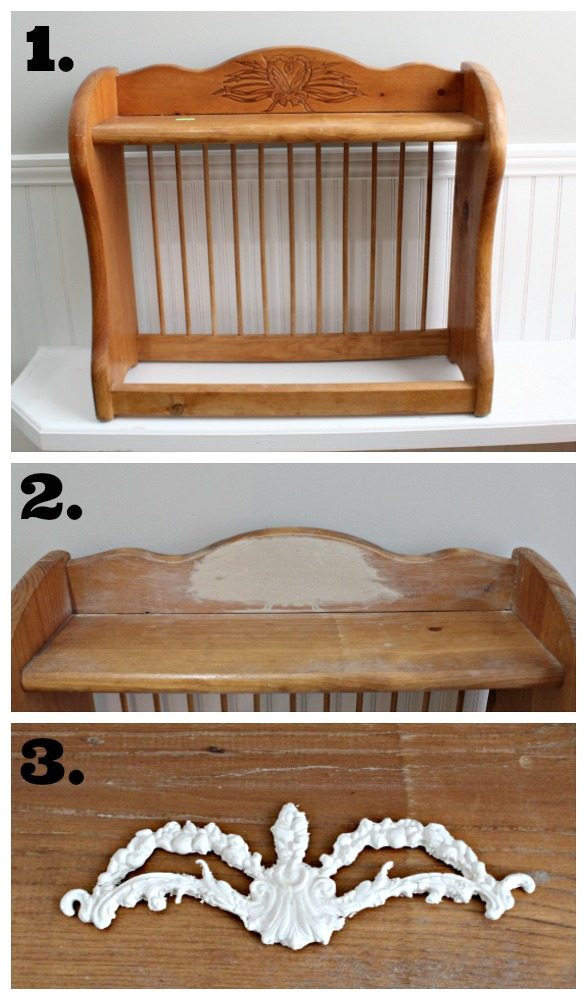 Lightly sand the area.
Add wood putty and let it dry. Sand smooth
With wood glue attach the paper clay mould.
The Paper Clay is easy to use, pinch off what you need and roll around your palm or on a flat surface. Position the clay in to the mould. After pressing it in the the mould, I used a butter knife to scrape off the excess. I wanted the back to be as flat as possible. I then roll the mould over to release my design and placed it on a flat surface  to dry. The cast releases easily, the moulds are flexible and are very thick. I love the old world, vintage look of the design, the details are wonderful.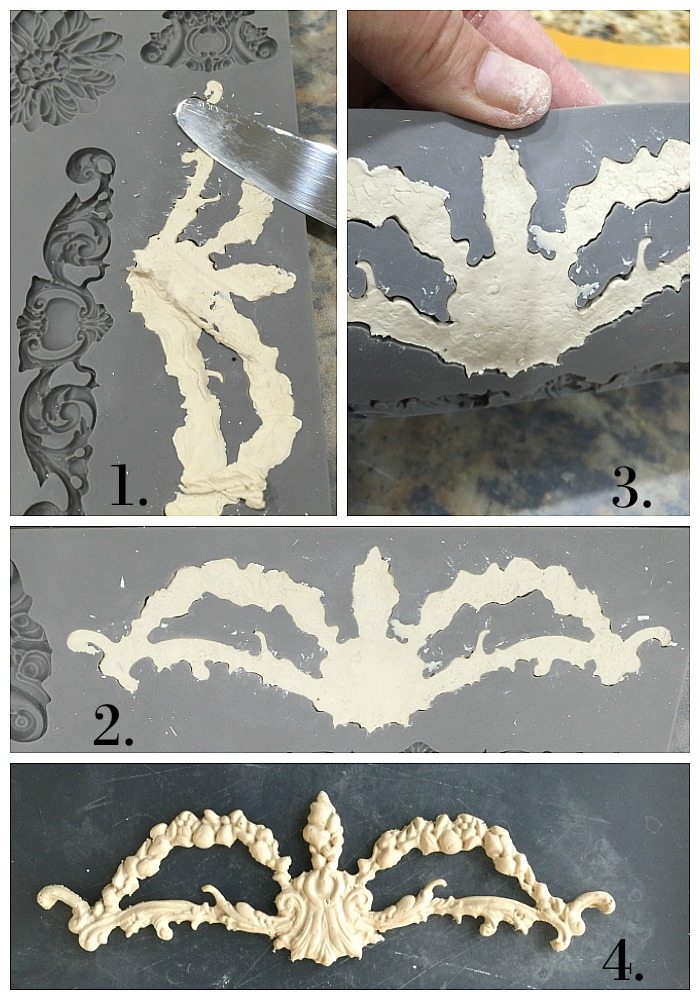 After your cast is dry, use wood glue to attach to your surface of choice.
Paint as desired. I used spray paint and dark wax to finish my piece. Look how perfect it looks! The depth and detail really shows up after using the dark wax.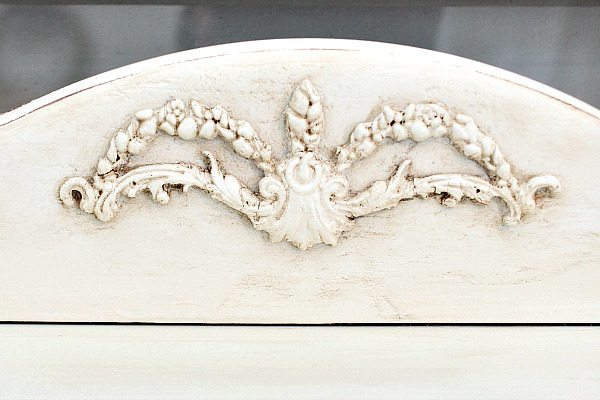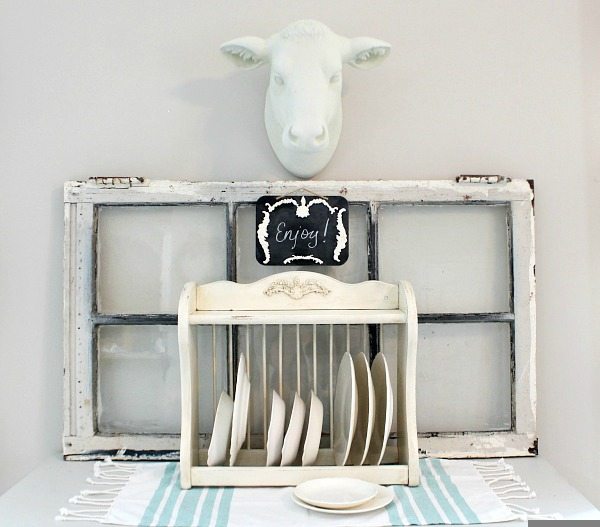 Project #2 – Cupcake Toppers!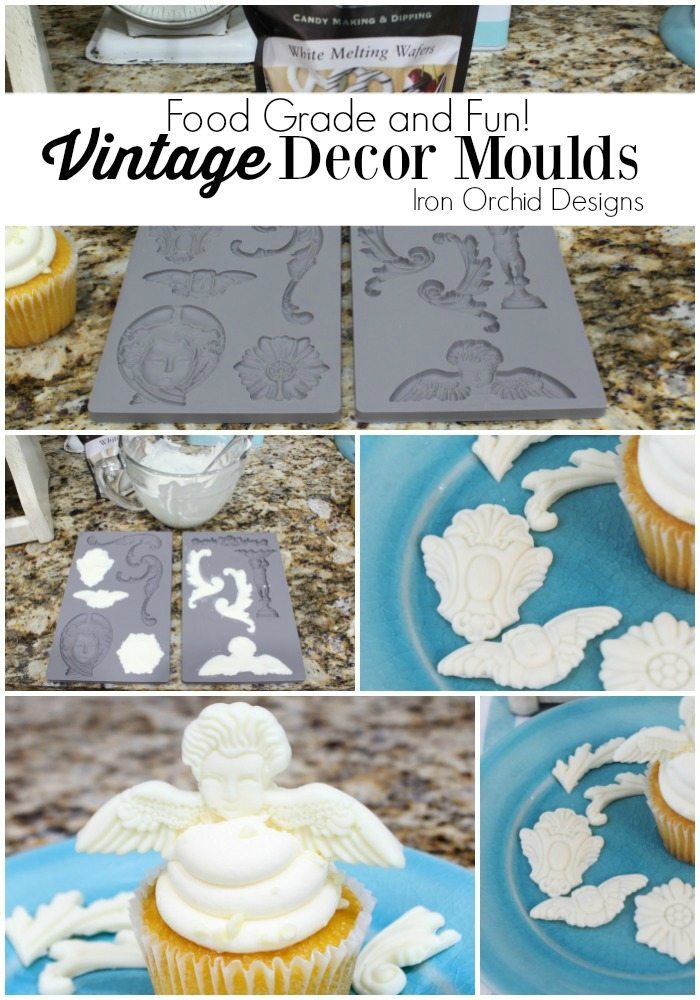 Instructions: 
Use your choice of  (White) chocolate melts – melt according to directions.
Pour in to the food grade mould of your choice.
Let it harden and add to your cupcakes!
Be sure to mark you moulds – food and decor 😉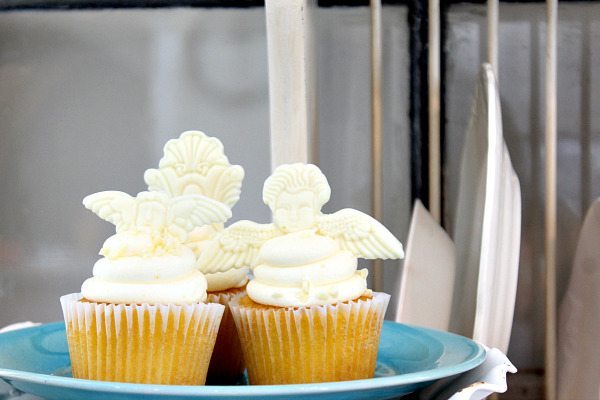 Project #3 – Update a chalkboard with IOD Paper clay vintage moulds
You could easily use this method on any frame!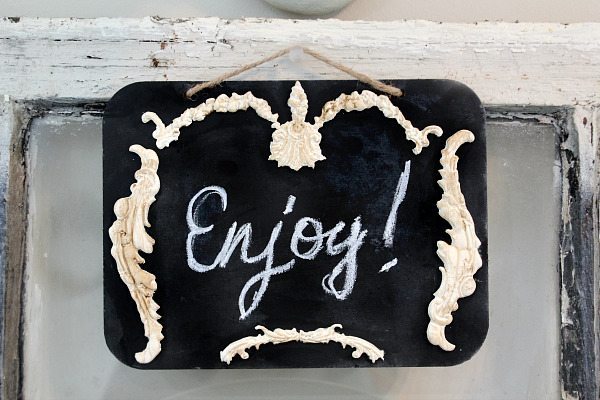 Instructions:
Create your cast as shown above for the plate rack.
After they dry adhere with wood glue.
Brush dark wax over the dried clay to bring out the depth in each cast.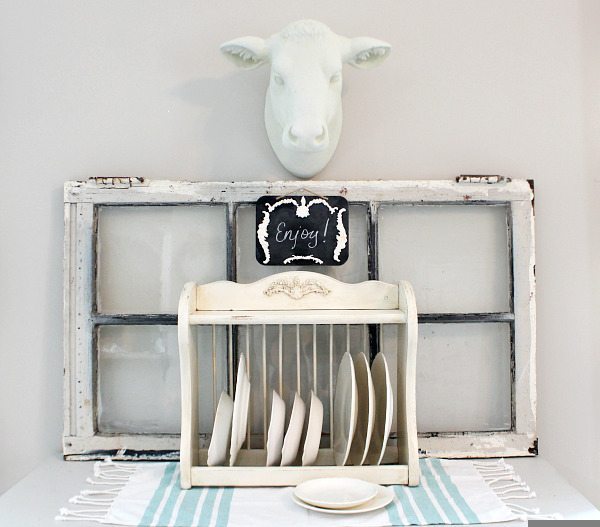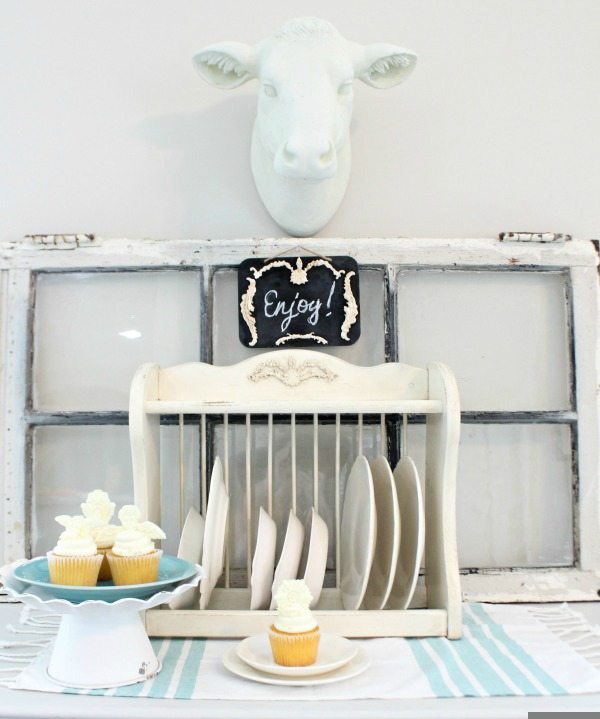 Now it's time for the giveaway:
We will choose 2 winners, each winner will receive a set of moulds (6 = set) and 2 packages of IOD Paper Clay. The winner must be 18 years old or older and reside in the lower USA.
a Rafflecopter giveaway

Watch this awesome video for more details and fun ideas:
Let me share a little about IOD – 15 years ago two sisters, Josie and Sally started their decor business by creating beautiful wall finishes. Time changed and so did they, which lead them to the paper crafting market. It was then that they realized the need for creative ways to incorporate their love of DIY in to home decor. They have several beautiful products coming to the market, today I am sharing their Vintage Decor Moulds and Paper Clay. Over the next few weeks/months be on the look out for giant decor stamps, for using on fabrics and furniture. In mid-May you will be seeing giant rub ons for flat surfaces and roller stamps for fabrics, walls and furniture!


Find it on Amazon – my affiliate links: