Last weekend, I attended the Becoming Conference in Black Mountain. Located just outside Asheville, NC at Ridgecrest Conference Center.
The series of events to Becoming:
June 13 – 7 am  Email notice, there's a new posting *The Nester* speaks…I click over and see the announcement for the Becoming Conference…I wait…call and they're sold out.  I leave my name on a long waiting list.  Knowing that it's not going to happen.  They call back in 20 minutes…they've opened up more rooms…I'm going.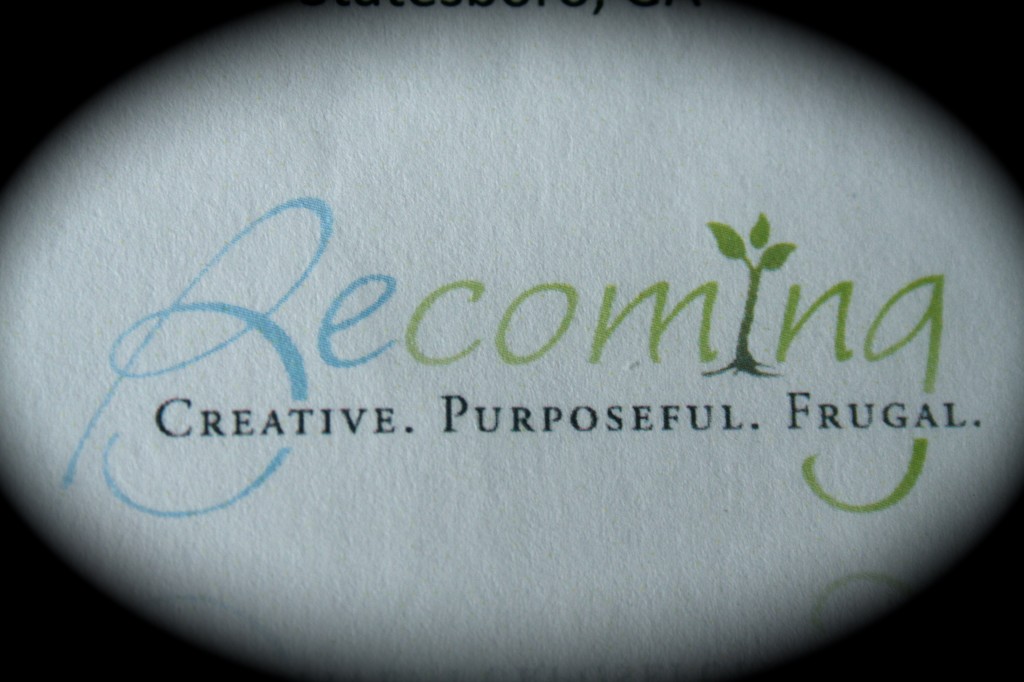 Several months pass and I don't think about Becoming anything.
Wednesday before Becoming on Friday Aug. 12 ,  I'm NOT going, I'd be alone, the drive, there's going to be 600 people there…I'll be sitting so far back The Nester will look like an ant.  (She's the only reason I want to go, I don't know those other ladies or follow their blogs.)
Thursday Aug. 11, I already paid so I'll get my suitcase ready.  Just in case I change my mind and go.
Friday Aug. 12 morning…why didn't I do more to prepare, so I could leave earlier?  I'm on my way to Becoming.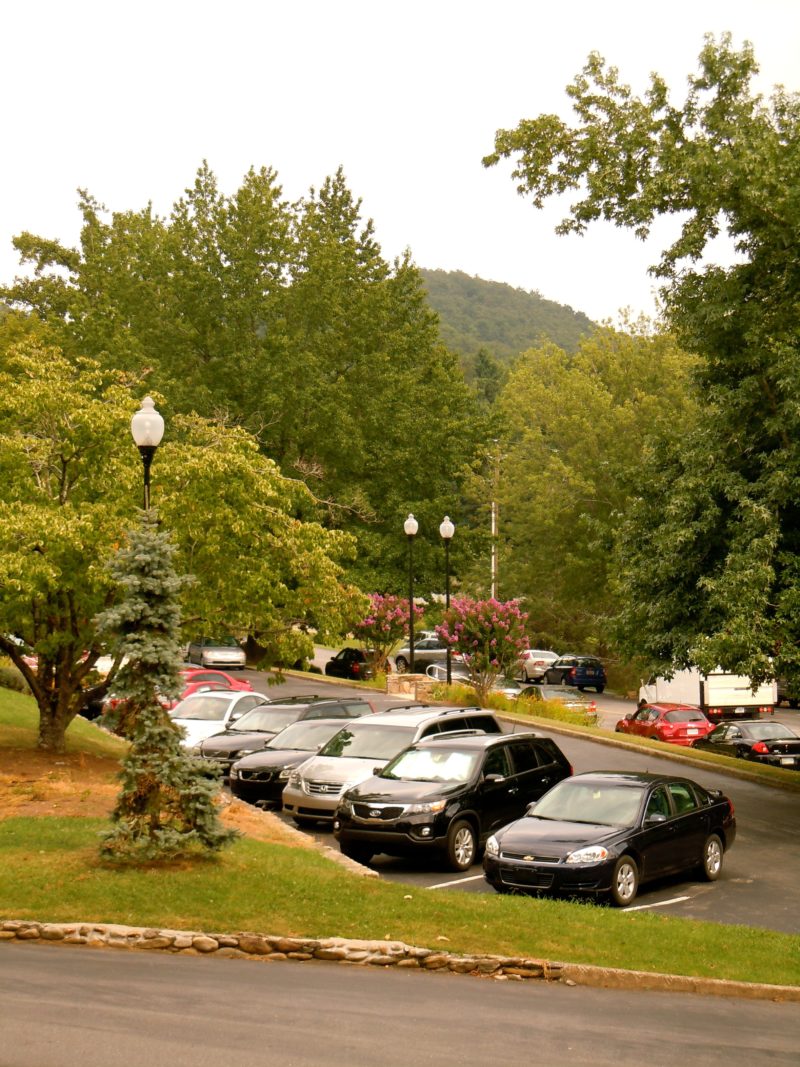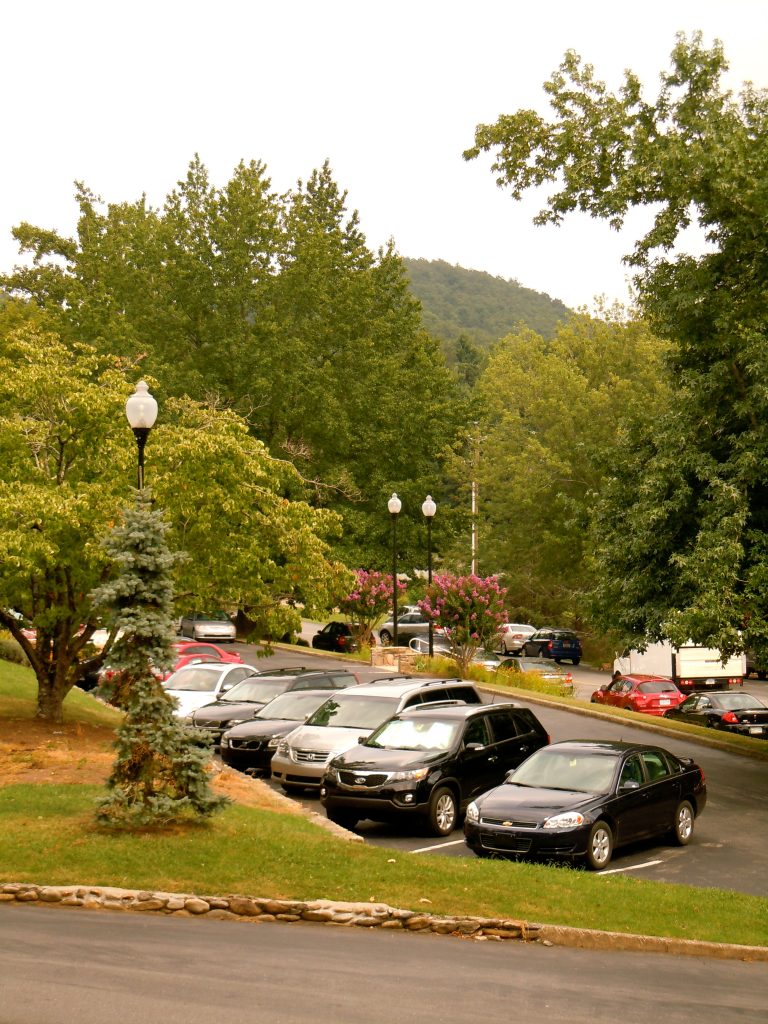 Friday 3 pm  I arrive at the familiar site of Ridgecrest (Manboy worked there during the summer at Camp Ridgecrest).  I see others arriving.  Two ladies, three, four getting out of their vehicles headed in to register.  Am I going to be the only loner?  I go inside, there's another loner ahead of me.  I told her that I thought I'd be the only one, she said she was looking forward to being alone, a peaceful "Me" time.  Yeah, me too!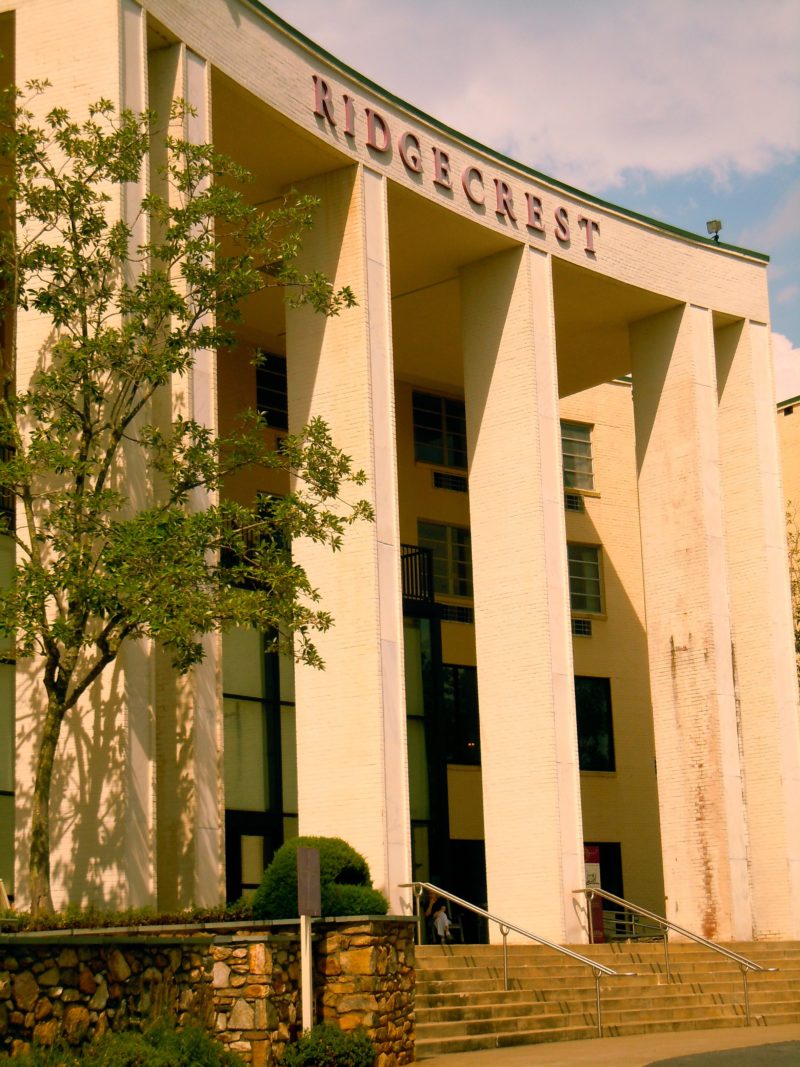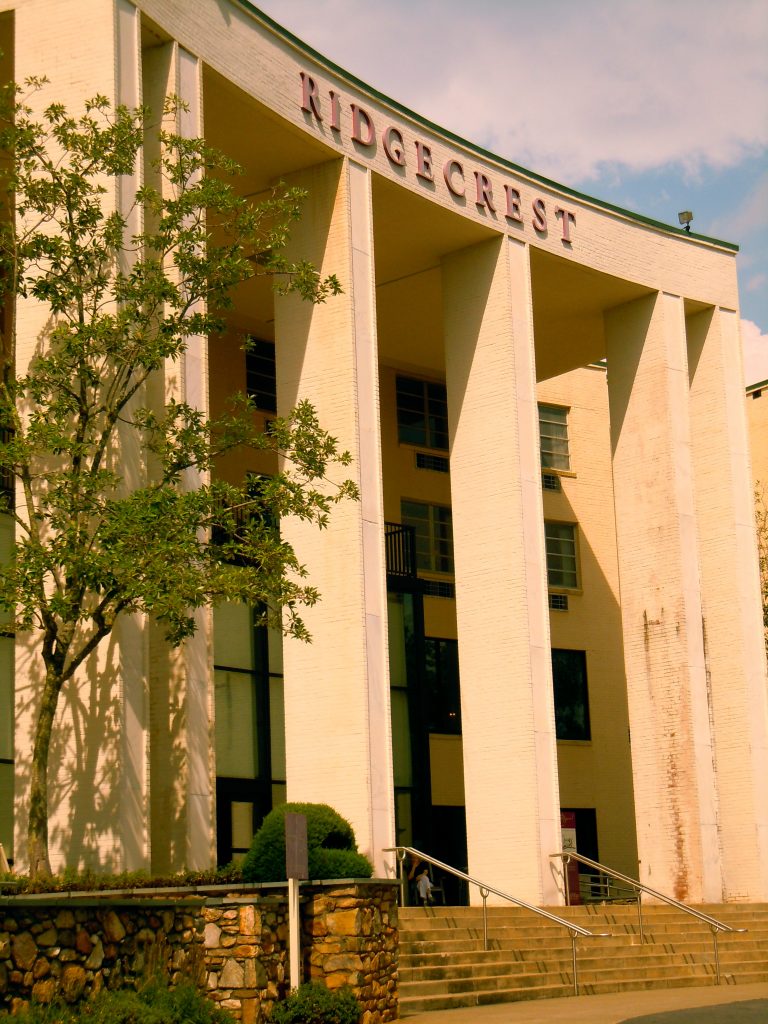 The Entrance.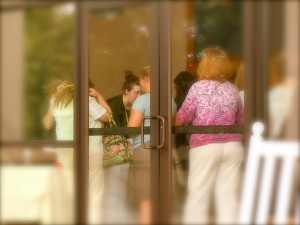 Getting name tags, agenda and goodies.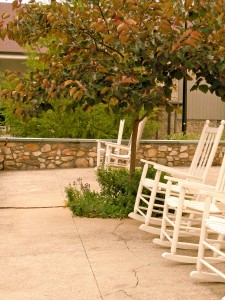 I sat down here and looked through my bag.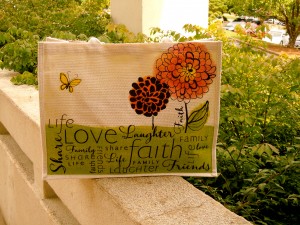 My bag.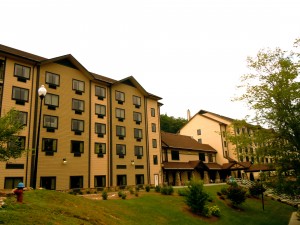 My room.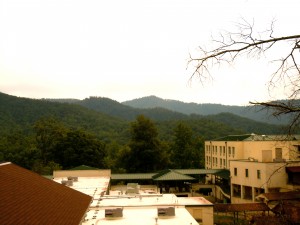 View.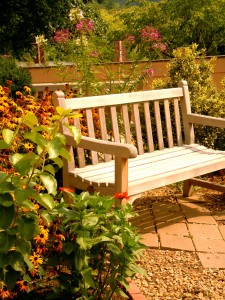 Places to pause.
Friday 5 pm – I head to Dinner…all this food looks good.  I have to remind myself that I have lost 30 lbs. this year, don't blow it at this buffet!   I sit down at the table with 2 sisters.  My Becoming starts here, they talk about their mean Mother – how nothing they ever did was good enough for her (I pray silently hoping that my daughter isn't somewhere saying the same thing…I want to leave and call her…apologize and ask if I was that bad).  They tell me that they decided to do something they've always wanted to do, but never did…Sister 1 graduated from college at 60…Sister 2 got her motorcycle license and rides a Harley.  They did it, what have I always wanted to do??  They shared how their 3 hour drive to Asheville took 8 hours, because they stopped at waterfalls and thrifts stores and wherever they wanted.  We spent the next few hours together…laughing and talking.  I'm really glad I made the trip.   (Becoming content with who we are.)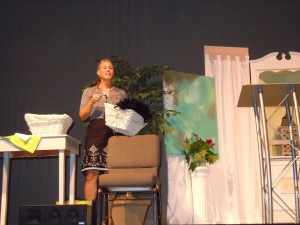 (Jen)
Friday 7 pm – Key Note Welcome  Jen and Jenny make their appearance.  Where have I been and why am I not following their blogs?  They are natural motivators.  Jen from Balancing Beauty and Bedlam used hats to show the many roles we have as women.  Chauffer, housekeeper, bookkeeper, lover etc.  I wish she'd put this act on YouTube…husbands and children need to watch this, so they'll understand when our heads spin around.  It was so funny and true!  She talked about power cooking, buying local and getting to know your butcher.  (Check out her website:  Balancing Beauty and Bedlam)
Jenny  from Southern Savers touched on coupons, but she focused on family and priorities.   She's a great speaker!
Some of her tips:
Stop procrastinating, do tasks that can be done in one minute, act the way you wish you felt, and when you go home find one thing that your husband did and praise him to the high heavens (note to self-do this everyday).
She is a great resource for couponing!  Southern Savers!
There was so much more, and a movie.  I hope to go back next year.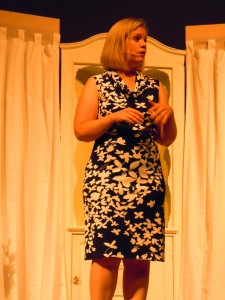 (Jenny)
Saturday 7:45 am Breakfast  I sit down with 2 ladies.  Mother, daughter, beautiful kind ladies.  I spend the next 2 hours with them.  They shared stories of children, couponing, and so much more.  I wished that my daughter were with me.  Next year, I will bribe her and she'll be happy to join me!  (Becoming closer.)
Saturday 8:30 am Large Group 
With 5 speakers, 5 sessions and with 3 titles:  Becoming Creative, Becoming Purposeful, Becoming Frugal
Fifteen to choose from, what am I going to do!  I chose these in this order:
Live the 80% off Lifestyle and Love it (Jen from Balancing Beauty and Bedlam)
Playing the Drugstore Game (Jenny from Southern Savers)
Real Decorating For Real Women with Real Budgets (The Nester)
The Philosophy of Home (The Nester)
Find, Create, Redo (Angela from Button Bird Designs)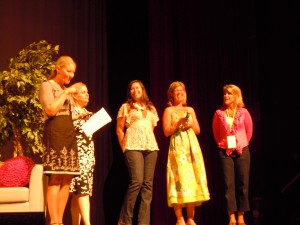 Jen, Jenny, The Nester, Angela and Rachel
Thanks to Jen, I feel good wearing my thrifty Fashionista wardrobe and I'll be wearing more scarves and jewelry!  Jenny had me searching for newspapers on Sunday, only to figure out there is no CVS in town…I'll have to use Rite Aid and Walgreens!  The Nester gave me a lot to think about.  I will try to never apologize for my home again, it makes me look ungrateful.  She says, It doesn't have to be perfect to be beautiful.  And to not stereotype my furniture because dressers want you to know that they're not just for bedrooms.  Angela was an artist angel.  You could see the love in her work.  She even said her heart flutters (mine too) when she finds something to create with.  Angela's blog is Button Bird Designs, go see what she does with recycled materials!  Rachel, mom of 11, shared what it means to be intentional about living life to its fullest.  (I did not make it to Rachel's sessions-With so many you had to pick and choose, I hope she's back  next year!)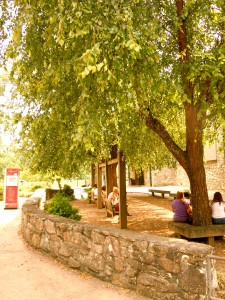 Saturday Lunch 12:15  In between Session 3 and 4 I sat down with 2 young ladies.  The happy giver, she's married and coupons with a passion.  She buys all the extras, freebies and money maker items and gives them away.  The newlywed, she keeps checking her phone, because as she was leaving for Becoming, her husband was just getting home from a trip.  She misses him, and I have flashbacks of those days for me.  I need to revive those thoughts!  (Becoming passionate and giving.)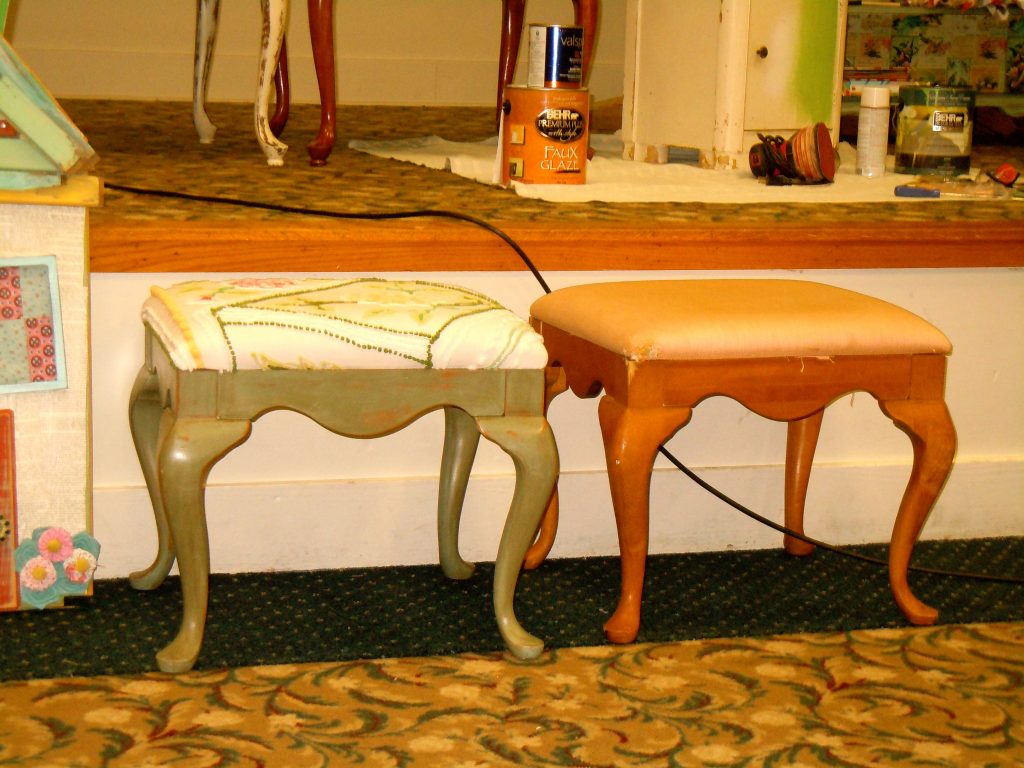 Angela's work.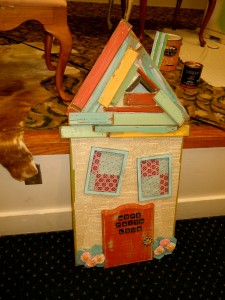 Angela's, mixed media House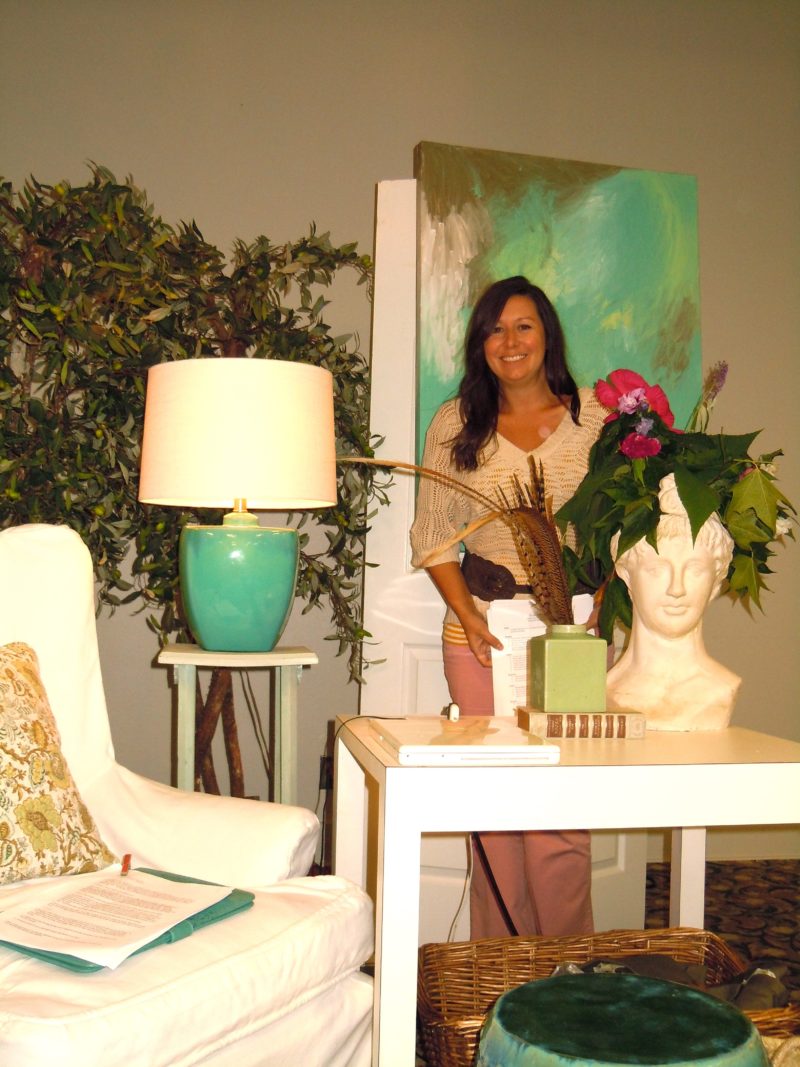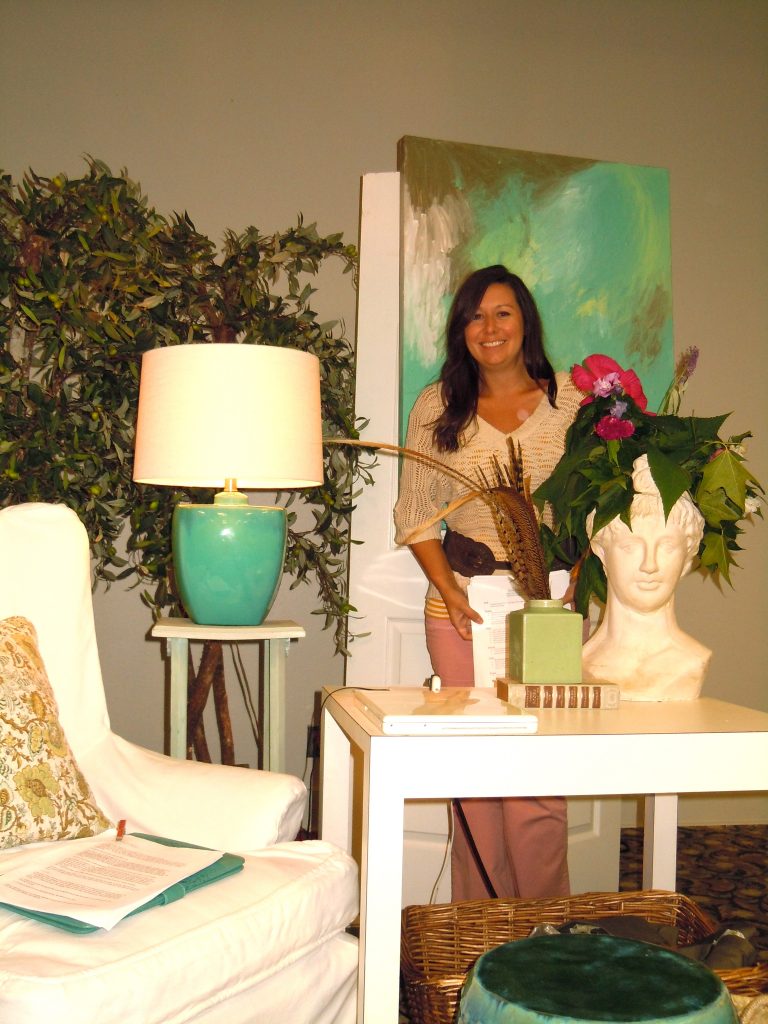 The Nester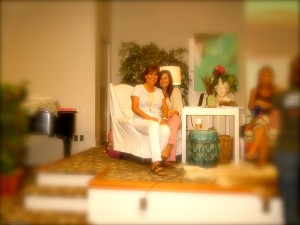 The Nester and I
I'm so glad that I went, I learned things from the planned sessions and from the conversations with strangers.  Becoming was good for me and I got to meet my favorite blogger (The Nester), she hugged my neck, took a picture with me and made me feel important in that group of 600 ladies.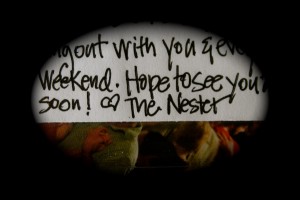 This post is long and there was so much more to Becoming, I hope I did a little justice to how wonderful it was.
Sharing at:
At The Picket Fence Inspiration Friday