Budget Friendly is my middle name!
Now let me share 10 of my budget friendly design tips: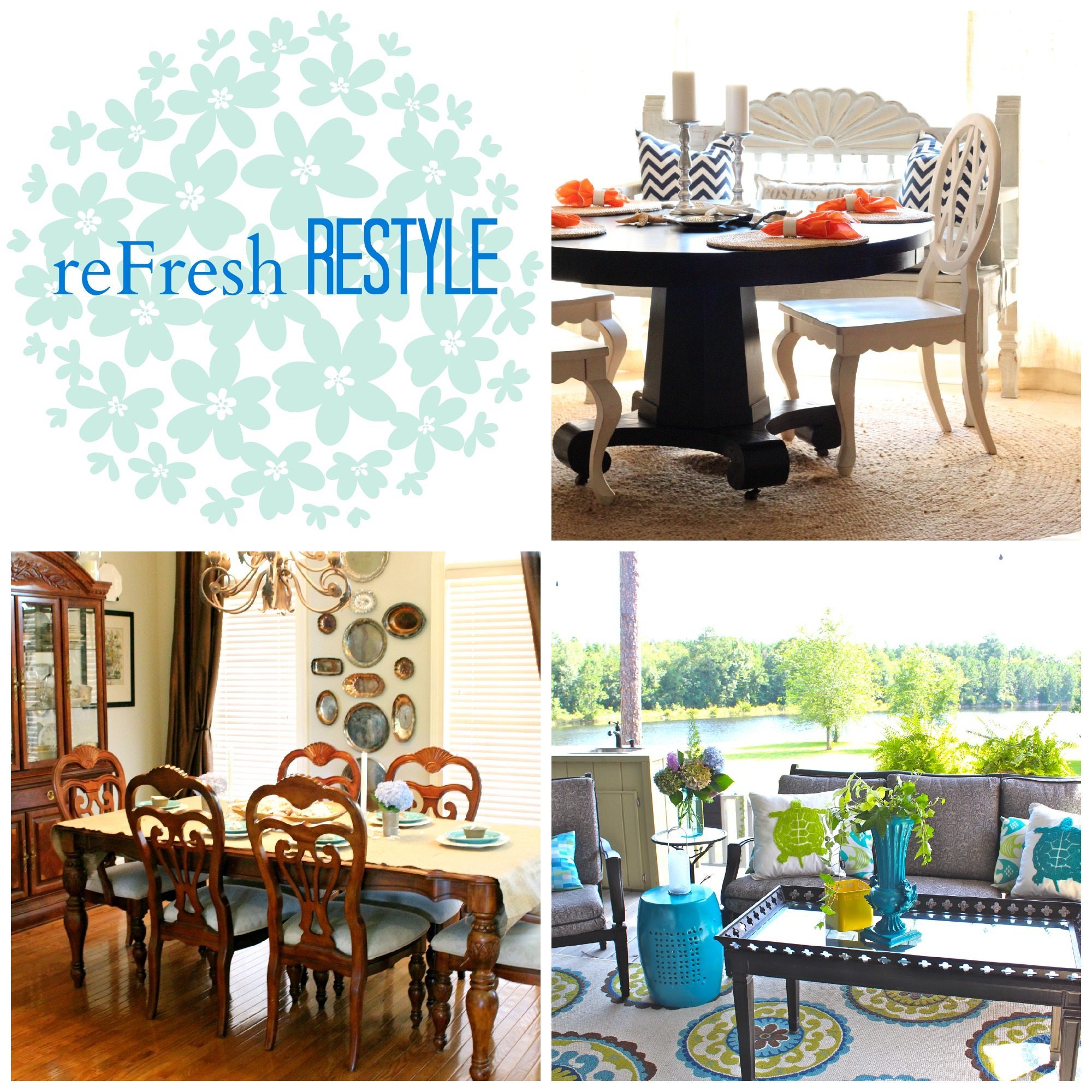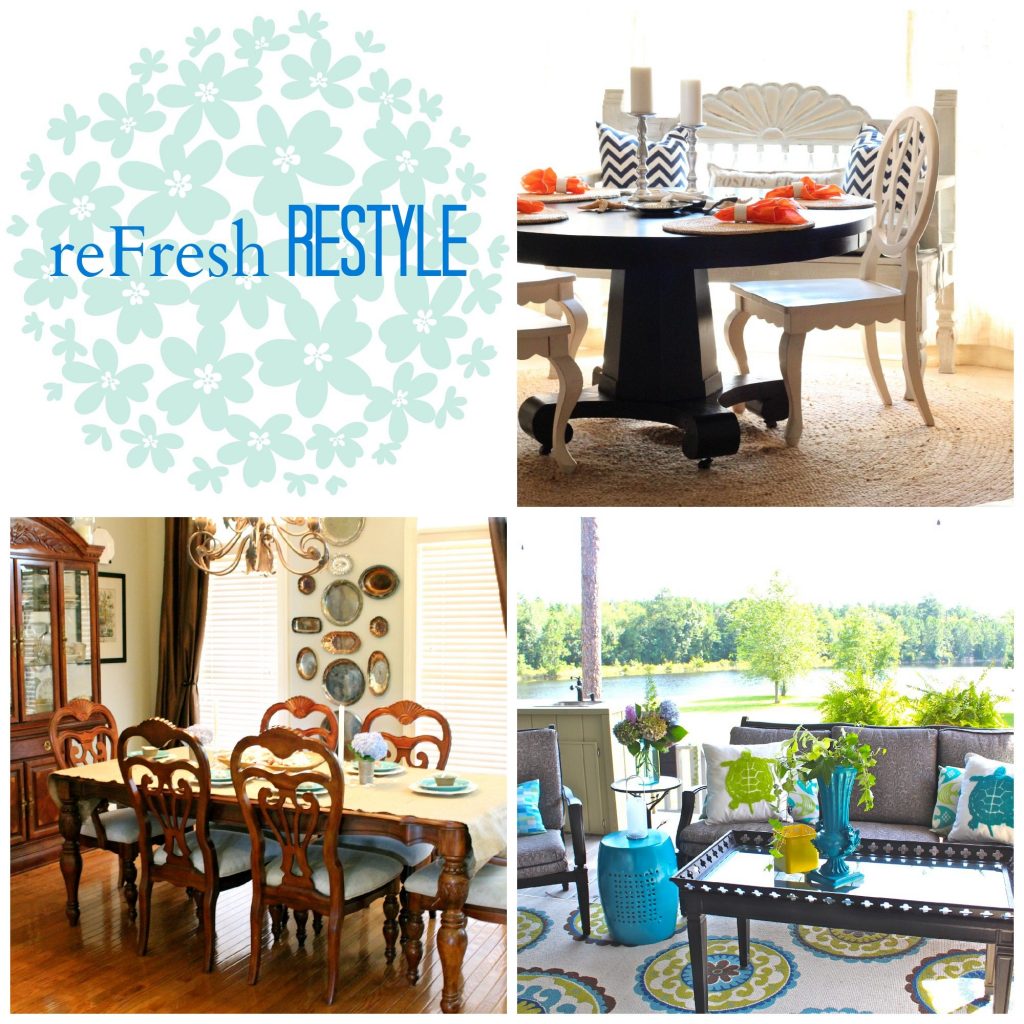 I don't like spending money, but I like a pretty house.
I am going to share some tips that I've used in my home and hopefully show you ways that you can create a beautiful home on a budget.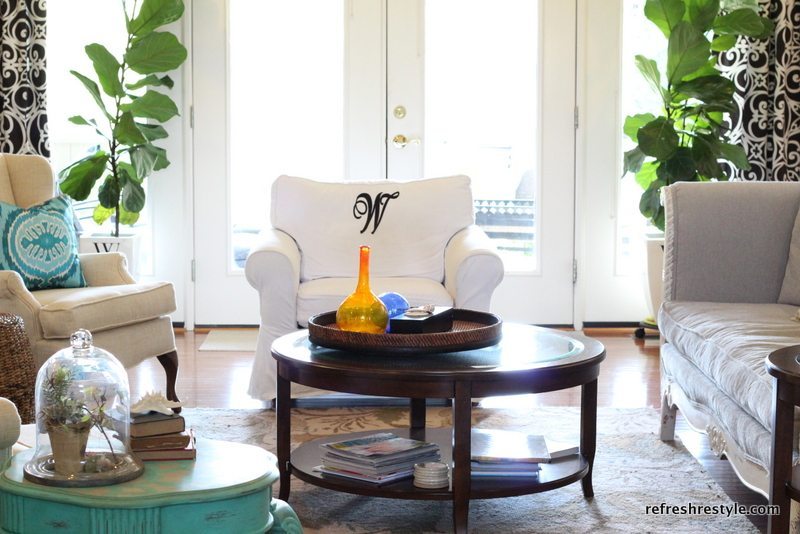 I love live plants, comfy furniture, things you can prop your feet on.  I'd say my style is casual, comfy, collected. When I'm out shopping, my home is always on my mind.  I get inspiration from anywhere.
Let me share a few tips that I've used for my budget friendly, beautiful to me home.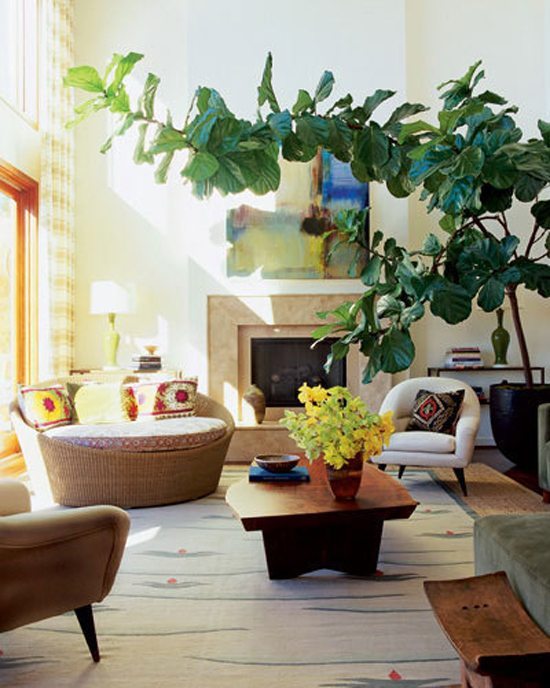 When I saw this picture, I knew I had to have a fiddle leaf fig tree, but one this size is way out of my budget!
Tip 1.  Make a list of ideas/needs/wants and keep it with you all the time.  I checked  with several nurseries around town and none of them had the fiddle leaf.  One day while grocery shopping, I saw a pallet of plants in the produce section.  Low and behold there they were.  You never know where you're going to find what you're looking for.  I can't wait for my baby to grow up,  it will freak my husband out, but that's ok.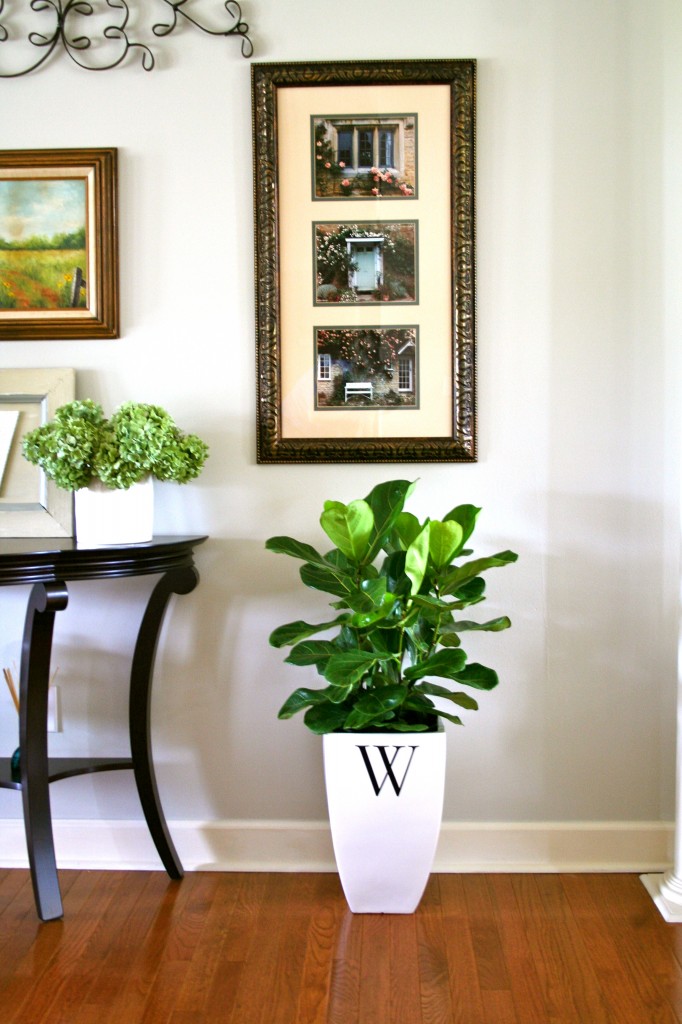 This was 2 years ago and here's what they look like now: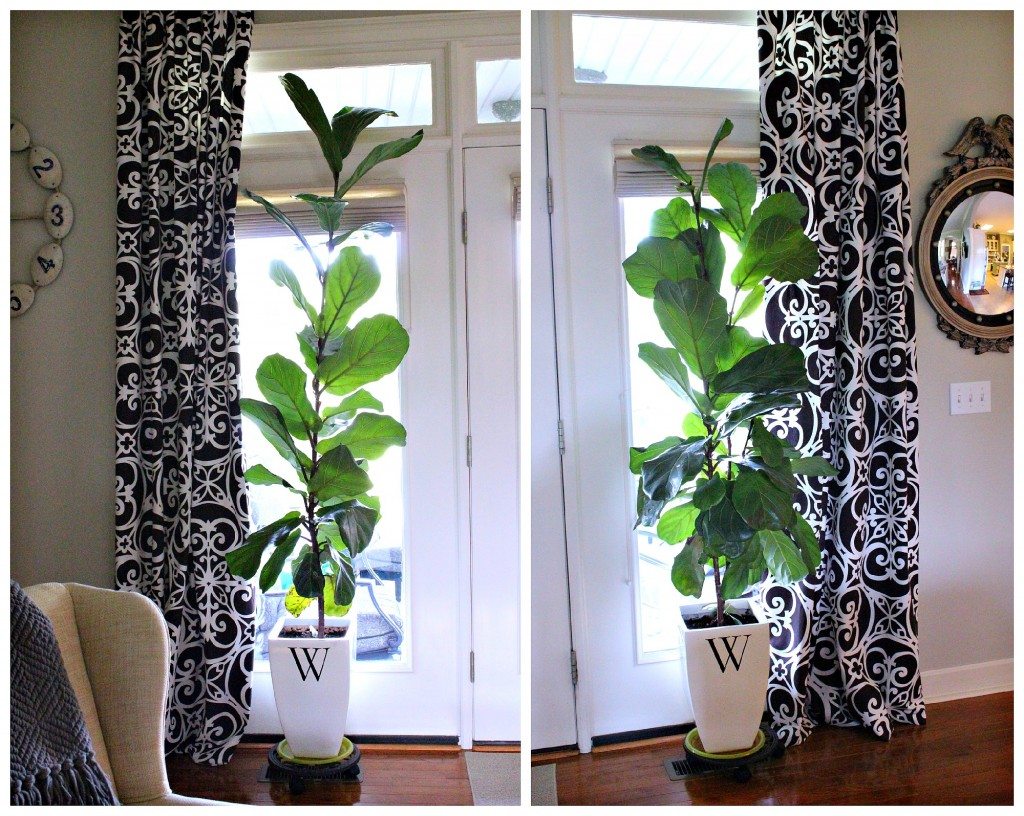 They are doing great and have at least doubled in size 🙂  I actually bought 3.  I was worried that I might kill them off slowly, but I didn't.  In fact I gave one to my Mama!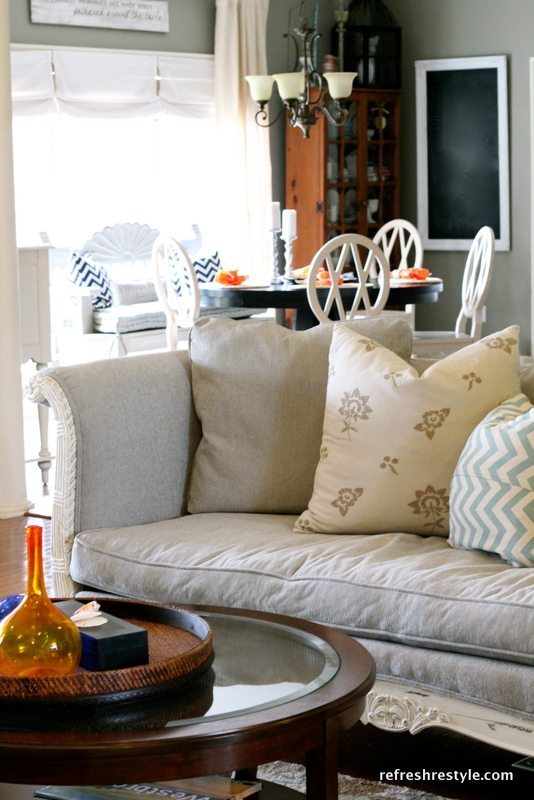 Tip 2.  If you find yourself buying lots of sofas over your lifetime, think about it!  I can't tell you how many patterned sofas I went through before I realized that I like solid colored ones.  With a solid colored sofa you can change your pillows, rug or curtains anytime or all the time and the room still looks great.
Tip 3.  If you're drawn to a certain thing and have a lot of silver like I do, find a way to showcase it. Every time I go into a junk/antique store, I am drawn to silver trays.  I was inspired to hang my collection on the wall via a Pottery Barn catalog.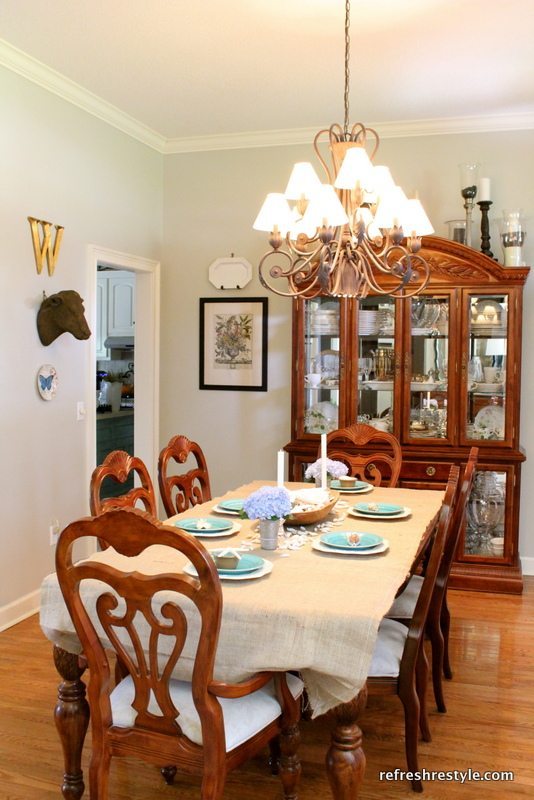 Tip 4.  If you like farm animals or animals in general don't be afraid to hang one in the dining room.  And if you can't find a rug that you love for the dining area, don't just buy anything.  It's ok to have nothing as opposed to wasting money on something you don't love. Buy what you love, use what you love and be patient 🙂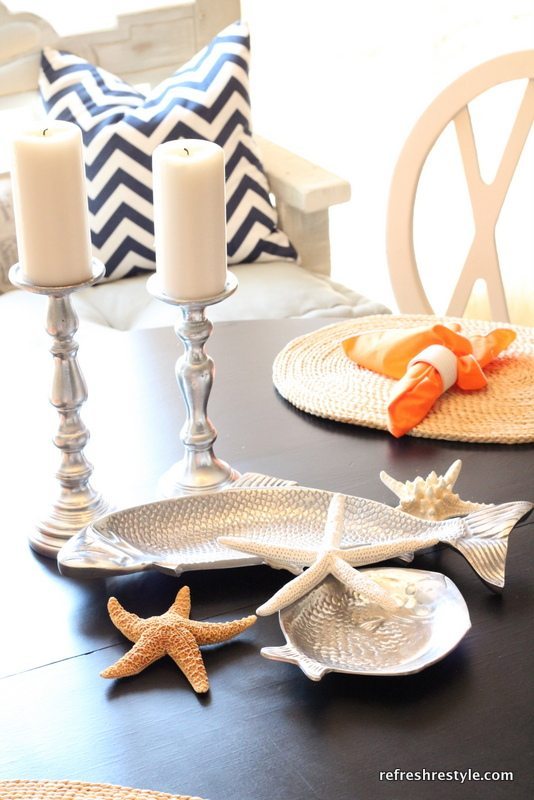 I love silver, I think I already mentioned that, which brings me to another one of my collections.  If you are a collector, find a way to incorporate them for everyday.
I thought about my serving dishes, you know all those bowls and platters stacked in the cabinet. I came up with a brilliant idea and it started with those awesome Wilton Armetale pieces that people give for wedding gifts?  Well you can use them everyday and I find them at Goodwill all the time.  Crazy right, that stuff is expensive!  I've been replacing utilitarian items like the common bowl with awesome shiny -keep your food cold or hot- Wilton Armetale.  Which leads to:
Tip 5.  If you have a large collection of things, let them take the place of something else.  It frees up space for all your ironstone.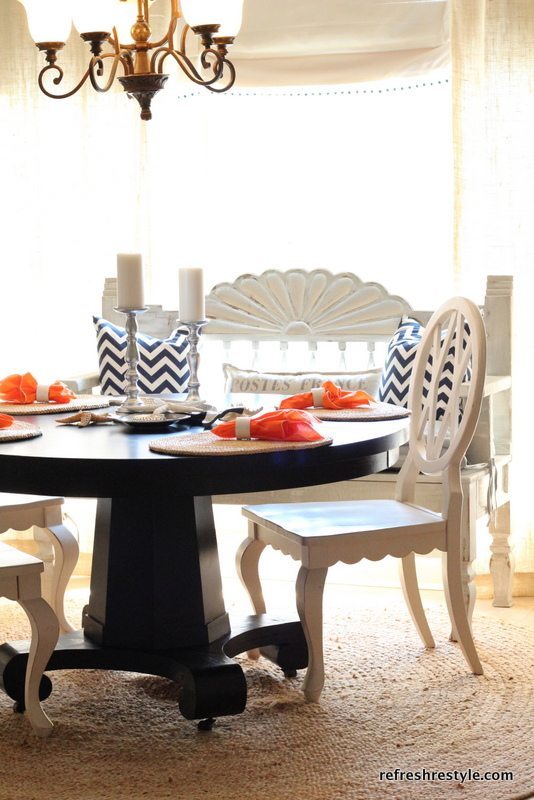 Thrifted Pottery Barn round rug, a table found in pieces in a dark corner in a dusty back room of an antique store, a headboard and an end table bench resulted in a fun comfortable breakfast room.  Makes me proud, long ago I was embarrassed for people to know where my stuff came from.  No more, I think it shows that I'm responsible with my money and it lets my DIY style shine through.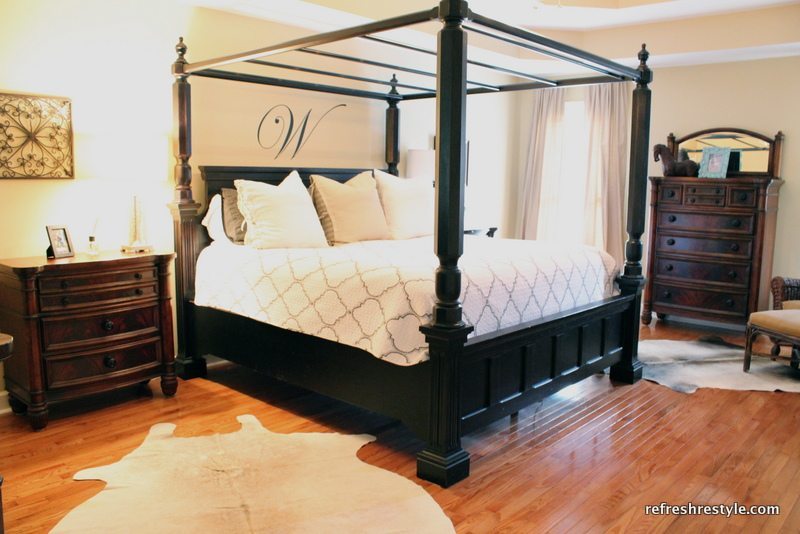 You don't have to have every wall filled, our bedroom only has 4 things hanging on the wall.  Very calming.
Tip 6.  Don't fill every wall.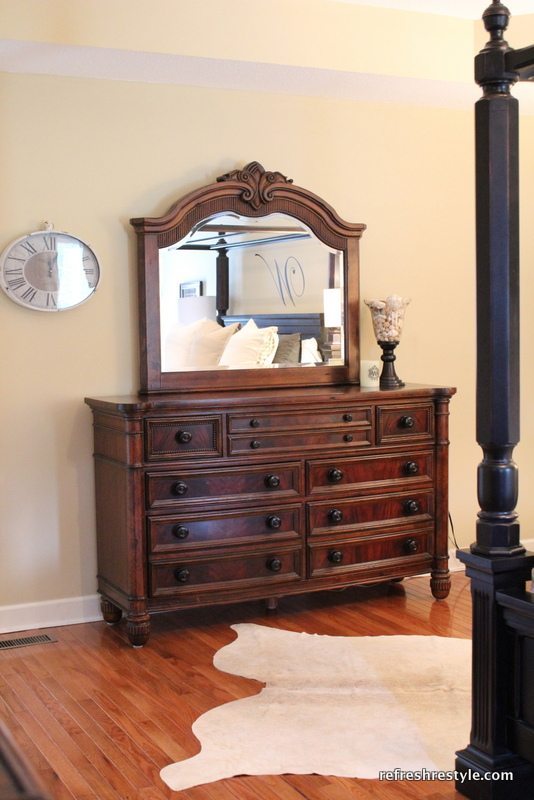 Tip 7.  Don't have clutter on every surface.  Let it breathe.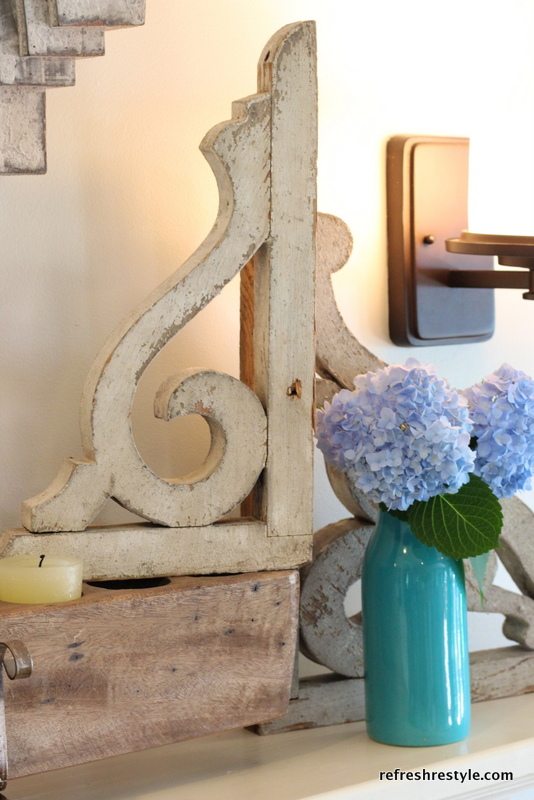 Tip 8.  Buy accessories that you can use all year long.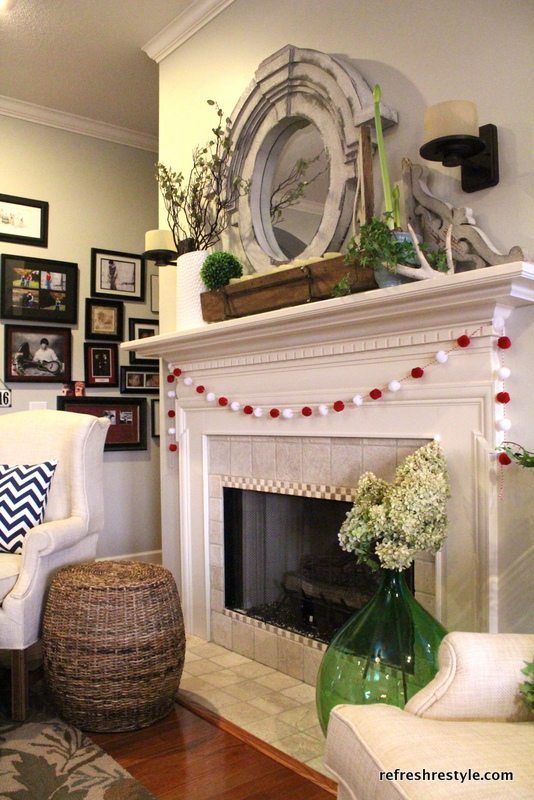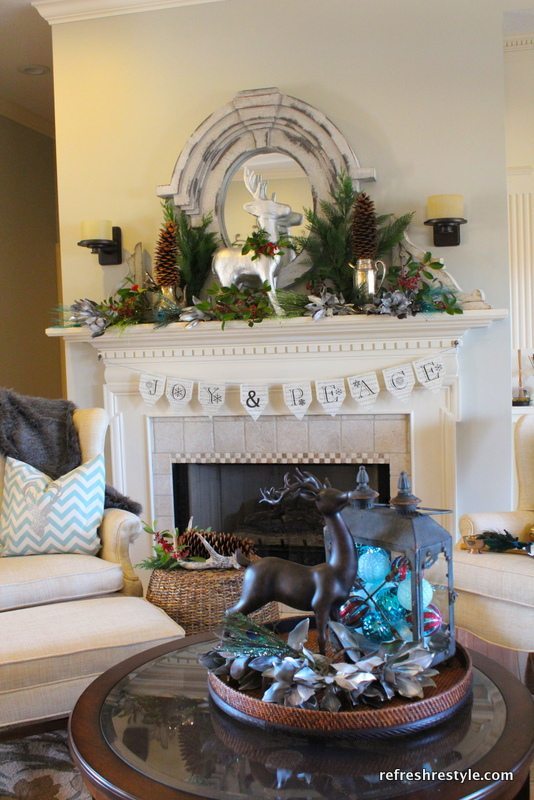 The corbels never left the room 🙂
Tip 9. If you're going to spend money, spend it on things that last.  This patio set is 10 years old and I have another one down on the dock that's 17 years old.  They are both made of metal and I really got a lot of bang for the buck on them!  You can always change out the cushions, pillow, and spray paint a free garden stool, if you want to change things up!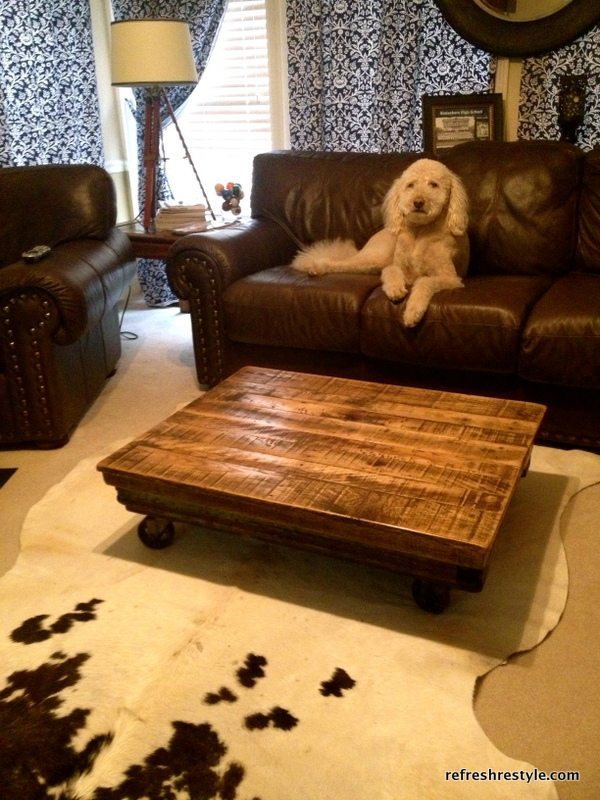 Tip 10.  Use leather in the Man Cave, and your dog will love you forever.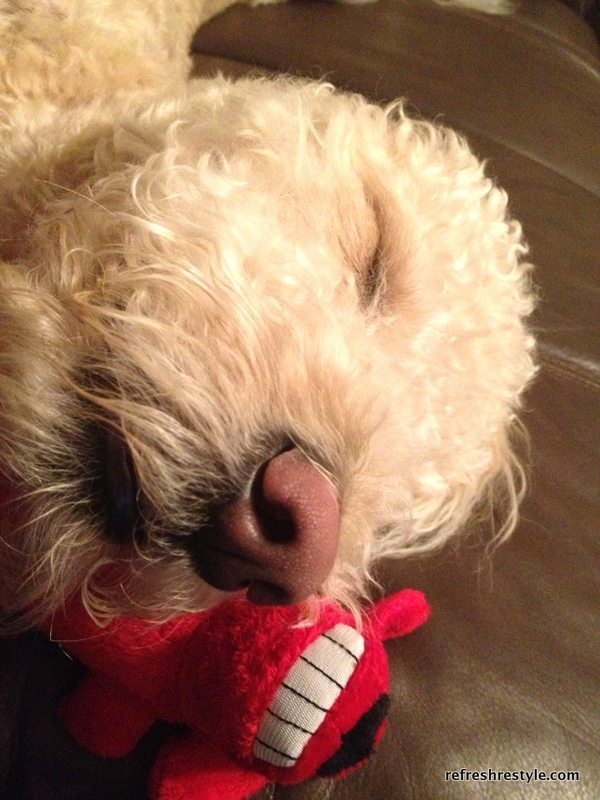 Tip 11. Be happy with your purchases, love them and you'll want to keep them forever.  You'll just move them from room to room, paint them and refresh them when you need a change.
I had so much fun with y'all today! I'm on Pinterest, Instagram, FB, Twitter….just about everywhere!  Come see me 🙂
Thanks for stopping by! Be sure to check out all my Budget Friendly DIY Projects.