It takes time for me to create a space that I truly love. We've been in our house for around 17 months and my dining room was more like a vacant dumping space. Better Homes & Gardens challenge this month was to create a space that we love. I'm sharing how I did that with you today. There's nothing fancy about our home or us for that matter. Having a fancy formal dining room is not us at all. I wanted a space with comfortable seating and a linger longer atmosphere.
Casual Dining Room Refresh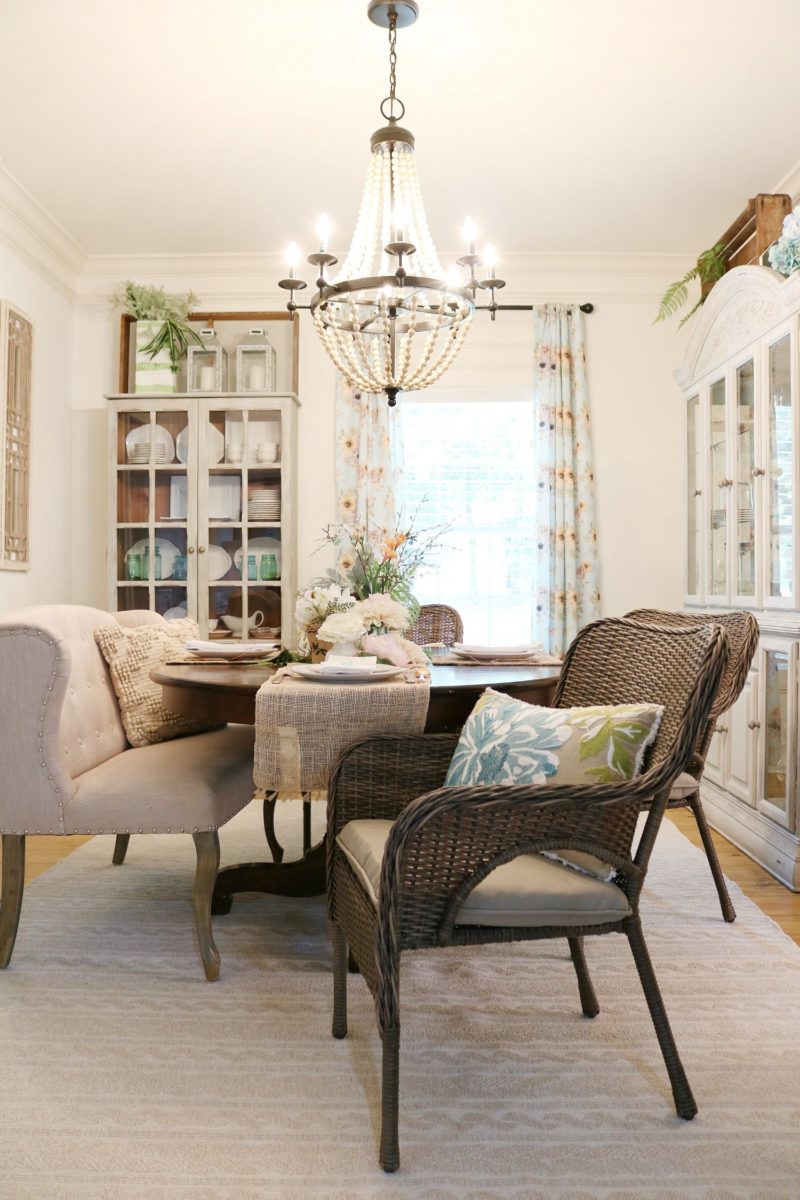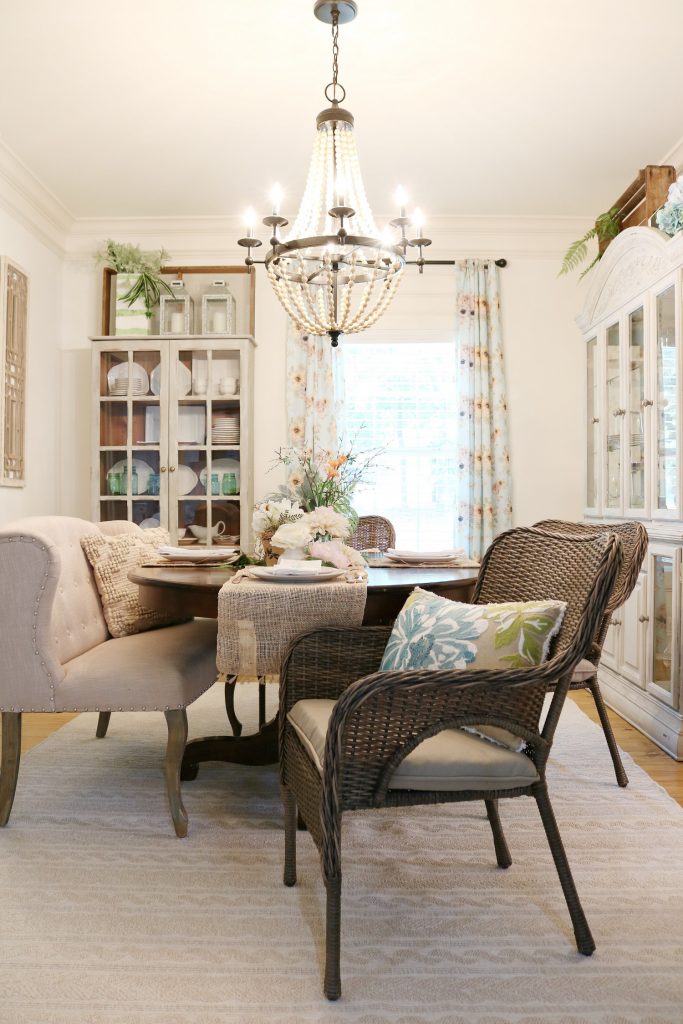 This post is sponsored by Better Homes & Gardens at Walmart. Affiliate links have been added for your convenience.
Before I had not given much thought as to how the room would be used. It was just for overflow when we had too many guest to fit around the farmhouse table in the kitchen.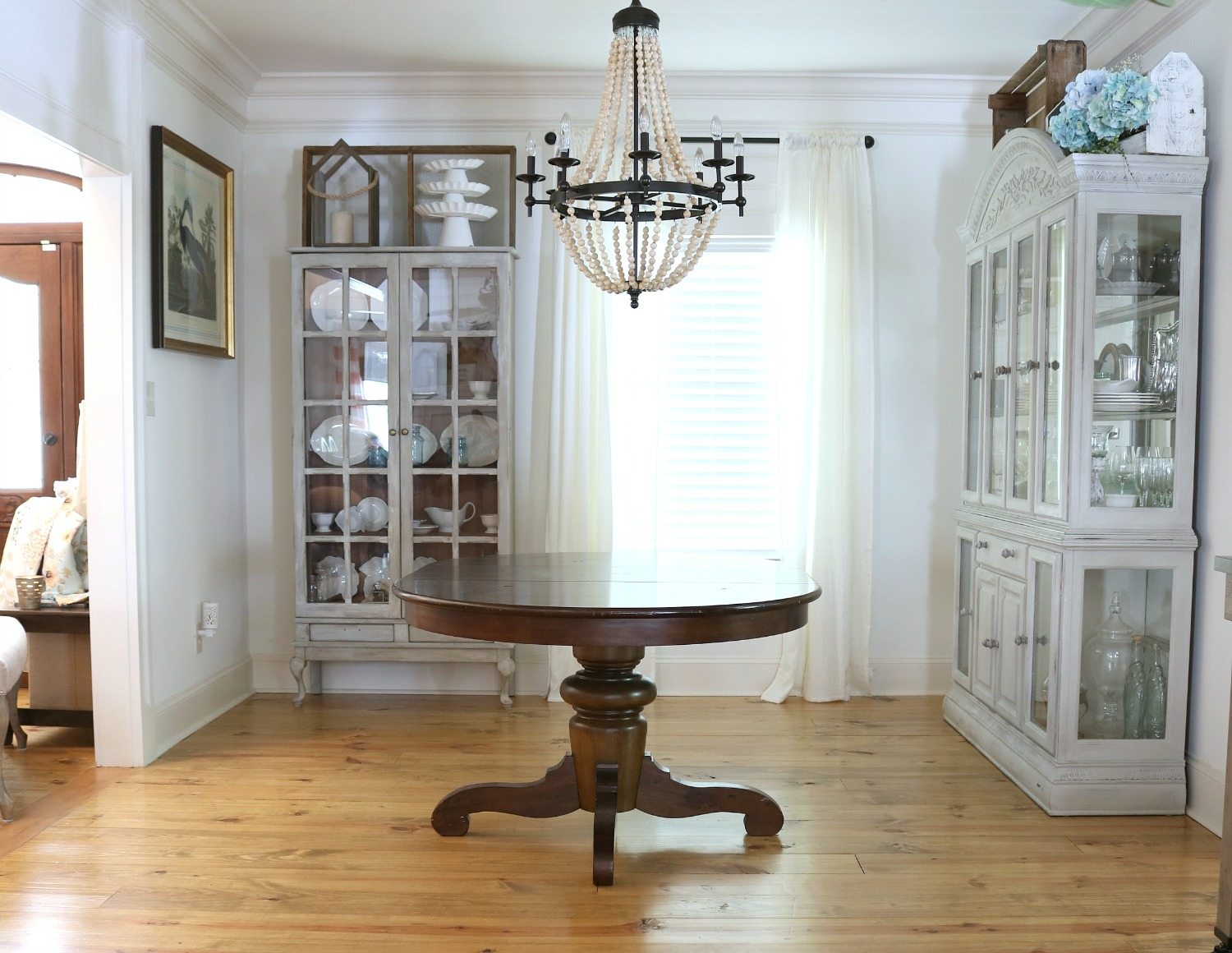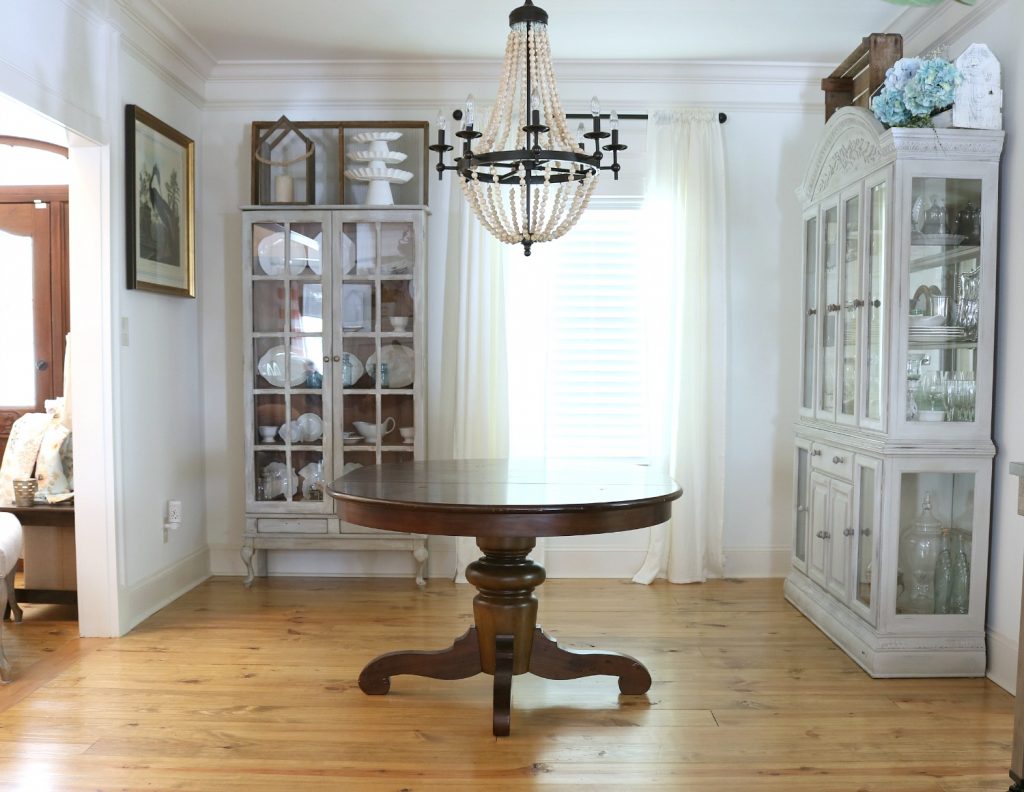 The first thing I did was empty the room except for the large pieces of furniture. I lived with it like this for a week or so while I came up with a plan and really thought about how I wanted the room to function. I have included affiliate links to the items used. Some things I've had for a long time and just moved them around.
Take your time and really think about your family and lifestyle.
Here's what I did to for my Casual Dining Refresh:
Step One – Remove as much as possible to quiet the room.
Clear all the surfaces.
Remove previous dining chairs.
Sweep, dust and clean. Perfect time to freshen everything up.
Step Two – Think about style and function. How will you and the family use the space. My style is casual farmhouse – with a fresh approach. I knew that I wanted to add color and coziness to the space.
Add warmth with rug.
Color – curtains, pillows, accessories
Texture – rug, pillows and florals
Step Three – Budget, sadly most of us have to think about using our budget creatively.
Step Four – Shop your house
I removed items from the top of the cabinet and replaced it with decor that I stored in my pantry. I have found that moving things around the house or storing them for a while really helps keep things fresh. I also changed out the art work. I just grabbed a mirror from another room to replace the large print.
Putting it all together!
Choosing the rug, chairs and pillows was easy. When it came to curtain choice I was torn between these two: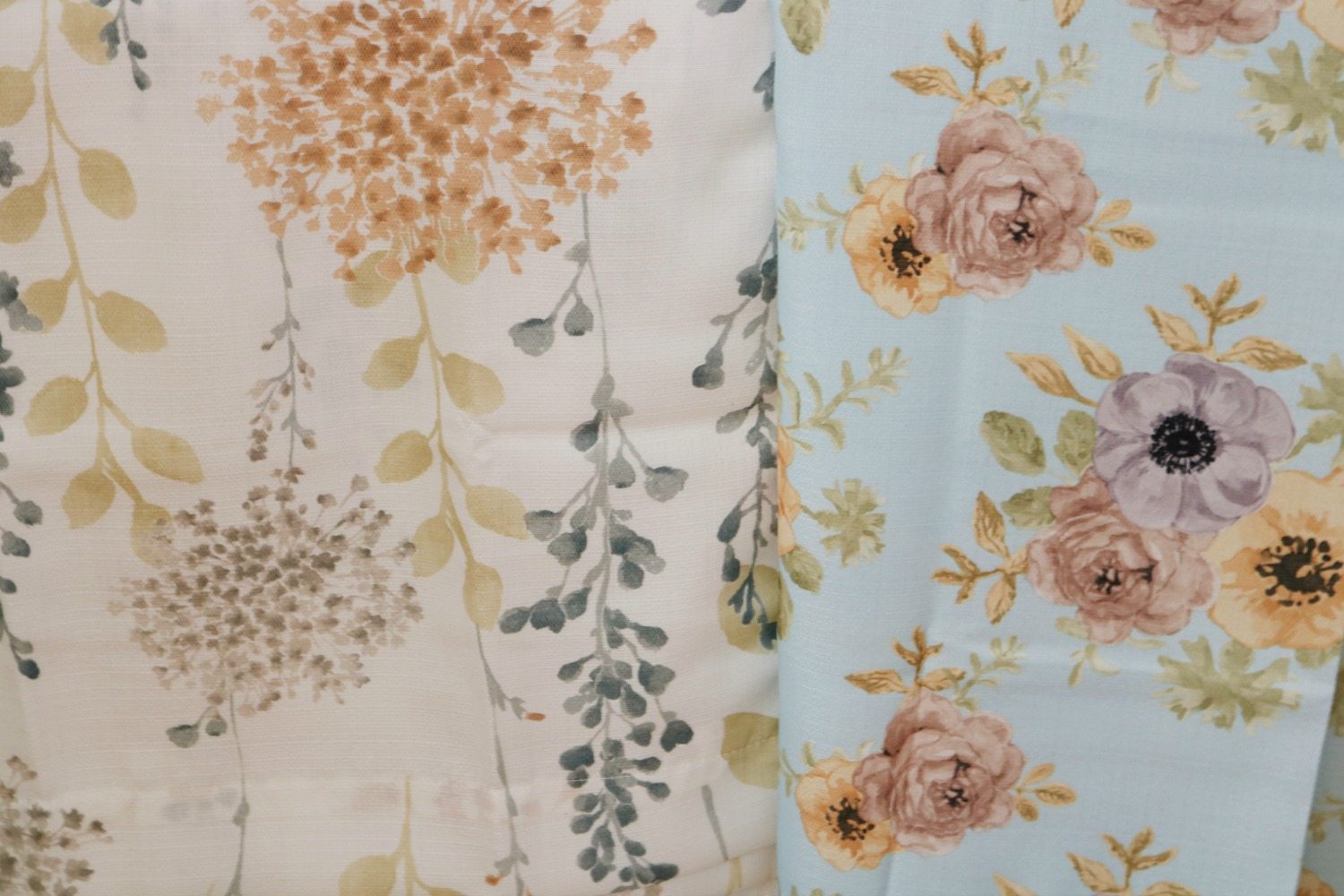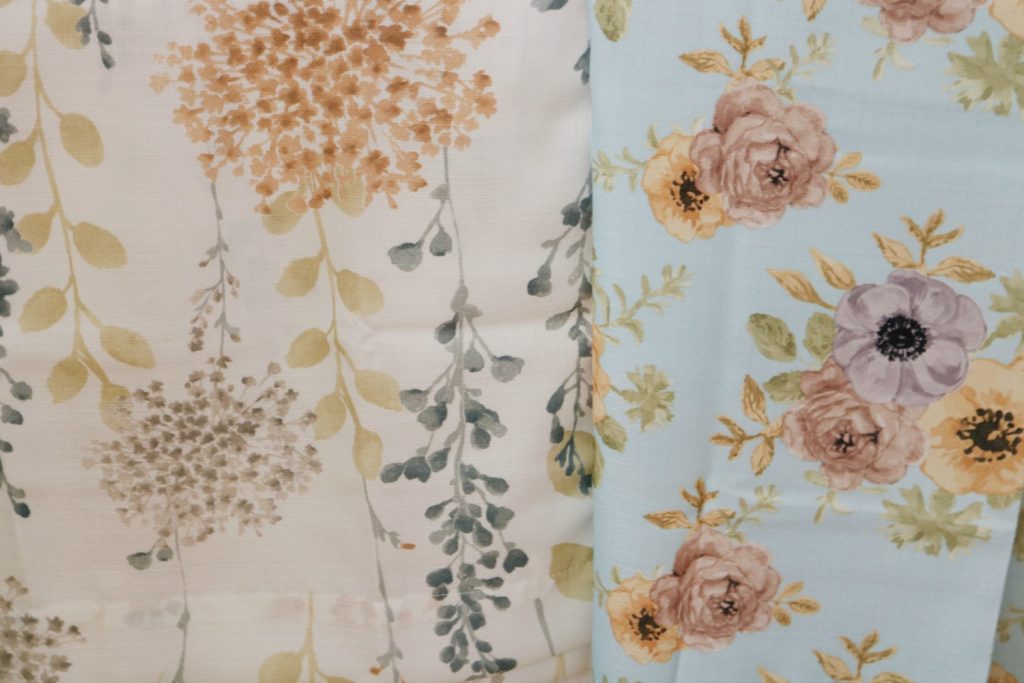 I loved the neutral of one and the color of the other. I really thought I knew which one would still be hanging in there right now…but I was wrong.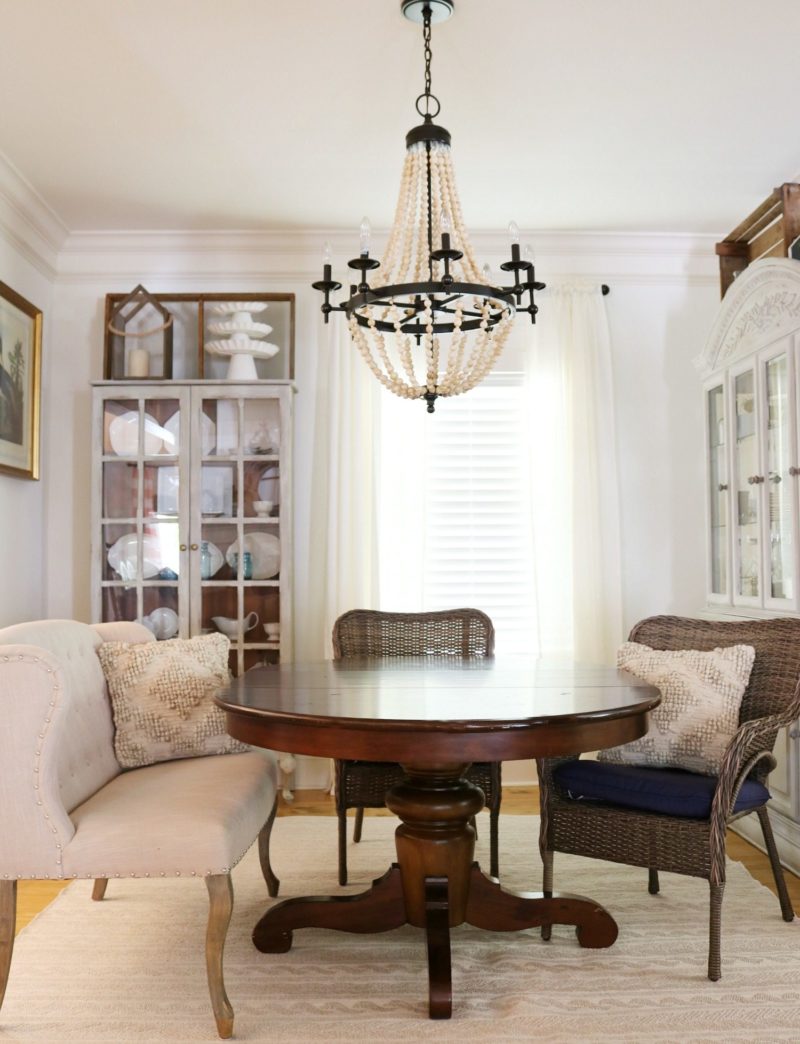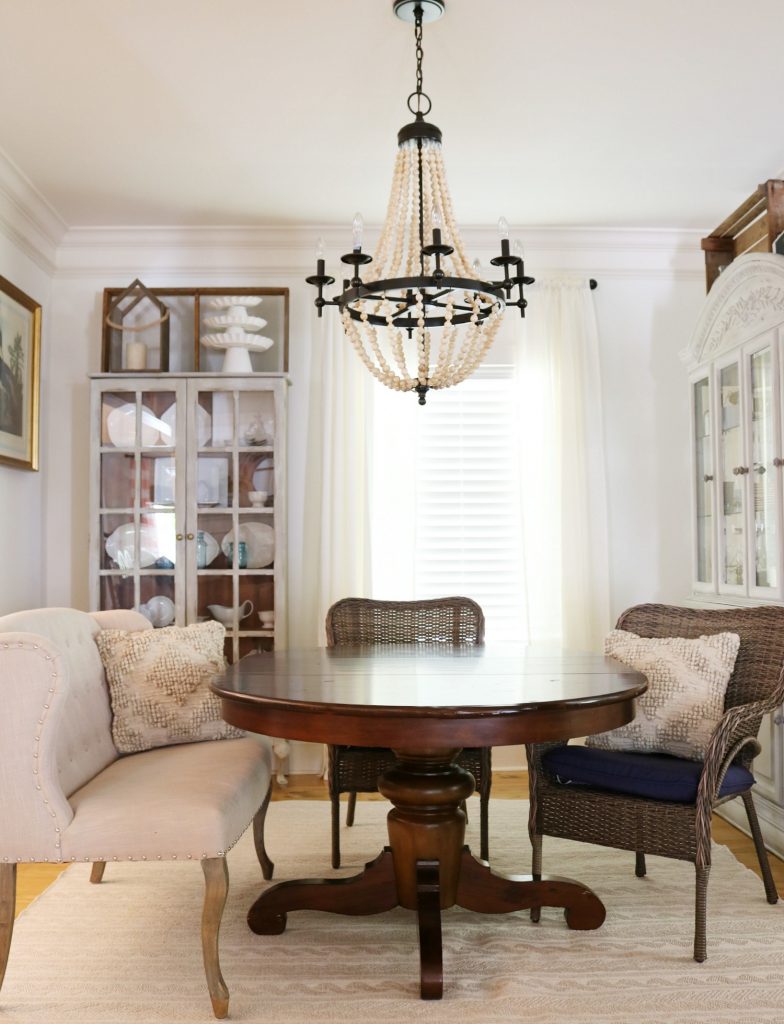 During the process, I tried navy cushions and leaving the curtains that I already had. It just looked a little too boring for me. After adding the rug and chairs, I knew this change was going to make me happy.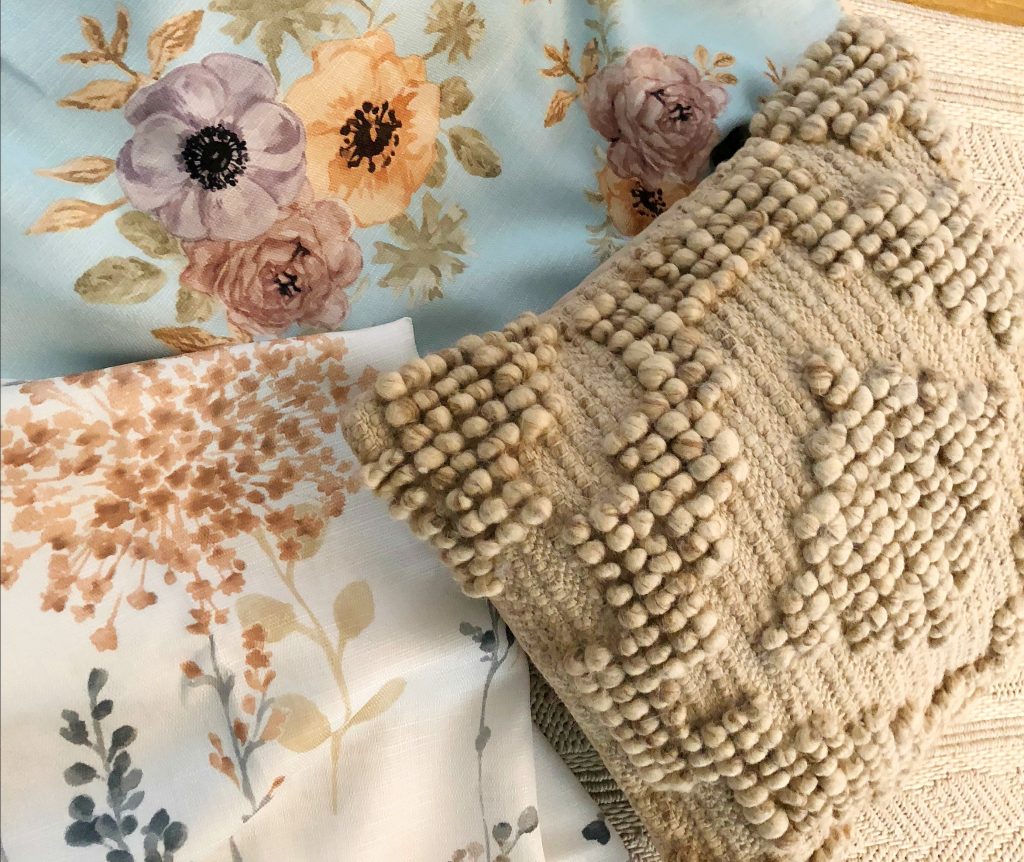 The texture and color really add warmth to the space. I kept both sets of curtains, I will be using the other ones in a guest bedroom.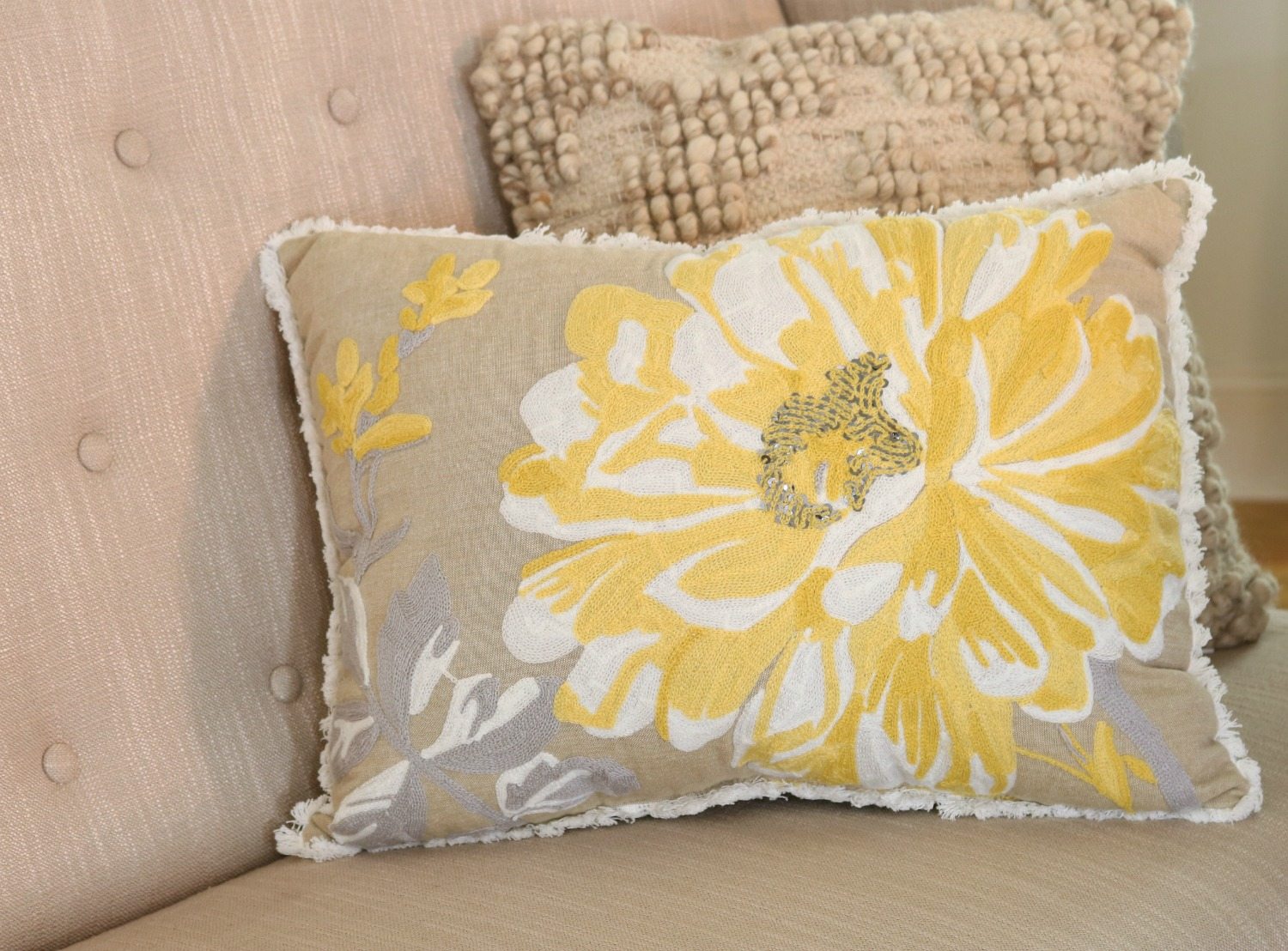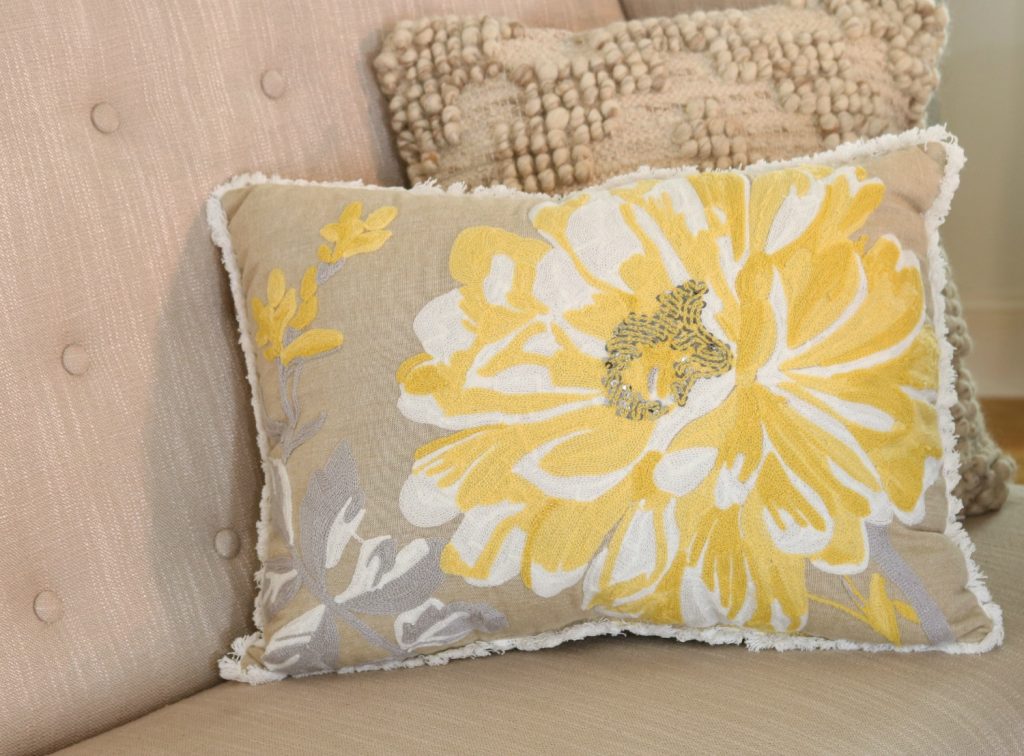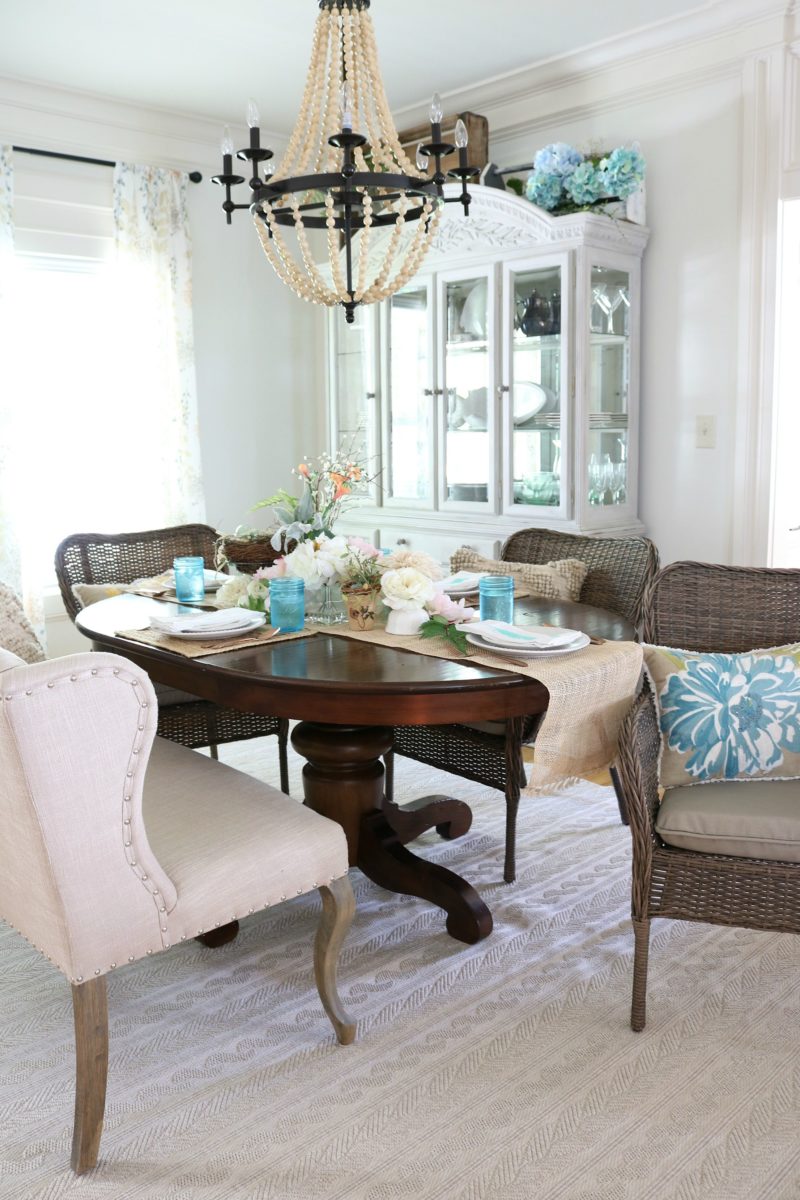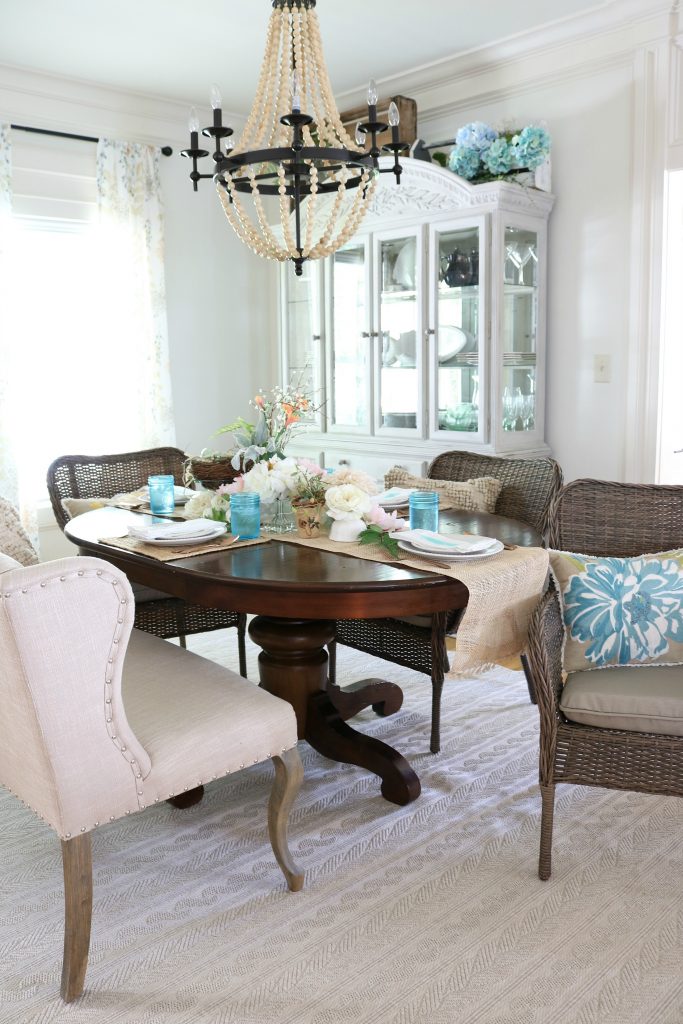 The indoor/outdoor rug has a cable knit pattern and feels great on bare feet. Easy to clean and comfortable, my favorite combination!
I mixed colors to create a collected look with the pillows and table setting.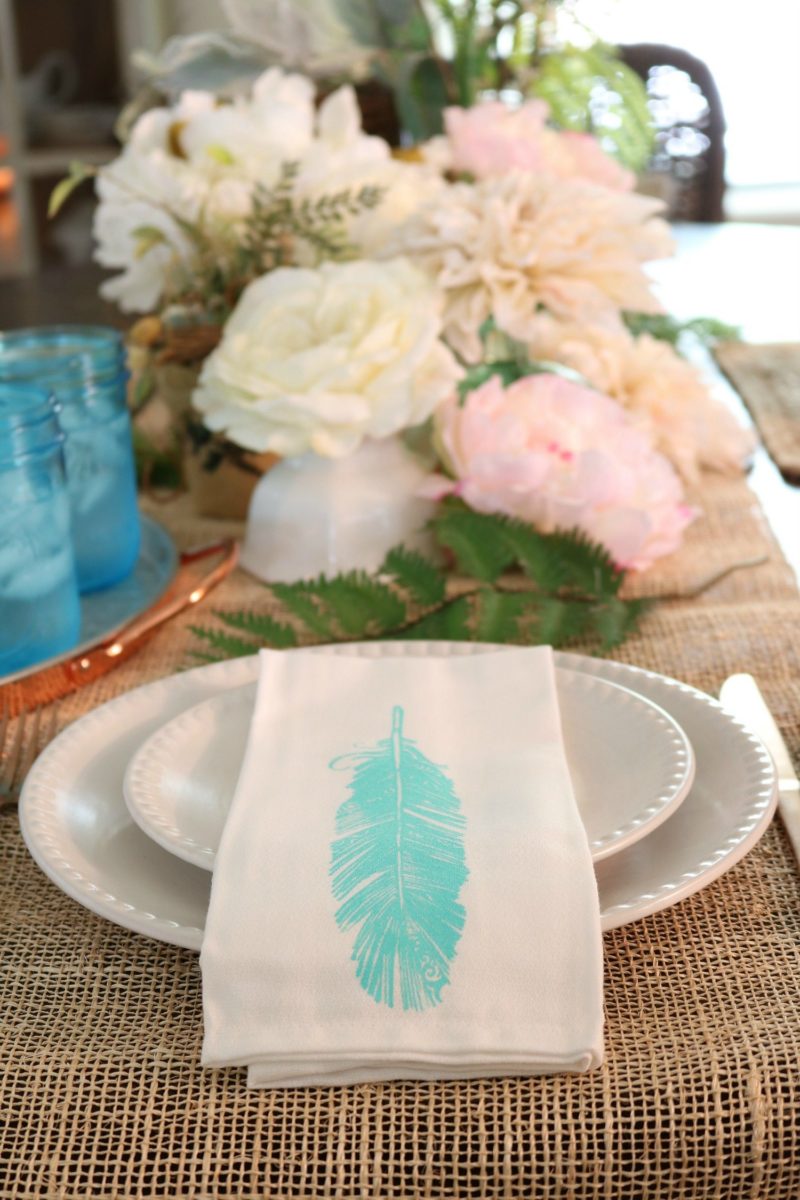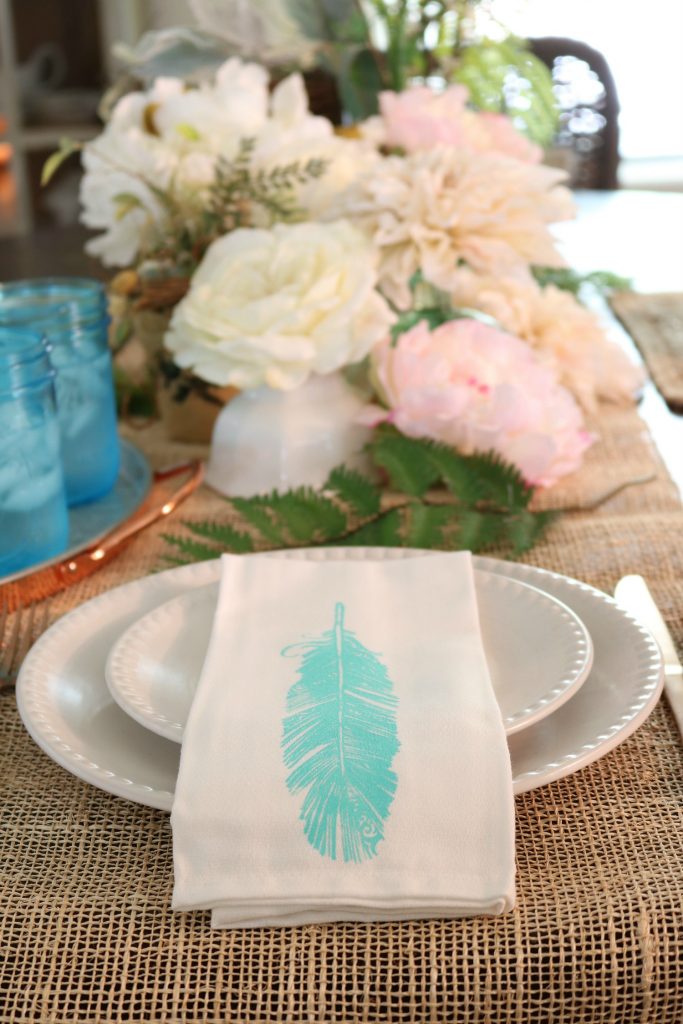 A few DIY crafts, like this inked feather napkin, looks great with the mason jars and the mix of soft colors throughout the floral tablescape. I already had everything on the table except for those wonderful copper/galvanized serving trays.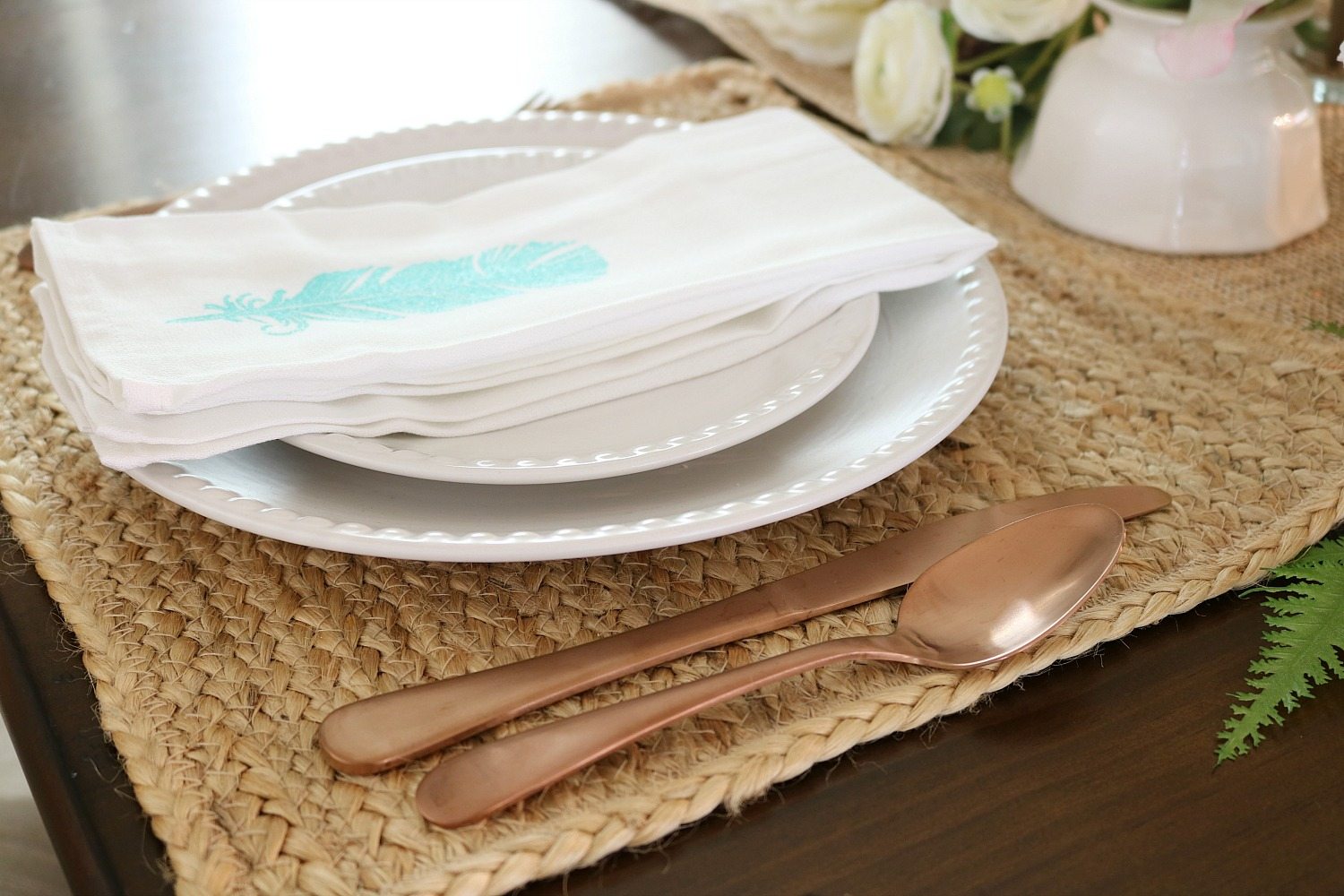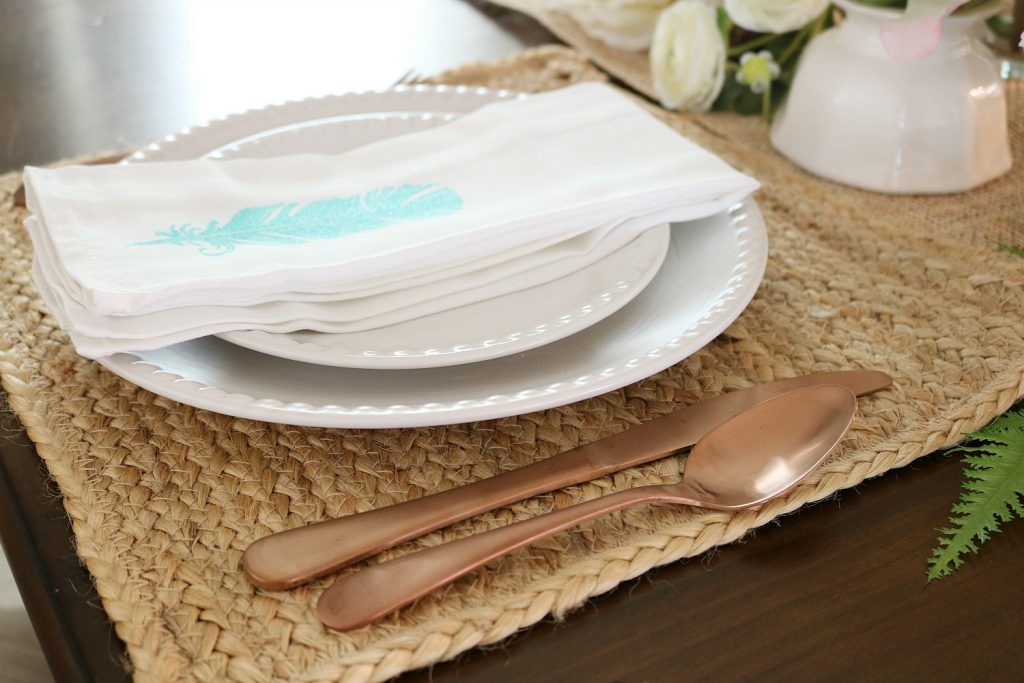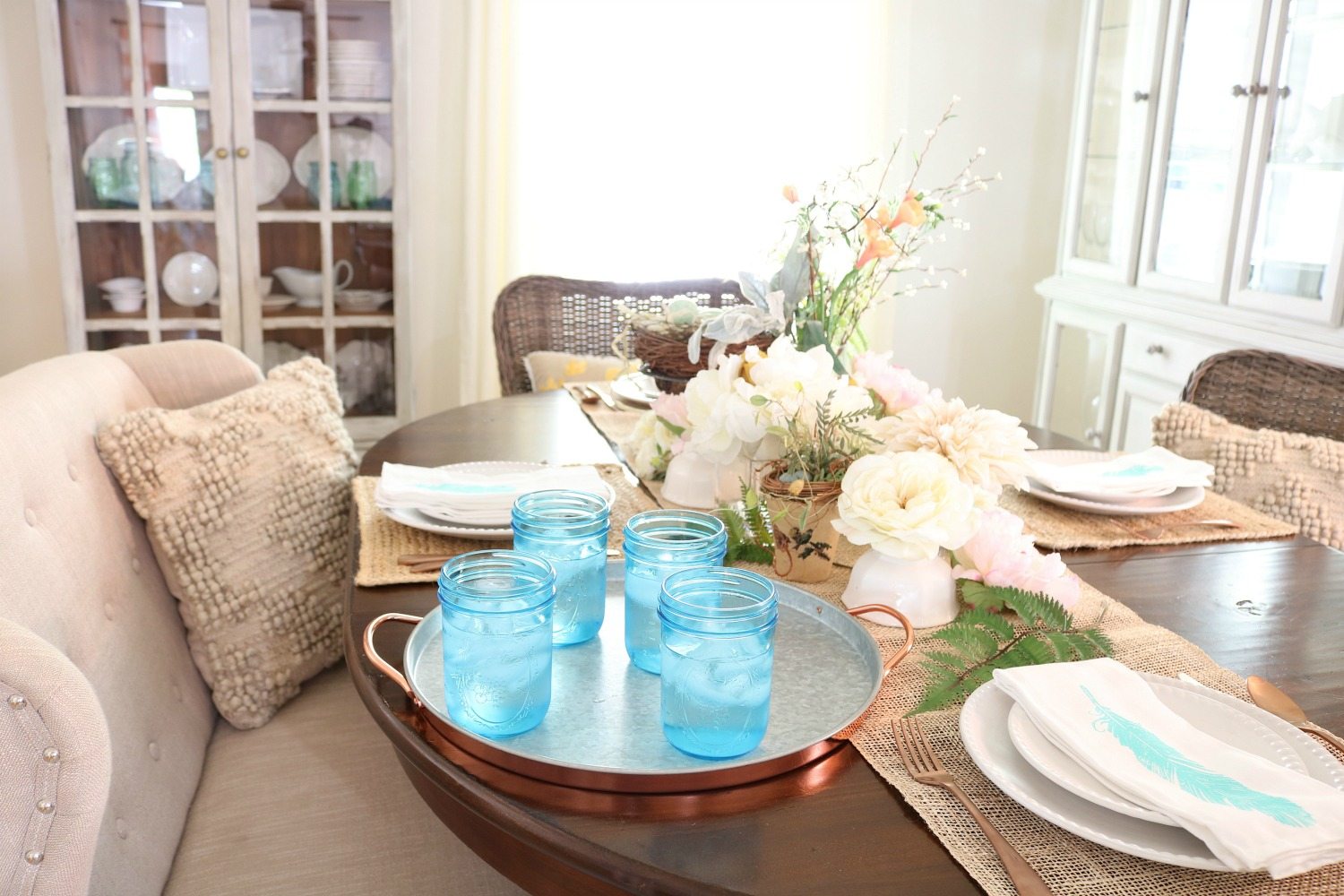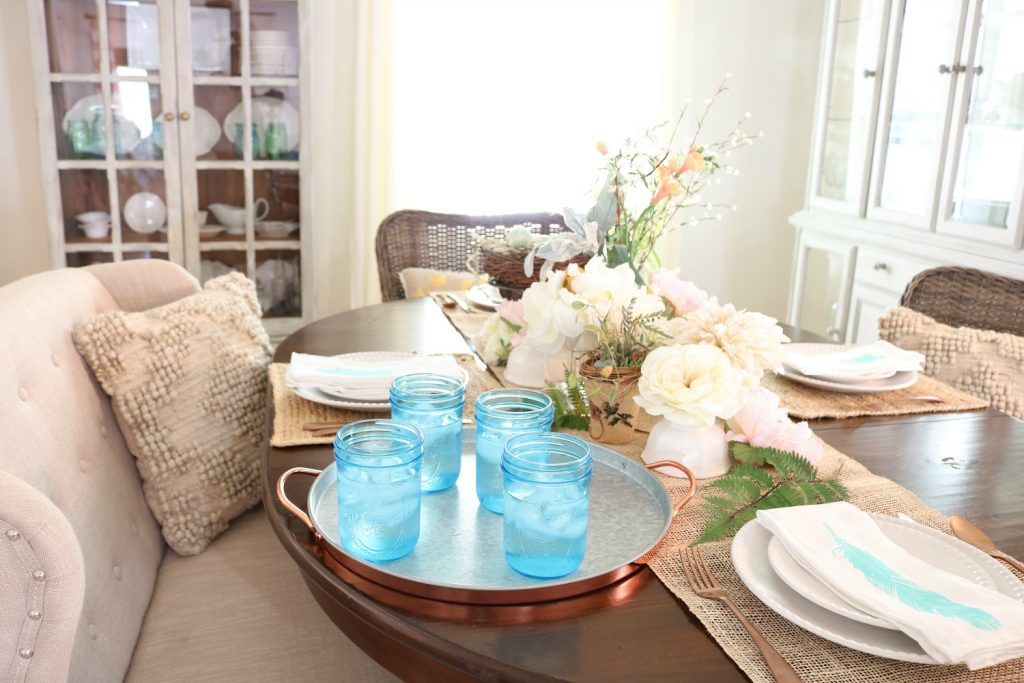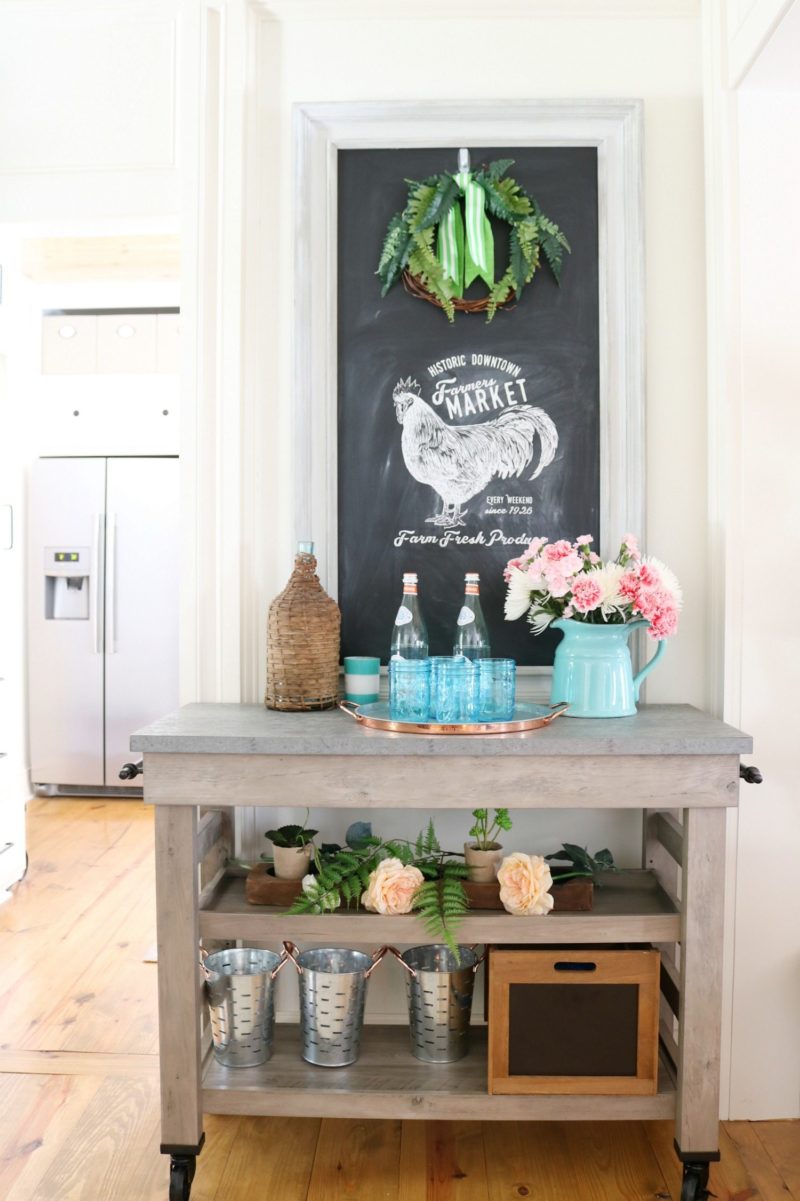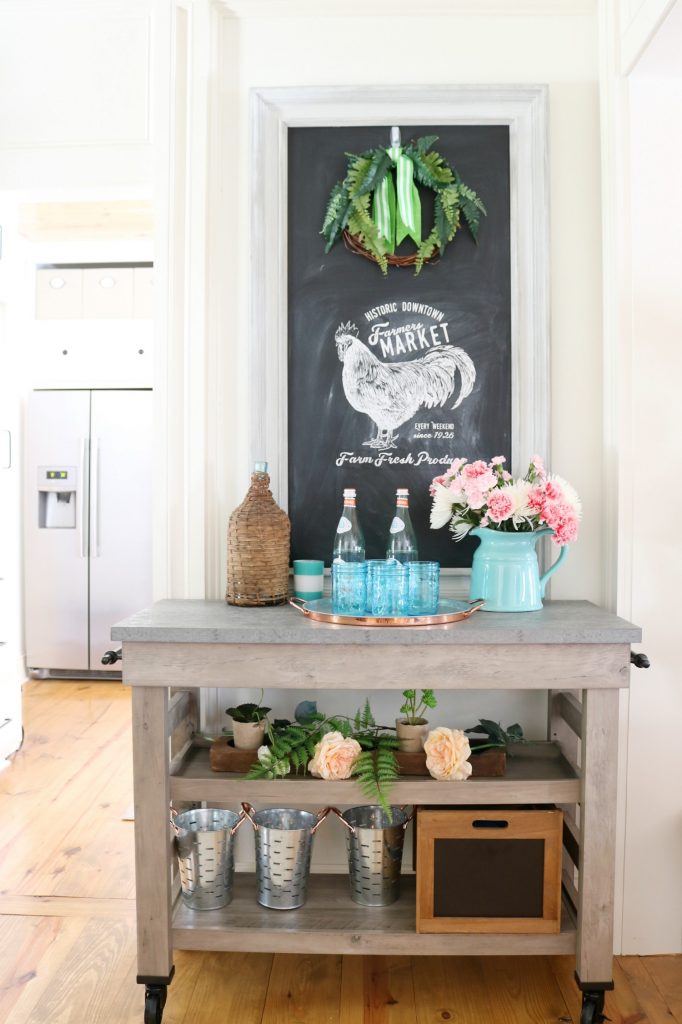 The farmhouse cart seems suited for the area as well, from serving to storage, it's a hard working functional piece. You can visit here to see how I used it in the kitchen: Farmhouse Kitchen Makeover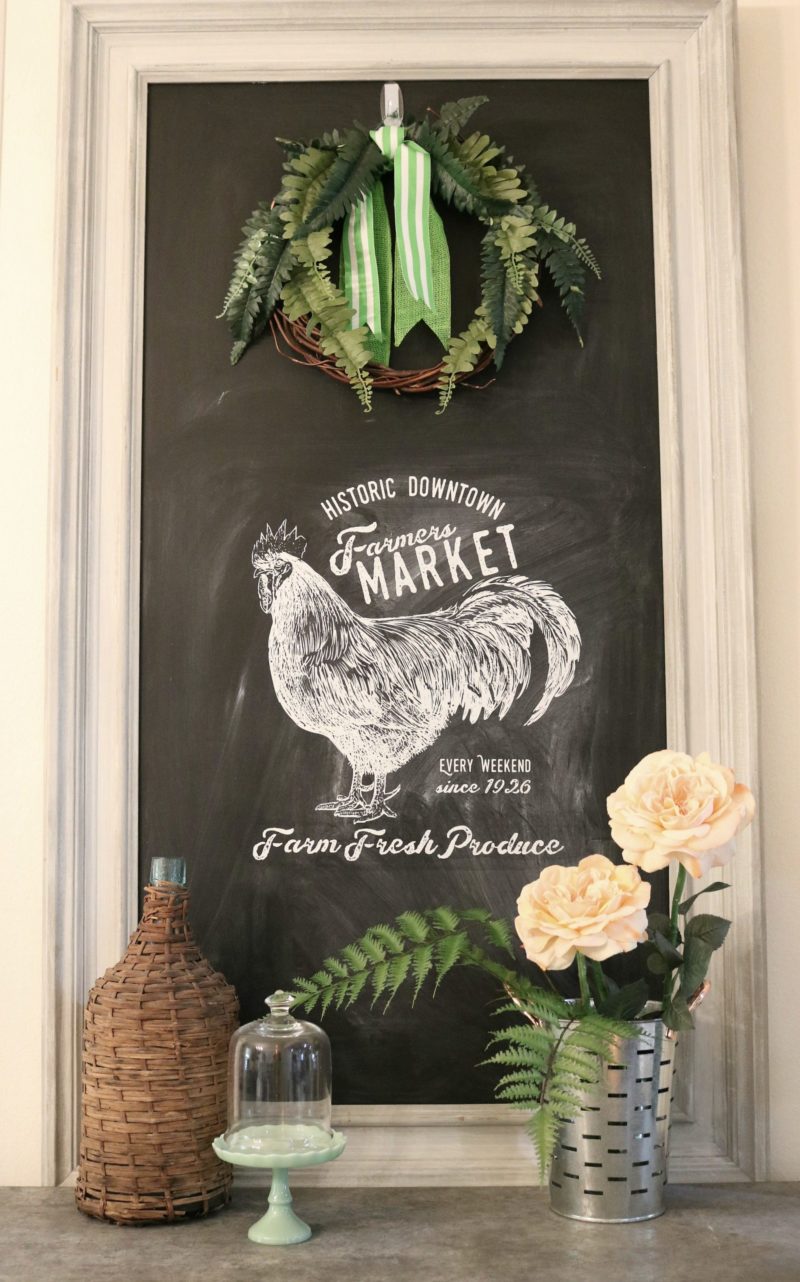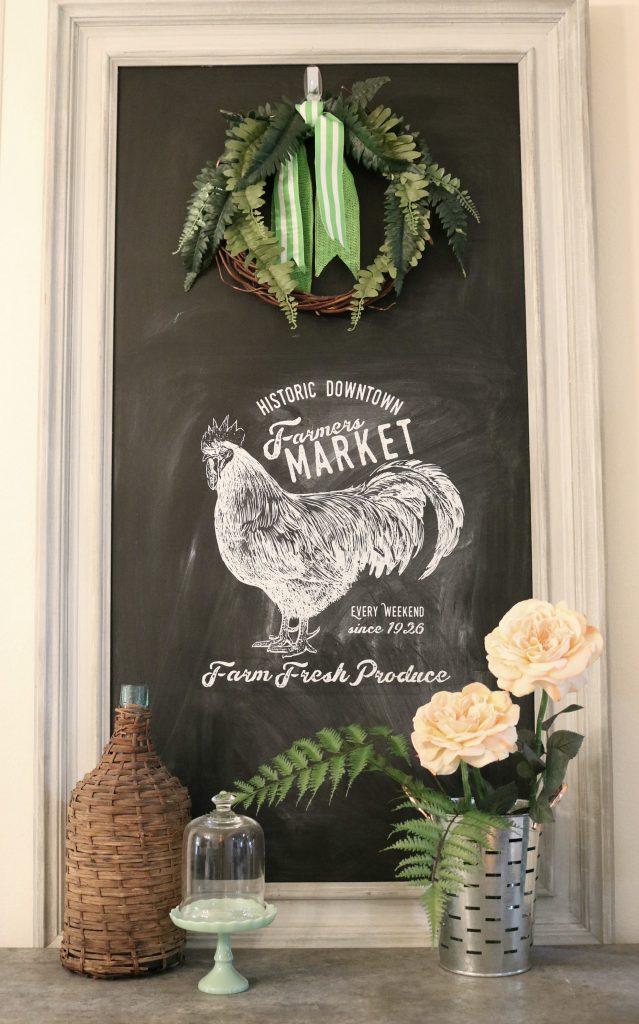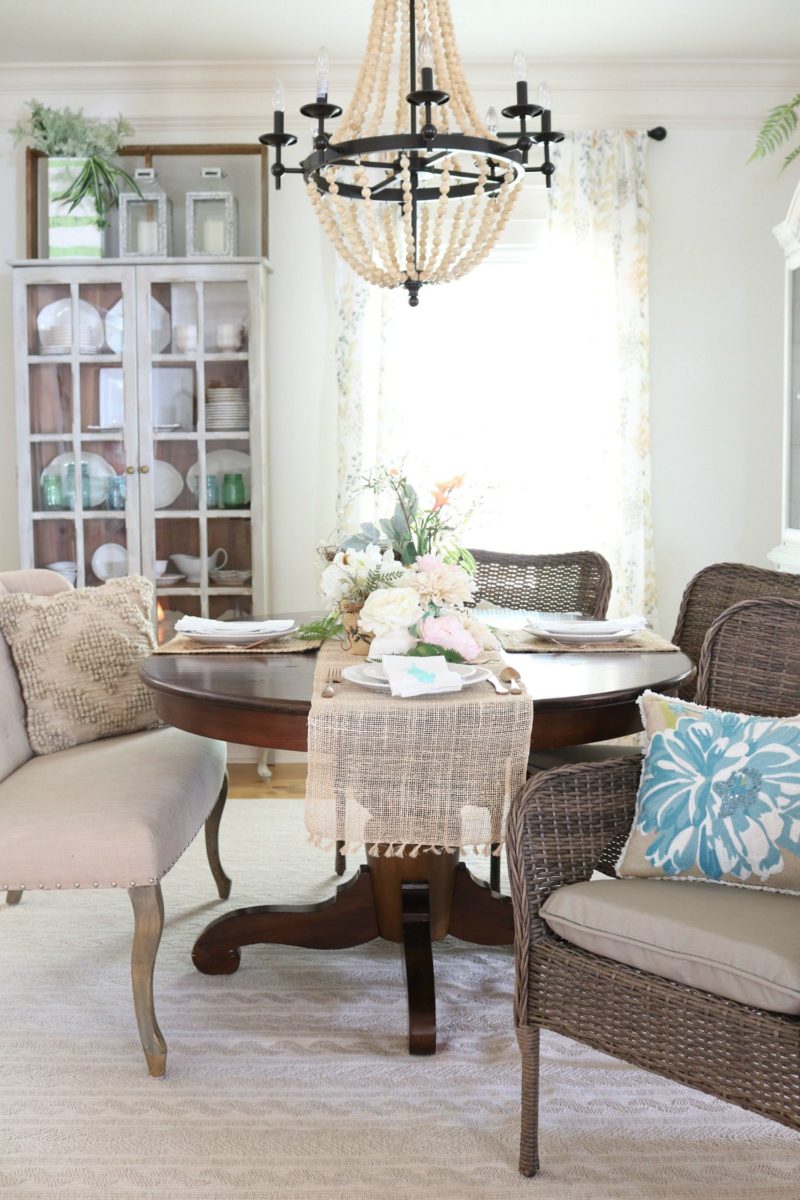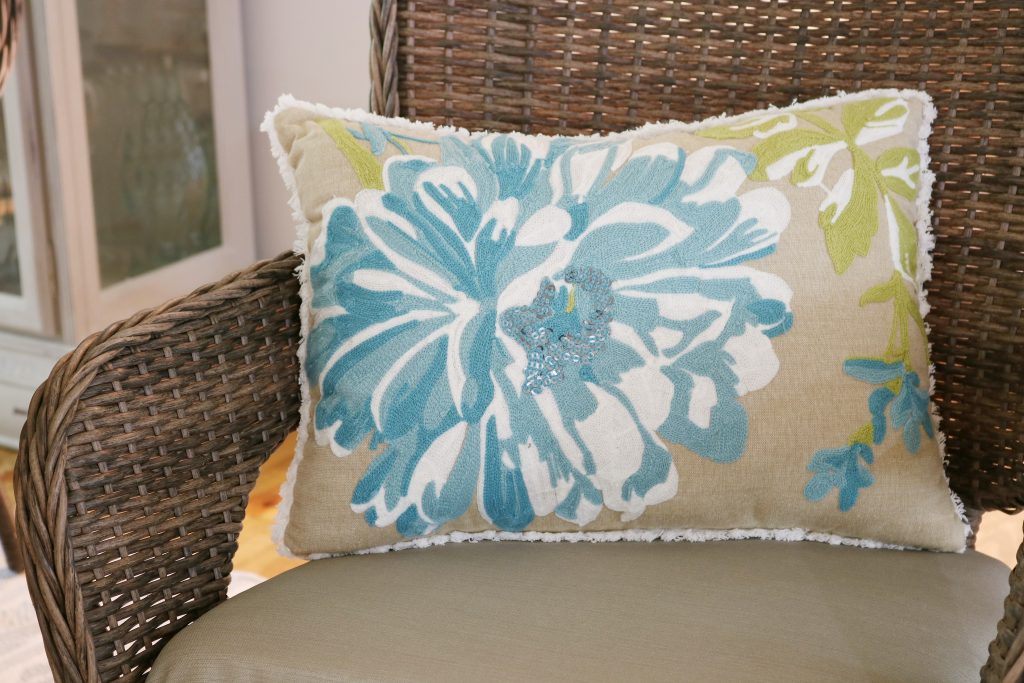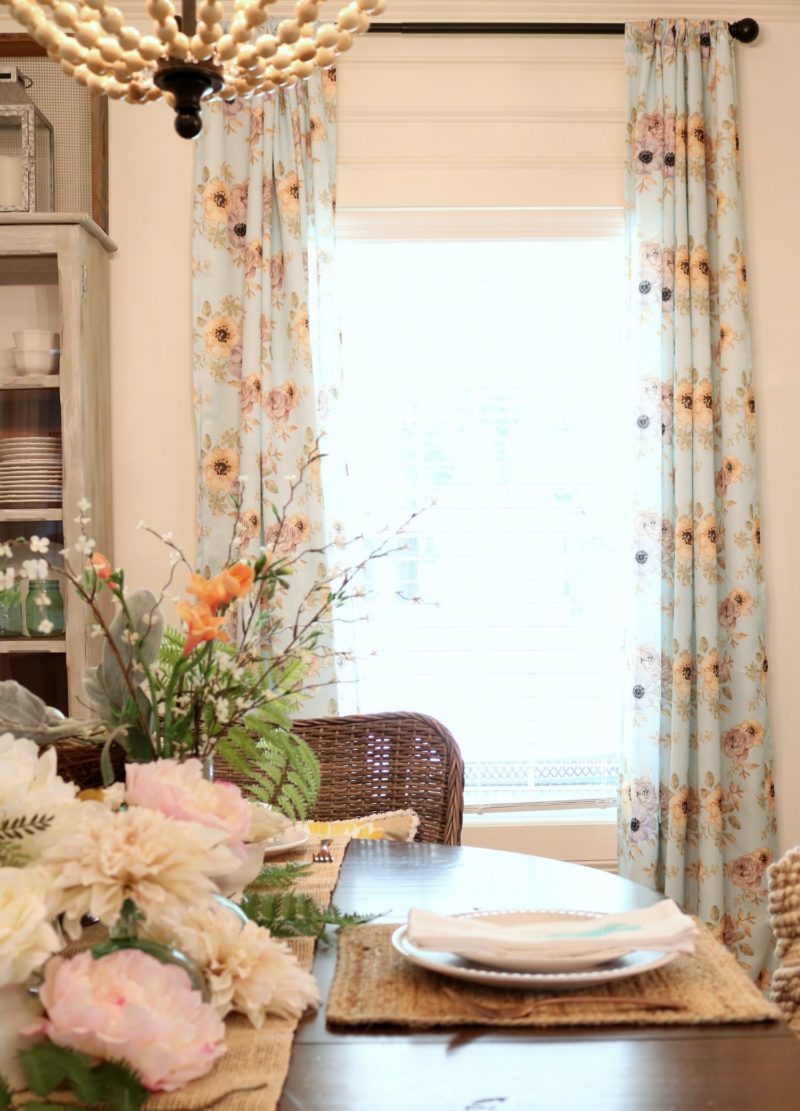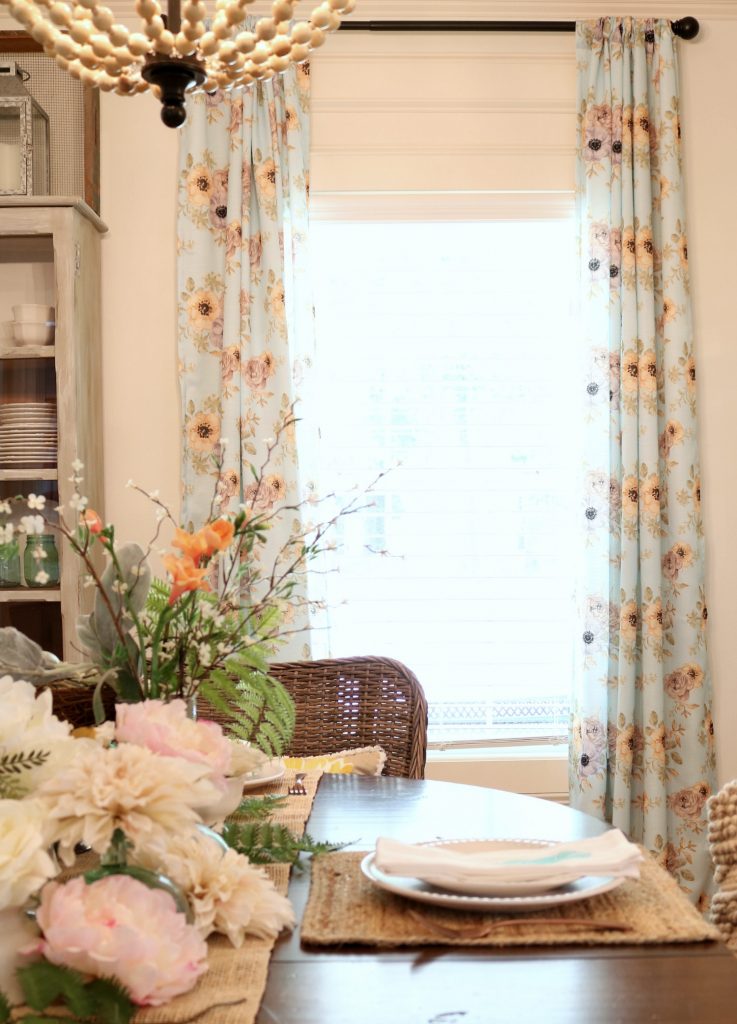 I decided to go with the blue floral curtains. They add a pop of color to that side of the room and I love how fresh the florals makes the space look.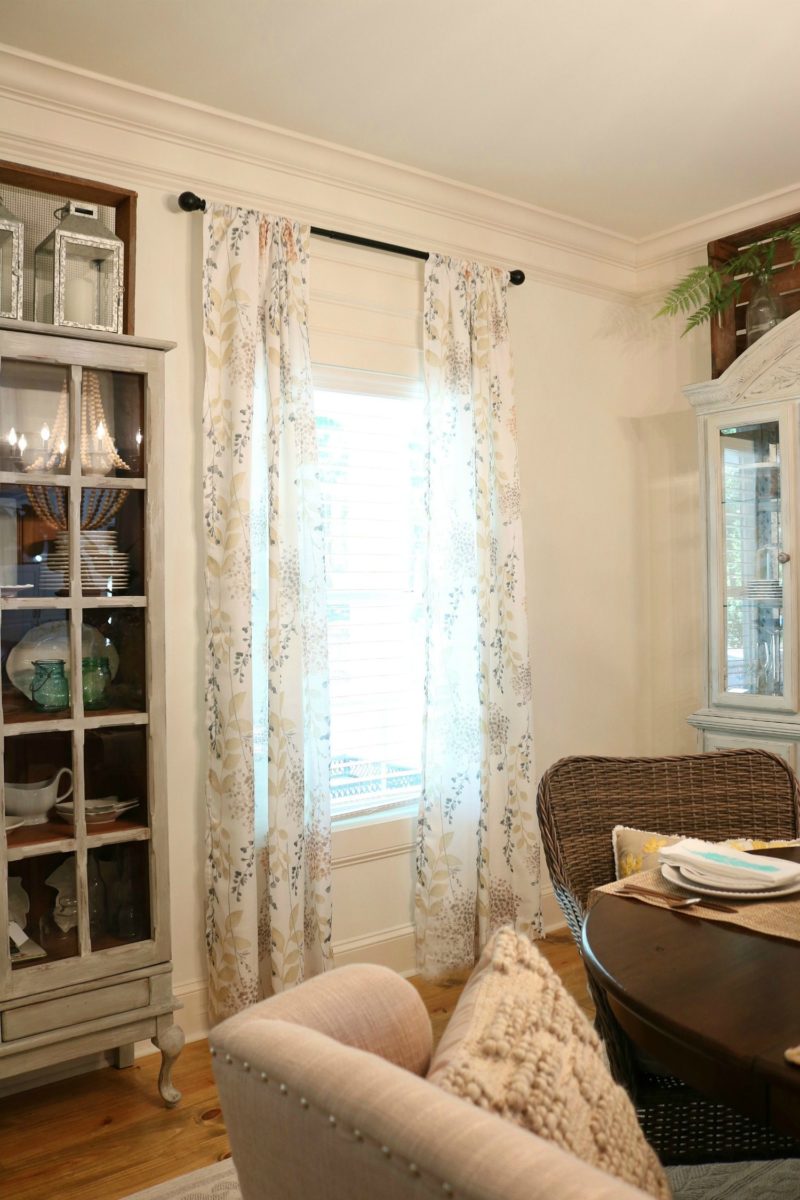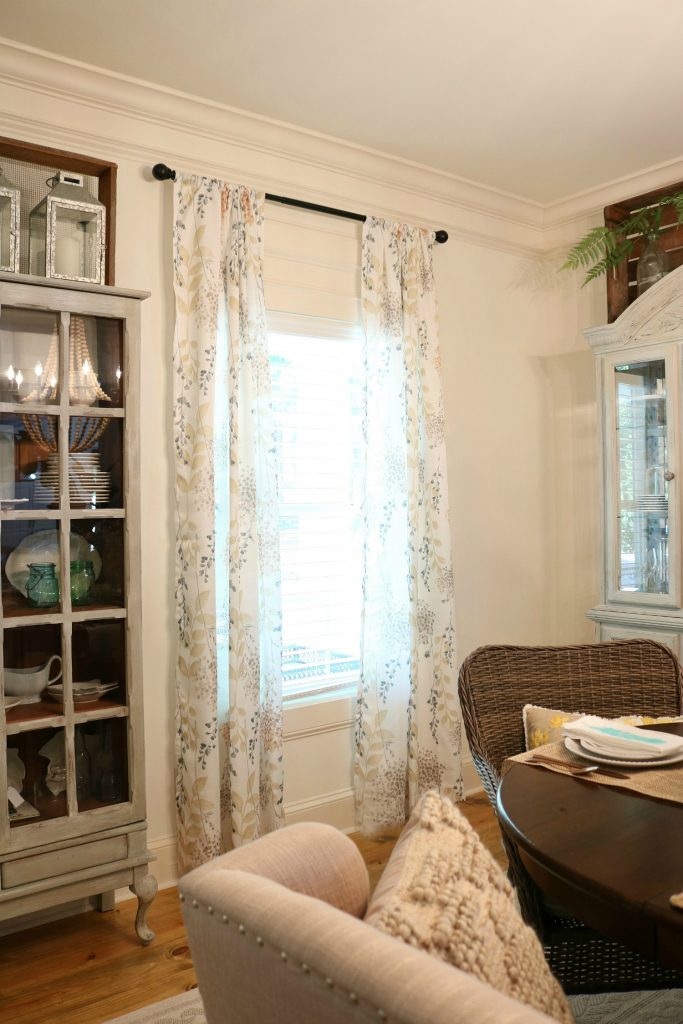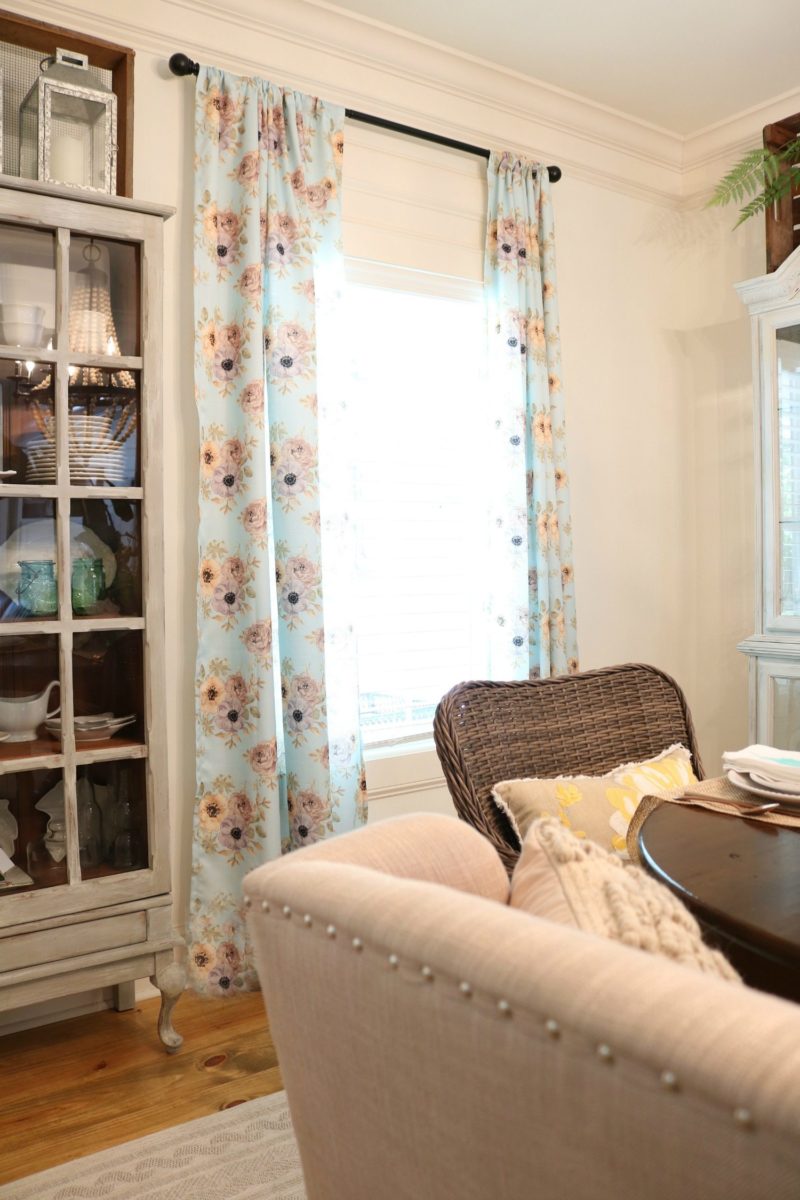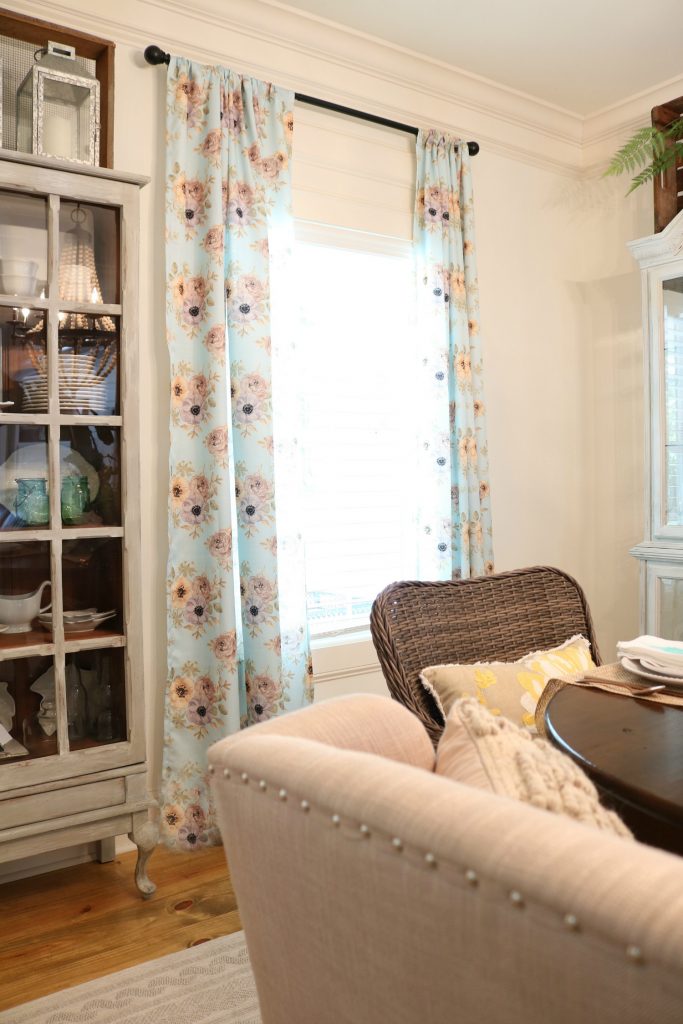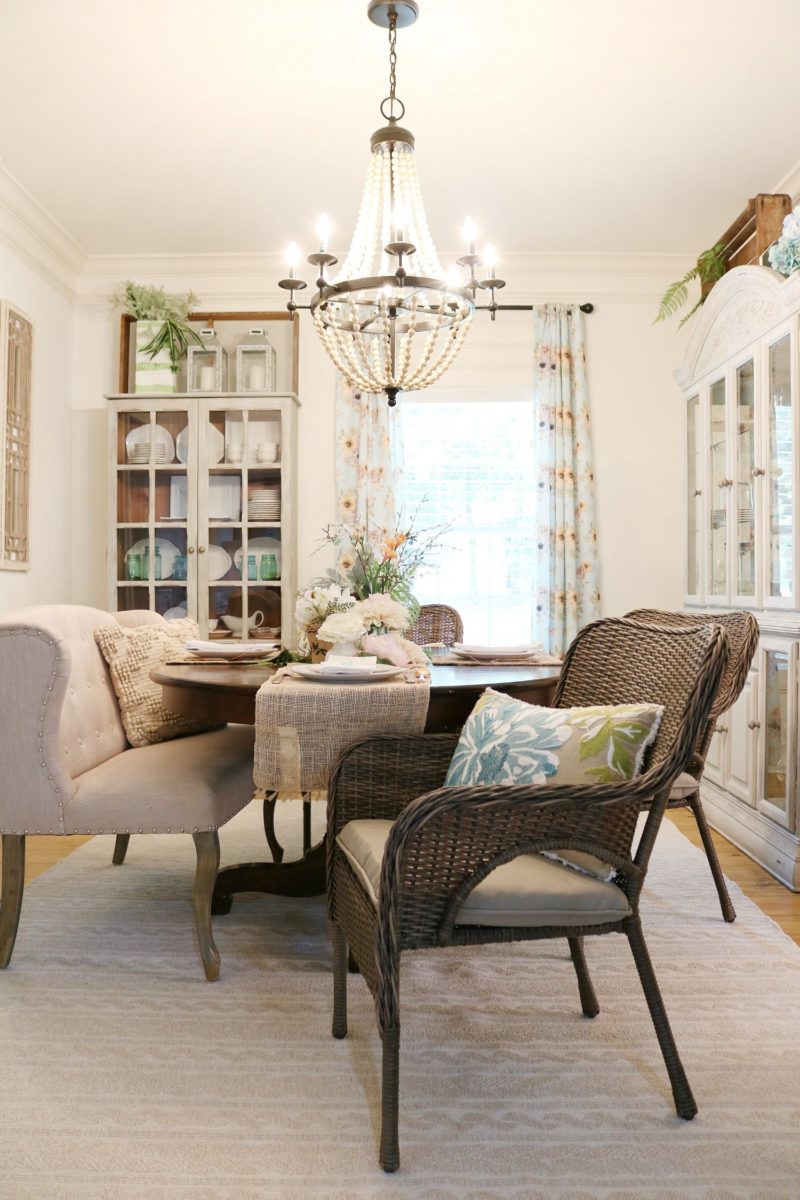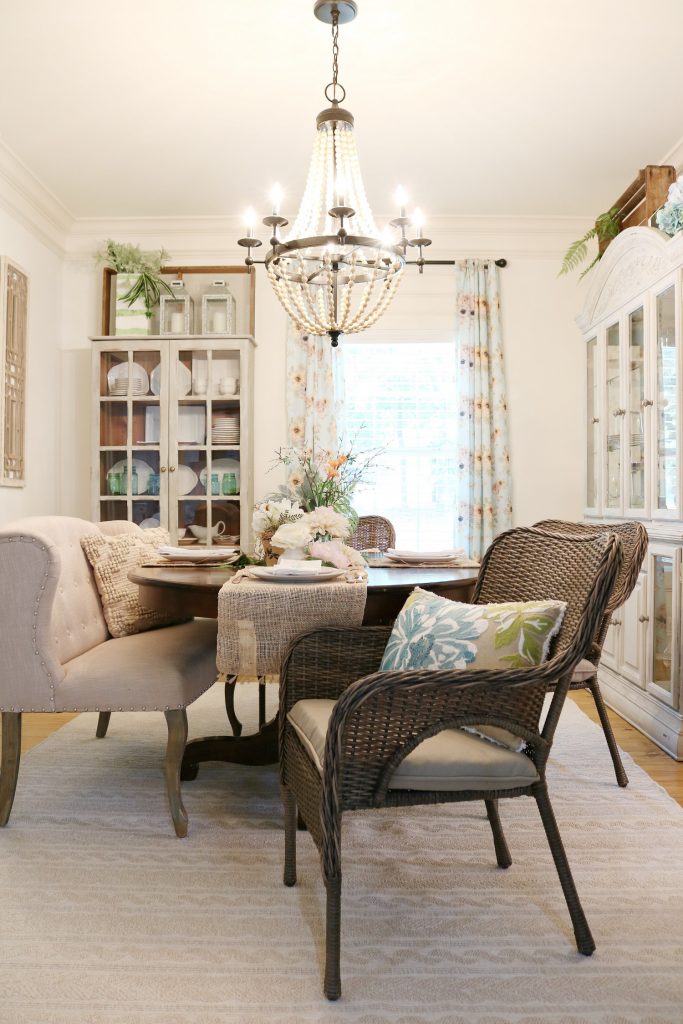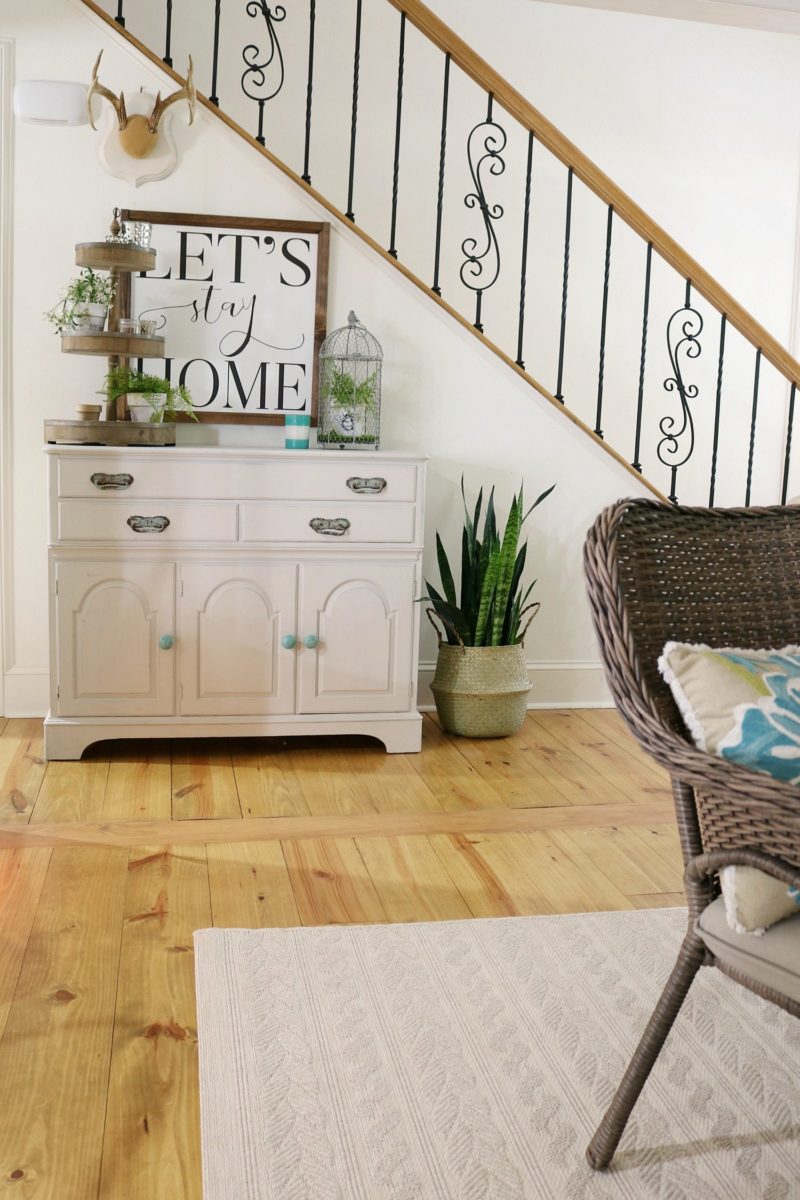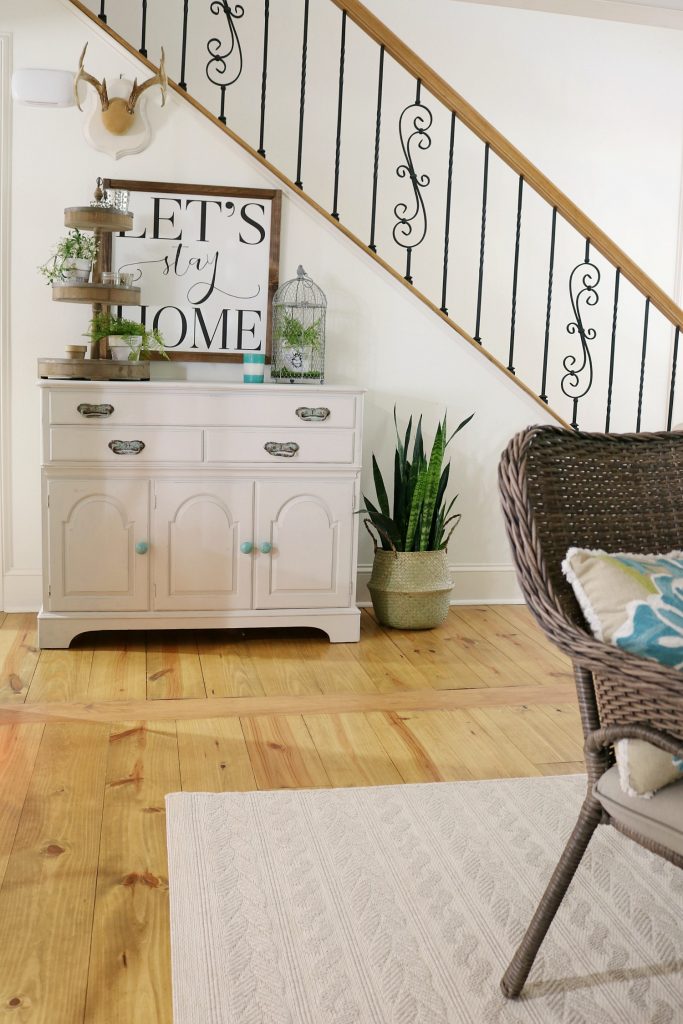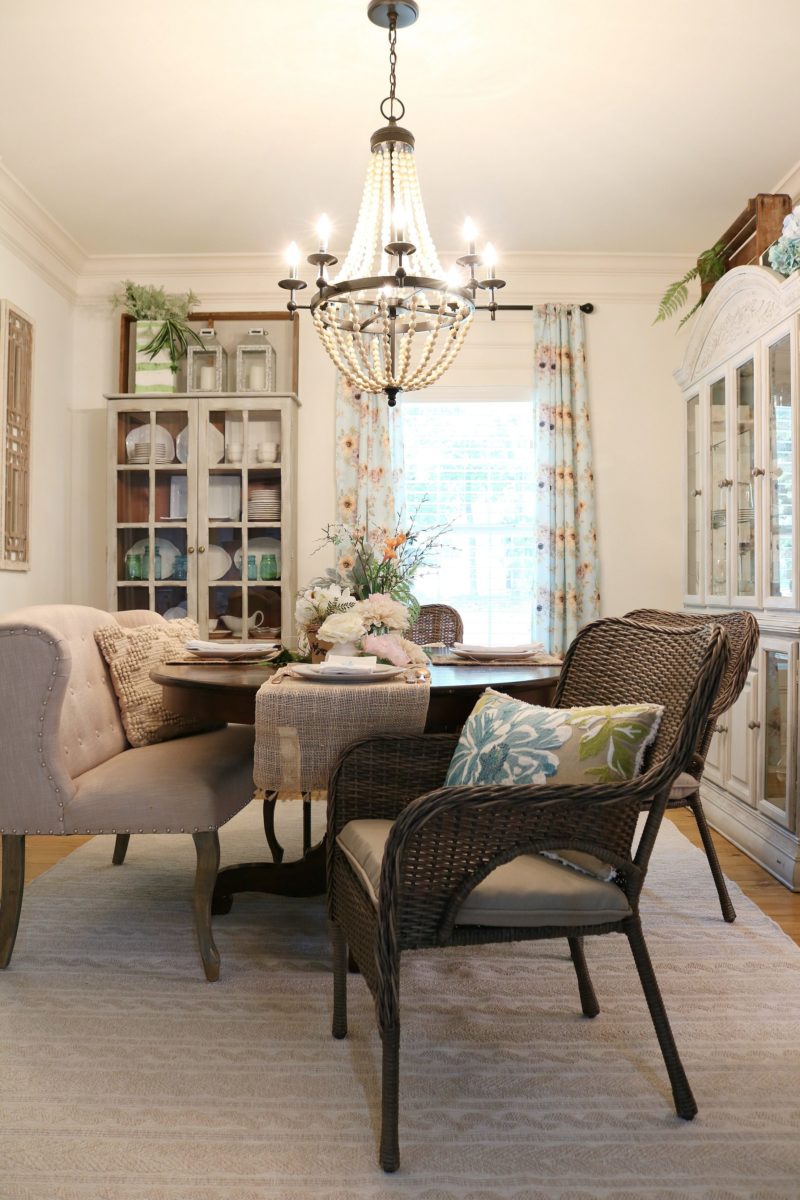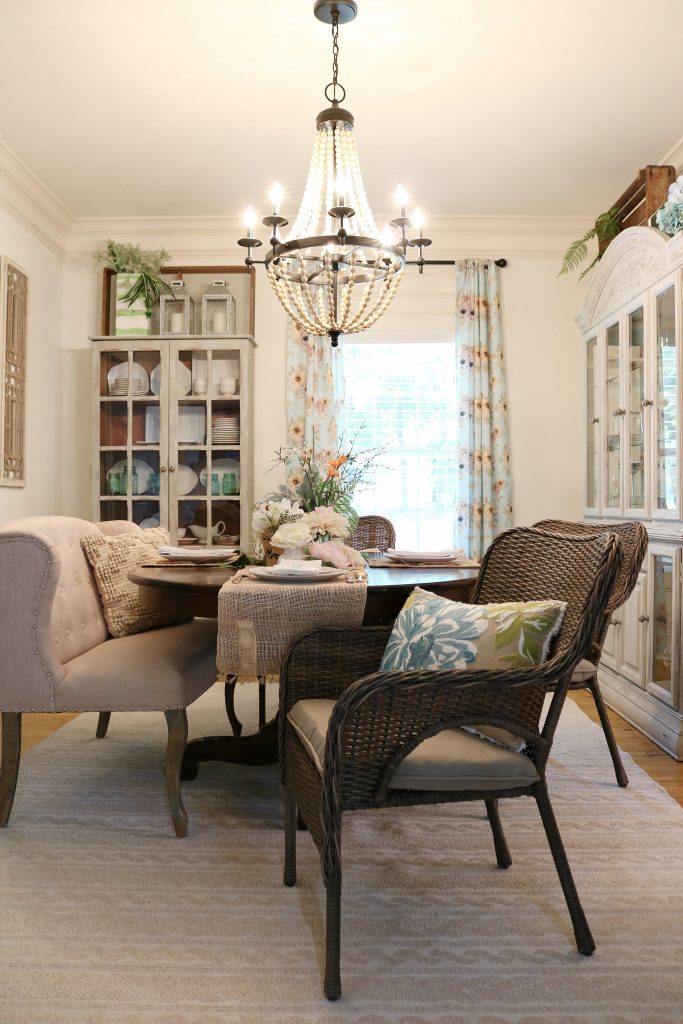 I love keeping our home livable, I can remember my first house, it had a formal dining room and we went out and bought a formal matching dining set and never used the space. It was a "formal dining" room and we weren't those people! After that I learned my lesson, we strive to make a happy home, no matter what the room is called!
What makes you happy when designing a room?
Keep up with all the beautiful Better Homes & Gardens at Walmart choices: Instagram – Twitter – Facebook – Pinterest – Website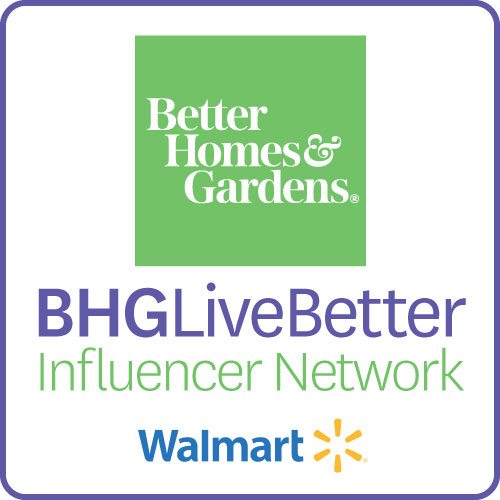 Be sure to check online, they have so many beautiful items! I love finding affordable decor and organization items at Walmart and sharing it with my readers, I am proud to be a part of the Better Homes & Gardens Live Better Blogger Network!