It's time to make some…
DIY Outdoor Pillow Covers

Porches everywhere are begging for new, refreshed pillow covers! If yours were like these, dirty and dusty ones before, you can't get rid of them quick enough.
These are actually my daughters, I refreshed mine out a while back and you can check them out here: gross dirty pillows get a new lease on life 😉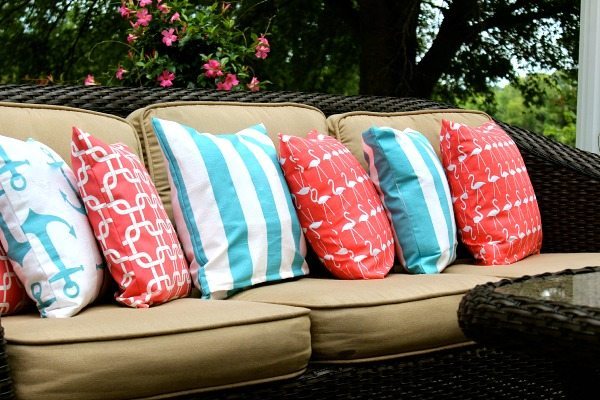 She let me pick out the fabric and I just went buck wild. All the fabric is patterned, but the colors match. I just knew they'd look great together and they do!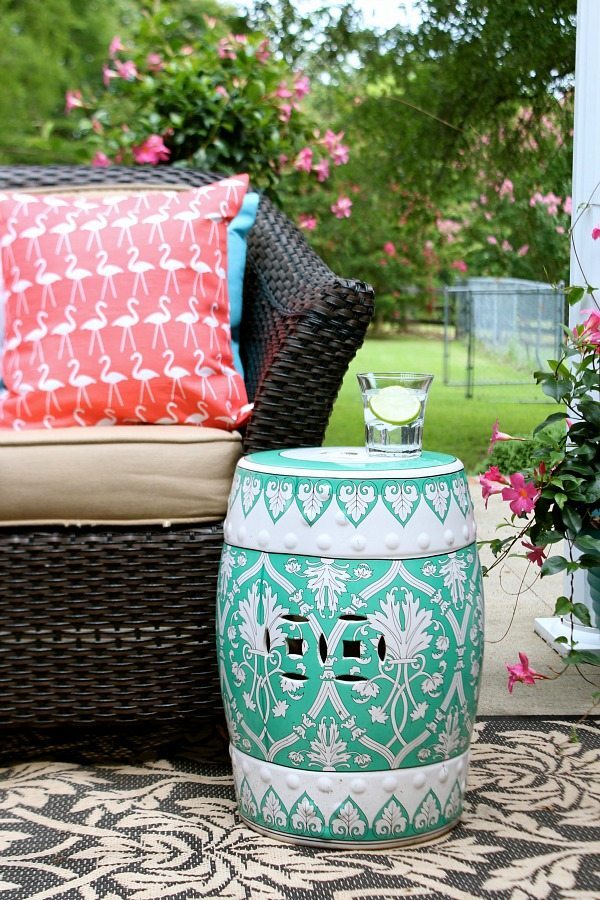 Everything on the patio is fun and full of color.
The neutral sofa is the perfect backdrop for any color combo, as it should be!
All we did was cover up the old pillows with new fabric.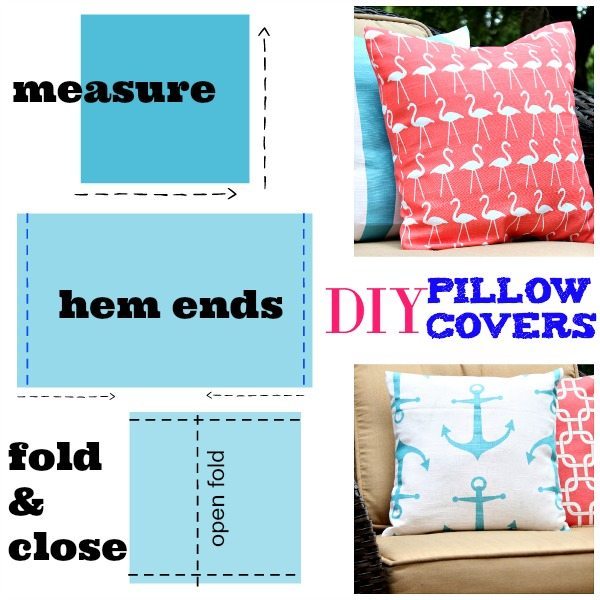 These were simple construction, envelope closure pillows.
The first thing you do is measure the pillow. Add one inch to the vertical measurement for a 1/2″ seam allowance.
For the horizontal cut, the measurement x 2 plus 6″. For a 4″ inch overhang.
Cut your fabric
Hem each end. Fold over 1/2″ and then fold over another 1/2″ so you don't have any raw edges, you can press this if you'd like. I live on the edge and skip the pressing.
Fold over the hemmed edges, wrong side out on the fabric. Overlap by four inches. Place a couple pins to hold the overlapped area until you're ready to sew.
Sew each side, 1/2 in seam allowance on each side.
Turn the fabric right side out and stuff with your pillow form.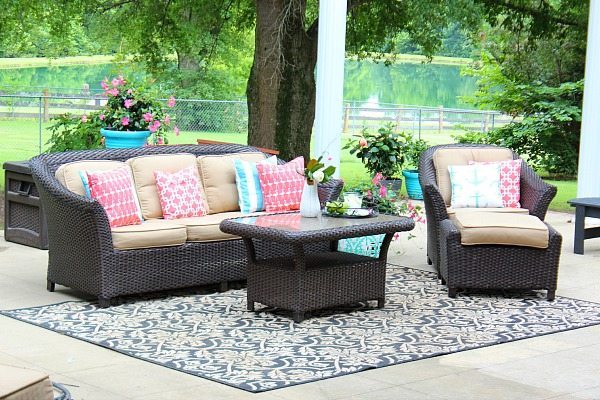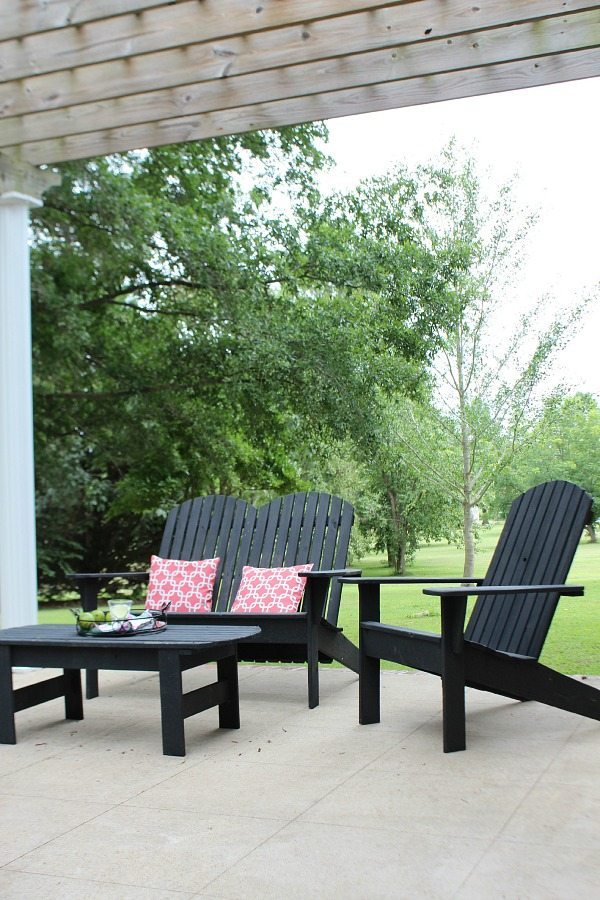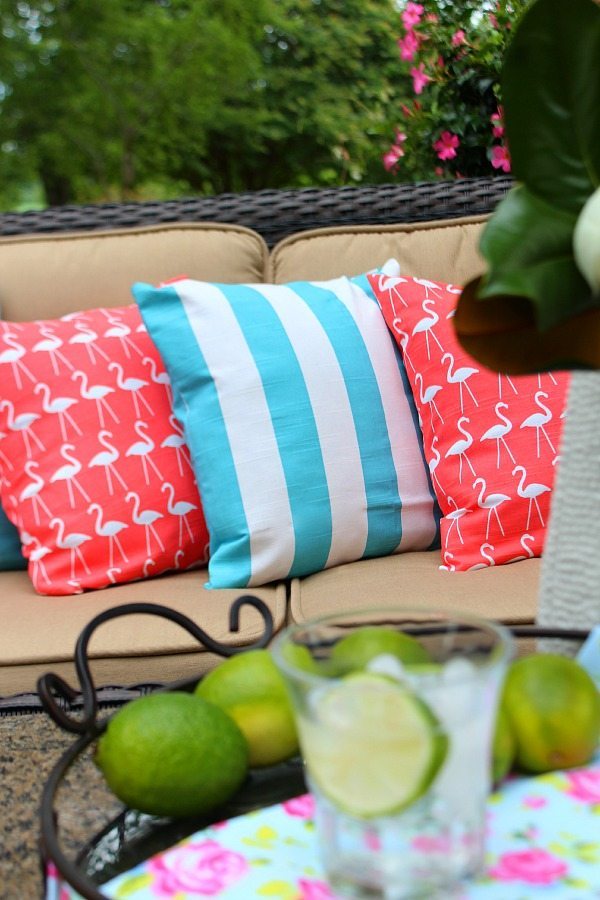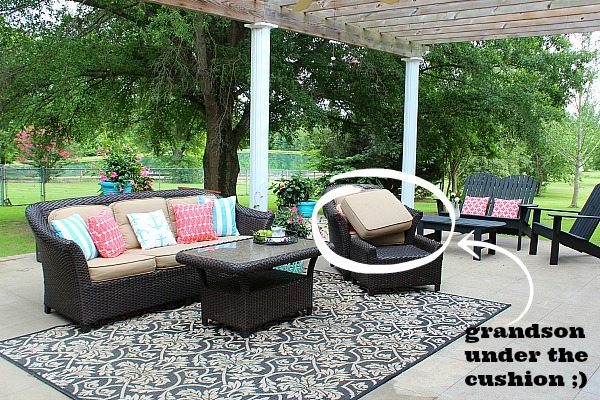 I used outdoor fabric, the vibrant colors really woke up the space. The pillow colors coordinated so well with the flowers and flower pot colors. Everything looks so fresh now.
You can make tons of envelope closure pillows in as afternoon, just do it!
My grandson was a lot of help, but a little shy. You can barely seen him under that pillow! 
Are you ready for spring and summer outdoor living?