My daughter just bought a cozy cottage and she's been working hard to make it her own. Between moving, unpacking and taking care of my grandsons, she's been very busy. We decided to tackle the kitchen cabinets this week, while I was visiting! Let me introduce you to the refreshed Dover White kitchen cabinets!
Paint is the easiest way to change any space, just ask her, she painted every room!
Sherwin Williams Dover White Kitchen Cabinets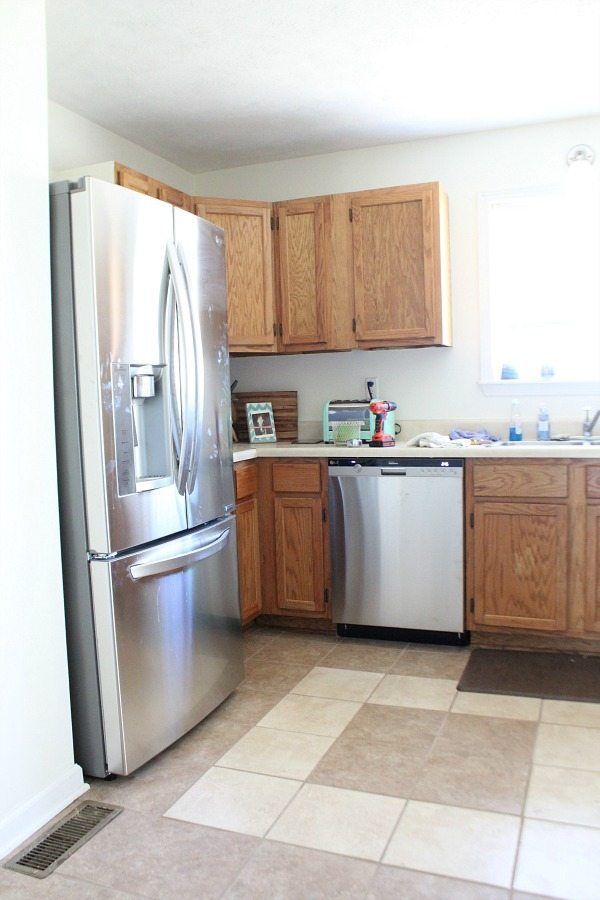 Supplies:
M-1 Paint Deglosser & Pre-Paint Cleaner
Purdy paint brushes
Foam covers/roller
SW ProClassic Smooth Enamel Paint
Sand paper (220 Grit)
Lint-free cloth
Screw driver/drill to remove hardware
Plastic sandwich bag for hardware
Remove cabinets and drawers, remove hardware (place hardware in plastic bags).
Sand and clean – we used M-1 Paint Paint Deglosser & Pre-Paint Cleaner. You will need to wear gloves when applying the deglosser.
Prime cabinets, drawer fronts and cabinet bases. (Zinsser 123 Water Based or Kilz Latex Primer.
Caulk where needed to fill gaps.
Paint with SW Dover White (Satin) ProClassic Smooth Enamel Finish.
Our cabinets required very little sanding, they barely had any finish on them at all. We purchased the paint and M-1 deglosser at Sherwin Williams. Follow the directions as listed on the de-glosser/cleaner. By the time we wiped everything down, it was time to paint. We set up the dining table for our paint station, the height of the table helped with the back breaking process ;). We created drying stations in the living room. Rotating in/out as we finished each door. It was a cabinet door maze for about a week. Once we had one coat on the backs of the doors, we moved to the kitchen. Jenni started with the bottom base cabinets, me at the top. Follow drying directions for the primer and paint that you use.
The hardest part of this project is getting started. Make sure you prep your surface well, follow directions for each product that you use. We used Purdy paint brushes and foam rollers. The SW ProClassic smooth finish paint is great. It dries smooth with very little evidence of brush strokes.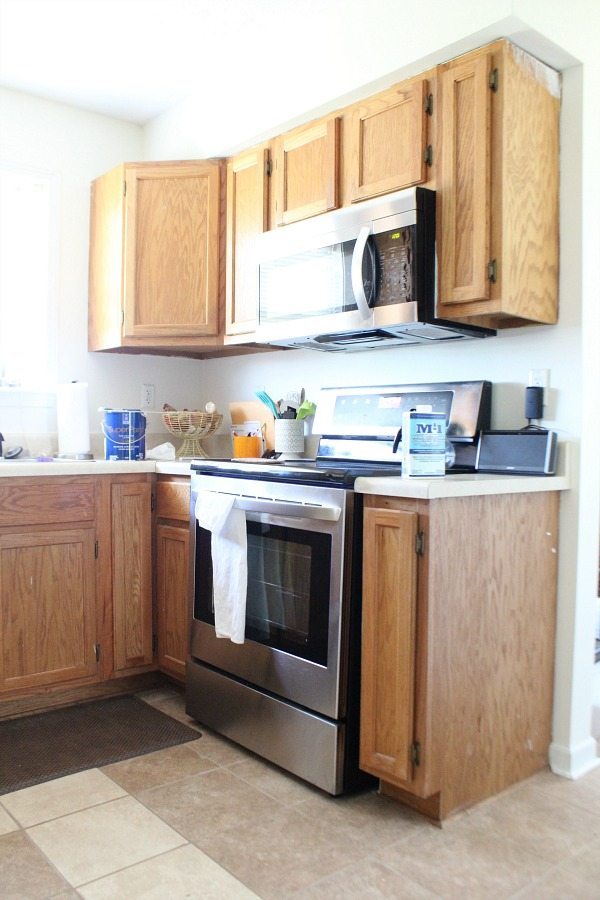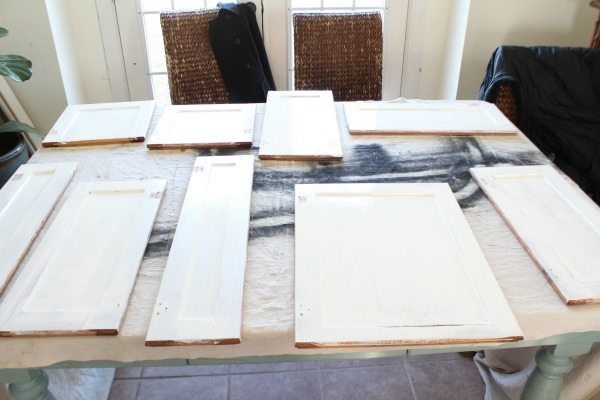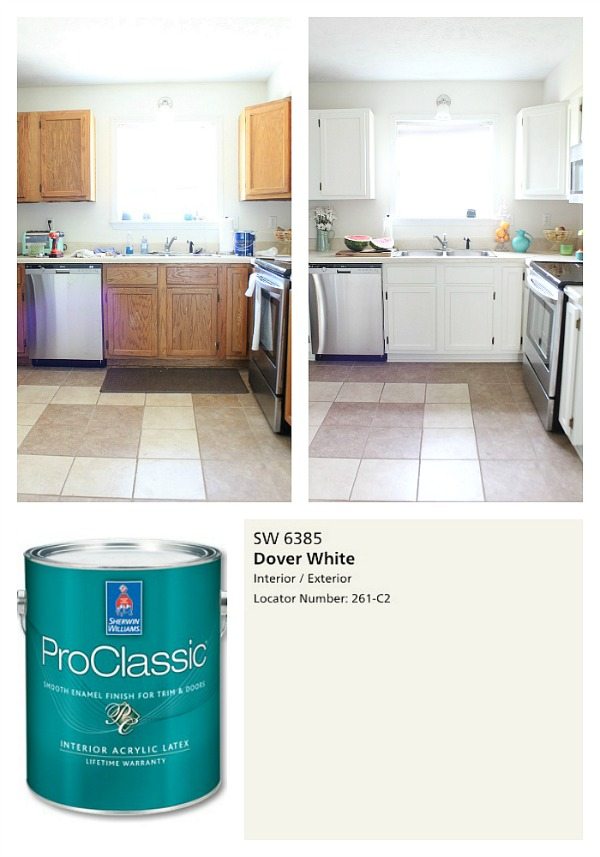 For our application the Dover White looks lighter than the sample color above. It is truly an amazing color!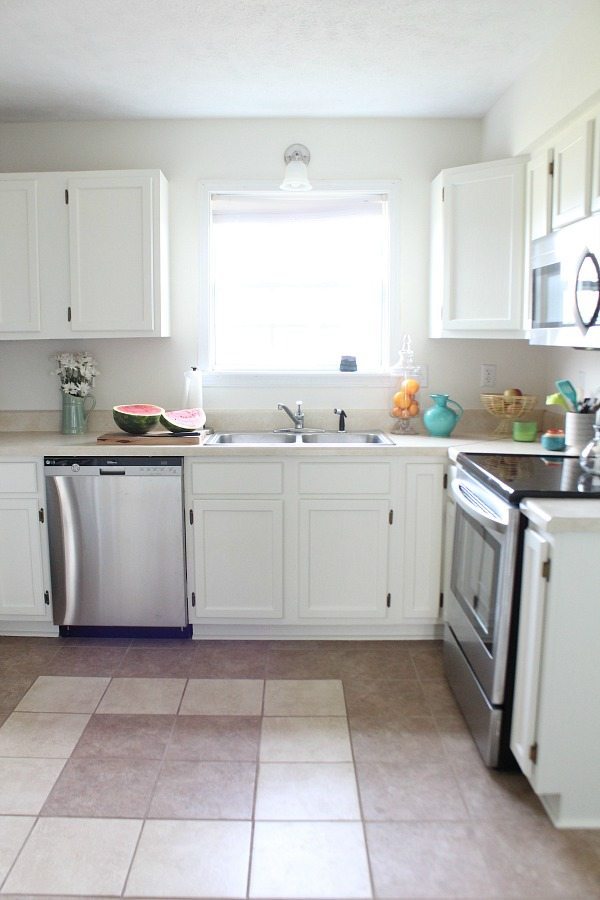 To keep the costs down, we cleaned and reused the brass hinges. Jenni is on the hunt for drawer pulls. She will be replacing the window shade, adding a backsplash – maybe on my next visit 😉 Her wish-list also includes new light fixtures. You know how it is, one project leads to another.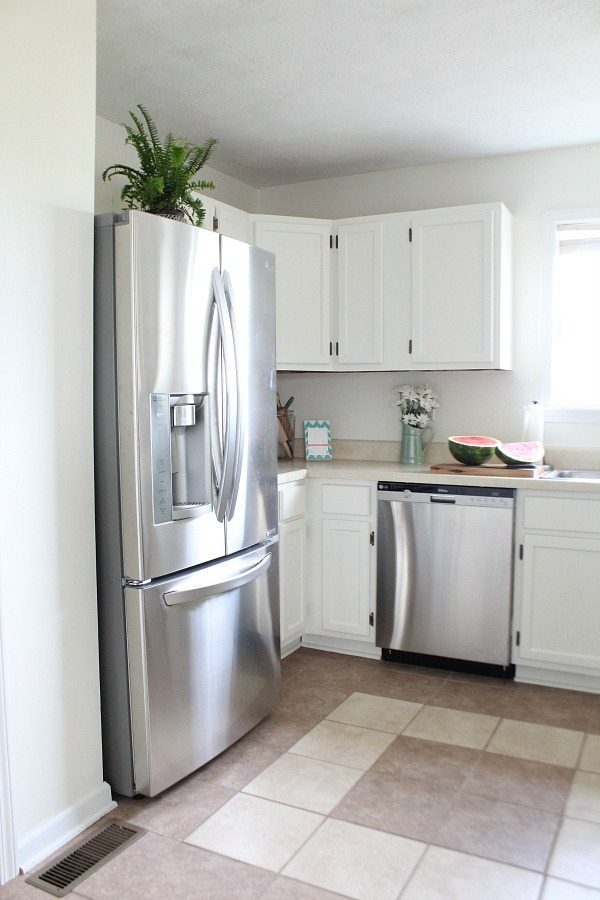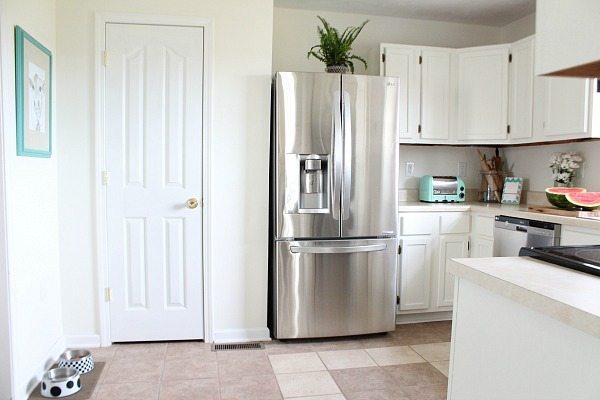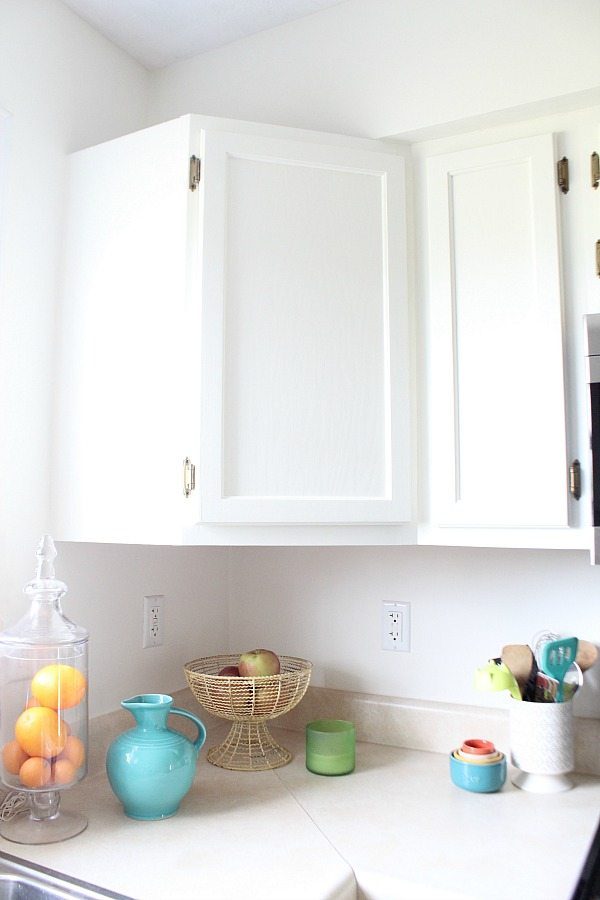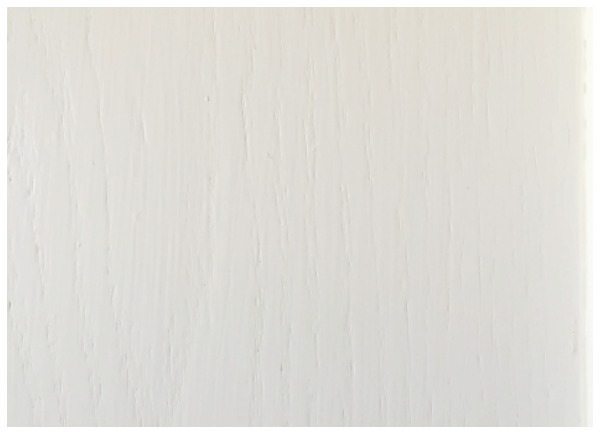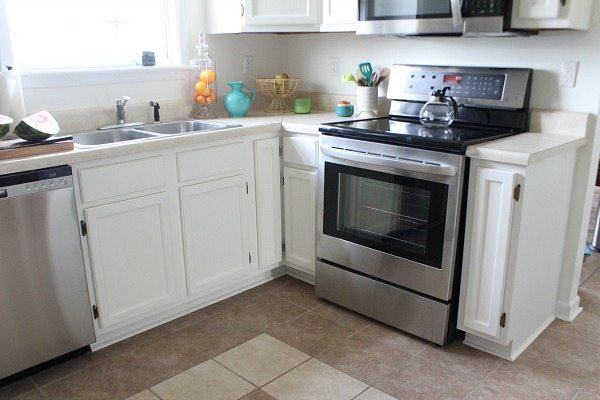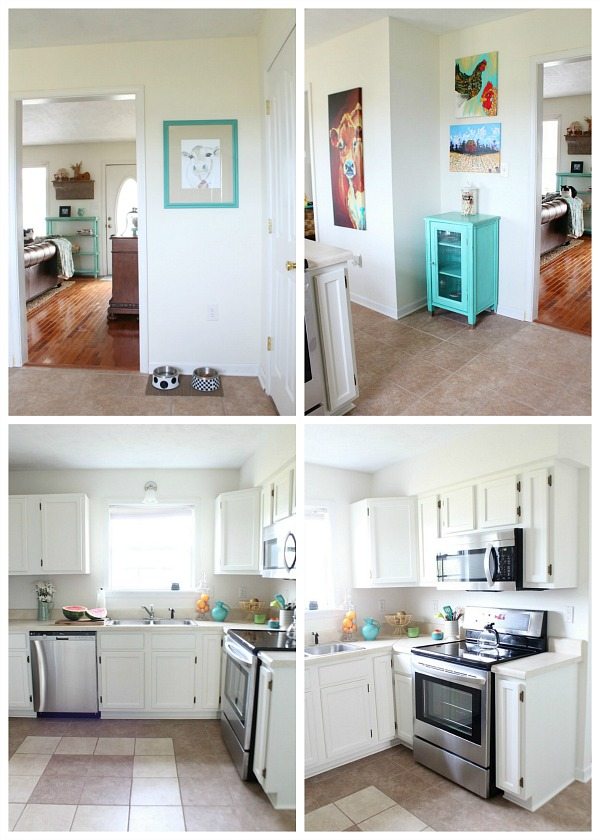 If you're looking for an inexpensive way to update your kitchen, I suggest painting the cabinets. We love the color SW Dover White, but any color that you love would work. Yes, it's time consuming and you need to be patient….you will be sitting around waiting for paint to dry! If you're like me, you may need a few ibuprofens 😉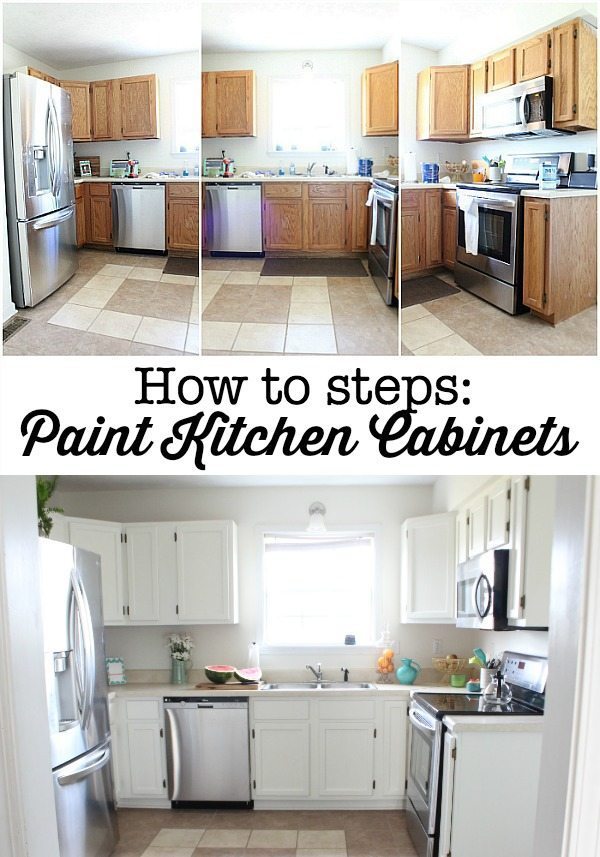 Are you ready to paint your walls? Do these things first: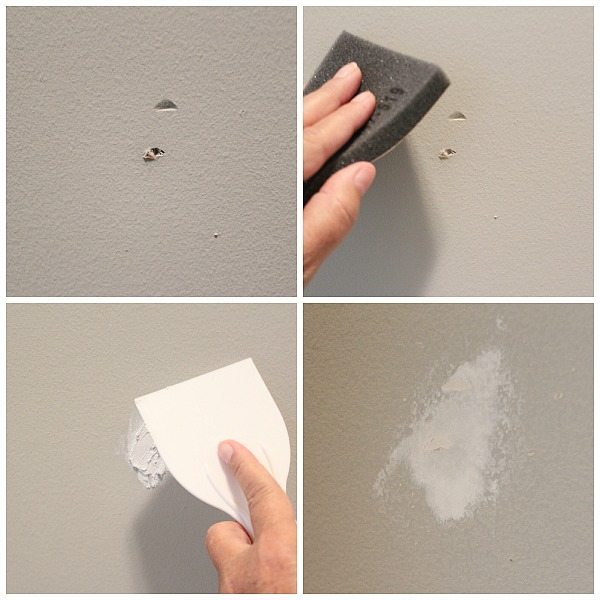 Want to paint your dining chairs?