---
Today, I'll show you how to prep walls before painting them!
Y'all! The other day, I noticed a small dent in my wall that had been bothering me for weeks. Now, I don't know about you, but that kind of thing just drives me crazy. I knew it was time to roll up my sleeves and get to work, but where to start? Prepping your walls before painting can be easy to overlook or skip altogether, but fear not! I'm here to share all of my tips and tricks for getting your walls in tip-top shape before you even think about cracking open that paint can. So, grab your overalls and your DIY hat, because we've got some work to do!
How to Prep Your Walls for Painting Step-by-Step
To get a professional look, you need to know how to prep your walls before you start painting. If you're like me, tempted to just crack open a can of paint and start painting, then this is for you!
Step 1: Remove electrical plate covers
Before you start painting, be sure to remove any electrical plate covers. This will make it easier to paint around outlets and light switches.
Step 2: Clean the Surface
First things first, you need to clean the wall surface. Use a soft cloth or sponge and a gentle cleaner to wipe down the wall surface. Make sure to remove any dirt, dust, or grease.
Step 3: Repair any damage
Next, it's time to repair any holes, cracks, or dents in the wall. Use spackling paste or joint compound to patch up any damage. Be sure to sand down any rough edges to make the surface smooth.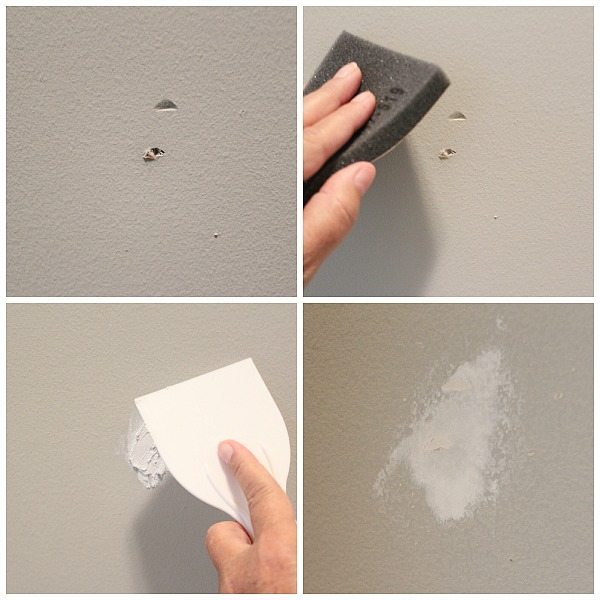 I don't know what happened, but I cannot stop looking at it. And, just a little to the right of the hole there's this…a long annoying dent! They're like pimples on my face, I know they are there, I can't stop thinking about them and they just irritate me.
For my project, as you can see, there was no way that simply painting them would have fixed that level of damage. I used a lightweight spackling with primer and it dries fast (like within 30 minutes)!
If the hole is deep, you might need to apply several coats of spackling, let it dry and sand in between. Use a repair kit if the damage is wide.
Step 4: Sand the wall
Once the repairs are complete, it's time to sand the entire wall surface with a fine-grit sandpaper. This will create a slightly rough surface that will allow the paint to adhere better. Be sure to wipe down the wall with a clean cloth to remove any dust.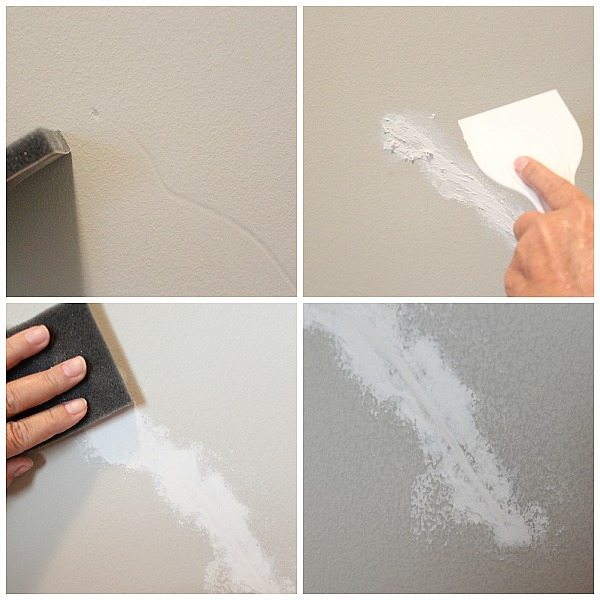 Step 5: Protect surrounding areas
Before you start painting, it's important to protect any surrounding areas. Cover any furniture or flooring with drop cloths or plastic sheeting to prevent paint drips and splatters from ruining your belongings. (Sometimes I get a little too confident and start painting without doing this step – never a good idea!)
Step 6: Apply painter's tape
Use painter's tape to mask off any areas you don't want to paint, such as trim, windows, or door frames. Be sure to press the tape down firmly to prevent paint from seeping underneath.
Step 7: Remove fuzz from your roller
Roll your paint roller over a piece of sticky tape or a lint roller to remove any fuzz or debris before using it to apply paint.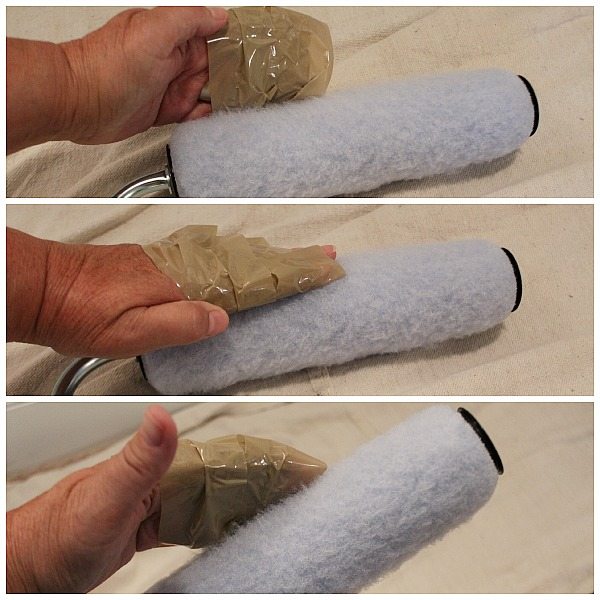 Now You're Ready to Paint
Start by priming the wall
Be sure to stir your primer very well, all the good stuff settles on the bottom!
Apply a coat of primer to the entire wall surface, using a roller or brush. This will help the paint adhere better and provide a more even finish.
Next, Paint the wall
Once the primer has dried, it's time to paint the wall. Again, be sure to stir your paint very well. Use a roller or brush to apply a coat of paint to the wall. Be sure to use long, even strokes and apply the paint in thin layers, allowing each layer to dry completely before applying the next.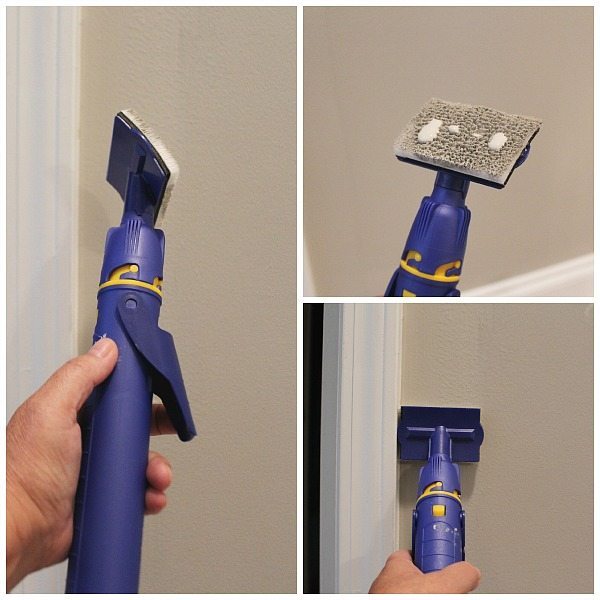 I used my HomeRight QuickPainter Pad Edge Painter, you just draw the paint up from the can. This little guy makes edging easy with less mess! Just pump to add more paint to the pad.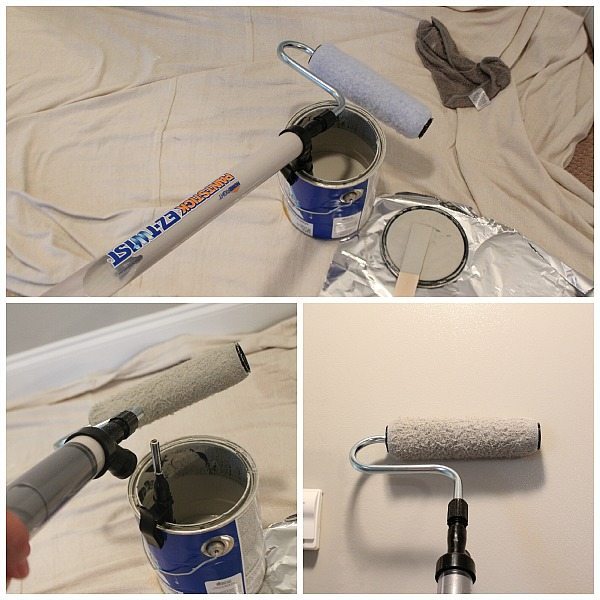 And for the wall, I used the EZ Twist Paintstick, I painted without a roller pan. Can you imagine how nice that was! Let me tell you, it was awesome!
You may also notice that bath cloth laying there. No, I didn't bathe in it 😉 I alway keep a wet/damp cloth handy for wiping off any little mistakes that I make. Because unlike Bob Ross, they are not happy little accidents. Some people use baby wipes. In case you're wondering. I did not want to change my wall color, I just wanted to repair it.
This is the area at the top of the stairs. I didn't have the original can of paint. I painted one whole wall, from edge to edge, I didn't want to risk the paint not matching. Luckily, we had this paint left over from the basement project. It's Sherwin Williams Mindful Gray. One of my favorite colors, right now anyway.
Luckily, we had this paint left over from the basement project. It's Sherwin Williams Mindful Gray. One of favorite colors, right now anyway.
Repeat as necessary
Depending on the color and type of paint, you may need to apply a second or third coat to achieve the desired coverage and finish.
And finally, clean up!
Once the paint has dried completely, it's time to clean up. Before you remove the painter's tape, be sure to use a putty knife of razor blade to cut along the edge of the tape. This prevents the paint from being pulled up with the tape and from cracking along the paint line. Pick up your drop cloths and clean up any spills or drips. Store any leftover paint in a cool, dry place for future touch-ups.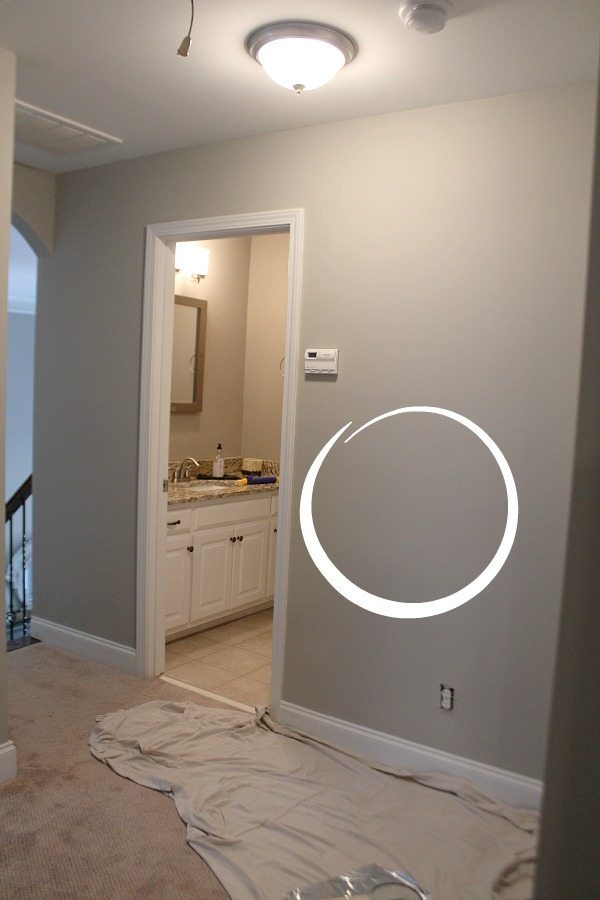 As you can see, the wall looks great! Inside the white circle is where the pimple, I mean damage was.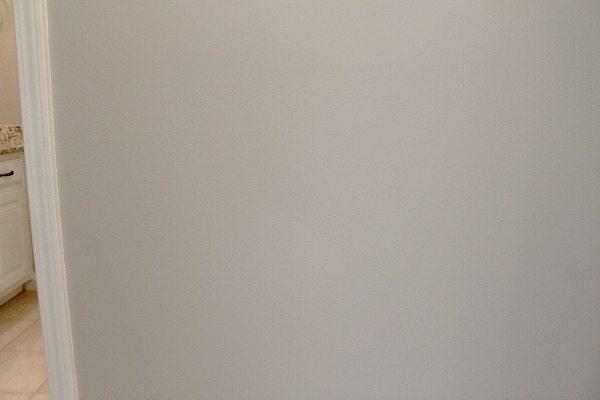 Right there! Now I guess I'm going to have to find another blemish to stare at every day.
---
How to Prep Your Walls Step-by-Step Summary
Remove electrical plate covers
Clean the surface
Repair any damage
Sand the wall
Protect the surrounding areas
Apply painter's tape
Remove fuzz from your roller
Prime the wall (and let dry)
Paint the wall
Repeat as necessary
Clean up
---
If you like painting, then you'll love these projects!
How to paint kitchen cabinets:
Paint your dining chairs in one afternoon: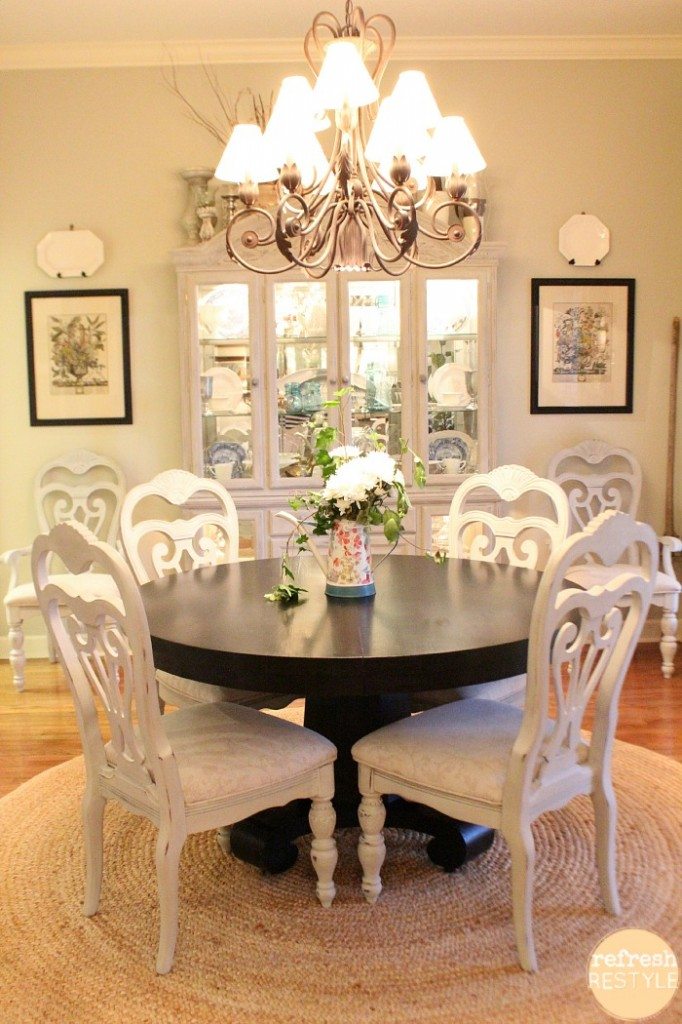 Paint to coordinate your baskets: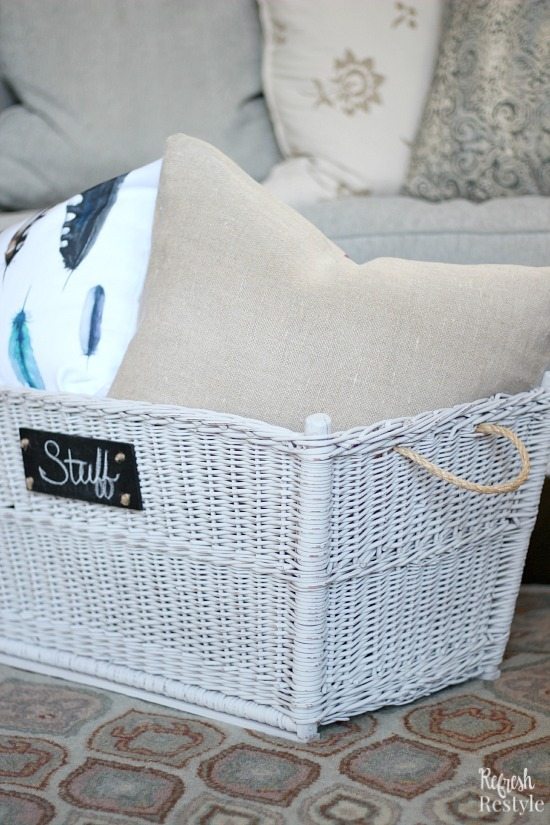 More fun DIY projects: Get Busy with your projects!
Thanks for stopping by!
It's costs no more for you and it helps support my love of sharing free stuff on my blog 🙂 My affiliate links: HomeRight C800755 EZ Twist Paint Stick
and HomeRight C800771 Quick Painter Edge Painter