Are you looking for white and navy bedroom ideas? I've got one that totally blew me away!
Last week I was invited to visit Better Homes and Gardens headquarters in Iowa. I'm thankful and excited to begin my 3rd season partnering with their Better Homes and Gardens line available only at Walmart.
I was so inspired by everything that I experienced and couldn't wait to share some of the trip with you!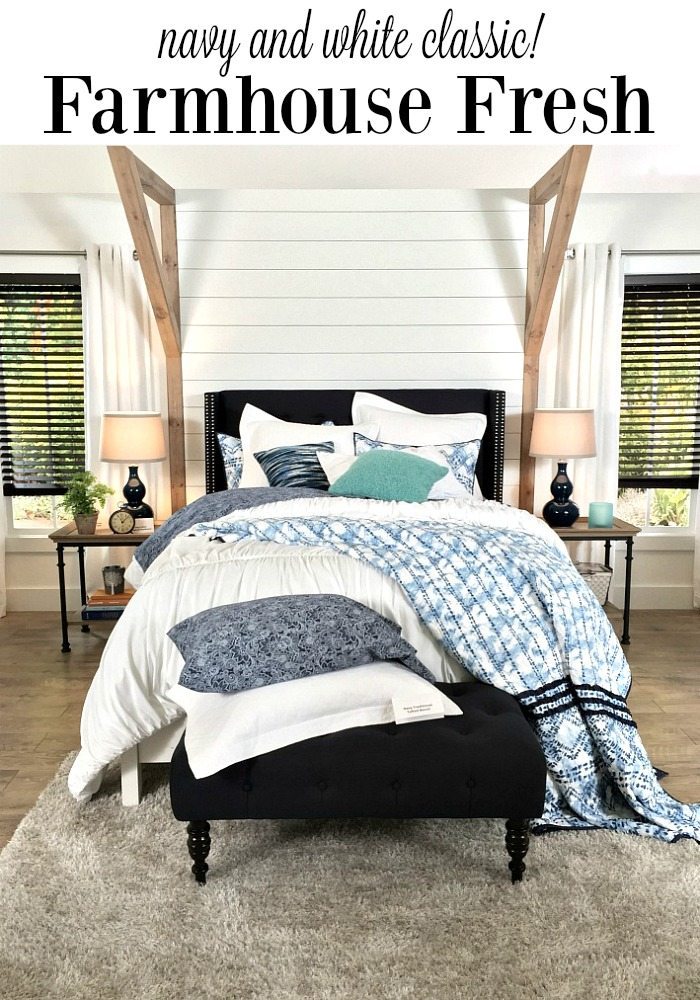 Navy and White Farmhouse Bedroom Decor
I spent a long time looking through my photos to try and narrow down what I'd share today! I kept coming back to this farmhouse bedroom idea filled with classic navy and white bedding and furnishings.
My mind was whirling with ideas to incorporate in my house. I hope you find some inspiration for your home too!  I am including my affiliate links for all the products that I got to see and touch 😉 Too bad I couldn't bring it all home with me! 
Talk about setting the stage, I fell in love with this shiplap wall painted white and trimmed out with 2×4's and 4×4's! It is the perfect backdrop for the attention grabbing upholstered headboard – a great way to incorporate navy blue into your farmhouse bedding. Hello nailhead trim!
The perfect mix of modern and rustic. What's not to love!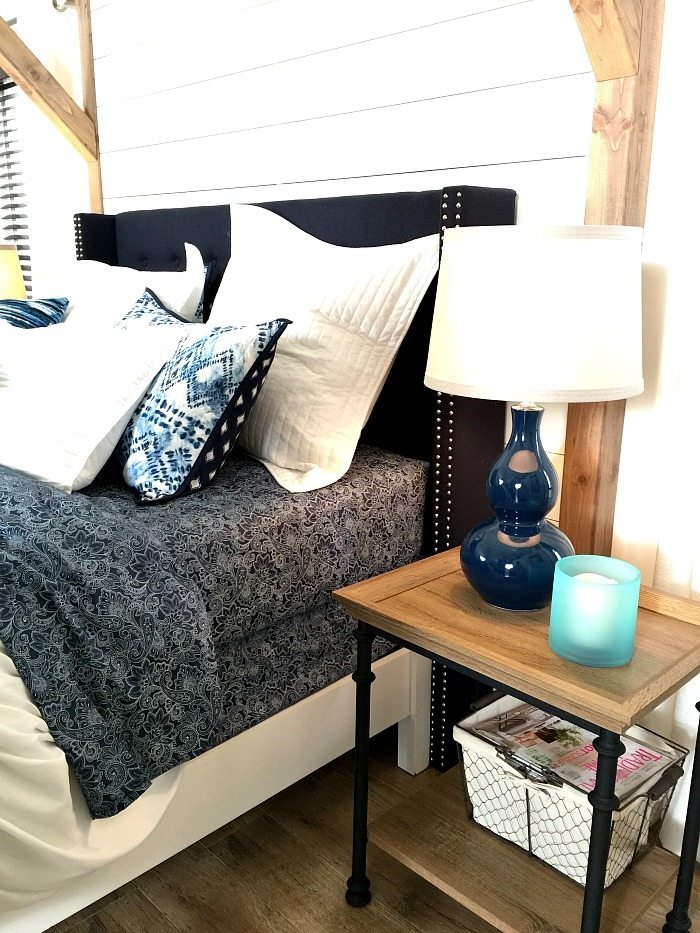 Rustic Wood, White, And Navy Farmhouse Decor Meet
Rustic wood and metal bedside tables topped with a modern lamp and frosted glass candle holder create the perfect modern farmhouse mix. I love the lined chicken wire basket filled with magazines, I just wanted to grab one and pile up in the bed for an hour or two!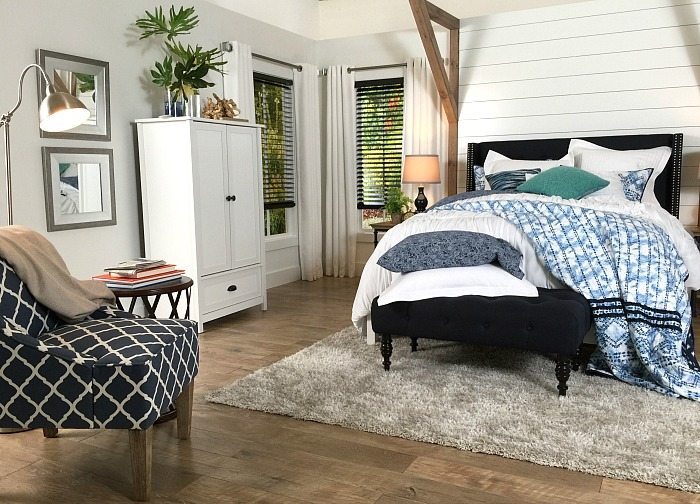 I know a lot of people don't want to jump on the "Farmhouse" band wagon, but this is one easy way to get the popular look. This also keeps it fresh and easy to transition. I'm not going to lie, I have always been more country than anything else. The comfortable living of farmhouse/country style is right up my alley!
While at Better Homes and Gardens we got to get a sneak peek of what coming for Christmas too! I love the addition of the "Woody Station Wagon" check out this quick video: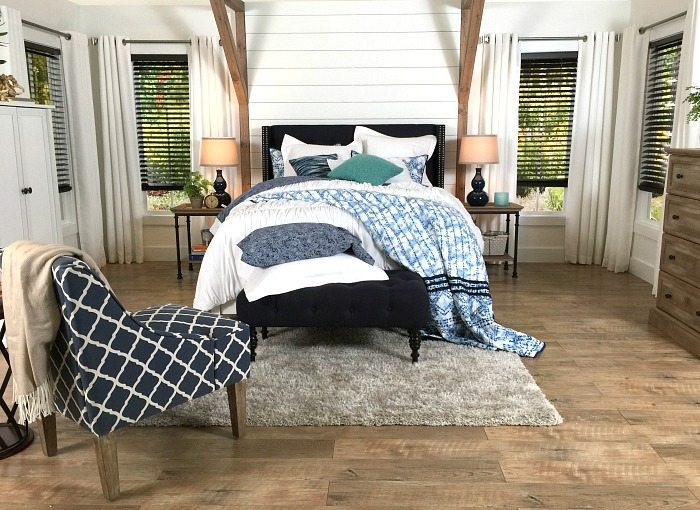 The bench at the foot of the bed and the comfy swoop chair adds another layer and plus functional pieces to the space.
Navy Blue Farmhouse Bedroom Decor
Is navy even a farmhouse color? Yes!
Navy blue is a timeless and versatile color! It can add depth, richness, and a touch of sophistication to any farmhouse bedroom decor. I love that it complements both light and dark wood tones, as well as a wide range of neutral colors such as white, beige, and gray. The versatility of navy blue allows it to be used in various design elements such as bedding, throw pillows, curtains, and wall art.
Using navy blue in your farmhouse bedroom decoration can create a cozy and welcoming atmosphere, while also adding a touch of elegance and class. Whether you're aiming for a coastal or rustic farmhouse look, navy blue can be incorporated seamlessly into your decor, making it a staple color choice for any farmhouse bedroom.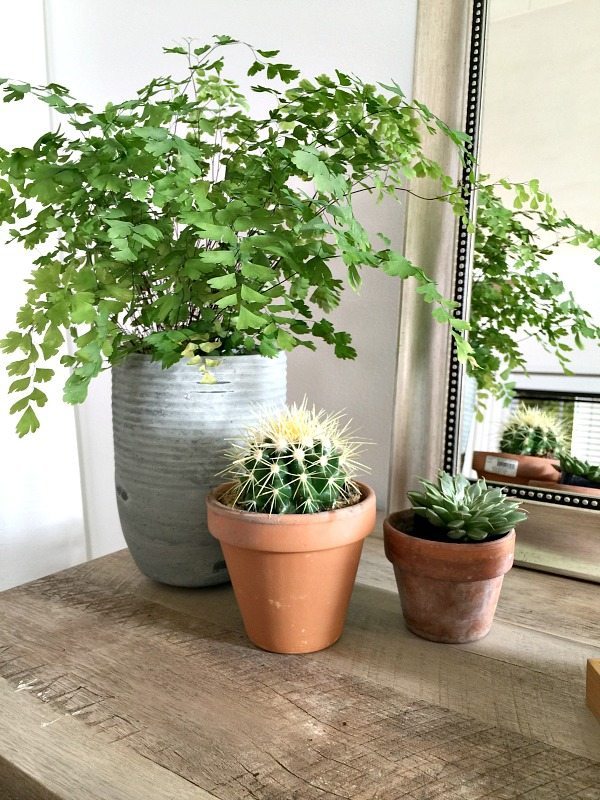 Tip: Add plants to all your spaces for a pop of fresh!
ps. don't you love the details of the farmhouse wood tones of the Crossmill dresser?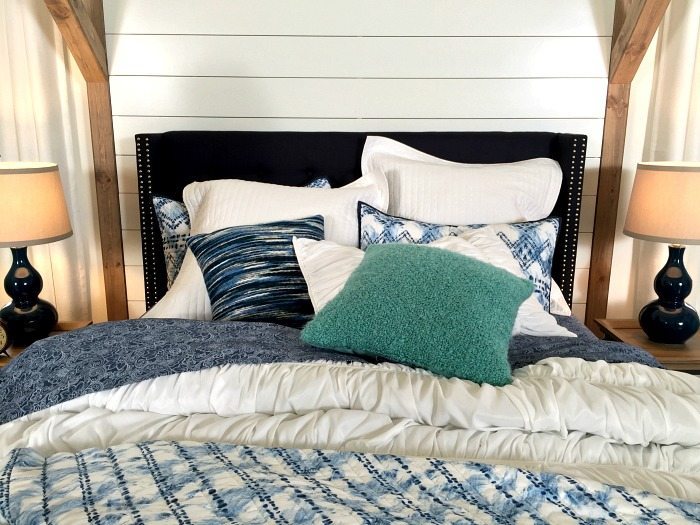 I love the layering of the quilt and the comforter. The pop of turquoise caught my attention too!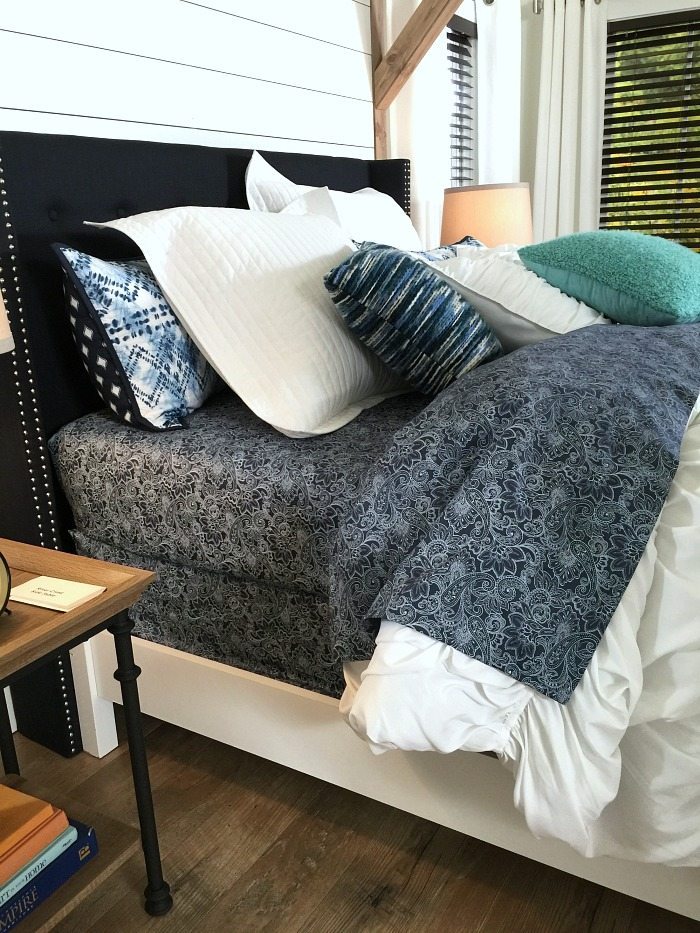 Tip: Cover your box springs with a fitted sheet.
Every single item in these photos are available only at Walmart, but if I missed something, leave me a comment and I will find it for you.
Is it time for a navy farmhouse bedroom makeover?
I am seriously thinking about a bedroom makeover, how can I not?? Farmhouse Bedroom in classic navy and white – come to Mama! I must find a space for shiplap.
Two years ago I had the honor of visiting Better Homes and Gardens, and if you want to read all about that and all my decor ideas, click here: Better Homes and Gardens at Walmart.
I hope you enjoyed all these affordable, beautiful ideas to help bring a little of the farmhouse look in to your bedroom.