We've been itching to get outside! I've been busy fluffing the patio, come see what I did in our outdoor living area!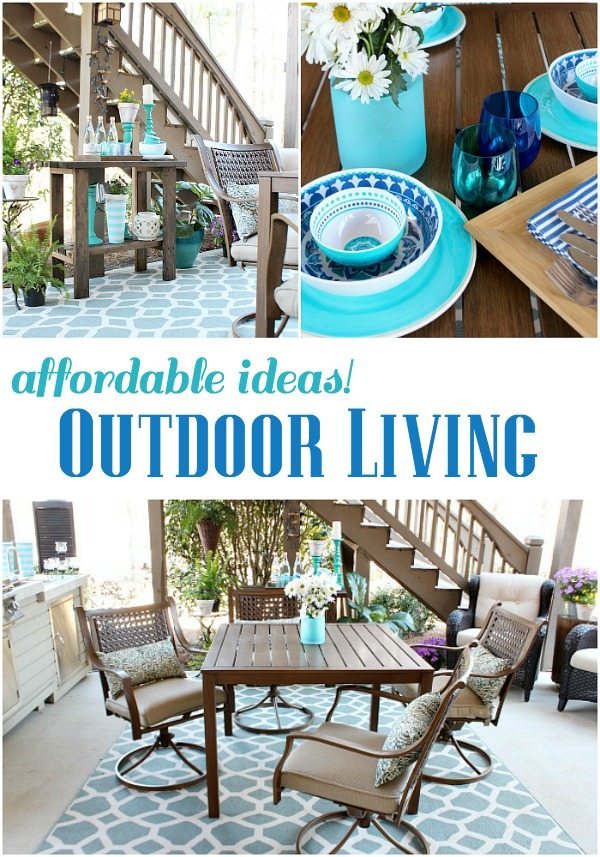 The weather has been amazing and we are really enjoying our outdoor space. As a brand ambassador for Better Homes and Gardens at Walmart, today I am sharing my blue heaven: Our Outdoor Living Space.
My outdoor space is my playground, I love decorating outside even more that I do inside. The fresh air and warm breeze reminds me of playing outside when we were growing up. Memories of the days when I only dreamed of owning a house and entertaining. We've come a long way from mud-pies on the back porch 😉
Six ways to create a cozy and inviting outdoor space:
Add a dining space – seating area
Add pops of color (I spray painted some Goodwill candlesticks)
Use melamine dishes (who wants to clean up broken glass)
Fresh flowers or potted plants
Candles
Pillows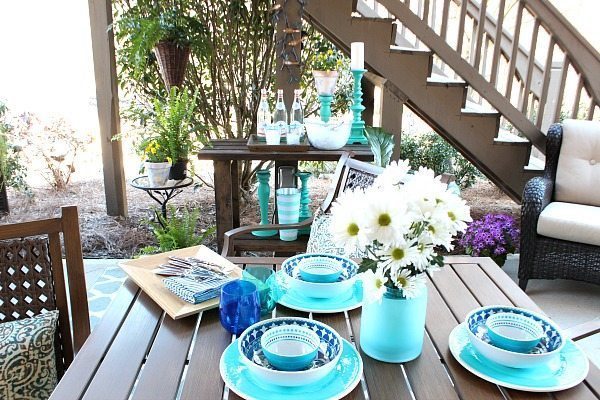 I placed a mason jar filled with water in the Better Homes and Gardens frosted hurricane candle holder. I love that soft frosted look. It will be my double duty beauty. She can be caught sporting a candle or a bunch of flowers.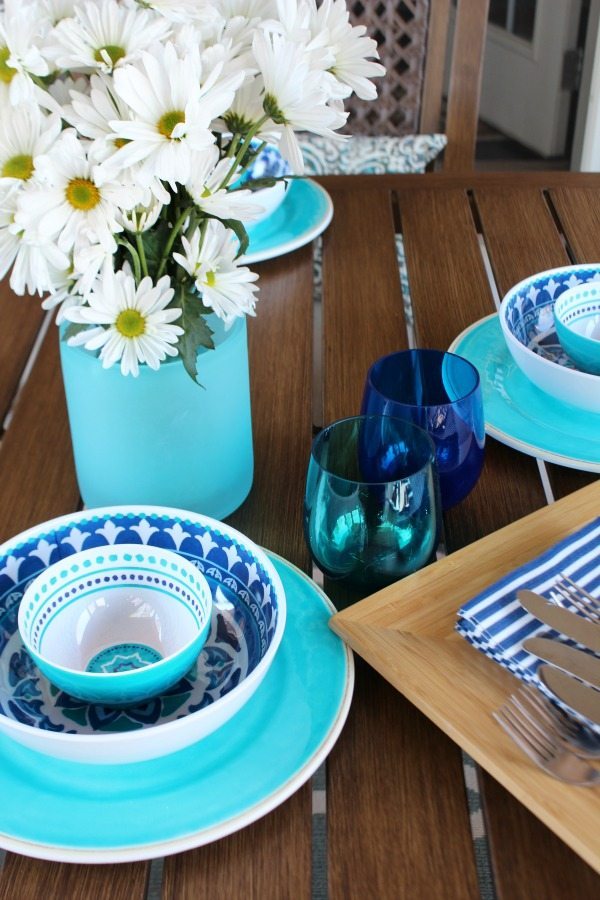 The melamine pieces are new this year, but the plastic glasses are from last year. I love being able to mix and match.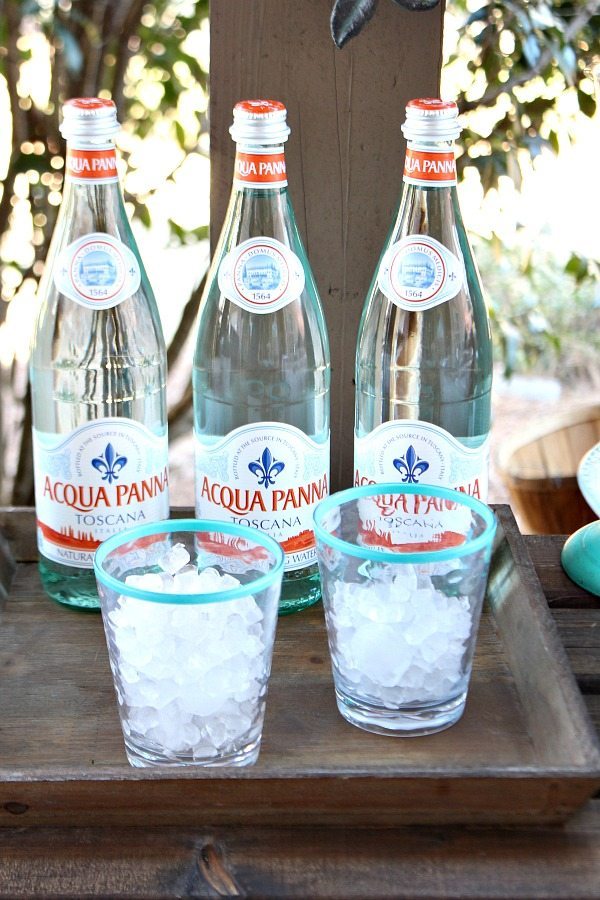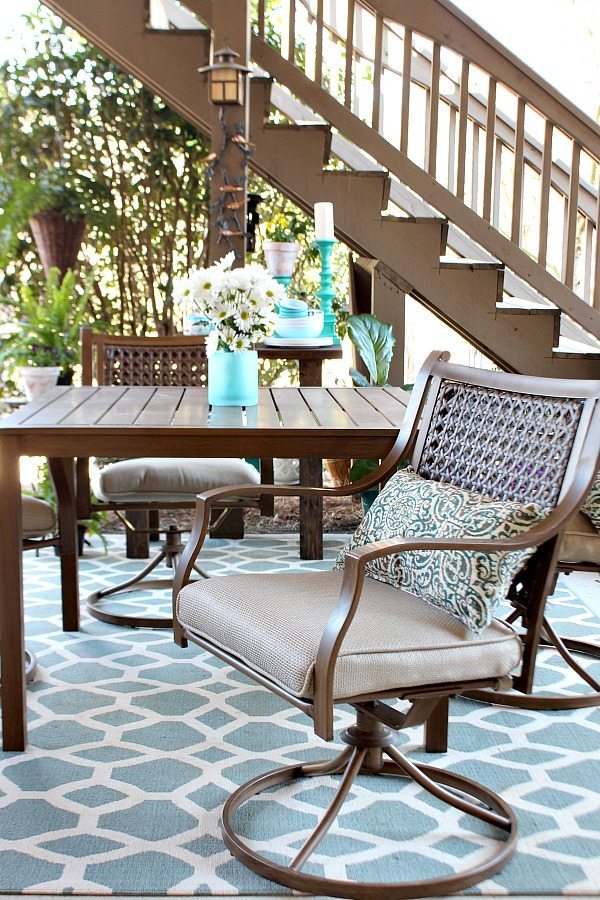 The BHG Lynnhaven square dining set is beautiful and comfortable. I love the mix of woven backs, cushioned seats and metal.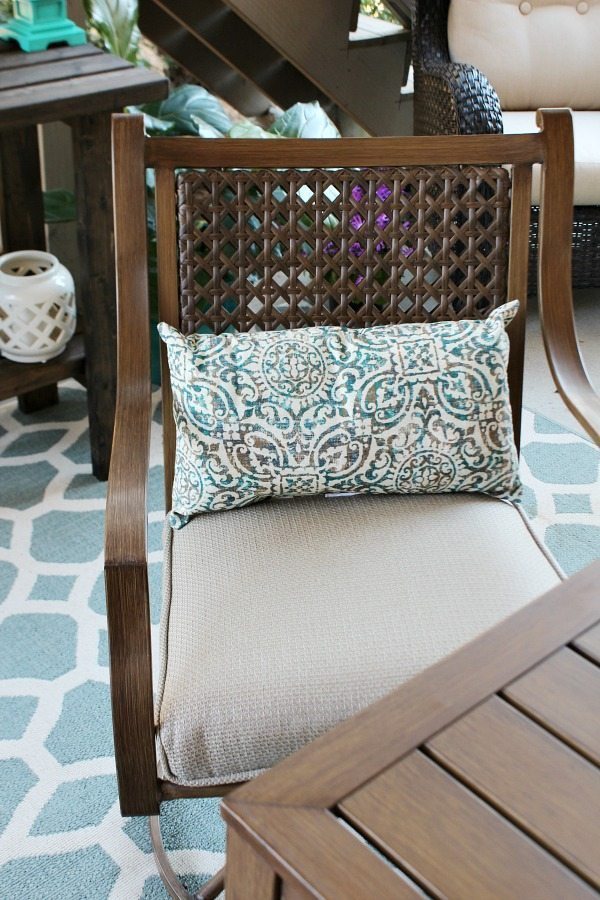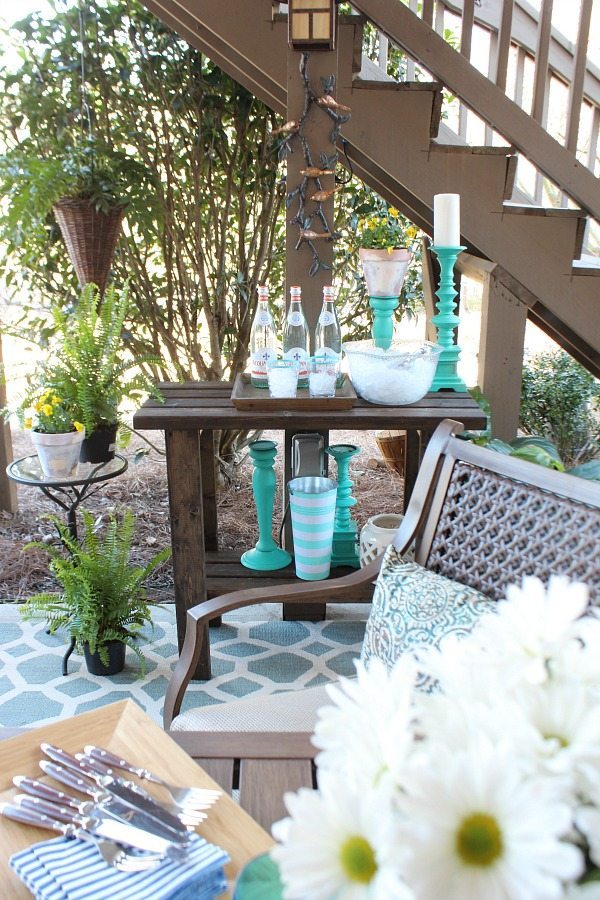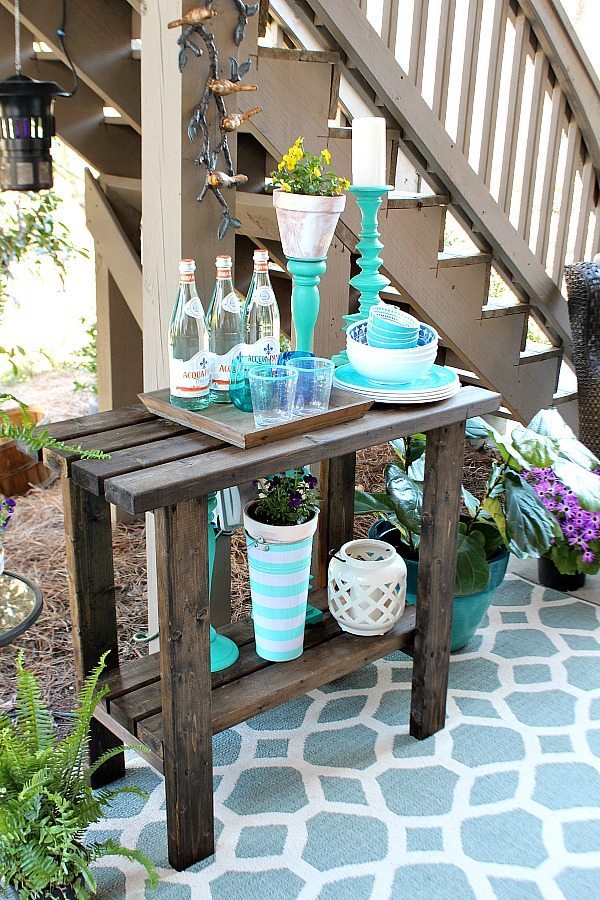 A few weeks ago I built this table, it's been busy working outside since then! Here I'm using it as a serving area and to display some of my thrifty collectables.
Blue, Aqua, Turquoise, Navy – are my favorite colors. I have a growing collection of pieces to use when entertaining.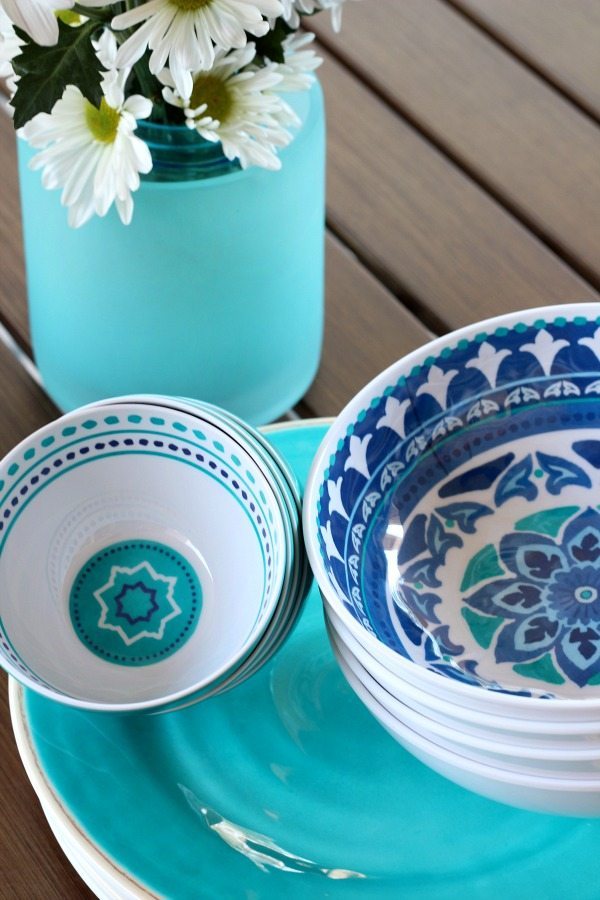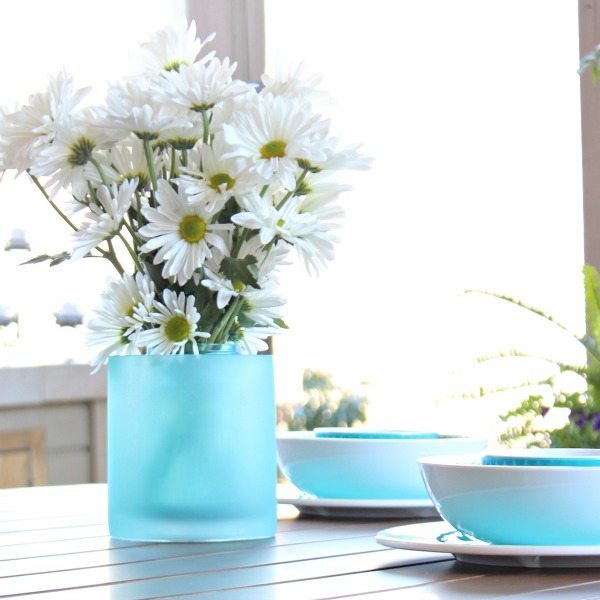 Happy Entertaining!
On my patio:
Better Homes and Gardens Lynnhaven Park 5 – Piece Dining Set
Better Homes and Gardens Frosted Glass Hurricane Candle Holder
Better Homes and Gardens Latticework Indoor/Outdoor Rug
Better Homes and Gardens Melamine 
I absolutely love the new rugs and string lights! Oh, those umbrellas!
They have a lot of beautiful Better Homes and Gardens items in store, but you can find a vast assortment online. Here are some of my favorites: Better Homes and Gardens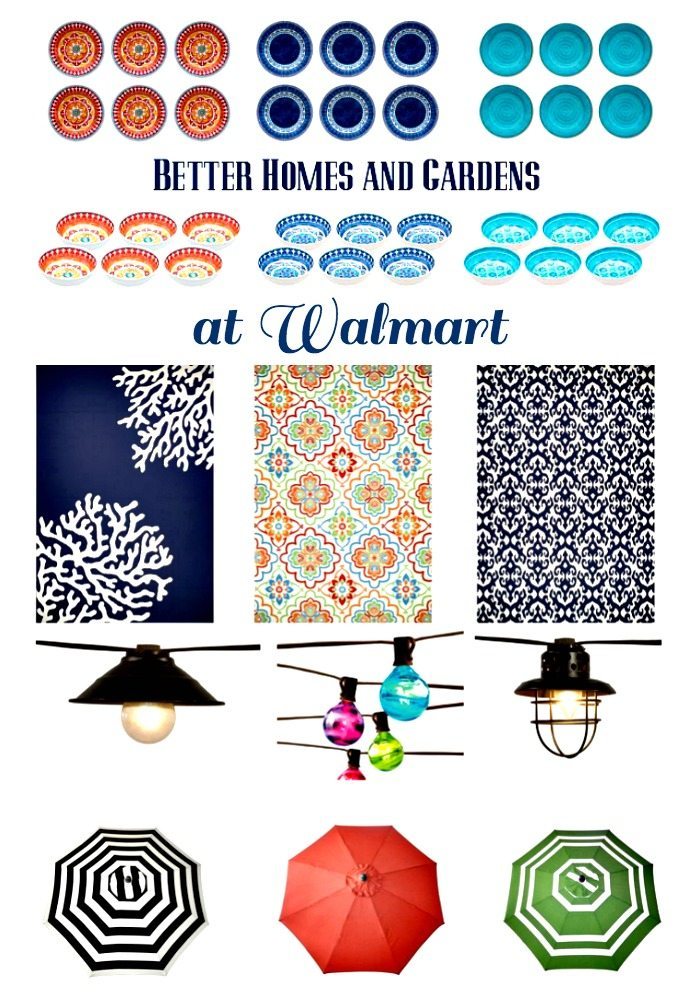 Follow along with Better Homes and Gardens at Walmart:
BHG Live Better Website
BHG Live Better on Pinterest
BHG Live Better on Facebook
BHG Live Better on Twitter
BHG Live Better on Instagram