I love sharing affordable ways to refresh your home, thanks to Better Homes and Gardens at Walmart for sponsoring this post!
My search for the perfect and affordable farmhouse table has ended!
We moved a couple years ago and I filled my kitchen dining area with my (round) former dining table.  It never really felt right. I envisioned a lighter color rectangular table in the space.
With just a little paint and gray stain I created exactly what I had in my mind.
This is a great option if you want to customize piece.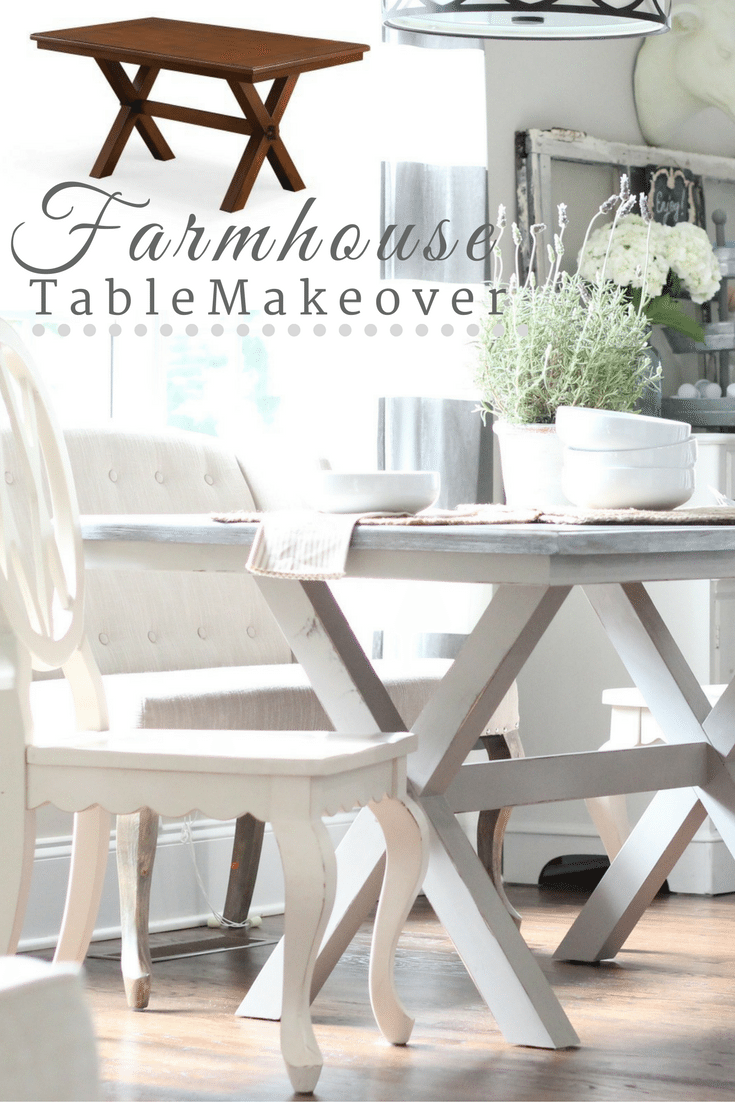 The family room, kitchen and eat in area are all color coordinated now.
You can create a painted farmhouse table that fits your decor perfectly too! Just think, any color will work. I actually bought all the paint and stain while I was shopping at Walmart. How much easier can that be?! Well, it can be easier if the original stained piece works for you 😉
A view from the entrance and into the family room with a peek of Murphy relaxing on the sofa, she's always close by just in case I need her! The colors in the space have a better flow not to mention the table fits better in the tight space.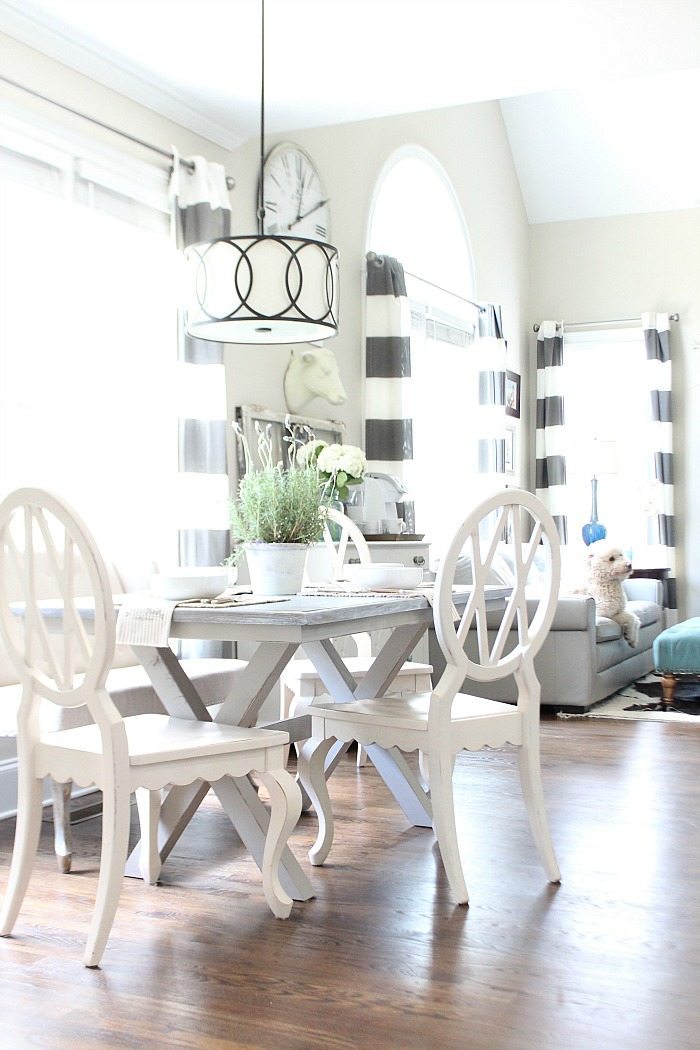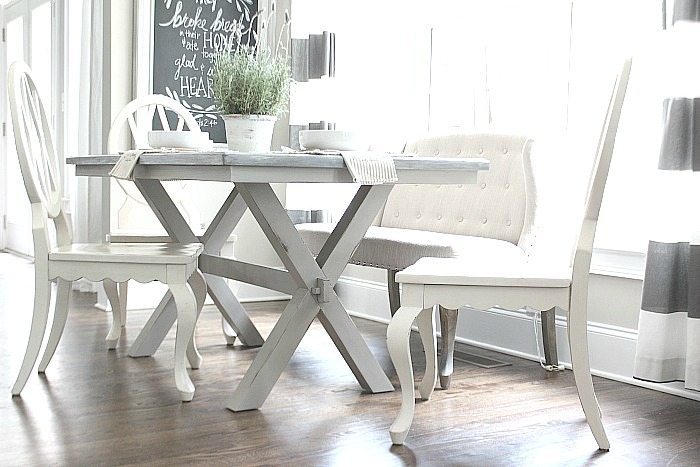 For your convenience I have included affiliate links to the products that I used.
A little about the table I chose to refresh: Better Homes and Gardens Maddox Crossing Table. The table has two pairs of crossed legs with a center beam and it can seat up to six. There are matching chairs too, the Better Homes and Gardens Maddox Crossing Chairs – set of 2 for $80.
Here's what I did to transform the table:
Sand down to the natural wood – if you are painting the table, you don't have to do this. (Be sure to wiped away all the dust.)
Stain the table top with your choice of color – I used three different colors of stain to create a weathered driftwood appearance.
Paint the base – any color (I used Waverly Inspirations chalk, color: Mineral)
Top coat the base and top with a protective varnish (do this after everything has dried according to directions of each product.)
If you want to distress the table base, sand lightly in places where wear would occur – then apply the top coat.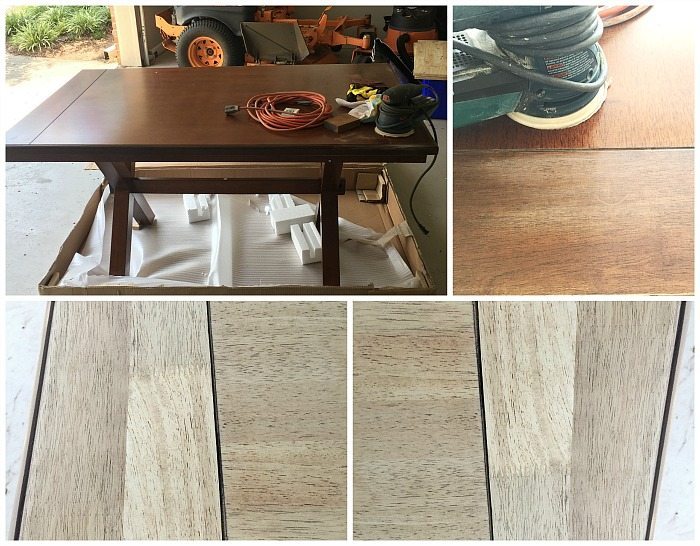 The table comes unassembled, but it doesn't take long to put it together. I started sanding and painting right there in the garage. Be sure to wear a mask and ear plugs.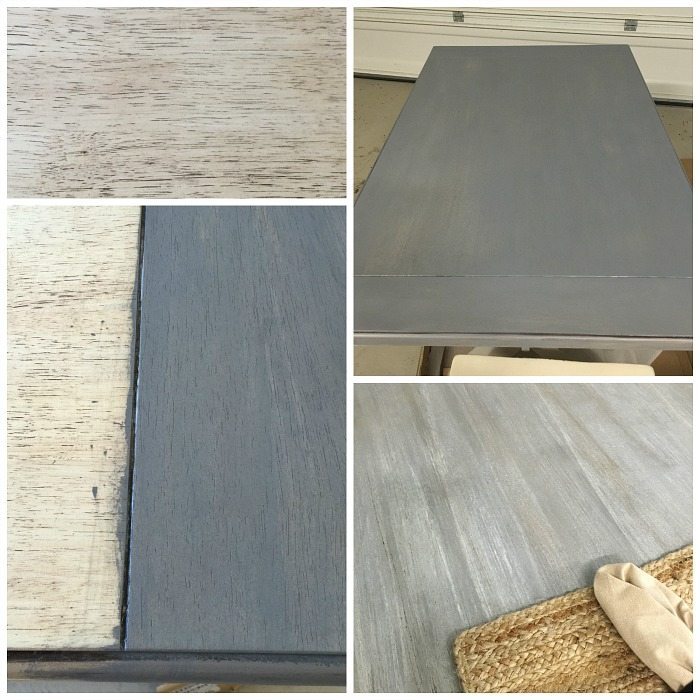 The base color stain is gray, follow by dry brushing antique white stain and a little brown for highlights.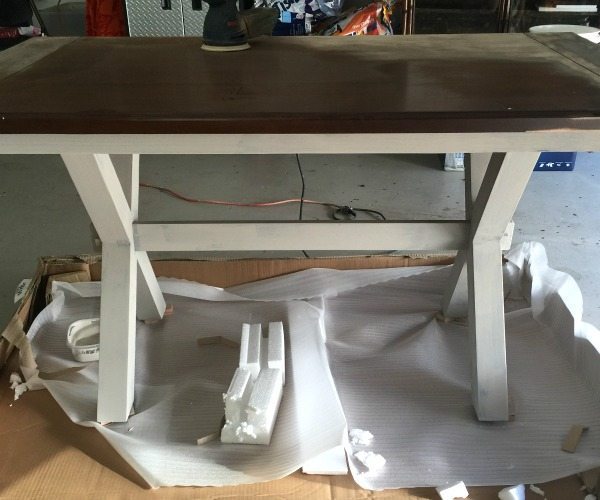 The base is painted (still working on sanding the top).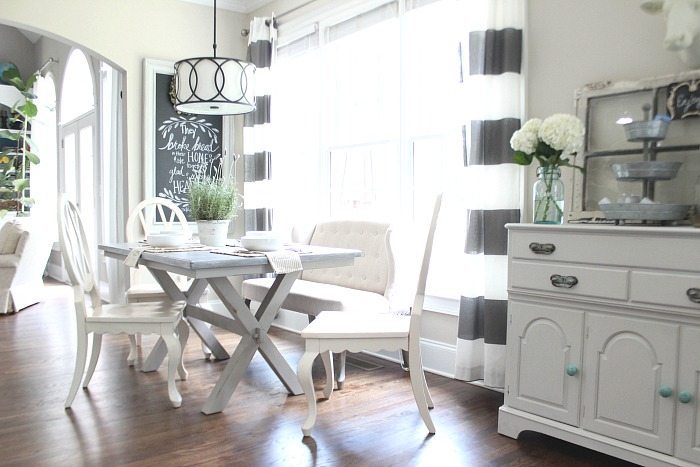 I love it when a room comes together! The new refreshed table looks great with my 17 year old chairs and my farmhouse coffee bar. My life is complete!
We've enjoyed a few meals here already.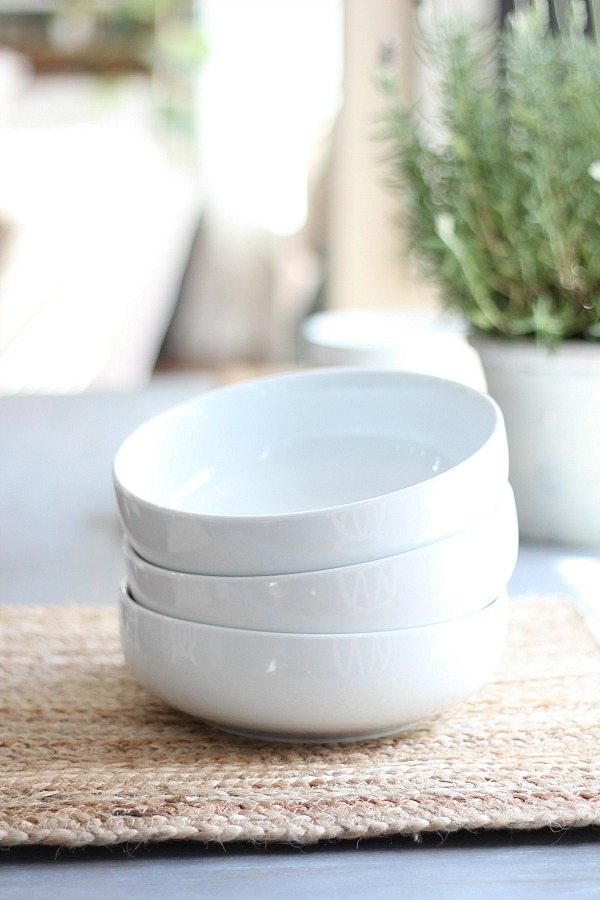 Gray can be a little cool, so I add warmth with serving pieces, like these beautiful natural place mats and wood salad bowl. Currently the Square Jute Placemat is available in 3,000+ stores, I found a similar one if you'd like to order online: Better Homes and Gardens (4) Twisted Vine Jute Placemats.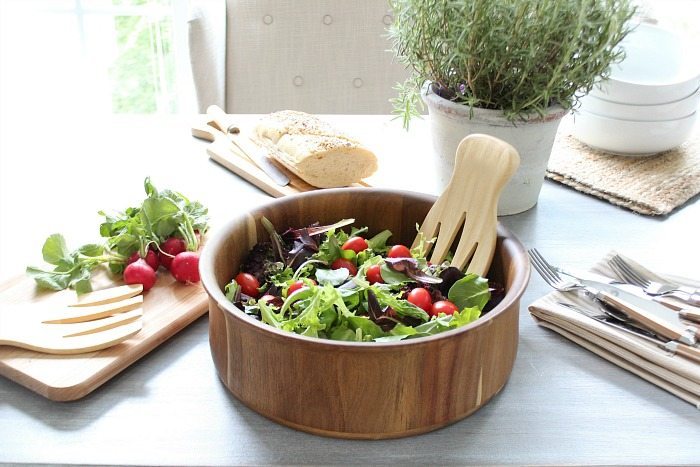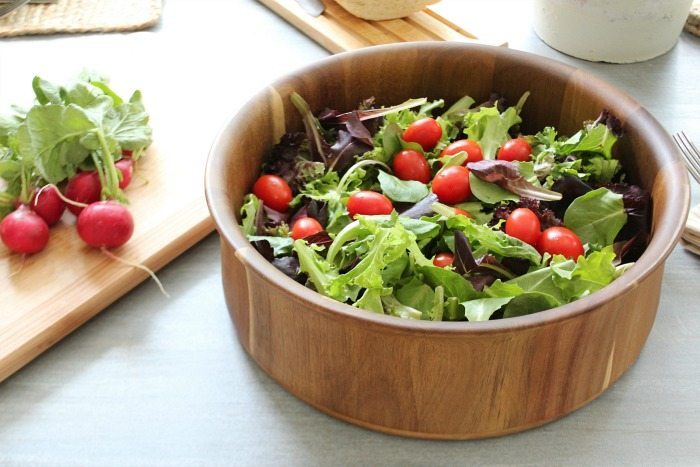 Wood Salad Bowl | Large White Salad Bowls – 4
Simple centerpiece of potted lavender and an equally simple meal idea, fresh salad and yummy bread.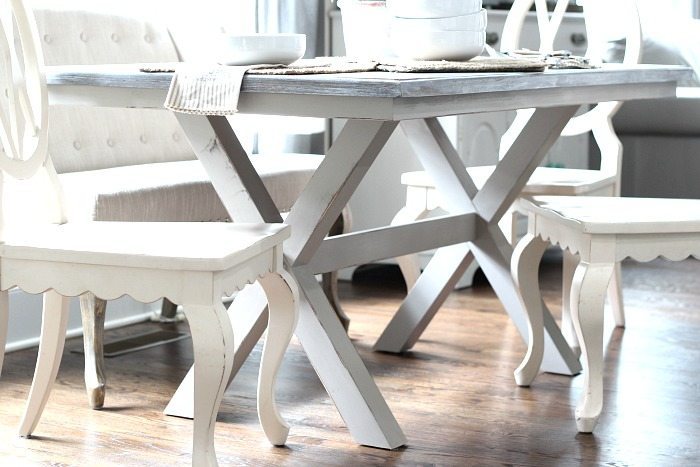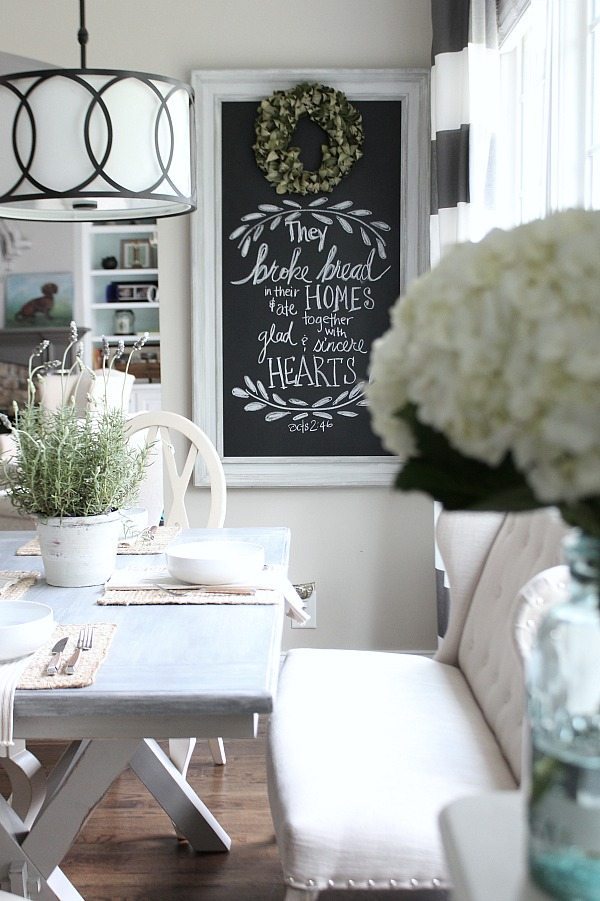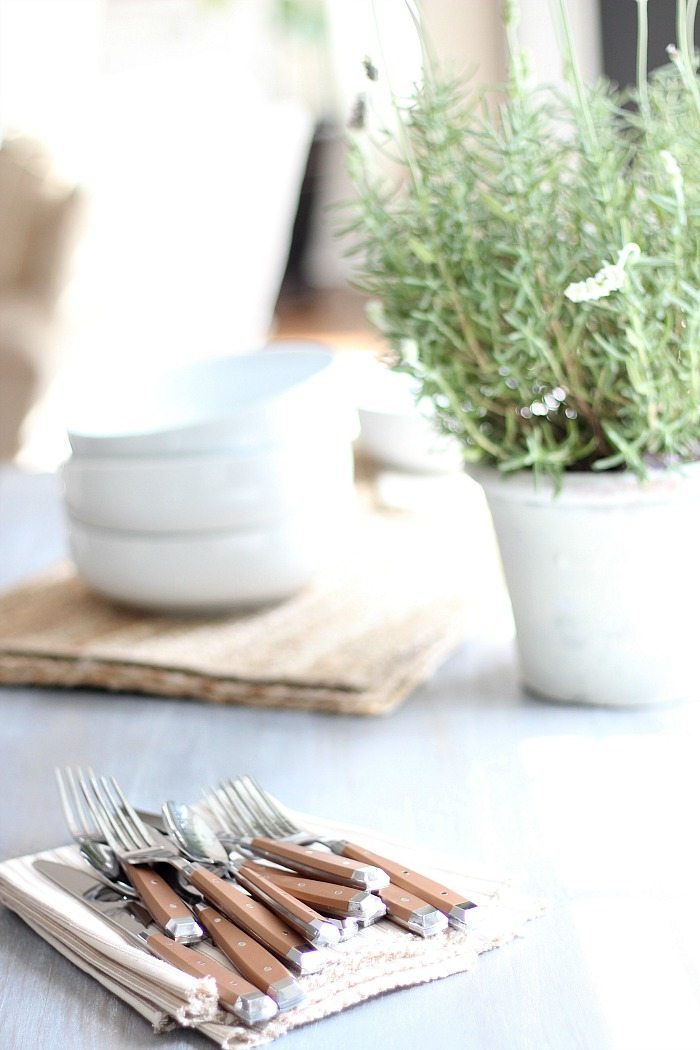 Copper flatware and farmhouse ticking napkins mix well with the faux driftwood stained top.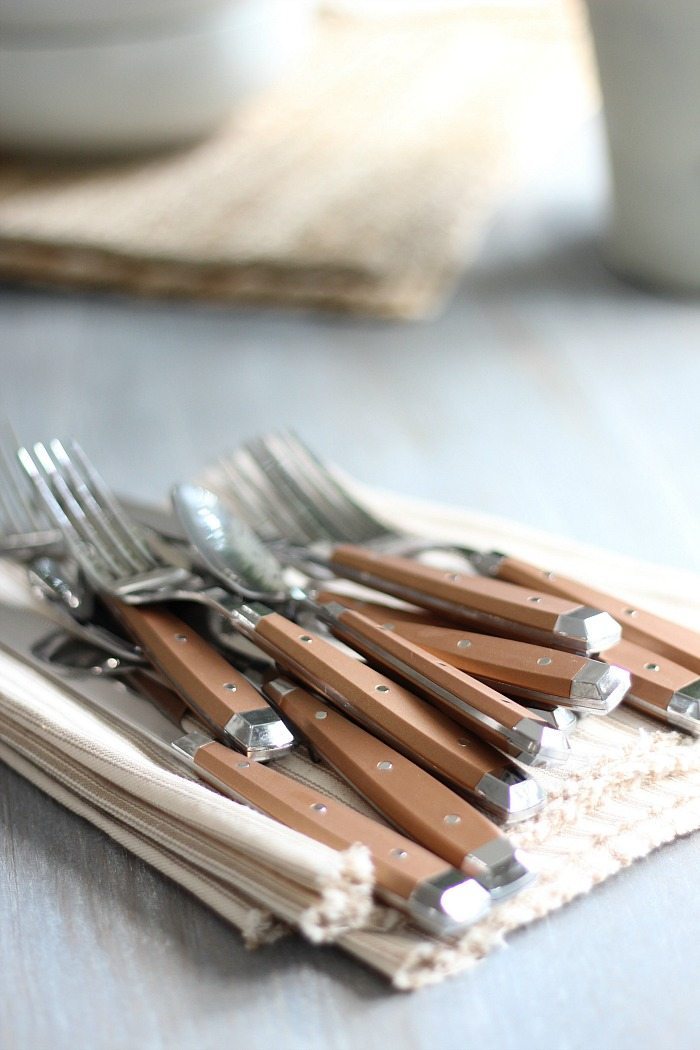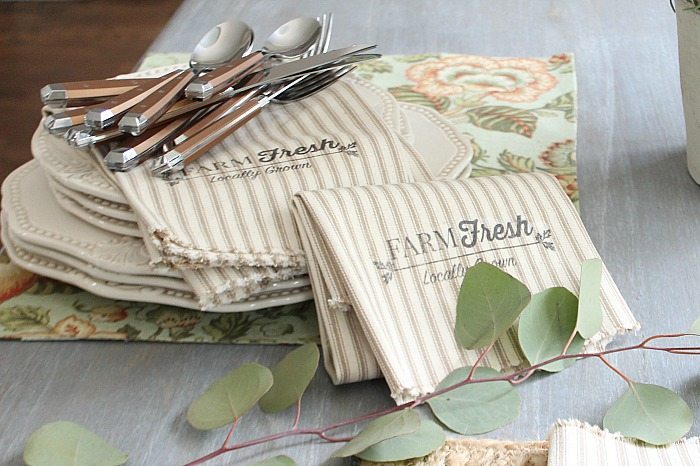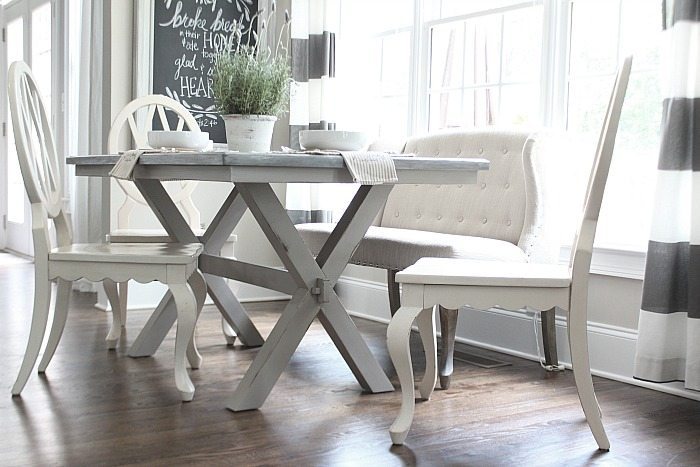 Guess what, the collection includes so many options: More from the Maddox Collection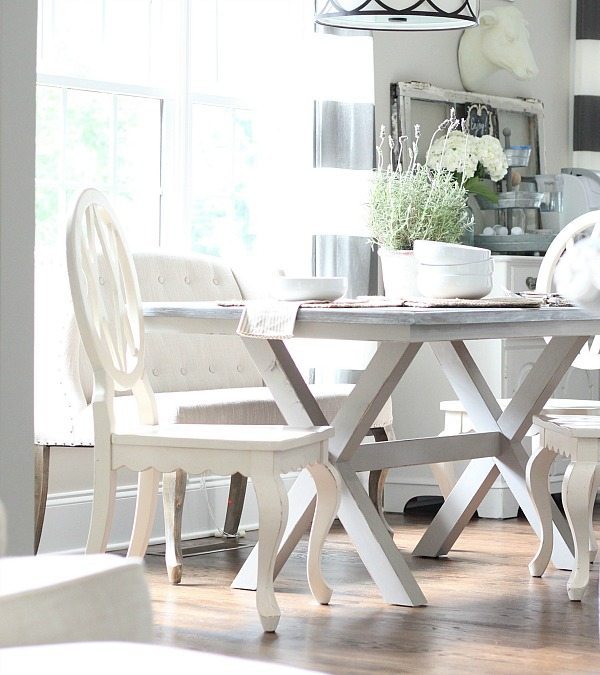 I'll be sharing details about the table finish later, I hope to create a video about the 3 step stain idea.
Sometimes we think that we can only paint old thrifted things but that is so untrue! Clearly this paint transformation proves that. The hardest thing about this was deciding on a color, y'all know how I love turquoise and aqua. I really think either of those would look great too.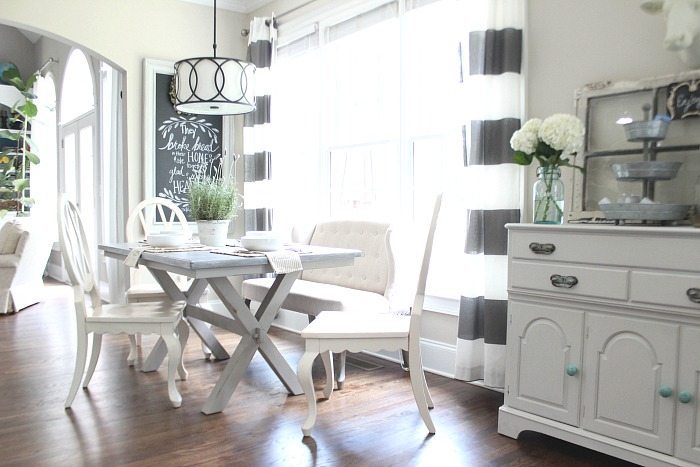 Keep up with latest from Better Homes and Gardens at Walmart: Instagram – Twitter – Facebook – Pinterest – Website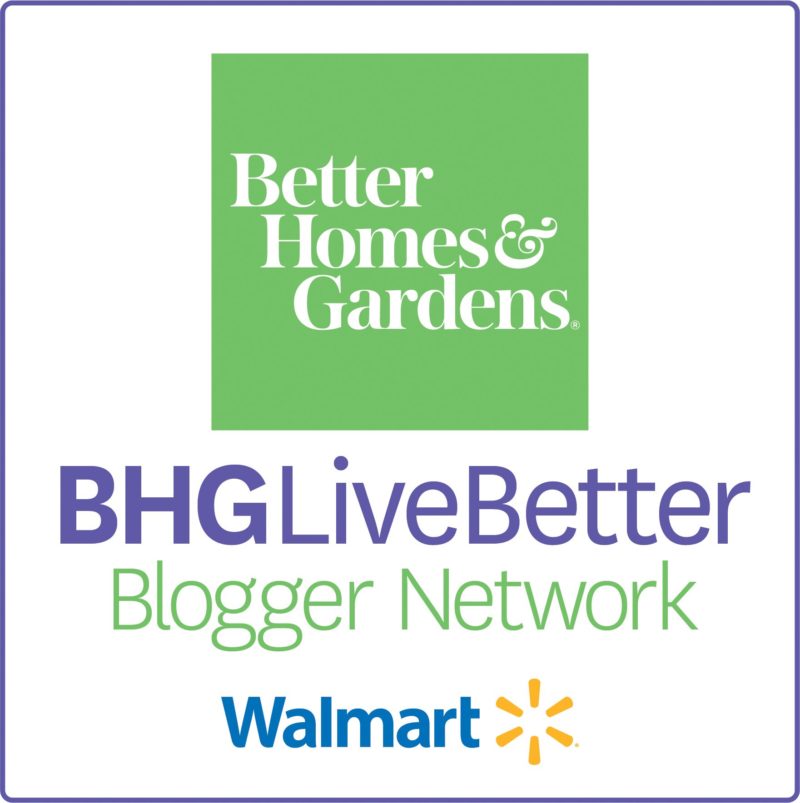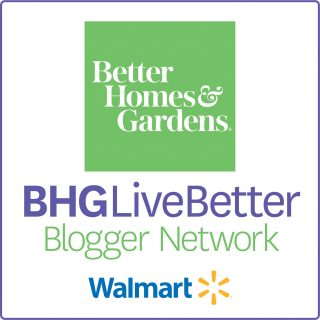 Proud to be a part of the BHG Live Better Blogger Network
Ps. Click to see how to make these: Farmhouse Napkins – They look great with the Better Homes and Gardens Square Jute Placemats: