I'm cheap and I love finding ways to refresh our home without spending any money!
January was filled with decluttering, donating and trashing stuff.  Some of my favorite things, like this cow, are really hard to part with. She's been in storage and I've had her for a while. I was debating whether to donate or give her away but I love her so much, I designed a coffee bar area to justify keeping her!
For now, she's a keeper. 
Look around your home, grab a few of your favorite items, repurpose them. Fall in love with them all over again!
No Spend Decor – Farmhouse Coffee Station Idea: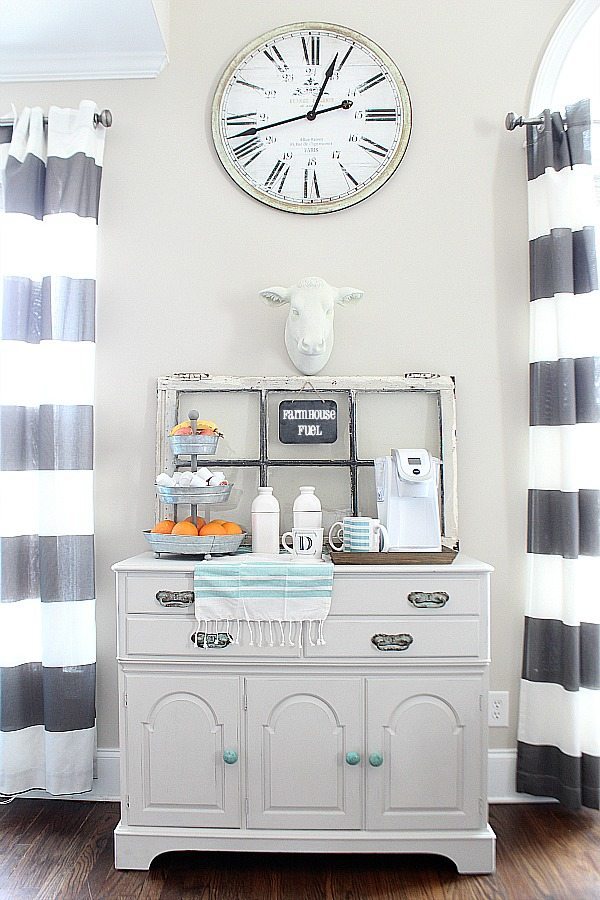 This little spot in our kitchen/den area is like a decorating revolving door. At Christmas it was sporting a wooden horse (click here: to see the horse) I found at a junk store and today it's sporting Bessie the cow. She underwent a little transformation, a facelift! She's feeling very light and bright.
You can see this buffet makeover at our last house, one of it jobs was a coffee bar (at one time)
Steps to Refresh and Create a Farmhouse Coffee Bar (it all started with this cow)
Remove everything from your space.
Gather the necessities; coffee maker, cups, coffee pods.
Shop the house for decor items, old window, metal stand or other container for your coffee pods.
Refresh some of your house finds, with paint, like I did!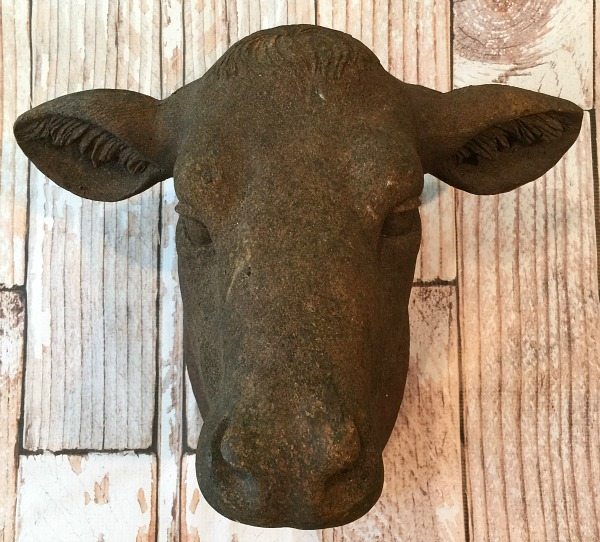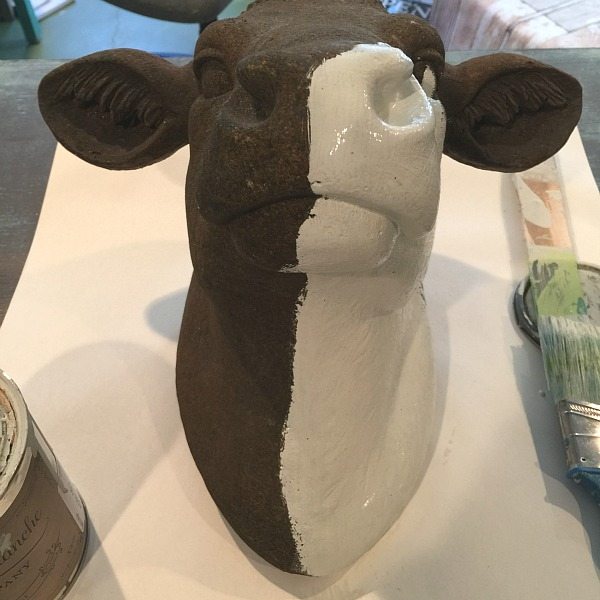 I guess you could say that I will do anything to keep my junk.
I painted Bessie with Maison Blanche La Bonne Terre. I applied to heavy coats of paint and that's it! You could even use craft paint if you want.
I've been on a mission to lighten and brighten things up.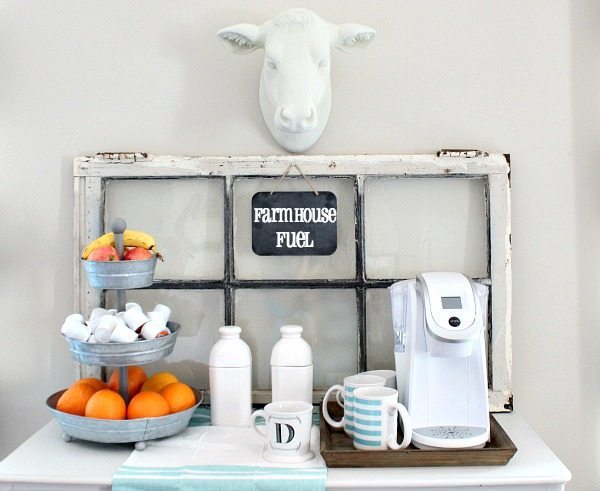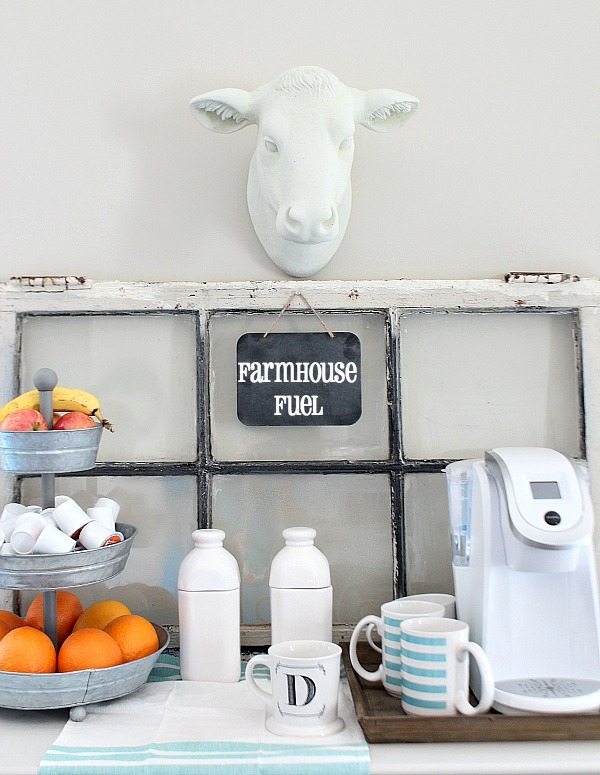 Shop the look or shop your house:
(Amazon affiliate links listed)
3 Tiered Galvanized Stand – Similar ones here
White Keurig – click Here
Stripped Cups: Walmart
Milk Bottle Hot Chocolate and "D" Cup: TJ Maxx HomeGoods
Towel – HomeGoods
Small Chalkboard: $Dollar Spot at Target
Old Window – Junk – Antique Store
More Farmhouse Ideas: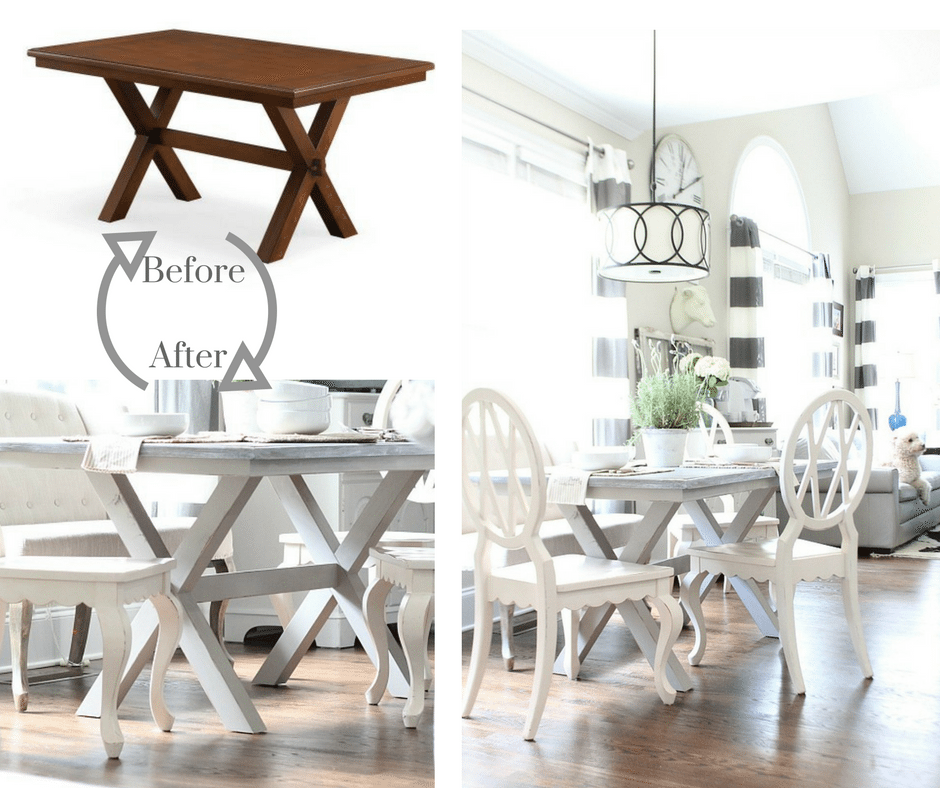 Farmhouse "Farm Fresh Napkins" idea: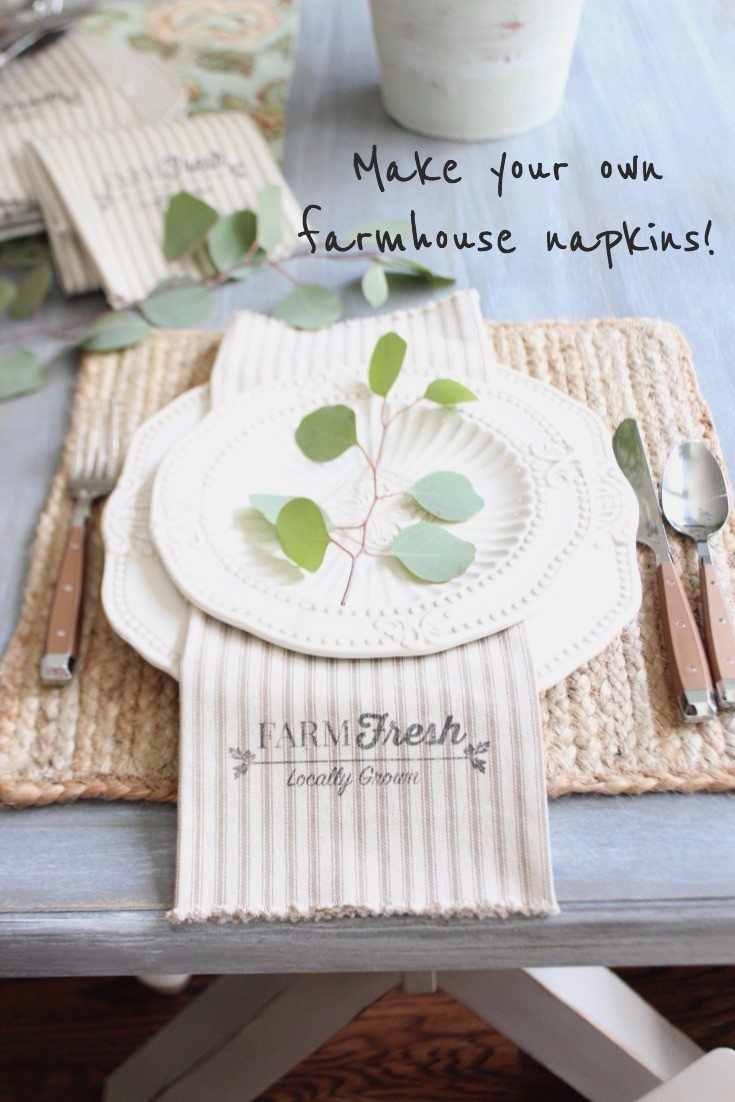 Farmhouse Bench idea: