I love sharing affordable ideas for refreshing your home, today's ideas are sponsored by Better Homes and Gardens at Walmart and contains affiliate links to products used.
The temperature has dropped, the pumpkins are out, it's officially autumn at our house! I can't wait to share my farmhouse dining table dressed for fall. Creating a rustic dining experience is easy and affordable. Everything used on the table except for the greenery is from Walmart, even the white pumpkins!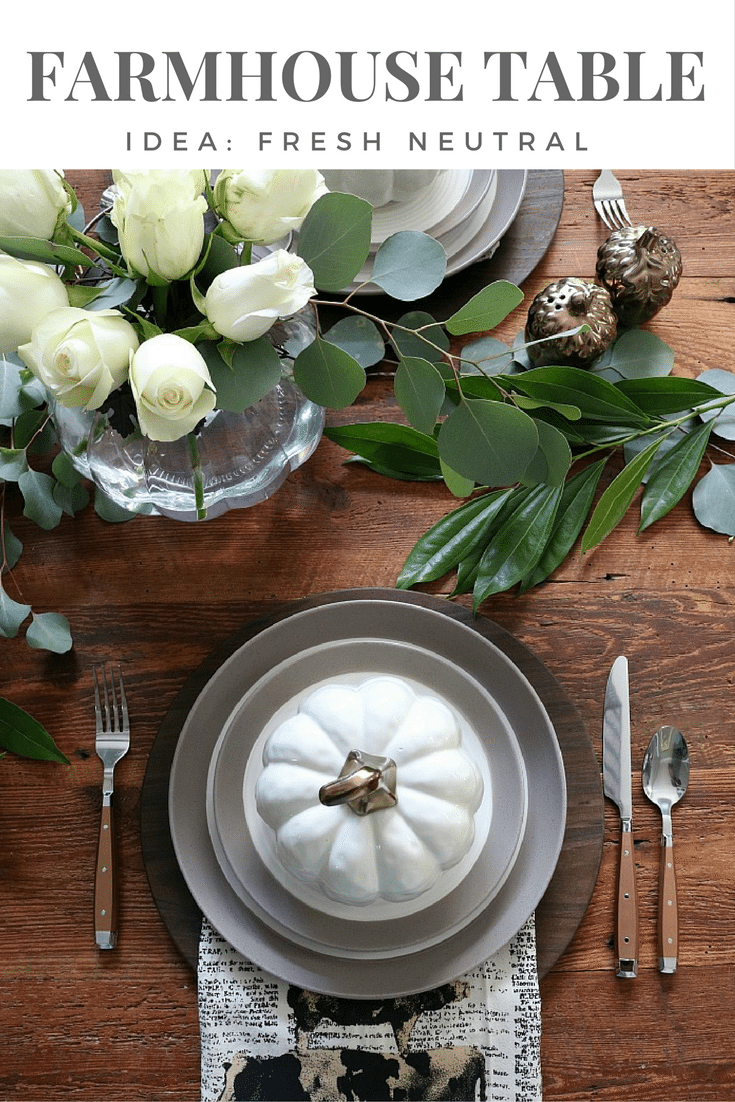 Entertaining can be draining, all the planning, prepping and putting it together. Slow down and enjoy your time with family and friends. This tablescape is fast and easy.
Keep it simple:  When thinking about seasonal decor, I love using neutral dinnerware.  This stoneware is perfect for dressing up or using every day. The pumpkin soup bowl completes the fall look.
Centerpiece Idea:  My barn wood table is the ideal back drop for a casual dinner. To add a little elegance, I chose white roses for the centerpiece. You can see how I created them, click here: pumpkin vase centerpieces. Flowers and greenery from the grocery store keeps the cost down while creating an interesting low profile arrangement.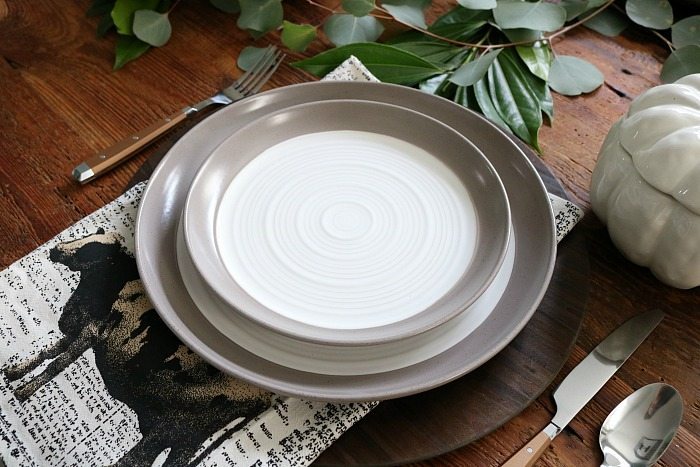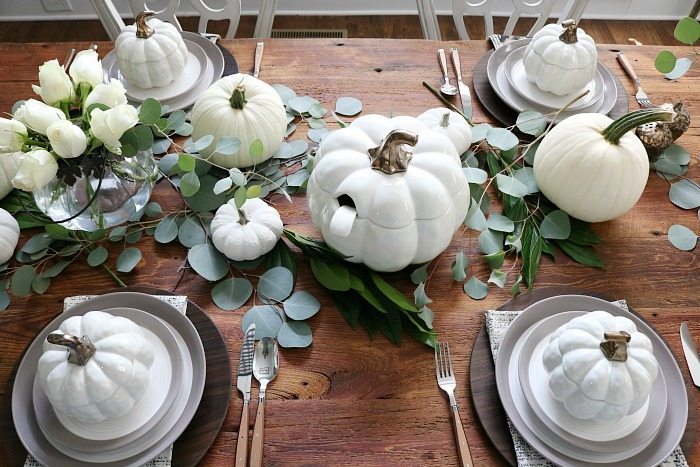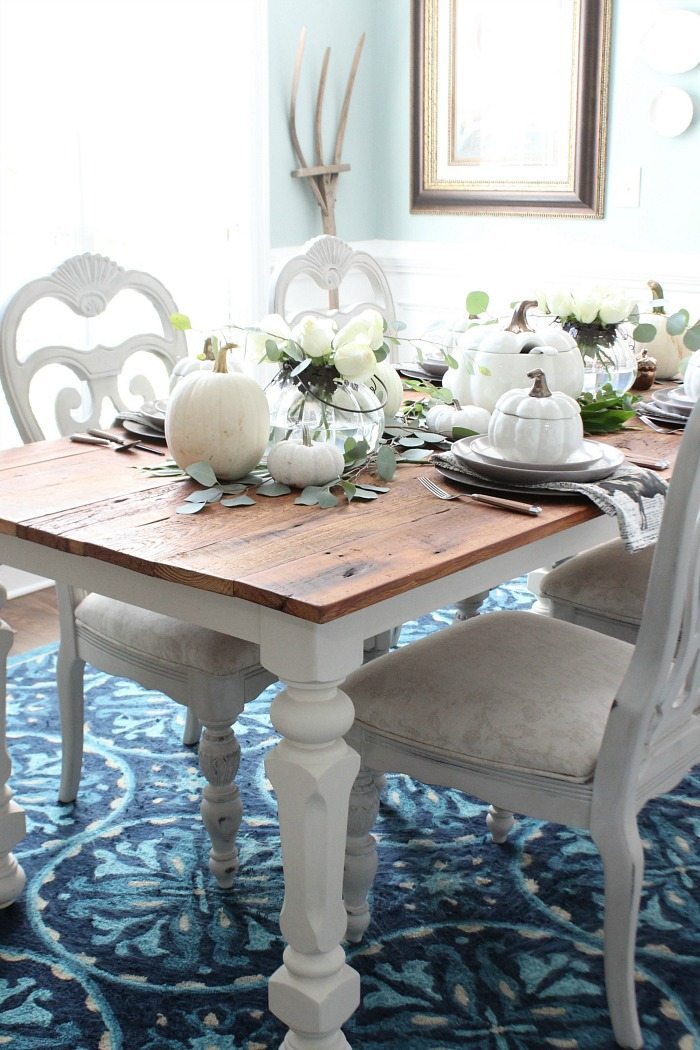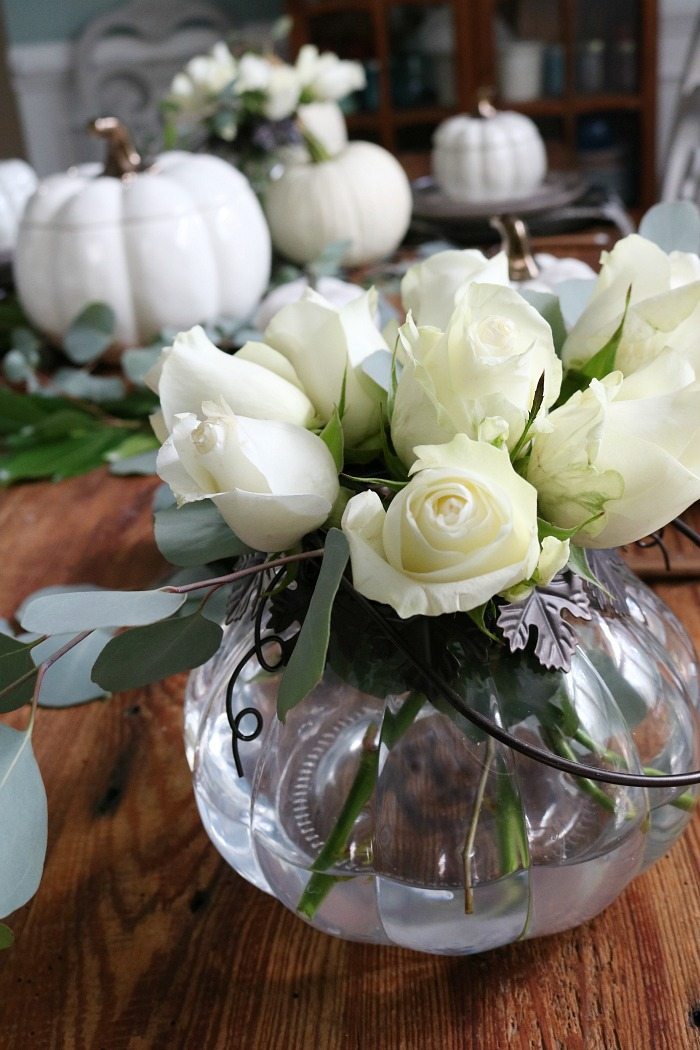 I love being able to see the surface of the table through the centerpiece. The old barn-wood is indestructible, laying the greenery on it doesn't hurt a thing. You may want to add a table runner to protect the surface of your table.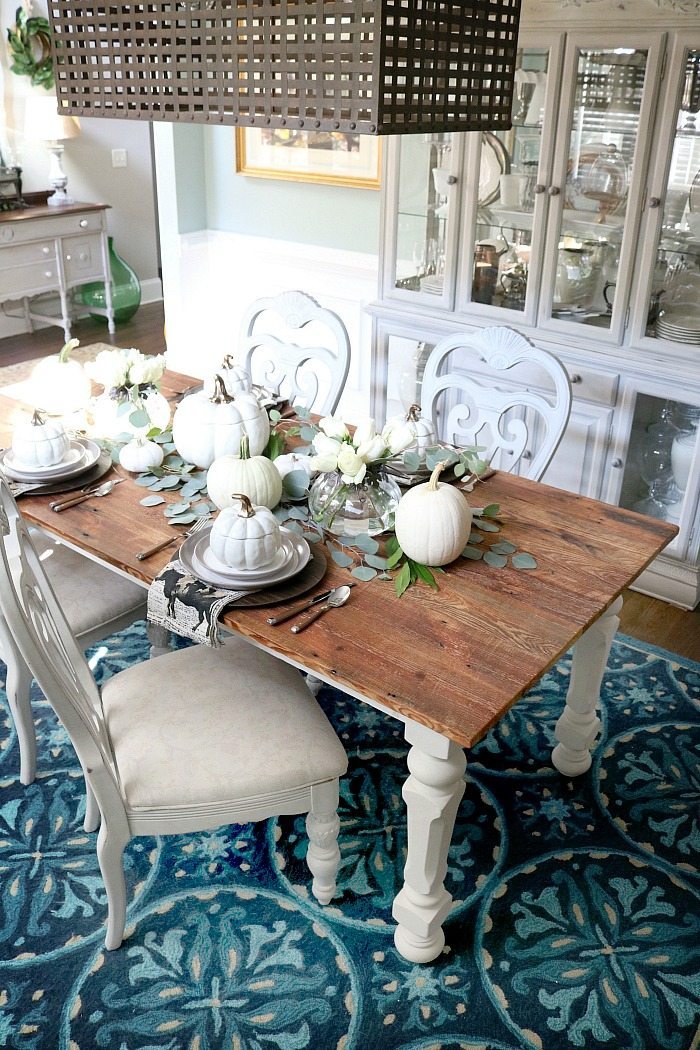 See how the fall farmhouse table place settings came together: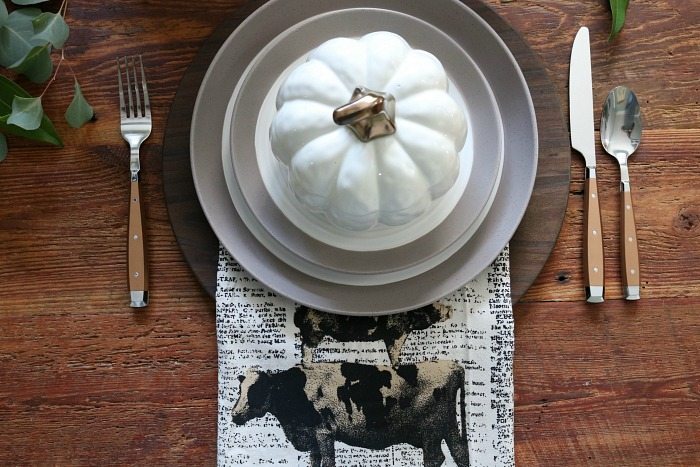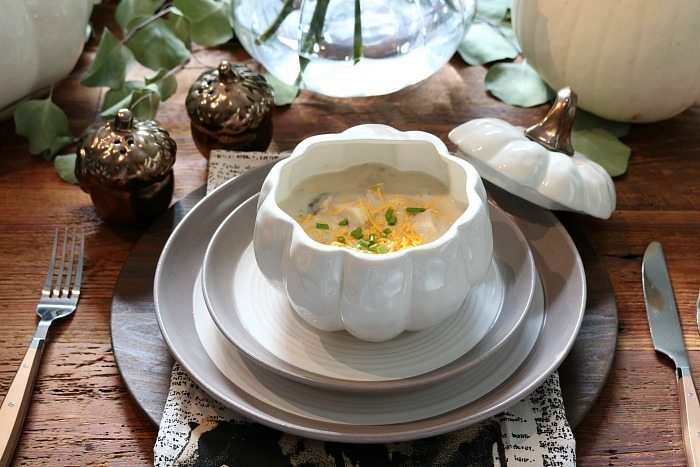 Pulling the look together:
Metallics
Pumpkins
Neutral tones
The metallics are used in the copper silverware, stems of the pumpkin bowl, soup tureen and the acorn salt and pepper shaker. Real pumpkins are included in the centerpiece and represented in the flower arrangements along with the soup service. The neutral tones of white, green and barn wood patina create a rustic casual appeal.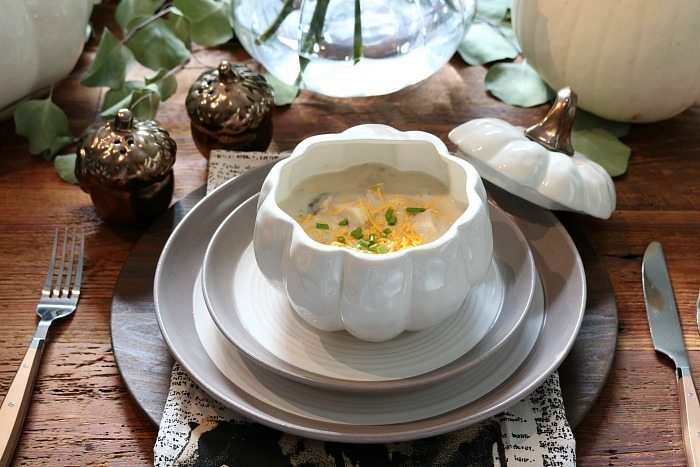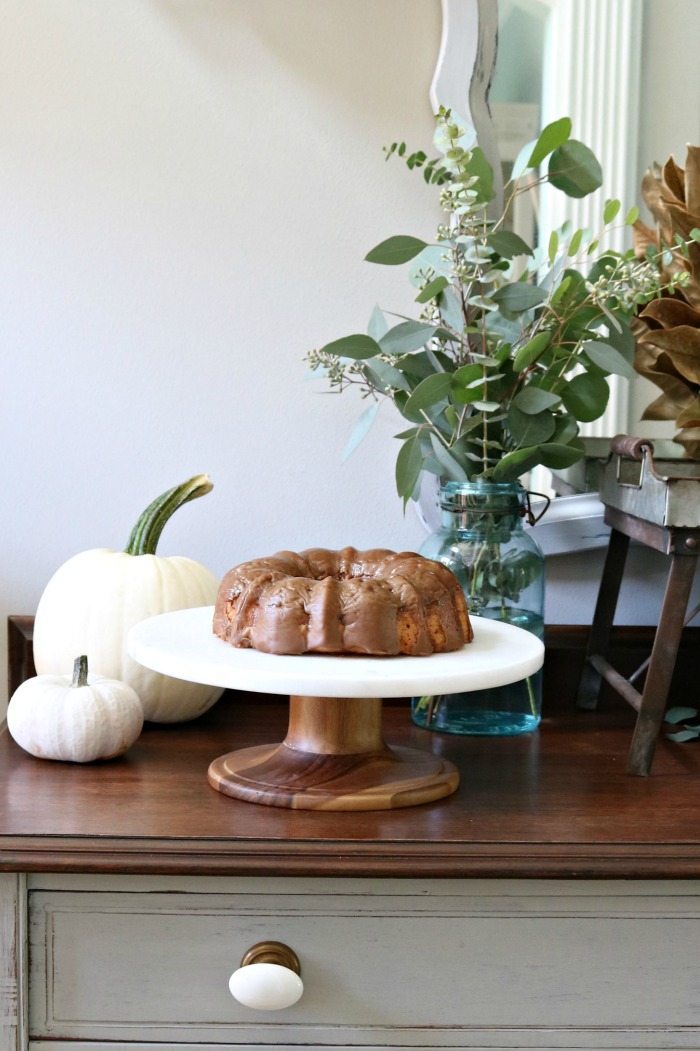 Presentation: This store bought spice cake is a show stopper when presented on a marble cake stand. The rich wood tones of the base give it a refined, yet rustic touch. It makes the cake taste better too, maybe not, but it looks great!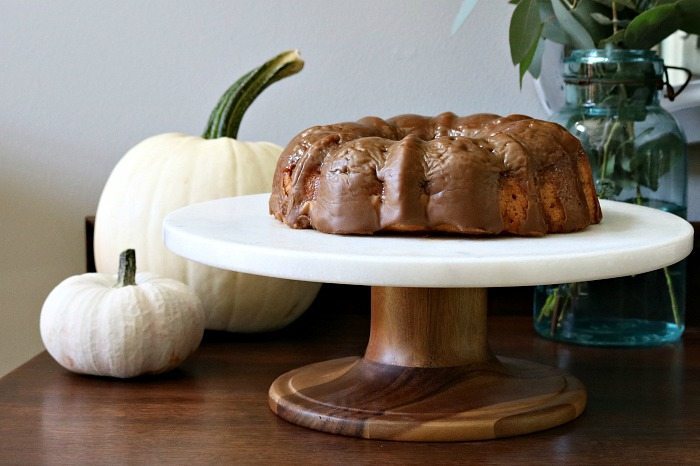 Find everything to create this look from Better Homes and Gardens at Walmart -affiliate links included: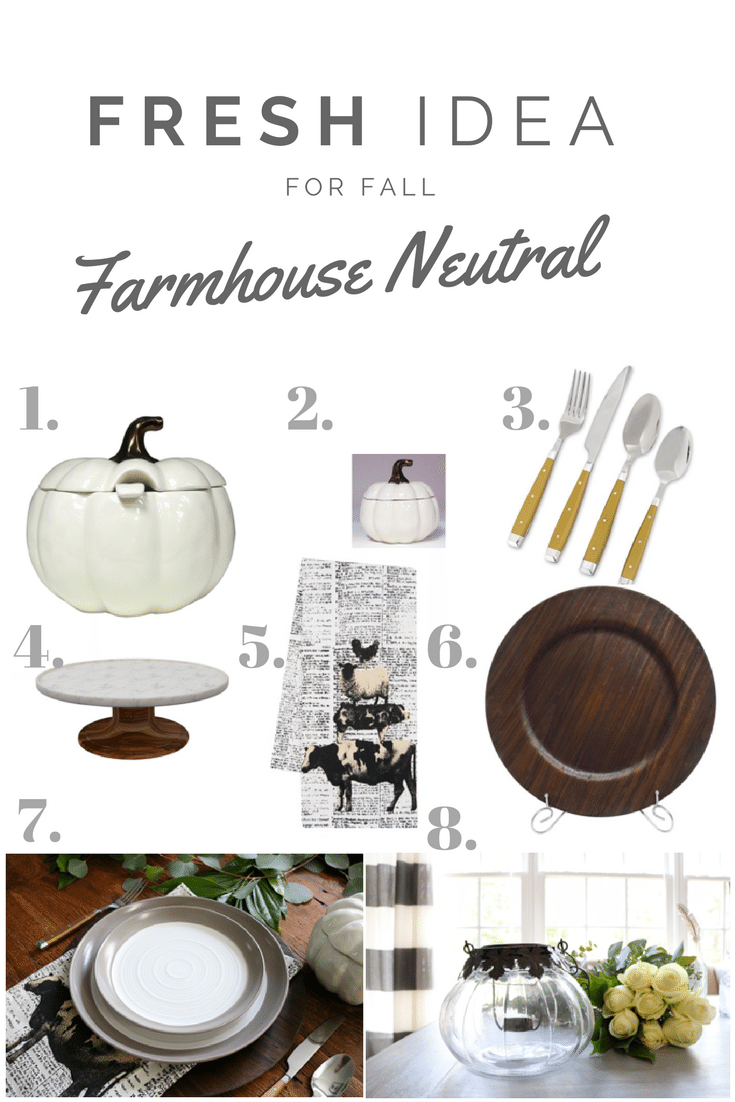 Better Homes and Gardens Pumpkin Soup Bowls (in store only)
Better Homes and Gardens Flour Sack Animal Dish Towel (I bought mine in the store)
Better Homes and Gardens Clear Candle Holders (used for vases) – Walmart in store only
Better Homes and Gardens Acorn Salt/Pepper Shakers: in store only
Find more online: Better Homes and Gardens at Walmart and follow along on social media,  Instagram – Twitter –Facebook – Pinterest – Website
I'm honored to be a part of the Better Homes and Gardens Blogger Network.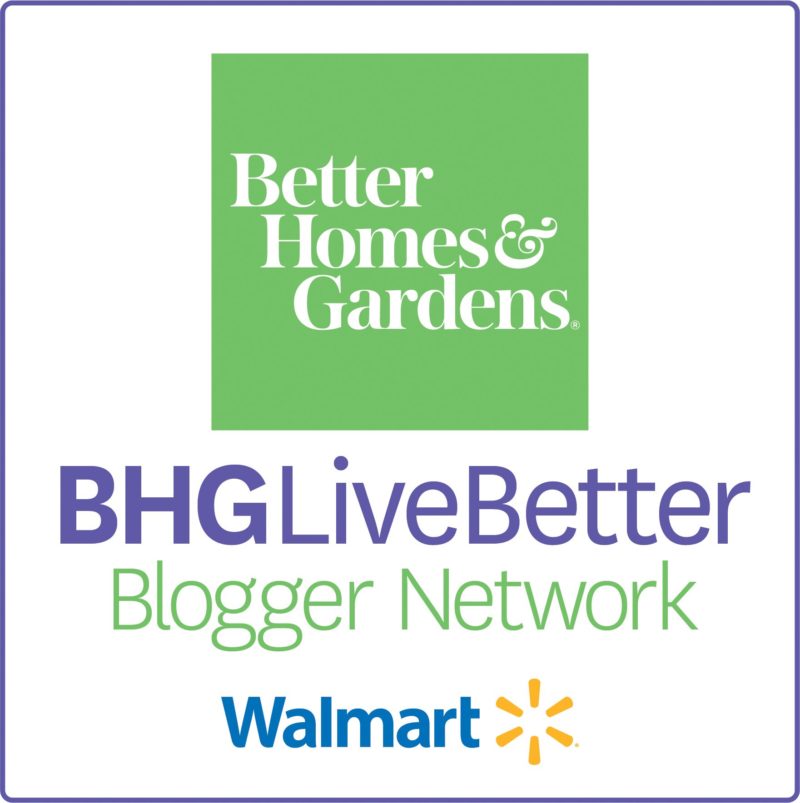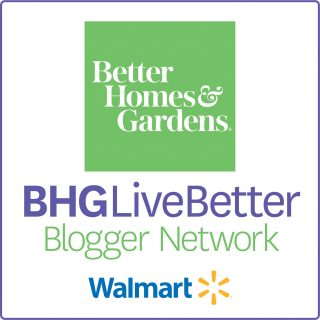 Click photo for more Better Homes and Gardens at Walmart entertaining ideas for fall: