Keep the outdoor season going longer!
Hey guys, today I'm sharing an affordable Idea for Fall Outdoor Living
with Better Homes and Gardens at Walmart.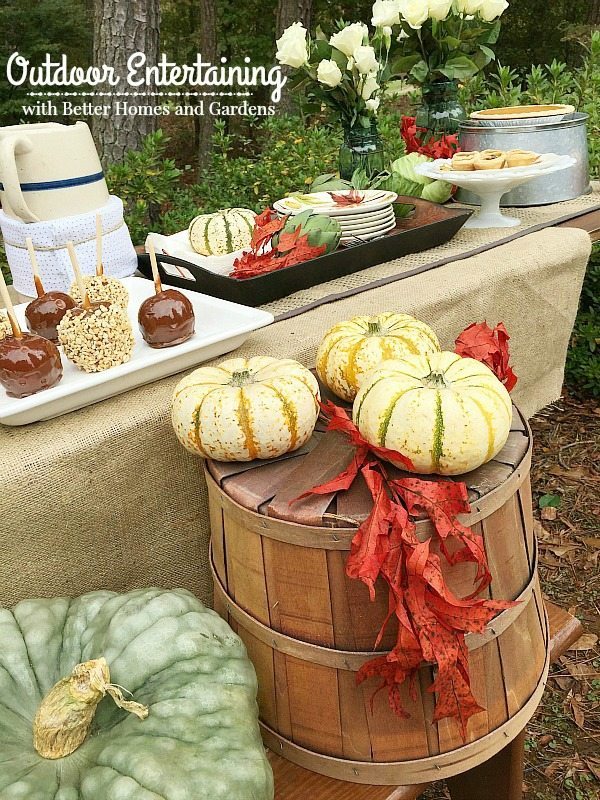 Growing up in Alabama and now living in Georgia the weather this time of year is great for gathering outside. Perfect for outdoor living. It's the last chance of the year to breath in the fresh crisp air before you're stuck inside all winter.
As a partner with Better Homes and Gardens at Walmart, I'm excited to share my collaboration with them for extending the outdoor living season.
Fun stuff…Be sure to check out the video and source list at the bottom of the post! Max is sharing more ideas for extending the outdoor season.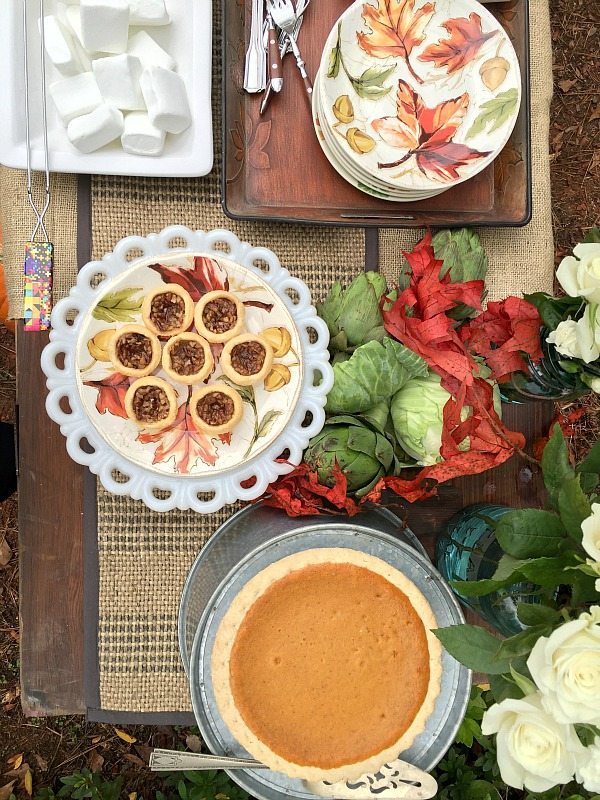 5 TIPS for Entertaining Outdoors
Create a table with an old door. Place it on saw horses, easy to take down and put away!
Mix seasonal salad plates with white platters.
Wrap a dish towel around your pitcher for cute and quick clean up.
Serve dessert outside after a meal inside.
Add a fire pit for warmth and ambience.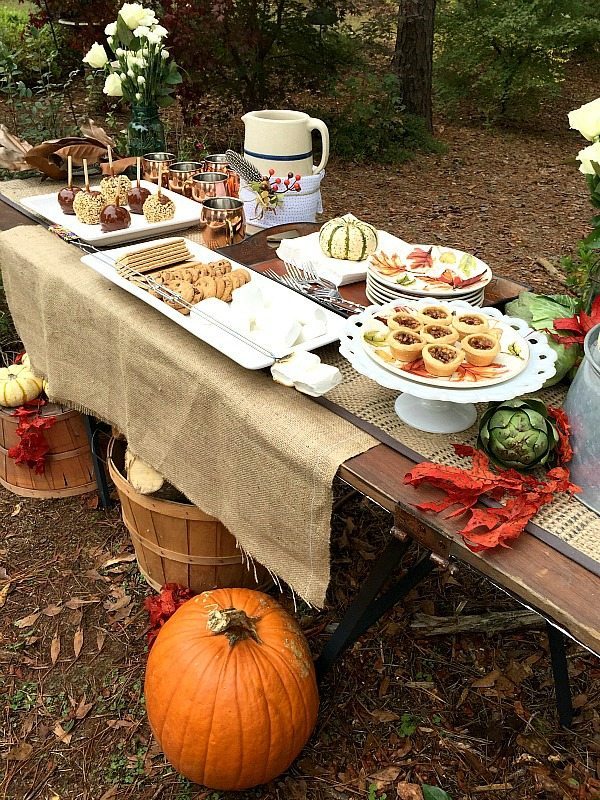 The small door that I used for my DIY table is perfect for creating a dessert buffet. For the tablecloth, I used a square of burlap and added a table runner down the center. Place a basket underneath to hold the extra firewood. Scatter your pumpkins around the base for a fun look.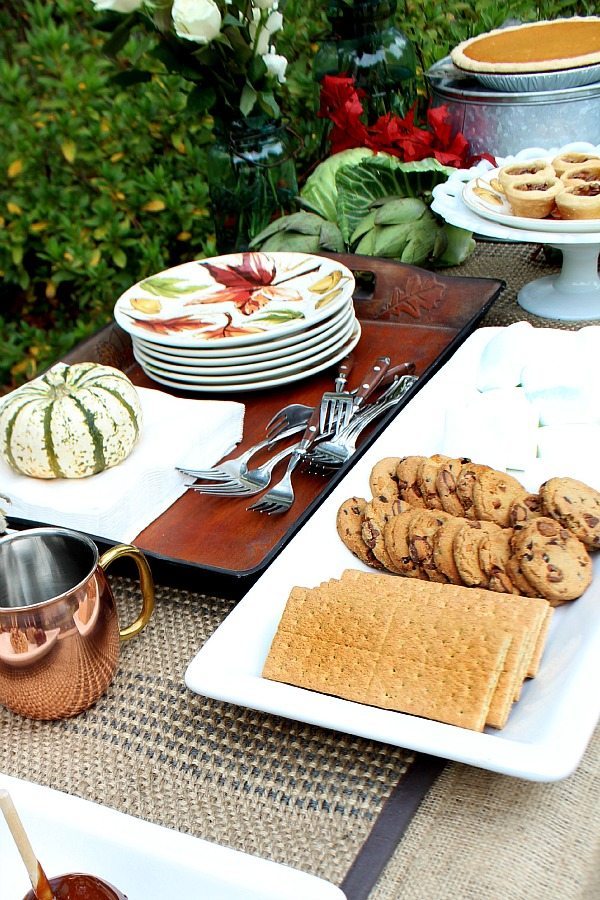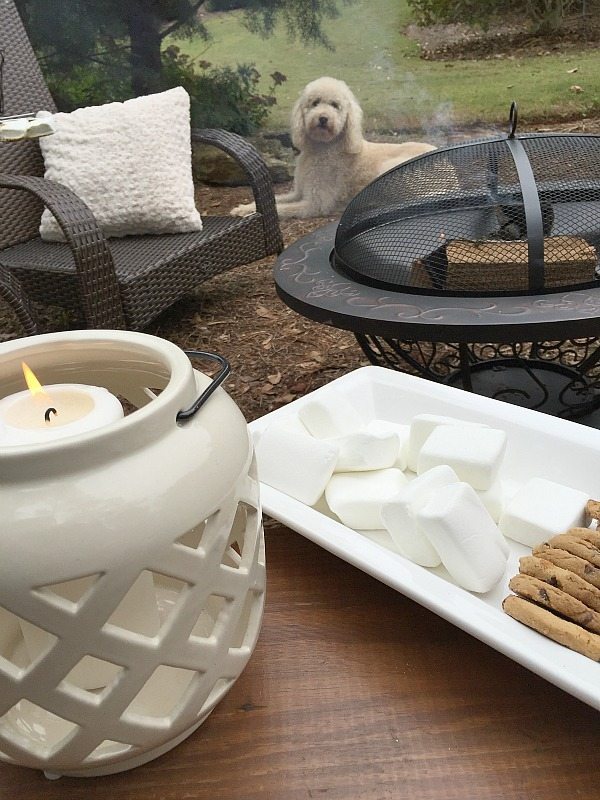 A white platter with all the s'more ingredients sprawled out makes it convenient for the roasters. And did you know that Chocolate Reese's Cookie are a great alternative to graham crackers for s'mores?! They taste great with a roasted marshmallow plopped between two of them! But be sure to have the graham crackers on hand for the s'more purist out there!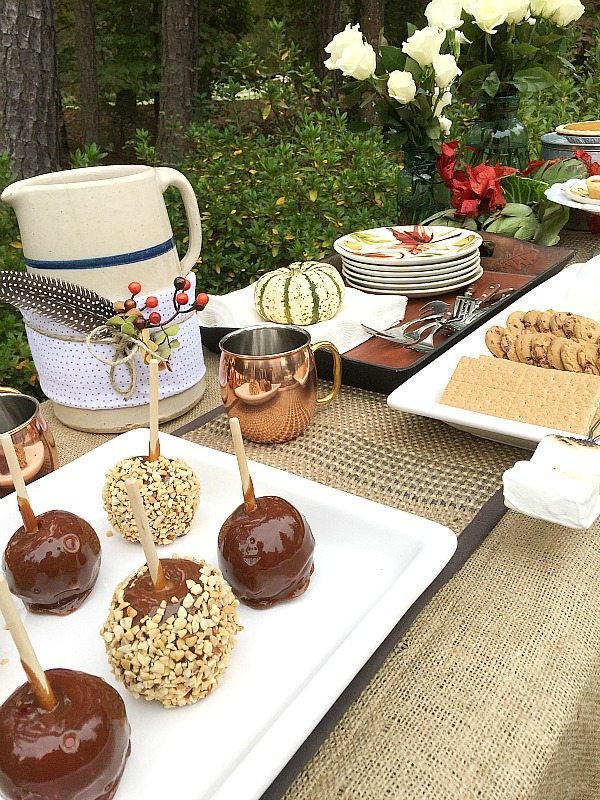 Easy to make Candied apples are a great finger food, perfect for enjoying around the fire pit.
Apple cider tastes better in a fun copper cup. These are available at Walmart at a very reasonable price.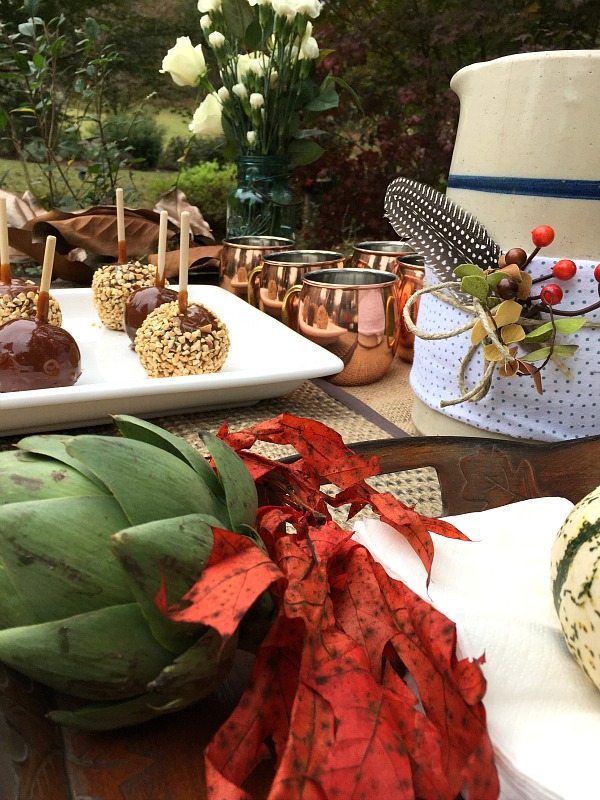 For the table I had fun mixing artichokes, pumpkins and fall leaves. They really brightened up the table. Quick and affordable idea for fall outdoor living!
DIY idea: spray paint a few magnolia leaves with bronze spray paint or any color, to add a little shimmer.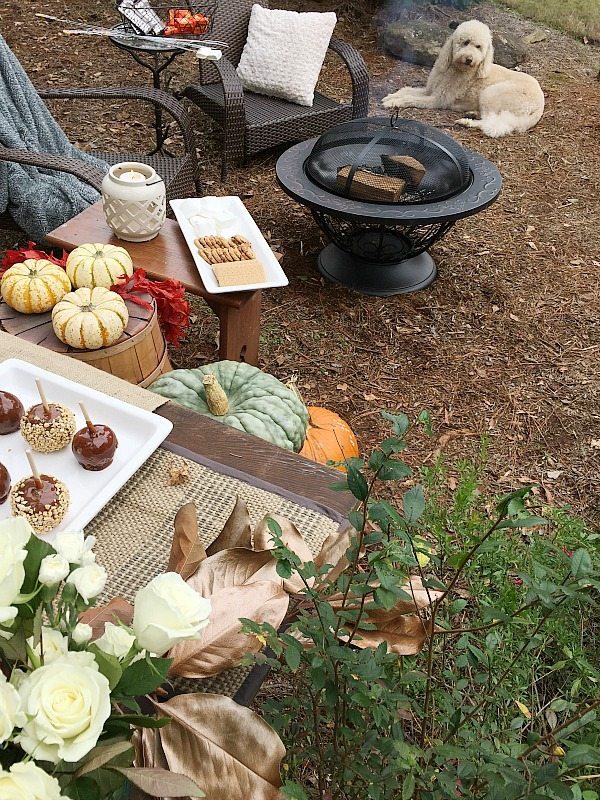 Tip: Clean the outside of your pumpkins with a water/bleach mixture to make them last longer. Just add 1 tablespoon of bleach to a quart of water. Wipe the pumpkins down good. You can use them all season long (I have).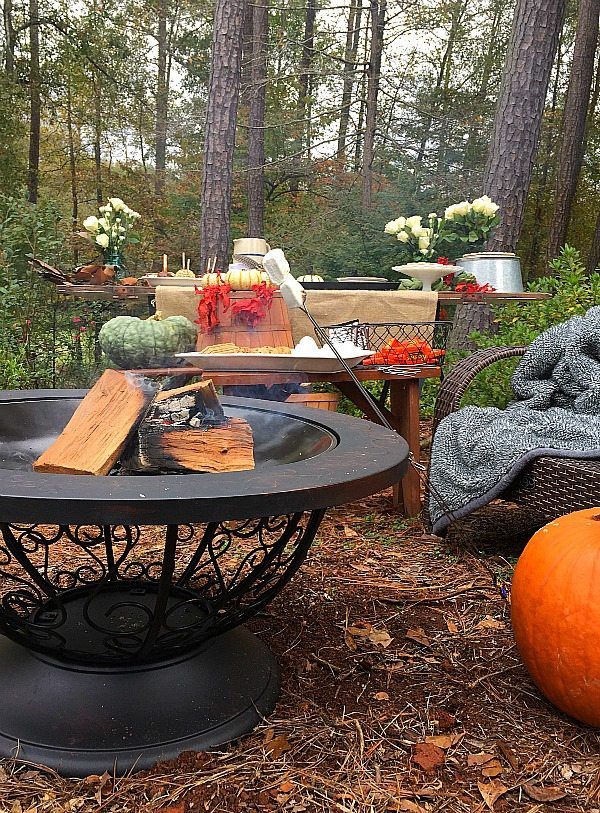 The addition of a fire pit is perfect for evening entertaining or any time of the day, especially when you have a marshmallow on the end of a stick. I have so many fond memories of roasting marshmallows and hot dogs when we were kids. I don't know what I loved most, maybe it was the blaze of the fire or the thrill of placing food on a stick and cooking it, both were fun! Looking back now, it's the time spent with family that I cherish the most!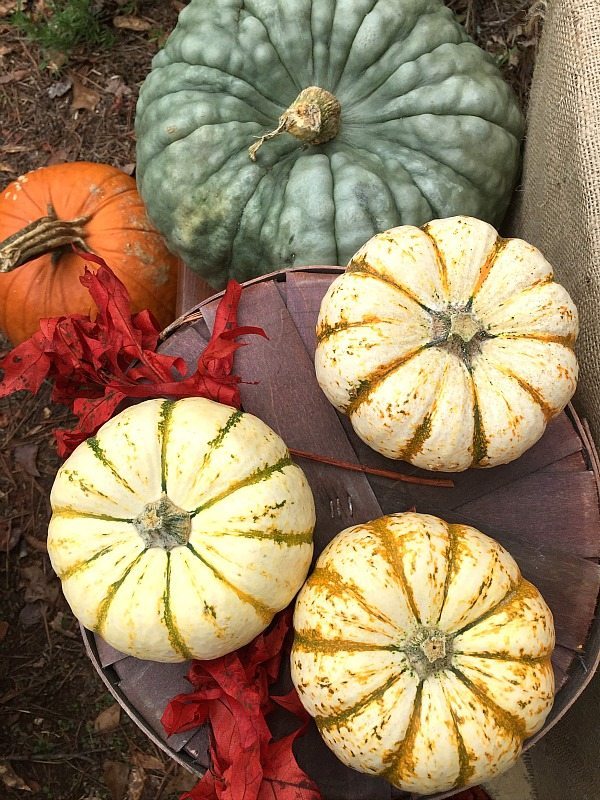 Tip: Turn bushel baskets upside down to make side tables.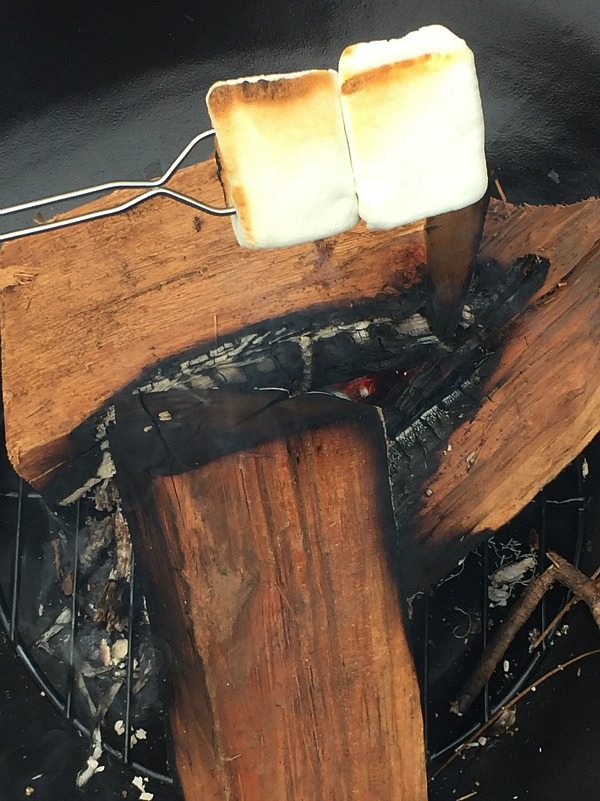 A fire pit makes for cozy fall outdoor living.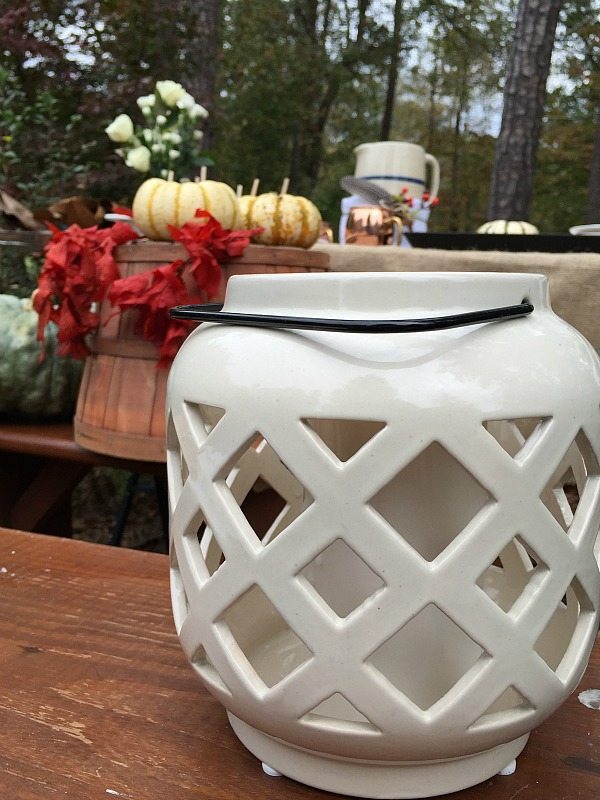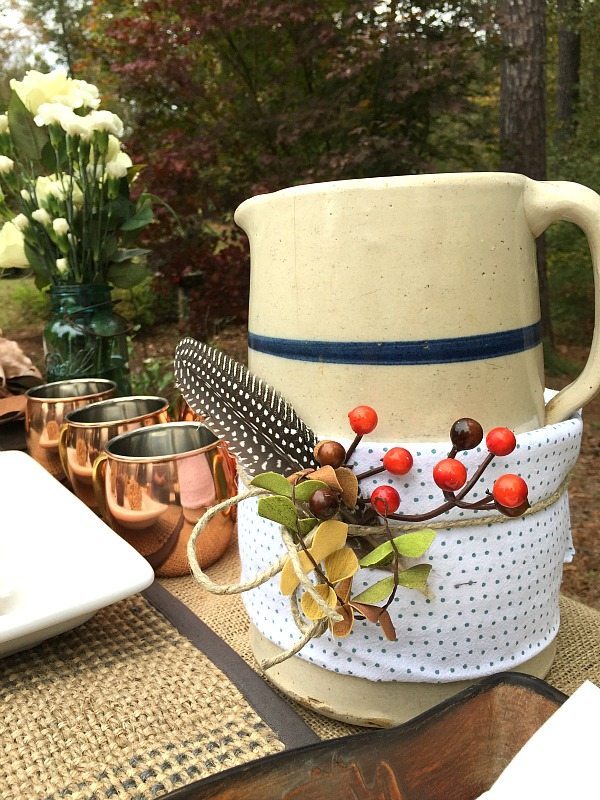 The Better Homes and Gardens flour sack towels come in an assortment of colors, be on the lookout for the Christmas ones! I just wrapped my pitcher with the fun polka dot one and tied a natural cord around it to secure, until needed to clean up a spill! Tuck a floral piece and feather in the twine just for fun. (They come in 2 to a pack.)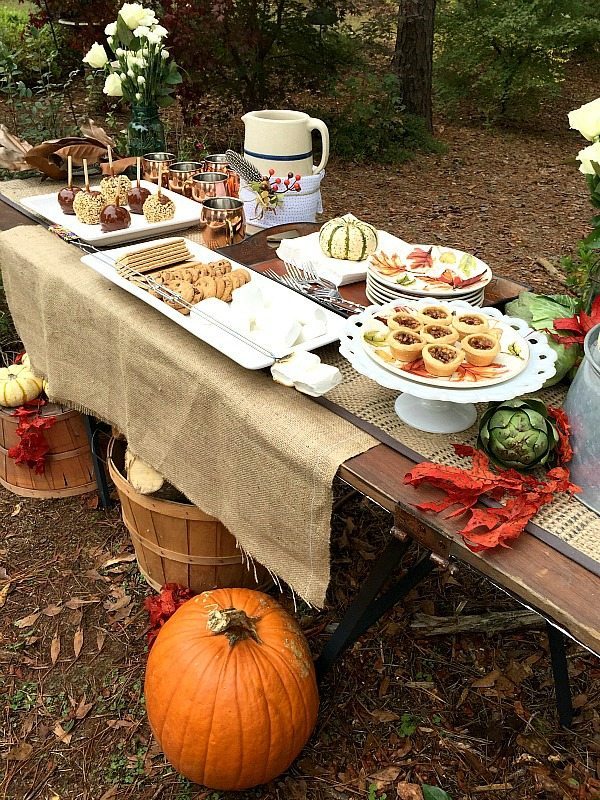 Elevate tiny pecan pies with a vintage bowl or cake plate. Varying the heights of the food makes everything more appealing. I used a small pumpkin atop the napkins to hold them down.
Now for even more tips from the beautiful garden area at Better Homes and Gardens (hard to believe that I was standing right there last year!) Take it away Max…
Create the look for Fall Outdoor Living:
Better Homes and Gardens 2 – Piece White Rectangular Platters
Better Homes and Gardens Galvanized Stand (in store)
Better Homes and Gardens Trunks Runner (in store)
Better Homes and Gardens Maple Icon-Antique Cooper Tray
Better Homes and Gardens Scroll Outdoor Fire Pit
Better Homes and Gardens Sledge Salad Plate (this is the 2015 Christmas version)
Better Homes and Gardens Cream Ceramic Lantern
Better Homes and Gardens Flour Sack Towels
I'm so thankful to be a part of the BHG Live Better Network.
Get the latest ideas and product information from
Better Homes and Gardens Live Better here:
BHG Live Better Website
BHG Live Better on Pinterest
BHG Live Better on Facebook
BHG Live Better on Twitter
BHG Live Better on Instagram