You would think that it would be so hard to build a table that stood the test of time and was beautiful. But there are so many table plans you can look up and follow! You can always start with one for your patio and then become brave enough to do one for your dining room! Farmhouse Tables have their own look and charm, with different bases and tops. You'd be SO proud of yourself and that gorgeous table you build. You could even save a pretty penny too! The best thing is that you can mix and match chairs you love with benches too. I hope you enjoy these farmhouse tables that are elegant in its simplicity.
This beauty was built with lots of people in mind- You can add extensions to each end of the table to make room for more!
Addicted to DIY
This is a pine table that became it's new gorgeous self with pieces from a pallet!
AKA Design
I love the darkness of the stain, but also how the table has its own imperfections that would not allow the stain to take in some areas.
at home with The Barkers
I love a fabulous round table, especially with a gorgeous base like this one.
DIY Swank
Made for little kids- but can be made for the bigger ones too. How fantastic is this!?
Ella Claire
Needing an island that you love? Take that old farmhouse table and turn it into one with countertop height legs and barstools.
Exquisitely Unremarkable
Simple stained wood boards sit on the gorgeously distressed legs.
It all Started with Paint
Maybe all you need to do is refinish the top of your table? Use tung oil to make that table look great again.
Julie Blanner
You can take that expensive table you bought from the furniture store or catalog store and give it farmhouse characteristics real easily!
Lehman Lane
This table got an upgrade with a gorgeous dark stain- highlighting the wood grain.
Little Glass Jar
You can take several tables and combine parts of them to make one table that will be the shining piece of your dining room.
Live from Julie's House
This is one great tutorial to follow for a simple but beautiful table, with a routed edge!
Miss Mustard Seed
I am in love with the oval top of this table and its beautiful gray stain!
Red Cottage Chronicles
This DIY Project came out wonderful (especially that base!) with a salvage gray wash.
Setting for Four
This little table for two has a gorgeous crackle with a little bit of beautiful yellow showing through. This was picked up off the curbside- with broken legs. And looks like new now!
Shoppe No. 5
I love how the top of this patio table has its own rustic charm with the weathered look.
Table and Hearth
You wouldn't believe that this table was redone with peel and stick wood planks! Sure changes life a lot huh!?
The Honeycomb Home
You'd never know there's several disaster stories behind this table if it was never pointed out. But this table- with its dark top and white bulky legs… It looks fantastic.
The Kolb Corner
This may be such a simple table with matching benches, but you can have your own set for less than $175!
The Purple Hydrangea
Do a paint wash treatment on your existing farmhouse table to give it a shabby chic look.
The Shabby Creek Cottage
I love how simple this table is. It truly highlights those aqua benches that fits it perfectly!
This Girl's Life Blog
Ok here's a new table that I modified to create my own farmhouse table!! New table, just sanded and painted it: X-Base Farmhouse Table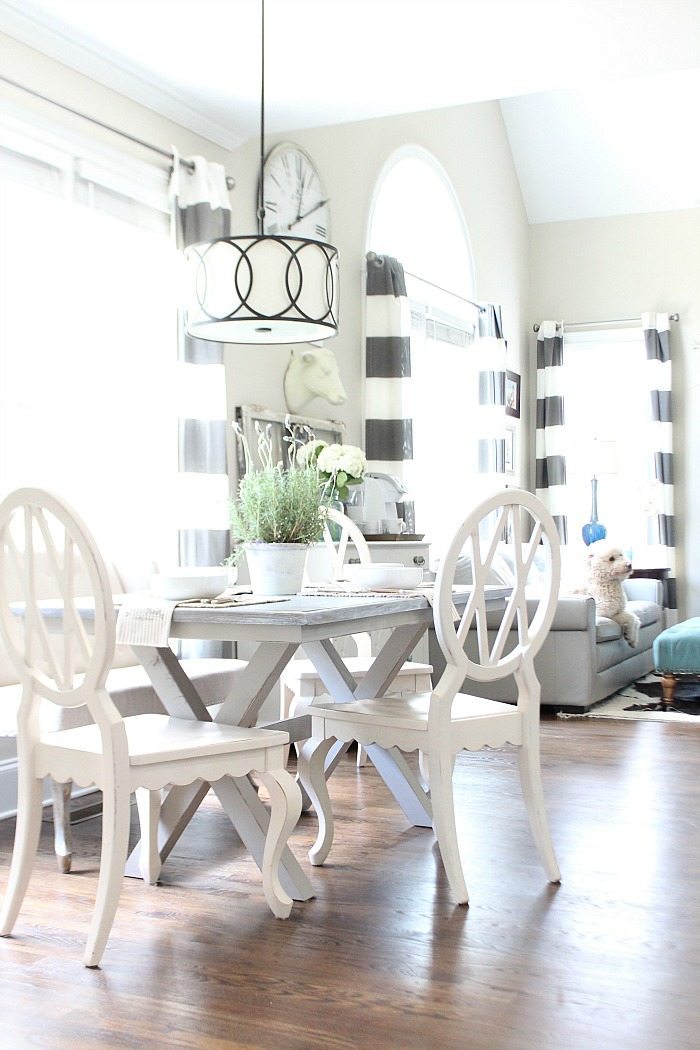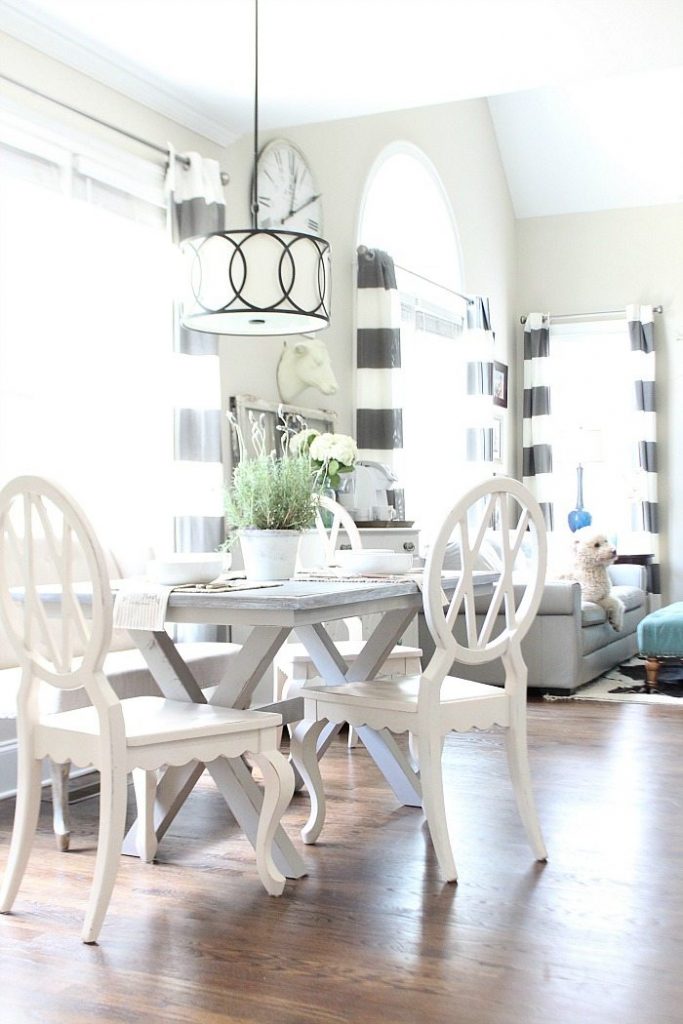 Do you think you could build one of these Farmhouse Tables? If you do, be sure to share it with us!