5 Ways to Update the Pantry
By Jennifer Riner of Zillow
Pantry spaces tend to go overlooked during home interior updates. After all, they are hidden away and tend to be rummaged through quickly during cooking or preparing meals. Given that the pantry is one of the most frequently visited storage spaces in the home, it should be equipped with organizational tools and design features to simplify mealtime.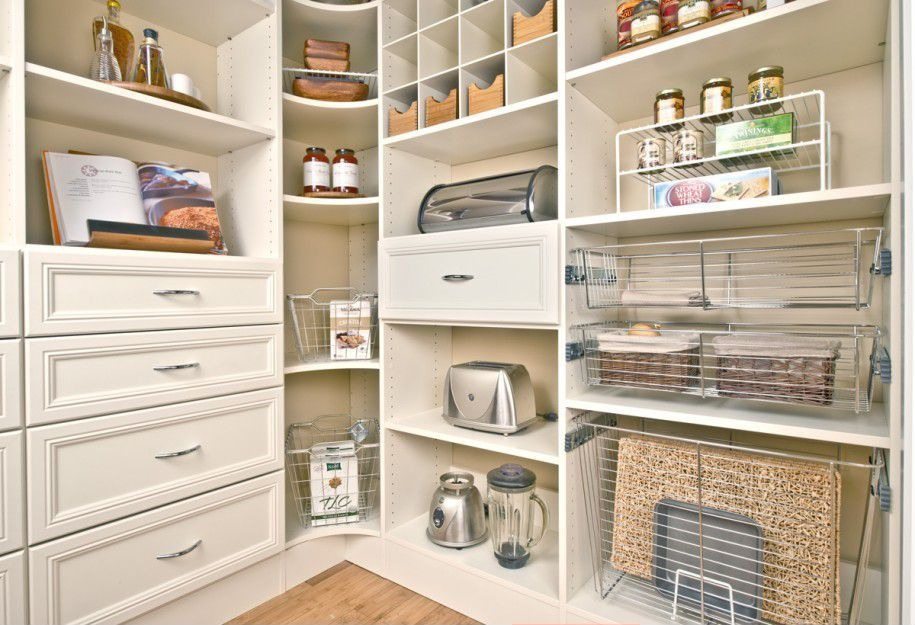 Consider upgrading a boring pantry space with these five face-lifts.
1. Hang Light Accessories and Supplies
Use vacant space behind pantry doors to hang wire shelves or hooks. Over the door shelving units are great for light items such as crackers, chips and coffee grounds. Mounted hooks hold kitchen utensils including oven mitts, spatulas, rolling pins and aprons. To really get organized, create an updated list to monitor usage of stocked items. A stock list can be written on a whiteboard or clipboard fixed to the back of the pantry door. Consider using chalkboard paint for quick, erasable notes and recipes. Use adhesive putty or 3m tabs to support small baskets for pens, sticky notes and chalk pieces.
2. Install Easy-Access Drawers
Pull-out drawers make food storage organization easier. Cans and boxes stacked in the back of shelves tend to go unnoticed for long periods of time, making them stale and useless. Consider revamping the pantry for easier access to less-utilized or over-stocked items such as tomato paste and dried pasta.  Newer homes on the market often come equipped with hidden, narrow pull-out pantries in between cabinets. To mimic the drawer effect, install customized built-in drawers in the existing pantry space. While somewhat costly, creating built-in drawers in the pantry leads to less wasted food. To create similar convenience with a less expensive DIY solution, stack plastic drawers or wicker baskets.
3. Line Shelves with Adhesive Paper
Add some pizzazz to boring white shelves with colorful lining paper. Not only does the paper protect wood from scratches and rings, it also adds a decorative element to an otherwise overlooked area. For wire shelves, consider covering with foam board before fitting with lining paper to ensure a smooth application. Covering open shelves also eliminates drips, crumbs and slips through wire slots. Drawer liners typically come with adhesive already applied, so homeowners need not worry about messy glue spills and sticky hands.
4. Mount LED Light Fixtures
Lighting used to be tricky without access to electrical wiring and outlets. However, LED lighting technology allows for anywhere installation, from closets to pantries. LED lights come in peel-and-stick or traditional drill-to-hang options. Battery-powered light fixtures turn on and off with taps, switches or motion sensors. Whatever installation techniques and additional features are preferred, overhead pantry lighting creates convenience in kitchens.
5. Store Dried Food in Dependable Containers
Cardboard boxes wear over time. After being shipped from factories, stocked in grocery stores and picked up and set down by countless customers, they tend to lose their structure. To avoid potential leaks from inevitable holes, pour crackers, cereals and baking supplies into plastic Tupperware containers. Air-tight containers also assist with the freshness of food. These containers can be outfitted with cute, consistent labels for easy viewing. Remember to recycle all unused boxes and wash reusable containers when switching out food items to eliminate allergy hazards.
Whether the pantry is walk-in sized or a small closet unit, these upgrades are sure to keep kitchens systematized, accessible and clean.
Pin it for later, it's great inspiration!

Five Ways to Update the Pantry!
Be Refreshed and Organized!