What do you do when you can't find an affordable not to mention large enough entertainment center to go under your basement tv? Here's what we did!
How to Build an Industrial Console Table – Custom, Heavy Duty, Mega 7′ Long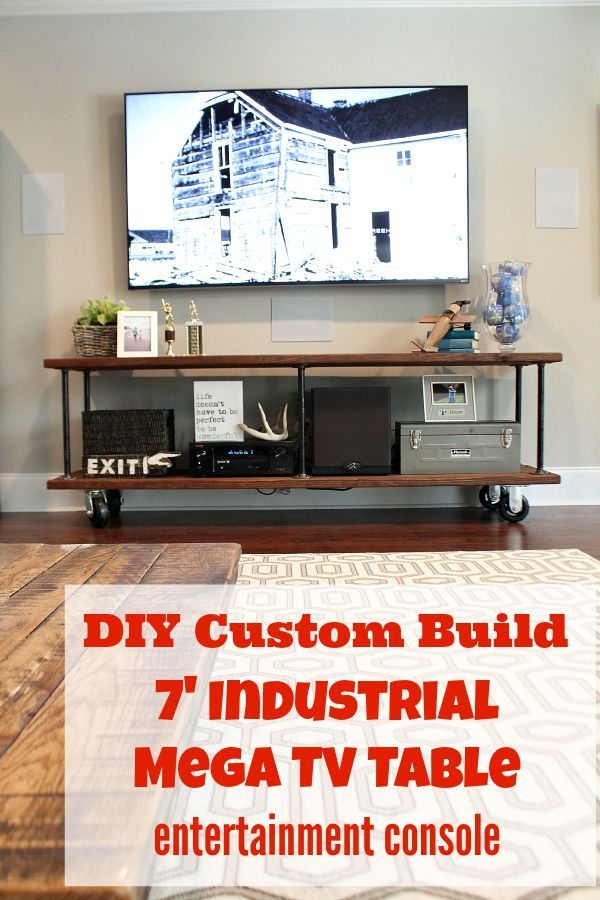 Back in the basement with another DIY. Did you see the barn wood wall in kitchen? Be sure to check it out. We are loving our casual entertaining areas in the basement! Good timing too, with the new episodes of Fixer Upper and of course football season coming up 🙂
Supply List:
4 – 7 foot long  2″ x 10″ pieces of lumber

6 – 3/4″ black pipe nipples at 18″ each

12 –  3/4″ floor flanges

48 –  1 1/2″ screws to attach floor flanges

4 – 5″ casters

16 bolts to attach casters

Kreg jig to create pocket hole to connect the lumber

Screws

stain or paint of your choice
We had the guys at Lowe's cut the  (4) 2″ x 10″ for us to 7′ long and we used the Kreg Jig to drill pocket holes to join the boards. We created 2 sets of shelves, so that we would have an upper and lower shelf. The jig makes it easy, you just set the depth (you set – see the gray section of the jig – the size of wood you're using and slide to determine the depth of your pocket hole – ours was 2″) clamp on the jig and drill to the stop. I purchased a variety set of Kreg screws and that's what we used to join the boards. I cleaned the 18″ black pipe nipples and attached the floor flanges to each end. We used bolts to attach the flanges to the bottom shelf about 1 1/2″ in on each end and centered the other 2, flipped it over and attached them to the top. While we had the piece upside down, we attached the heavy duty casters. After we admired our handy work for a few minutes 😉 I stained the piece.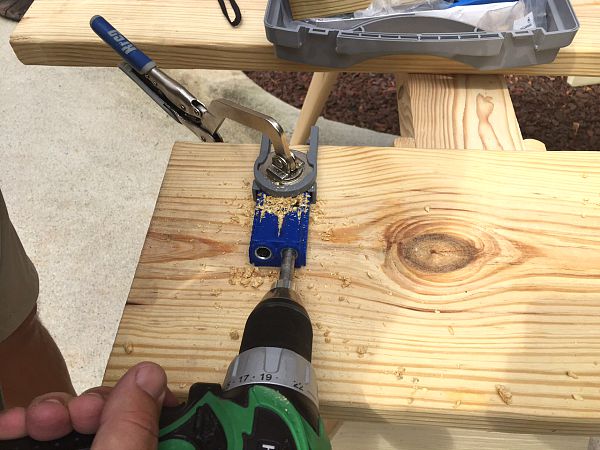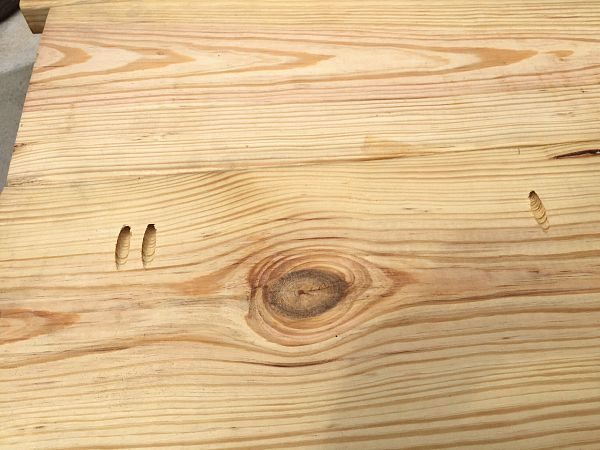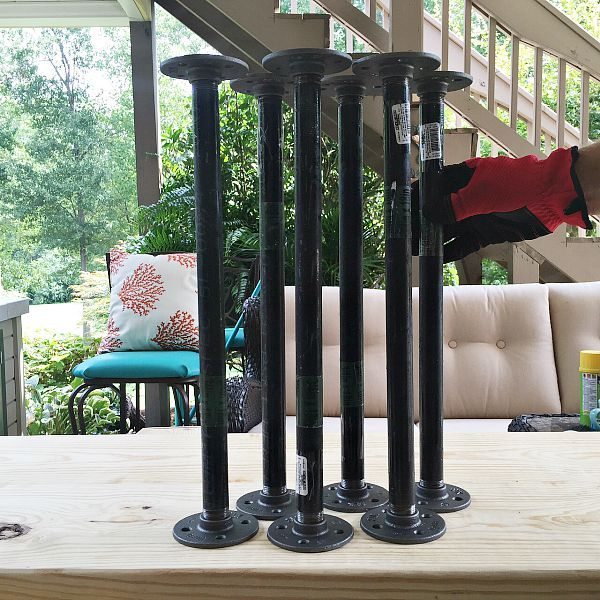 Using the jig to create pocket holes allows you to join the wood from the bottom, so it's not visible from the top.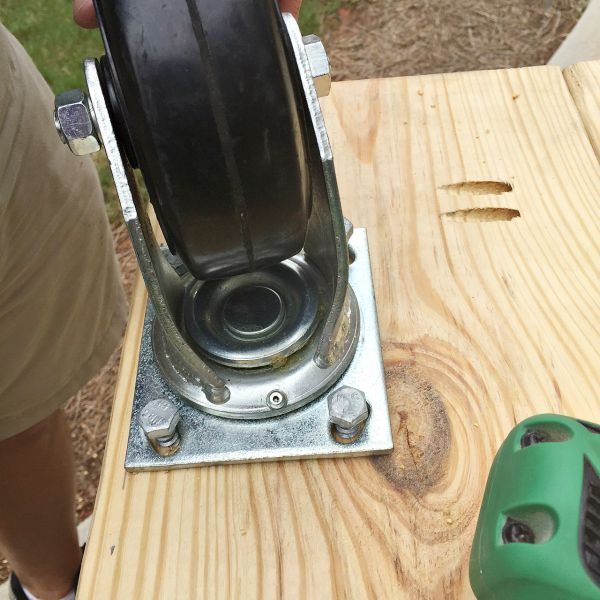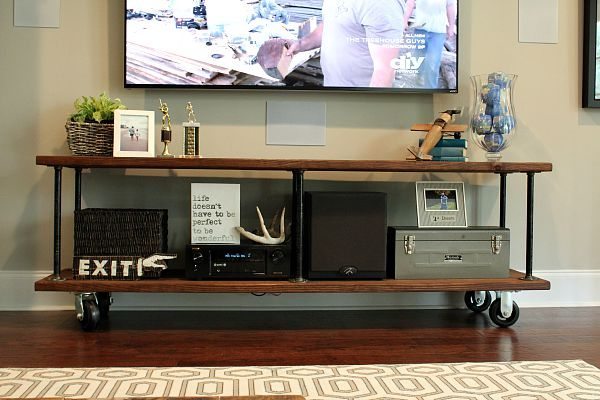 I searched and searched for a piece of furniture to hold the sub-woofer and the surround sound components but I couldn't find anything affordable that fit. We needed something wider than the tv but no taller than 30″ so it wouldn't cover up the center speaker that Mr. Refresh painstakingly installed, he actually installed all 7 the speakers.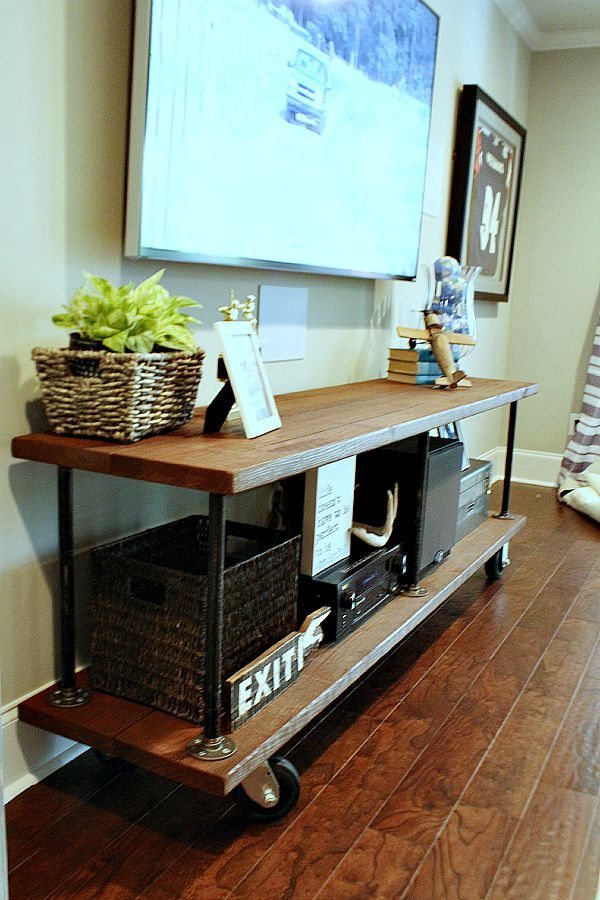 Perfect for our tv viewing area.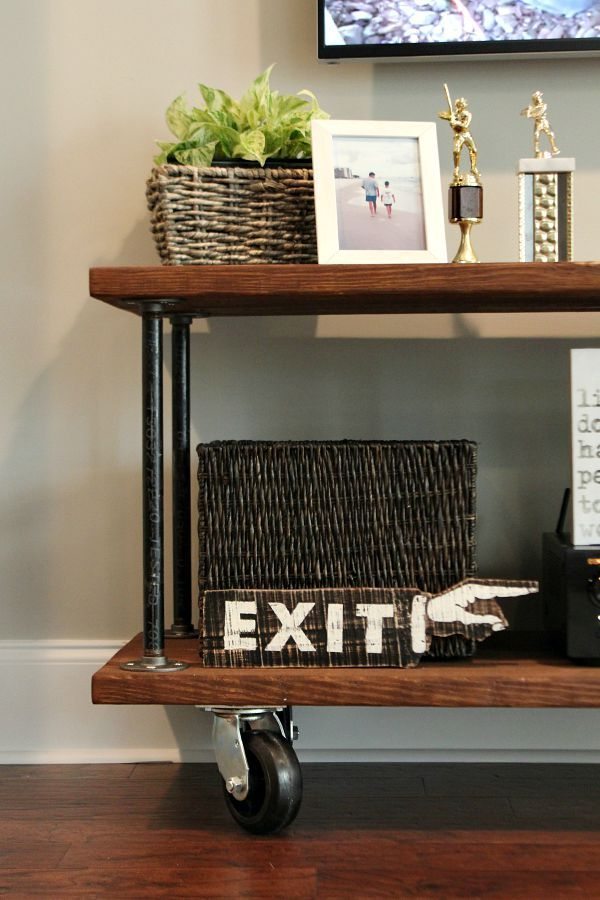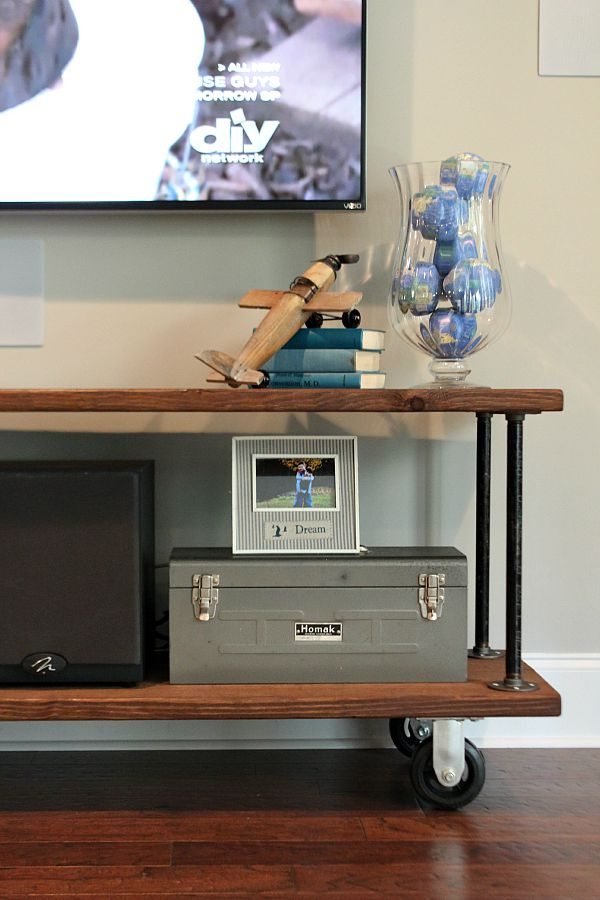 Here's my Amazon affiliate links for supplies used:
Kreg Jig Screws – Variety pack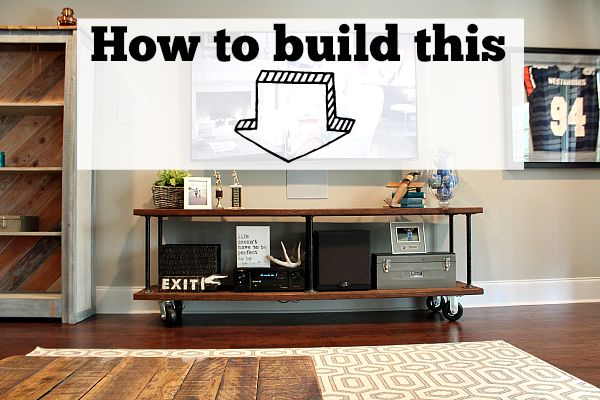 How to build an industrial console table – custom DIY for your tv!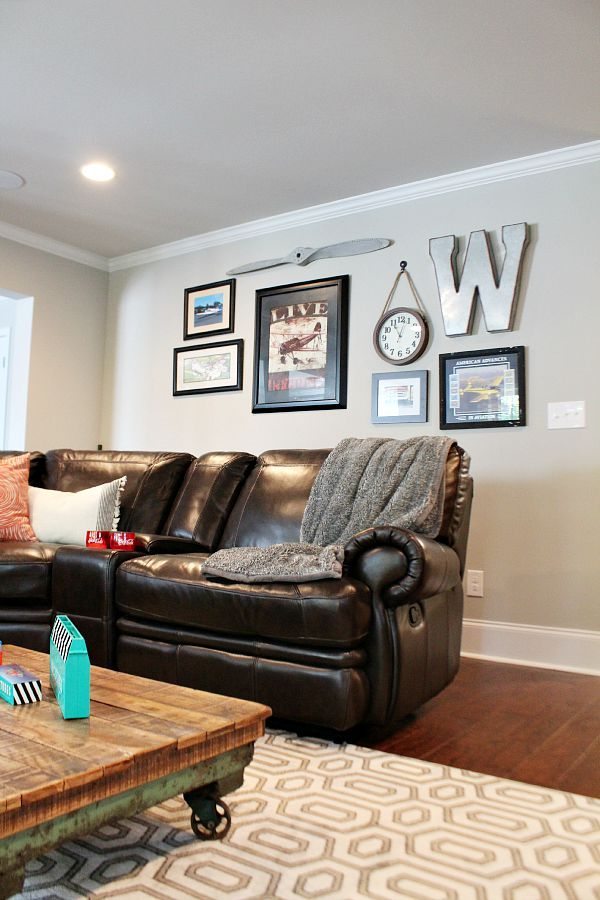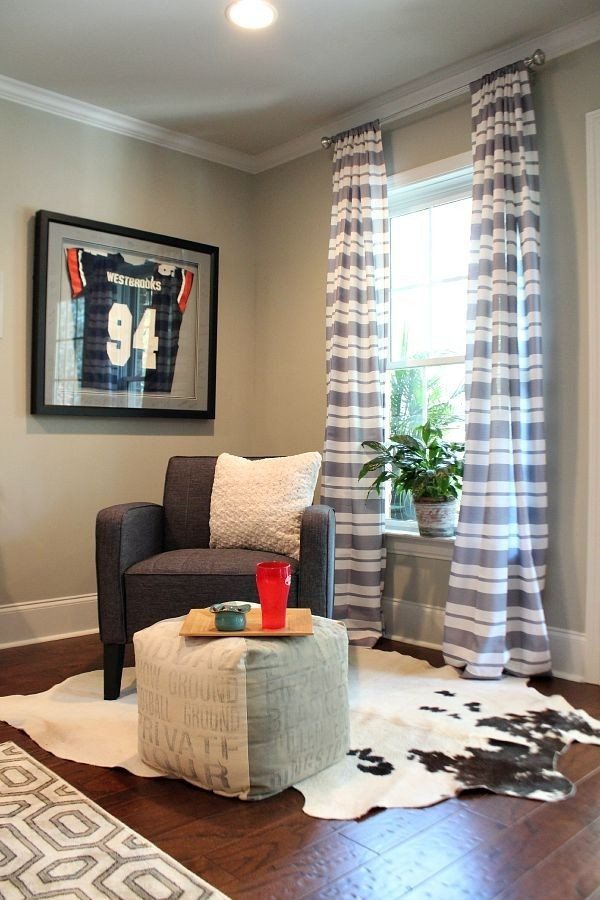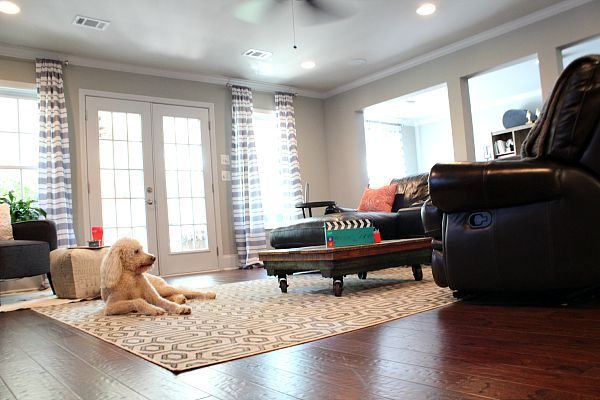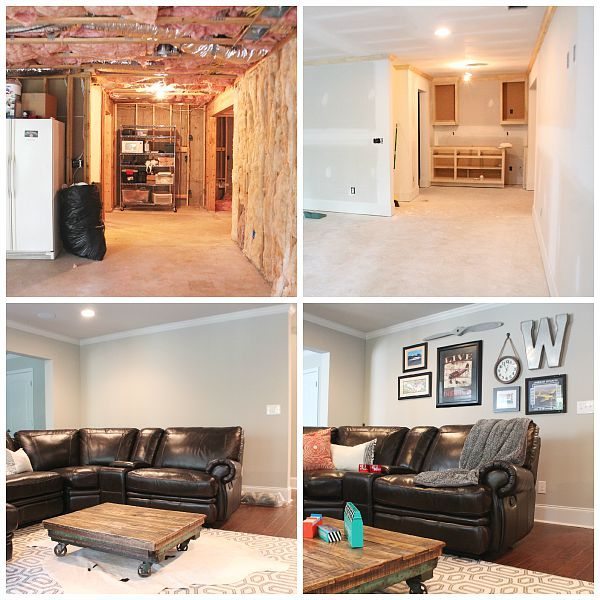 The basement has come a long way! We love spending time here, watching football games on the big screen and entertaining friends and family!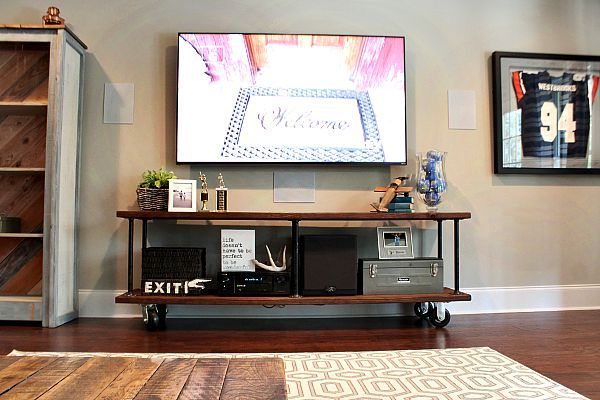 Did you see the kitchen area?