Do you have a bookcase or shelf that needs a little refresh? Well you've come to the right place!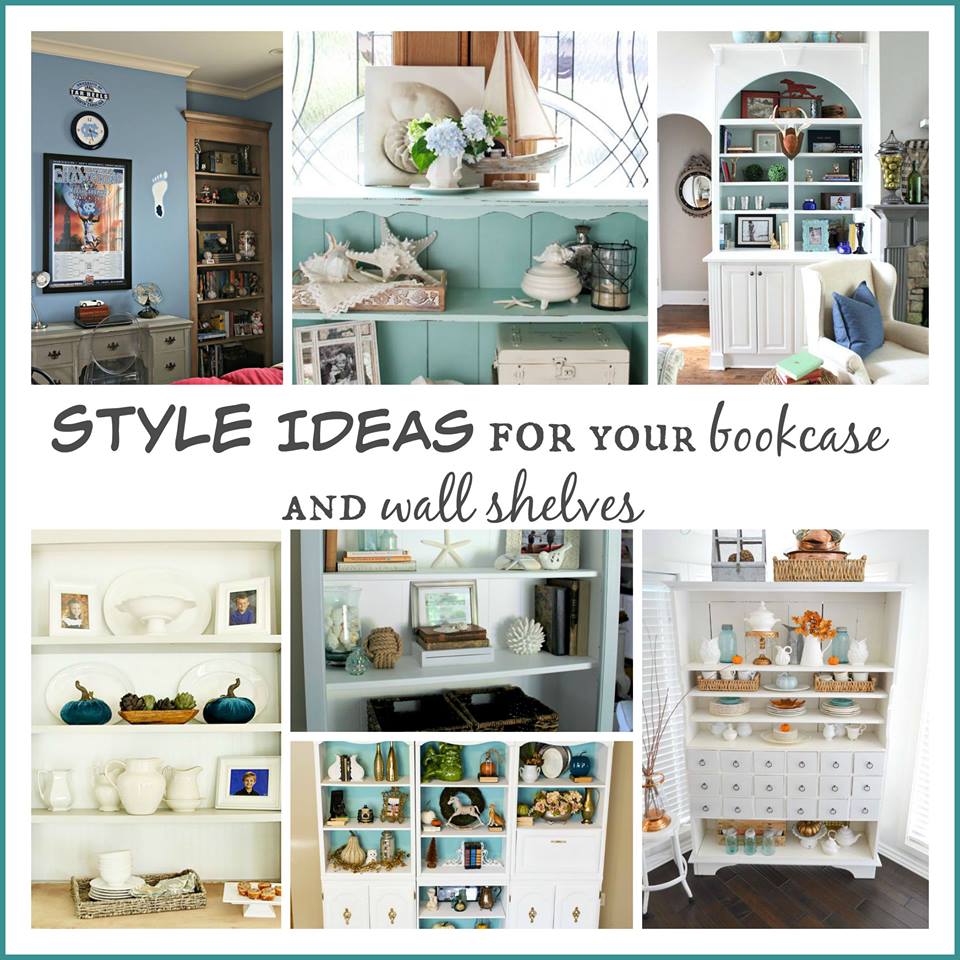 Welcome to the Bookcase – Shelf Edition of decor ideas from our Decor Enthusiast team. Today we're sharing our ideas and tips for styling bookcases – that any one can use to create a beautiful yet functional bookcase or shelf! Be sure to visit my decorator friends listed at the bottom of the post.
It's hard to believe we moved in to our current house a year ago! I was really lazy about decorating these awesome bookcases in the living room. I just unpacked and put stuff on them randomly. Moving is hard, unpacking and figuring out where to put stuff is even more difficult.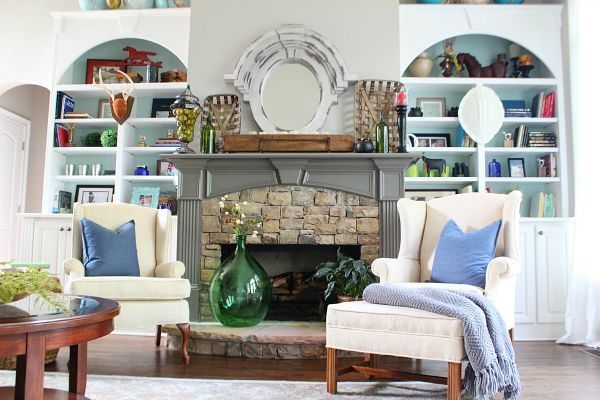 Ready to rock the bookcase:
Remove everything from your bookcase and if you're like me, it's a great time to dust.
Separate your collections in to like groups: horses, candles, photos
First things first, are you a collector? The answer is yes if you have at least 3 things that have something in common. I didn't even know that I collected "horse" stuff until I looked at my bookcase and noticed that I have 5 vintage horse trophies, a wooden horse weather vane and a large horse statue. You see it, you buy it and before you know it you have a collection because you bought several things that you like and they all have something in common.
Books, yes it's a bookcase. Make a pile for each different color of book, I styled with like-colors.
Books divided by color look great, if you have subjects that you'd rather keep together, think about covering the books with brown or white paper to make them more cohesive. This way you won't be searching colors when you're really looking for titles.
Family photos – great for scattering around the bookcase
Several small to medium framed photos break up the space on the shelves not to mention the grand kids love seeing their photos from when they were younger. Unless it's a bath tub photo that my soon to be 9 year old grandson just saw on Instagram. He was young and there were plenty of bubbles.
Small plants – real or not look great on a bookcase.
Use the age old tip of odd numbers – 1, 3, 5 always a great idea for any kind of decorating.
Take a photo of your bookcase and study it…I do this all the time when I'm decorating any space. It helps to see where you need to add or take away something.
Paint the back of your bookcase blue! Any color that you love.
Start at the top and work your way down. Mix your collections and photo on different shelve. Don't put all your books on one or two shelves. Mix it up: collection, photo, plant, candle and books.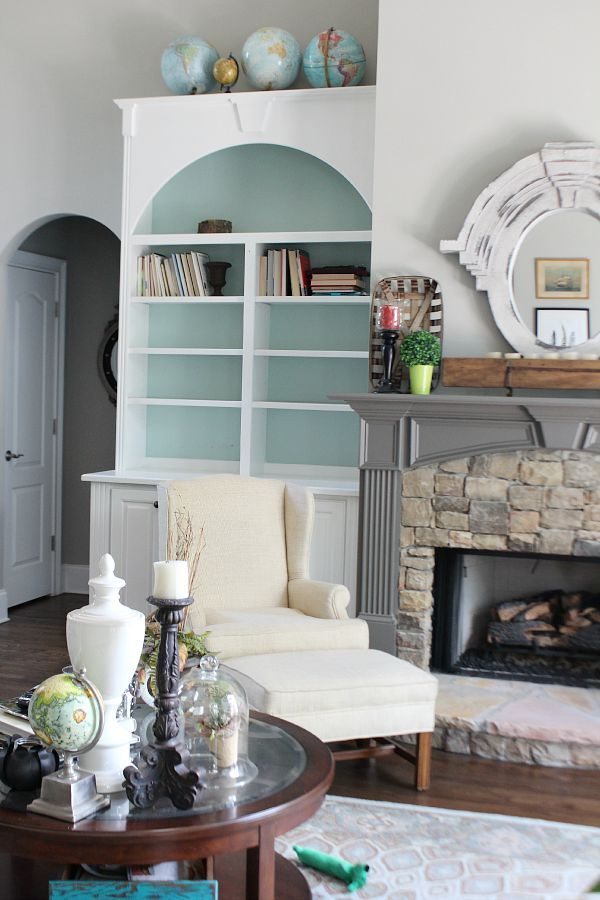 I scattered my current horse obsession about on both sides. And just so the other animals didn't get jealous I hung my Nate Berkus faux turtle shell smack dab in the middle. You can do that with anything. A painting would look great there too! You can see how I stacked and leaned a few books by color.
On the other side my antlers (a thrifty find – gift from my daughter) are hanging in between the book cases. My husband isn't a hunter, he's a golfer.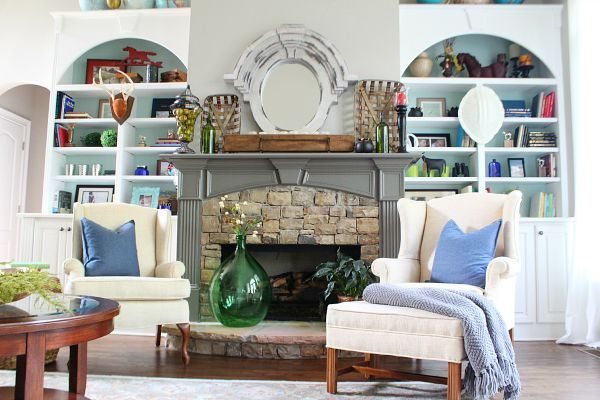 Both sides are very different but they are balanced with varying item placement and breathing room. Don't stuff your bookcases too full.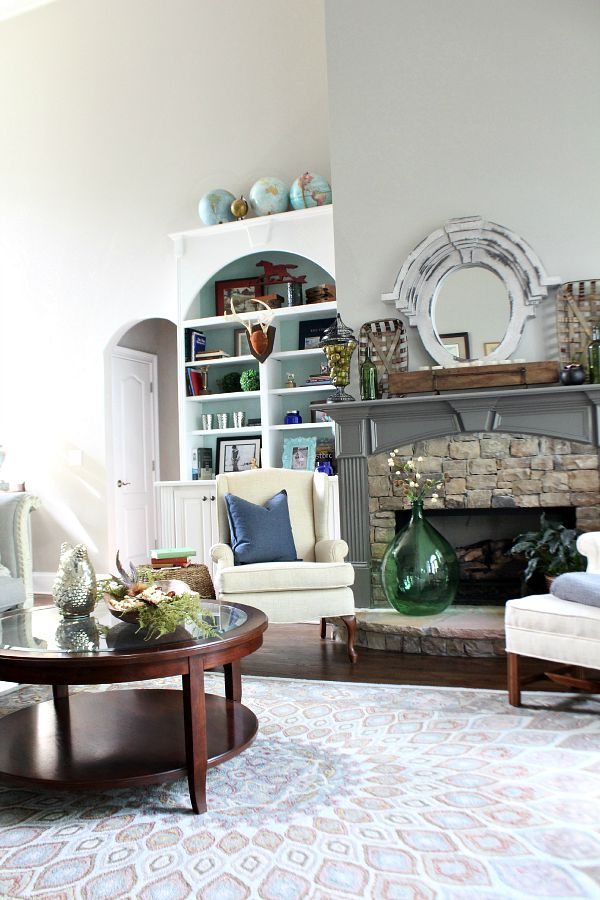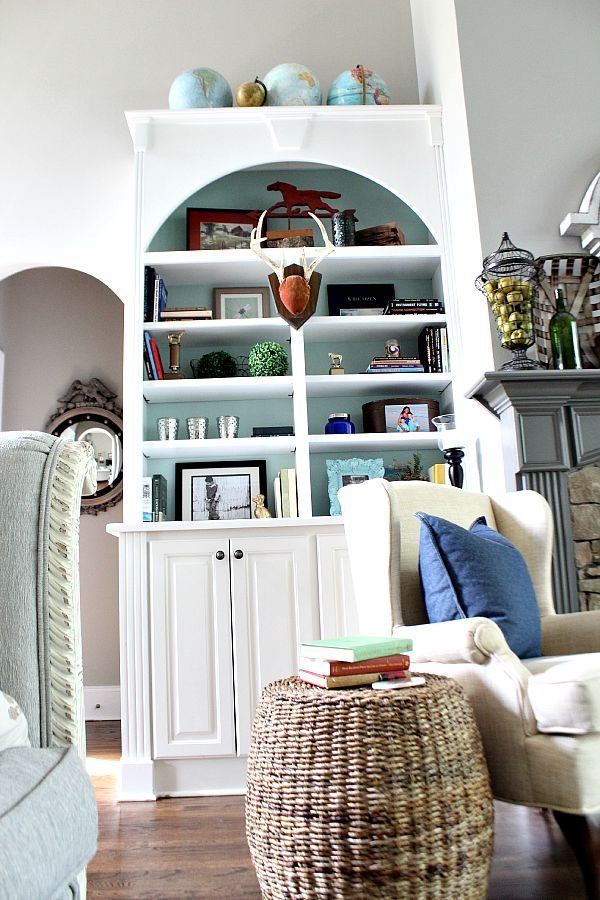 Horses, trophies and photos for this side too! Both topped off with a few globes.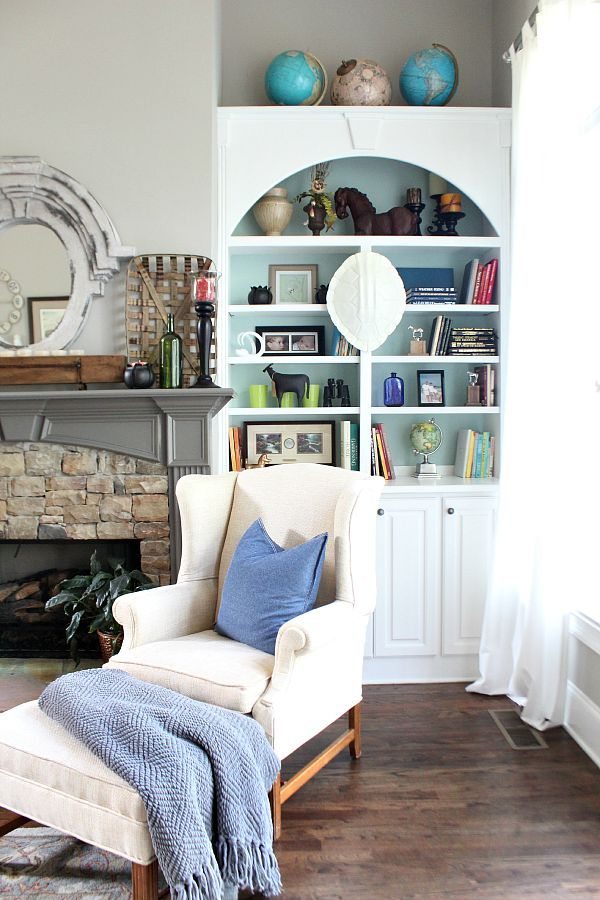 I'm a little excited to see that I have more room for globes.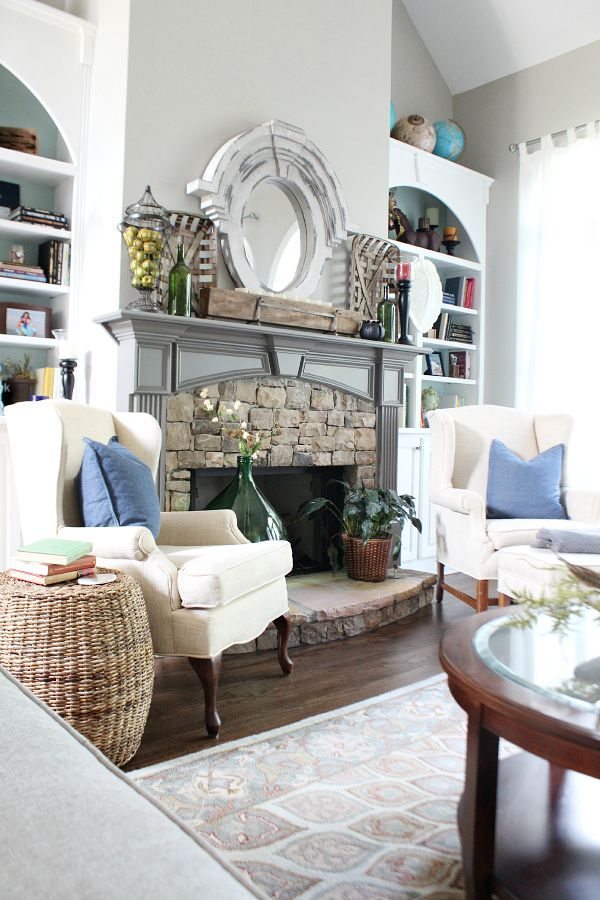 A couple of Goodwill chairs flanking the fireplace make a great spot for reading.
---
Go tackle that bookcase and let me know what you changed!
Check out all these ideas:
Confessions of a Serial Do-It-Yourselfer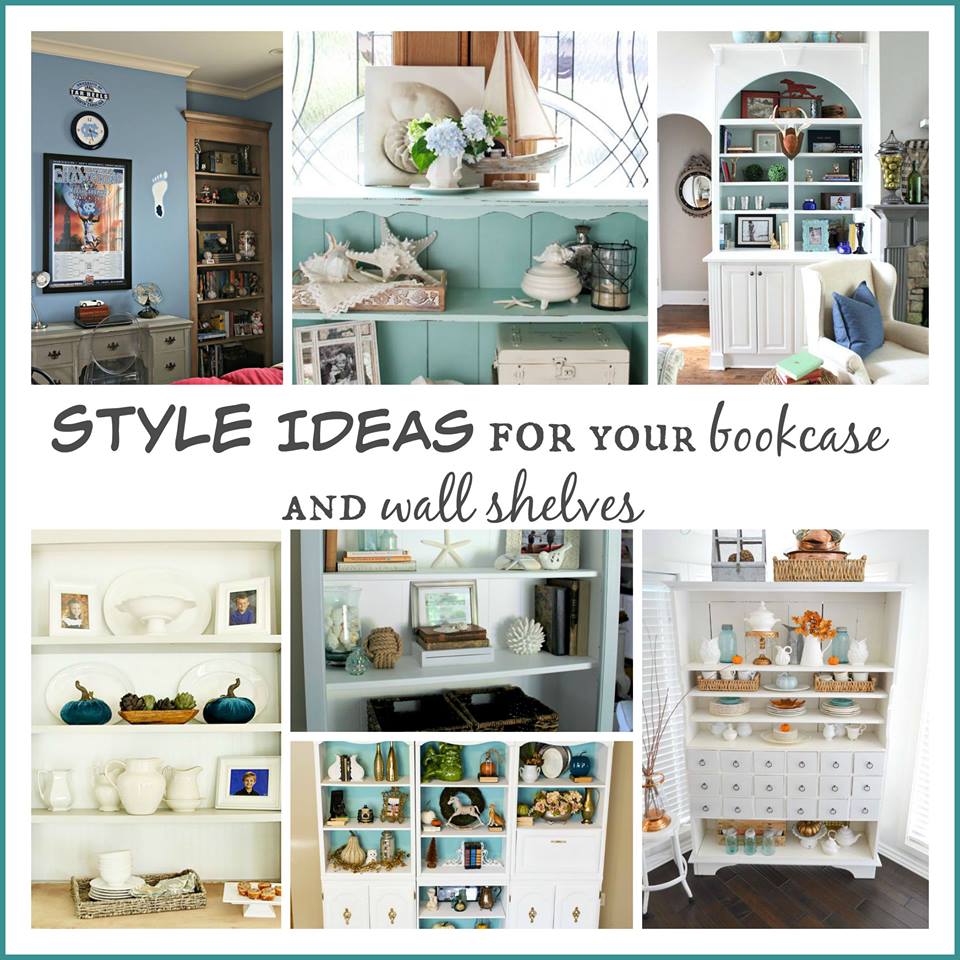 See what we're doing on Instagram!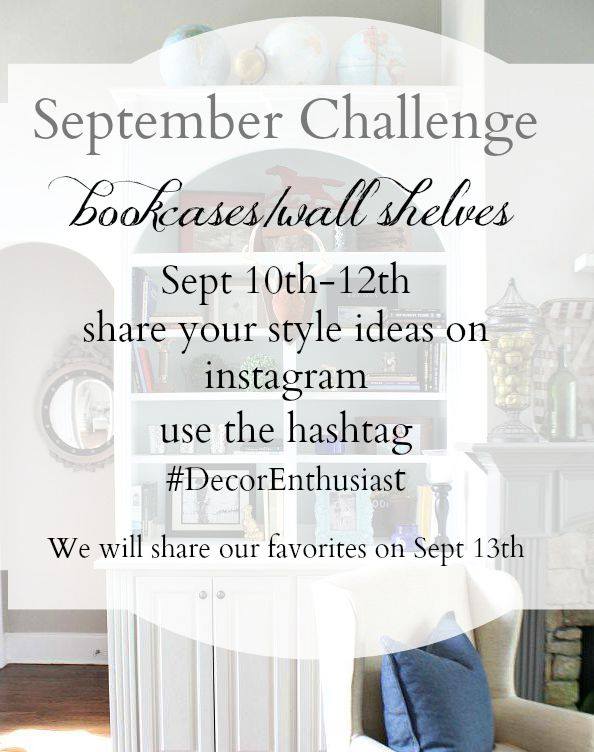 If you have Instagram accounts…
1. Add your own post (Decorated Shelves or Bookcases)
2. Tag it with #DecorEnthusiast hashtag so we can find you
3. Follow all 7 of the hosts over on Instagram
We will choose a winner that will be featured on all 7 of our Instagram feeds on Sunday, September 13th!
Follow here:
@artsychicksrule  @christykjames    @oursouthernhome    @restorationredoux    @refreshrestyle   @dukemanorfarm   @foxhollowcottage
---
Join us on Facebook:

Are you ready to participate with us? You can!!! We wanted to give you a chance to share your amazing decorating tips and projects and to ask questions and advice, so we have created a forum specifically to do that on Facebook. Visit the Decorating Enthusiasts page HERE to begin chiming in and sharing what you have done.