Do you get excited about finding cool junk, I do! Today I'm sharing a custom industrial cart coffee table – I'm not sure what it was in it's former life – but we are loving it now. It had wheels and was made of metal – why not make a coffee table?
It's time for our monthly Power Tool Challenge! It's all about repurposing. Be sure to see all the projects at the end of the post!
My children and one of my grands love junking, so when my daughter found a new to us junk store near her home in Tennessee, nothing could hold us back from jumping in the car and heading over there. We actually took two cars, I think we anticipated a big haul! It's hard to believe that was a year and a half ago, I can't believe it took me so long to get to the project. You will see that the project below is super easy to do, it just took some thinking on my part. I kept looking at the bare metal cart swirling ideas around in my empty head, what can I use to make a top for this?
Repurposed – Industrial Coffee Table from a metal cart: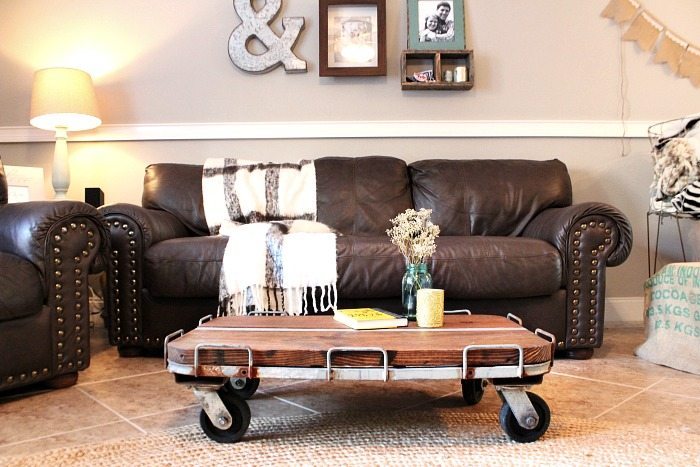 I used part of a header that was removed when we completed the basement <<click. I made sure to tell the contractor that I wanted to keep any wood wasn't being used! These 2″ x 12″ pieces of lumber made a perfect top for the coffee table. I love it when I don't have to purchase anything.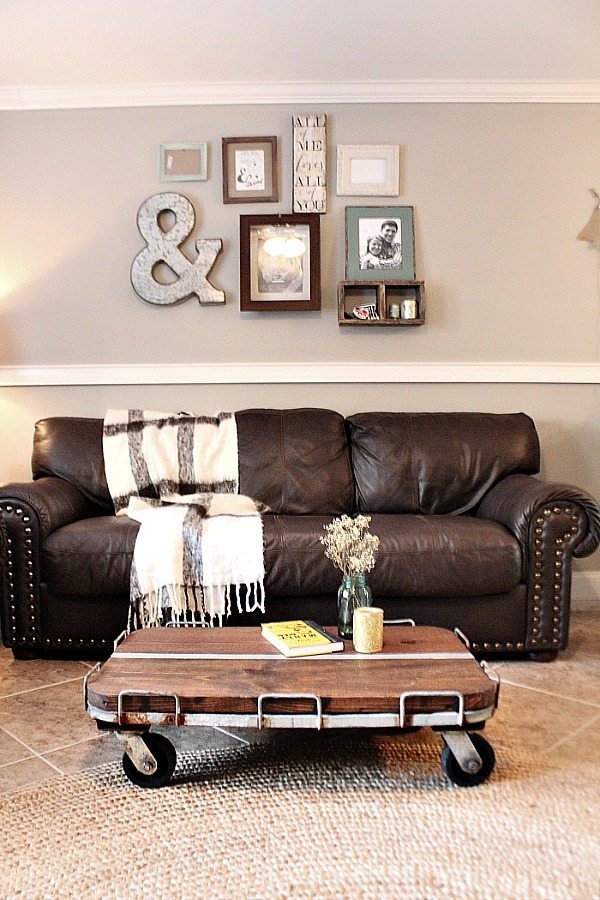 Supplies:
2″ x 12″ lumber
2″ x 2″ lumber
mask
skill saw or miter saw that can cut a 12″ board
sander (make it smooth like butta)
Clear coat to seal in the rusted areas of the metal cart
stain of your choice
silver spray paint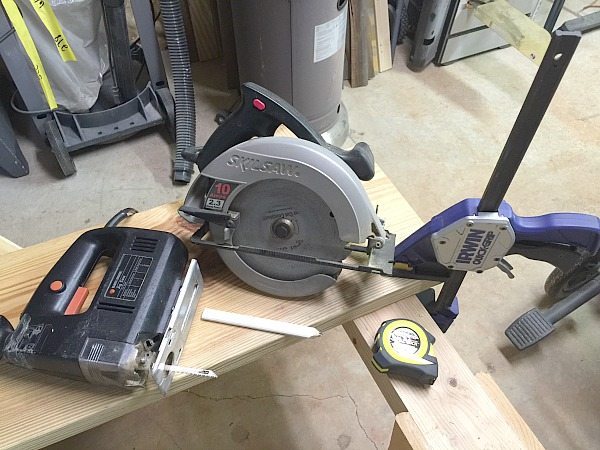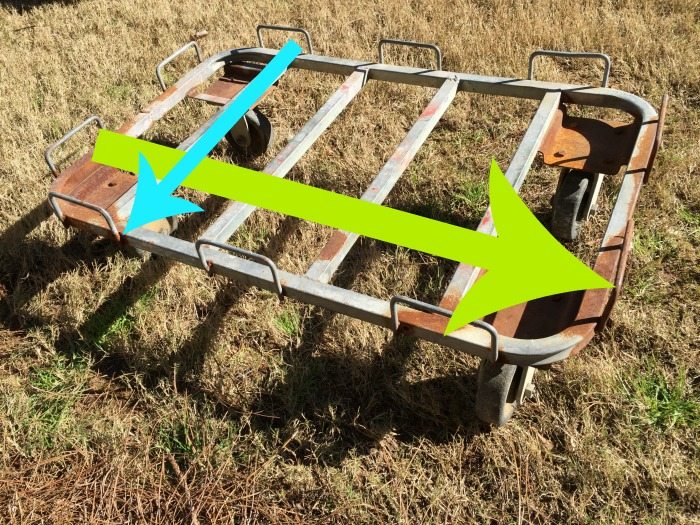 It's not likely that you will find the exact cart, but if you do, let me know! These are general instructions that you can use when you find the perfect industrial cart for your project.
Measure area for cuts, after measuring I determined that 2 – 2″x 12″ and 1 – 2″ x 2″ would fill the area perfectly. Lucky!
Cut 2 each 2″ x 12″ to fit
Cut 1 – 2″ x 2″ for center to fit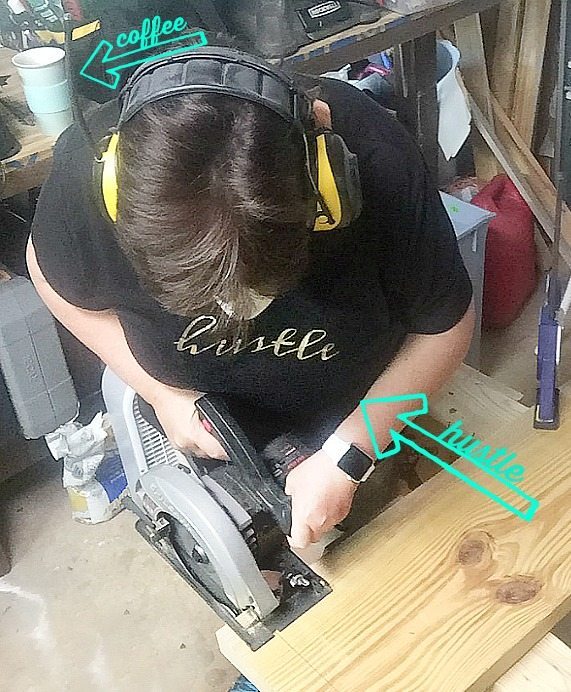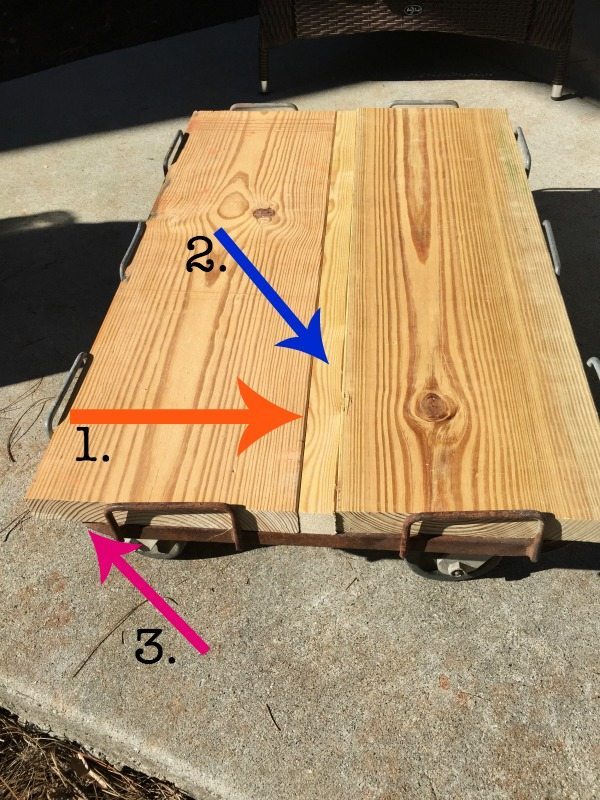 Fit the 2″ x 12″ wood on each side.
Fit the 2″ x 2″ for the middle
Use a pencil – mark from the bottom for the rounded edge.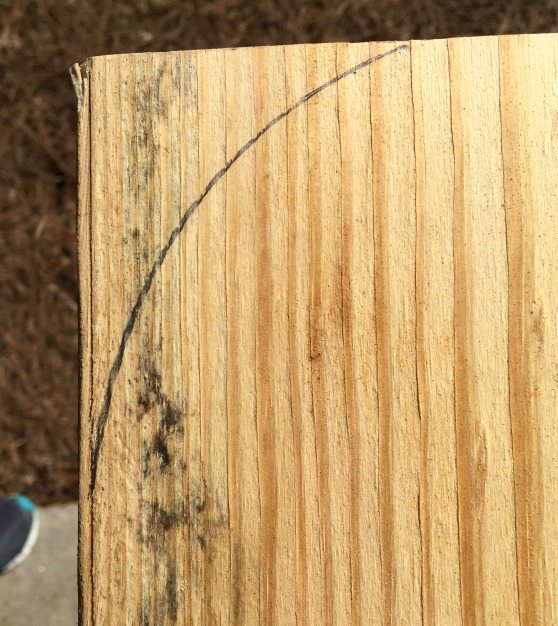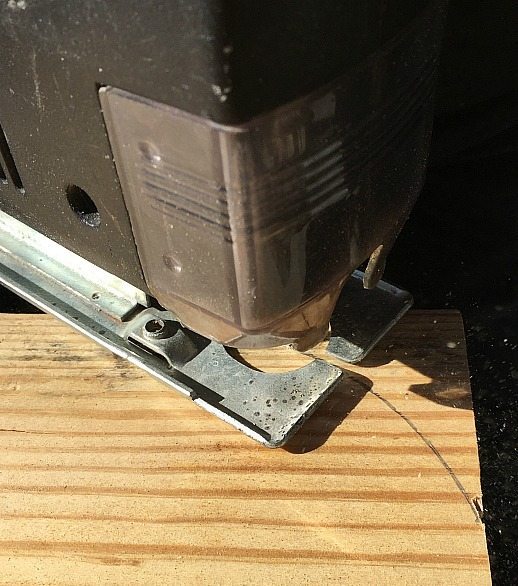 Use a jig saw to cut the rounded edges
Sanded each piece of wood
Stain with desired color
Paint the center piece of wood with silver spray paint or color of your choice.
Clean the metal and spray it with a clear protective coating. I love the rust but I don't want it coming off!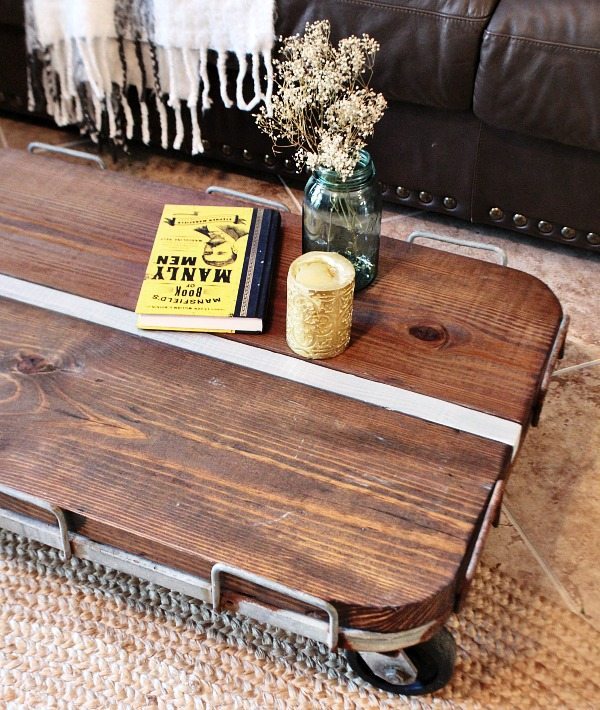 The wood fit miraculously in to the frame, I just placed it in with a few wiggles! It's heavy and snug as bug in rug or wood in a cart.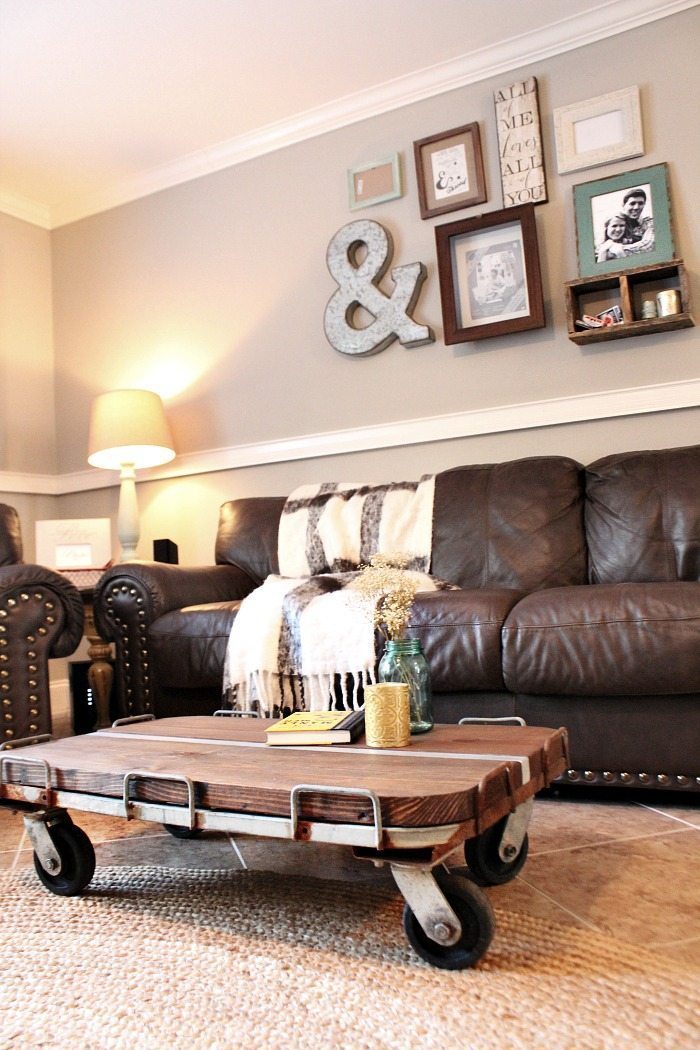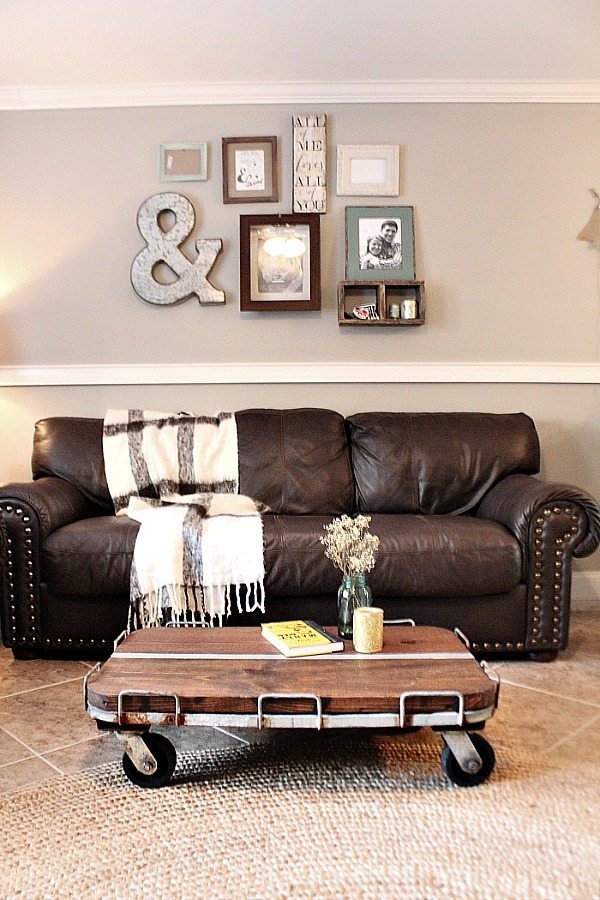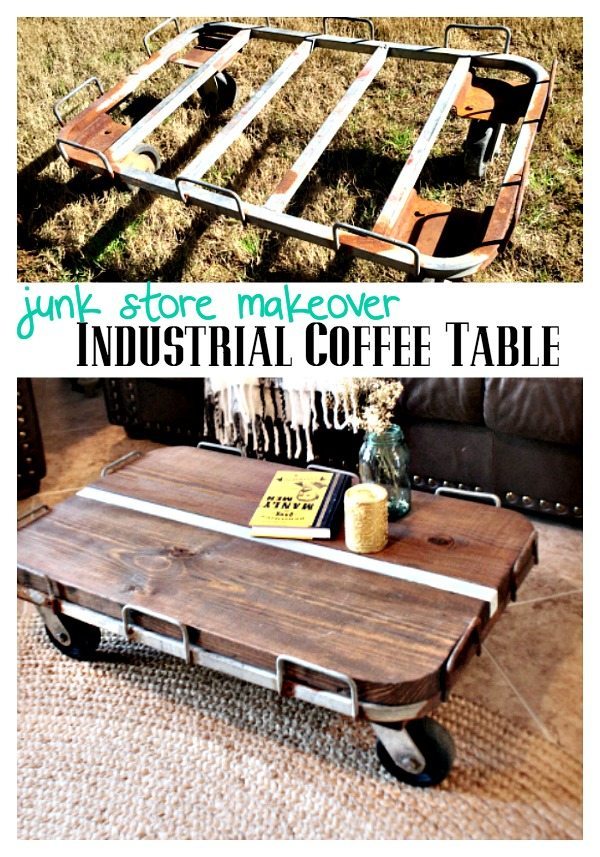 Yes it took some thought to repurpose this industrial cart in to a coffee table but it was well worth it! Remember with the right tools and a little lumber you,
YES YOU

, can create anything!
Be sure to visit the rest of the Repurposed Projects:
1 Hanging Picket Pendant Light by Designed Decor
2 Garden Bench by Create and Babble
3 Bed Spindle Pedestal Bowl by H2OBungalow
4 Industrial Cart Coffee Table by Refresh Restyle
5 Mid Century Headboard Bench by My Repurpose Life
6 Framed Wall Spool Rack Upcycle by Kim Six
7 Vintage Tennis Racket Table by Virginia Sweet Pea
8 Recycled Wood Plant Stands by Designs Bt Studio C
9 Rustic Coffee Mug Holder by Interior Frugalista
10 Repurposed Cabinet Door String Art by Domestically Speaking