If you are you looking for a new DIY project to spruce up your home decor, look no further than this Mod Podge Map Project! With this fun and creative project, you can transform an old map into a beautiful piece of art that showcases your wanderlust and adds a unique touch to any room.
I received a box of amazing craft supplies from Plaid and it included a shopping card from Walmart.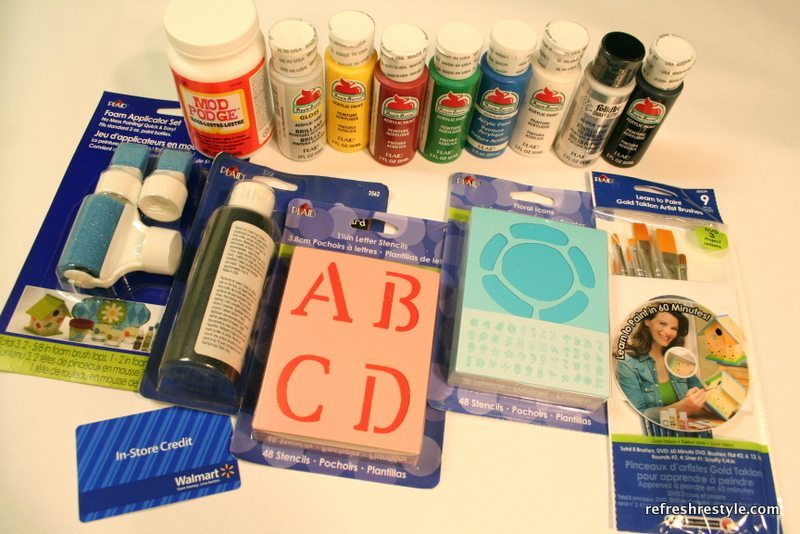 I couldn't wait to go shopping and find something to create.
Have you seen all the Plaid craft supplies at Walmart?  The craft department is filled with tons of options!
They had everything that I needed to create a fun summer tablescape: Mod Podge, FolkArt chalkboard paint and Apple Barrel acrylic paint 🙂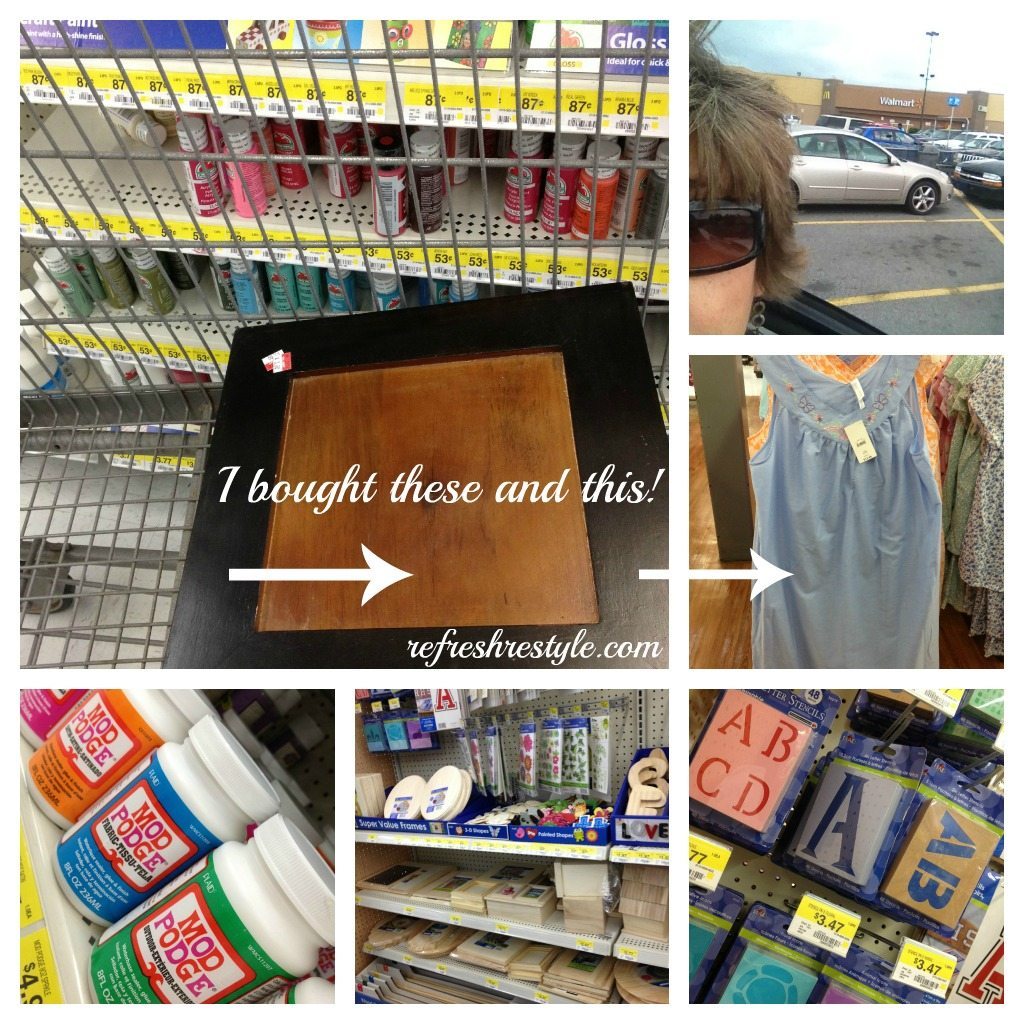 So many choices!  
Road trips are a big part of our summer, so I decided on a road trip inspired tablescape.  I bought square chargers and I searched for a chambray fabric for my napkins.  When I didn't find what I wanted in the fabric department, I headed to the clothing section.  Bingo!  A shift type dress was made of exactly what I wanted!
Mod Podge Map and Chalkboard Center Chargers
Supplies
To get started, gather your materials: an old map, Mod Podge, a foam brush, and a canvas or other surface to apply the map to. Once you have everything you need, it's time to get to work!
Map
Chargers
Mod Podge and sponge applicator
Ruler
X-acto knife
FolkArt Chalkboard Paint
Chalk
Directions
First, select the area of the map that you want to feature on your canvas. This could be your hometown, a favorite travel destination, or any other location that holds special meaning to you. Next, apply a generous coat of Mod Podge to your canvas, making sure to cover the entire surface.
Carefully lay your map on top of the Mod Podge, smoothing out any wrinkles or bubbles as you go. Then, apply another layer of Mod Podge on top of the map, using long, even strokes to ensure that it adheres smoothly to the canvas.
I measured the charger, used a pen and ruler to mark the 4 pieces of map to fit the area that I was going to Mod Podge.  I applied the Mod Podge to one area at a time, lined up the map and positioned it on to the charger. Pressing out bubbles as I went.  Repeat 3 more times, until the charger is complete.
When the Mod Podge Map Dries 
As the Mod Podge dries, you'll begin to see your map project take shape. And once it's completely dry, you can add any additional touches or embellishments that you like.
Once everything was dry I applied Mod Podge over the top of the mapped area.
The Mod Podge Map Project is a great way to add a personal touch to your home decor, while also getting in touch with your adventurous side. So why not give it a try? With a little bit of creativity and a lot of Mod Podge, you'll have a beautiful and unique piece of art that's sure to impress.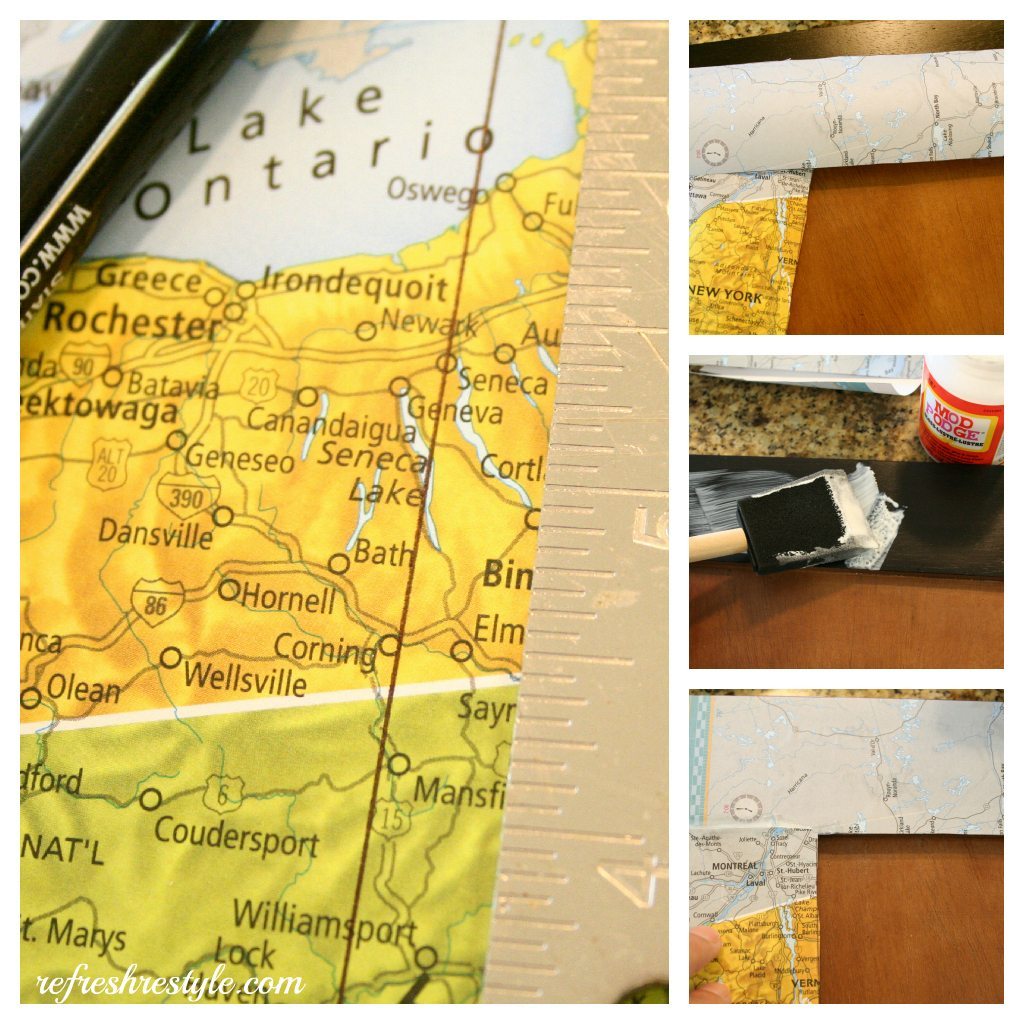 Chalkboard Painted Center
As I was applying the map to the canvas, I suddenly had the thought to add a chalkboard texture to the center of the map. This would allow me to write on it with chalk, adding a fun and functional element to the project. And let me tell you, it turned out even better than I could have imagined! Read on to learn how to create your own Mod Podge Map Project with a chalkboard center.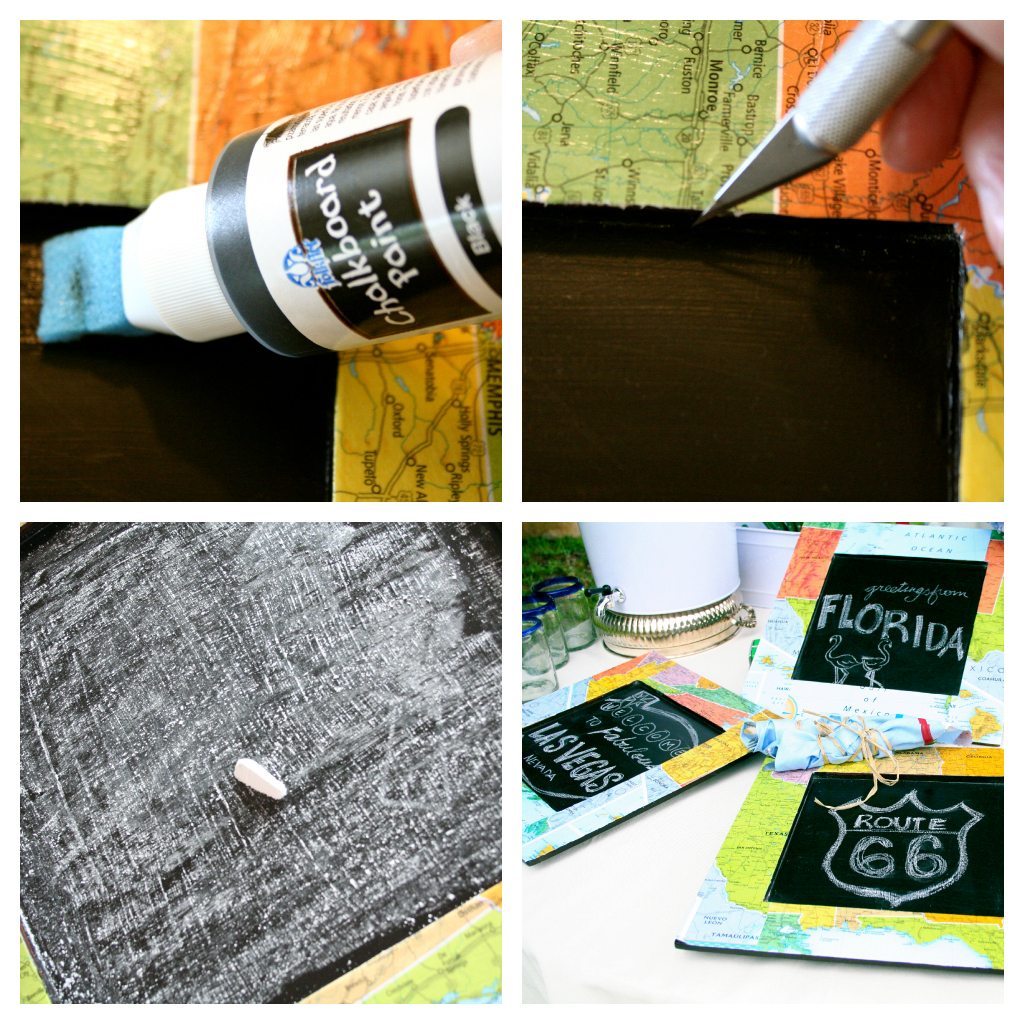 I applied two coats of FolkArt Chalkboard Paint to the center of the chargers. I love this chalkboard paint. It went on so smooth and dried dark. Cure the chalkboard by rubbing the entire area with chalk.
After everything dried I used my X-acto knife to trim the overhang of the map.
Staying with my theme, I chalked popular road trip sites :).
Napkins Painted with Apple Barrel Acrylic Paint
Supplies
fabric
painters tape
Apple Barrel acrylic paint
pinking shears
Cut fabric in to 18″ squares, tape off the design and paint with Apple Barrel acrylic paint.
Here's how it all turned out: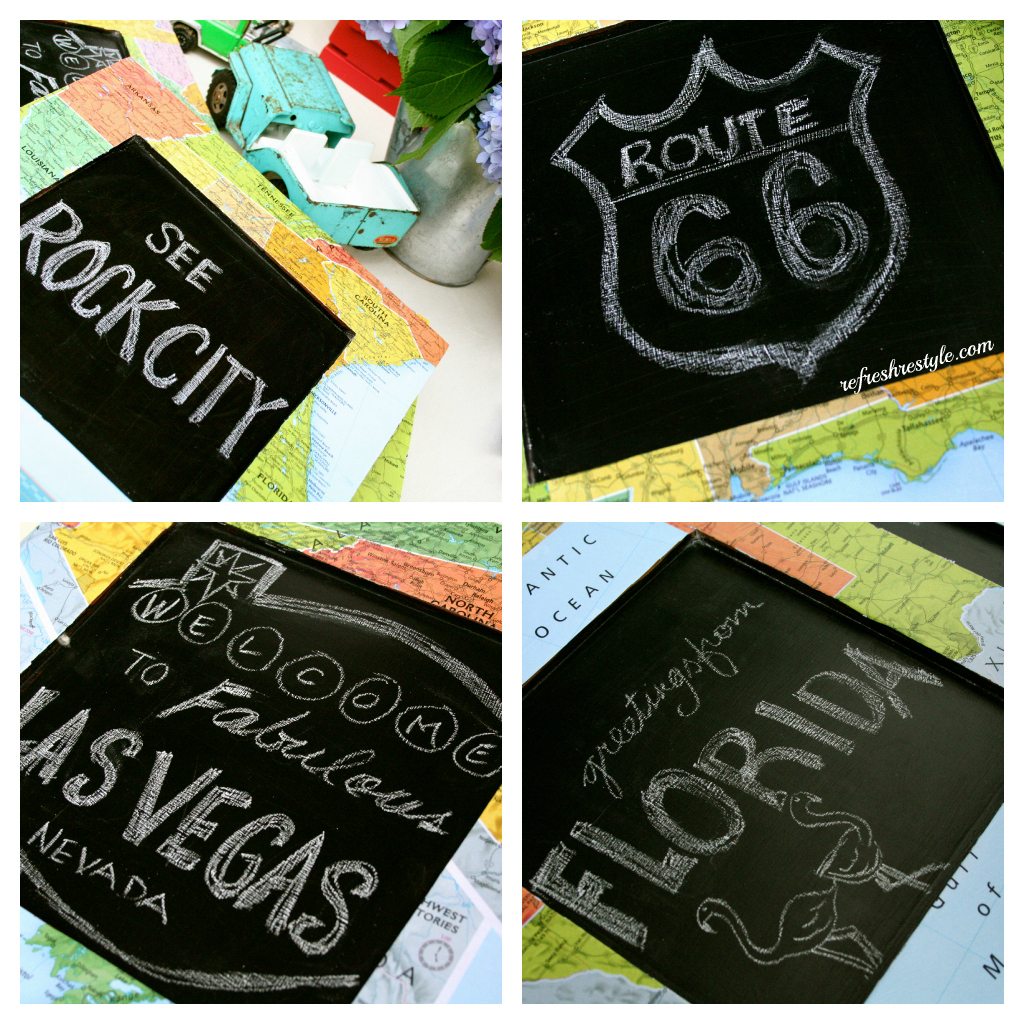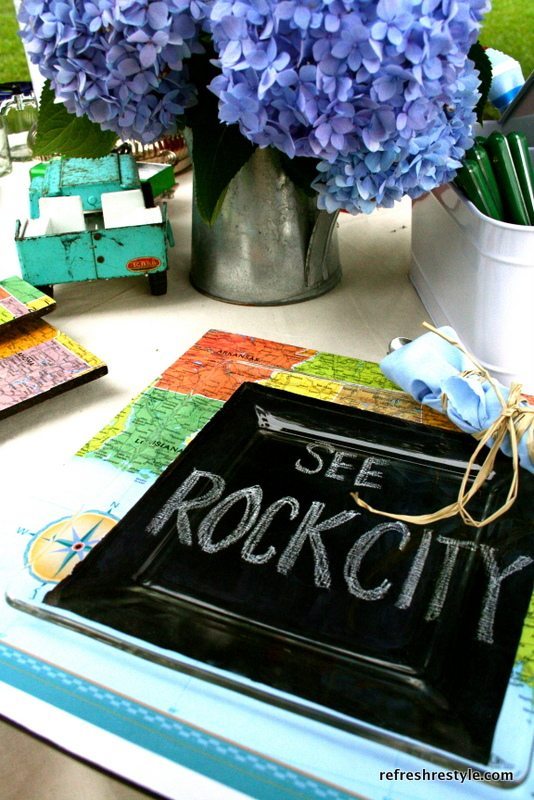 Using square clear plates ( also available at Walmart), you can see the chalkboard signs!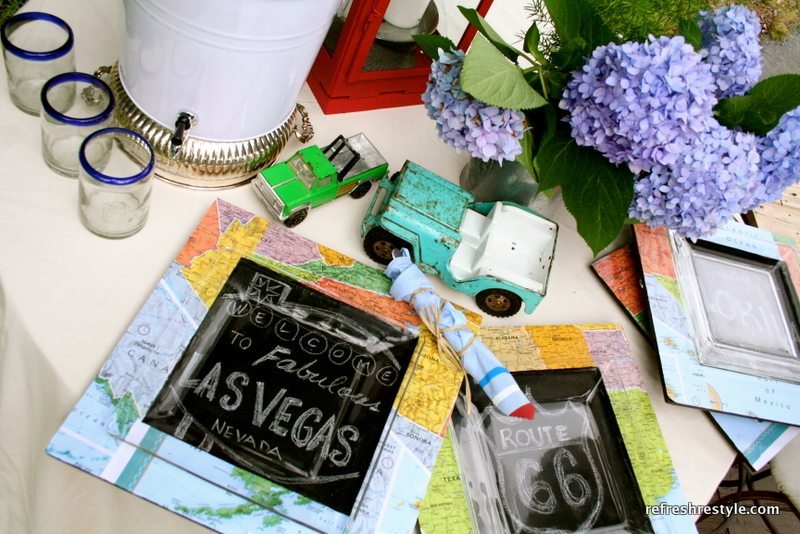 The napkins wrapped in raffia hold the silverware.
Now I'm ready for a Road Trip and a party!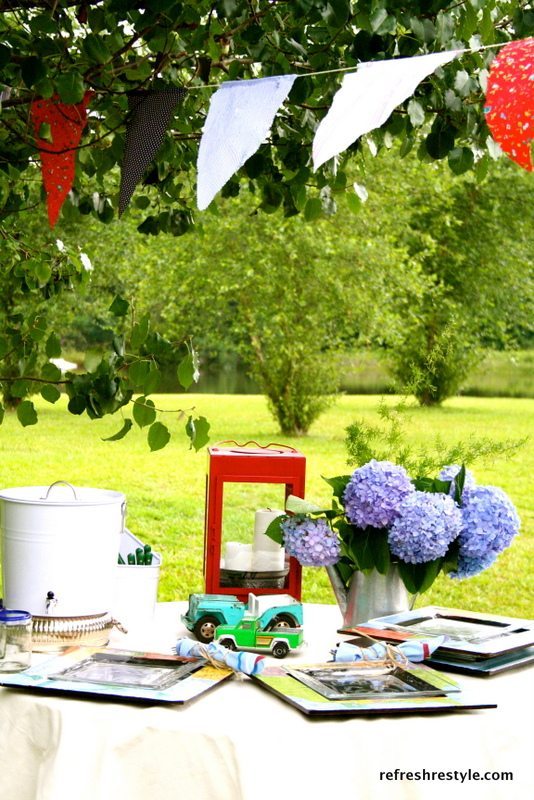 My Amazon affiliate links for supplies:


Keep up with Plaid Crafts, I do 🙂
I wrote this post as part of a paid campaign with Plaid Crafts and Blueprint Social. The opinions in this post are my own.
For more awesome Plaid crafting ideas check these out: