We love a house with an open floor plan. When we first looked at this house, it wasn't open at all, it was so closed in that it was hard to imagine us living here. We loved the property, location and the two double garages, so we found a way to make it our own.
Do you have a space that drives you crazy? Do you see the area on the left where those two chairs are, that has been like a thorn in my side since we moved in over a year ago. I am happy to report that I am loving it now. I thought it would be fun to show you what I did to correct the unique floor plan.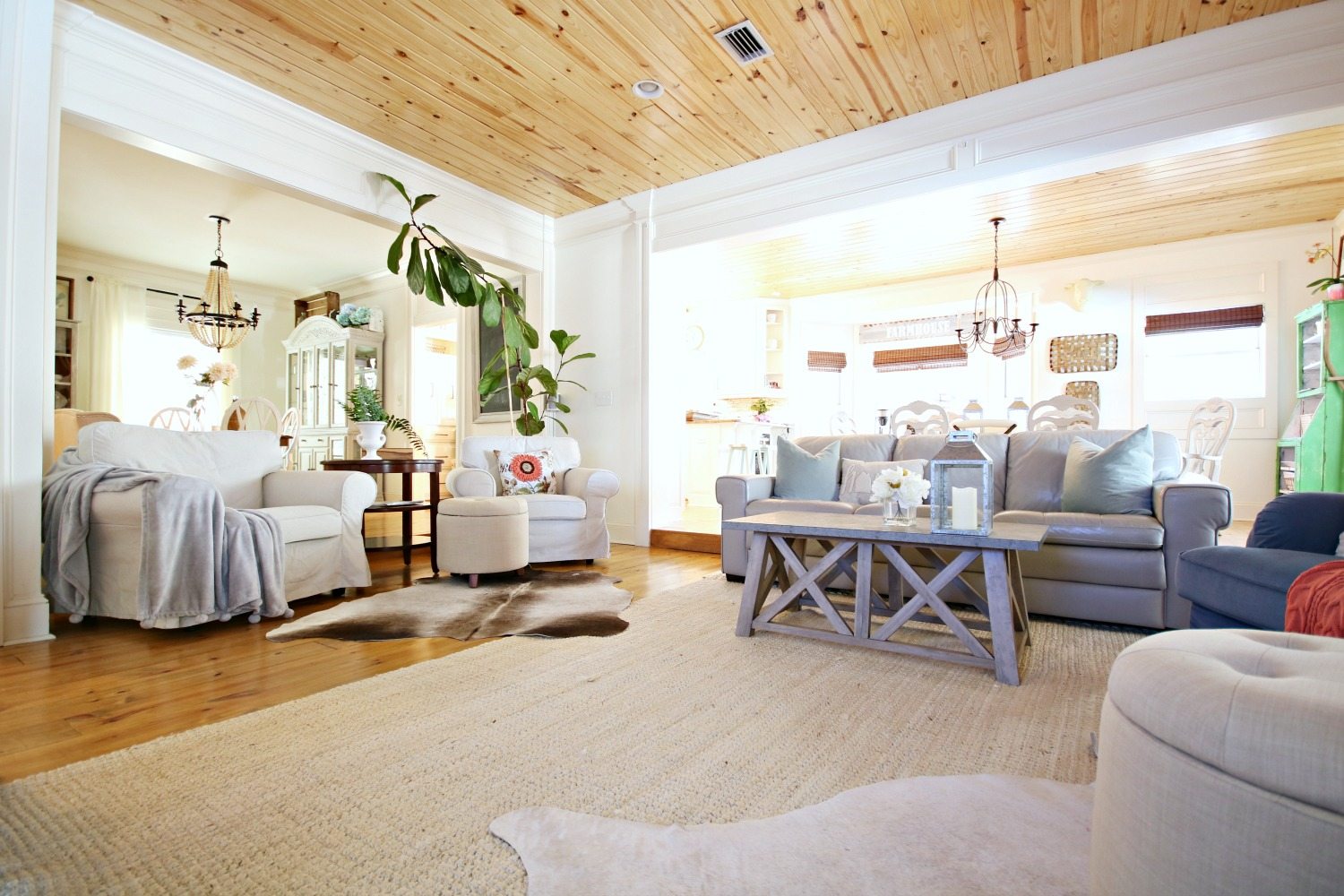 The day we closed, our contractor started demo. As soon as the demo was over, the paint rollers and brushes came out, you may notice how warm our home looks with the pine floors and ceilings. I wanted to calm that yellow down, previously all the walls were a beautiful gold color. It was just too much yellow for me. The whole house was painted Benjamin Moore White Dove. Here are some photos of the process we've been through to get the house to where it is now: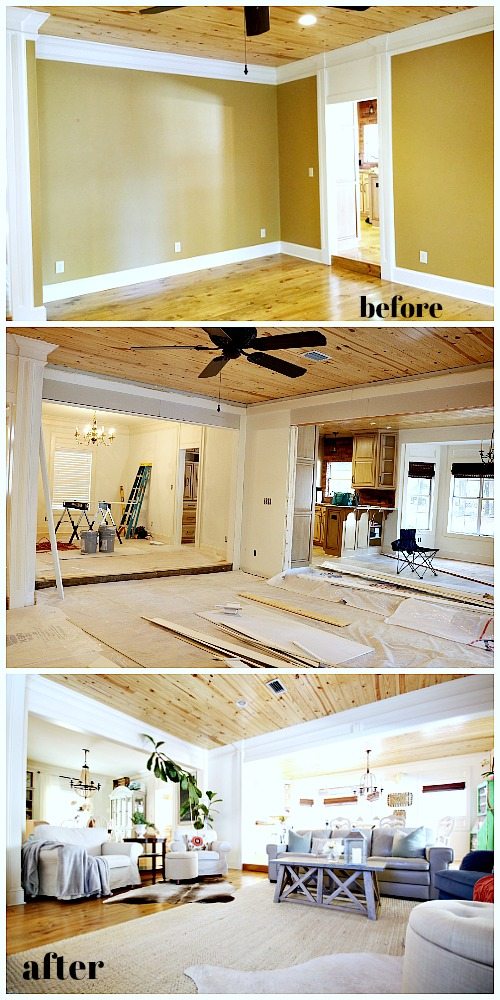 After removing the wall from the formal dining room to the living room, I was left with an alcove area and lots of opportunity as I like to call it. I tried using furniture that I already had. I tried several ideas for furniture placement without success, I measured every thing and came up with a floor plan. This is so much easier than actually moving it all. Here's what I did.
Steps for arranging furniture in an open floor plan with a unique shape:
Measure area including door openings, windows, fireplace and any other permanent fixture.
Draw out the room/floor plan on graph paper. Using the squares to indicate one foot.
Measure furniture, plants, etc.
Using the measurements of the furniture, arrange furniture on paper.
Keep the 3-F's in mind for the layout:
Flow
Function
Focal Point
Our living room is like grand central station. You get to all the important areas of the house from here. The kitchen, dining areas and hall to bath and bedrooms are all accessible from this space. In an effort to create a lot of seating for entertaining and tv watching the room felt very chair and ottoman heavy. I like to say that we all want to prop our feet up when we're in here. As you can see in the after photo, I still have the same amount of chairs but I separated them by moving the sofa. The flow is so much better, the room even feels bigger.
I take the opportunity to deep clean a room when moving things around. I dust, vacuum, mop, etc. In an effort to reward my hard work when rearranging a room, I add new or refresh accessories and change my curtains.  Speaking of curtains, I used my set of off white ones at Christmas. In preparing for this room makeover I debated bringing back the teal and white striped curtains. Thanks to all my friends on social media, I went with the coral/blush striped ones and I am thrilled with the freshness that they added to the space.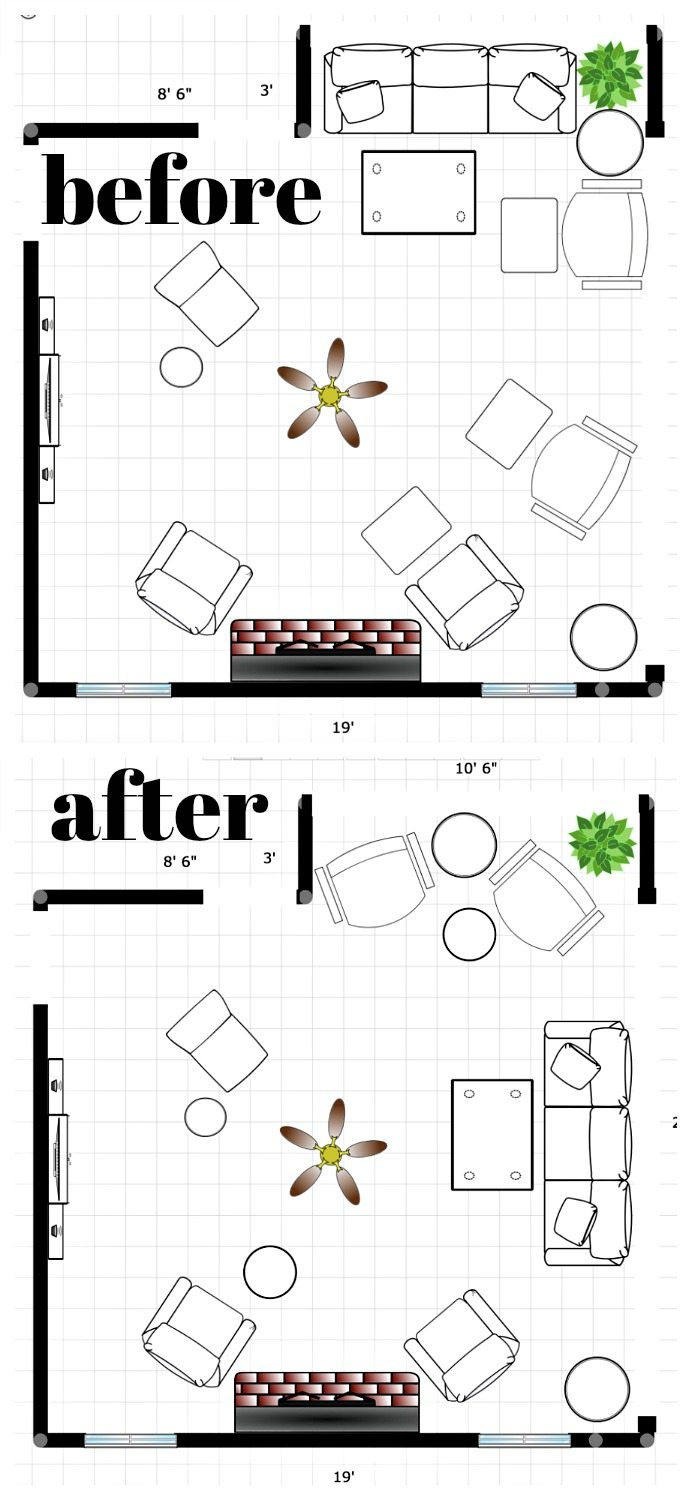 It's fun to look back and see how far the room has come. I still need to blog about painting the fireplace.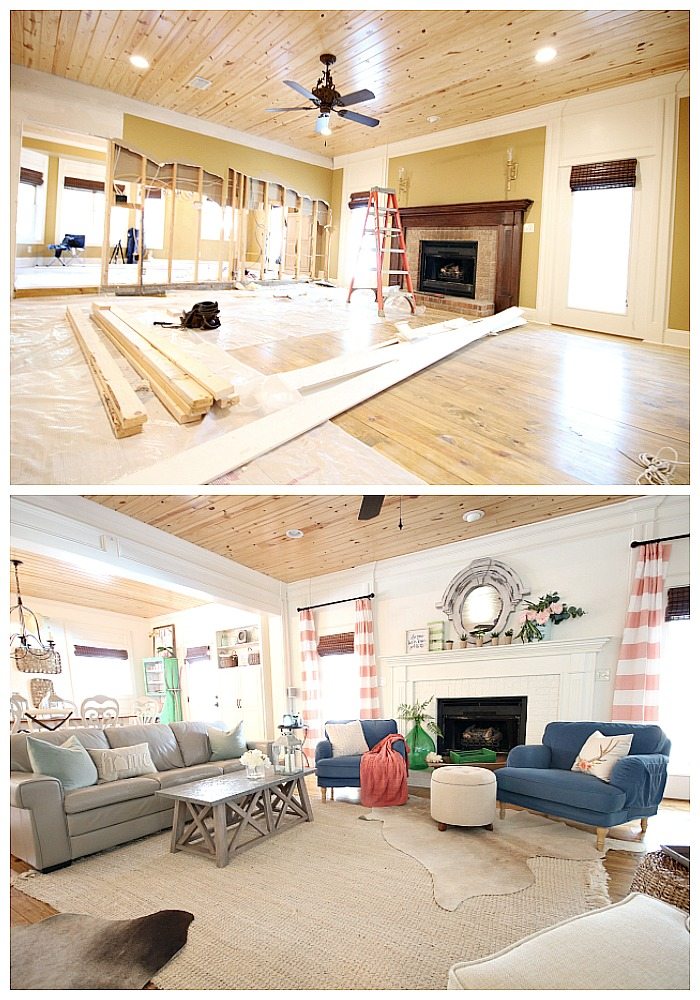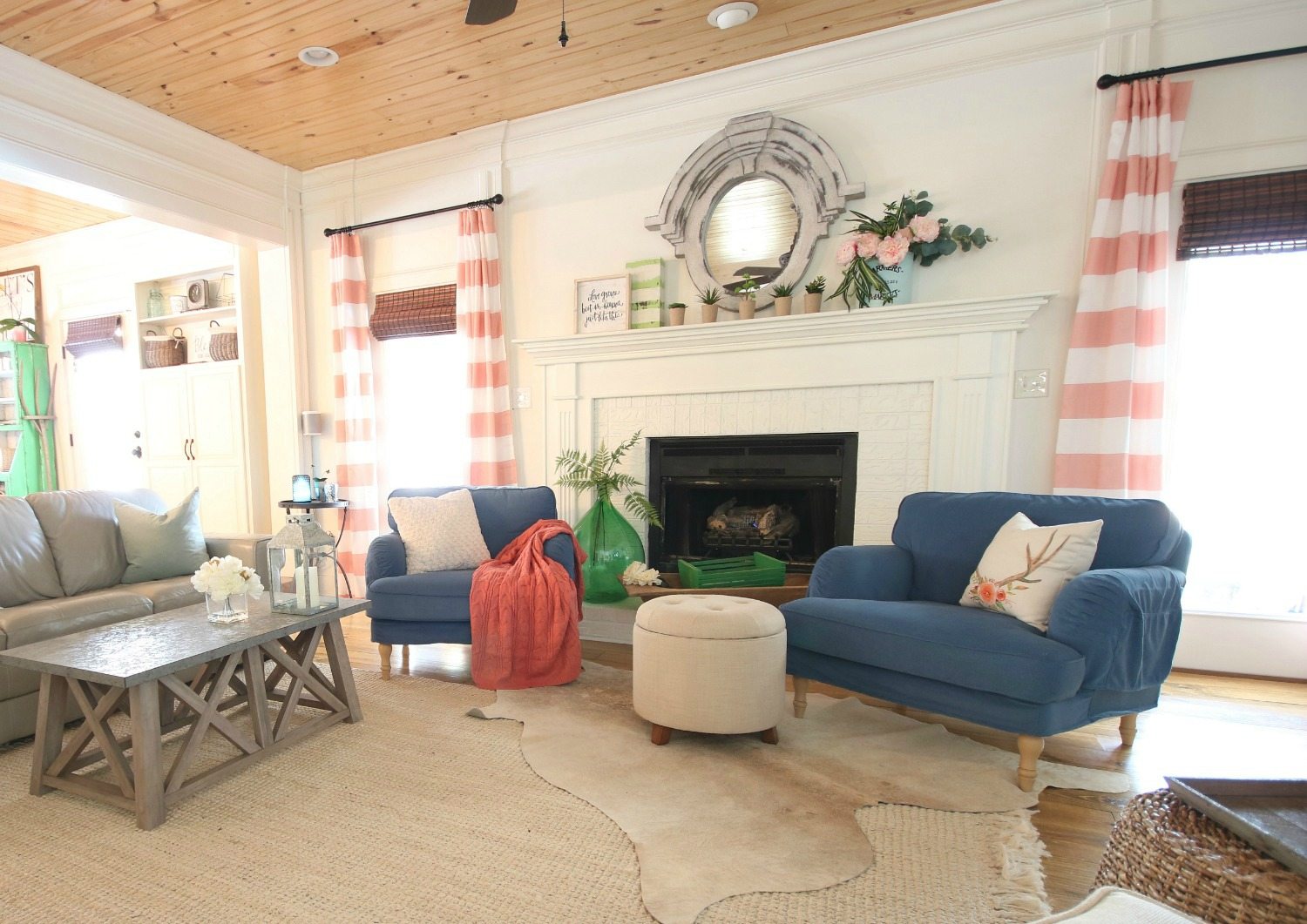 Start arranging the larger pieces of furniture in the room first. After the sofa and chairs found their new home, I added this Better Homes & Gardens Granary Modern farmhouse style coffee table and two storage ottomans. The Better Homes & Gardens Colette Tufted Storage ottoman can easily be moved around for comfortable lounging while watching tv until then they sit here looking stylish while hiding extra pillows and throws.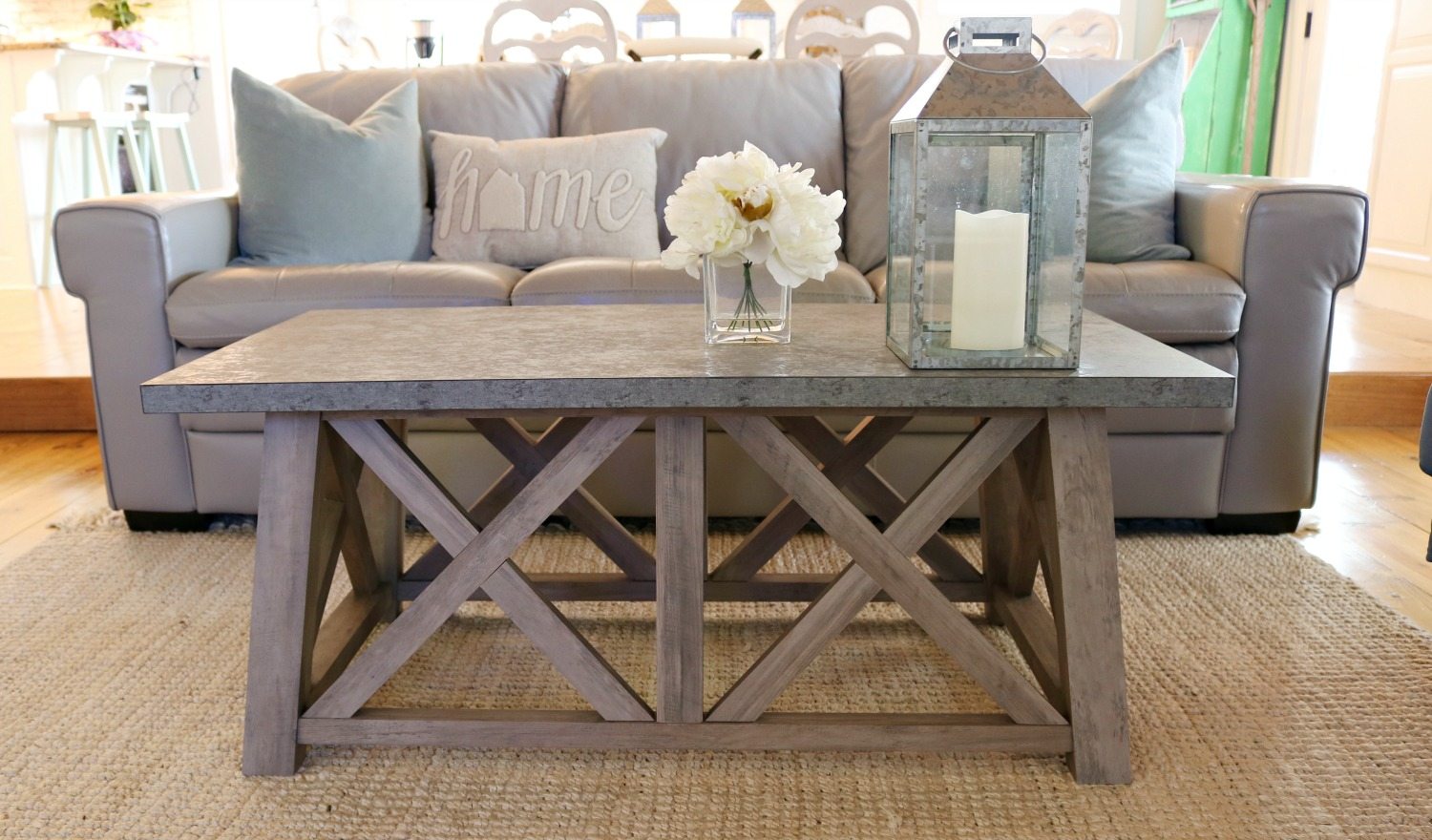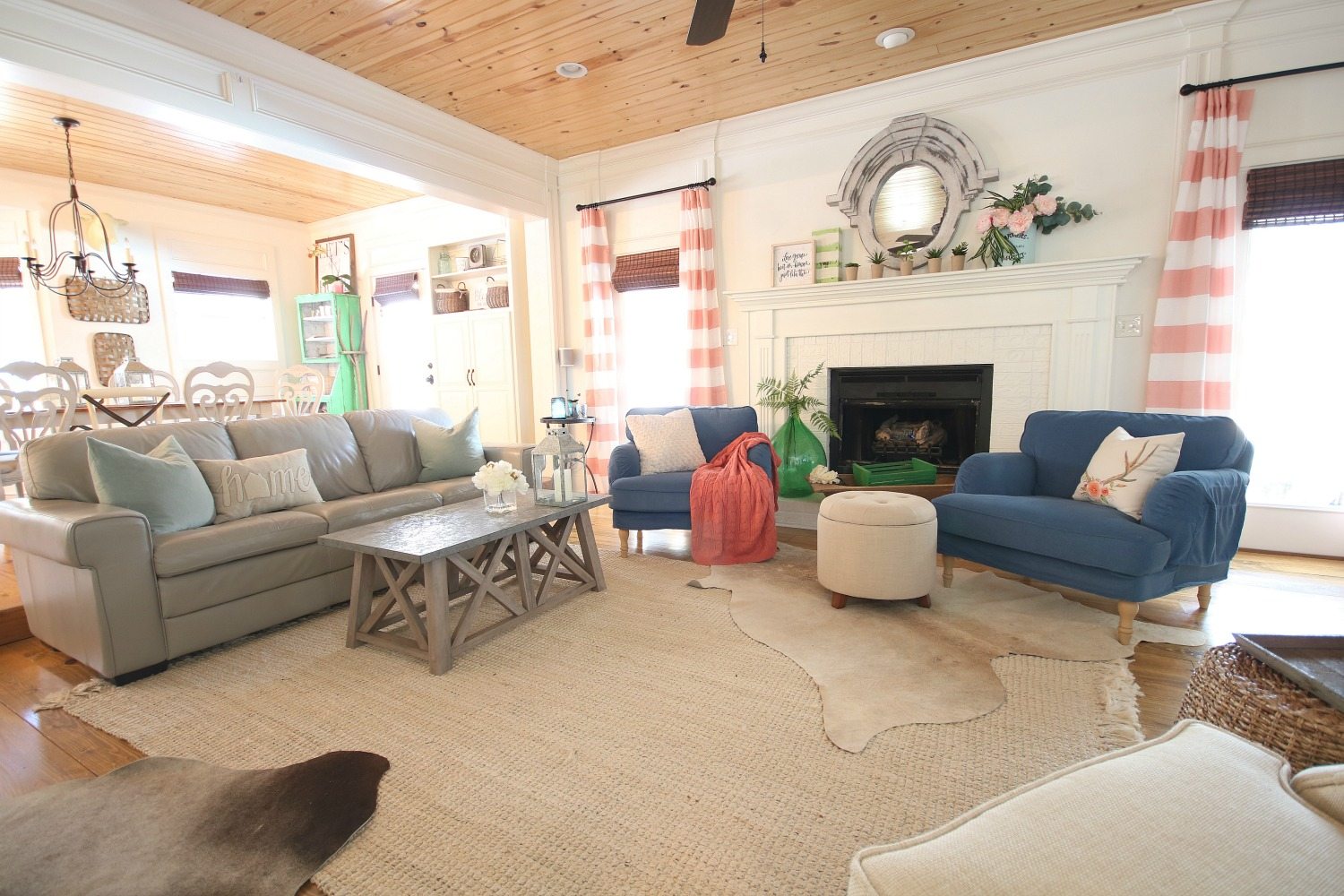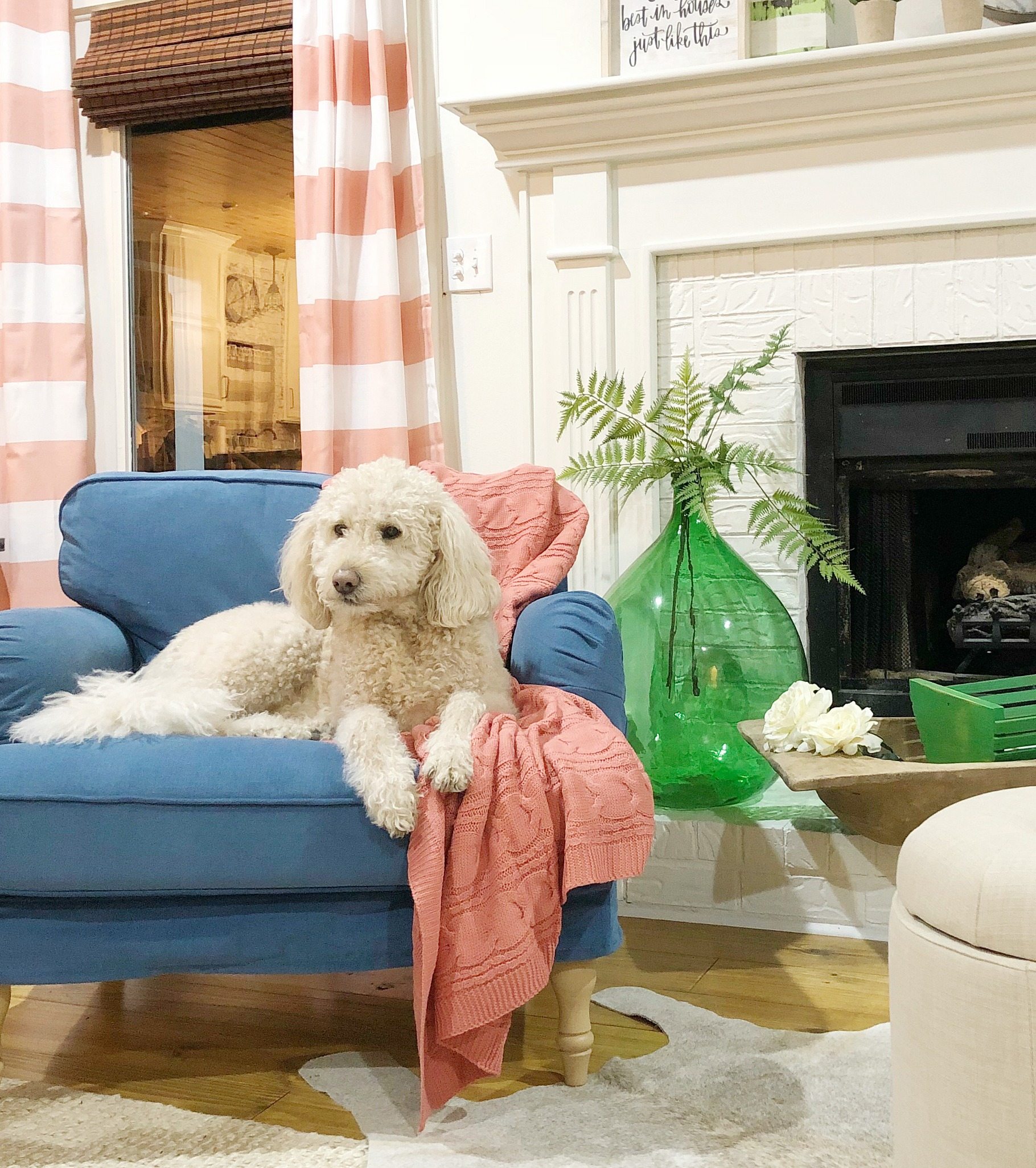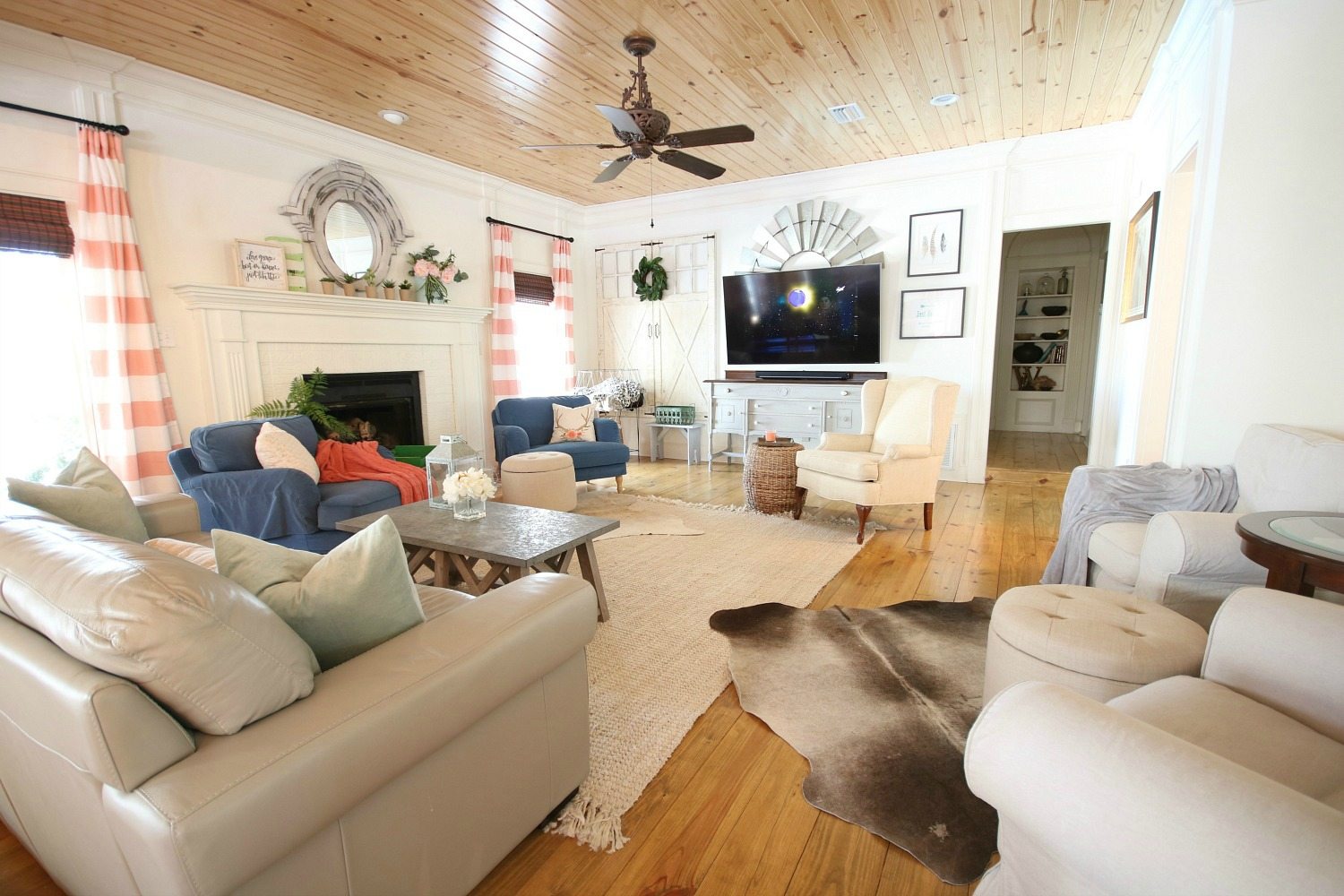 From this angle you can see the flow or path from the kitchen/eating area all the way down the hall to the bathroom and bedroom. My space is very neutral with off white, gray and wood tones, which make it very easy to change out accessories to create a new look.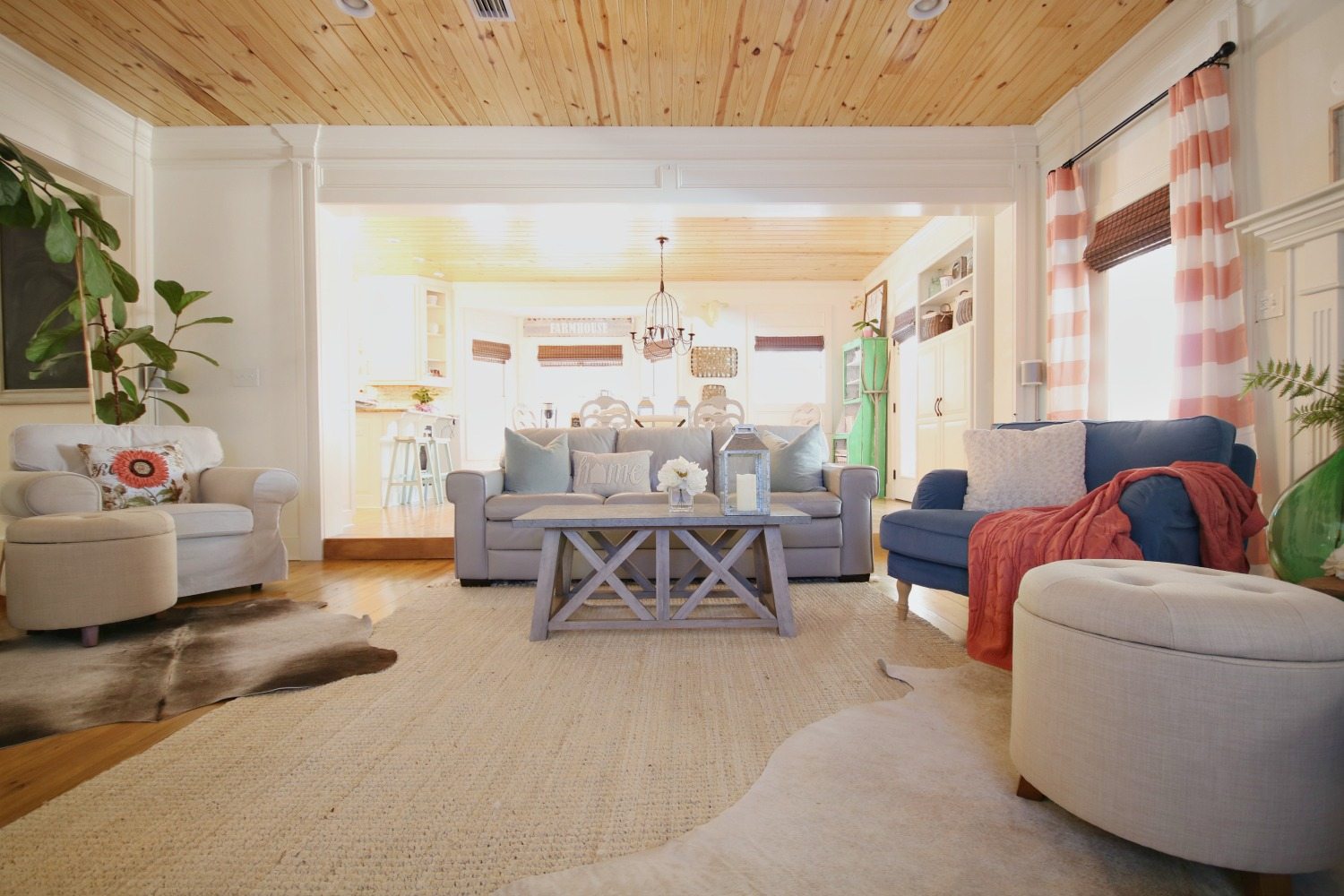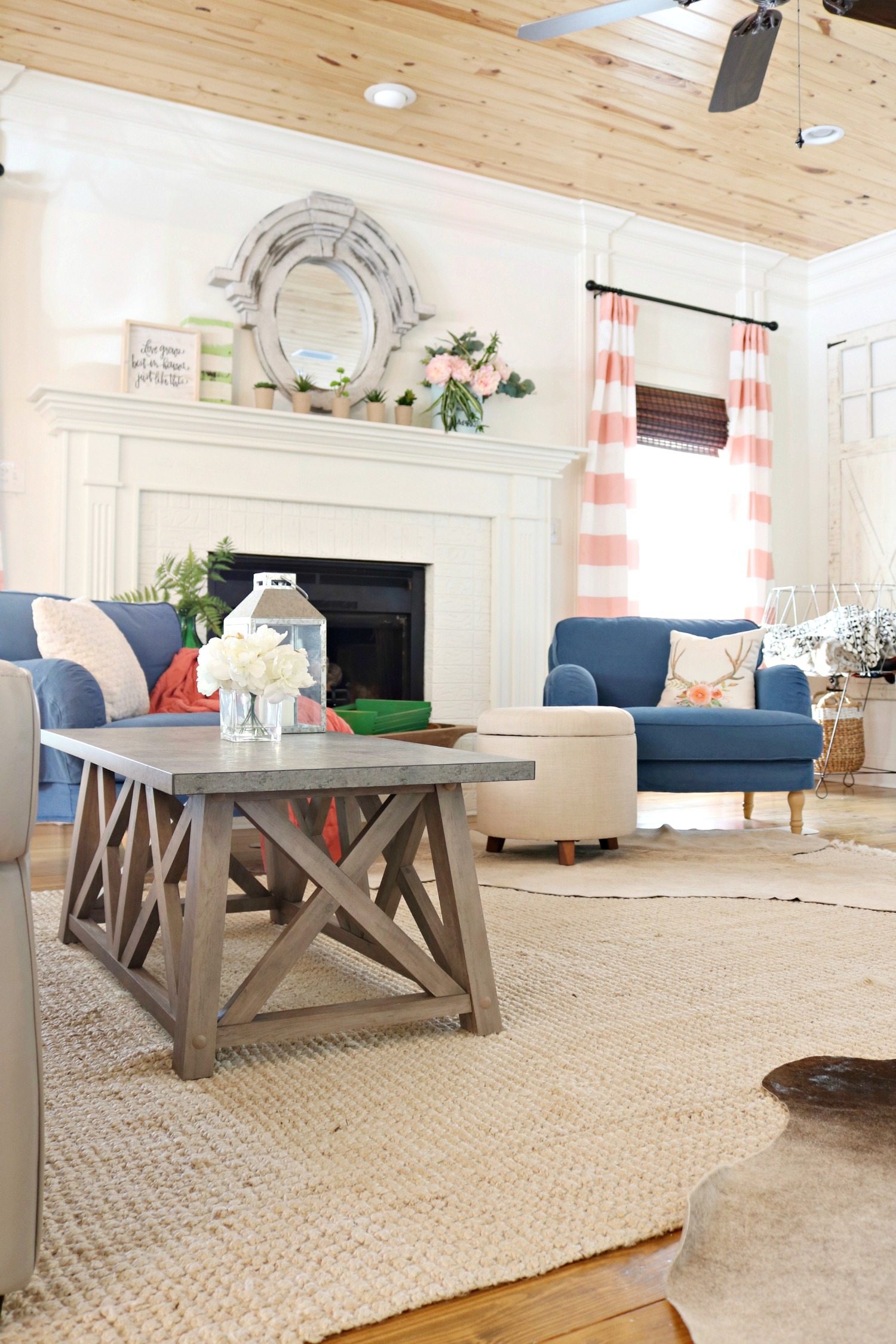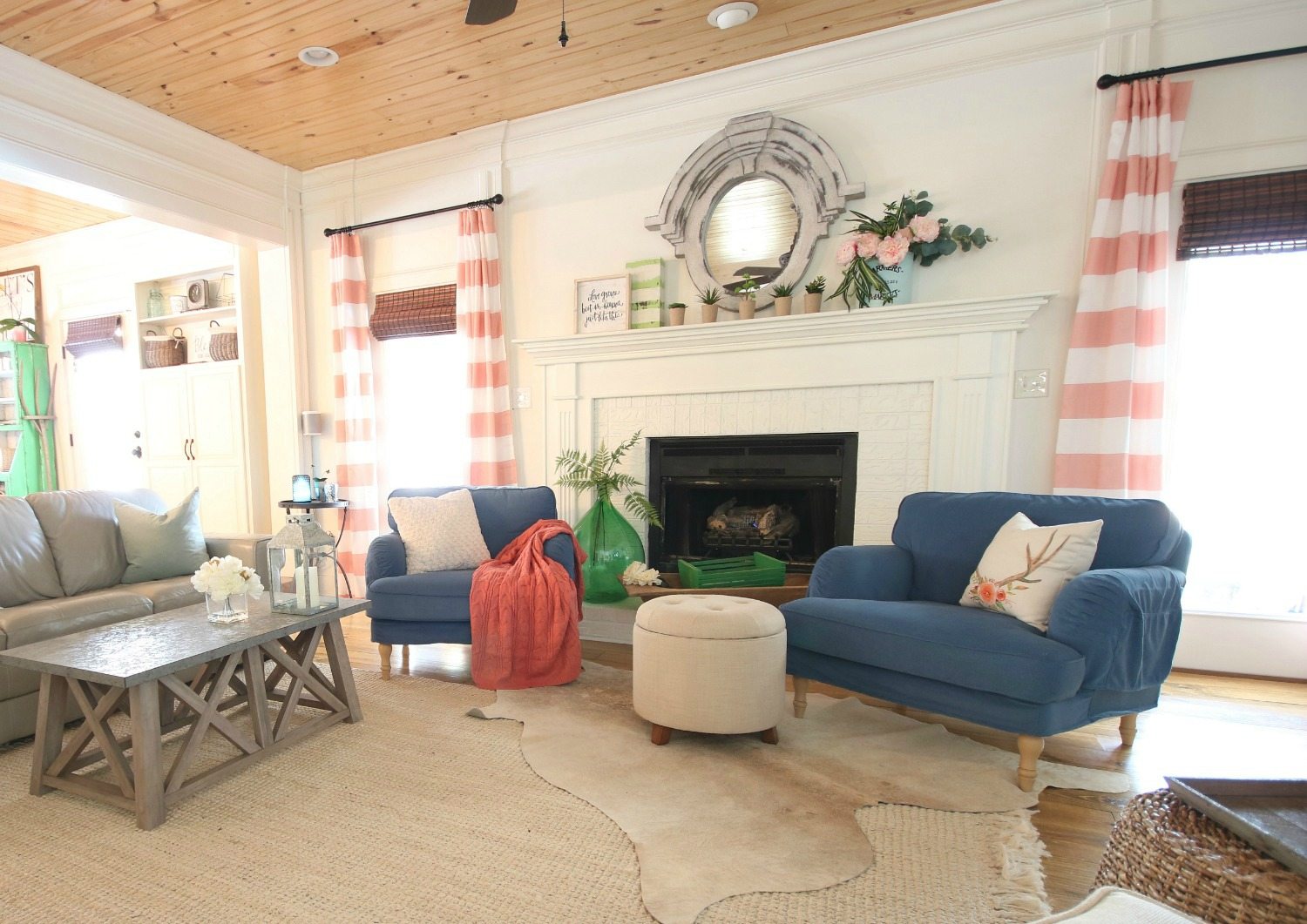 Be sure to create areas for conversation when you have a group of people like the cozy spot in front of the fireplace and across the room in my alcove area.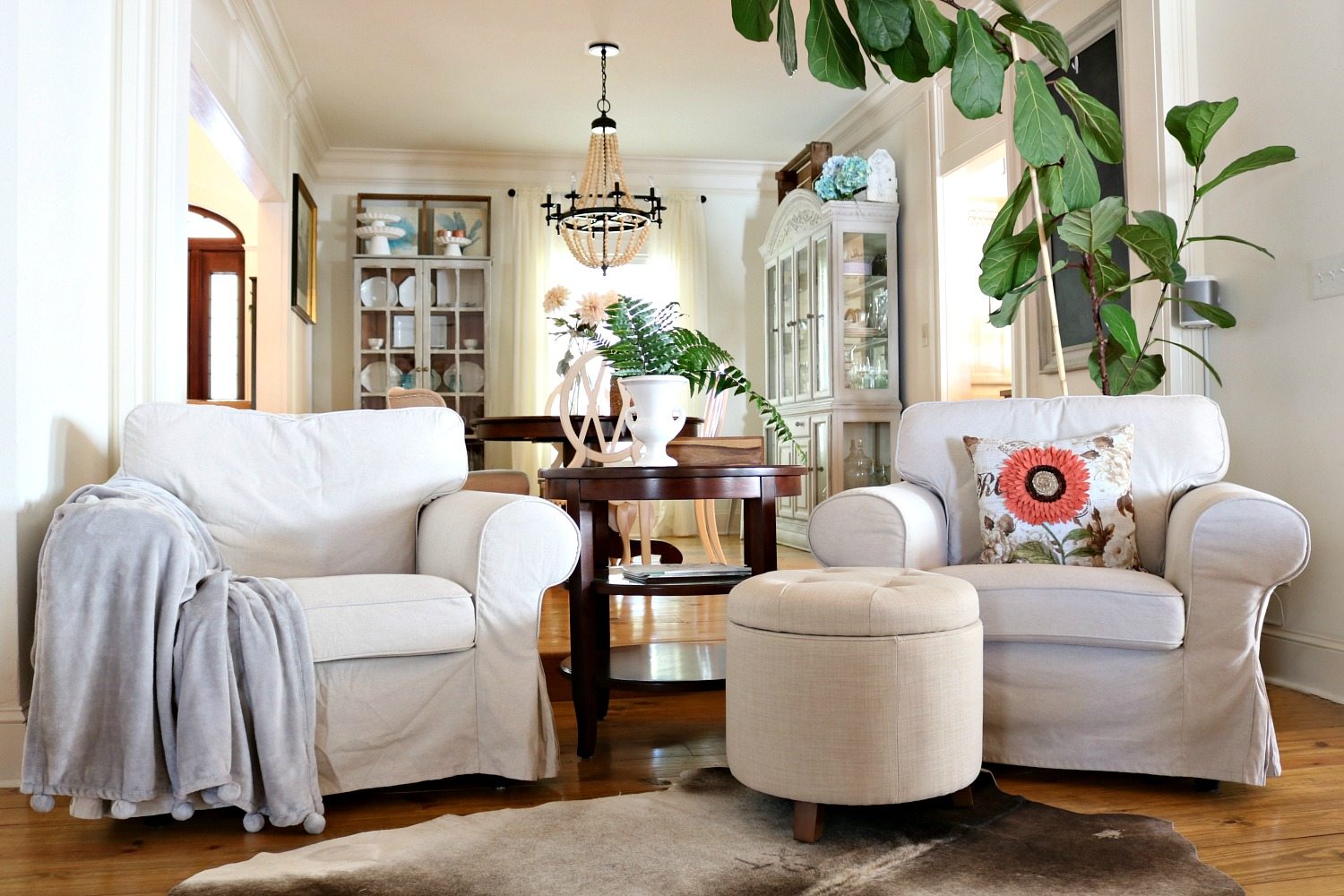 This is our favorite spot to enjoy our favorite movies. Of course I grab the other ottoman for ultimate relaxing.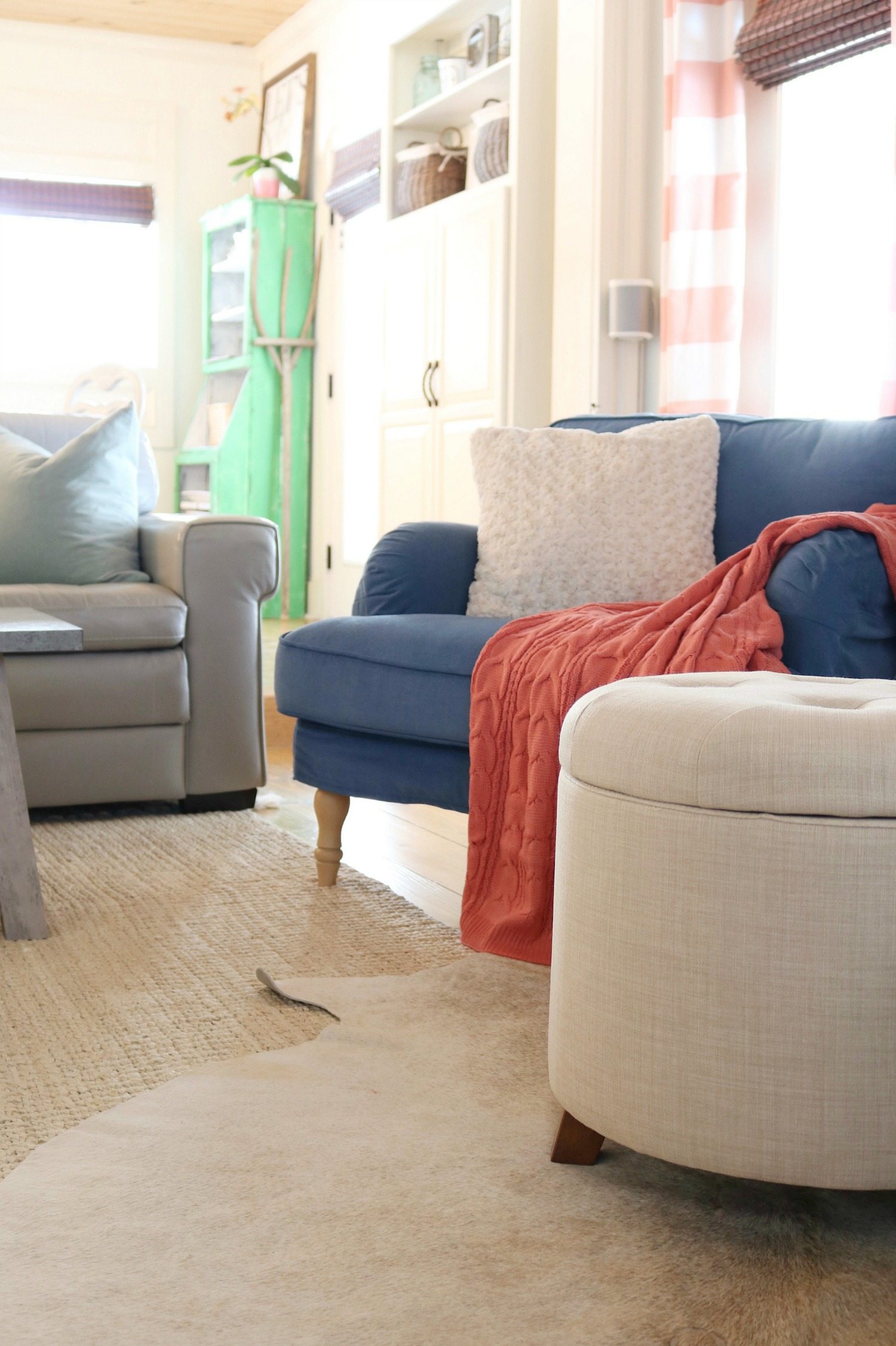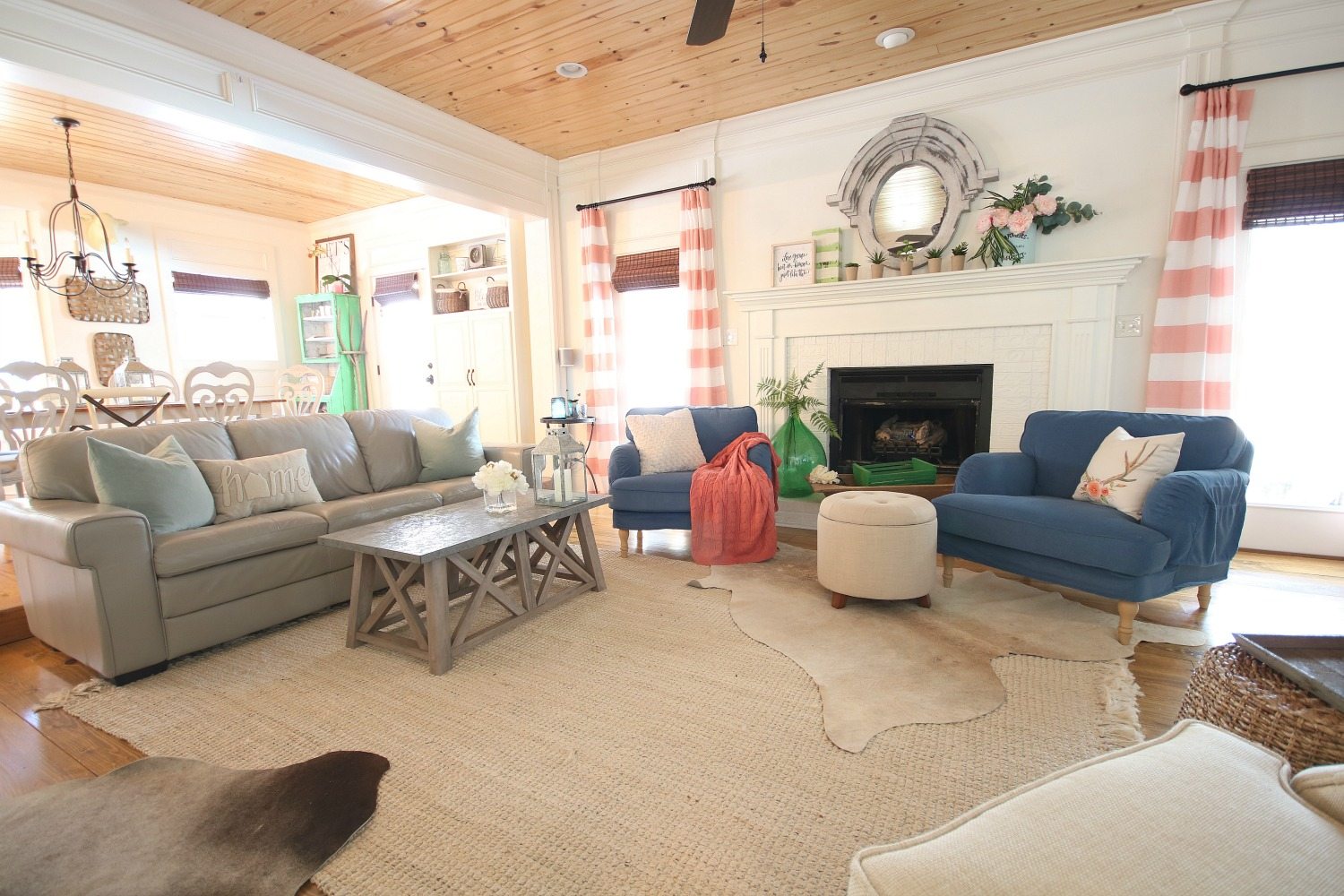 Looking around the room, you can see how I treated each focal point while keeping the flow of the room in mind. With the refreshing pops of coral spread around the room, the whole space feels new again.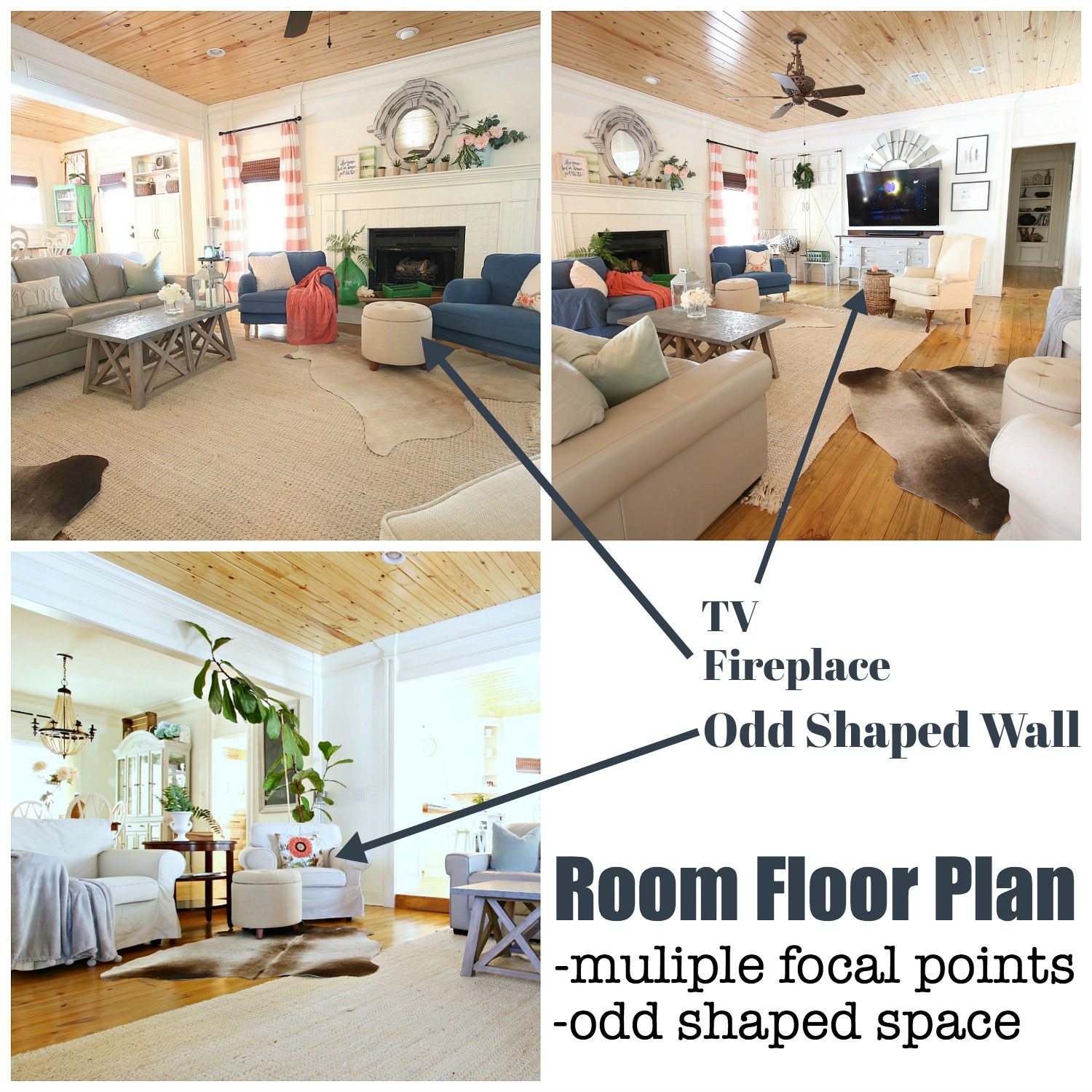 I hope my tips for room layout help, if you have any questions please leave them in the comments or on Refresh Restyle facebook page. I know you guys loved the idea of the coral drapes!
I ordered all my Better Homes & Gardens from Walmart online, click each item for more details of size and colors:
Better Homes & Gardens Granary Modern Farmhouse Coffee Table
Better Homes & Gardens Colette Tufted Storage Ottoman
Better Homes & Gardens Stripes Window Curtain
Better Homes & Gardens Coral Cable Knit Throw
Better Homes & Gardens Coral Sunflower Pillow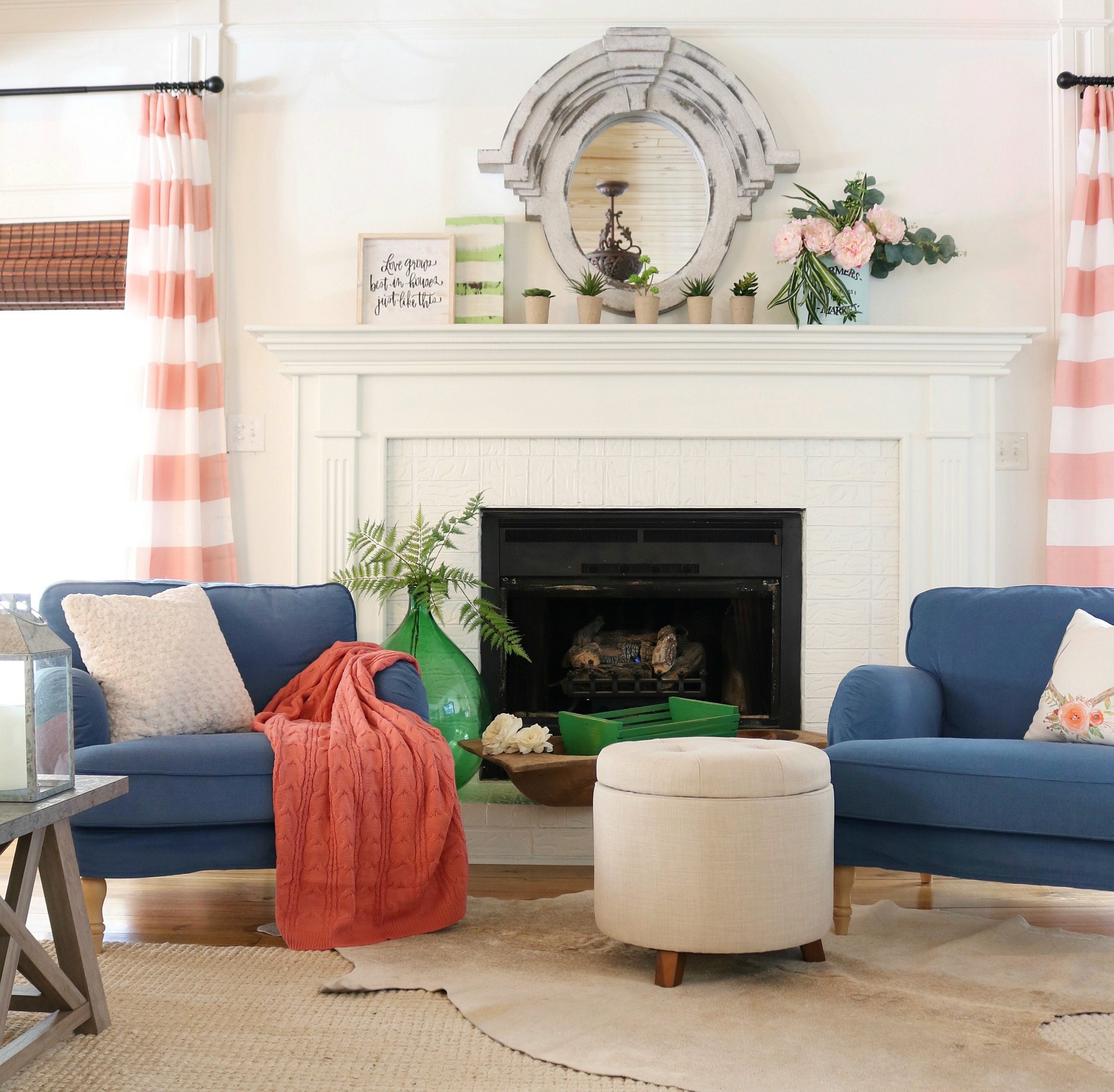 Keep up with all the beautiful Better Homes & Gardens at Walmart choices: Instagram – Twitter – Facebook – Pinterest – Website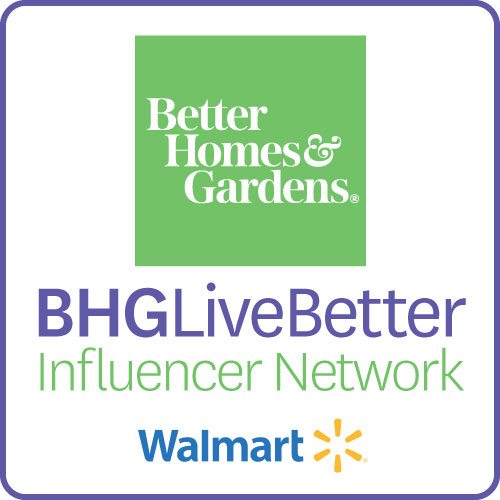 Be sure to check online, they have so many beautiful items! I love finding affordable decor and organization items at Walmart and sharing it with my readers, I am proud to be a part of the Better Homes & Gardens Live Better Blogger Network!
Pin it for later 🙂