Today our Decorating Enthusiasts Home Decor team is sharing outdoor projects, some DIY's, some decor ideas basically anything outside. I'm sharing our Outdoor Kitchen Build.
Be sure to visit all their projects at the end of this post.
When we bought the Alabama Farmhouse, we had three big things that we wanted to do after we moved in. One of those was to build an outdoor kitchen on an existing patio.  Most projects like this are custom to the size of your space but I hope you are inspired to create a space outside like we did!
Here's what it looks like now: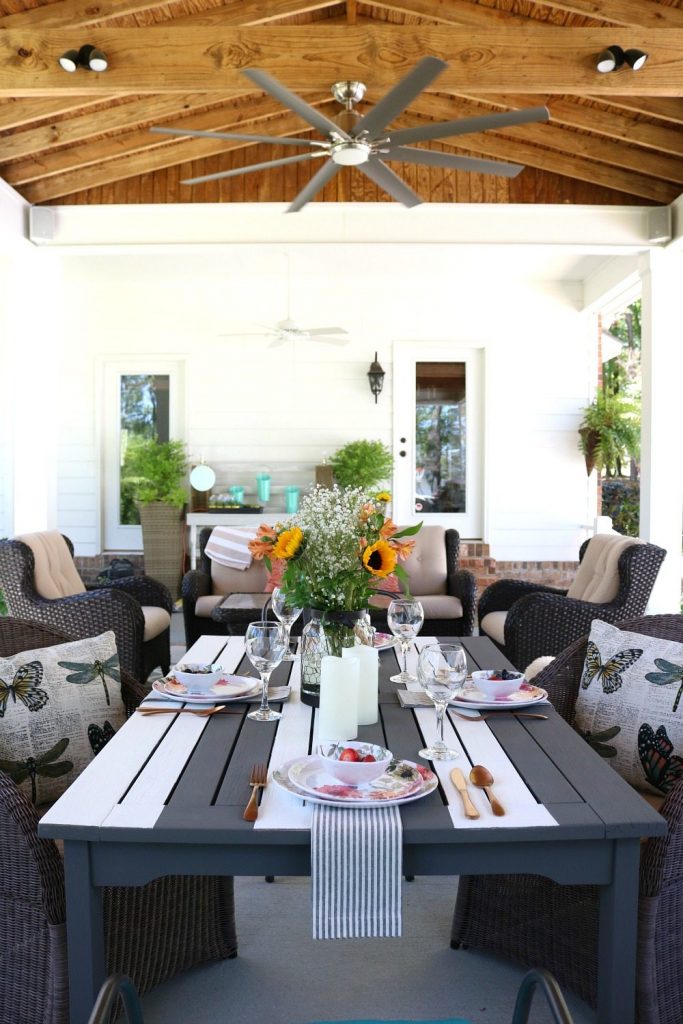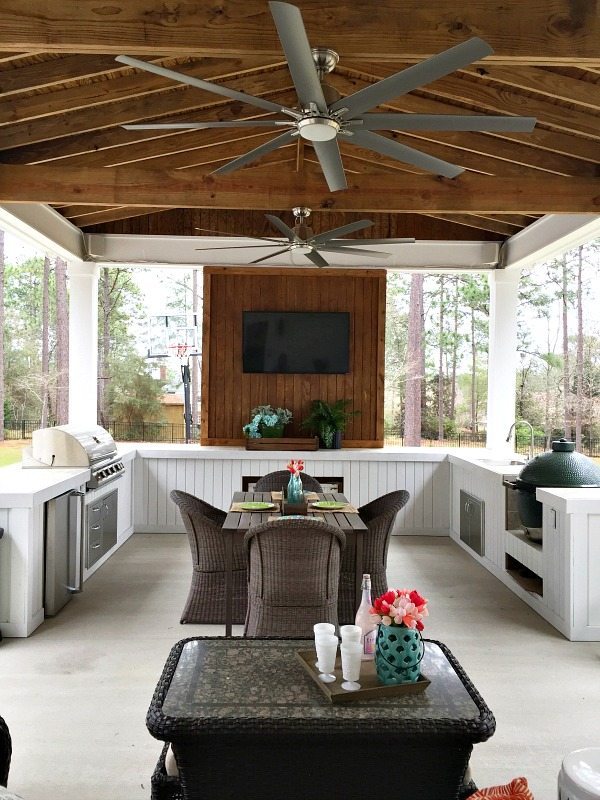 Here's what it looked like when we bought the house: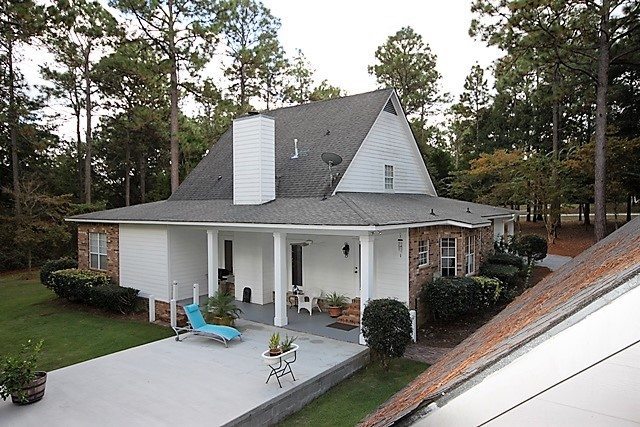 We didn't understand why someone would pour such a large concrete patio but we're glad they did!
Outdoor Kitchen Build Process:
We found an awesome contractor – she had her framer determine whether or not a roof over the patio could be tied in to the roof on our house. It could!!
Discussed what we wanted the to patio to look like, our dream, vision for the plan. We wanted to see stained beams underneath, but we wanted it to coordinate with the house.
The team got started and before we knew it, it was time for us to take over.
Once the roof was on, we built the outdoor kitchen.
Decide what appliances we wanted to include: Grill, Burner, Refrigerator, Big Green Egg, Sink, small hot water heater (We have hot water at the sink!)
We wanted a space to serve food on, so we reserved the back counter area under the television for serving.
We ordered our appliances online, we got measurements for each appliance and drew the plan out with chalk on the floor. We changed this several times until we got it like we wanted.
Make a material list: 2×4 lumber, 2×6 lumber, T1 111 plywood, hot water heater, lights, fans, nails, tile, backer board, plywood, 1×4 lumber and plenty of blood, sweat and tears. (There was blood and maybe a tear – I let go of a piece of plywood while we were moving it from one place to another and it dropped and skidded down Barry's shin, not a good thing! I bandaged him up with the only thing I had – maxi-pad and painter's tape – and we continued to work.) Later that day I did go get real bandages and antibacterial ointment. He does have a nice little scare there and it makes for a good story now that he forgave me 😉
The Roof: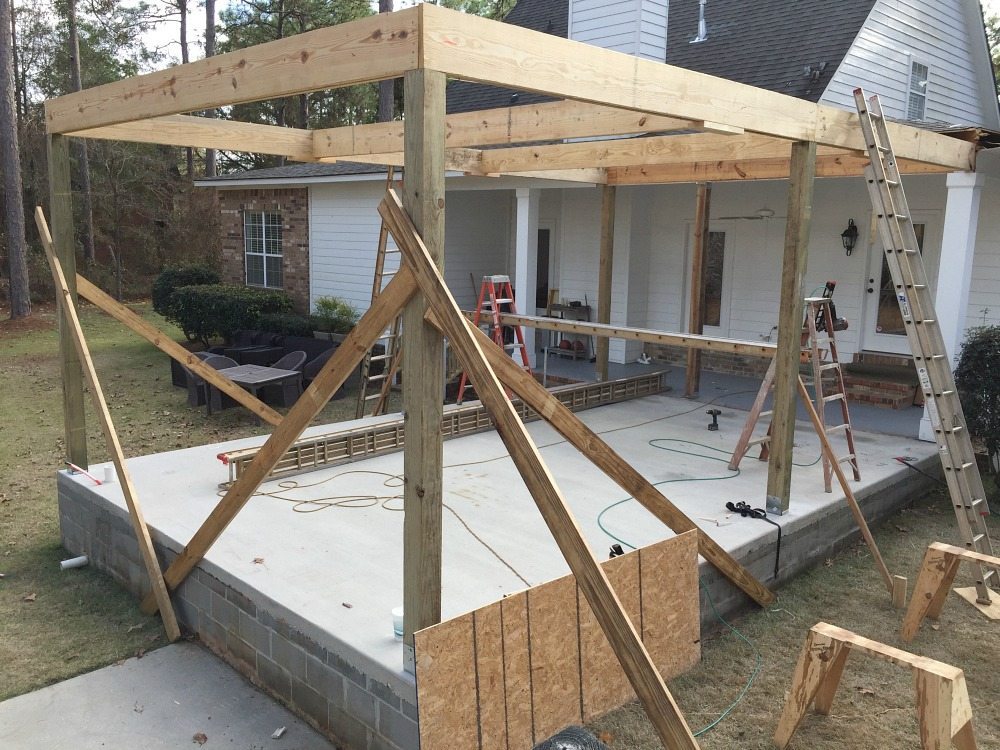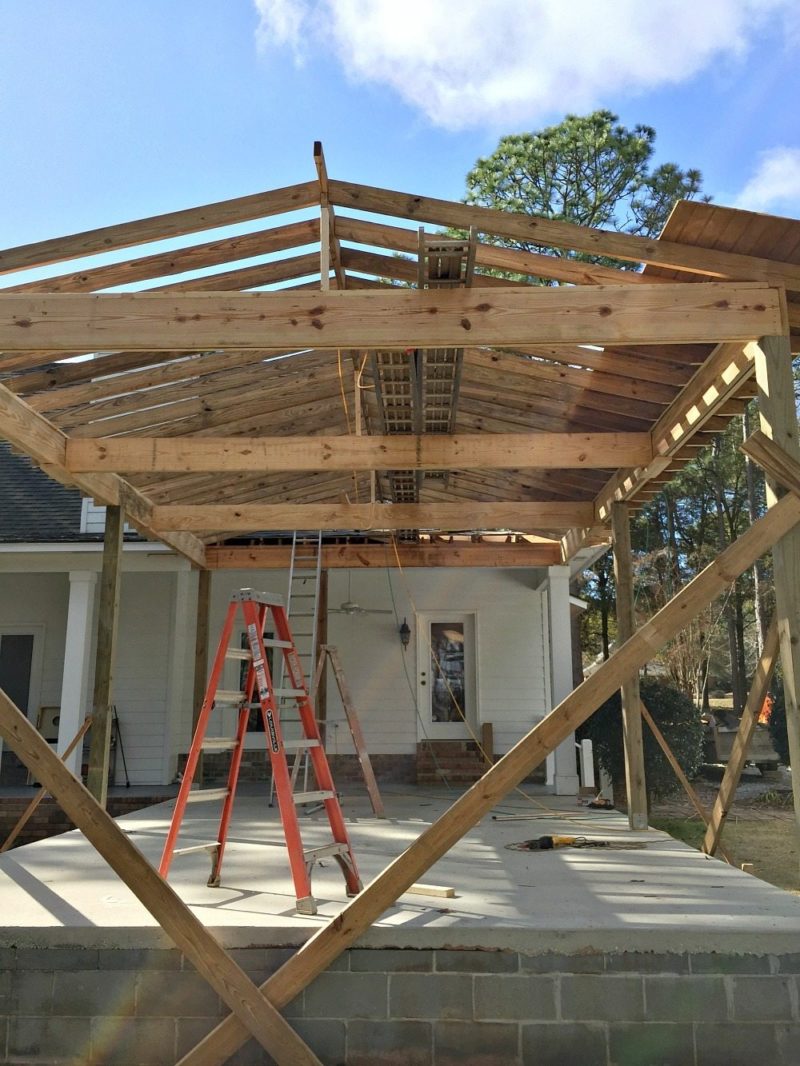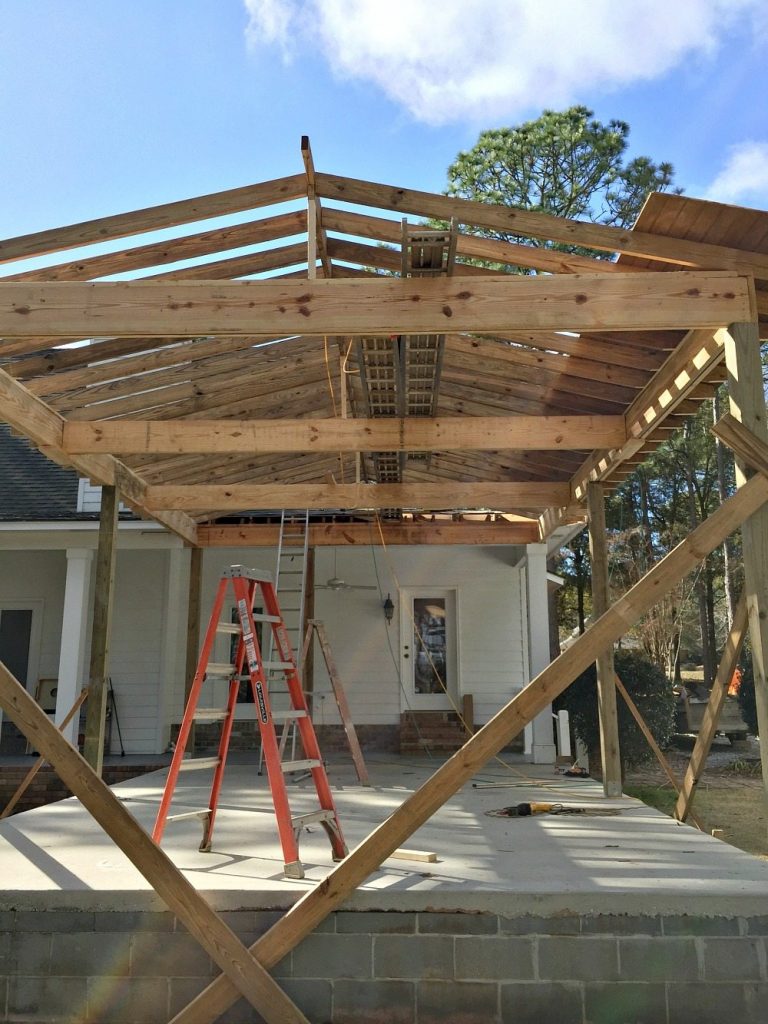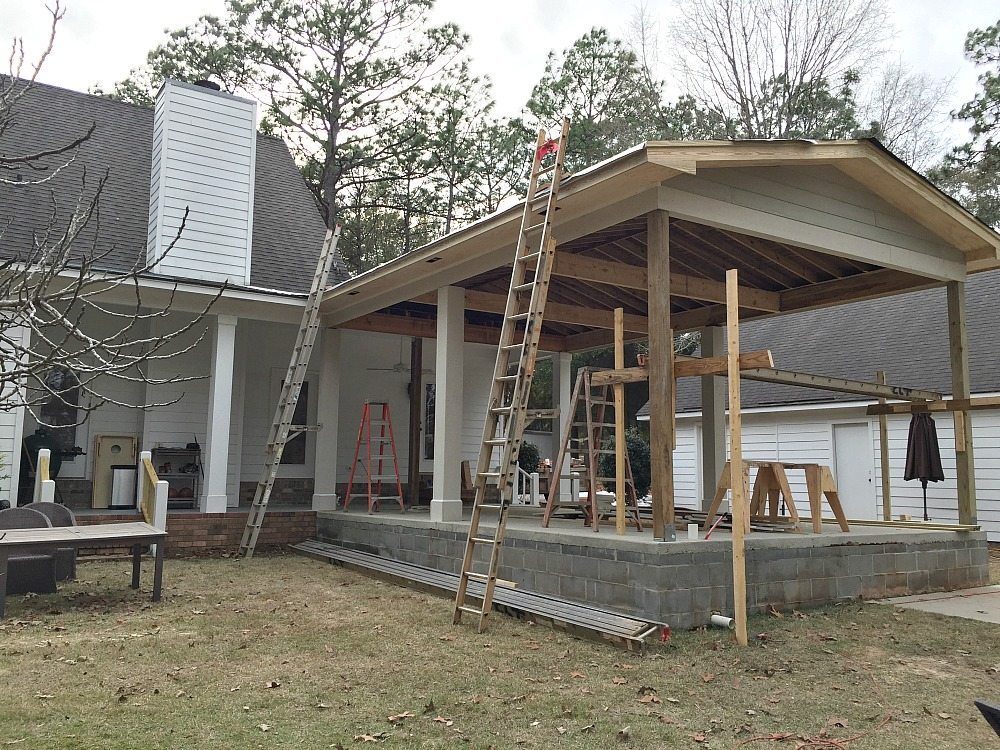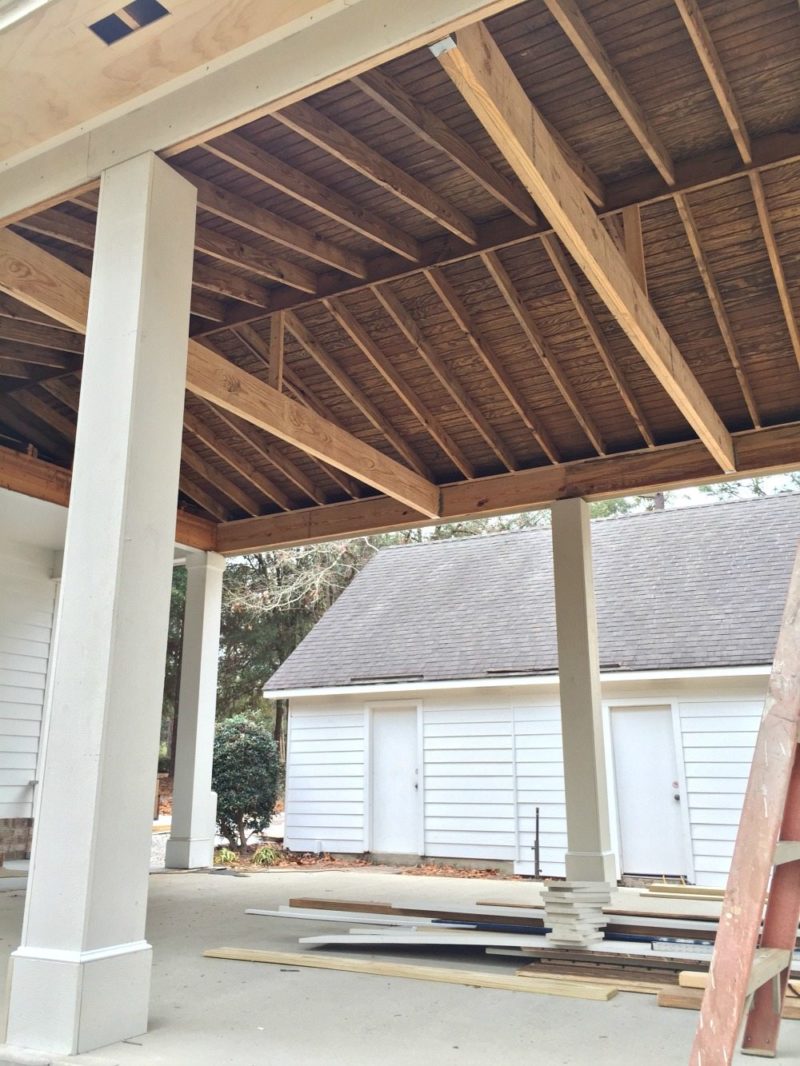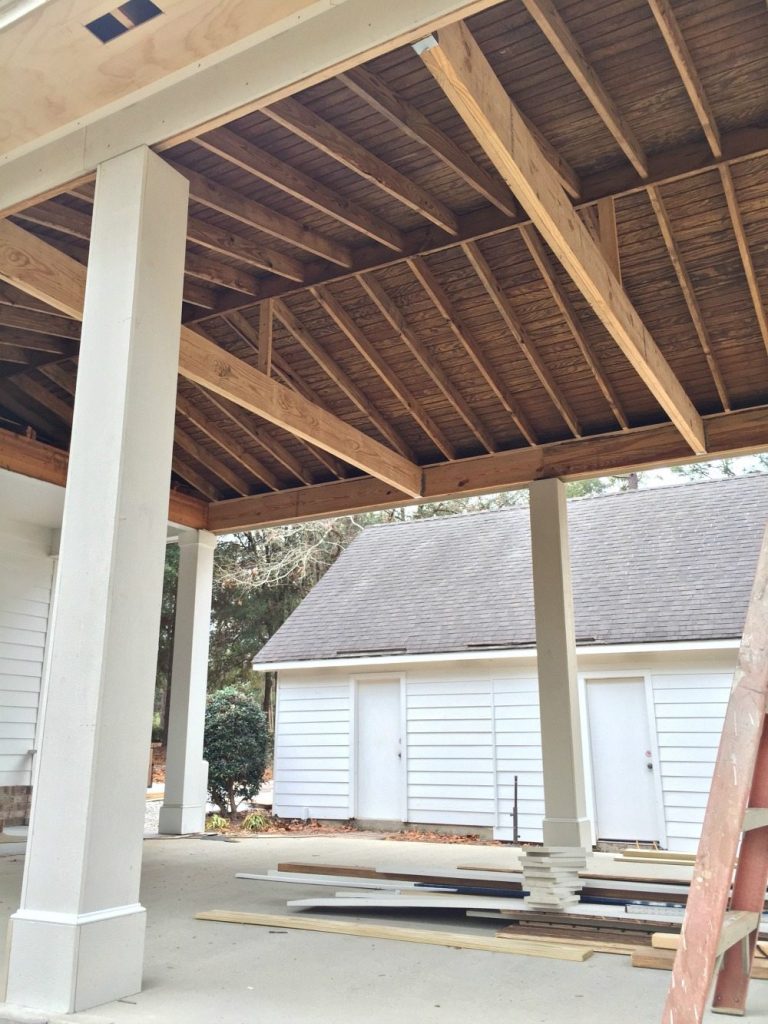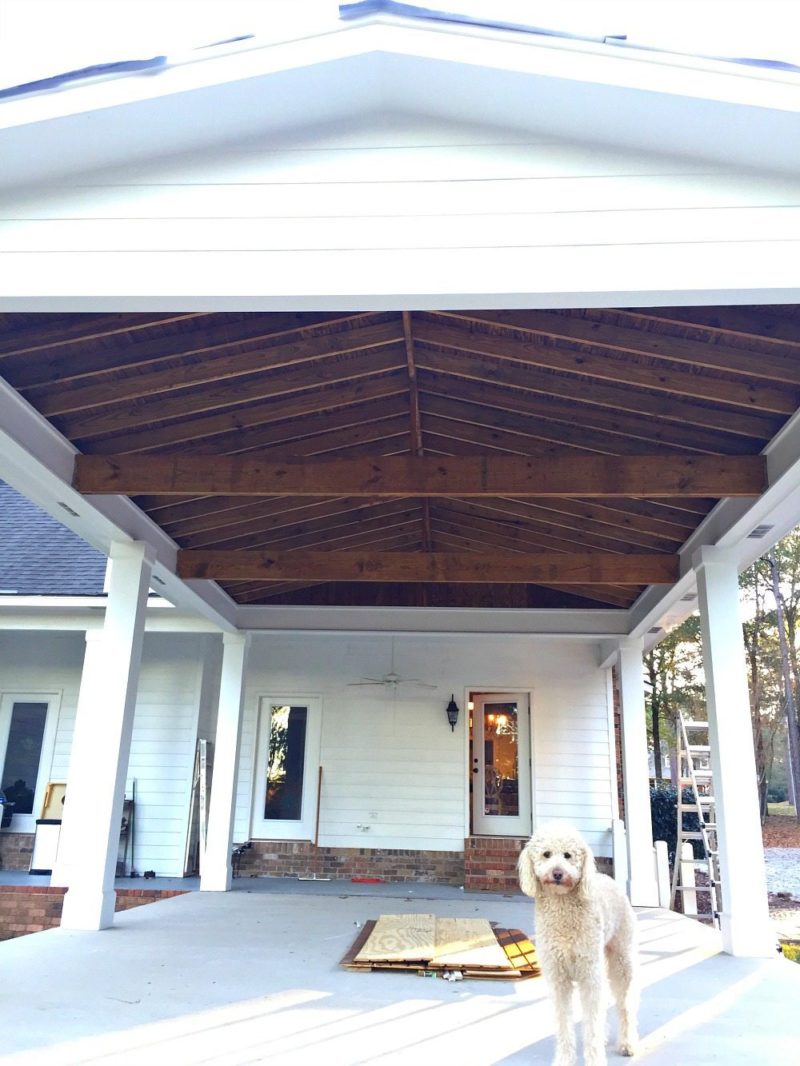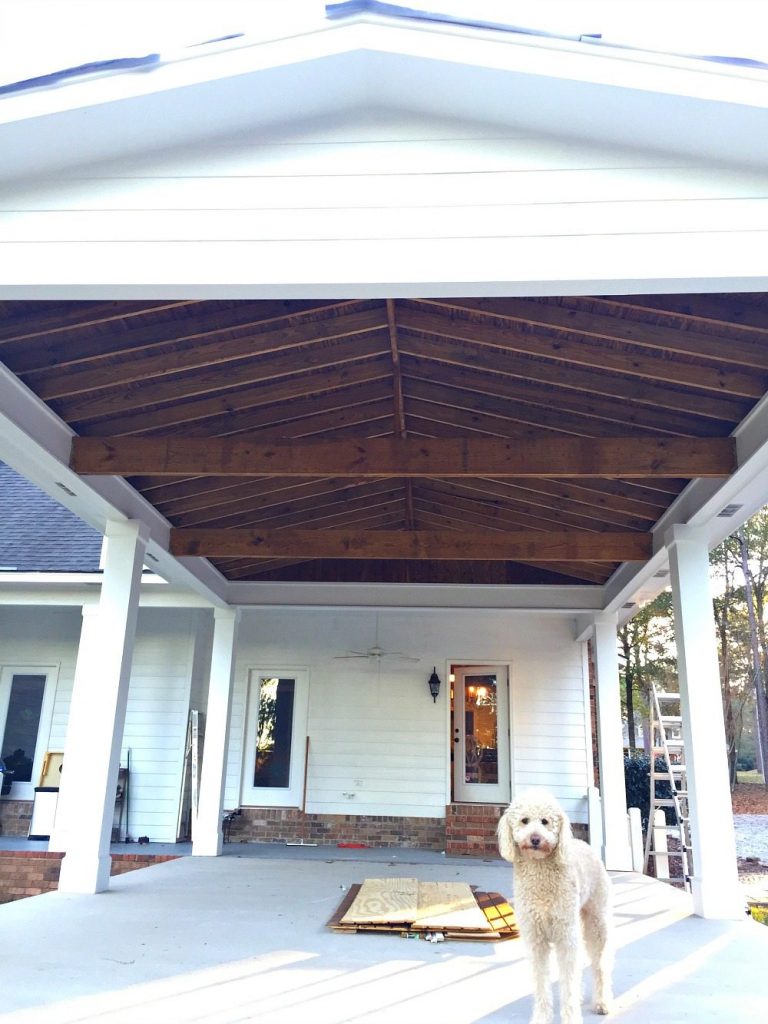 The Kitchen: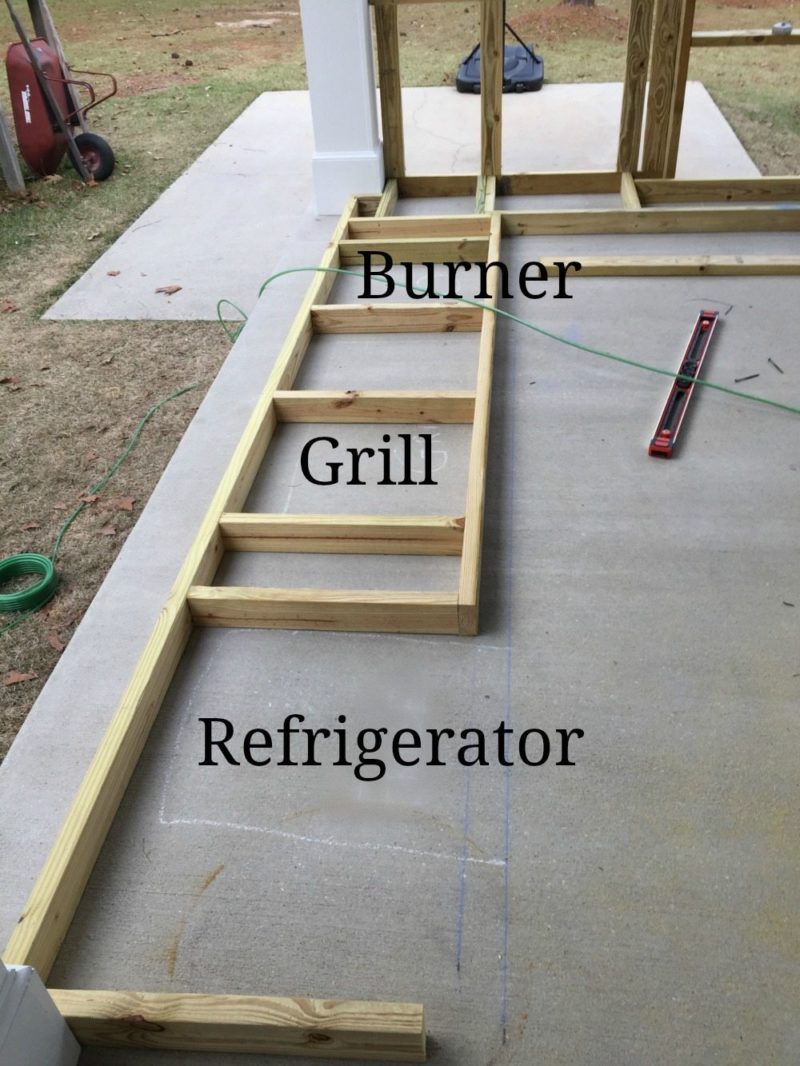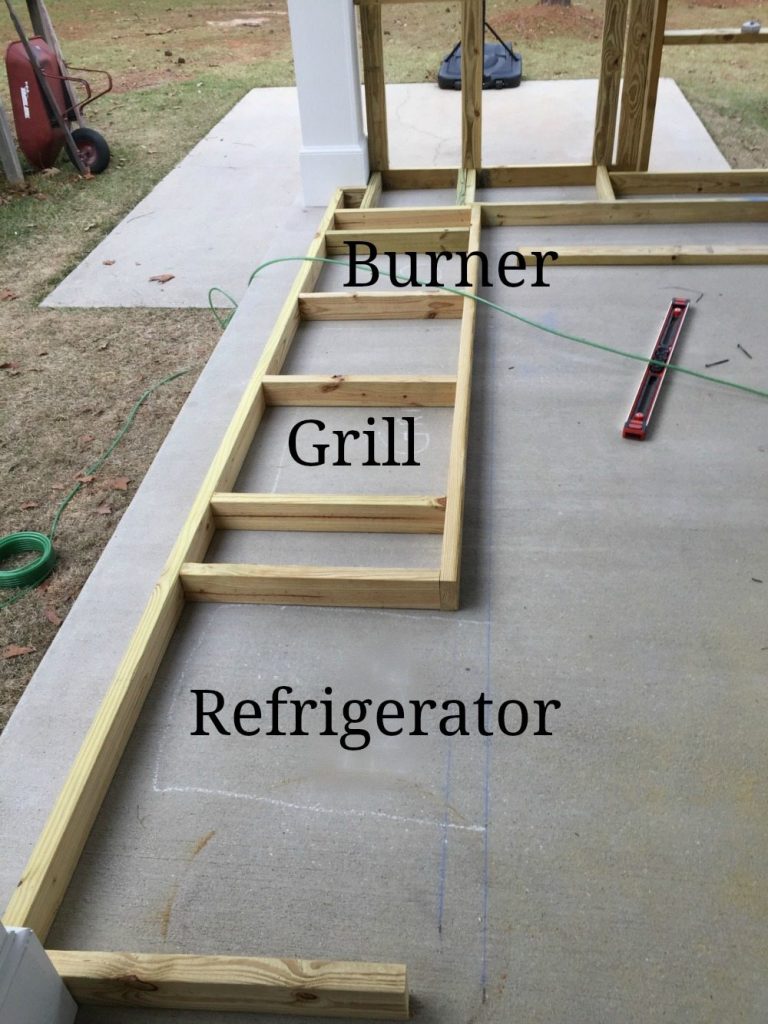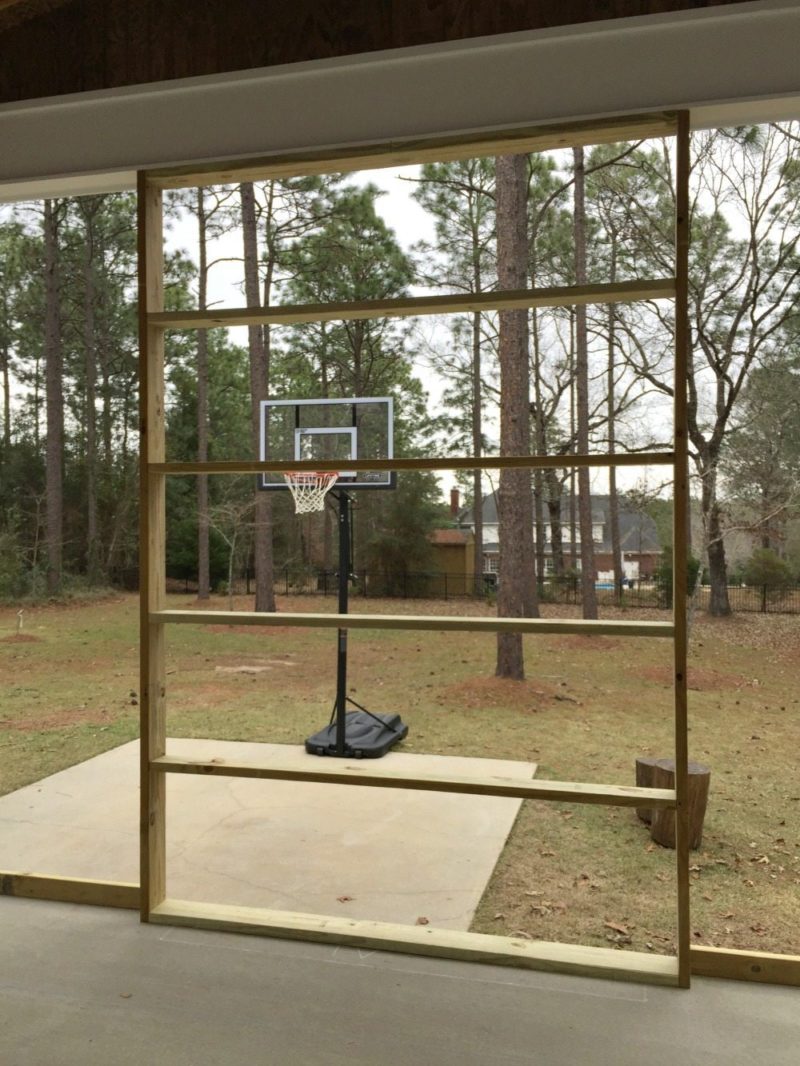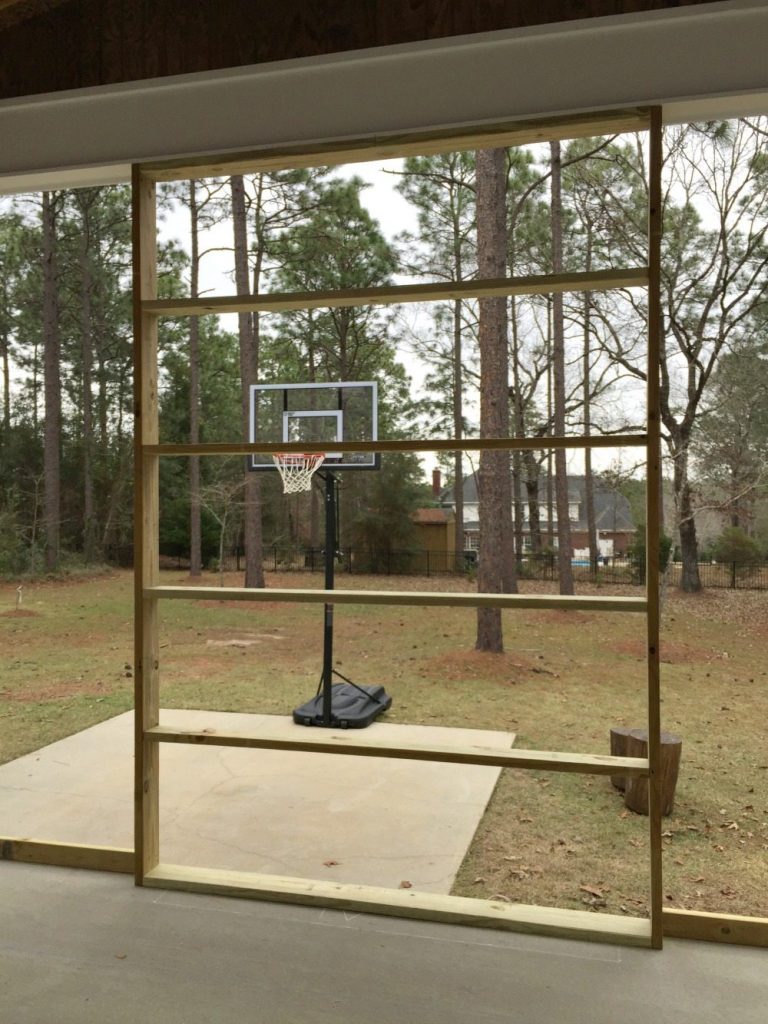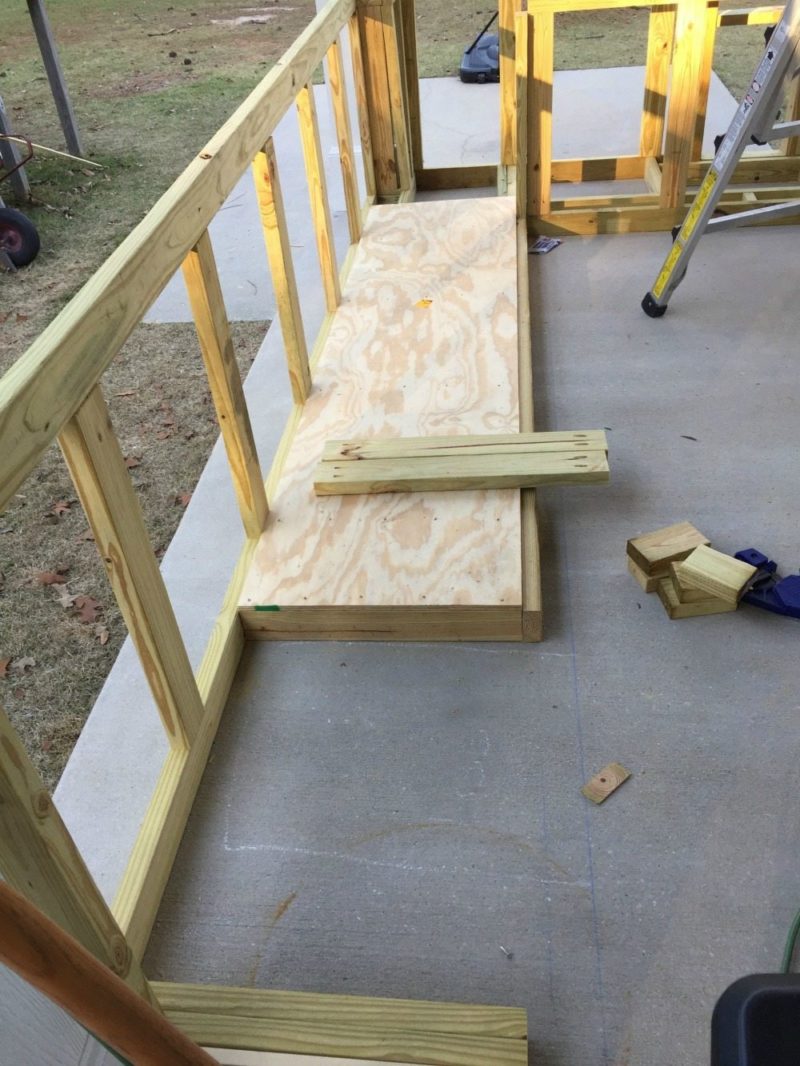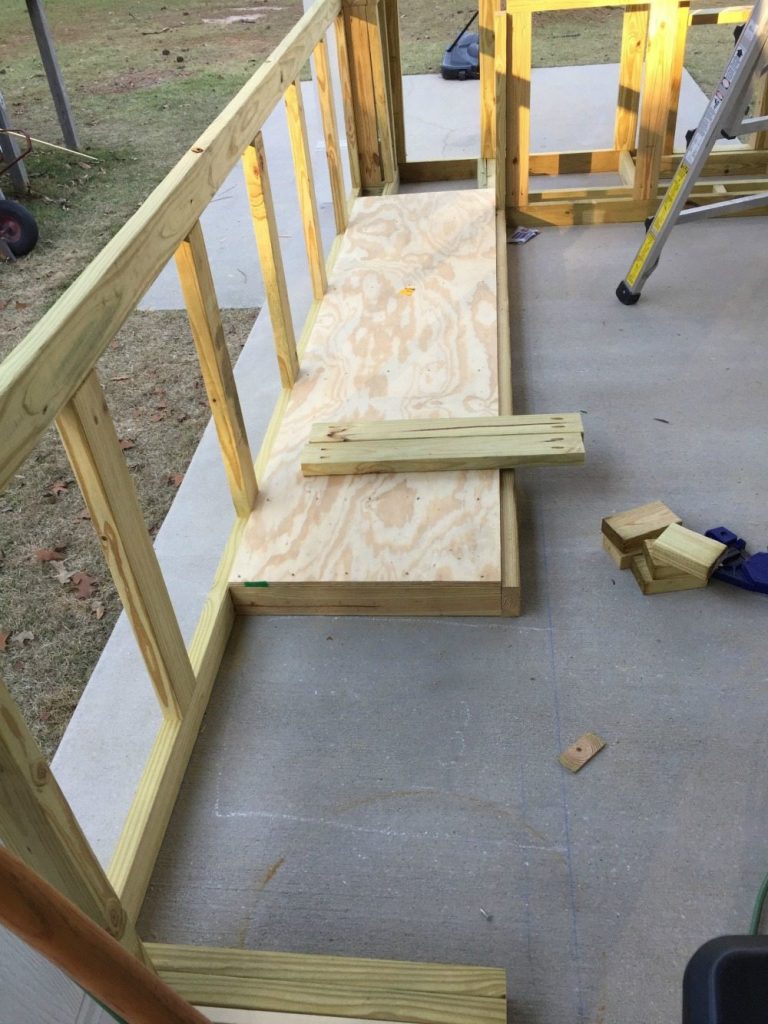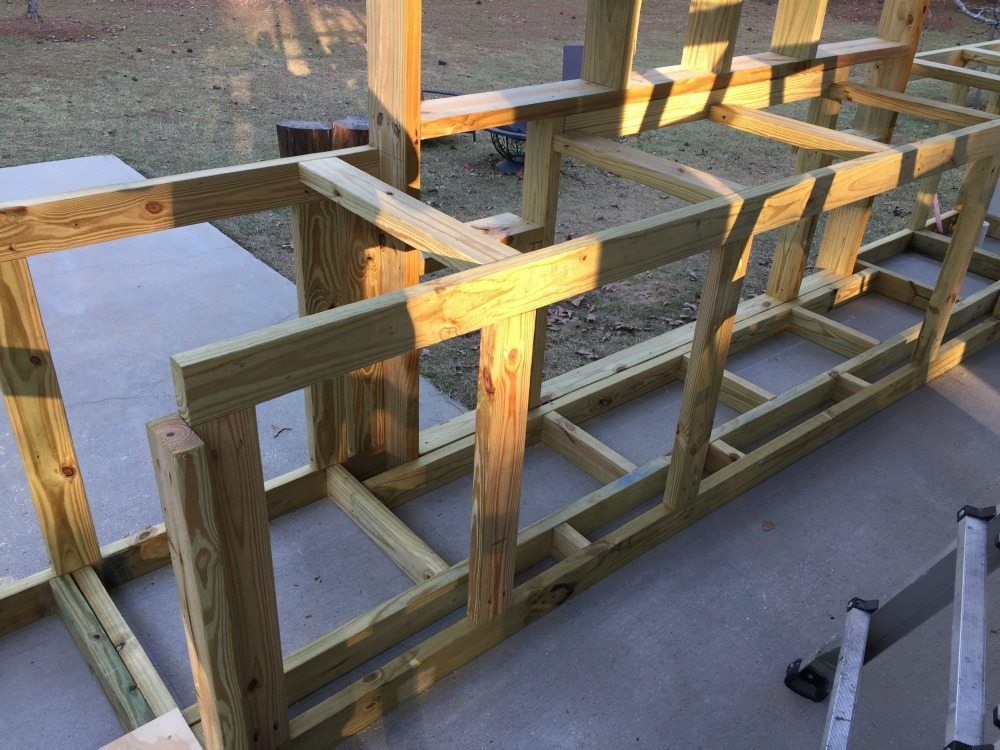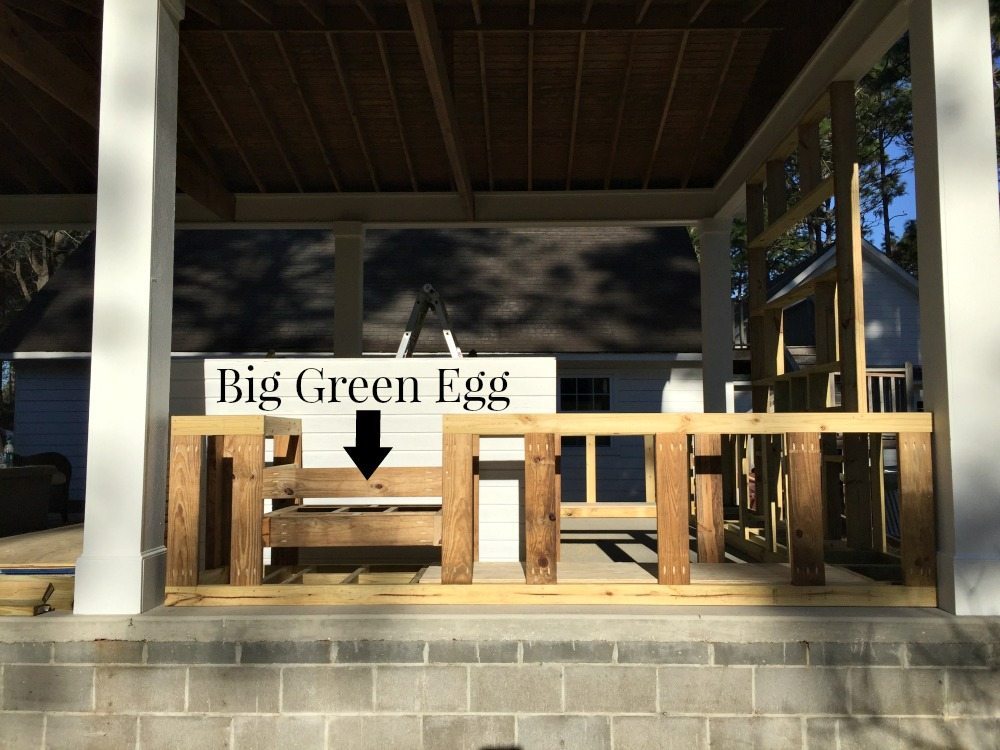 None of this went seamlessly, we used screws and the Kreg Jig to make the cabinet frames. Things got moved a couple of times after we realized we messed up 😉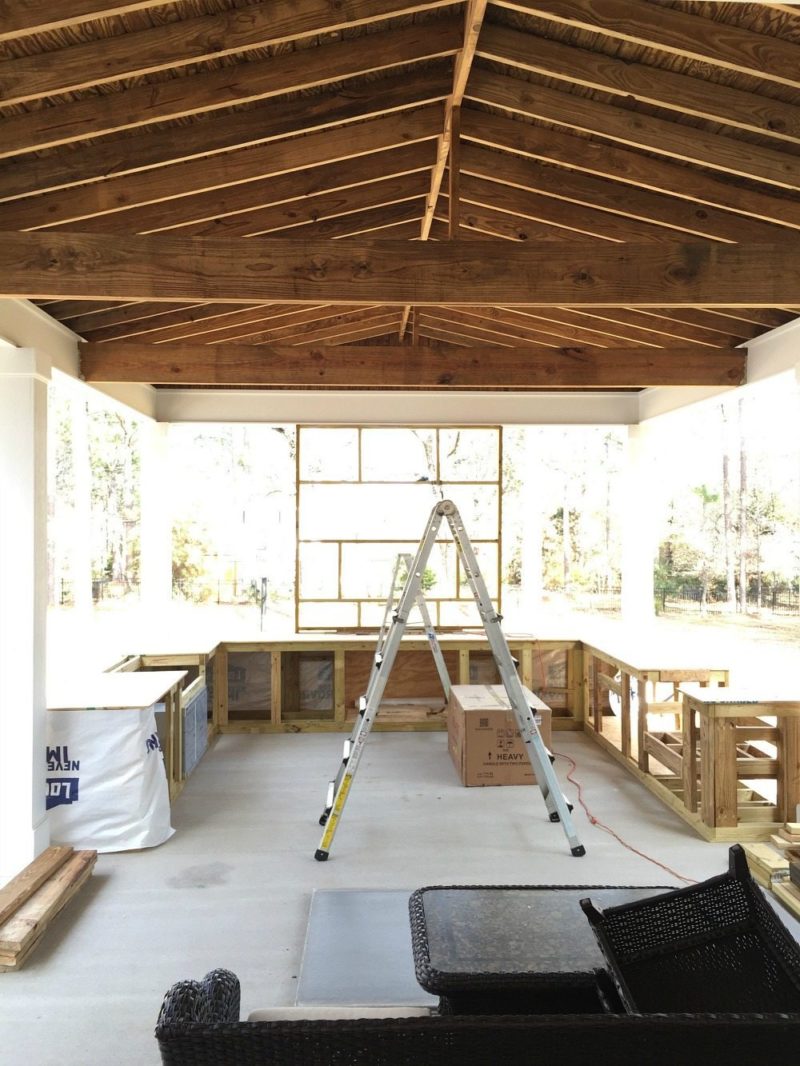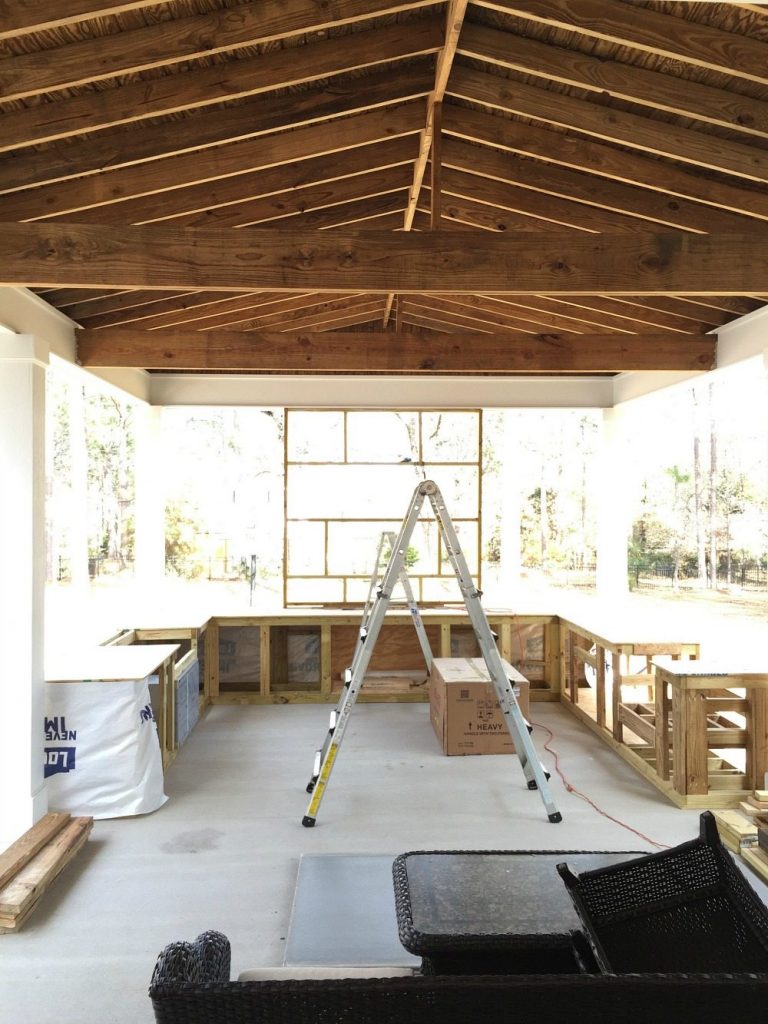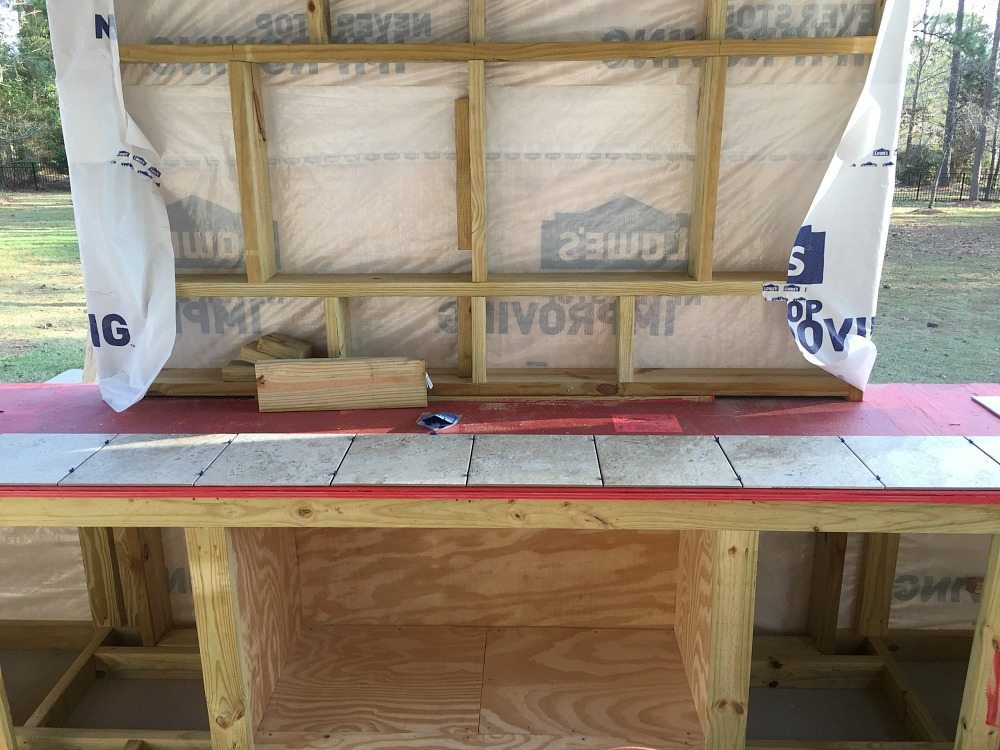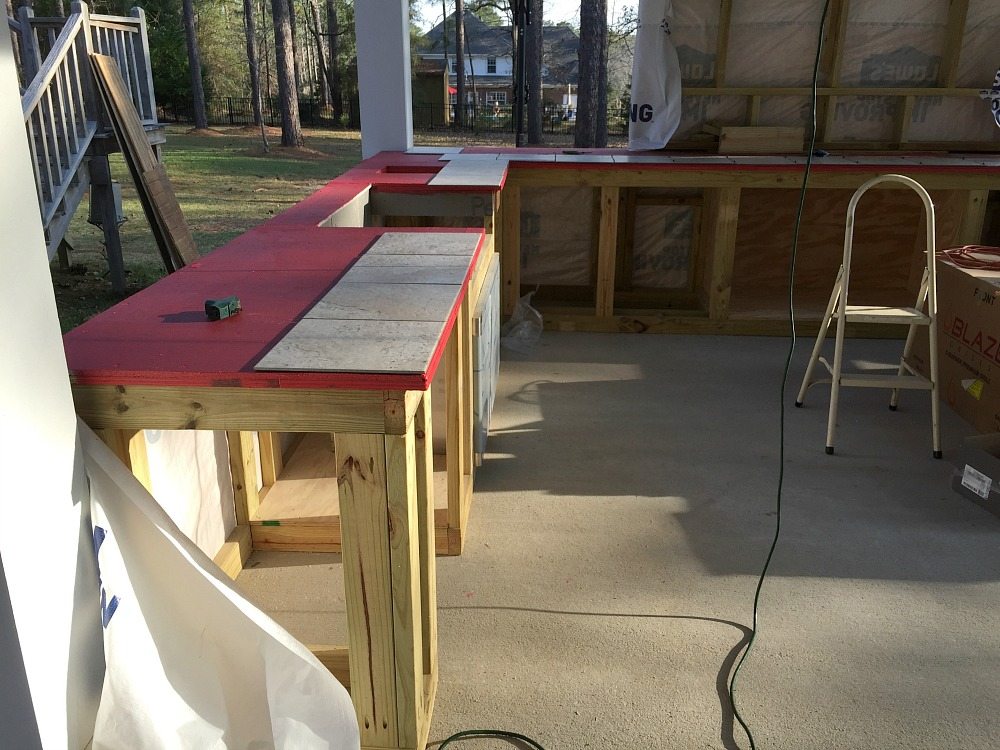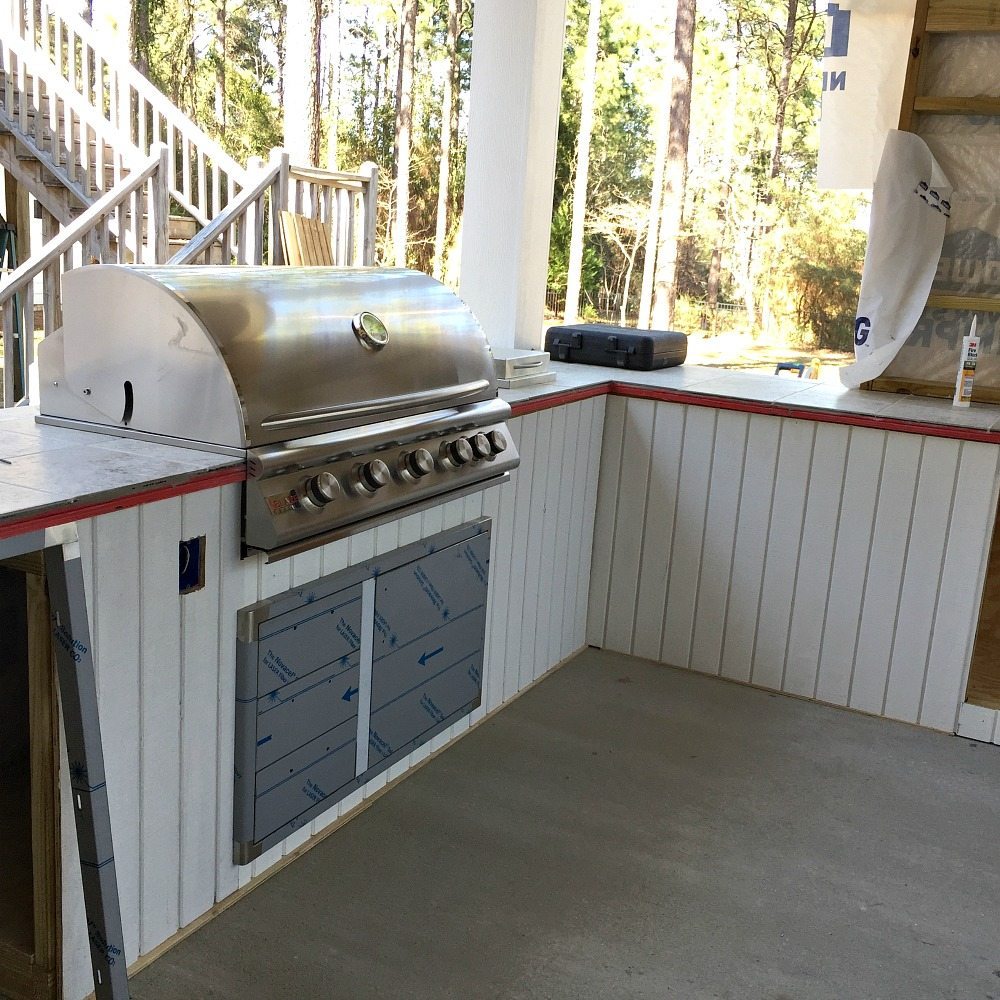 We put all the appliances in place and measured for trim. We decided to use pressure treated 1×4 lumber for the trim. I have used wood and tile for trim outside before and the wood held up better.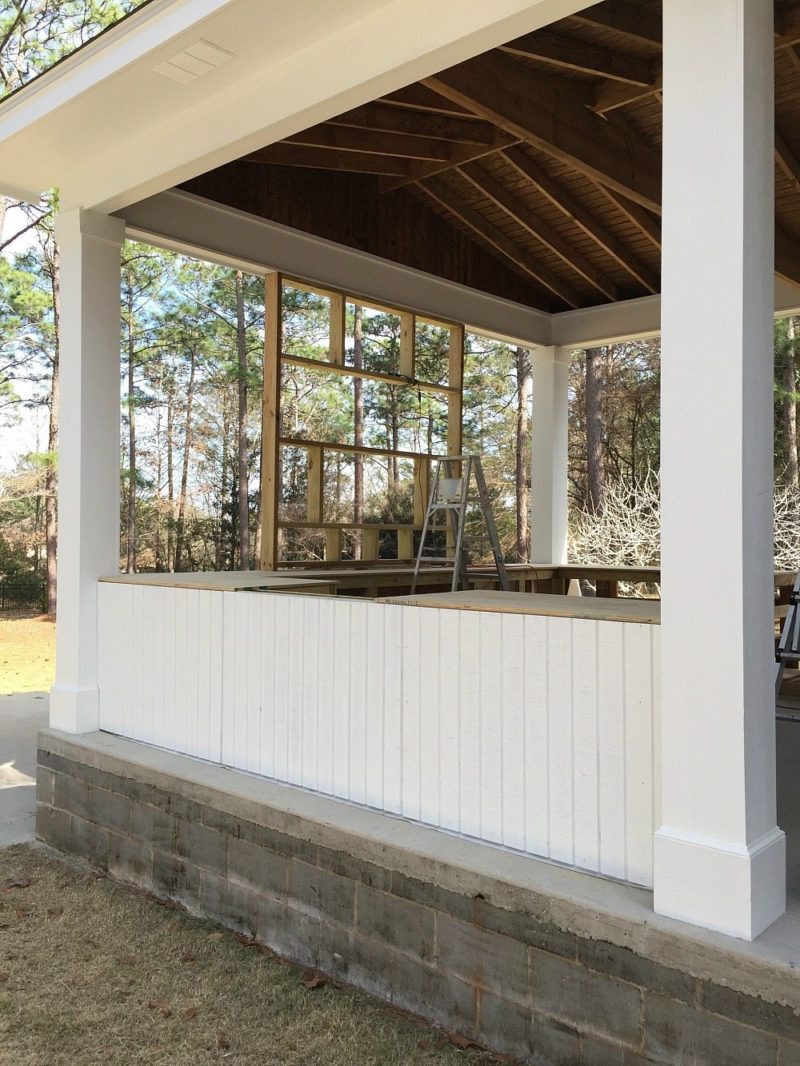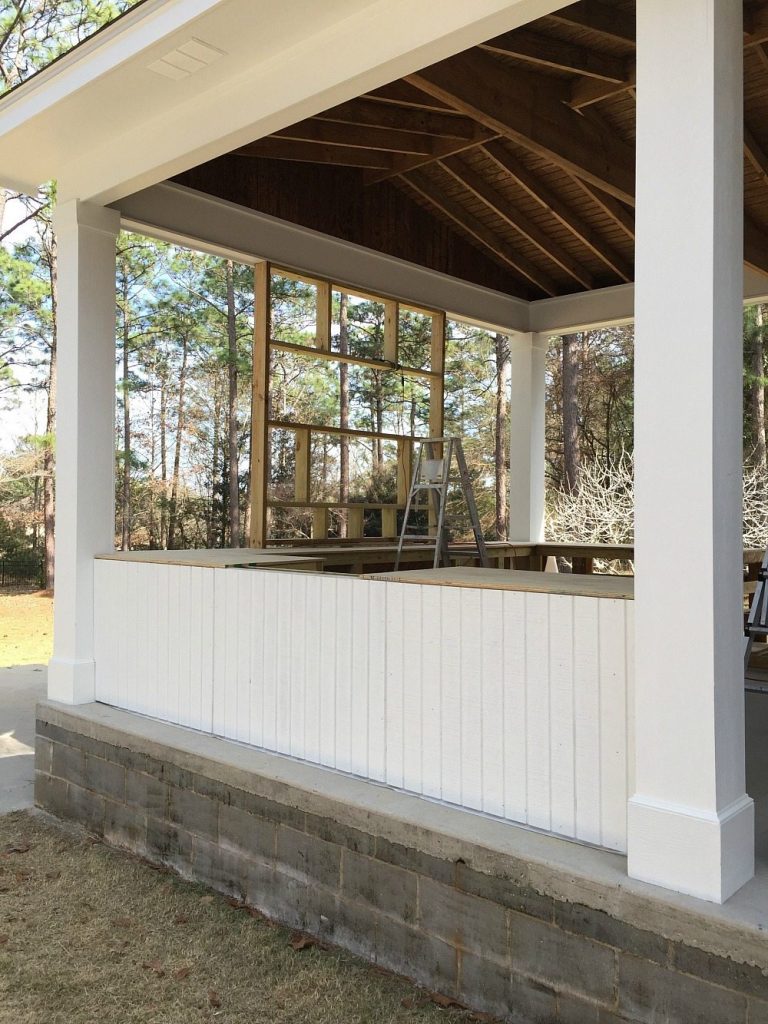 I primed everything and then caulked before I painted.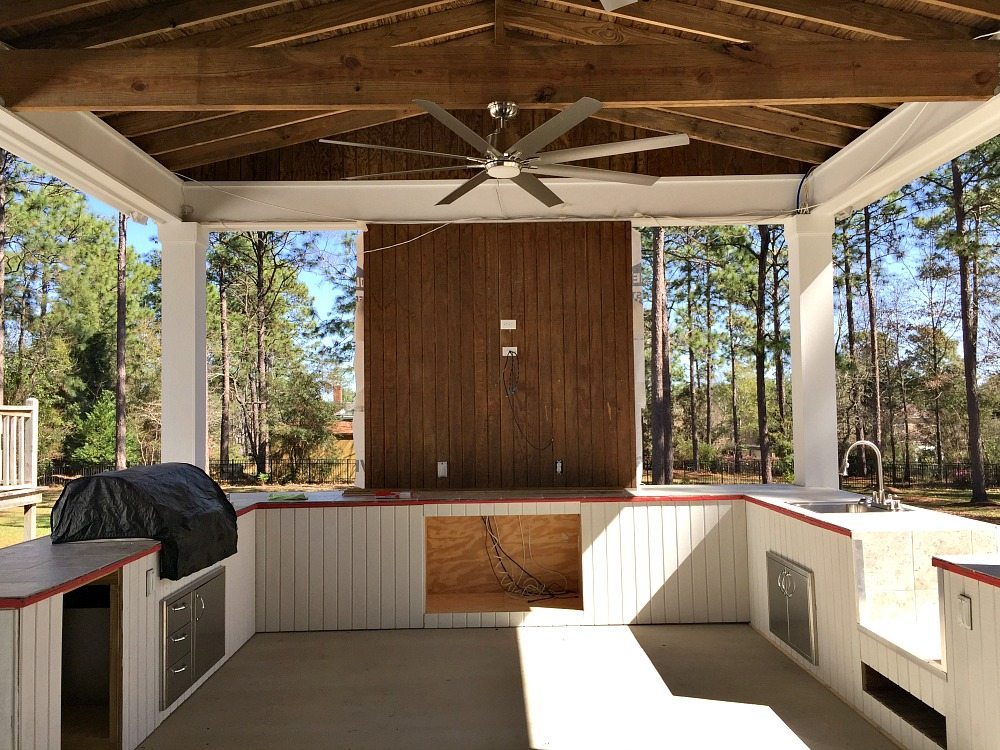 The space under the cabinet is used to hold TV components.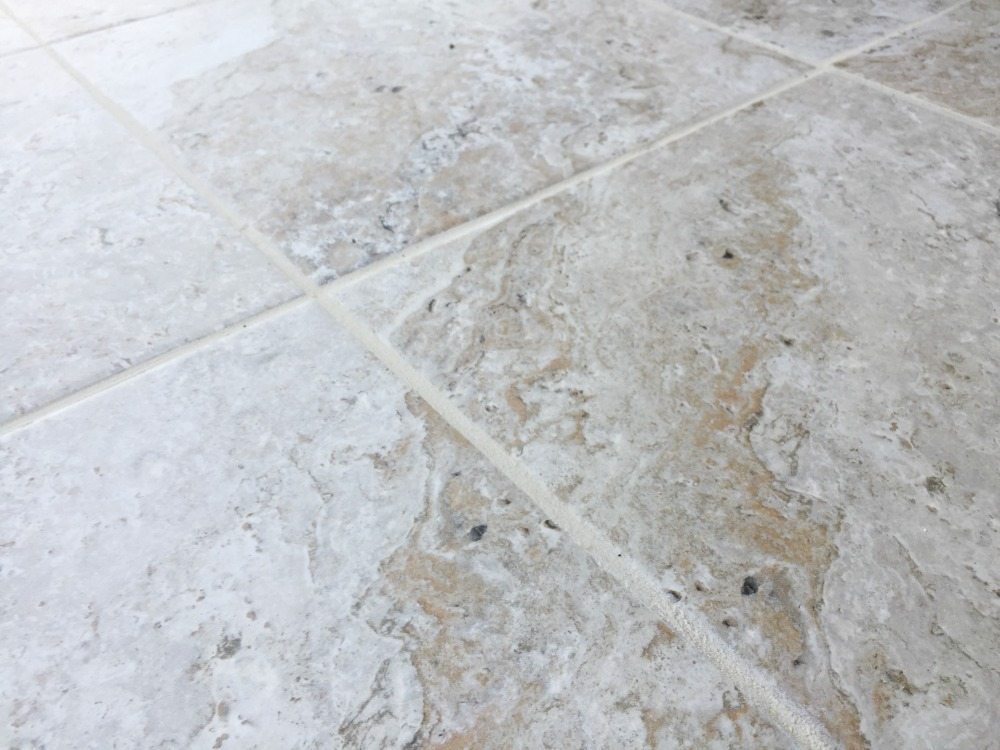 The tile is from Home Depot: Marazzi Trevi 12 x 12 porcelain tile (used on outdoor kitchen countertop). I also used an epoxy grout, be sure to work in small areas if you use it. It's great for areas that tend to get dirty.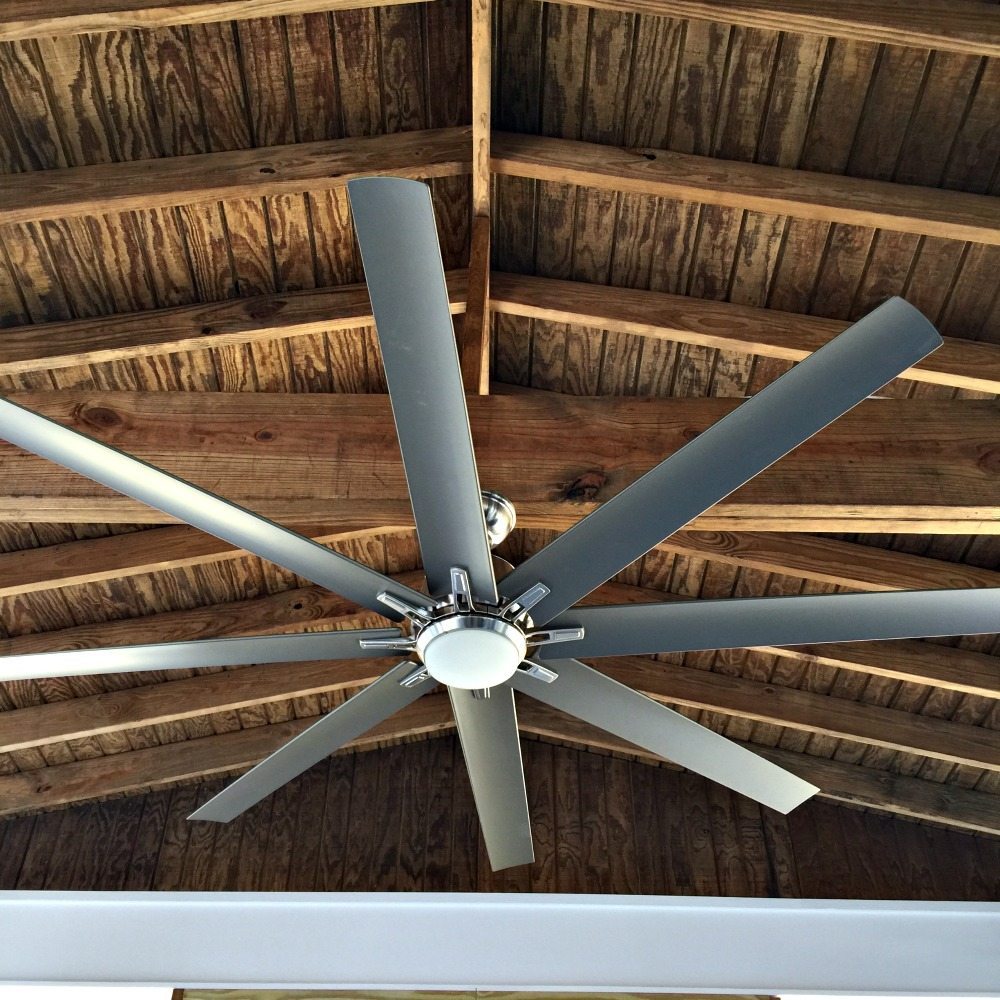 We have two large fans, they are from Home Depot also: Kensgrove 72 in. LED IndoorOutdoor Brushed Nickel Ceiling Fan
All of the appliances came from BBQGuys.com
Here are a few photos from different times since everything was finished: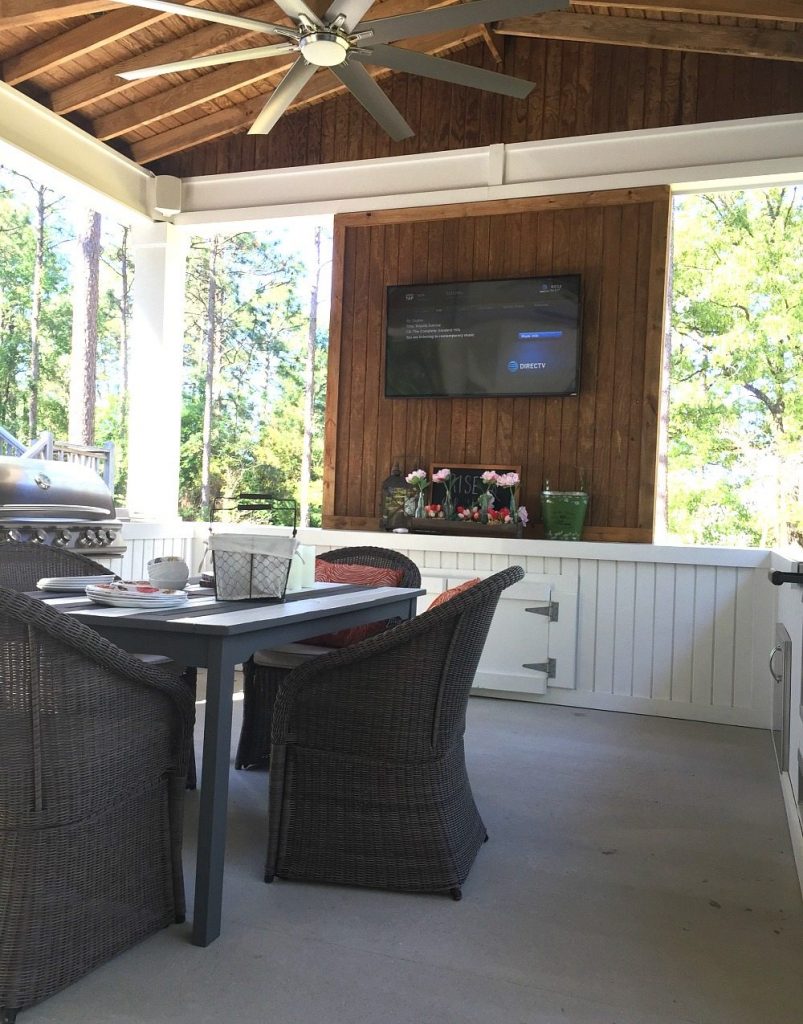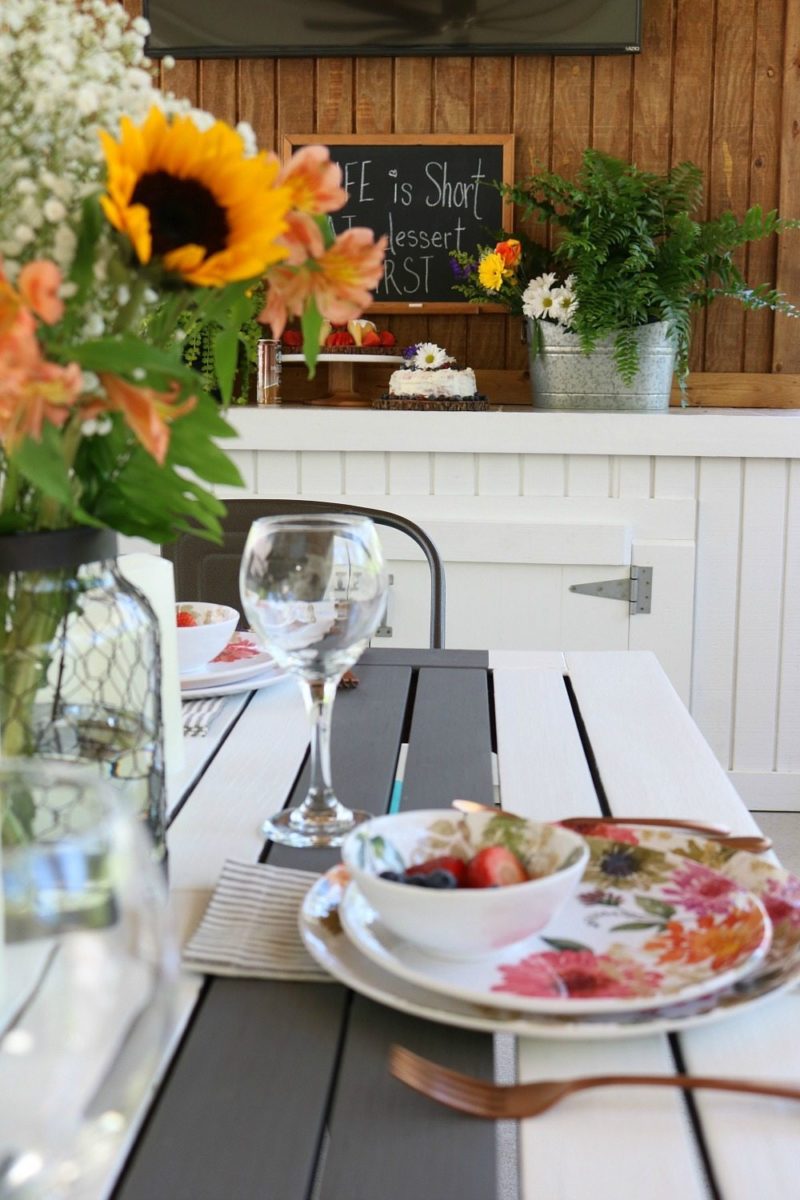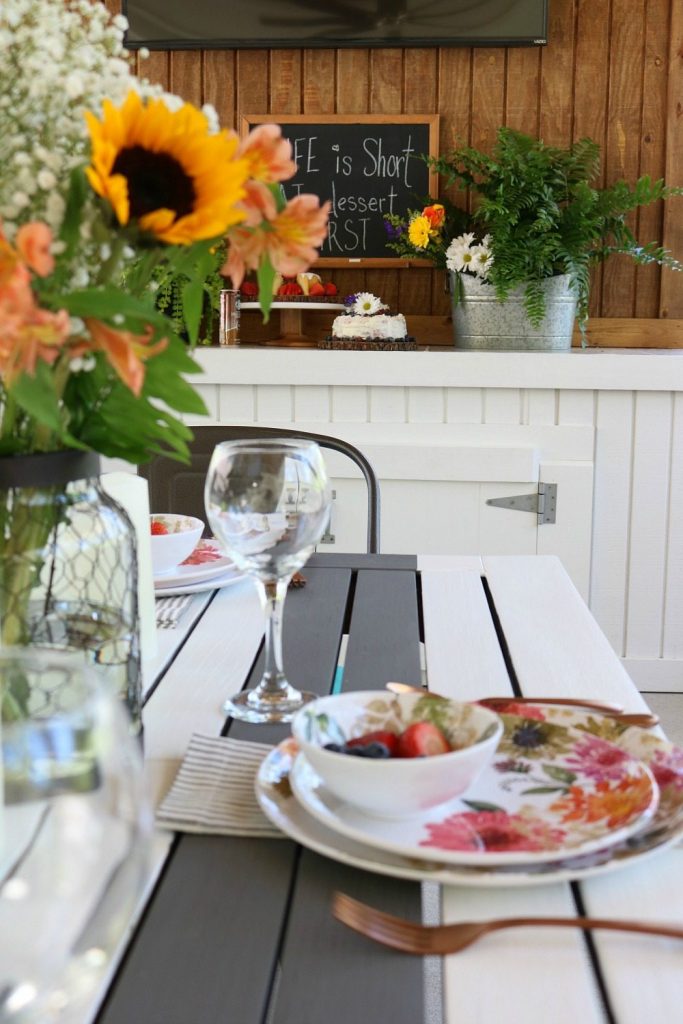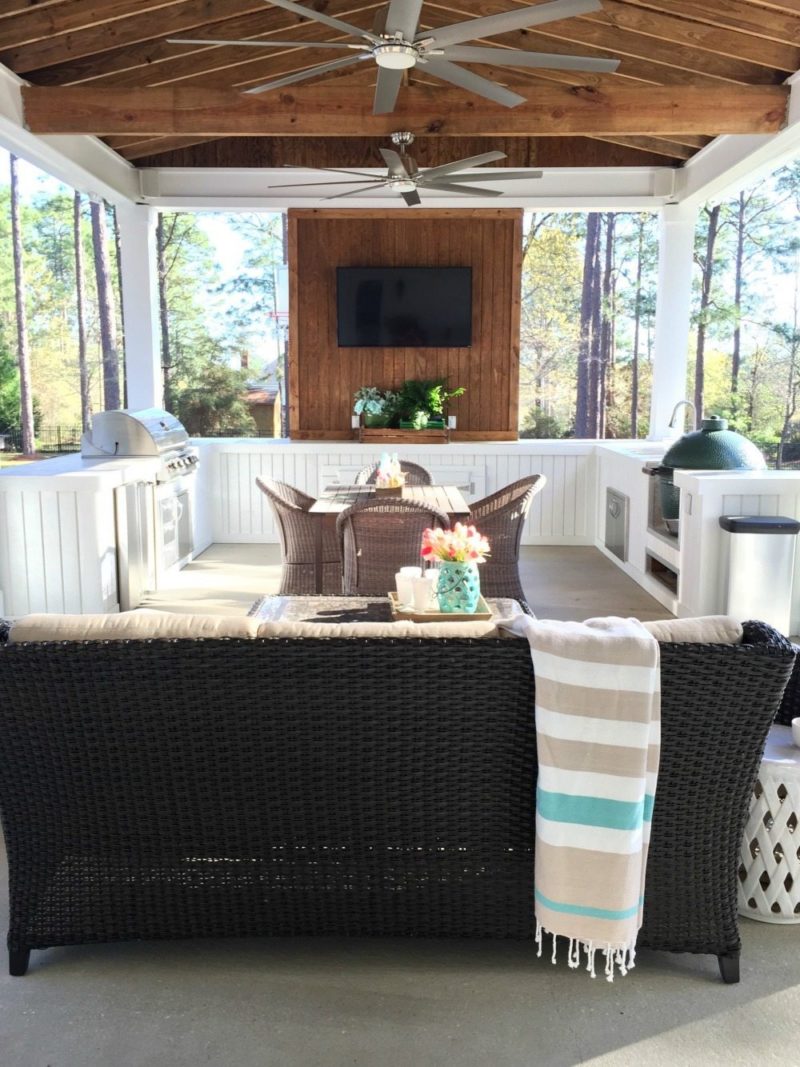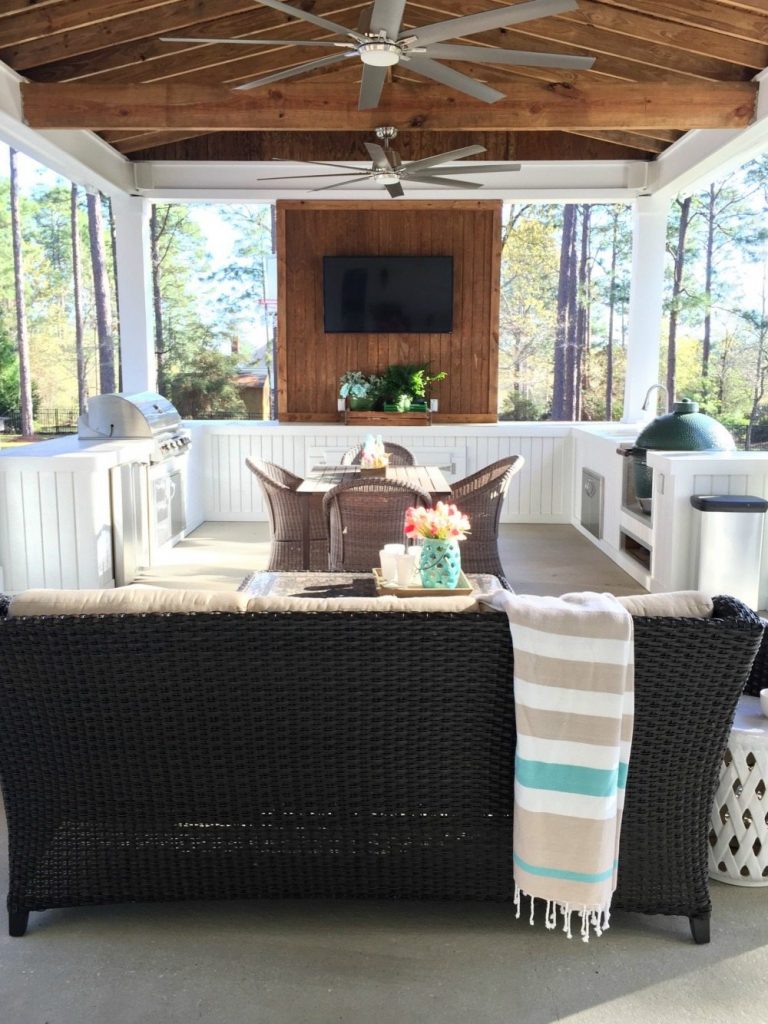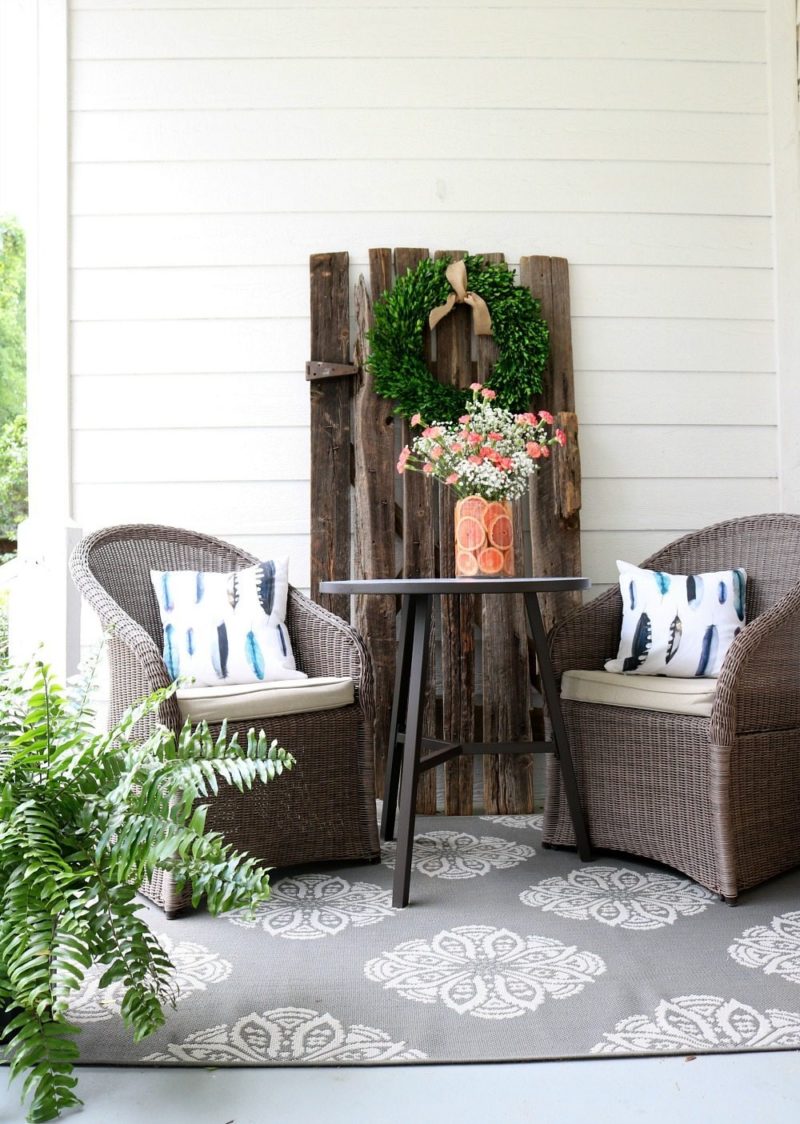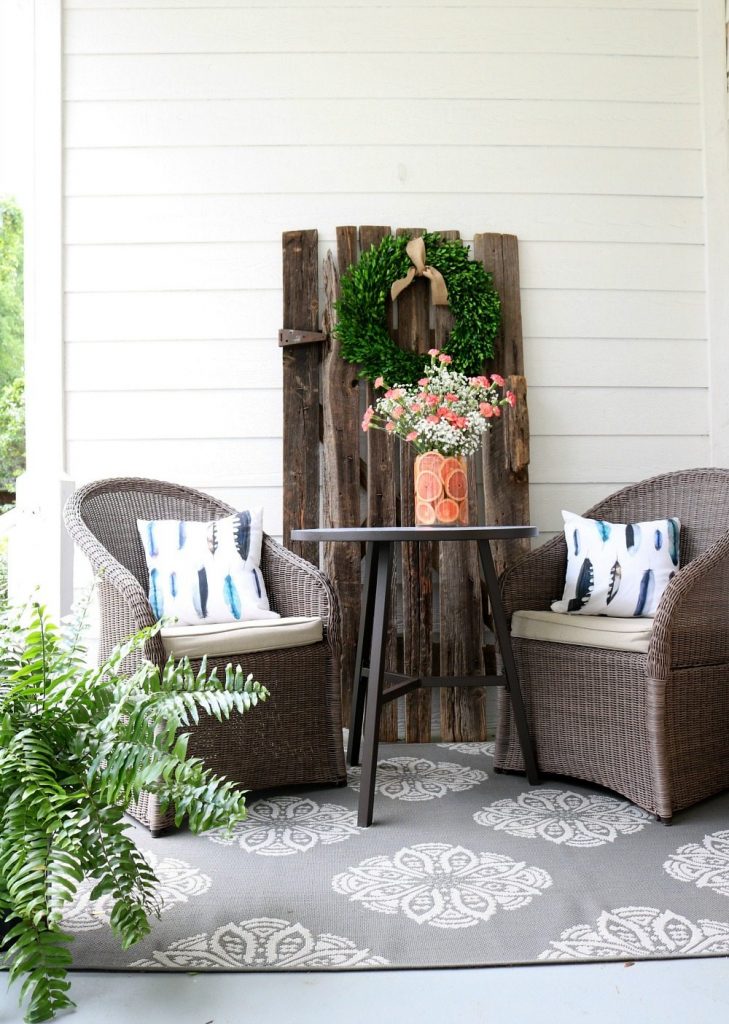 Please be sure to visit the other outdoor spaces:
Outdoor Kitchen Build – Me
Click: Front Yard Garden Tour from Confessions of a Serial Do It Yourselfer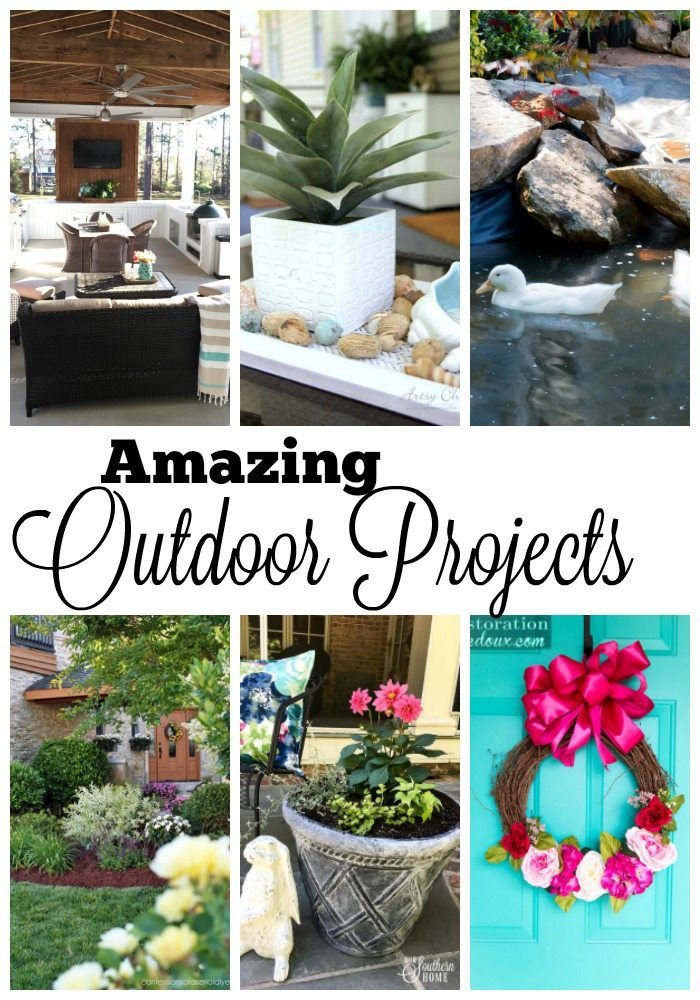 See the porch all dressed up for summer: