Alabama Farmhouse Refresh: We were living in Georgia minding our own business, just like we had been for the past 12 years and then it happened, the opportunity to move back to our home state of Alabama. The idea of living near a lot of our family made this move exciting. The ball started rolling, house hunting trips began and all that goes with them.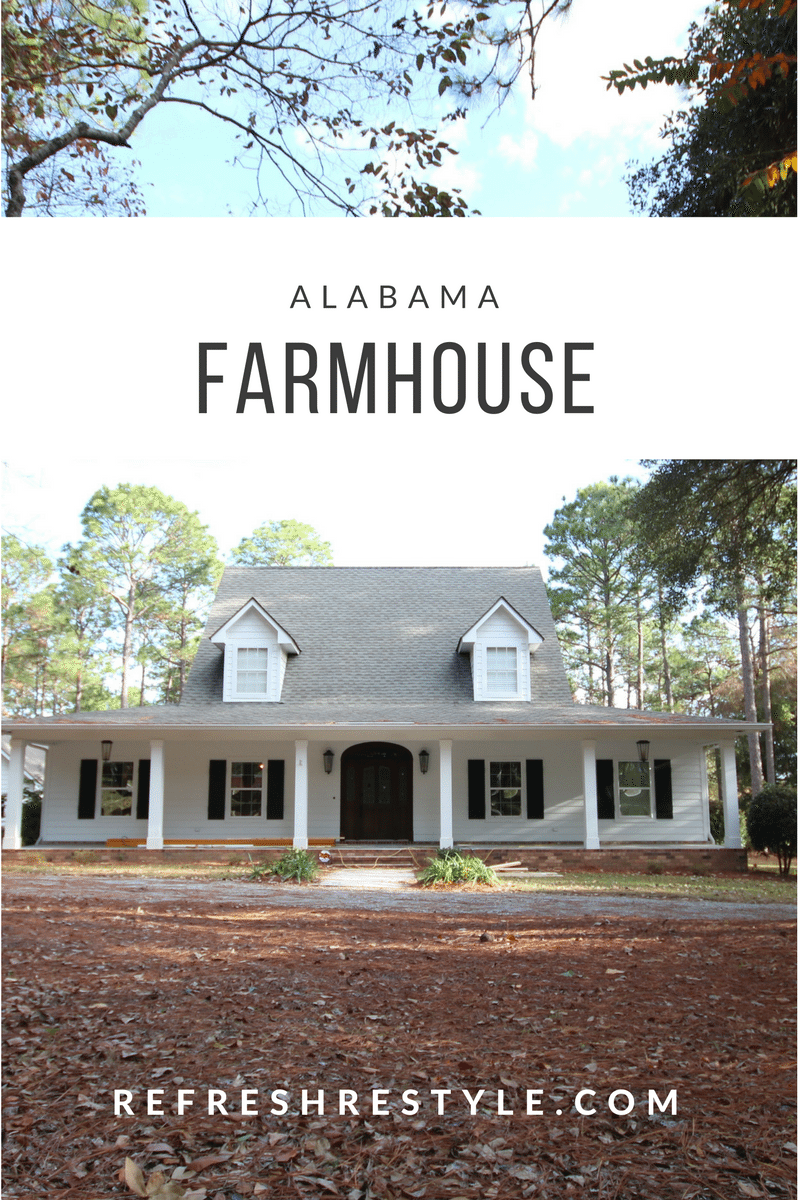 We had driven by this house 4 times, at some point I noticed a small sign: For Sale By Owner. The fourth time I looked at it, Rhonda (our realtor) said are you interested in that one?? She whips in to the drive way and calls the number on the sign, they're not home. She made an appointment to come over and take photos for us, we headed back to Georgia.
Rhonda sent her assistant over to take photos and they emailed them to us. I was so excited when I saw the email come through. Oh my goodness, this could be the one! My mind raced with ways to talk Barry in to it. It was old and the exterior was mostly wood. That's just not his thing, I didn't know if it was my thing or not? I opened the email, looked at the photos and said, nope, this is not for us. It's not an open floor plan, I don't think we can live there. I emailed Rhonda back and said, we don't want to look at it. It's not us, not open and very little natural light. She emailed me back and said that she'd already made the appointment and that we should take a courtesy look and that she had more listings that we would probably like.
These are the photos that I received that day.
Before photos: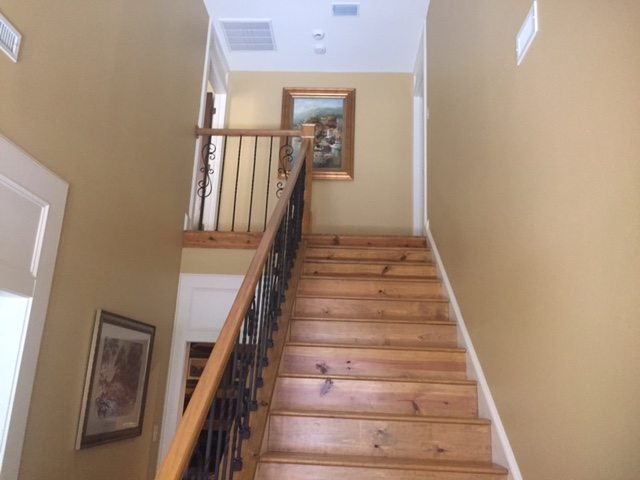 Photos of the entry.
Living room.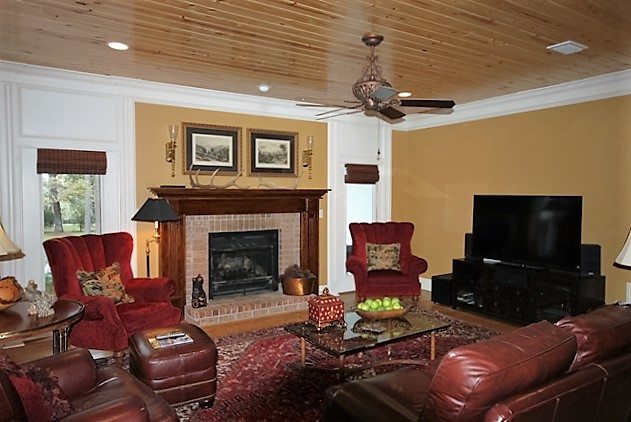 Master bedroom.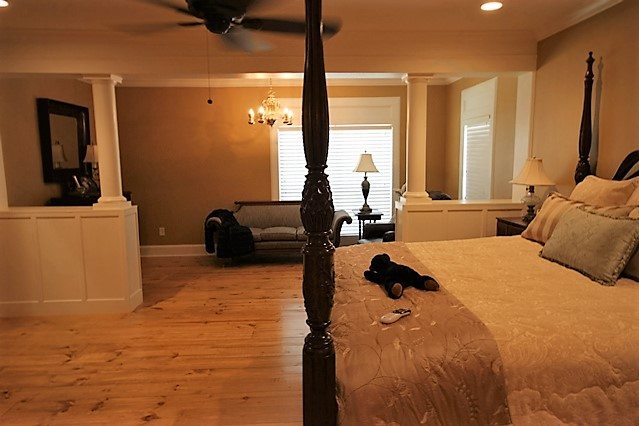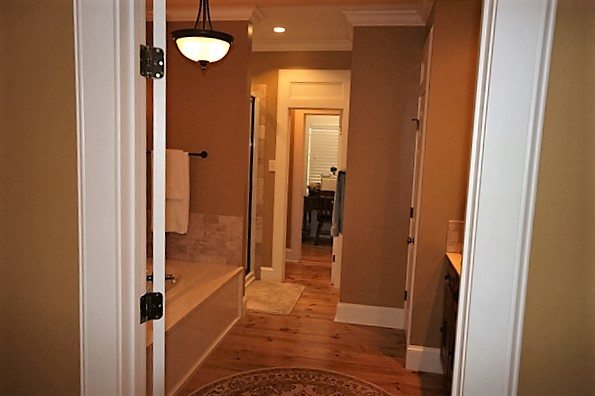 Kitchen.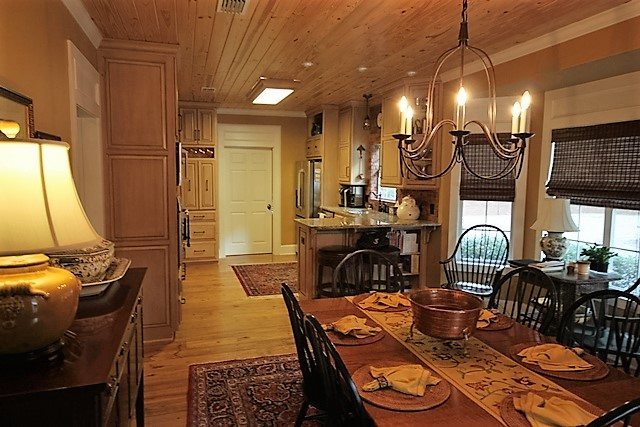 Bedroom 2.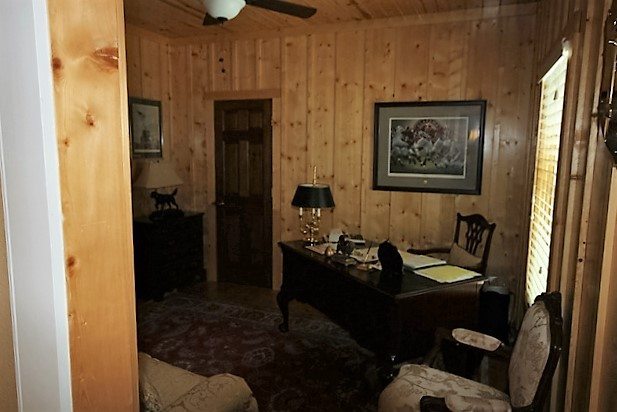 Bedroom 3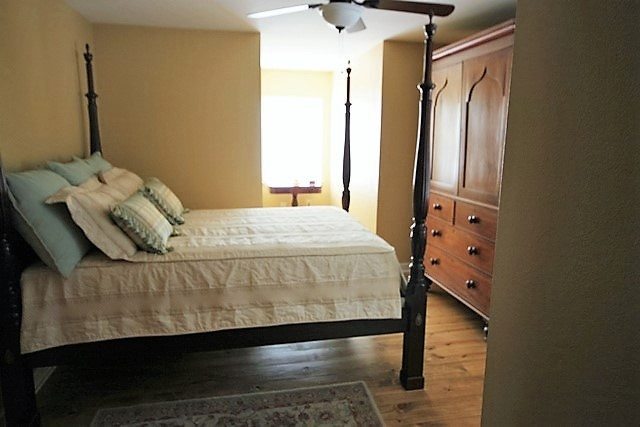 Bedroom 4
Two 2 Car Garages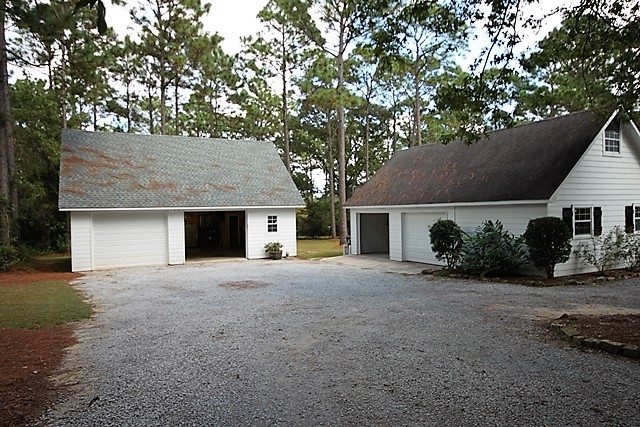 Shop Area in garage 1.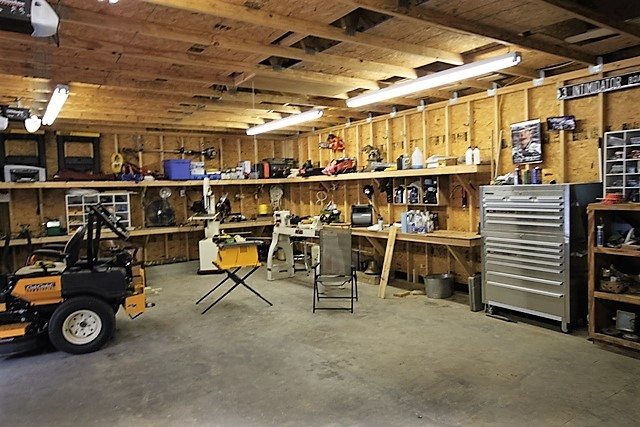 Garage 2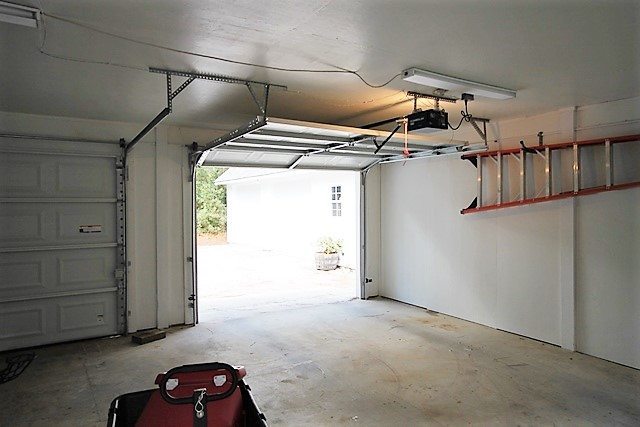 Storage above garage 2.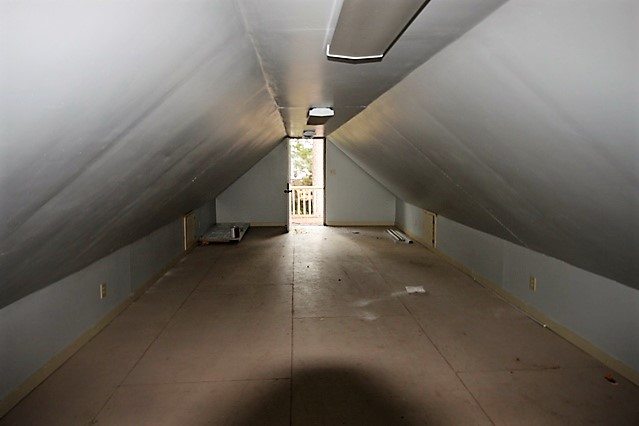 Kitchen area in garage 2.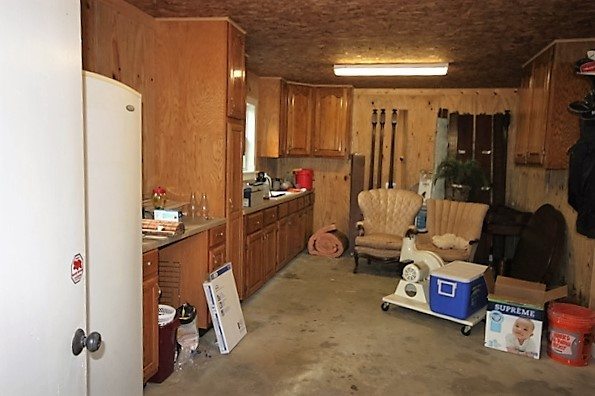 Patio and back porch.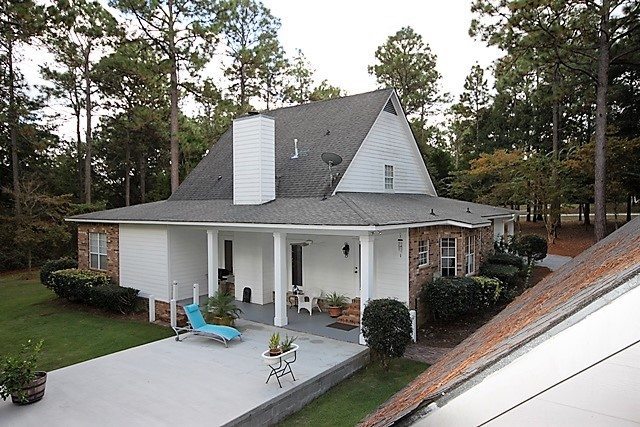 We loved the house!  Needless to say, we bought it. We have a vision for what it will look like once all the items are checked off the list.
The: plans for our Alabama farmhouse refresh:
Remove 3 interior walls.
Paint the whole house inside.
Add a roof over the existing patio. Outdoor complete!
Build an outdoor kitchen.
Remodel garage 2 to create a farmhouse cottage, including new roof. See the:  cottage kitchen, cottage living room, painting the cottage kitchen cabinets, 
Finish unpacking! (I may need to move this up!)
New counter tops. 
Paint kitchen cabinets. See the before and after main house kitchen.
Live happily ever after 😉
I'm sure there's more!
Photos of in process wall removal:
X marks the spot for wall removal.
Living room, the walls removed: wall to dine in kitchen area and dining room wall.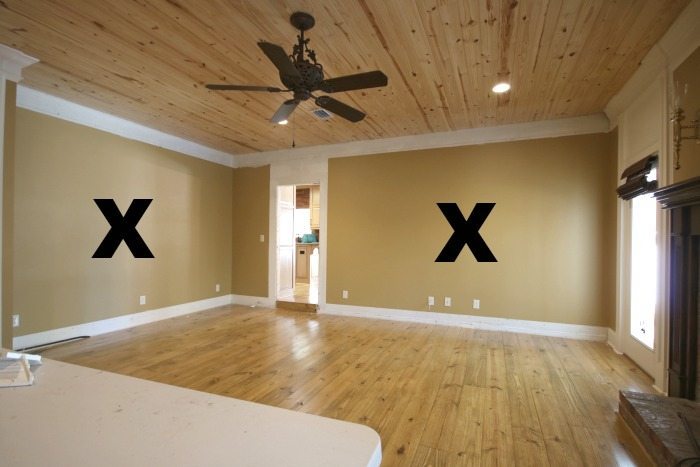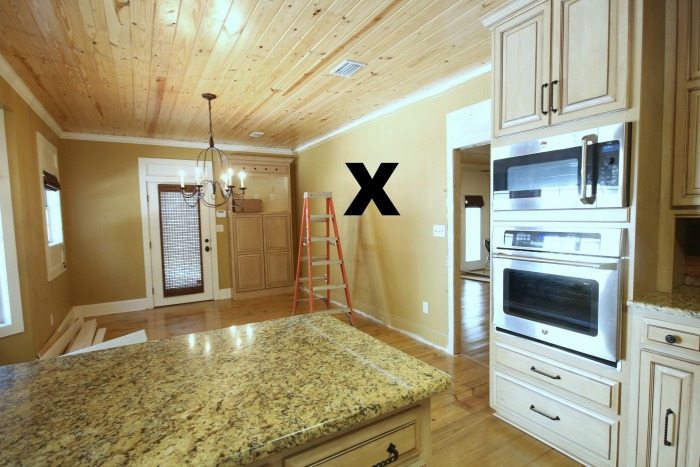 Enlarged the opening from the entry to the dining room.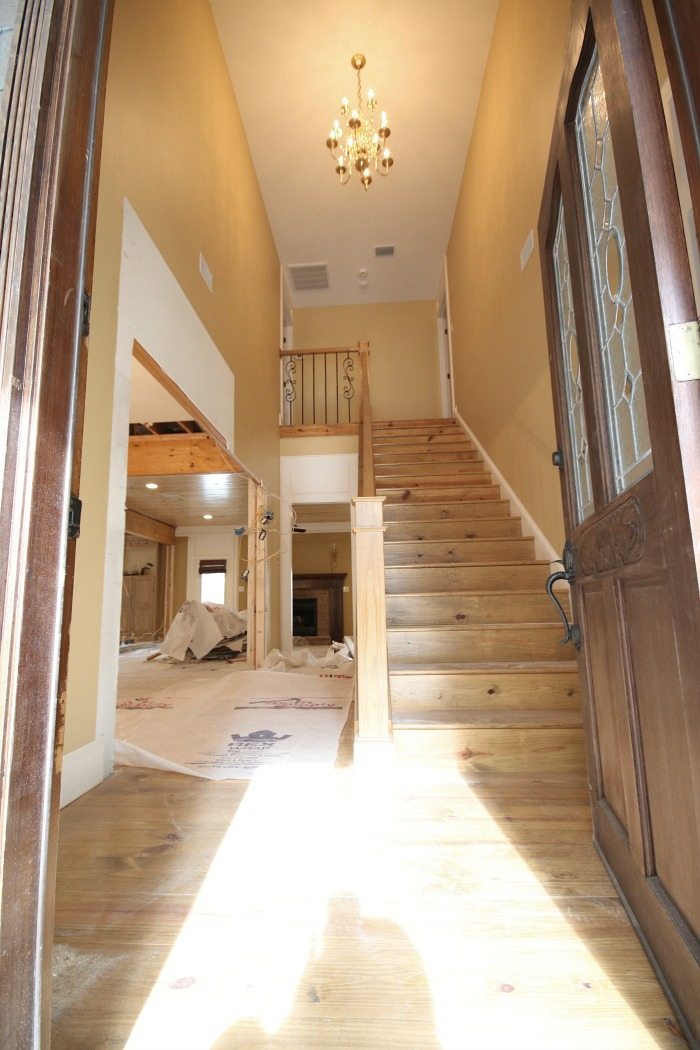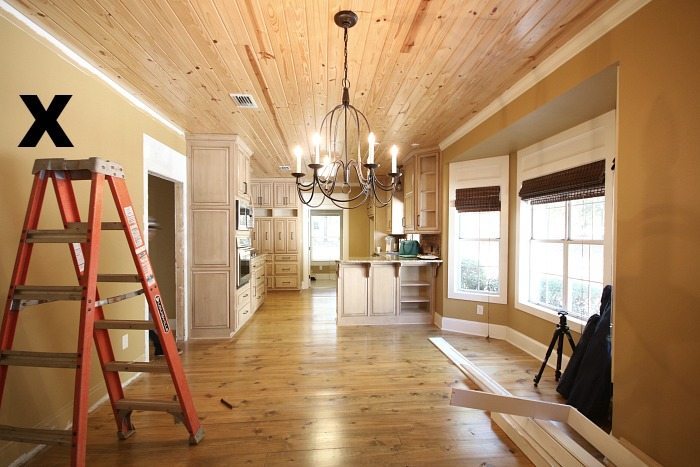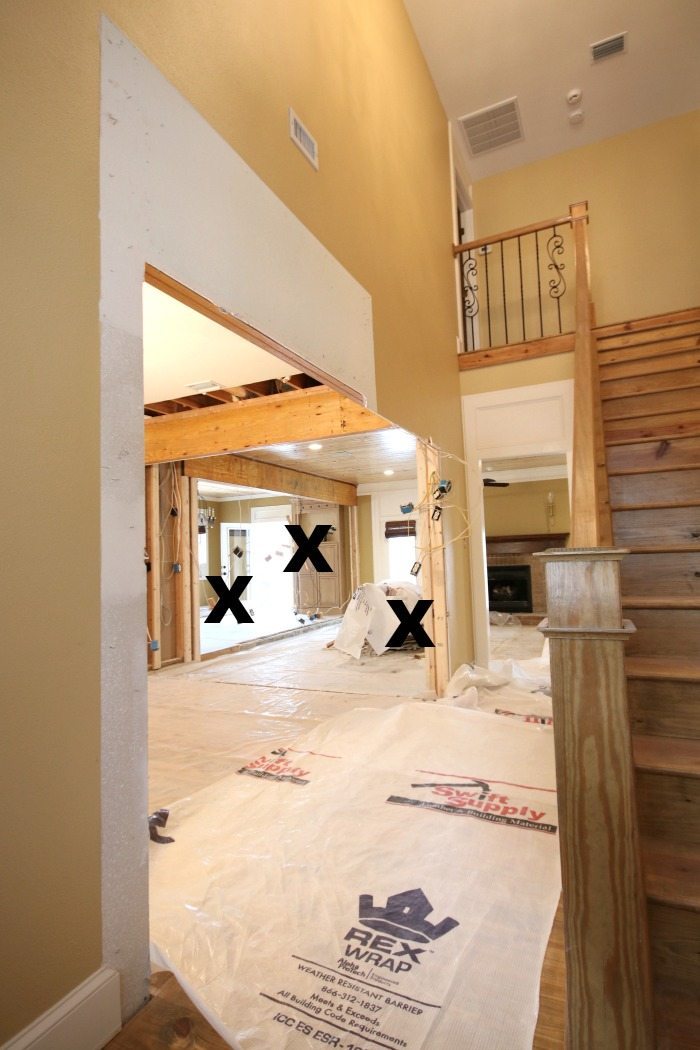 The house was built in the '80's and there is a step down to the living room. The floors in the whole house are wide plank pine except for the laundry/pantry area, those are tiled.
Current view of the entry. You can see that the newly painted white interior really made a difference. The whole house is so much lighter and brighter. The paint color is Dove White, colored matched with Sherwin Williams paint.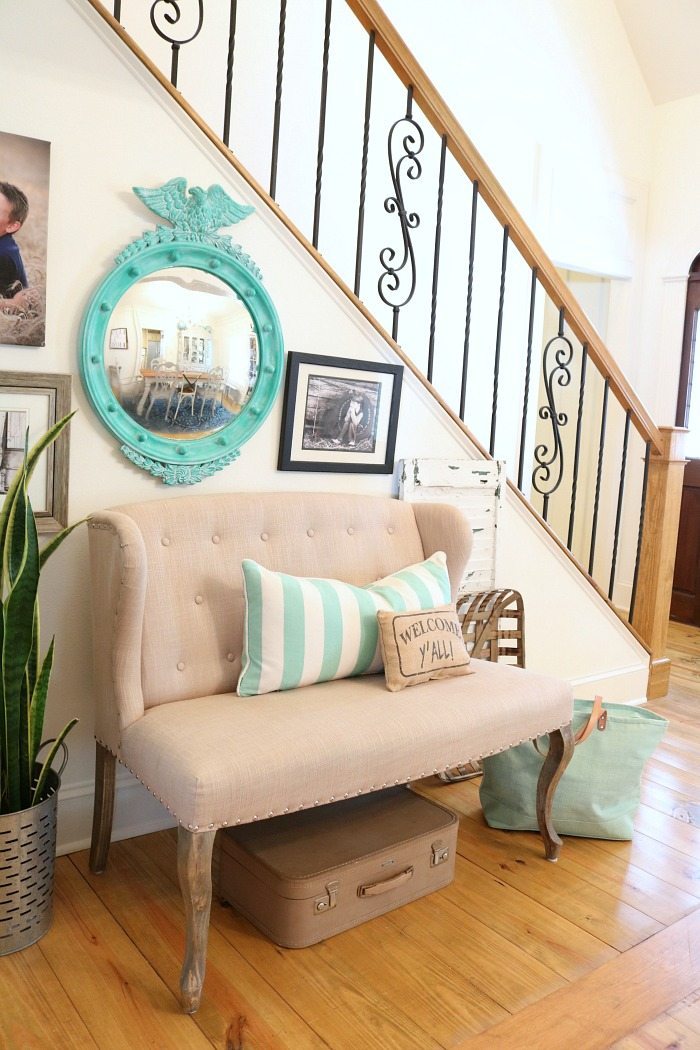 I am so glad we looked at the house. We were pleasantly surprised, the original photos did not do it justice. Now that we've made a few changes, it's starting to feel like home. We look at each other every now and then and can't believe we live in this awesome house!
Back porch roof is going up this week: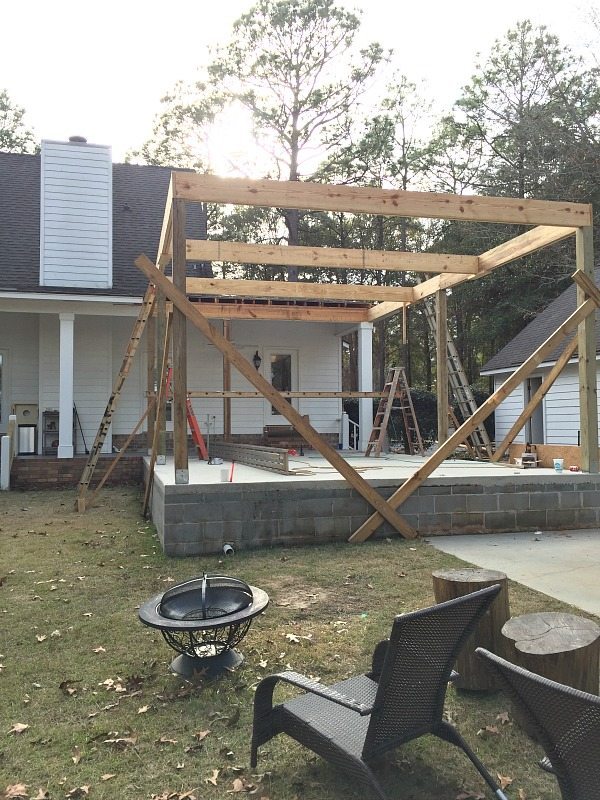 Watch the video to see the back porch progress: