Trying to work out of our home was getting more and more daunting. If you're someone that works from home, I'm sure you can relate. I would have projects spread out in several rooms, trying to multi-task in any space available. A few months ago I tried using the sitting area in our master bedroom, it just wasn't a good fit. While cleaning out the garage, I realized there was enough space on one side to create the perfect small office. I measured it all to make sure that a car would still fit and then we got busy building a wall, putting shiplap up and hiring an electrician to add lights and outlets. (I'll share all the building details later.) Today I'm excited to share how I added storage and arranged everything in my long and narrow office space.
SMALL OFFICE IDEAS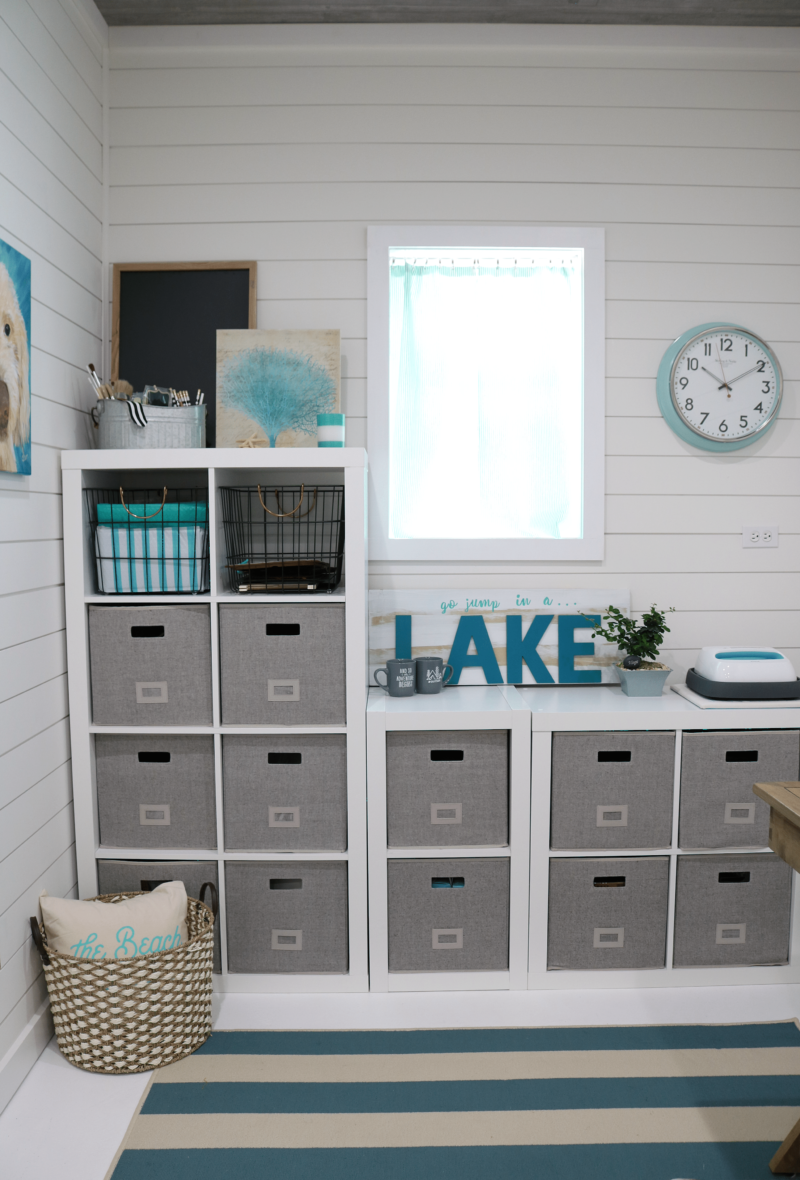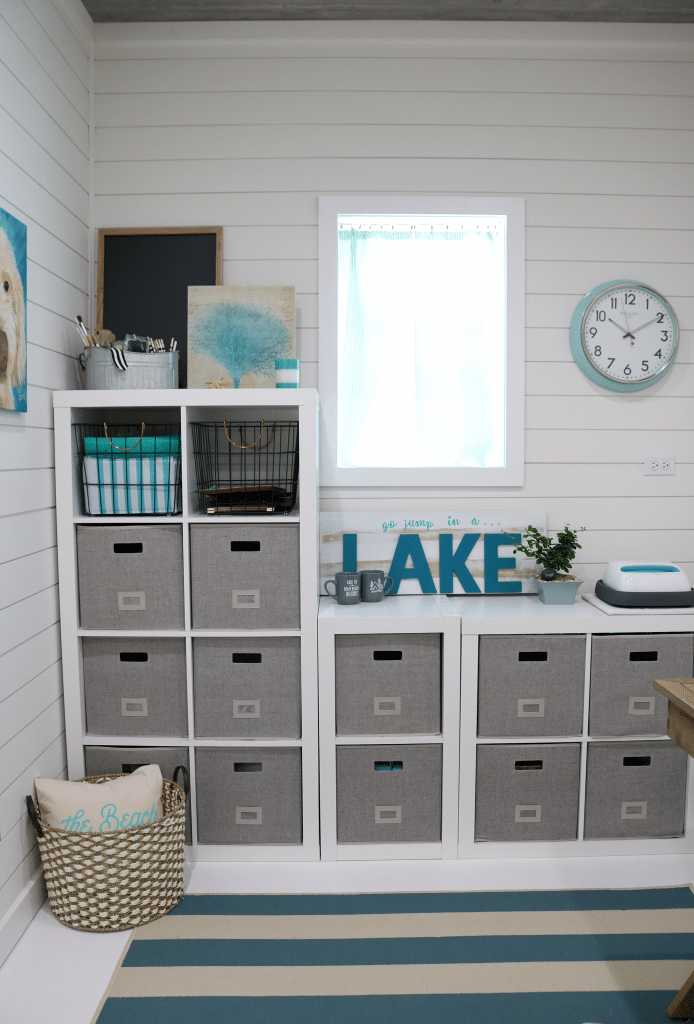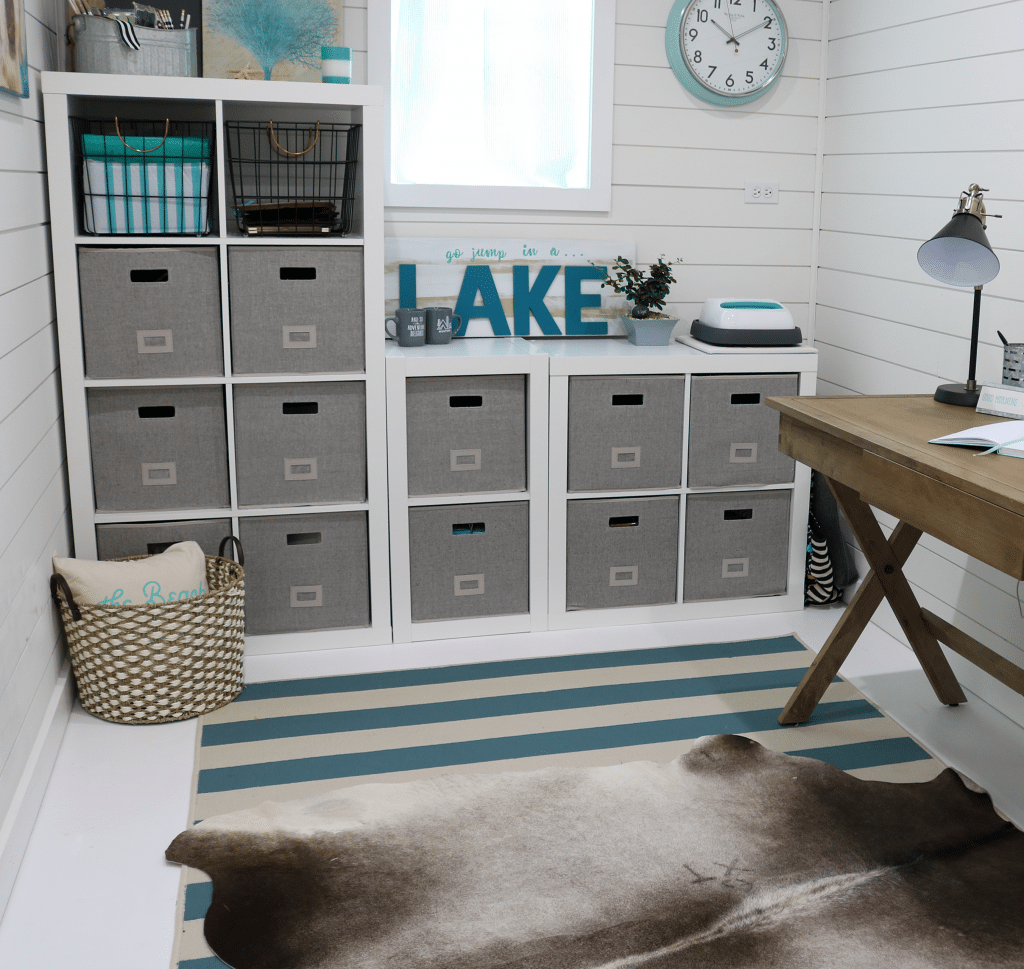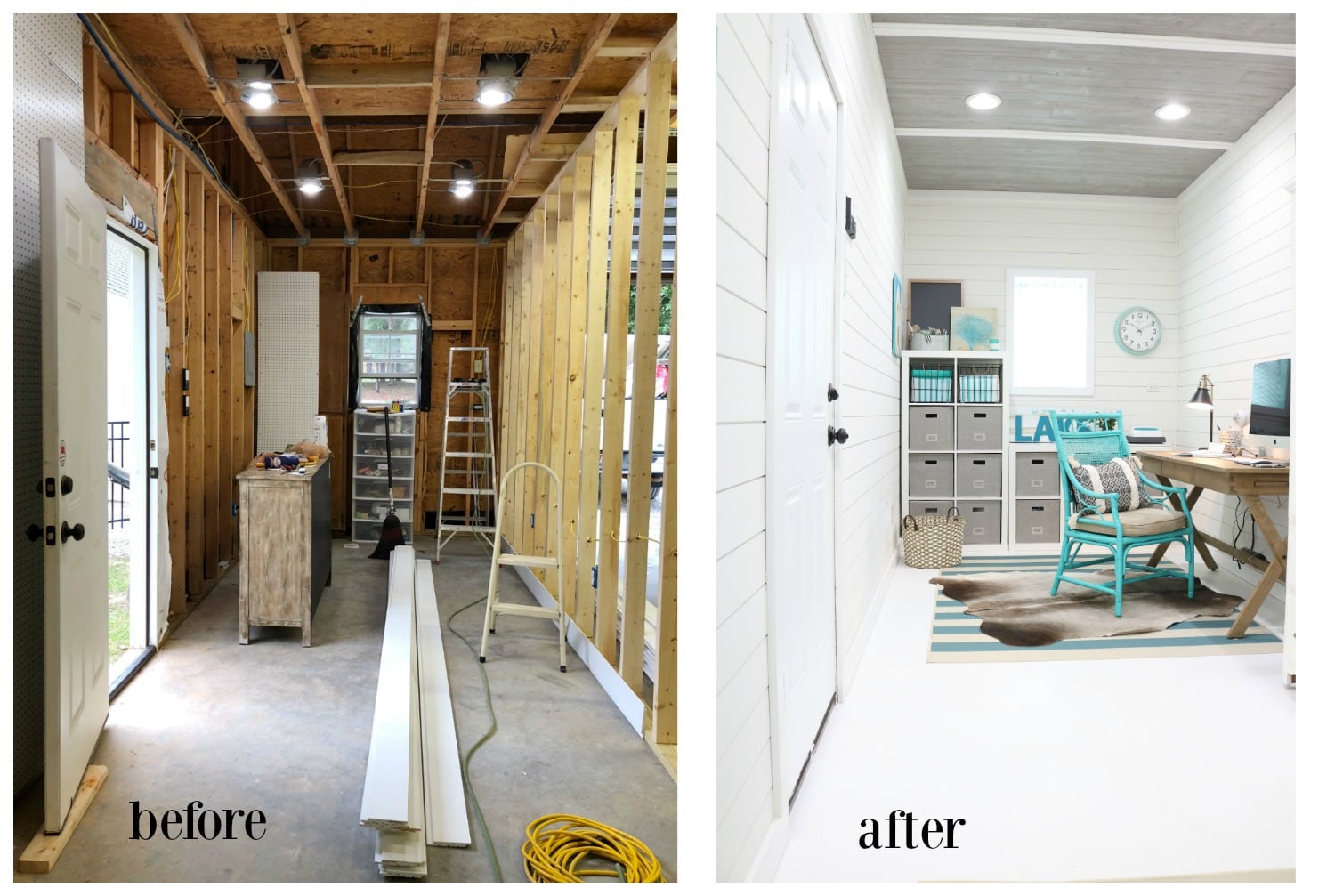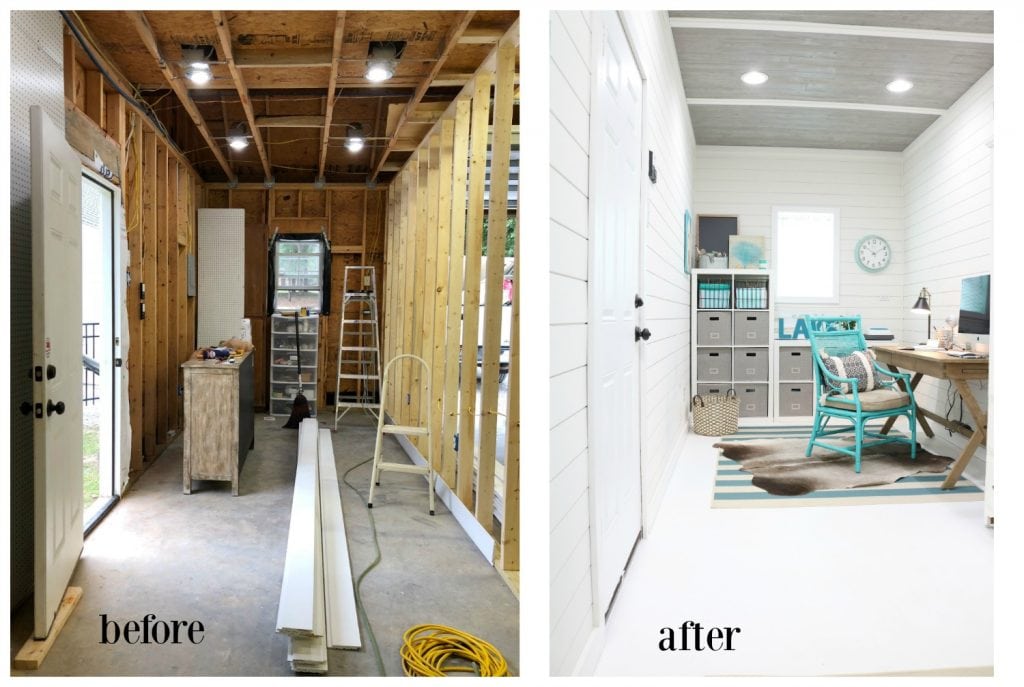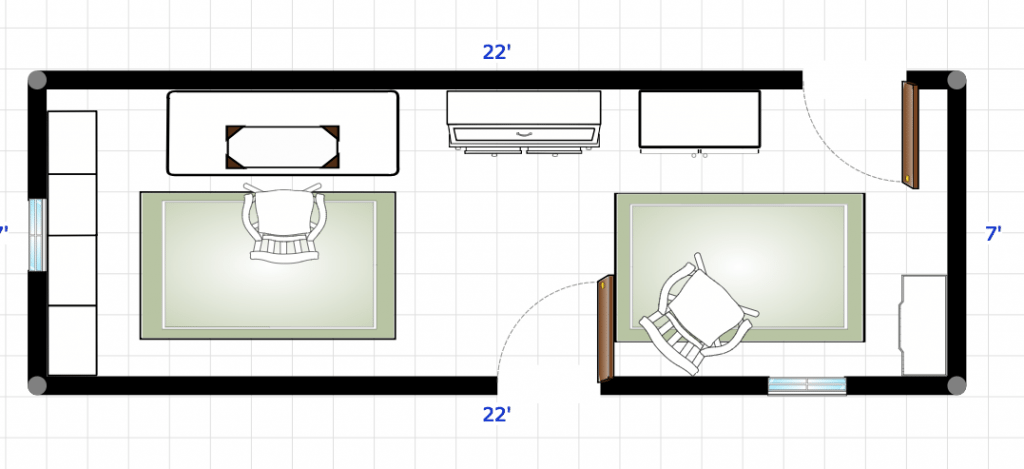 I created a small space design layout to come up with optimal furniture placement. Even though I packed a lot of storage and work area in 154 square foot it doesn't feel crowded.
This post is sponsored by Better Homes & Gardens at Walmart, affiliate links have been added for the products used.
I have a confession, when we first looked at this house to purchase, I thought this space would be a fun bunk room for my grandsons. After living in the house for a year and a half, I knew that I needed an office more than a room for the boys.
AREA FOR SMALL OFFICE BEFORE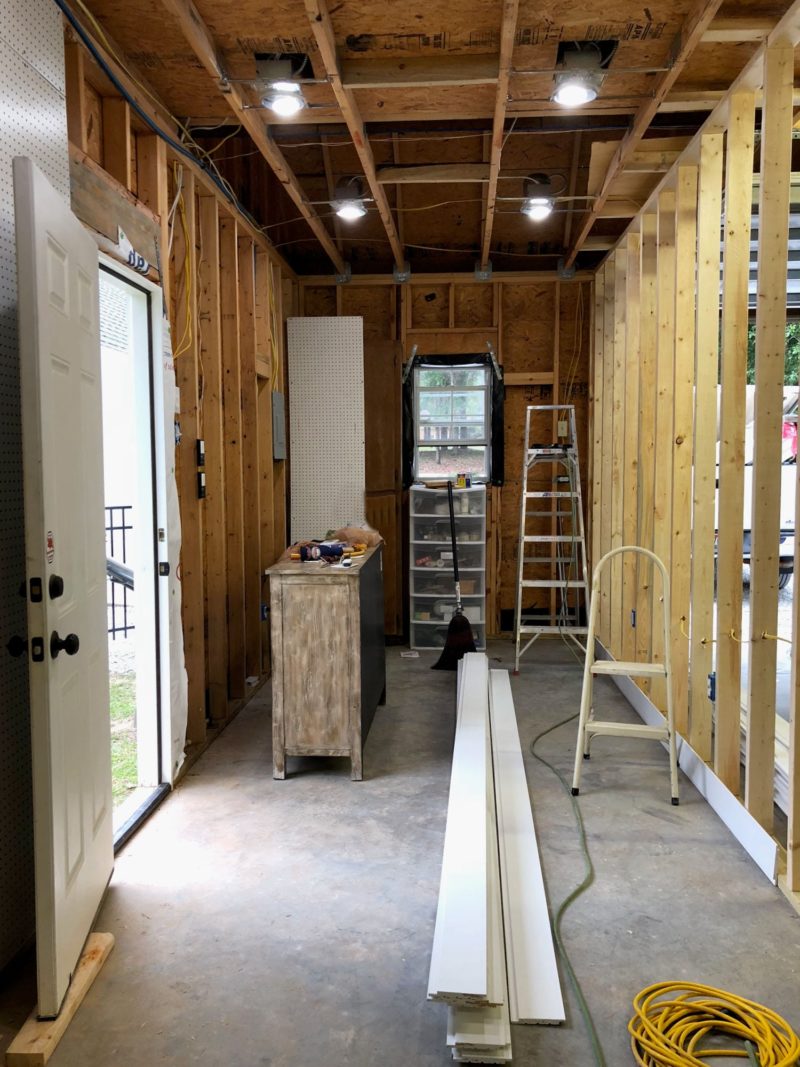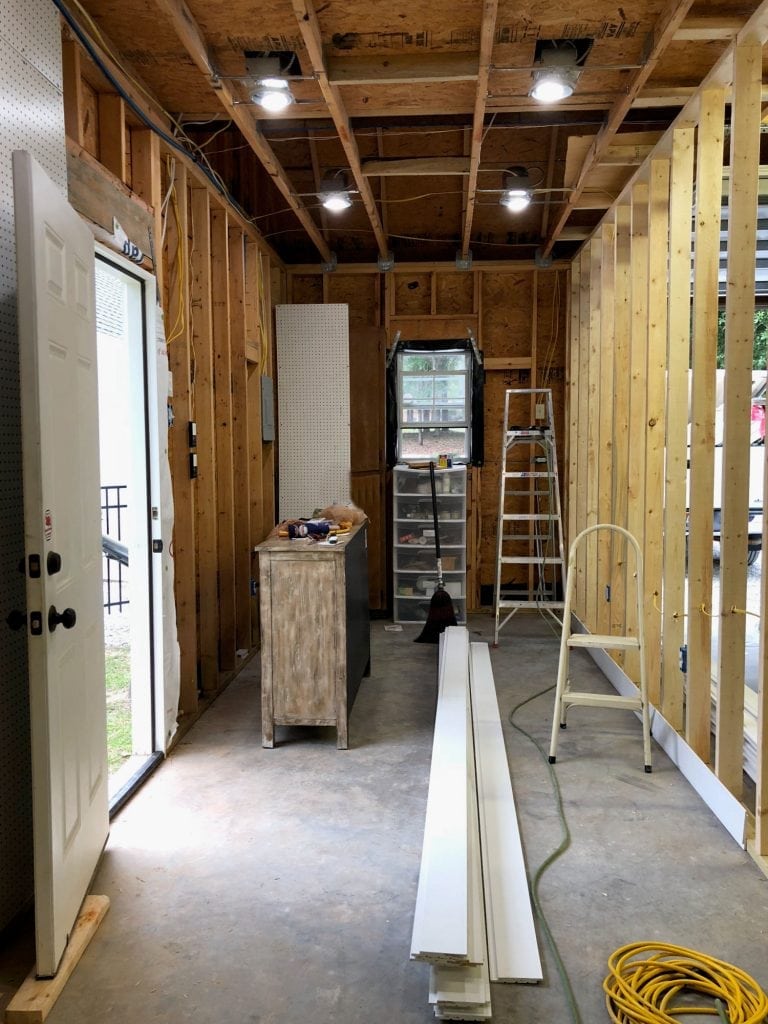 OFFICE NEEDS:
Storage
Plenty of light for photos and videos
Chairs
Decor for photo props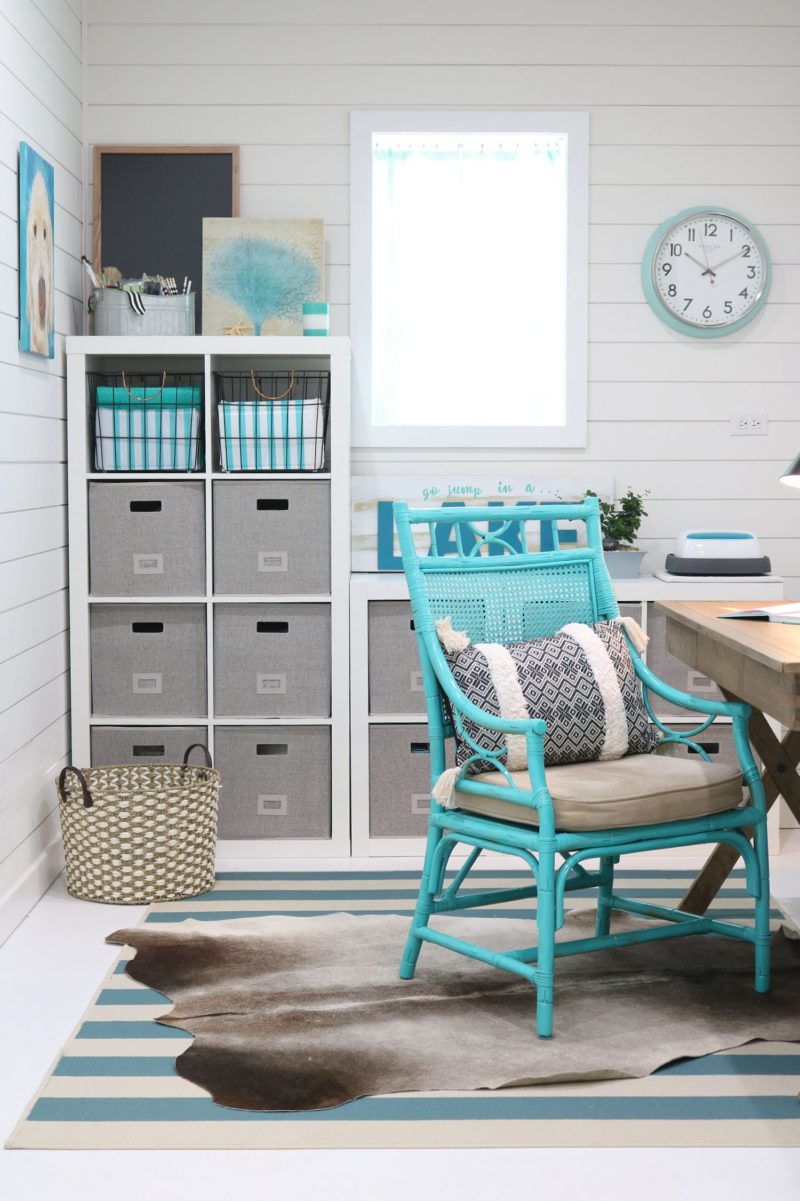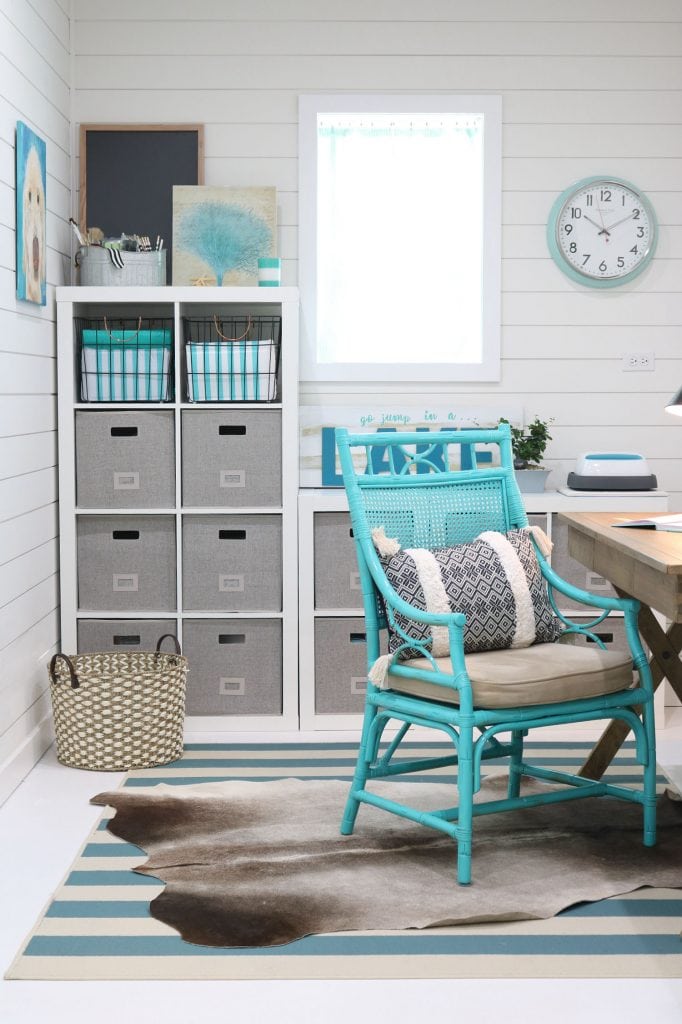 OFFICE STORAGE
The Better Homes & Gardens cube storage pieces come in a variety of sizes, colors and styles. I combined three different sizes in white to fill an area at the end of the office around the window to add as many bins as possible. Fourteen Better Homes & Gardens foldable storage bins hold a lot of supplies, there are several colors to choose from, I love the grey. These storage units are budget friendly and you can add them to any room.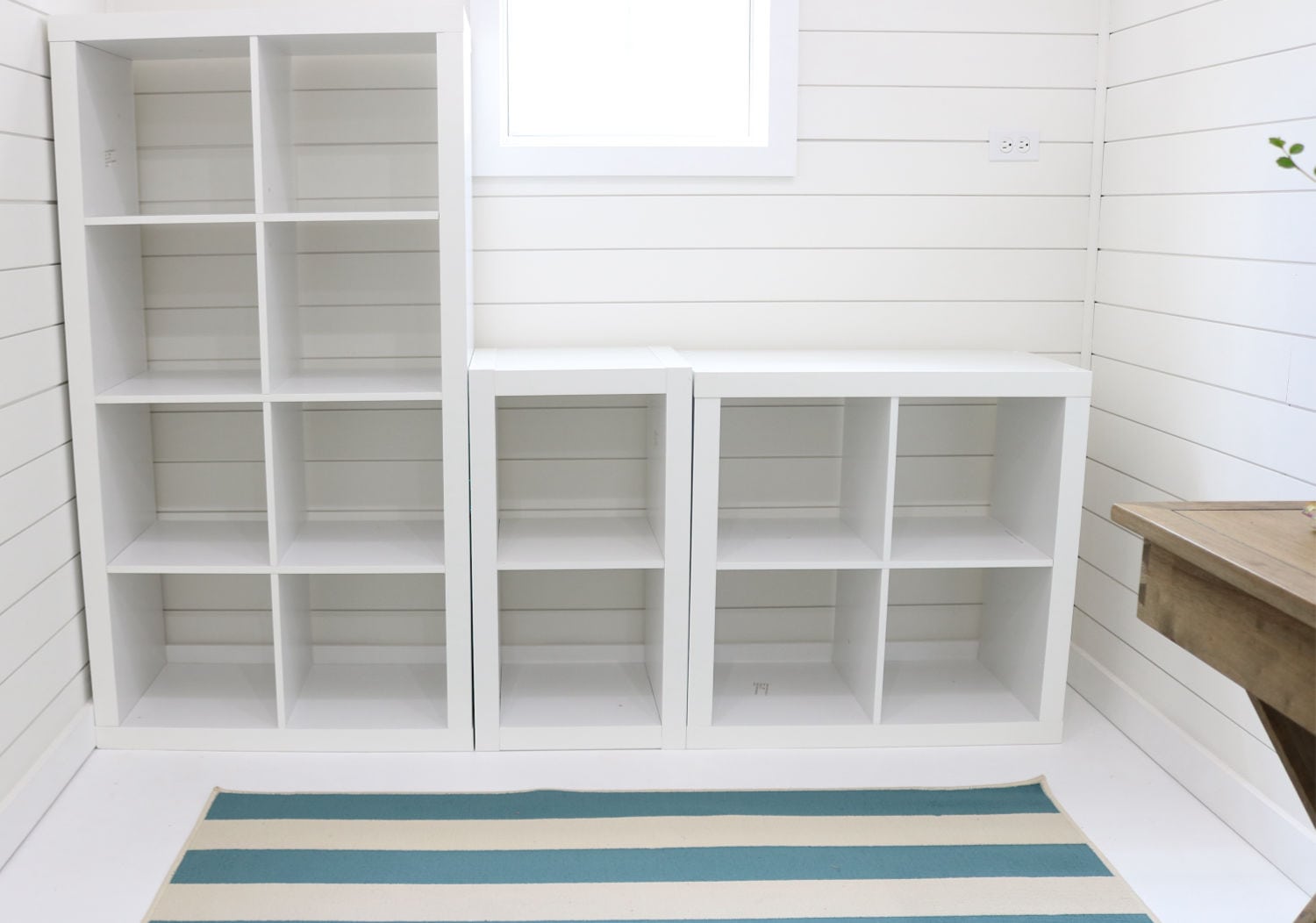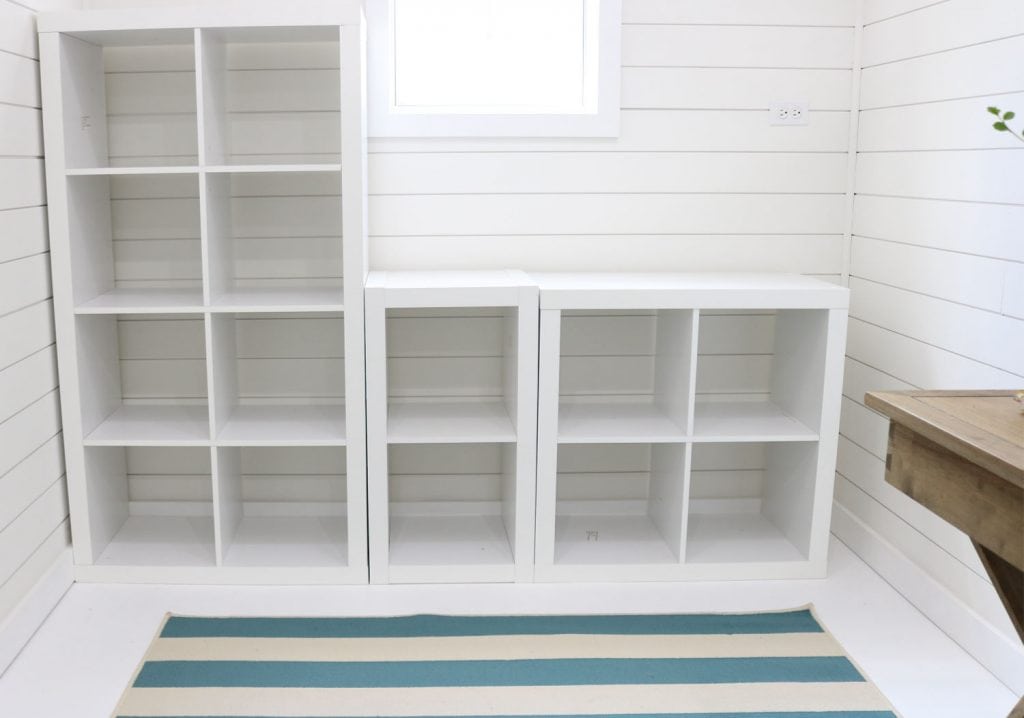 I added two wire baskets to hold shipping supplies. The bins still need to be labeled, I'm going to work in the space for a while to see exactly how I will be using the supplies (aka I need to donate some of my excess items).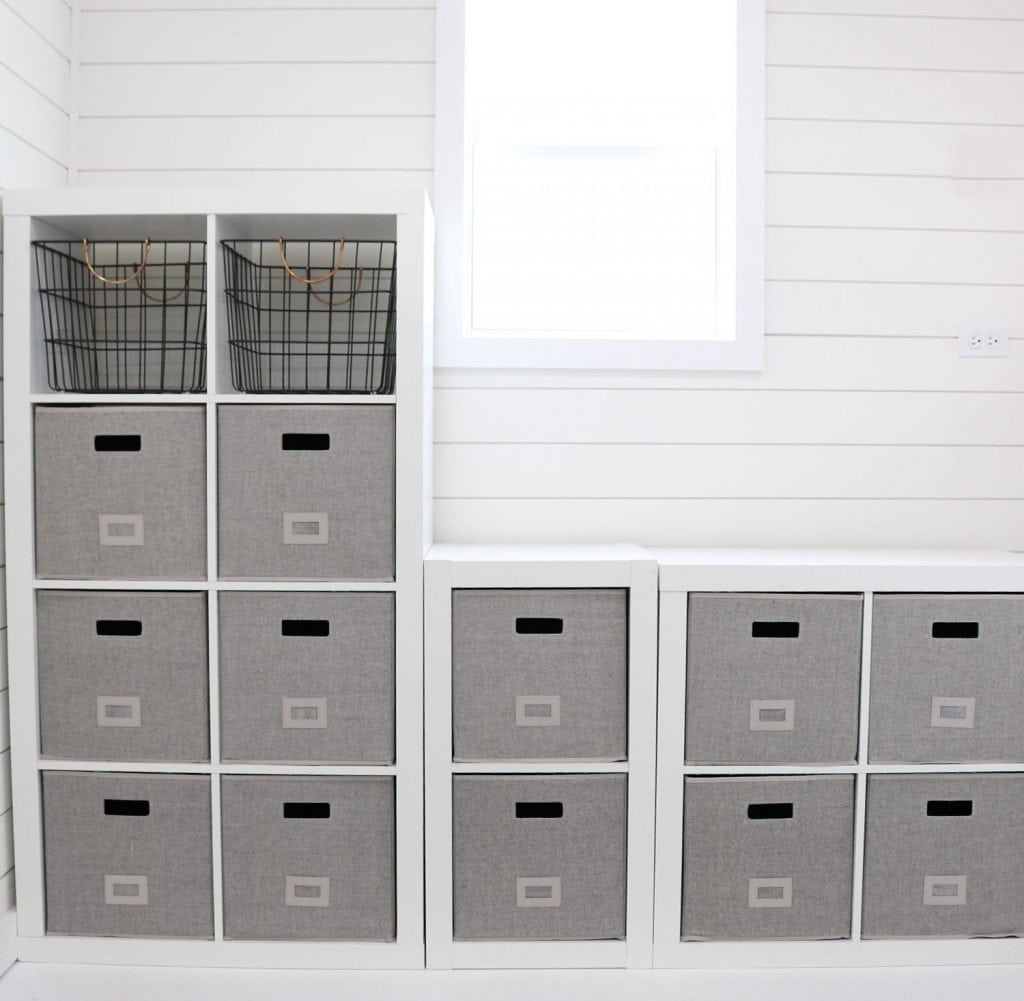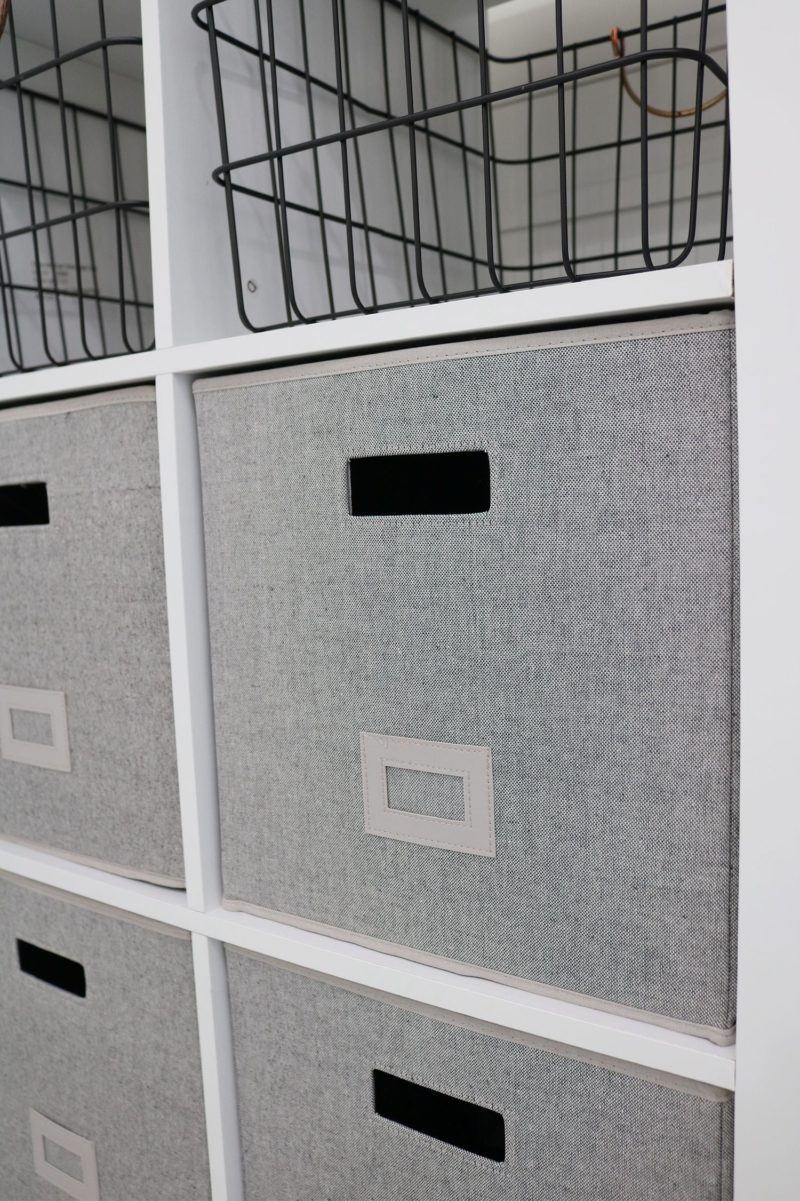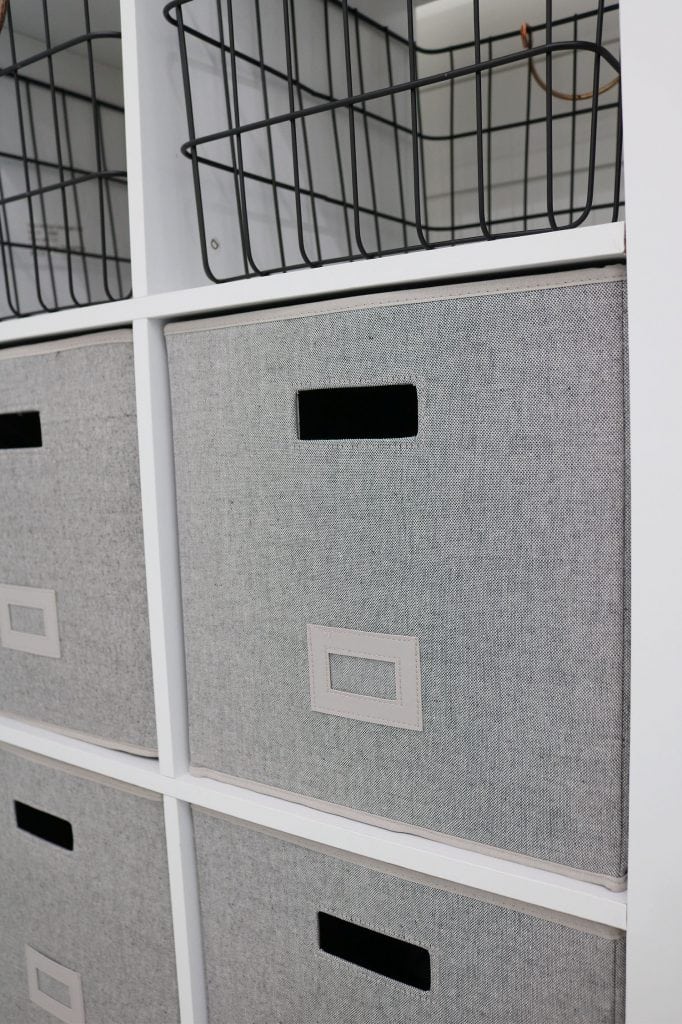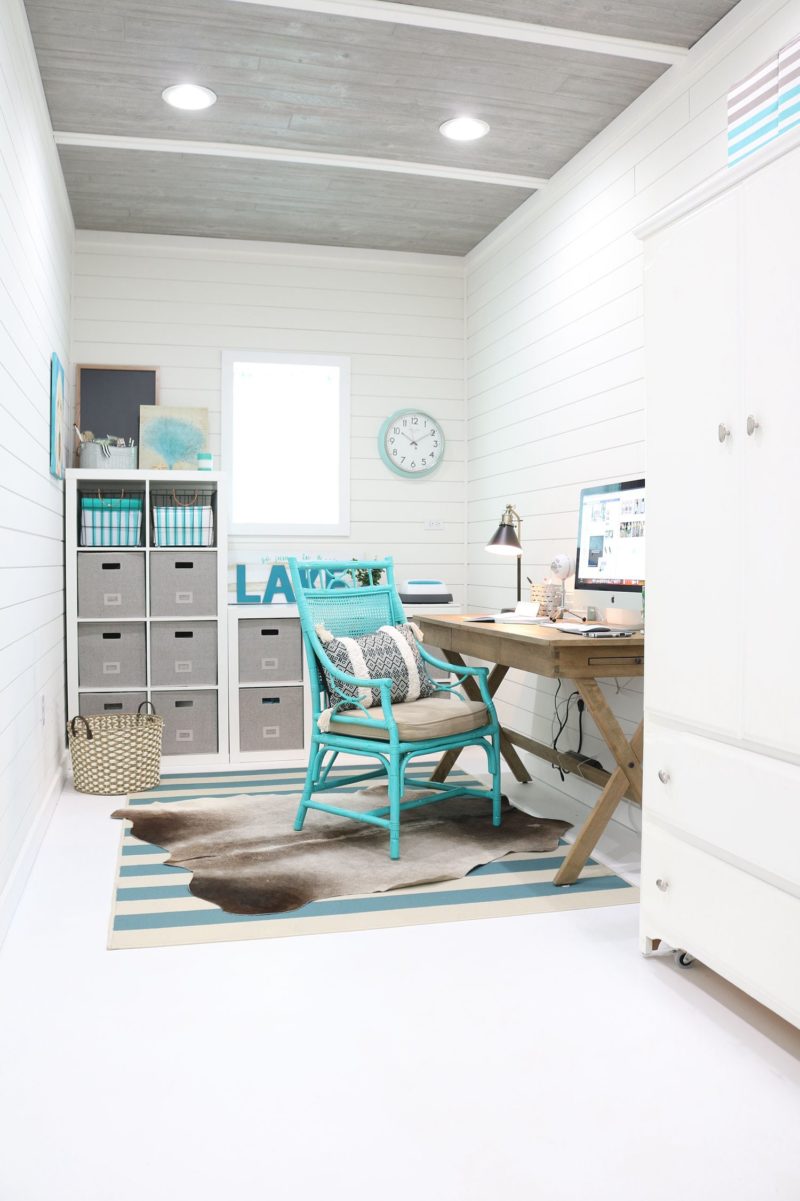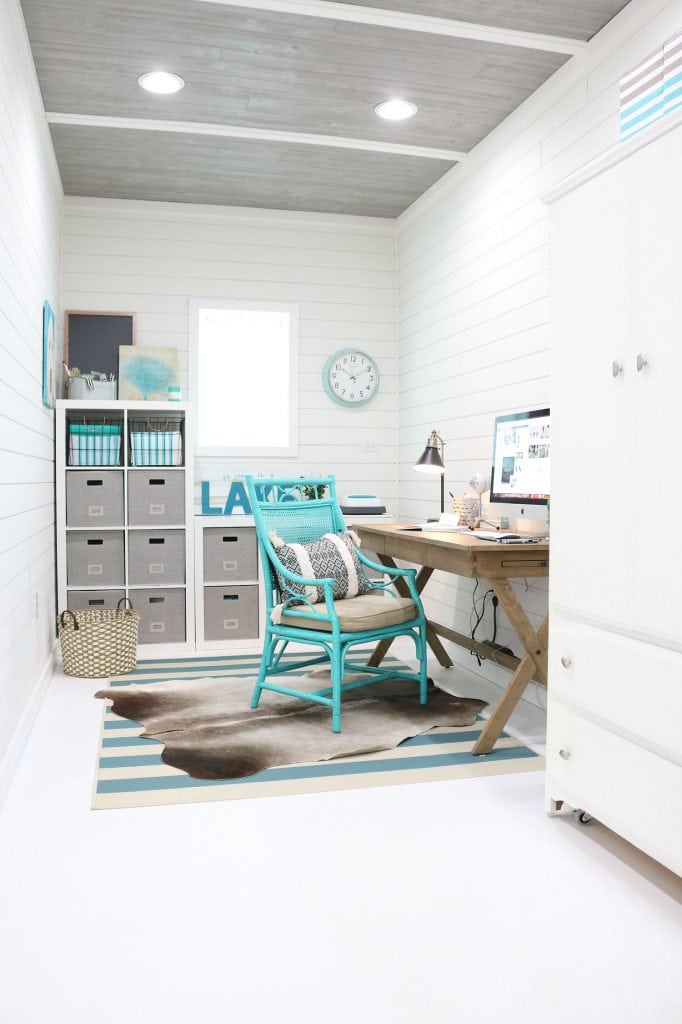 I used items that I already owned, like the desk and chairs. The chairs were green but while shopping at Walmart for the office, I found the perfect spray paint and gave them a quick makeover. The many colors of blue/aqua/teal in the office put a smile on my face every morning when I walk in.
The opposite end of the room has an extra chair and more storage items from my old office. The door leads to a half bath with a utility sink, perfect for cleaning up after painting.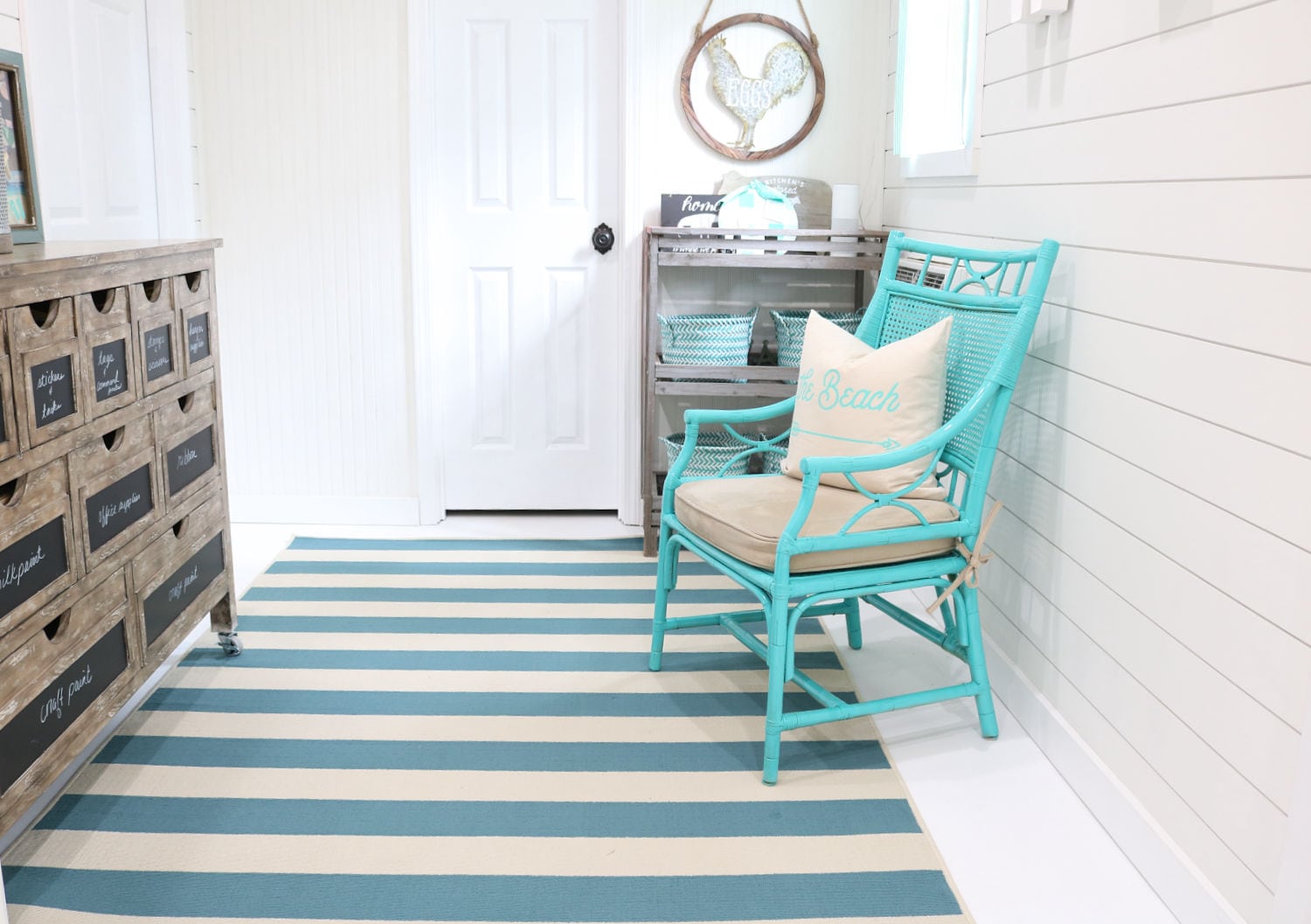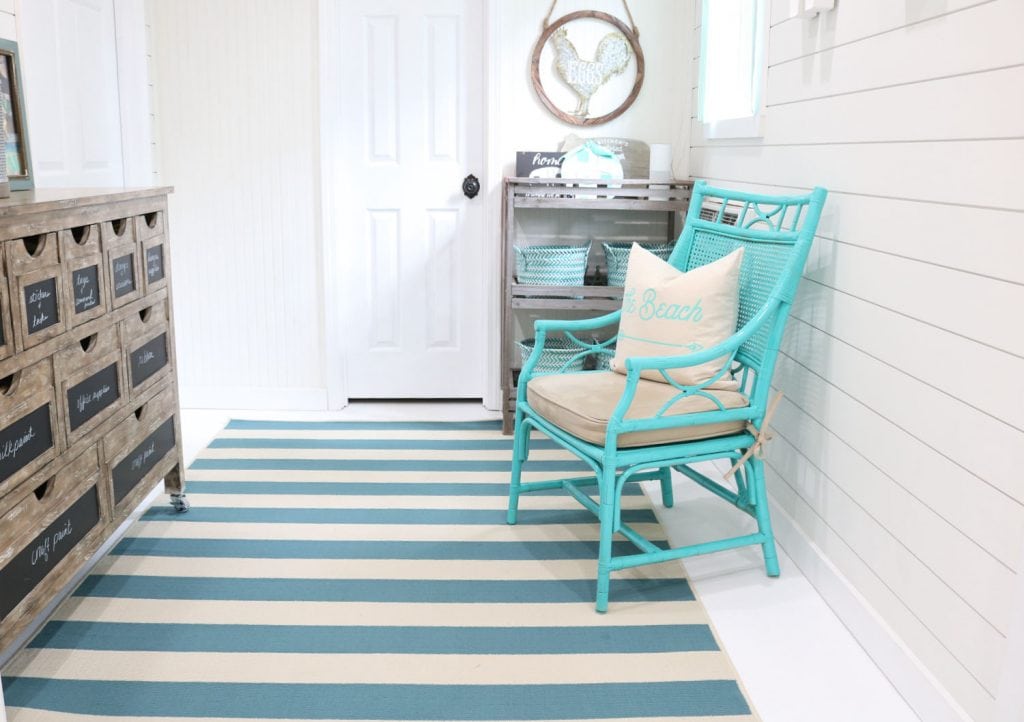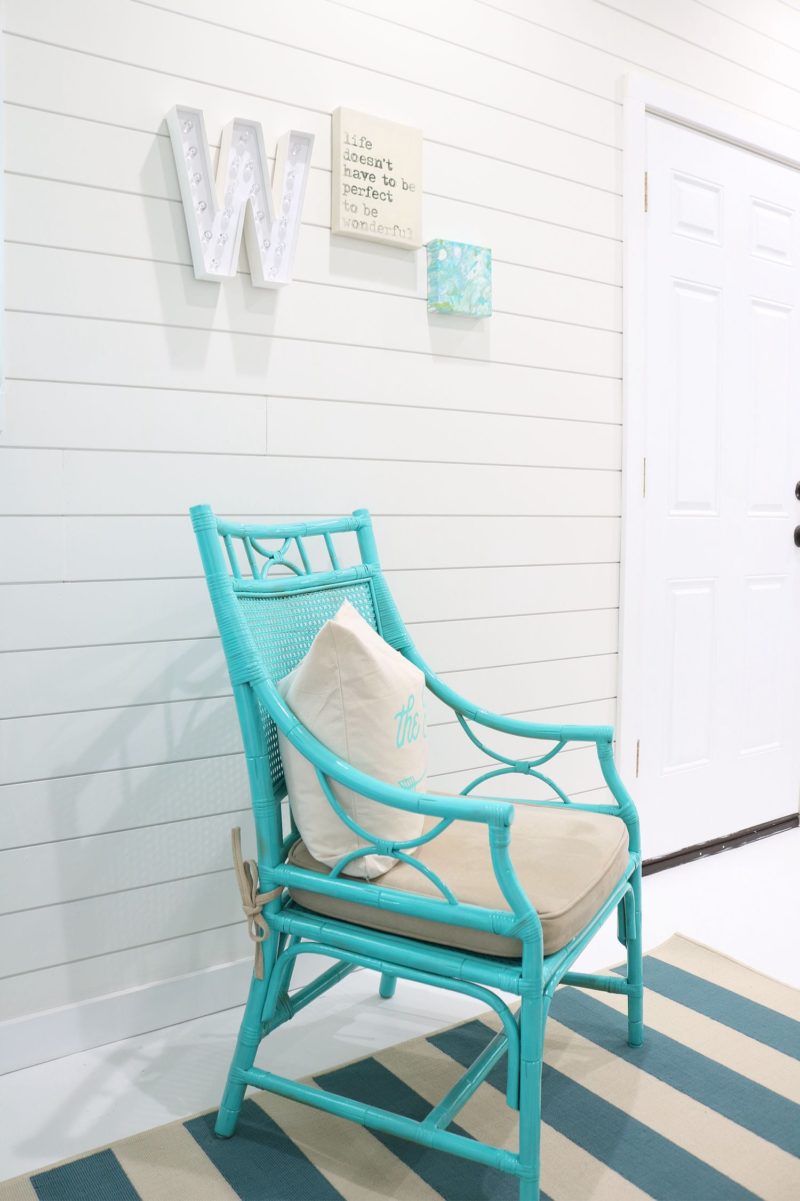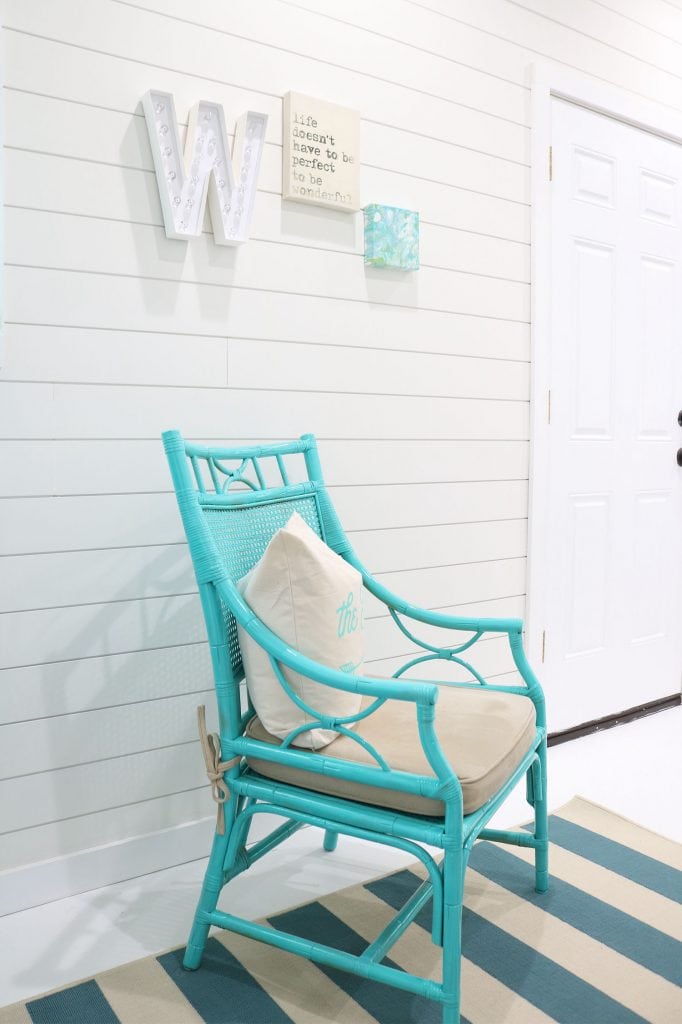 OFFICE DECOR
Your office space doesn't have to be boring. Adding mirrors and lamps created a relaxed homey space and makes working in here a pleasure. I use this area to photograph small projects.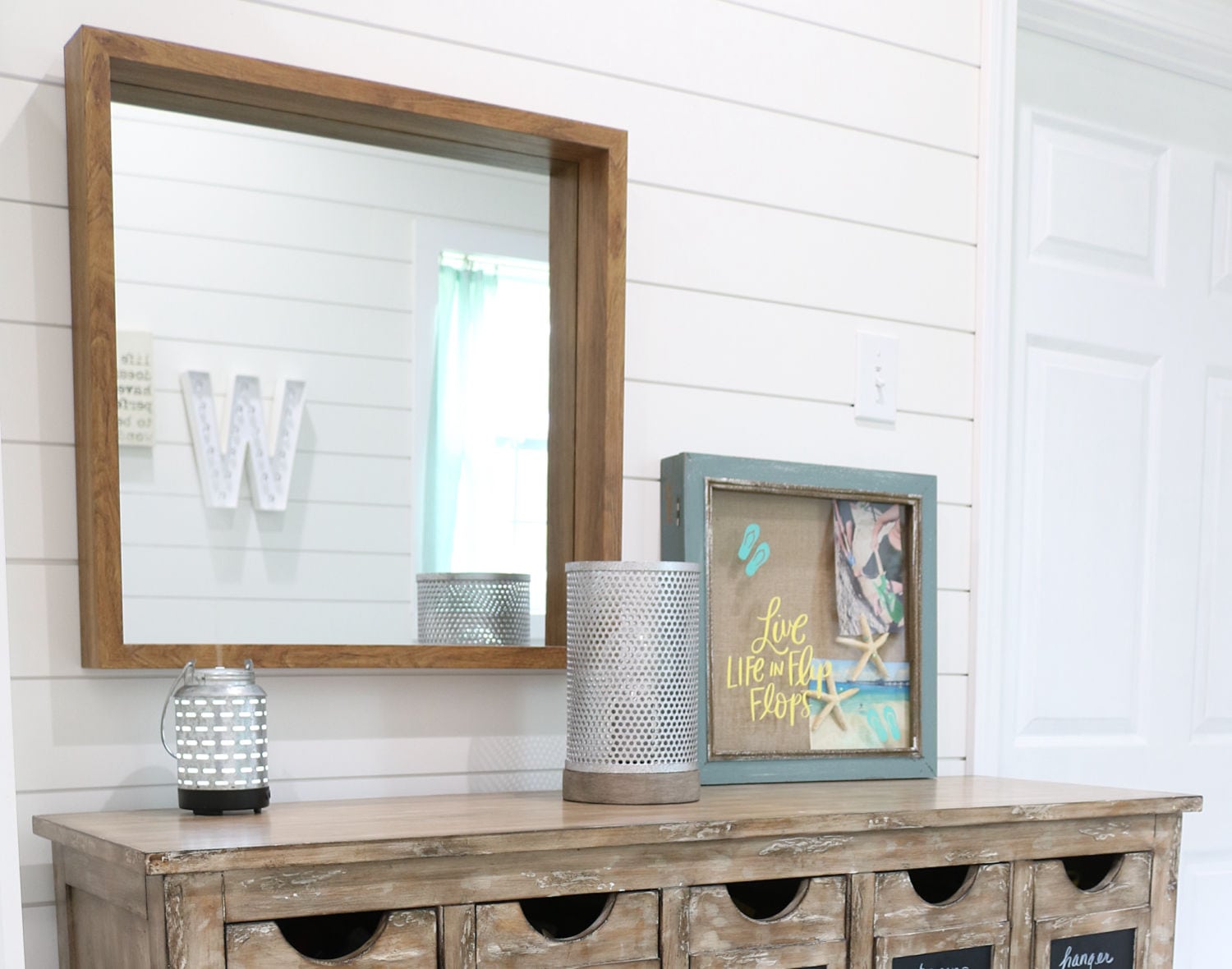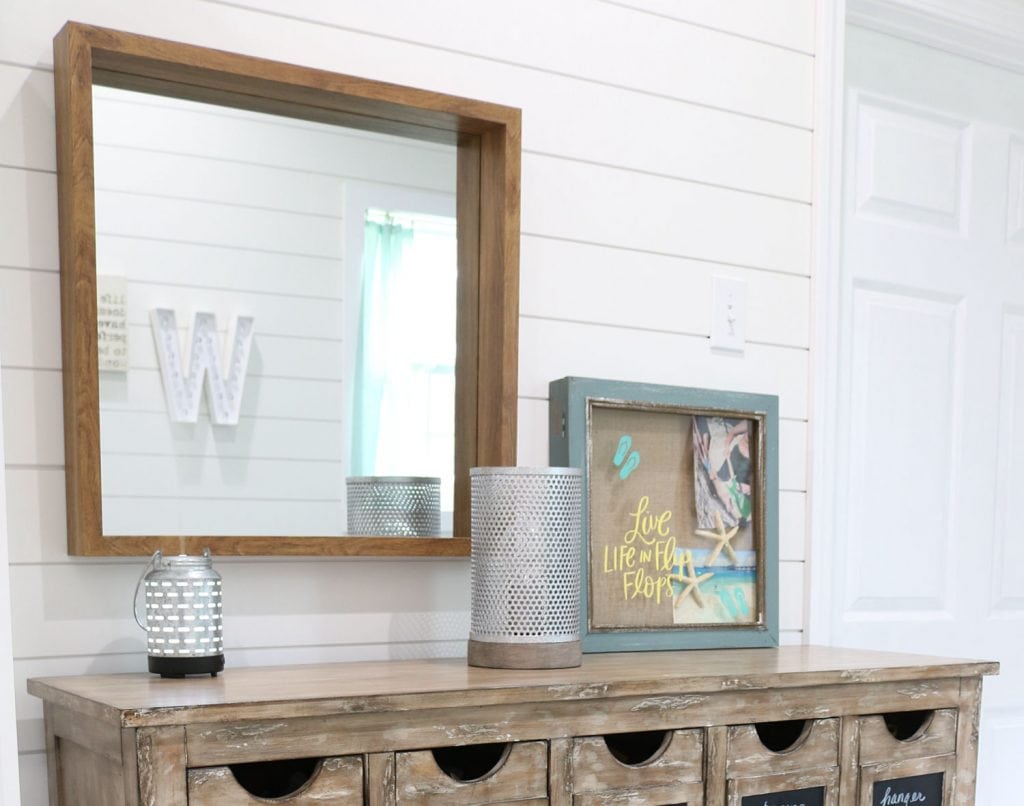 The galvanized lamp and essential oil diffuser compliment my farmhouse look. Keeping the office smelling fresh is important, I was excited to find the perfect diffuser.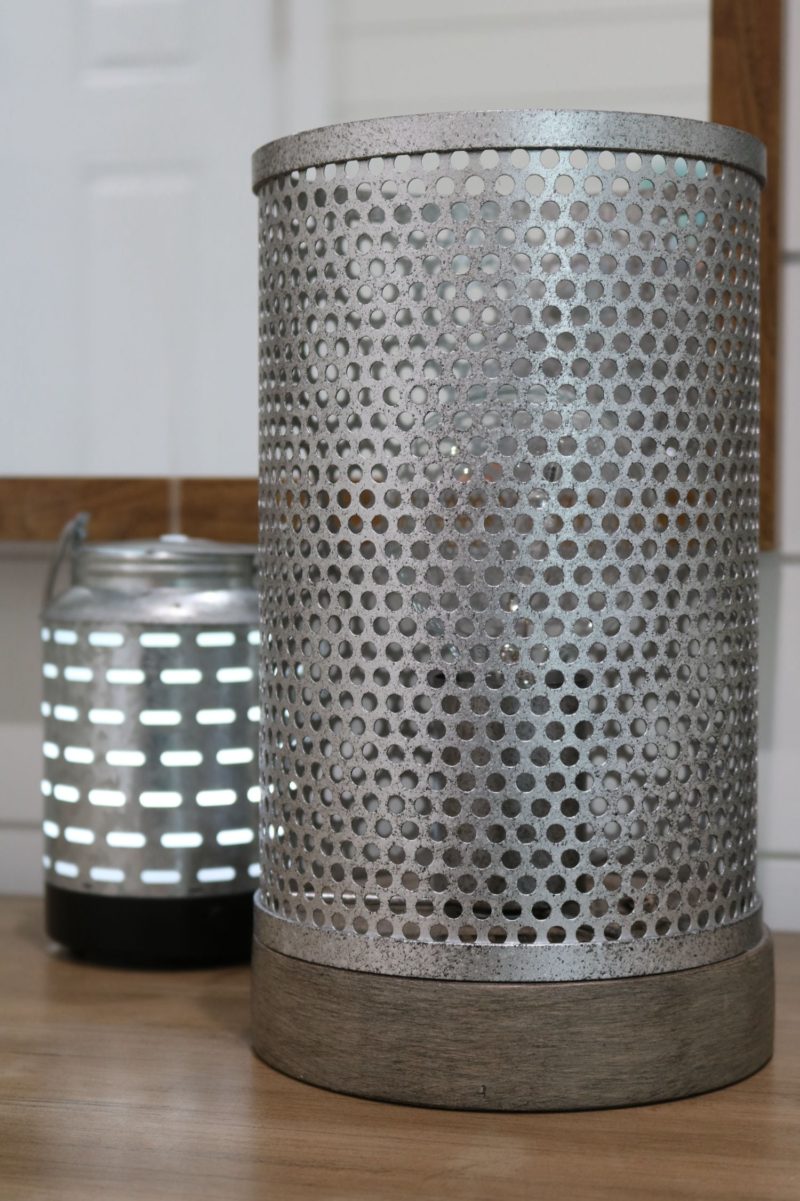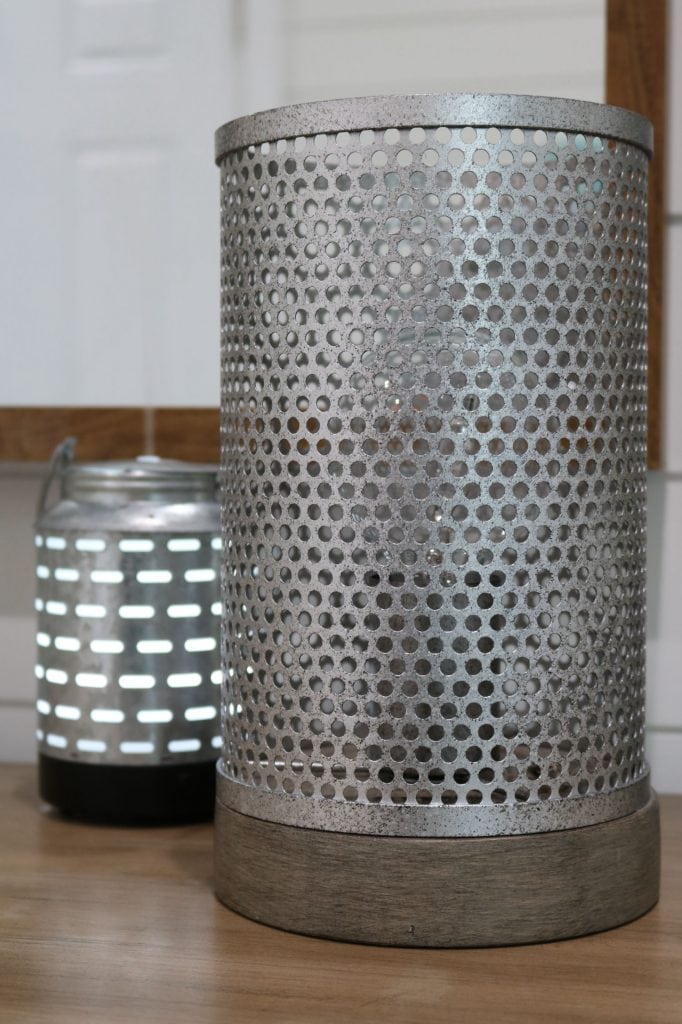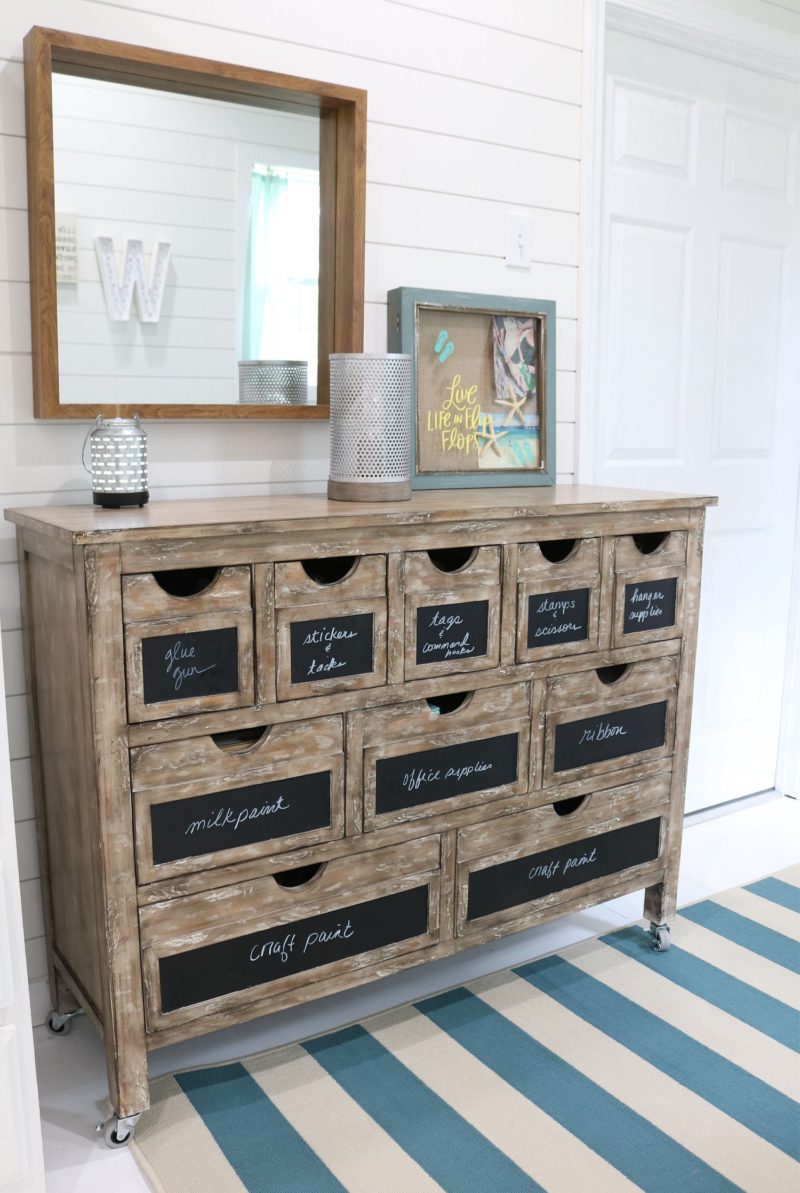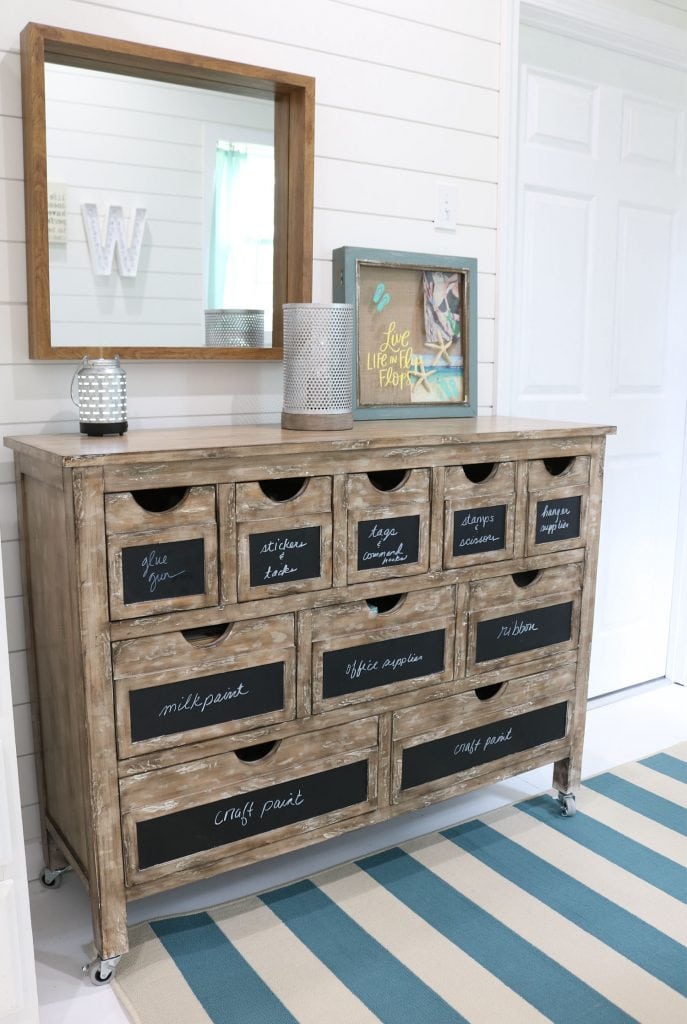 TIP: Putting casters on the furniture makes it easy to roll it out of the way when I need more space for photos or to just work on larger projects. Getting creative allows flexibility even though the space is small.
I added more storage bins on top of this armoire that I purchased off Facebook. On the left side I placed a closet organizer to hold small office supplies and vinyl.  This eclectic mix of new and old furniture gives the office a bit of personality.
The white painted shiplap and white floors add much needed light in the space. Keeping everything white will make it easy to change up the decor, when that day comes.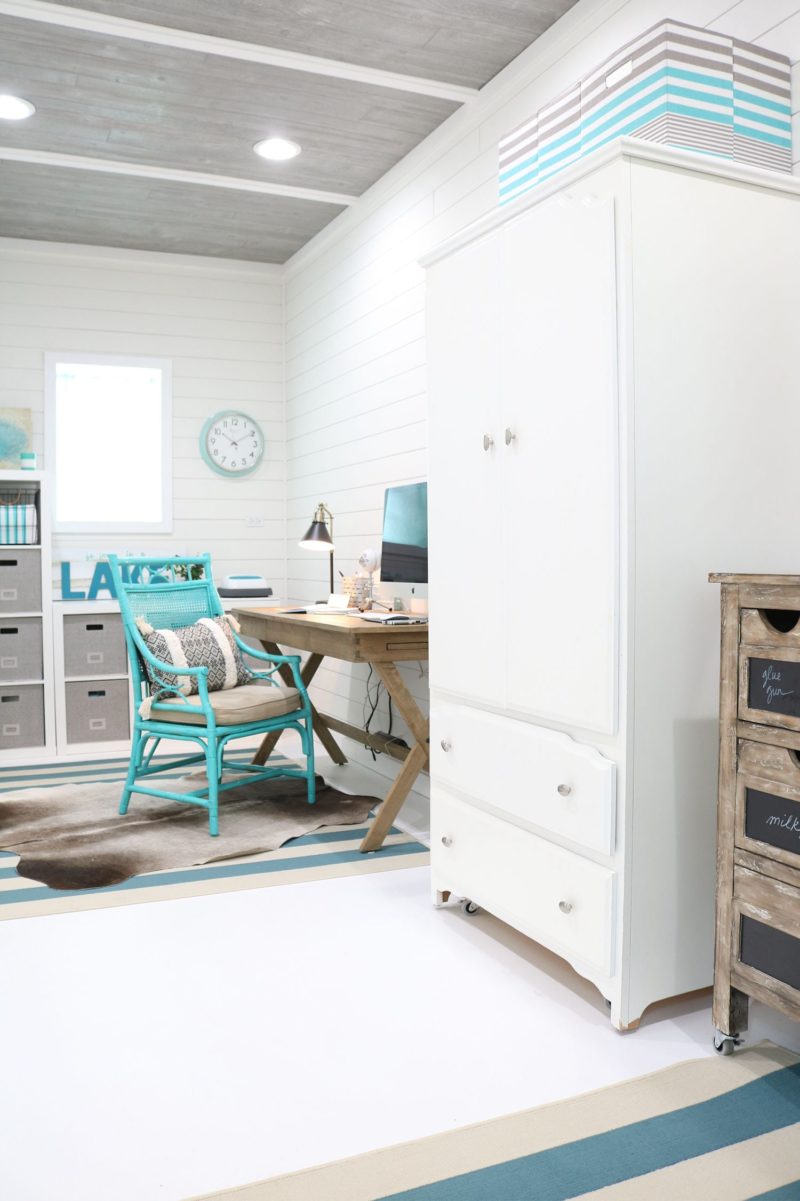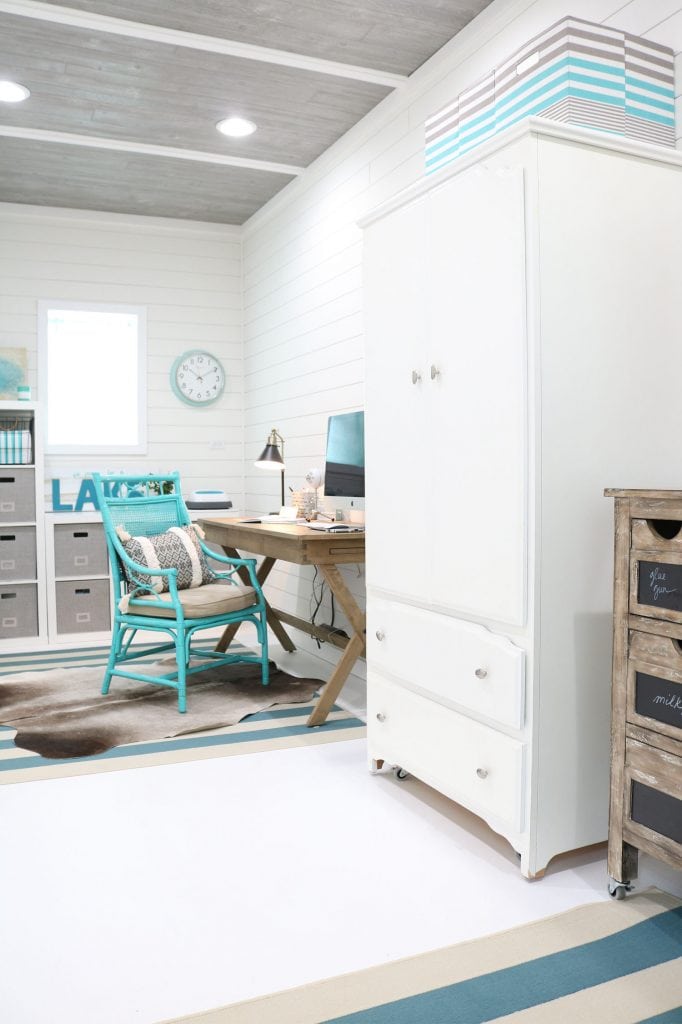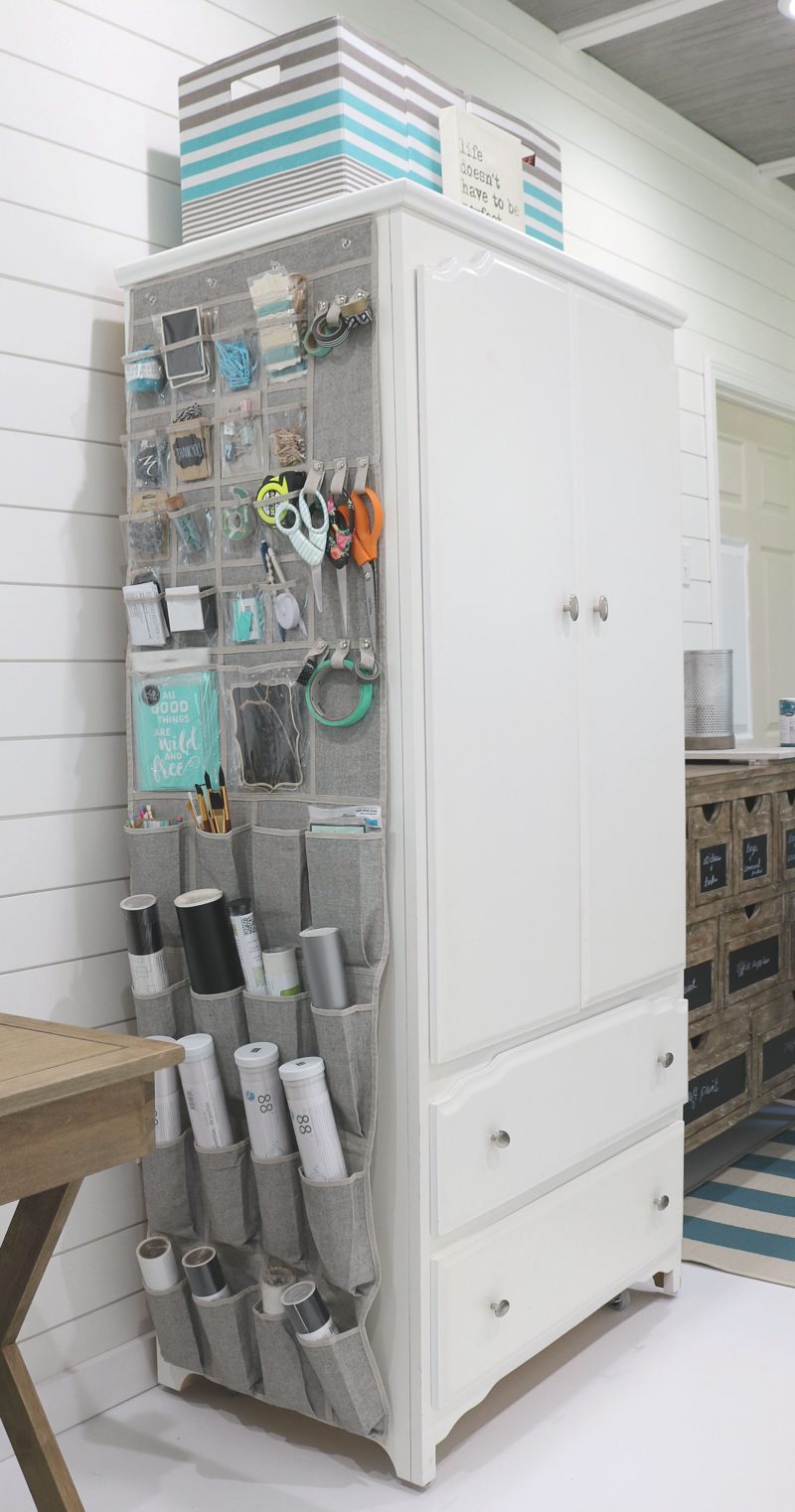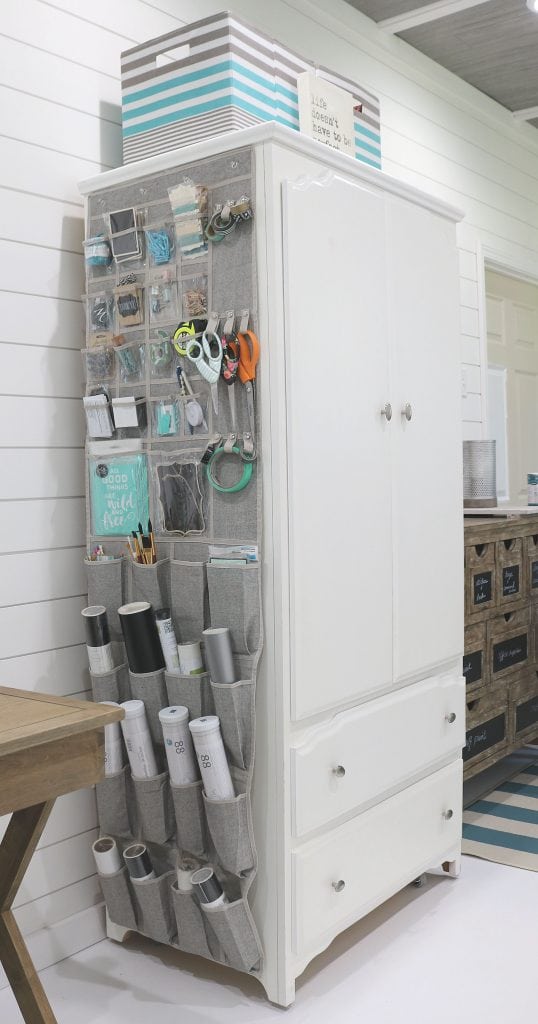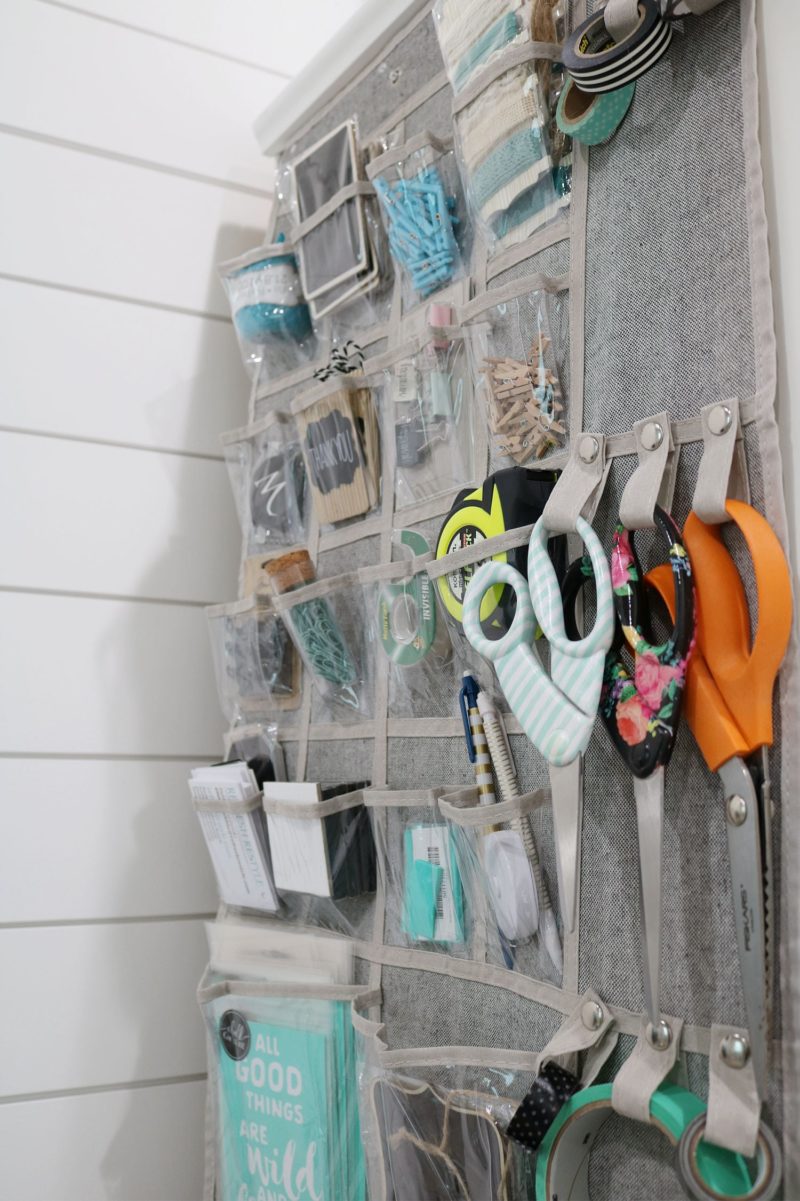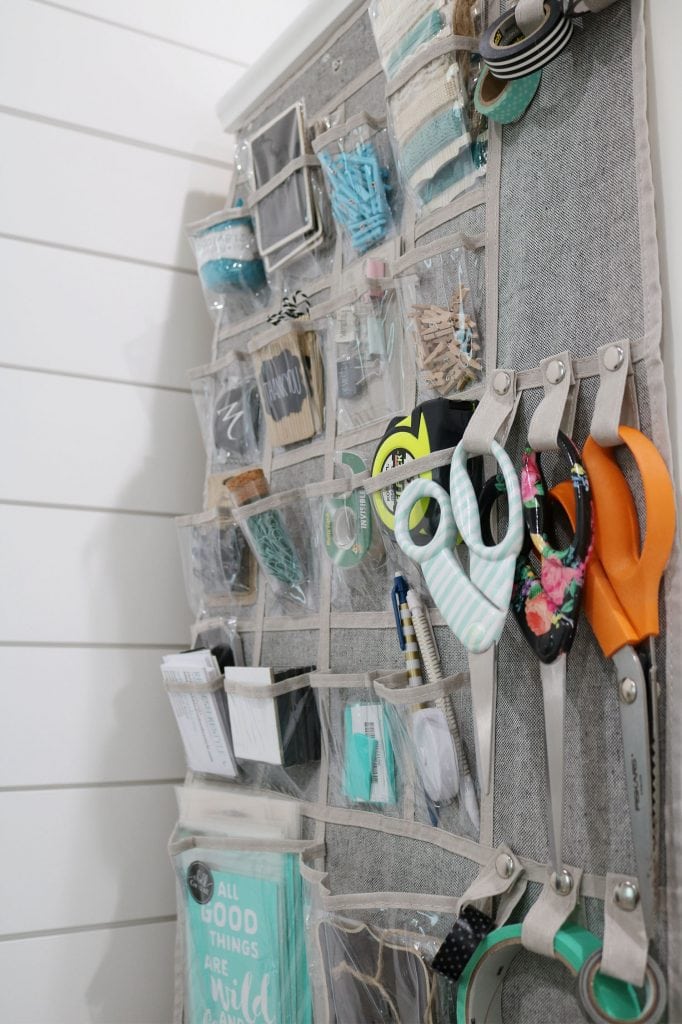 The fabric on the grey bins matches the fabric on the Better Homes & Gardens over the door organizer. This piece is perfect for office supplies. Grey for my storage items but aqua for the clock and decor items. I keep watching the clock but not to see if it's time to get off work. It' just so stinking cute, I keep looking at it 😉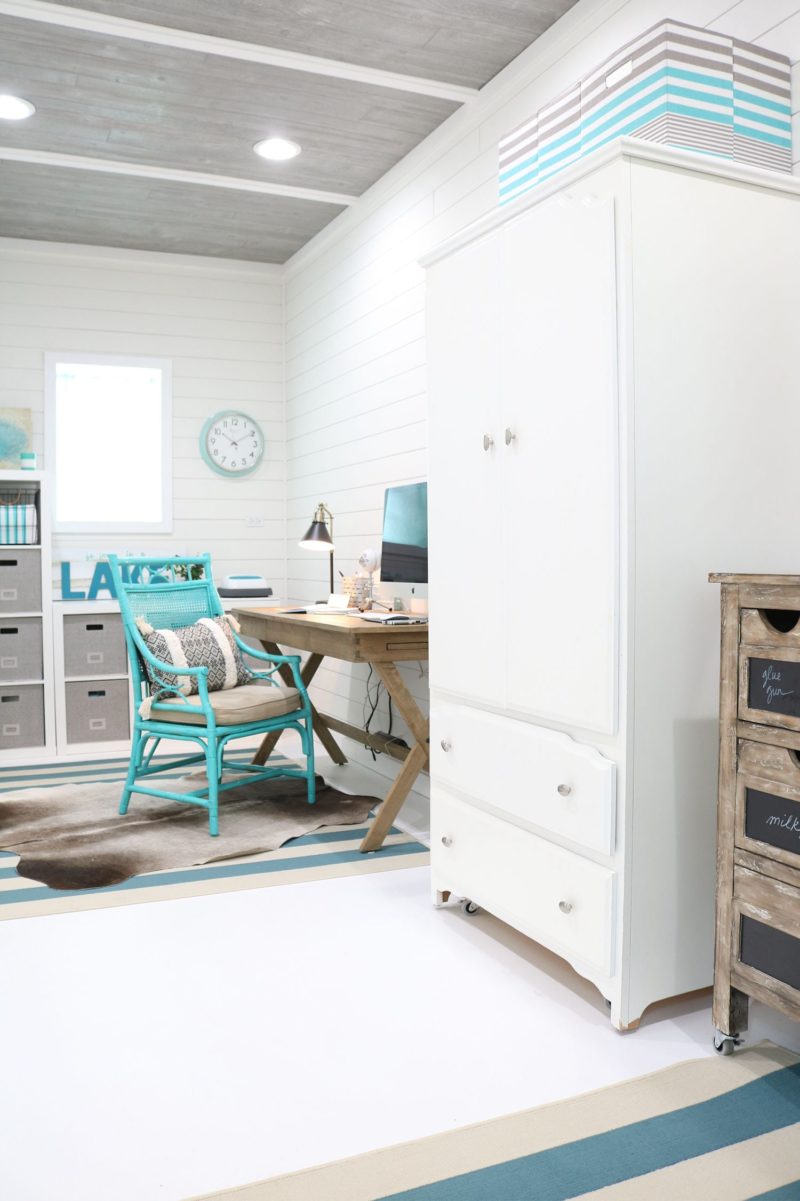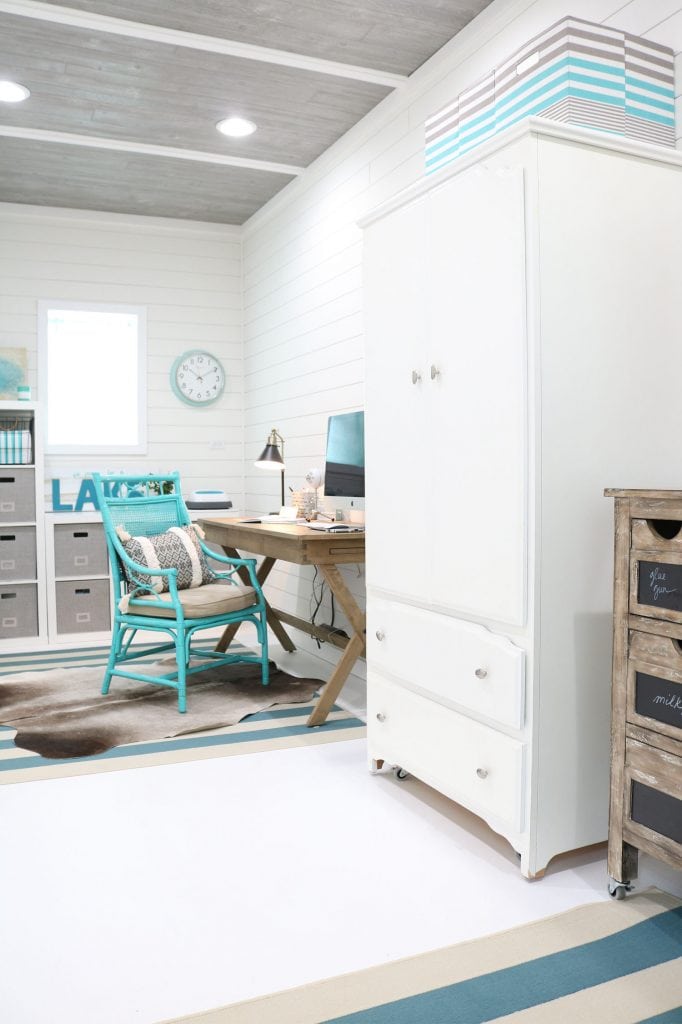 I know I should use my phone for note taking but I'm old fashioned and still write everything down, the desk lamp adds task lighting and the galvanized candle holders are perfect for holding my pens and pencils.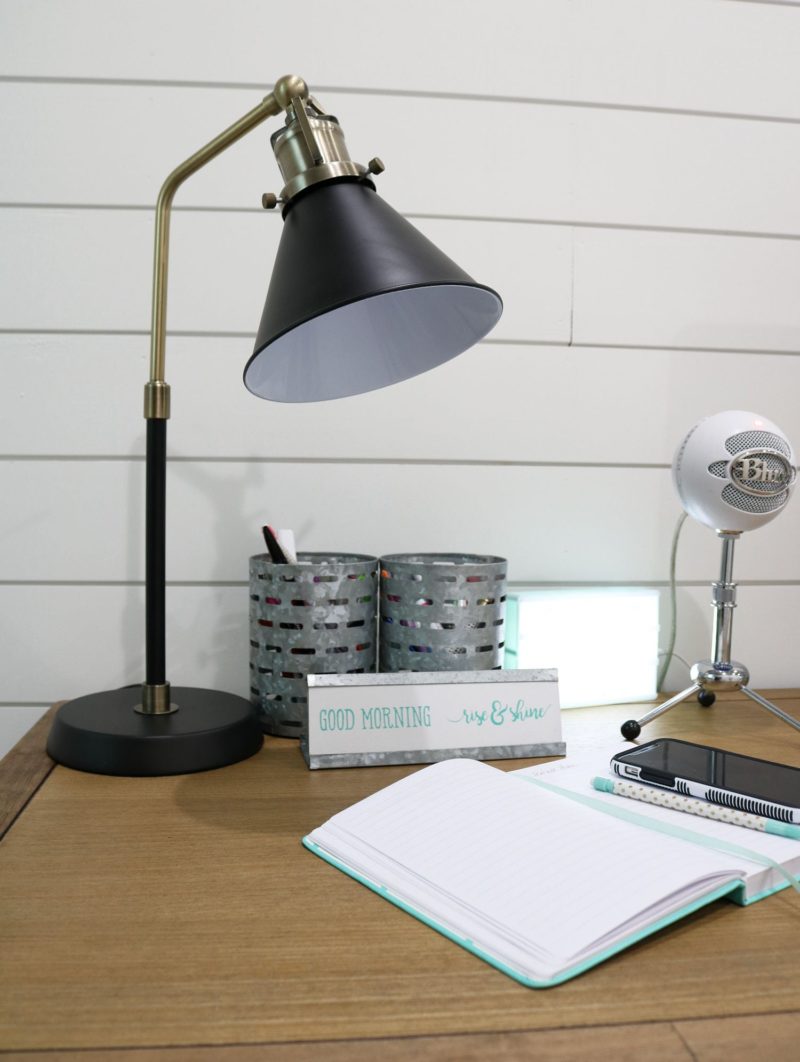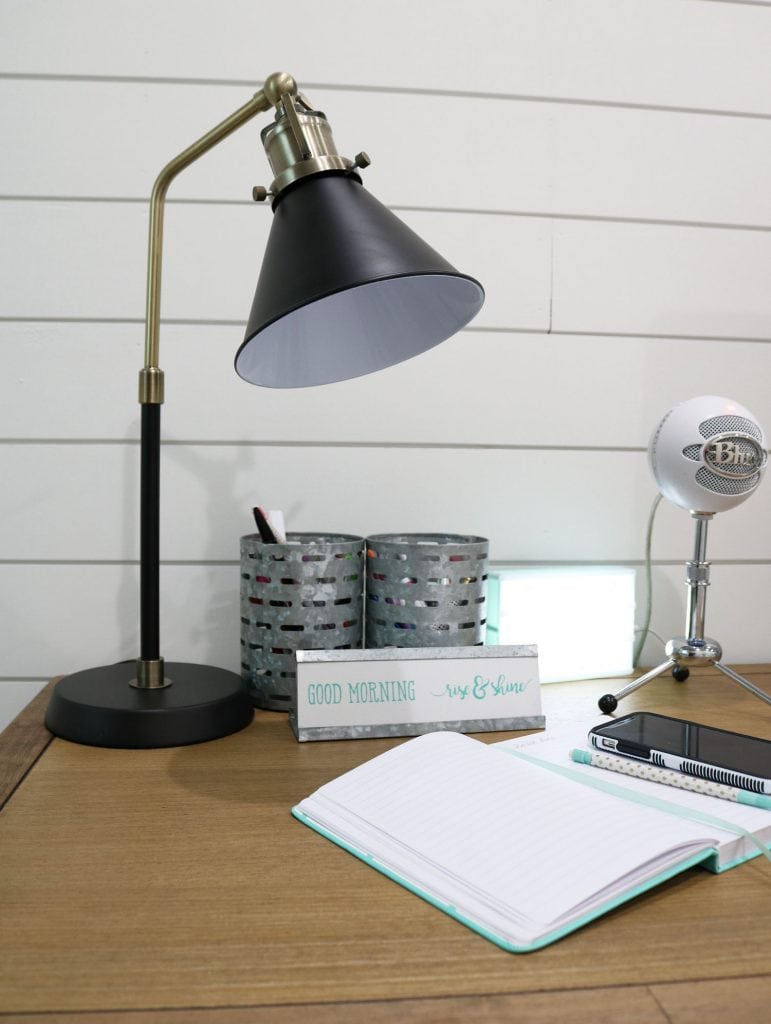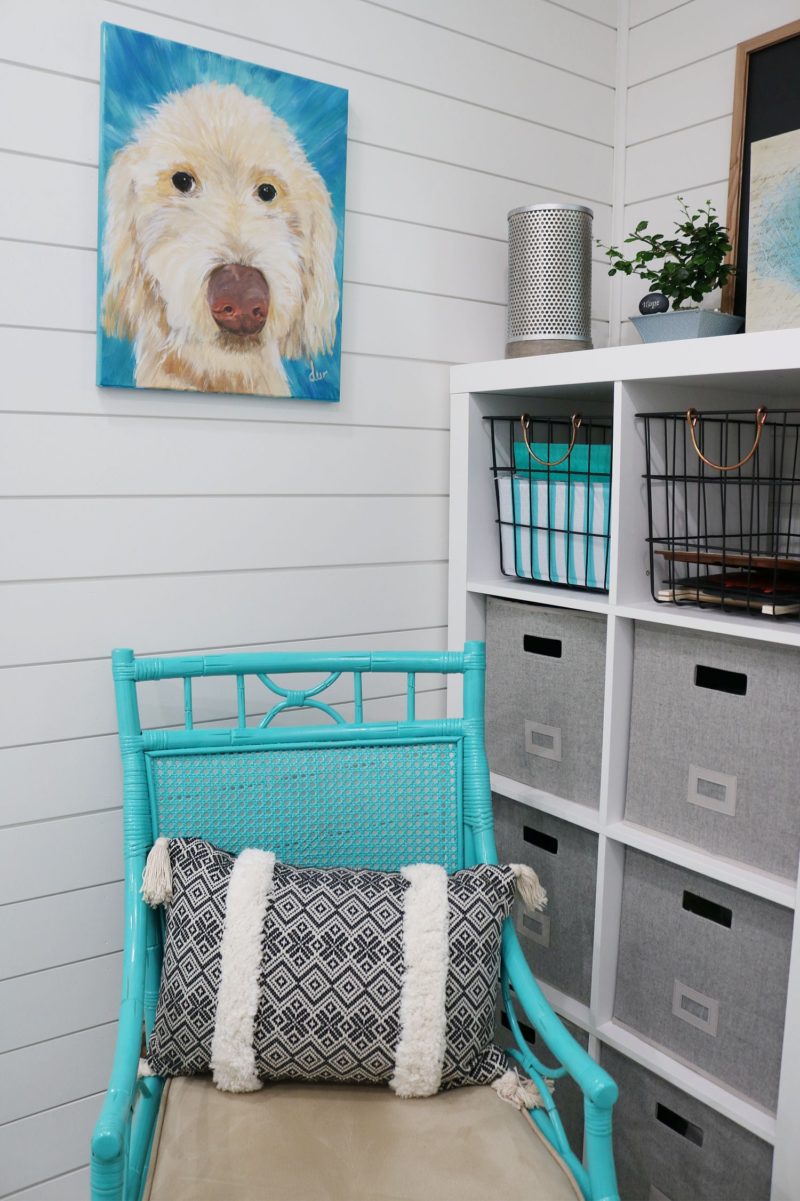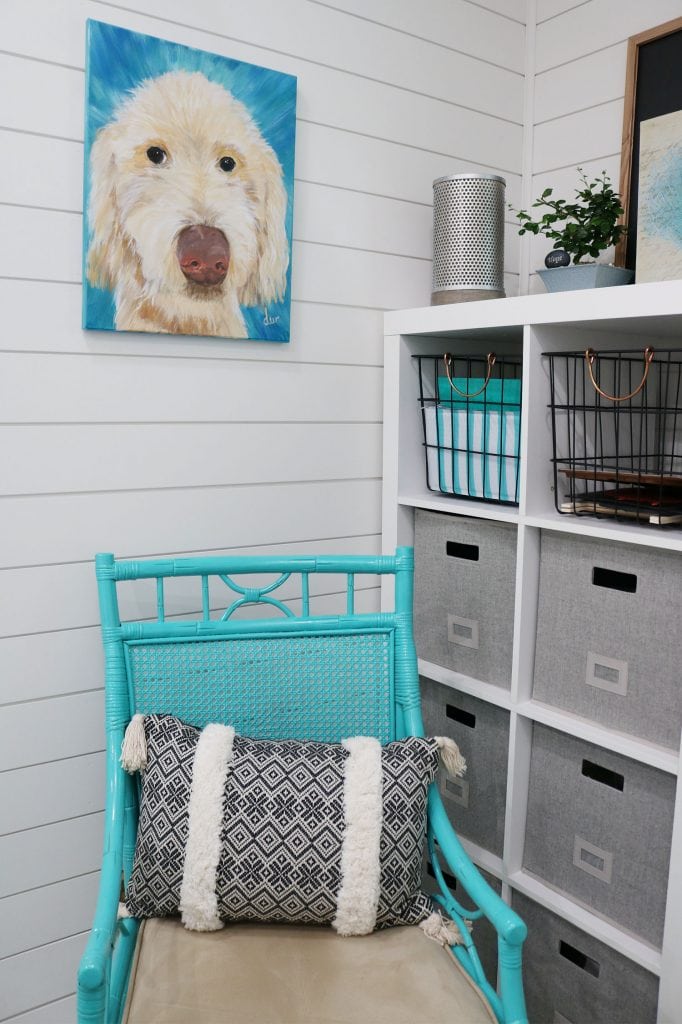 The artwork is all Murphy, she's covering up the electrical panel. The sea grass basket looks great and is large enough to hold all my supplies, I just open the bins, fill it up and grab and go.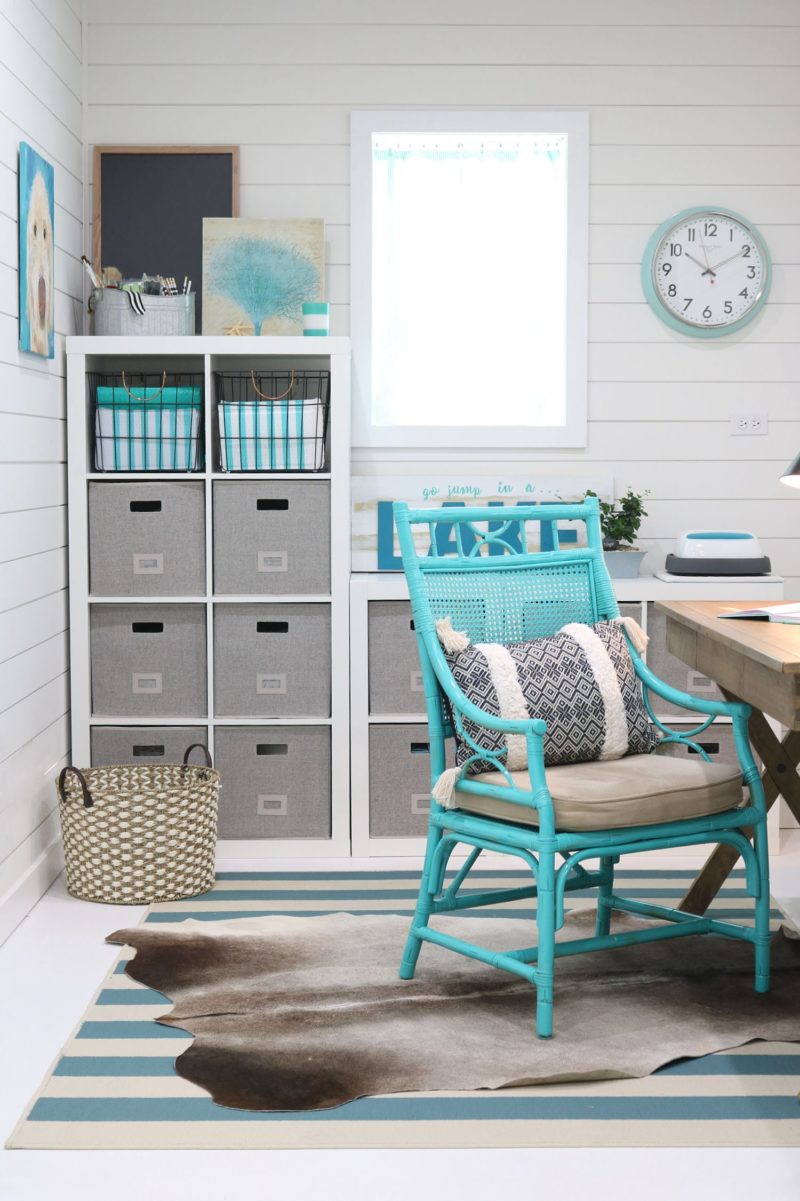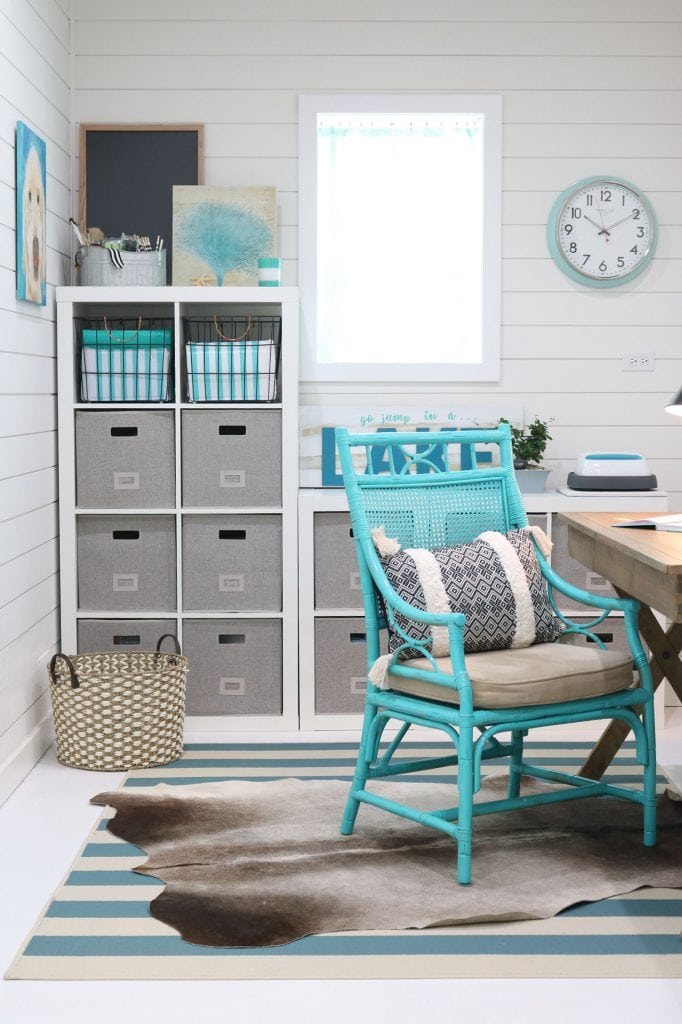 I hope I've helped you with some ideas. Now you know where I'll be, sitting right here in my light, bright and colorful small office with a big personality!
Shop the post:
[show_boutique_widget id="728997″]
Keep up with all the beautiful Better Homes & Gardens at Walmart choices: Instagram – Twitter – Facebook – Pinterest – Website