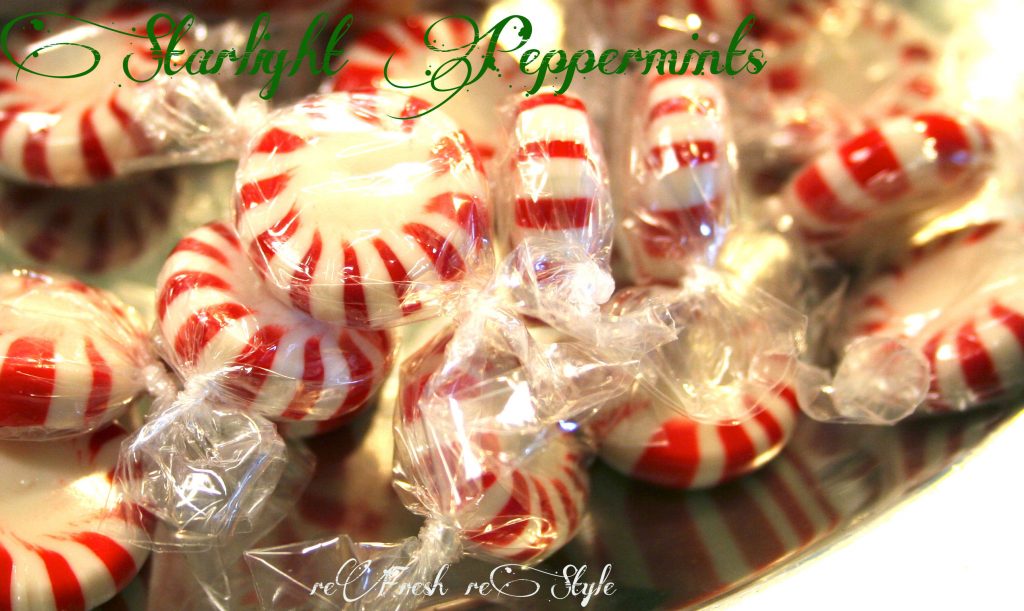 We had our book club meeting this week and you would think that I found out that Santa Claus is real.  Mrs. P (she's in my book club and she lets me put stuff on her door) pointed out that Sue was serving us cookies on a real peppermint plate.
 Stop the presses!  Forget book discussion, how on earth did she do this?
Here's what I did based on how she described her recipe:
Heat Oven to 350°
Unwrap Starlight Mints (I got mine for $1 at Walmart)
Line a cookie sheet with parchment paper
Form a circle with your mints
Heat in oven until they melt together (varies depending on oven)
*7 mins for mine (see notes)
*Do not leave them unattended, like I did. Or you'll run from your computer to the oven when you realize that beeping noise you hear is the 5 minute timer that you set so that you would not burn these.  That's why I'm guessing it was 7 minutes and I think if you try it, maybe you could stay in the kitchen enjoy a cup of coffee and not panic thinking that there is melted peppermint spilled in the bottom of the oven that you never use.  When I do use it, I usually burn something.  This time worked out fine 🙂
This post comes with a warning:  This recipe could burn you. Do not handle Hot peppermint. Try at your own risk.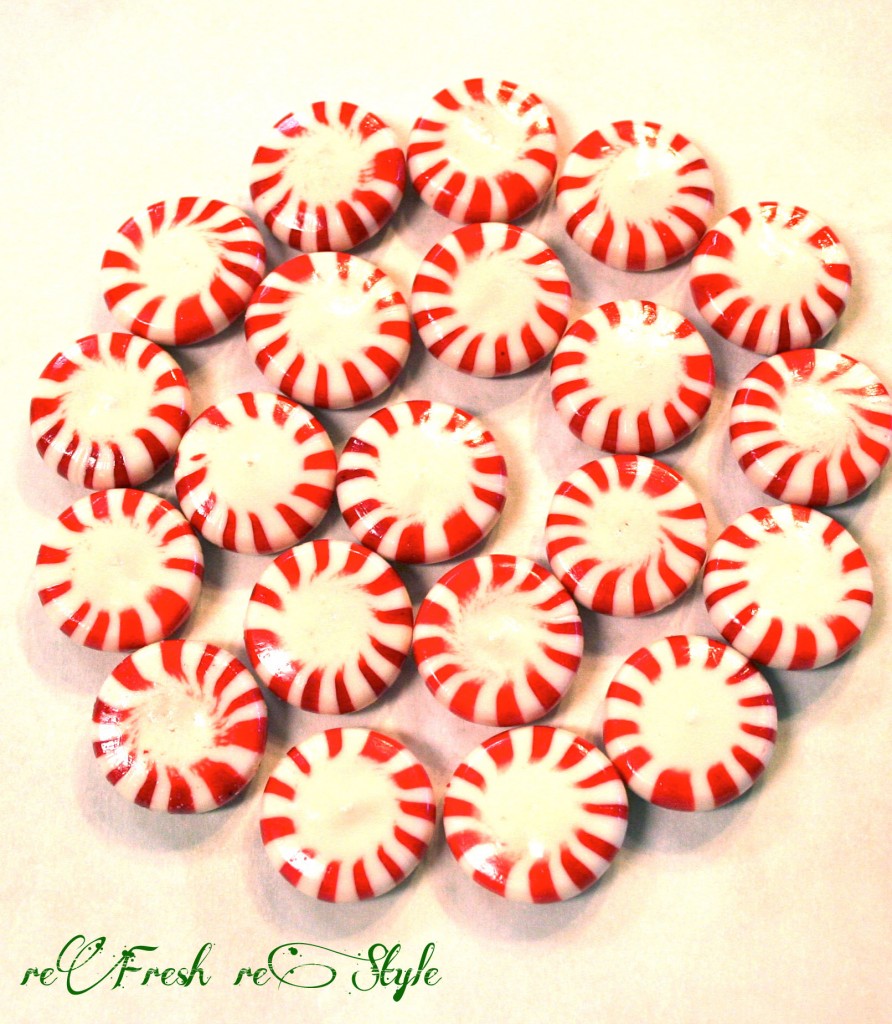 I can live with or without peppermint.  It's not something I crave during the festive Christmas season, say like Milk Chocolate Covered Cherries or Milk Chocolate Covered Raisins.  Maybe I just crave Milk Chocolate and I add the cherries and raisins for the fruit in my diet.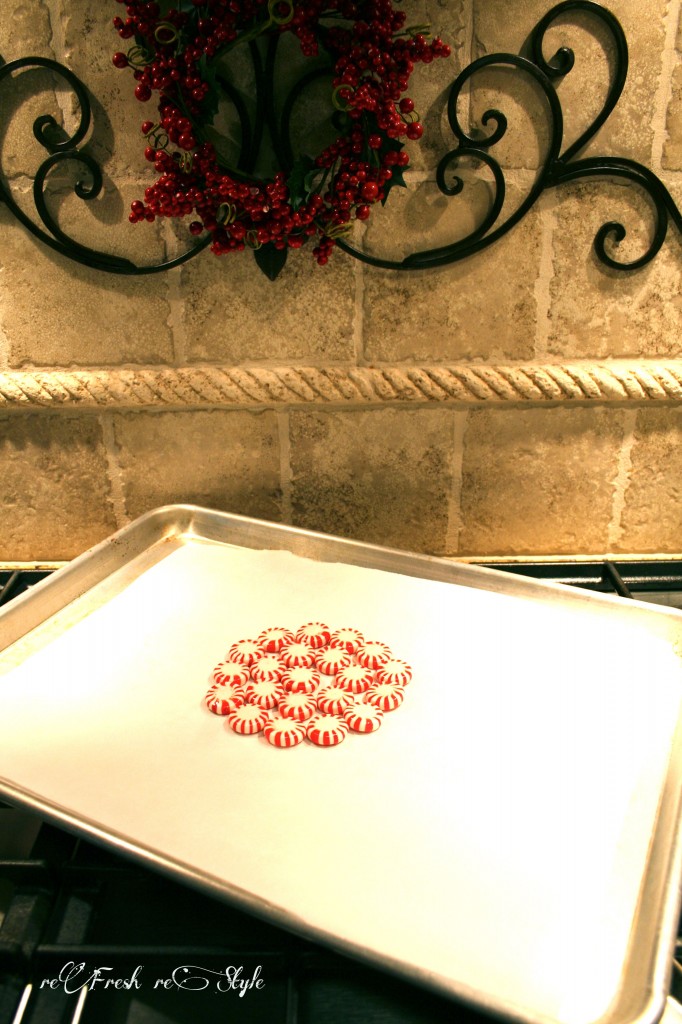 Here's what it looks like, ready to go in the oven.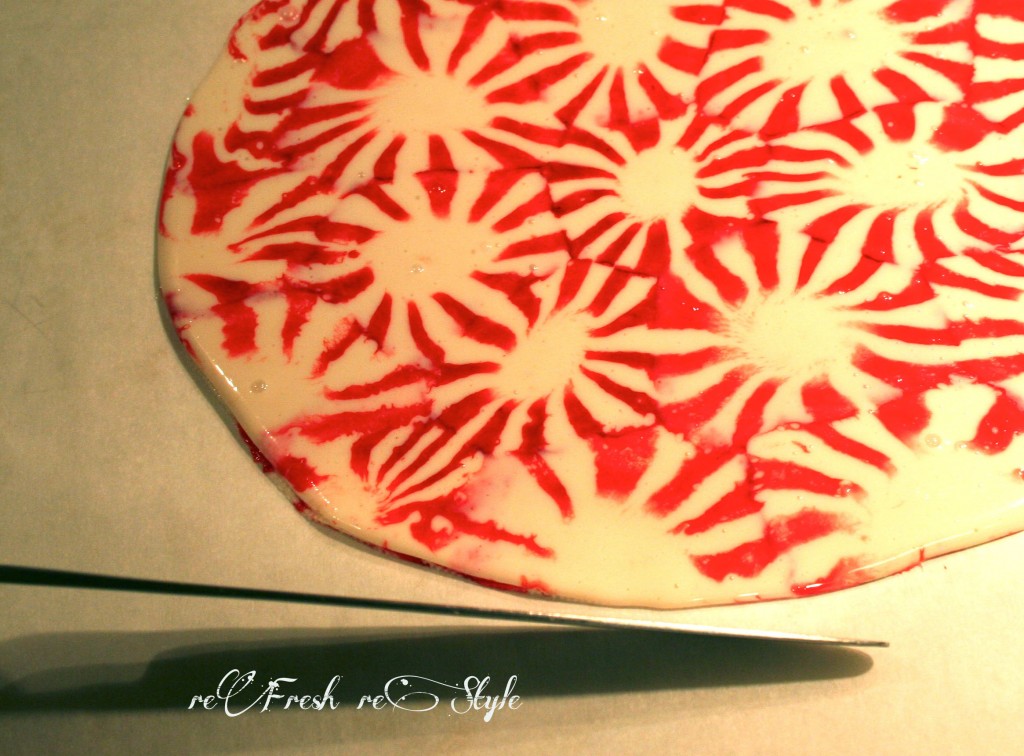 After it came out of the oven, the circle was a little wonky.  I used a butter knife and gently reformed a good enough for me circle.
****Do not touch the peppermints****They are still HOT****
I had all these thoughts racing through my head, you have to think fast when hot candy is setting up.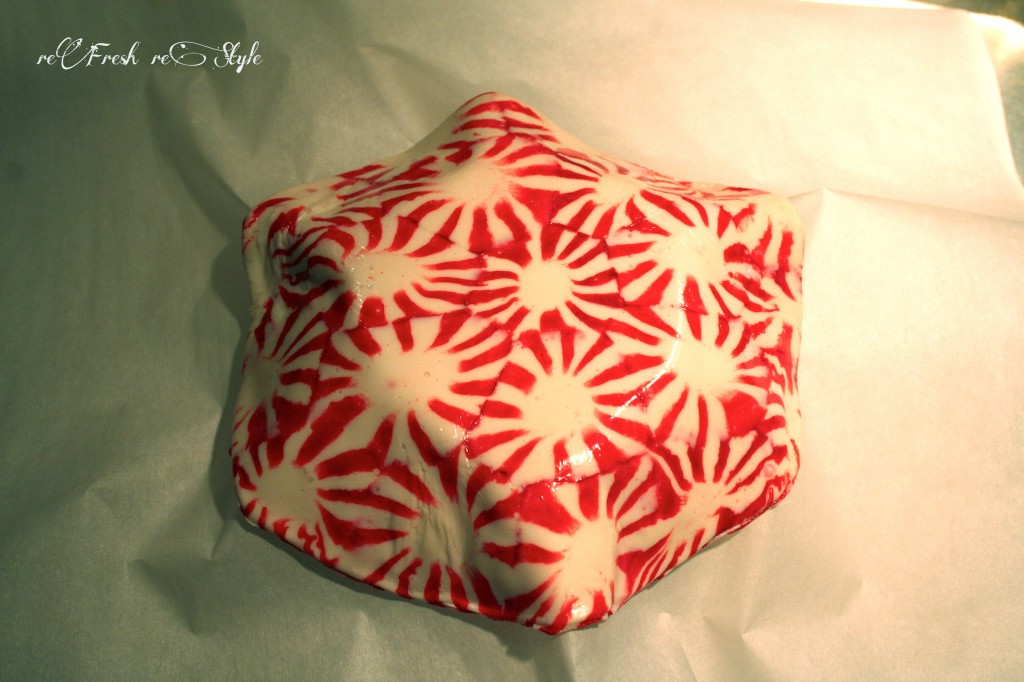 I got a small bowl, turned it upside down.  Grabbed the corners of my parchment paper and draped my warm peppermints over it.  I let the peppermint bowl cool and then I wish that I'd baked something beautiful.  But instead I opened a container of these pretty cookies.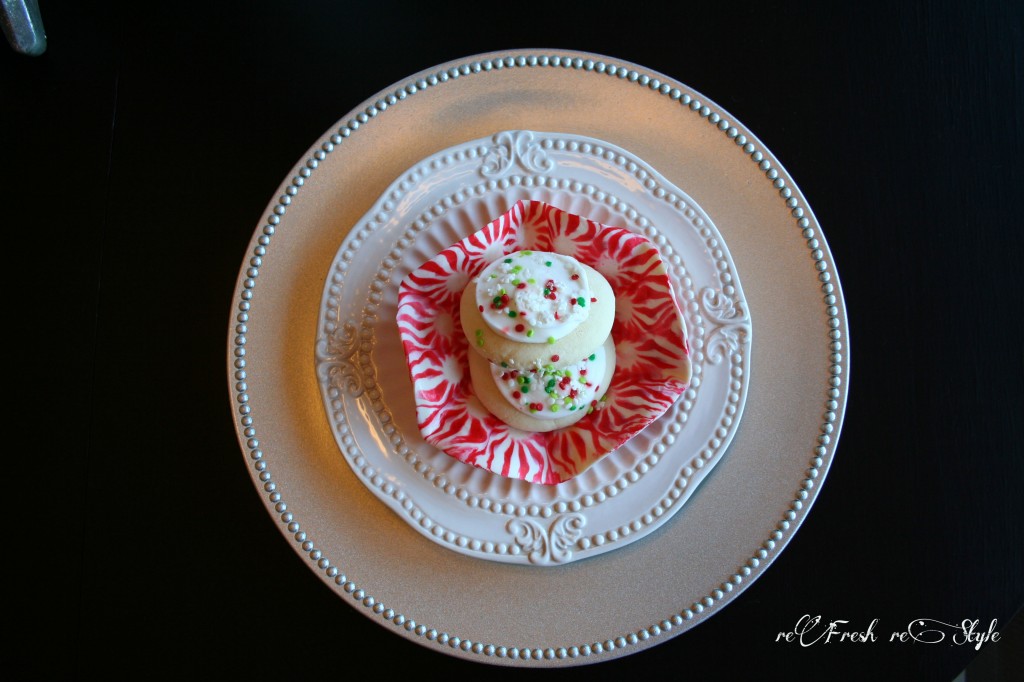 Placed it on my birthday present (these dishes).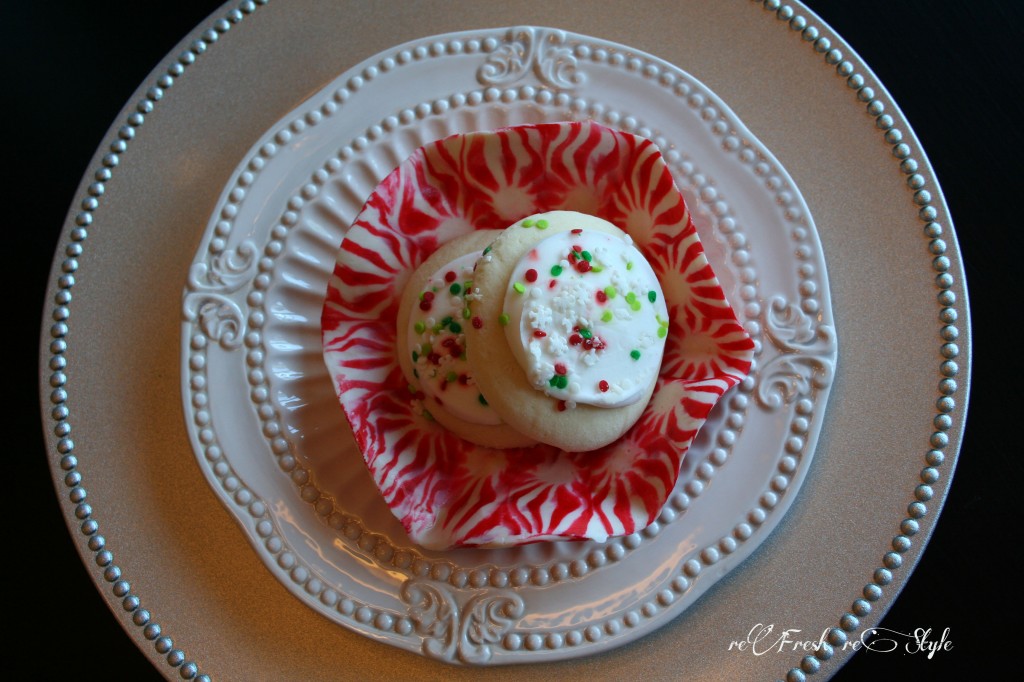 And I just sat back in wonder.  Sue I love you!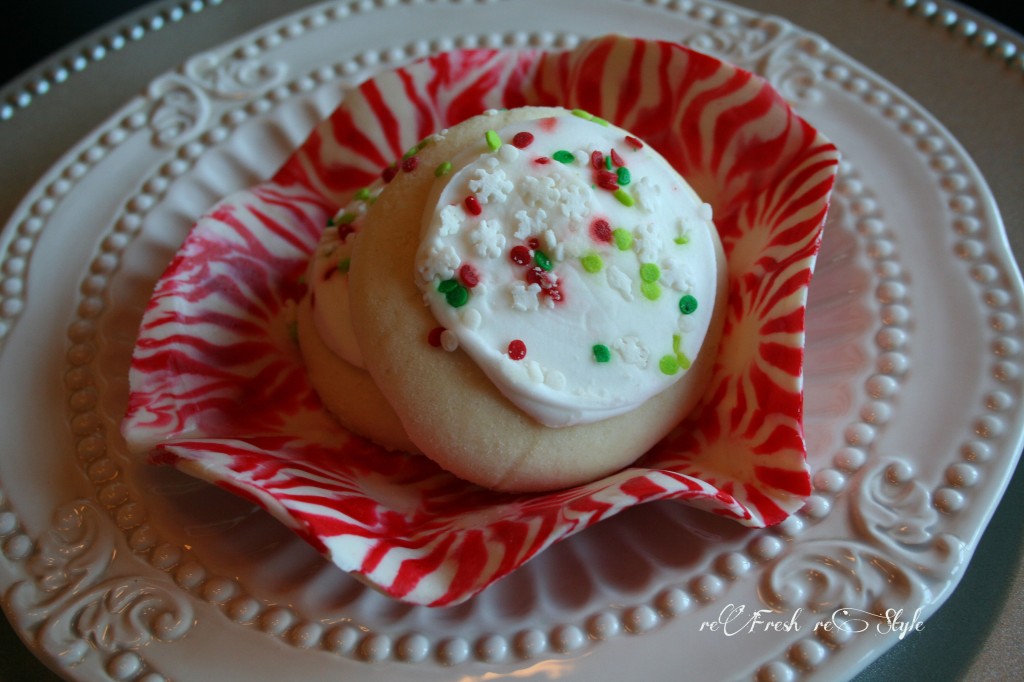 Isnt' this a cute idea.  Heck, I may really bake something put it in a peppermint container, wrap it with clear cellophane, put a bow on it and give it as a gift.
Not Done yet:
Have you heard that if you elevate something, it gives it more importance.  These were so important to me, I did just that.
I left these flat, as you can see.  Put a dot of hot glue to hold this in place (do not eat).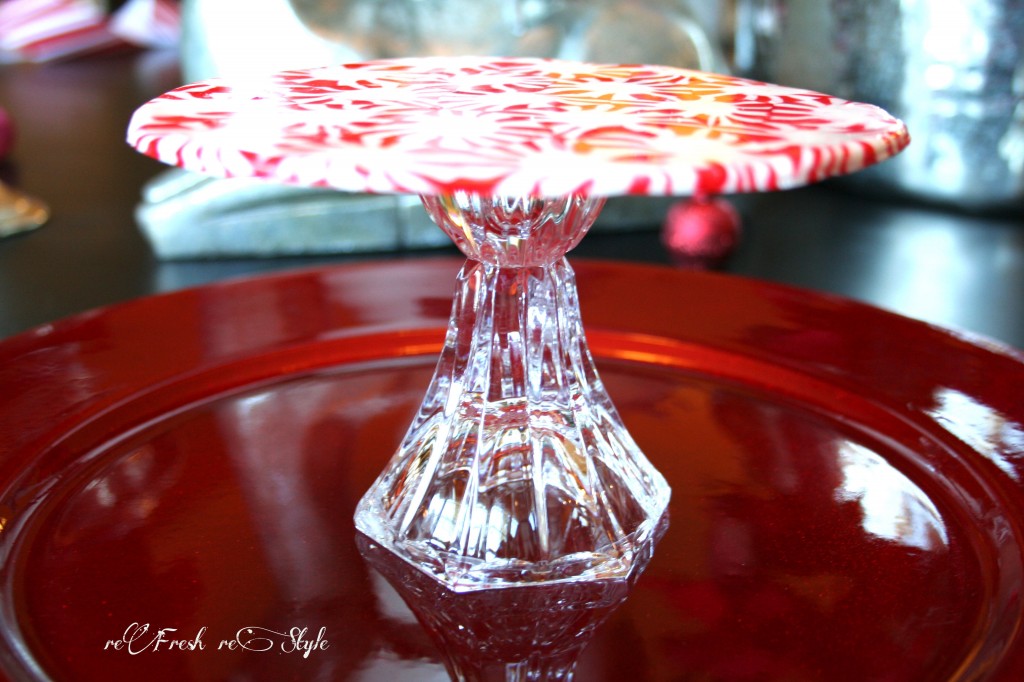 This is a short candle holder  – 49 ¢ from GW.  Looks like a million bucks.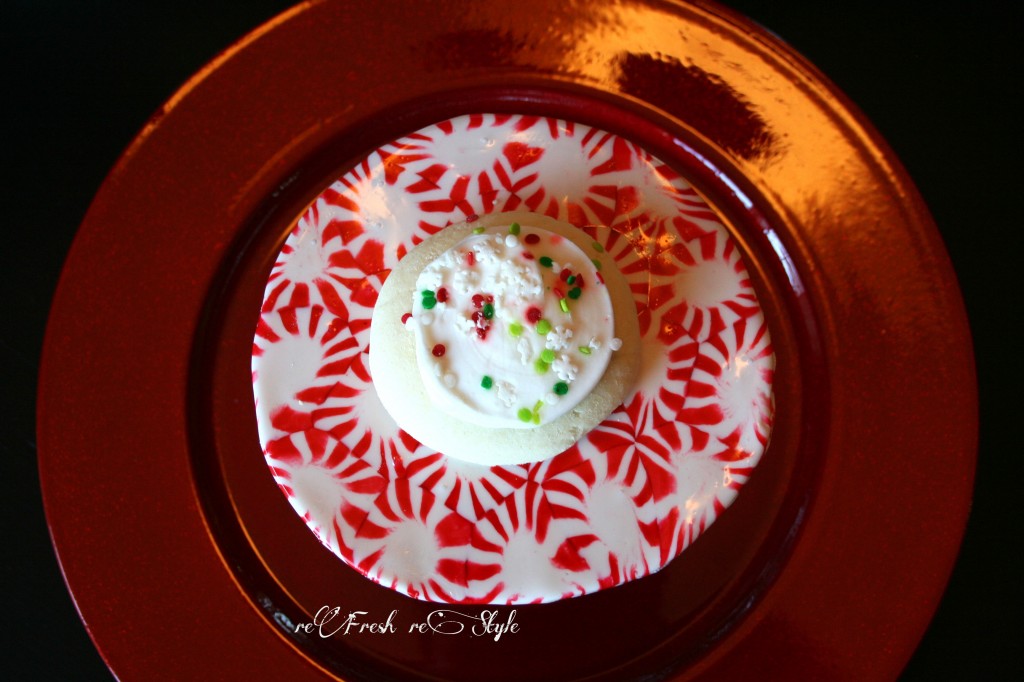 Same old cookie, but isn't it cute?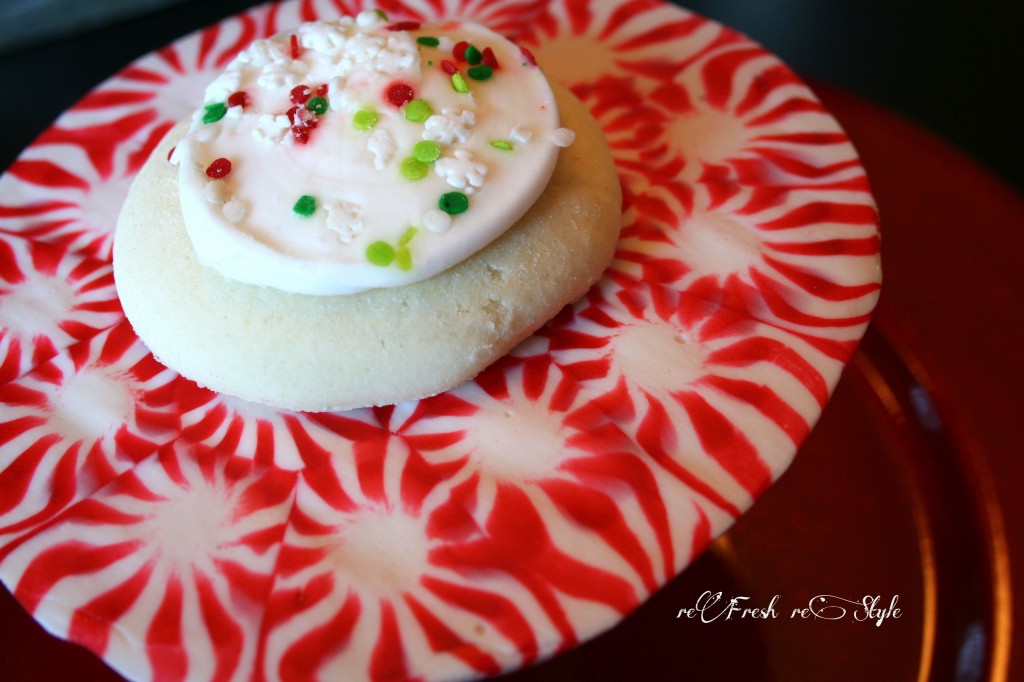 Another amazing thing about this mind boggling peppermint.  One side is shiny and the other is flat.  Two choices, who knew.
I hope you find as much enjoyment with Sue's Peppermint plate as we did!  
Thanks again Sue!
Shared at:
Featured at: