I'm excited to share 15 pretty turquoise kitchen items that are not only useful, but will also look great in your kitchen. There is nothing like a pop of turquoise to brighten up a space! You can see how I incorporated touches of turquoise in my white kitchen makeover here.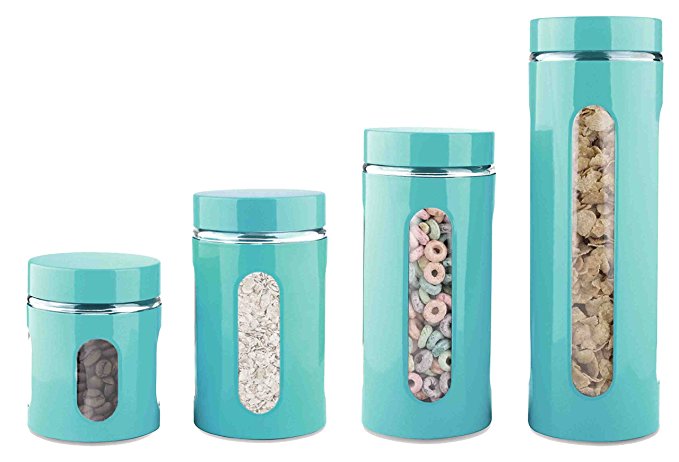 Home Basics Canister Set – This canister set is a gorgeous shade of turquoise and I love that they have windows in front so you can see what is inside. Sometimes we forget what is in there!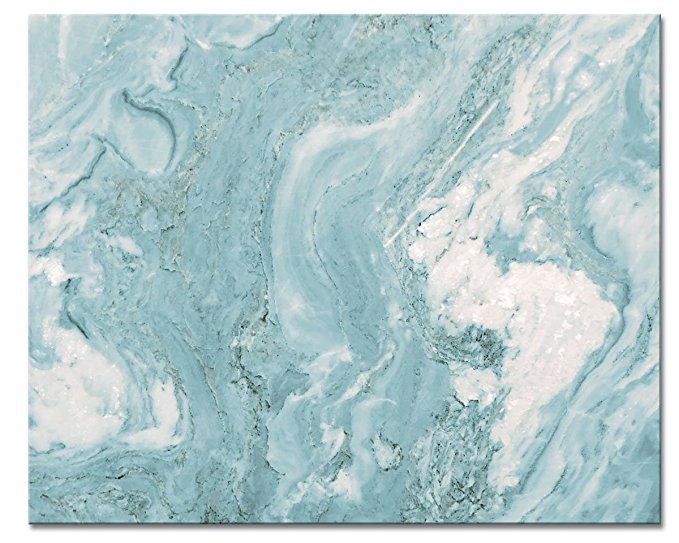 Teal Quartz Glass Cutting Board – Have you ever seen a prettier cutting board? This is something you will be happy to leave out. It's not only beautiful, but also durable and break resistant.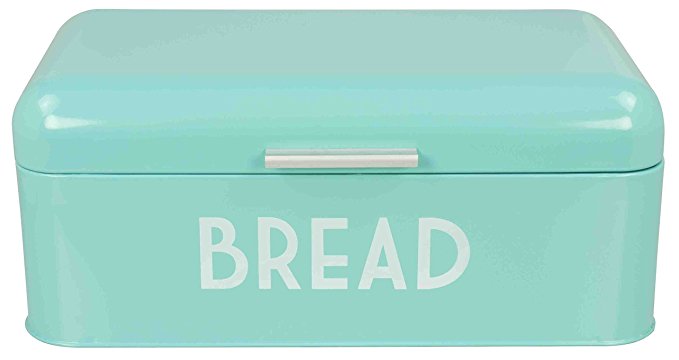 Home Basics Metal Bread Box – This bread box not only stores your bread, but also helps preserve it so it stays fresh longer. Plus, it's made of durable powder coated steel so it won't tarnish or rust.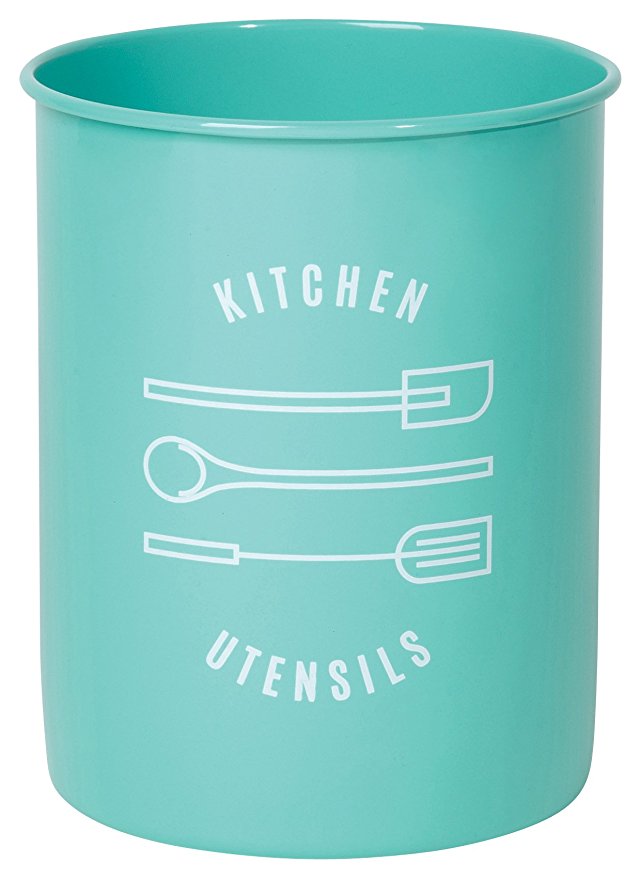 Aqua Utensil Crock Organizer – Keep your most used utensils within easy reach in this pretty crock.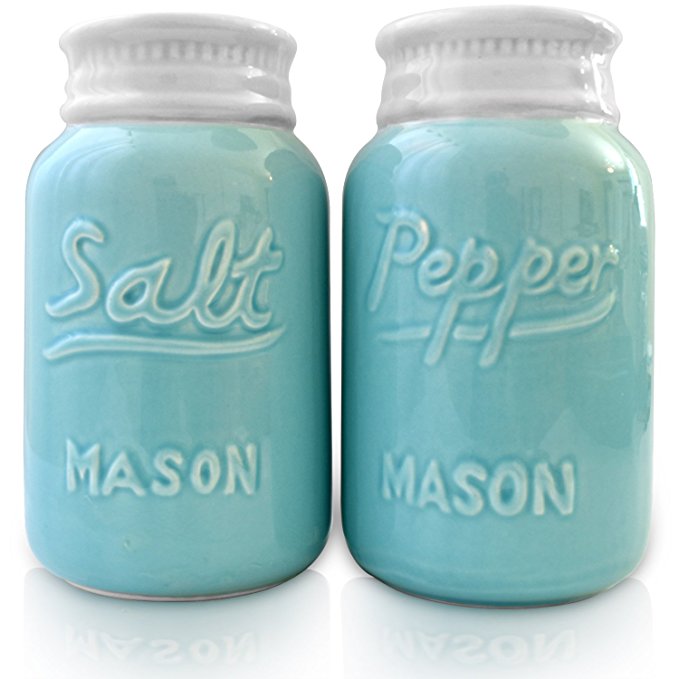 Vintage Aqua Salt And Pepper Shakers Mason Jar Inspired – These vintage salt and pepper shakers bring together a classic mason jar look with a gorgeous turquoise color. They are just adorable!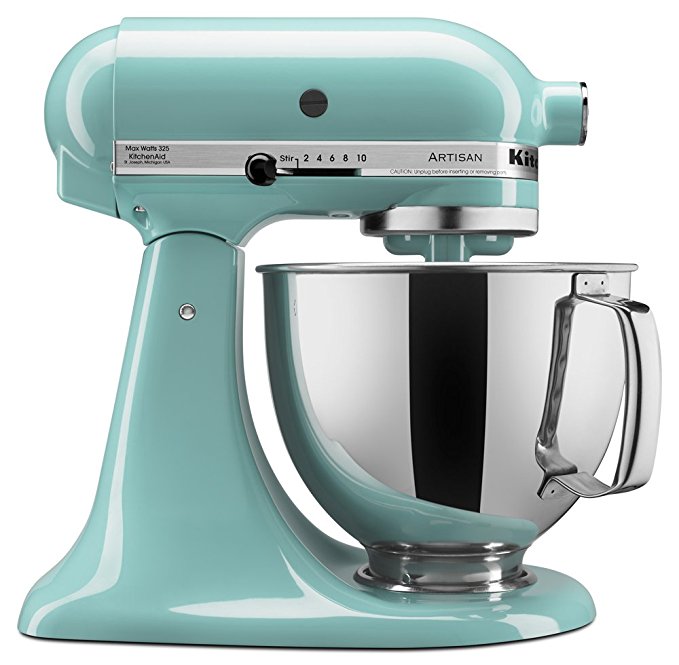 Aqua Kitchen Aid Mixer – A Kitchen Aid Mixer is a staple if you like to bake and this aqua color is gorgeous! This will look so pretty sitting on your counter. No need to store this away. It is both useful and decorative!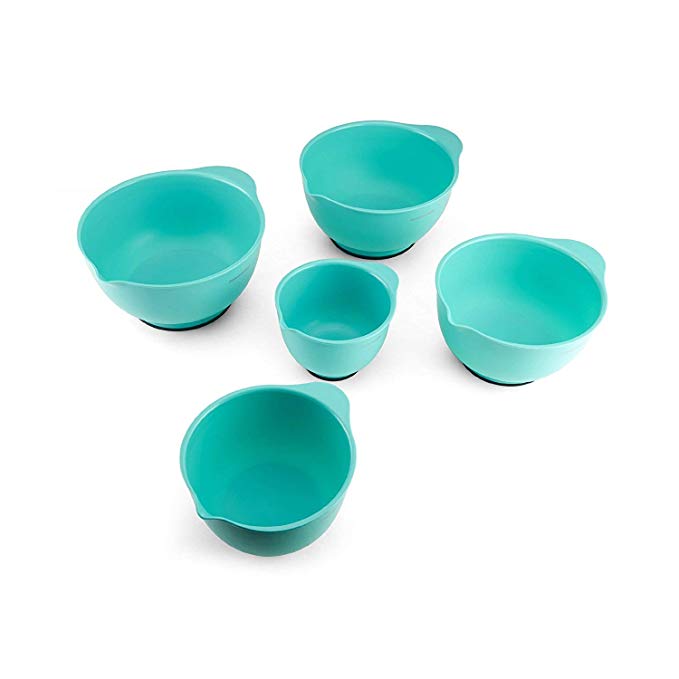 Kitchen Aid Mixing Bowls Set Of 5 – Bring in pretty mixing bowls to go with your new mixer.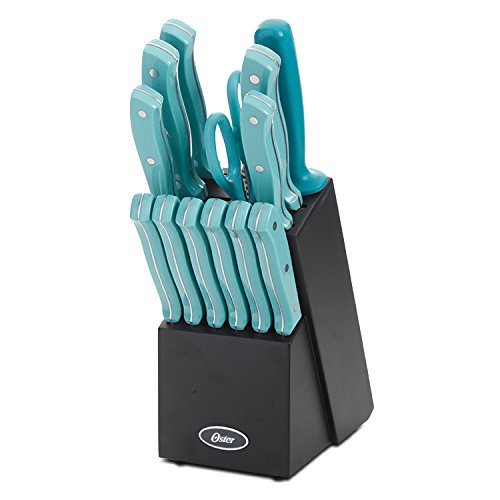 Oster Evansville 14 piece Cutlery Set – These high quality stainless steel blades are stain and rust resistant. Also includes a sharpener!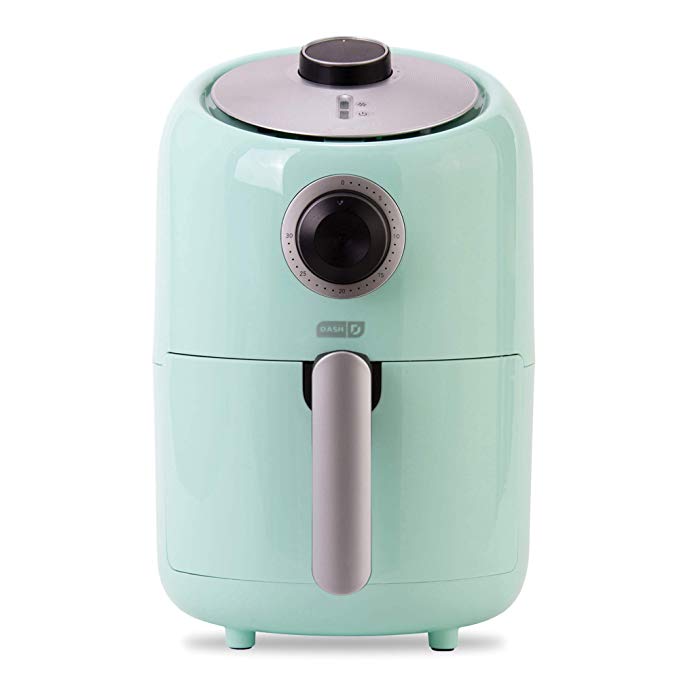 Dash Compact Electric Air Fryer – This trendy air fryer is half the weight of a standard fryer, so it takes up less space. It's a perfect gift for the foodie in your life and includes a cookbook!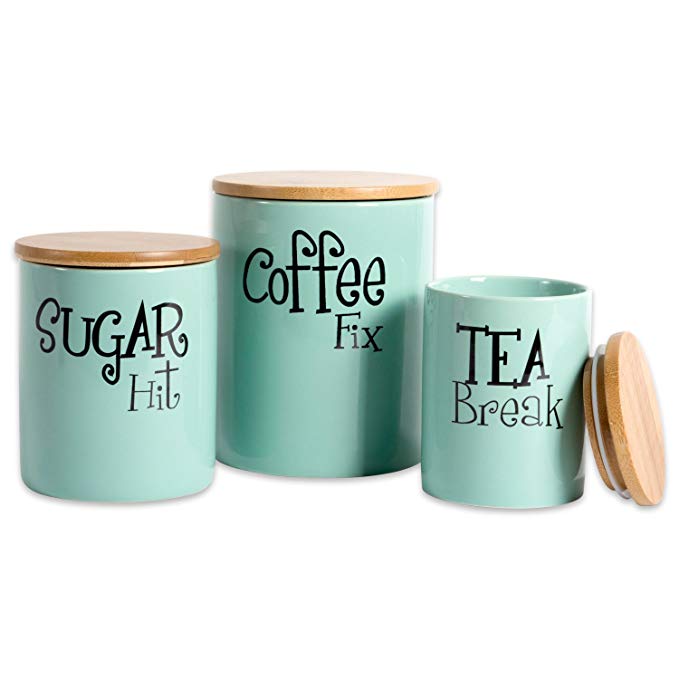 Ceramic Kitchen Canisters With Bamboo Lid – These kitchen canisters are fun, modern and functional. The bamboo lids and silicone sealing ring keep everything airtight and fresh.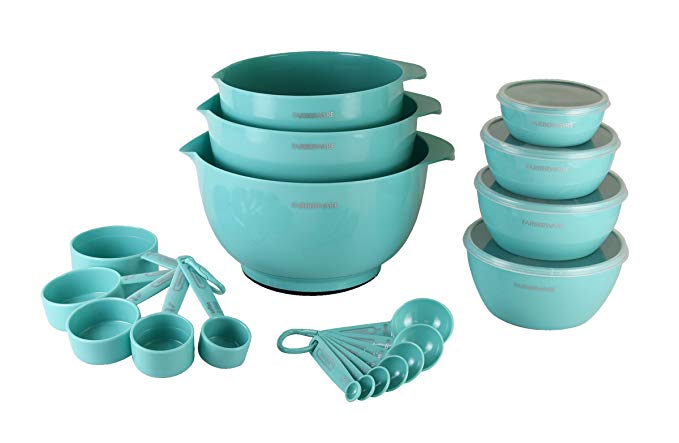 Farberware Professional Baking Set 23 piece – The Farberware Professional Baking set is the perfect cooking prep set to have. This set is great for gifting or keep for yourself! The mixing bowls feature a convenient pour spout on each bowl to help reduce the chance of spills.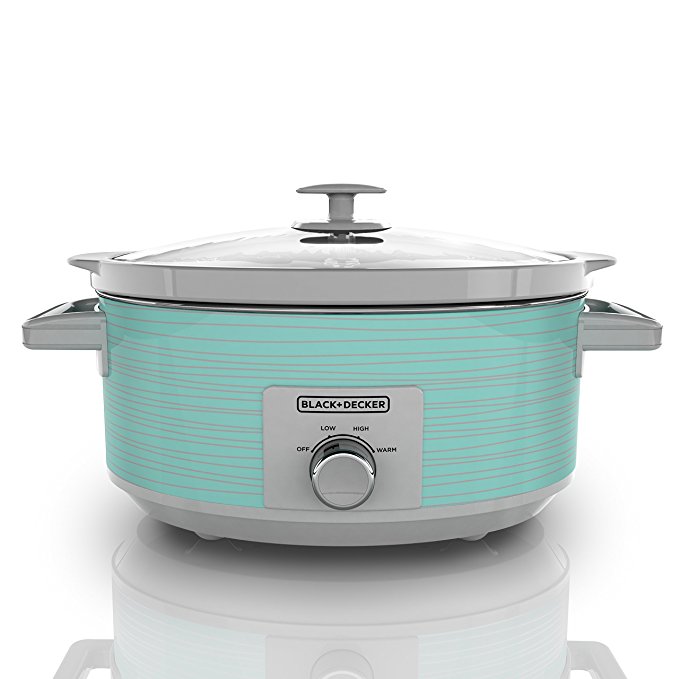 Black & Decker Aqua Slow Cooker – Even with the popularity of pressure cookers, I still love to use a slow cooker for certain recipes-especially if it's this gorgeous shade of aqua!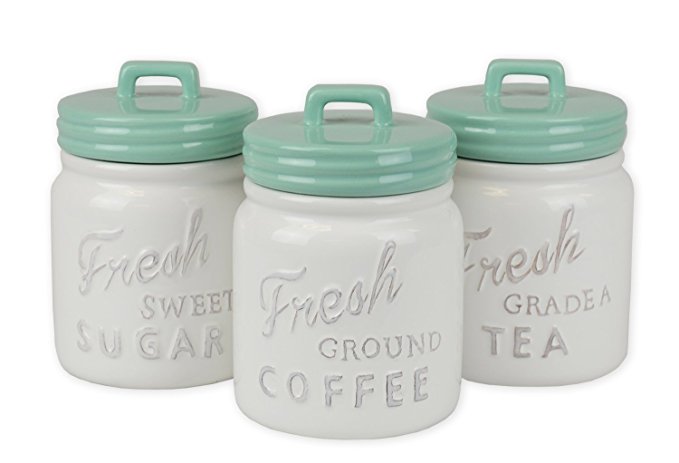 Farmhouse Chic Mason Jar Inspired Canister Set – Like so many of you, I love farmhouse decor and this mason jar inspired canister set will look gorgeous in any kitchen. A perfect blend of style and sophistication.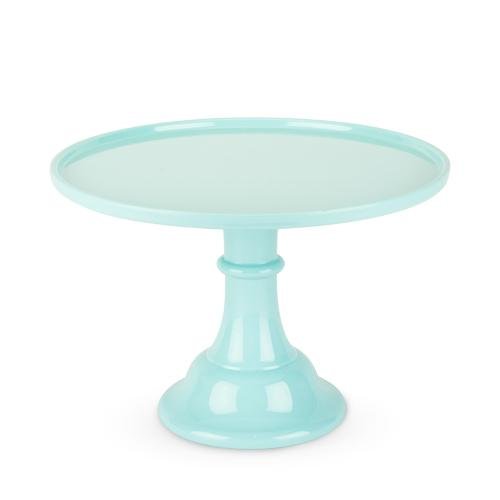 Aqua Cake Stand – You can never have too many cake stands and this gorgeous aqua cake stand will look right at home on your island or even by your sink to hold hand soap and a dish towel.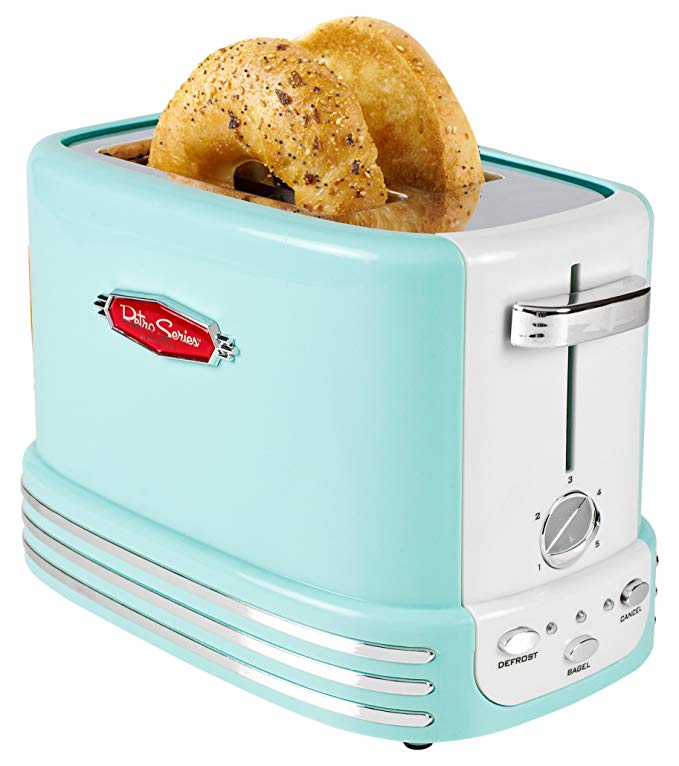 Nostalgia Bagel Toaster – No need to hide the toaster if you own this baby! It has a stylish retro design, but is very functional with cord storage in the bottom and a slide out tray for easy clean up.
So what do you think? Beautiful and functional turquoise kitchen items for gift giving or for your home.
Need more kitchen inspiration? Check out this fun Chalkboard Kitchen Idea.