Burlap is so versatile and it got me thinking that I should put together a bunch of Burlap Decor Ideas to share with you all! It is pretty inexpensive and you can use it for almost anything. It adds a rustic and chic look to your space without trying too hard. You could even mix and match textures for a more elegant or eclectic feel.
Update a repainted chair with burlap fabric and a stencil.
Burlap and Stencil Chair via Superfluous
Spruce up your office desk with these beauties. Sure beats a plain ole' pencil cup.
Shabby Chic Burlap Pencil Holder via Happy Happy Nester
These make a fabulous display on a mantel or table!
Burlap Topiary via Cottage at the Crossroads
Love the look and fullness of this burlap wreath? Learn how to make it with any accent color ribbon you wish!
Burlap Wreath via Kenarry
Burlap goes beautiful with patterns. This trio is just perfect for the bench.
Button Monogram Pillow via It All Started with Paint
Fill in some wall space with framed pieces of old burlap sacks.
DIY Wall Art Framed Burlap via The Honeycomb Home
Choose your own words for your burlap place mats, it is so easy to do.
Easy DIY Placemats via Green with Décor
Make a simple but beautiful statement with burlap used as the backdrop for your monogram.
Framed Monogram via Broadview Heights
Show off your favorite quote or photos with giant clothespins covered in burlap!
Burlap Clothespins via Ribbons and Glue
I love the turquoise used here with the burlap- it would be great for all year round, not just for the winter.
Winter Burlap Wreath via Decor by the Seashore
If you're anxious to get ready for Spring, a starfish wall hanging could help! Or it'd be perfect for that beach house.
Starfish Wall Hanging via Pastels & Macarons
Dress up your plain table with a pretty ruffled burlap runner.
Ruffled Burlap Table Runner via Confessions of a Plate Addict
Add a little ampersand by way of a burlap canvas and paint.
DIY Burlap Canvas via The Hamby Home
This is super cute- I can see this on a kitchen wall! Get creative and go with any word you love.
Painted Burlap Sign via Oh my Creative
Polka dots look SO darling on burlap! How sweet would this be in a child's room?
Monogrammed Burlap Art via One Krieger Chick
I love the look of lace and burlap together, especially wrapped around big glass jars.
Lace and Burlap Wrapped Jars via Colin Cowie Weddings
Even lampshades need a little bit of love and texture. And this fringed burlap lampshade is so easy to do.
Hula Fringe Lamp Shade via Made in a Day
Add some sparkle and texture a space with a banner like this one.
Glitter Fringed Burlap Banner via Yellow Bliss Road
Show us YOUR Burlap Decor Ideas, we love seeing how creative everyone can get!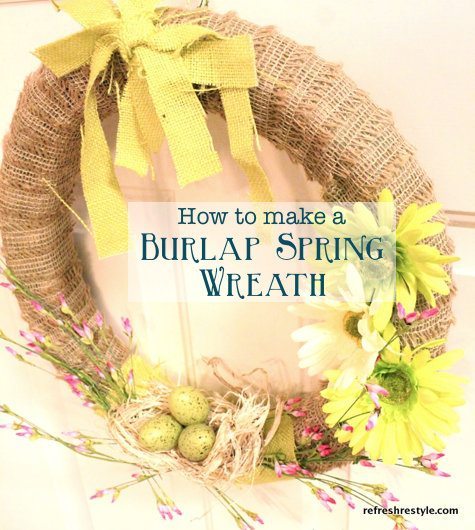 Burlap Spring Wreath – Refresh Restyle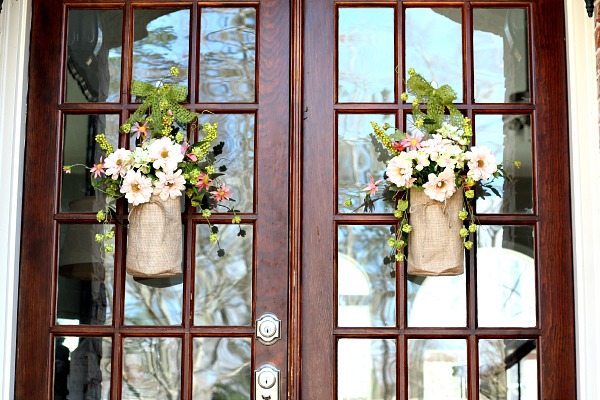 Burlap Bags for the Front Door – Refresh Restyle
Tell me about your Burlap Decor Ideas, I'd love to try something new!