DIY Pizza – Bread Board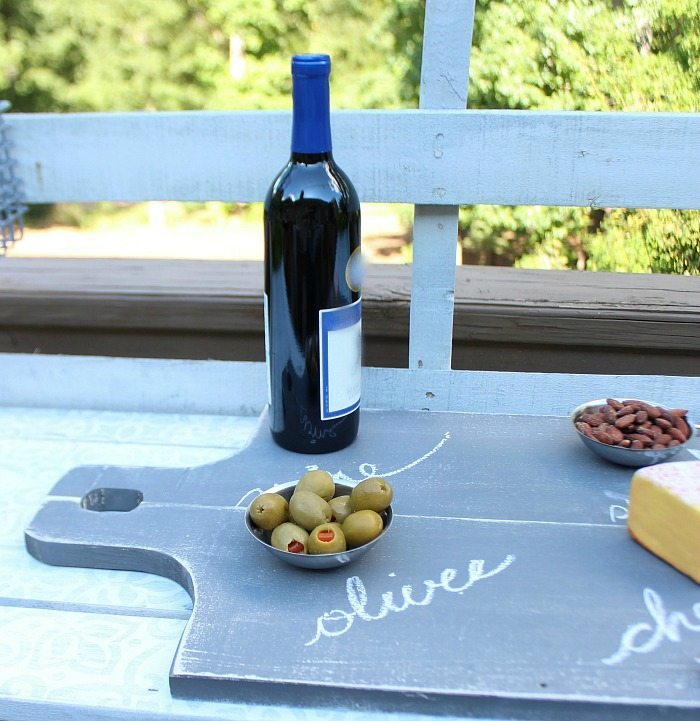 You know how it is when you can't get something off your mind. Well that's how I've felt for a while about these large cutting, pizza, bread boards! It seems like I see them everywhere.  So when this months power tool challenge rolled around I decided to make some. Be sure to check out all the power tool projects at the bottom of the post!
I had a 1″ x 8″ board just begging to become a pizza board or as I'm using them as a serving piece. I painted mine, these are purely decorative. Don't put food directly on them.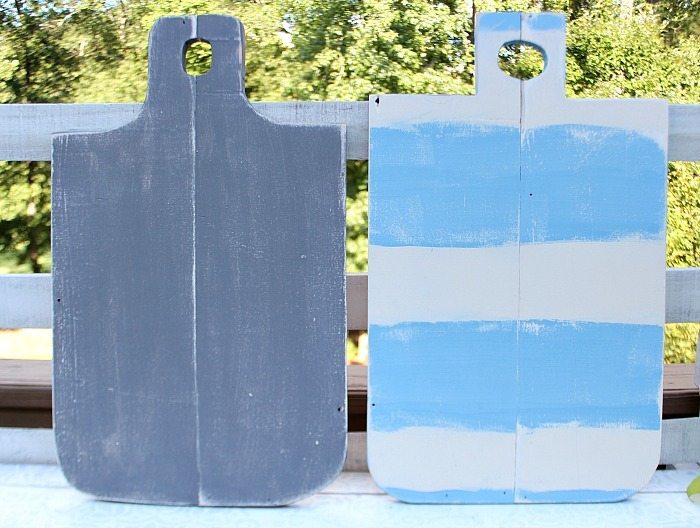 Here's my inspiration:
I love the real deal! Aren't these gorgeous. I saw these on ETSY and of course they've sold. Just added – find some awesome wood (to make some like these) on my shopping list!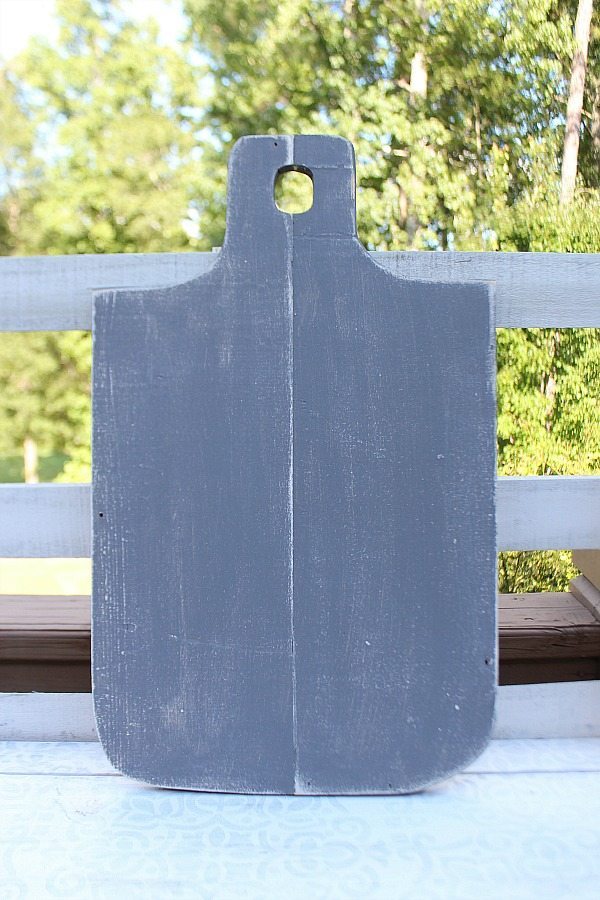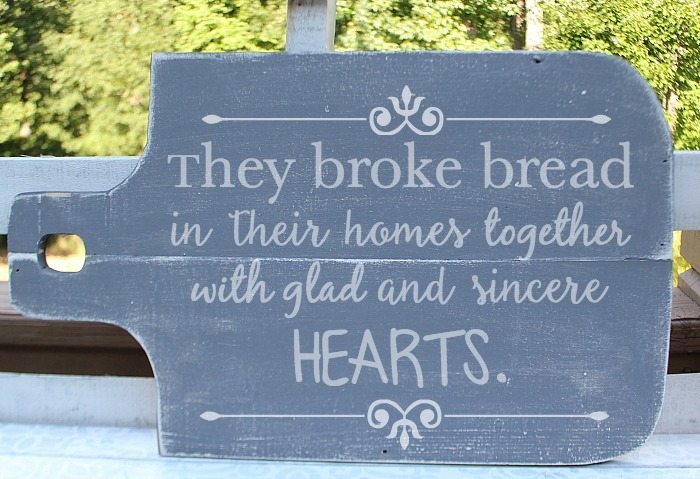 You could put a quote on them. Write something with chalk, use a silhouette, or make your own sign.

8′ – 1″ x 8″ common board
saw – I used my miter saw
Jig saw – I used my Rockwell Bladerunner
Kreg jig for pocket holes
1″ 1/4″ Kreg Screws
pencil and round object for drawing curves
drill
sand paper
dowel
paint – Waverly Elephant or any Chalk type paint
Overview:
Measure and cut the 8′ board in to 4 – 24″ pieces. Attach 2 boards with 4 pocket holes, equally spaced. Make sure that 2 of the pocket holes are near the edges. Trace a round object near the edge of your board to create the rounded edges and the paddle handle. Draw a circle in the handle for hanging. Use your drill to create a hole for inserting your Bladerunner/jig saw blade. Guide the jig saw or Bladerunner saw around your board to make the rounded cuts.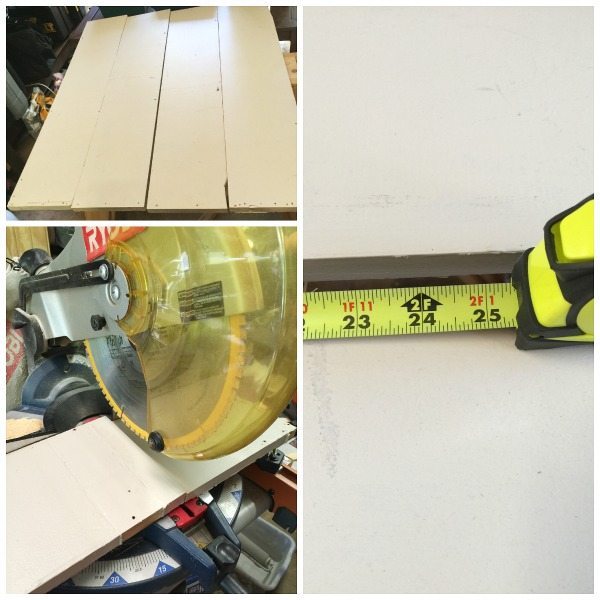 Steps:
Cut the board in to 4 pieces at 24″ each. I used scrap wood, but you can buy 1 each 8′ long 1″ x 8″ board for this project.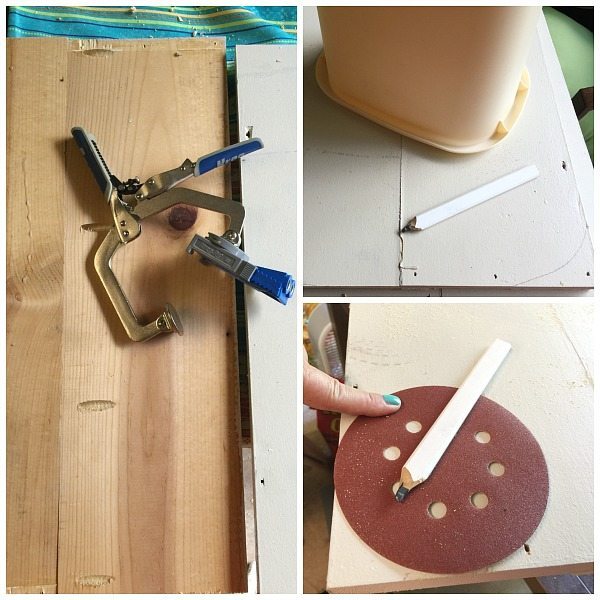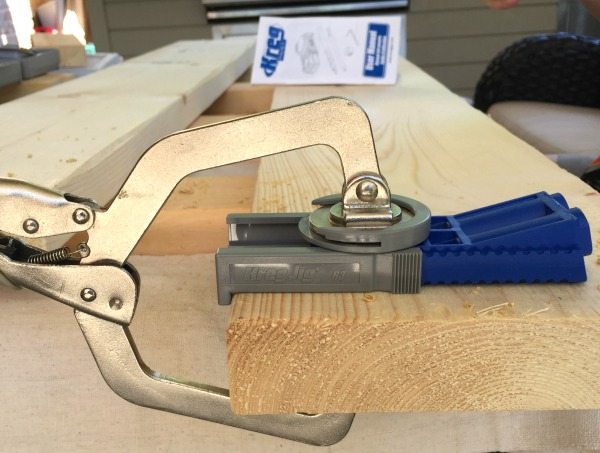 Using the Kreg Jig – create pocket holes on the back of the boards, I did 4. Two spaced in the center and one on each end. I didn't glue my boards but you can. Just add wood glue along the edge and use 1″ 1/4″ Kreg screws in each pocket hole to attach two of the boards. Repeat for your other 2 – 24″ boards. Now you have two large boards ready to create rounded edges.
Use a round piece of sand paper and the top edge of a trash can. Use anything you like to create your rounded edge shapes. Align your template and use a pencil to trace.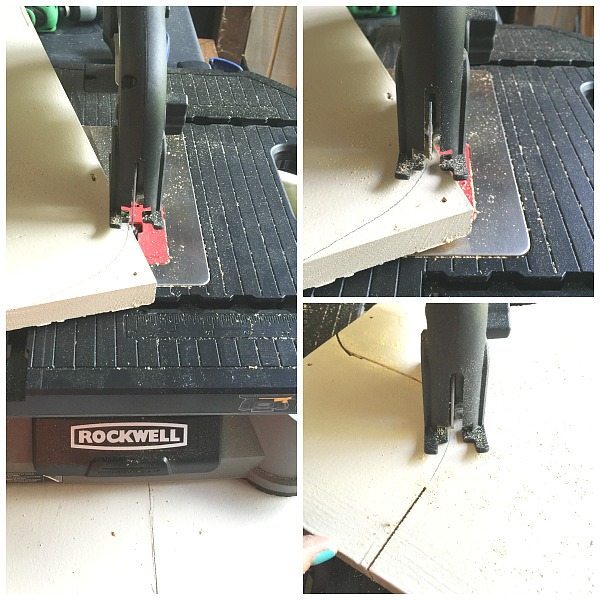 Cut around your pencil marks to create the rounded edges and handle at the top. I used my Rockwell Bladerunner table saw. It's light, compact and it's easy to handle. You could use a jig saw.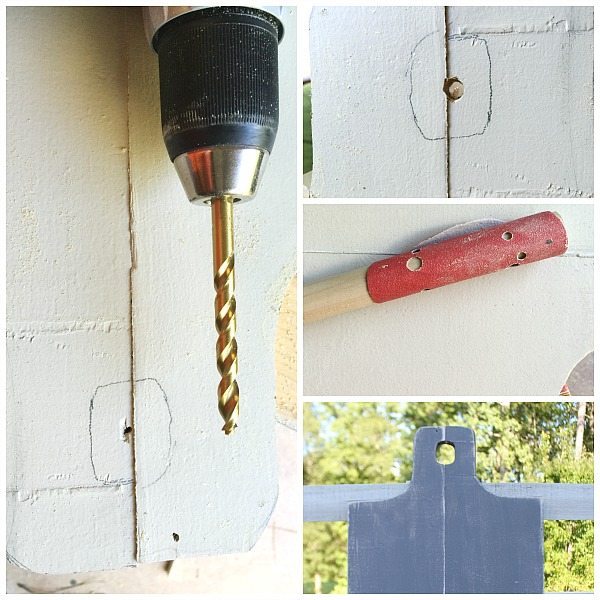 For the handle of the bread board, I hand drew a circle or something that resembled a circle 😉 Use a very large drill bit to make a pilot hole. Lift the guard of your Bladerunner, place the drilled hole over the blade and cut around your pencil line. You can also use a jig saw for this.
Improvise: For sanding, I wrapped a piece of sand paper around a dowel. This works great for rounded areas.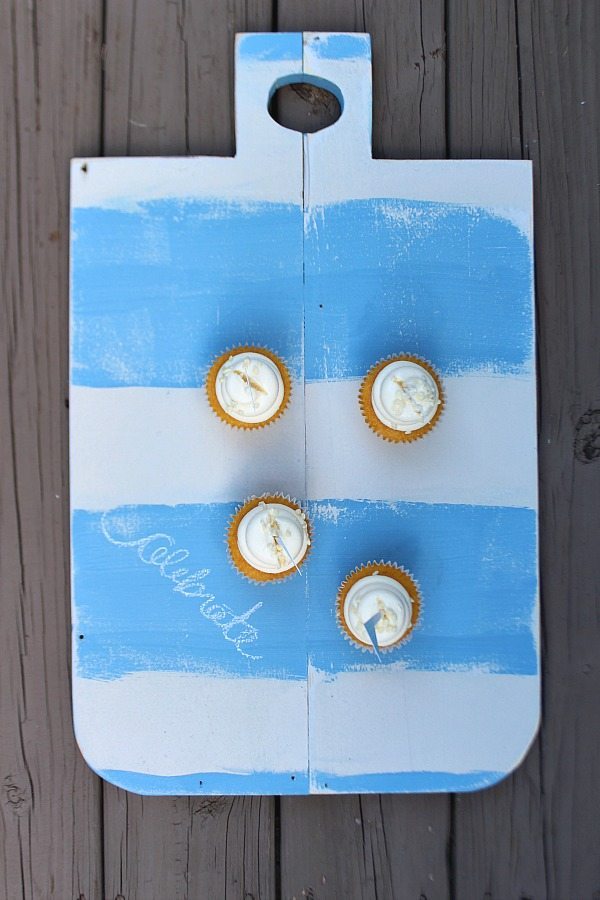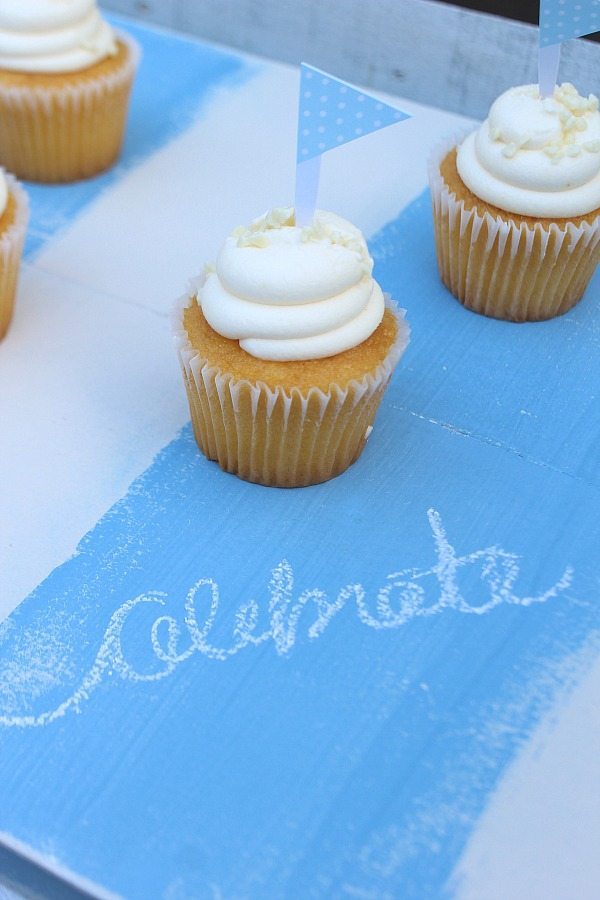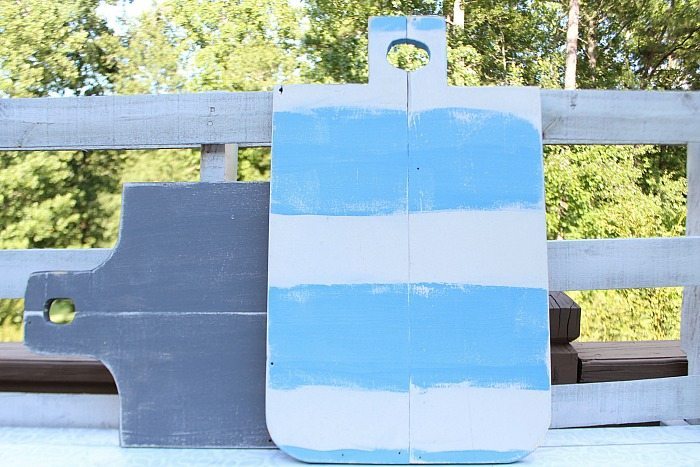 Hang them on the wall, serve with them, use as a backdrop… so many options!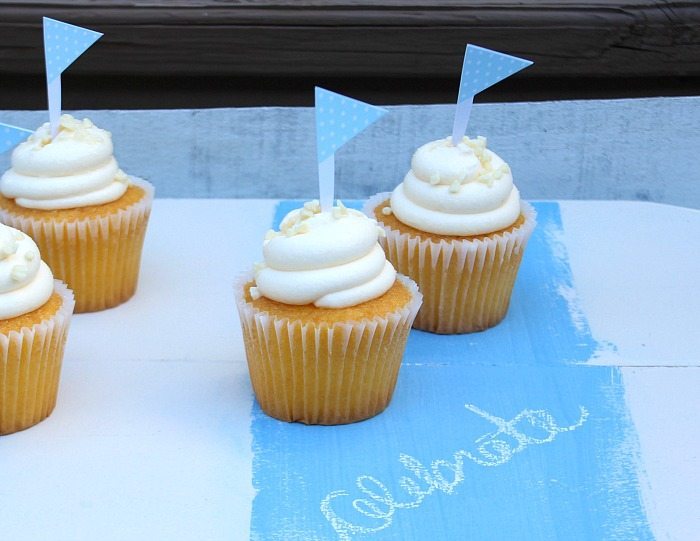 Now go celebrate because you just made a pizza bread board!
Click to visit the power tool challenge projects:
Scroll Saw Wooden Basket by Kim Six Fix
Easy DIY Picture Frames by Domestically Speaking
DIY Wood Letter Jewelry Hanger by Designs By Studio C
Circle Back Kids Chair Plans by Her Tool Belt
Easy Wood Pumpkin Cutout by H2OBungalow
DIY Pizza Bread Board by Refresh Restyle
Small Step Stool by My Repurposed Life
DIY Glue Gun Holder by Virginia Sweet Pea
DIY Wooden Movie Projector by Thrift Diving