a little rustic, a little spring, a lot free…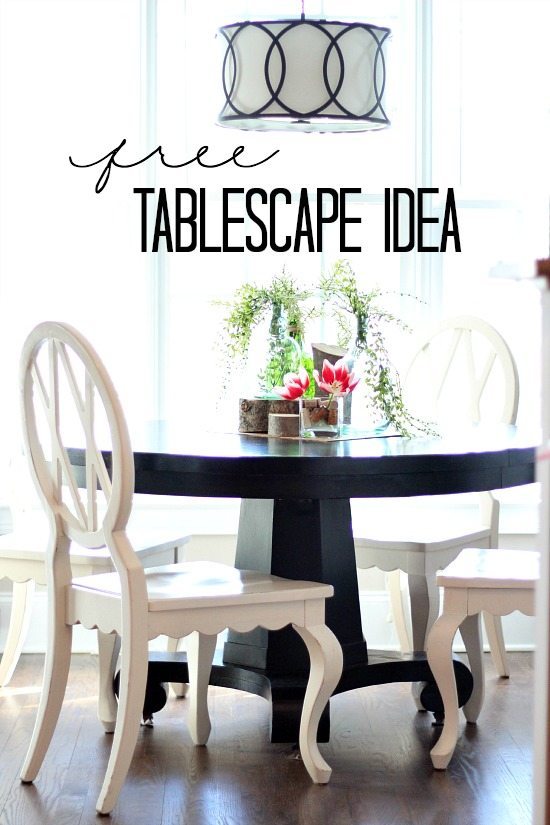 Before I give you the details of my recycled table decor, let me just say that since we moved in September 2014, I've come across all kinds of  tchotchkes. (tchotch·ke CHäCHkə/ n., pl. -kes. Informal. a knickknack) or should I say empty wine bottles!
I can explain, I love those big green bottles sold at Pottery Barn, but I just don't want to pay for them!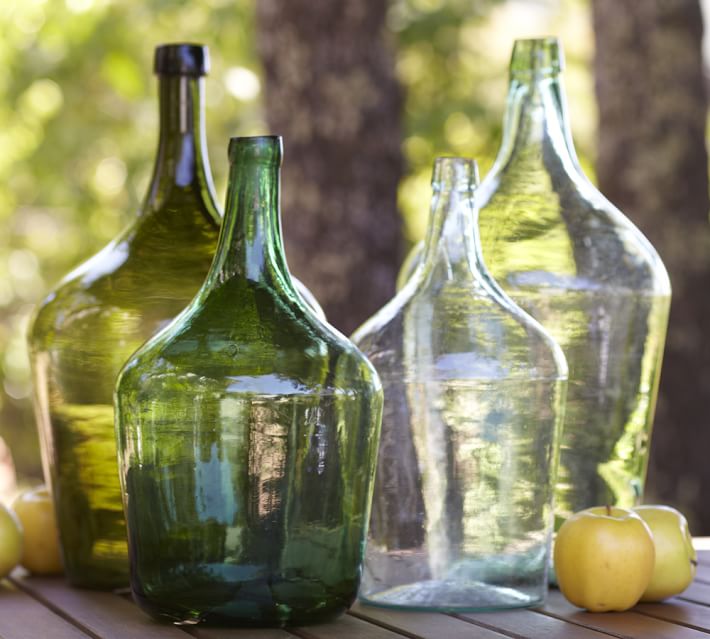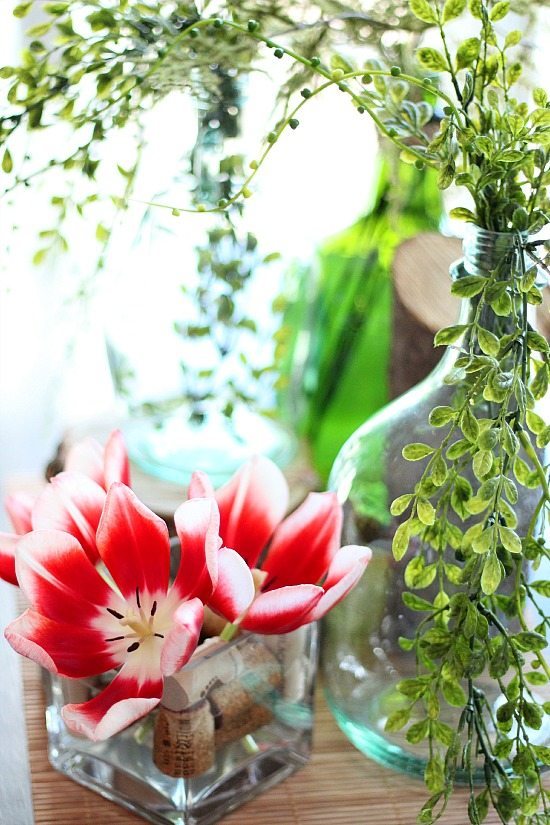 Now that you know what I'm doing, let me tell why! I was contacted by HGTV, not really ;)…actually it was Christy from Our Southern Home that came up with a brilliant challenge! And you know me, I love a challenge and shopping my house for decor!
A team of six decor enthusiasts are sharing free decor ideas and tips of the trade! The links to each space is at the end of the post.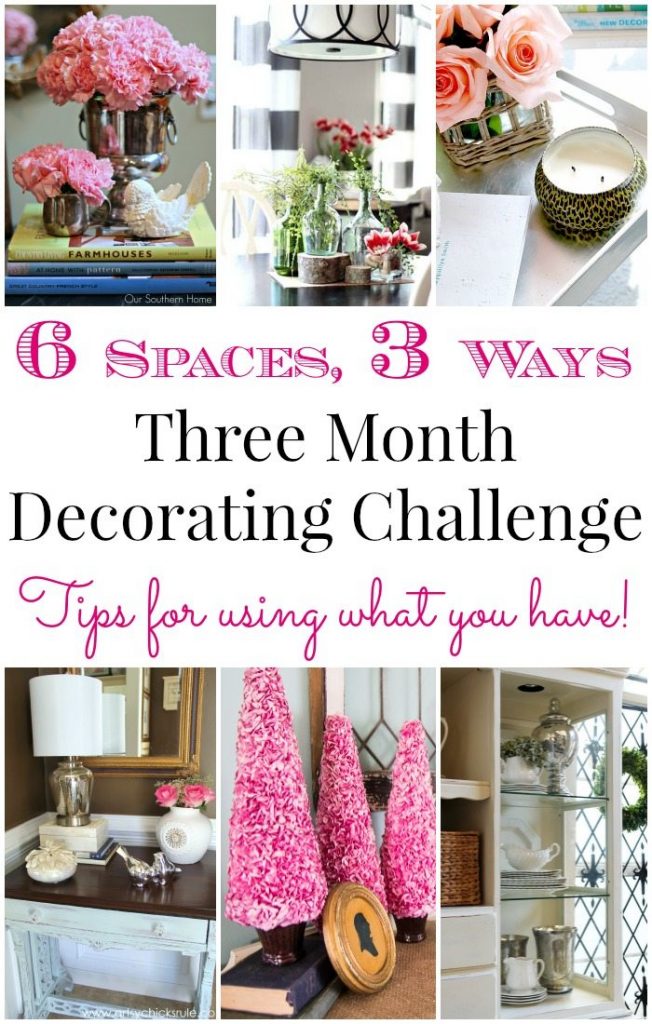 For this design challenge I will be decorating my kitchen table each month, for free. Refreshing accessories that I already have. Here's the first of three:
Free Tablescape Idea – Rustic Spring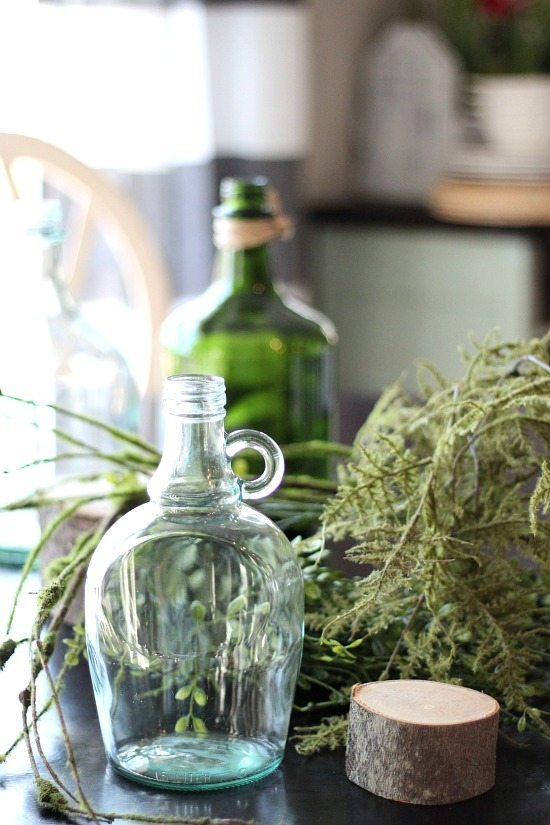 Supplies:
3 Wine Bottles
Greenery
Small tree stumps
Tulips
Vase
Galvanized Tray or any tray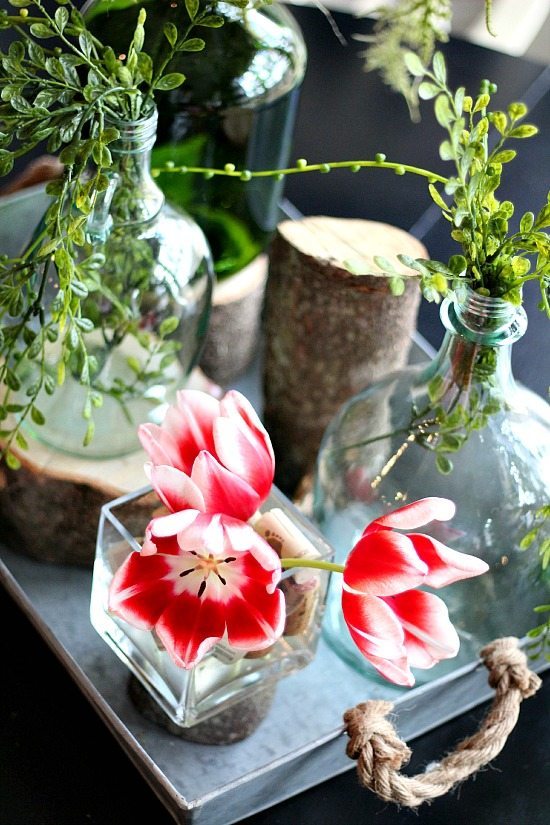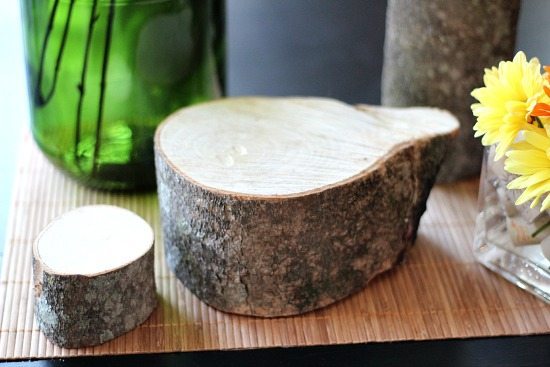 I seperated the greenery between the three recycled wine bottles and elevated two of the bottles by placing them on top of the stumps.  These were left over from my Dollar Tree project, you can see the here.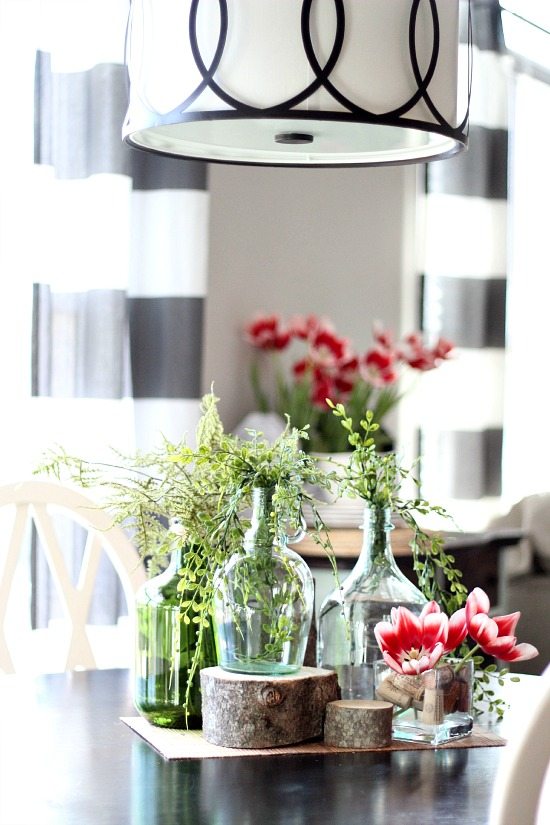 I used a square glass vase to hold the tulips, stuffed with wine corks instead of a flower frog.
I played around with the placement of everything until it was perfectly imperfect 😉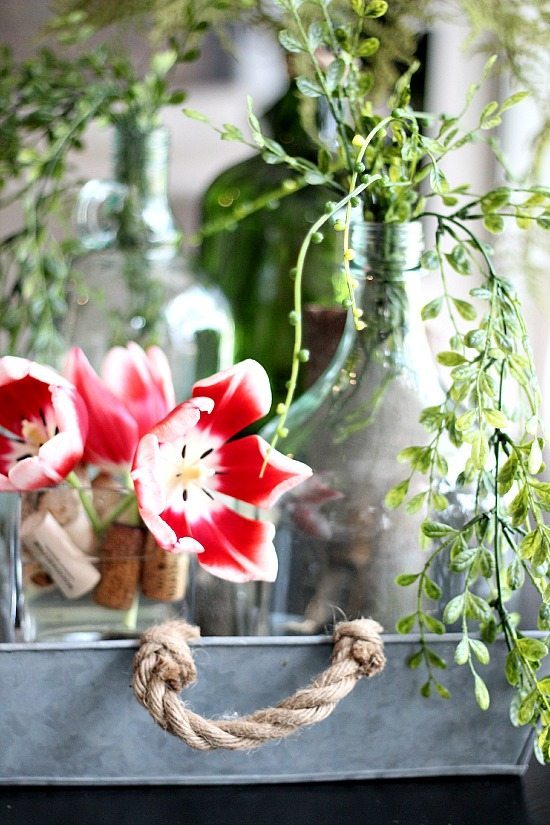 And then I put it all in a galvanized tray. The centerpiece leaves plenty of room for dining.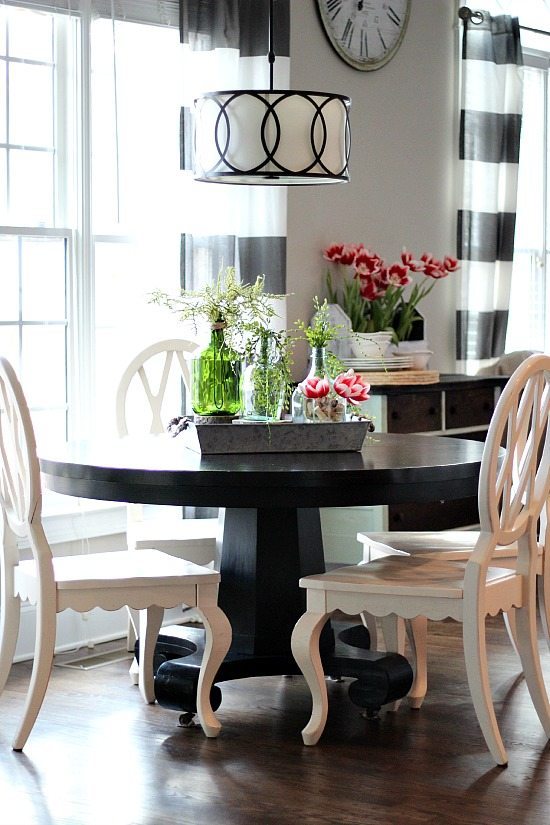 Shop your home first, fall in love with your accessories all over again.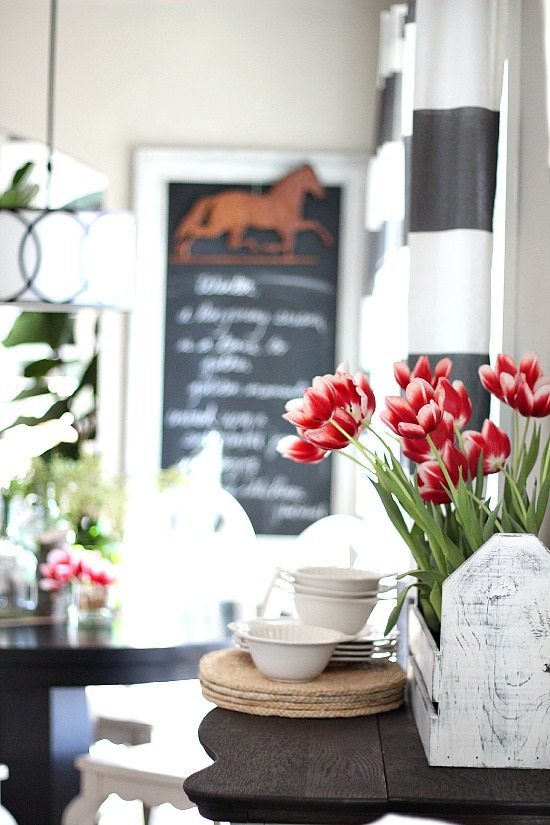 Before: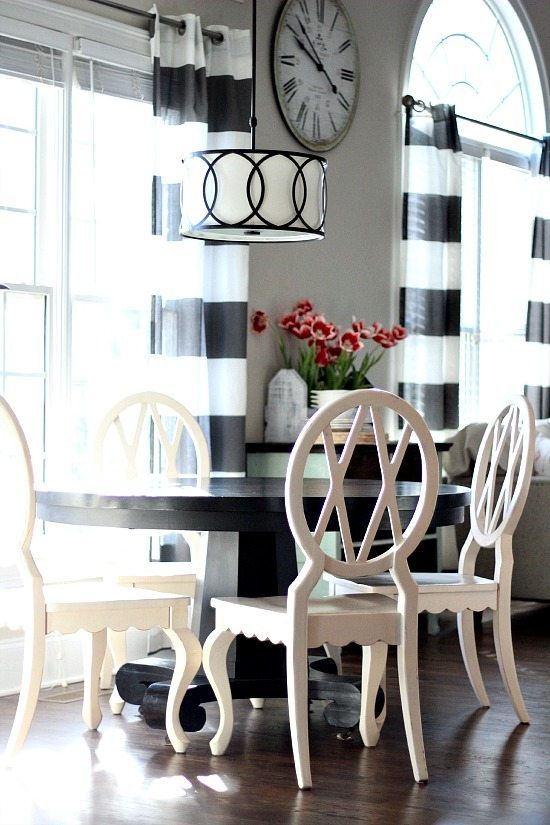 After: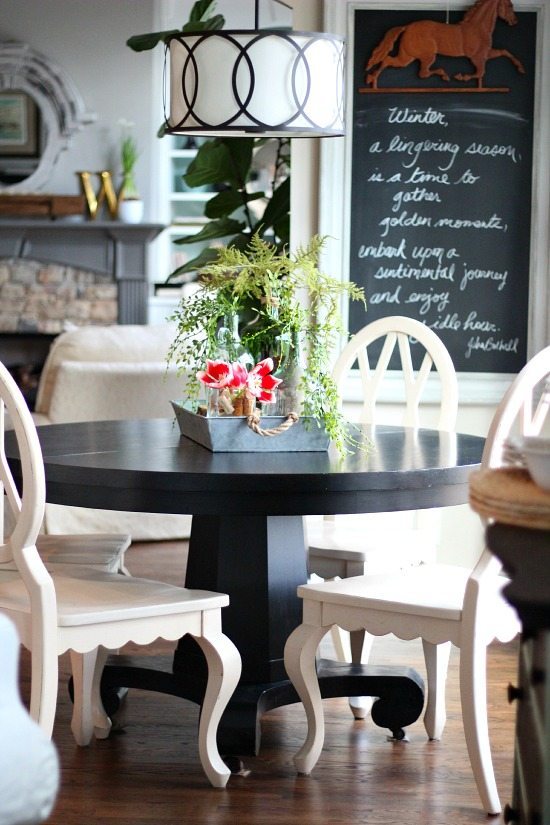 Tips to take away: free can be beautiful, vary heights of objects, vary textures and colors and accessorize in odd numbers.
Be sure to visit these creative bloggers below also participating in the Three Month Challenge! 
Refresh Restyle 🙂 me

Are you ready to participate with us? You can!!! We wanted to give you a chance to share your amazing decorating tips and projects and to ask questions and advice, so we have created a forum specifically to do that on Facebook. Visit the Decorating Enthusiasts page HERE to begin chiming in and sharing what you have done.
This is where you can join the challenge and share your One Space, Three Ways as well! Hope to see you there!