Christmas decorating is underway! I'm joining an awesome group of Atlanta area bloggers for our Merry + Bright Holiday Home Tour! A special thanks to Shelly and Kellie for putting this wonderful tour together!
I love a home tour that you can visit without leaving your house! Grab a coffee and settle in, we hope you will be inspired!
If you're visiting from Elaine's  OMG Lifestyle Blog welcome! If not be sure to go see her!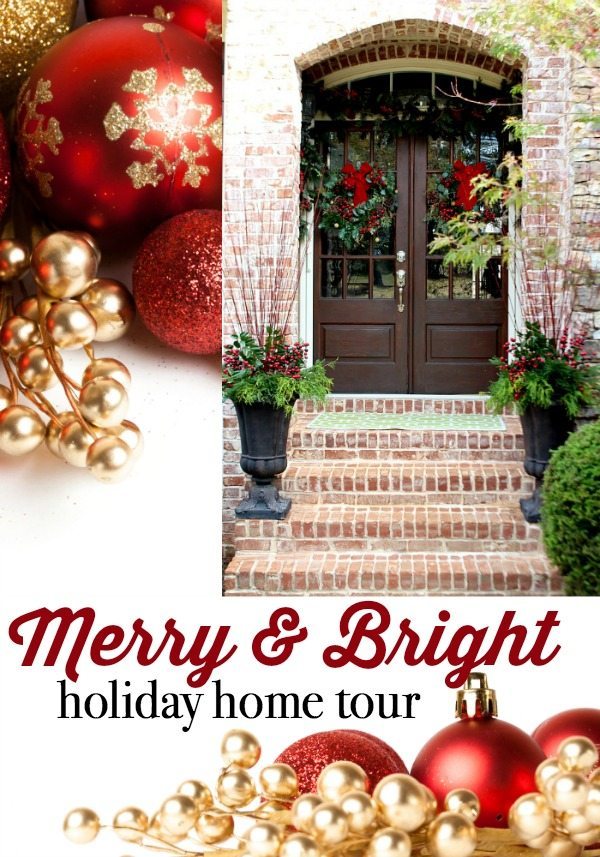 Today I am sharing some easy ideas for refreshing your space for Christmas without spending a ton of money!
Just before we left town for Thanksgiving I worked on sprucing up our front entrance. These double doors are a favorite of mine to decorate. I refreshed the wreaths that I already had. It was easy to change out the ribbon and add a bit of evergreen from the garden. Above the doors, I used this perfect garland that I found at Hobby Lobby (50% off of course). It has a mix of pinecones, red berries and real looking pine needles.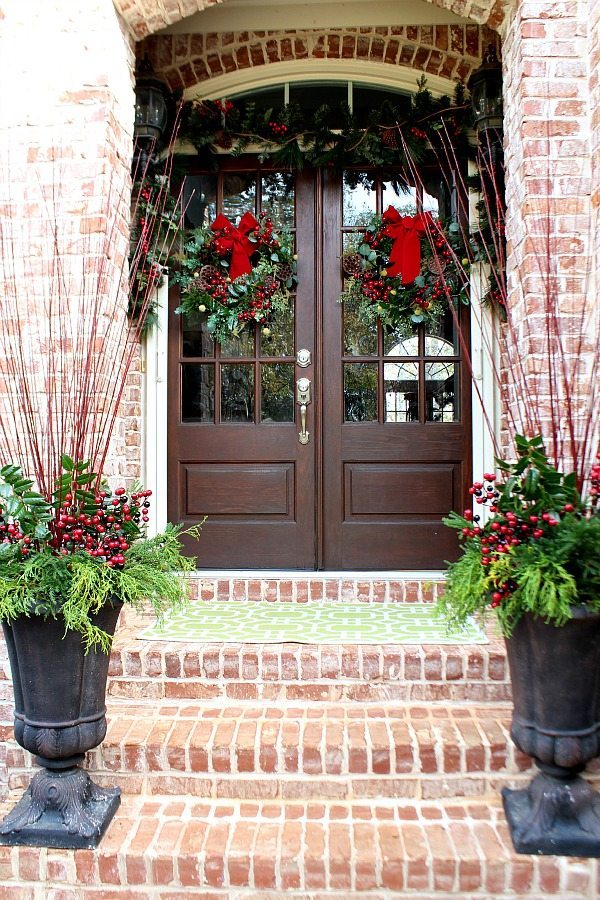 Before I go on,
Let me introduce you to the Merry and Bright Home Tour decorators:

I hope you will visit each tour, these talented ladies are sharing a lot of fun decorating ideas. There is a link to their blogs at the end of the post.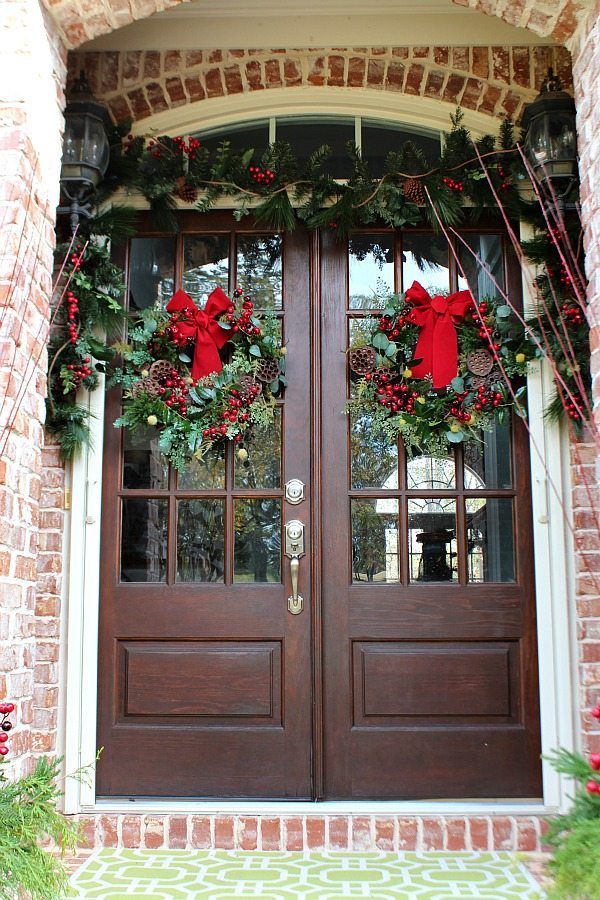 Adding a few touches of Christmas decor to your door or front porch area is as easy as 1, 2, 3.
You can never go wrong with fresh winter greens from your yard. Keep the expenses down!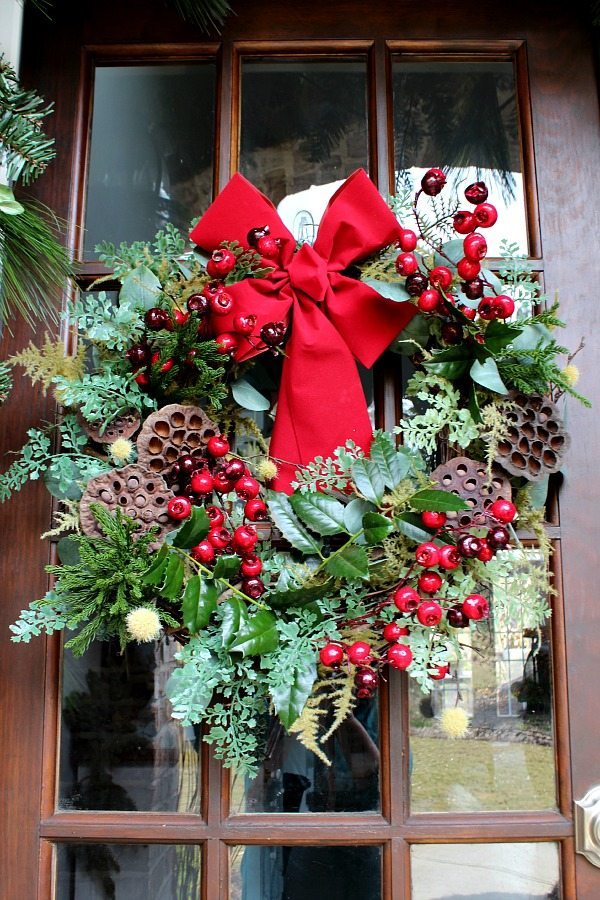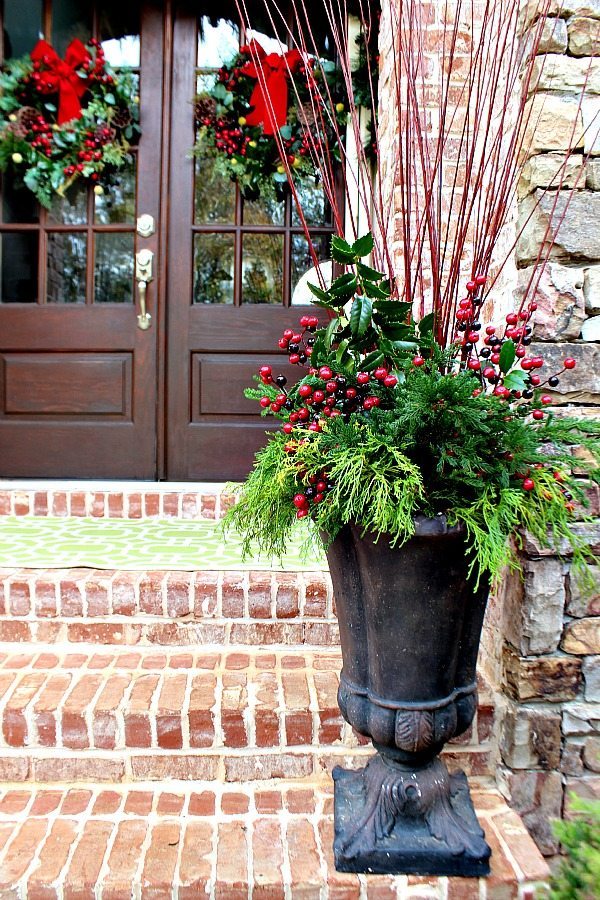 For the urns, I just cut the tops off the summer flowers. Yep. Left the roots in there! I found the red twigs at Hobby Lobby (50% off). I placed them in the center. Clipped my evergreens and stuck them around the twigs. Filled in with fake berries. I did this last year and the greens lasted a long time!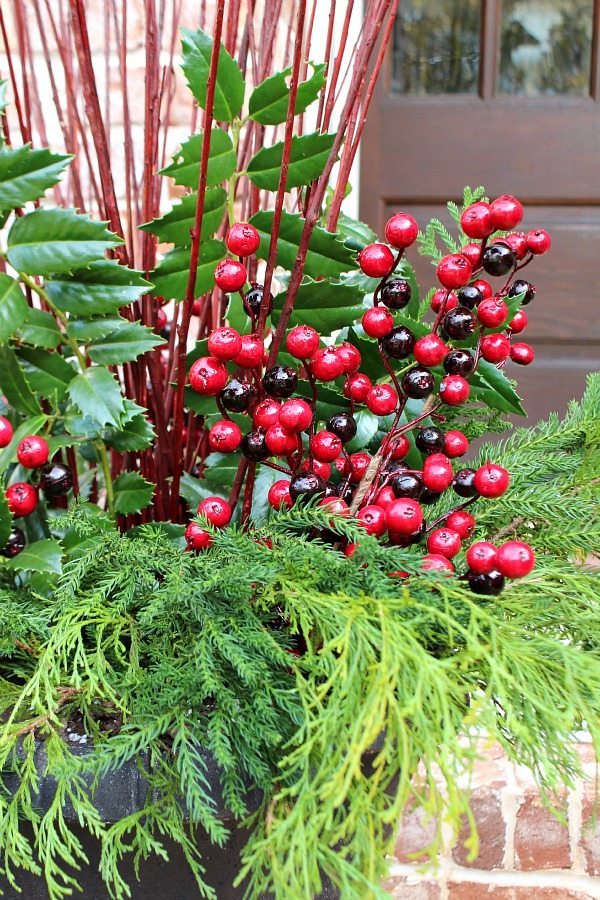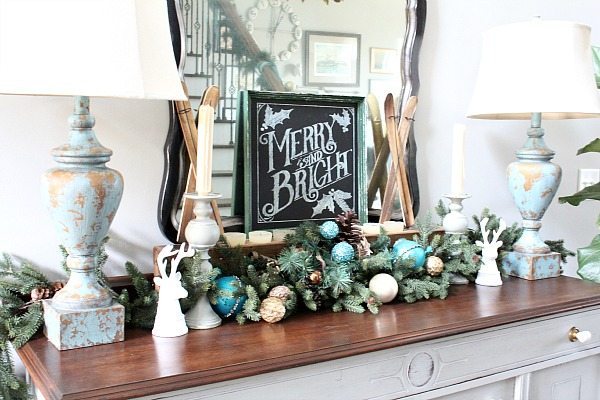 As soon as you walk in our front door you are greeted by our vintage buffet. The lamps are a staple there, all I did was:
add candles
add greenery
add Christmas ornaments
The small skis have been spied all over blog land. Who can resist the $3 section at Target?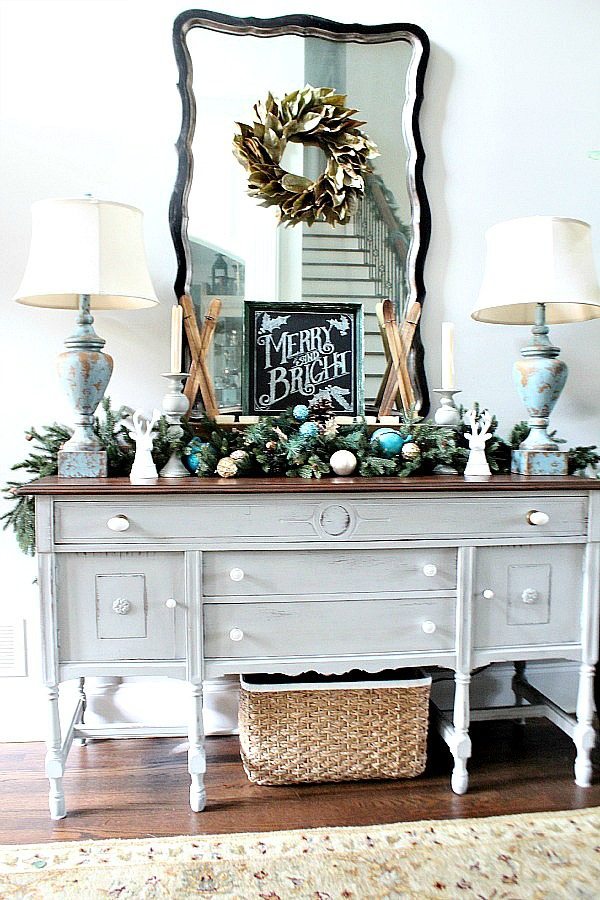 This is where I serve drinks and set up our buffet. The perfect space to decorate for any holiday.
I found the perfect sign for our Merry and Bright tour at Big Lots! It's looks like a chalkboard!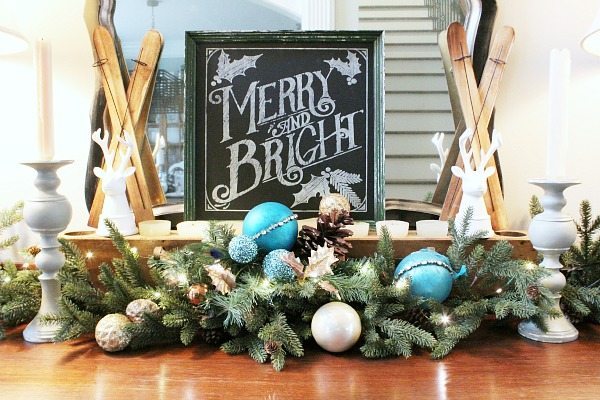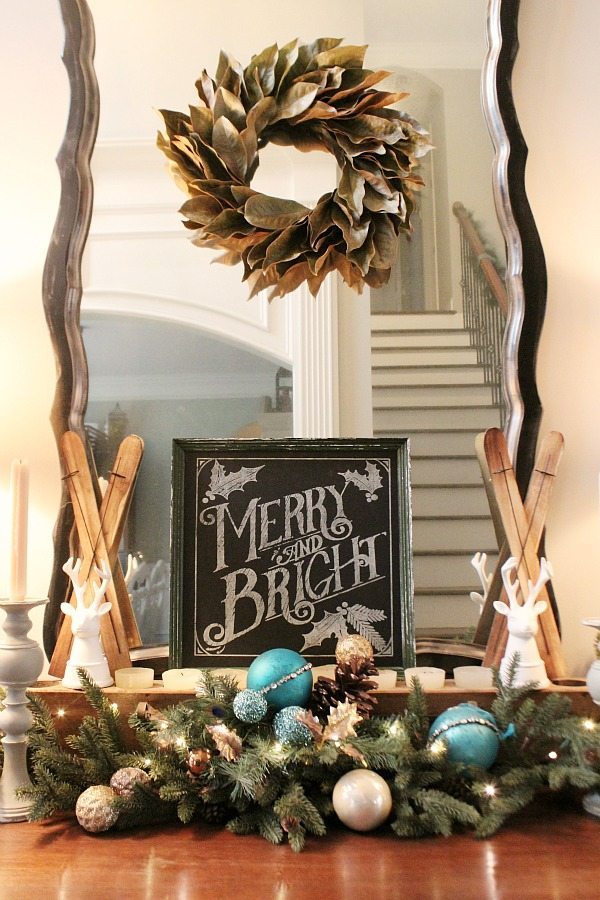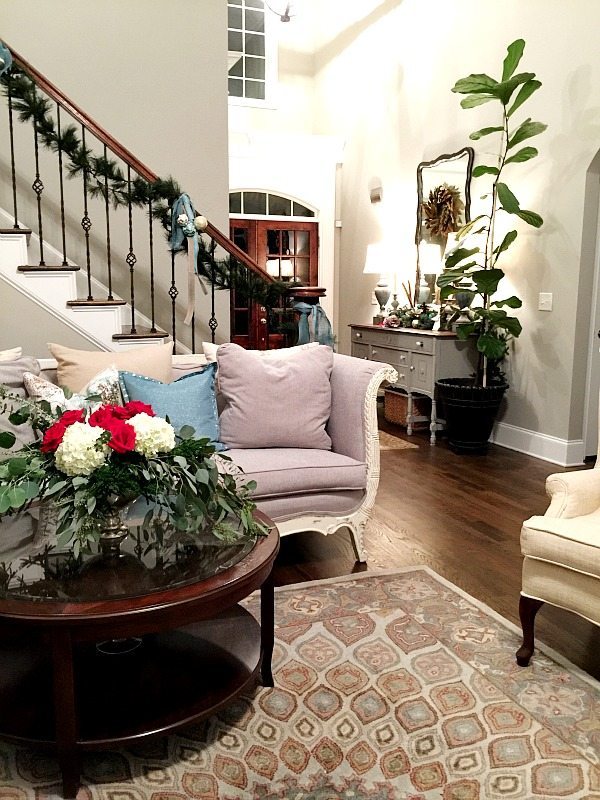 I have such a mix of blue in the living room and entry, I decided to add red roses in the arrangement on the coffee table. When it comes to colors, I am not a stickler to matchy-matchy. I think all colors look beautiful together! The bedrooms are decorated with red and gray.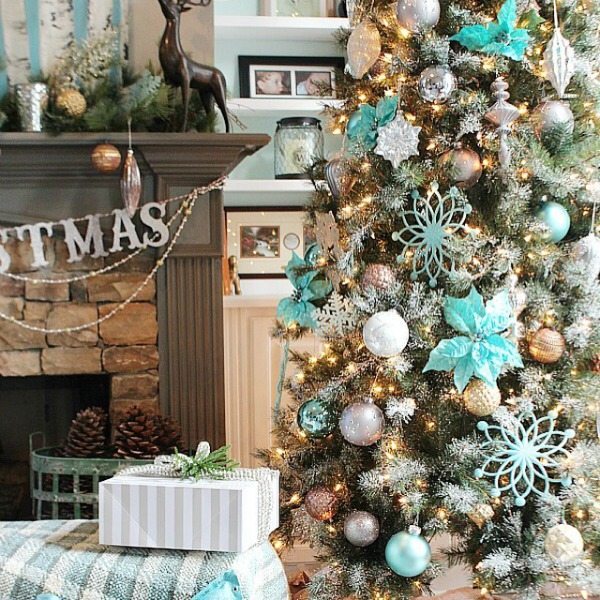 This year I am one of the Balsam Hill 12 Bloggers of Christmas. My tree is filled with all things that remind me of winters first snow fall. Being in Georgia, that probably won't happen any time soon!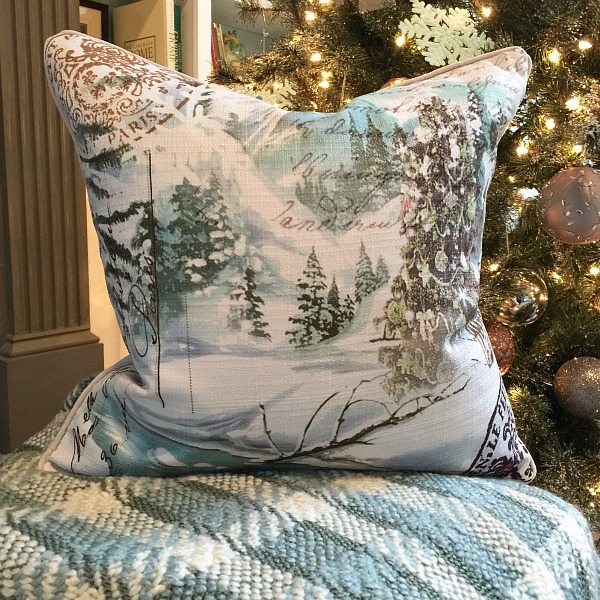 Last year I used a lot of plaid in my Christmas decor and I was a little sad not including any plaid in my blue rooms and then I found this awesome throw at HomeGoods. It is perfect!
What are your decorating plans??
Now on to the next Merry & Bright Holiday Home:
---
Thank you so much for stopping by, please enjoy the rest of the Merry &  Bright Holiday Home Tour:
Follow along on Instagram: #merryandbrightholidayhome
[tweetthis]Merry + Bright Christmas Ideas #merryandbrightholidayhome #atlanta #bloggers[/tweetthis]
---
I hope you will click over to our Country Living Christmas home tour with Cherished Bliss: