This is a story about pecan milk shakes, a cheerleader and Slim-Fast. I'm not sure what I was thinking, but jealousy and milkshakes do not make for a good combo. Life got busy. I didn't have time to think about what I was eating, or at least that's what I tell myself. I gave up my daily walks and my line dancing. I was too busy working hard–wasn't that enough?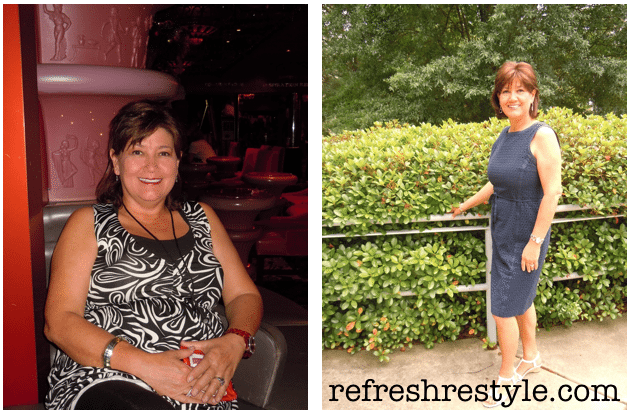 I'm ready to look like I did in the picture on the right.
I started painting and selling furniture a little over a year ago. Things were going really well. I was in a whirlwind: shopping for pieces to refresh, cleaning, painting, finishing them and driving two hours roundtrip to take them to the store. One day I took a friend along to deliver my furniture. She introduced me to the best pecan milkshake in the world. So once a week, when I delivered my furniture, you know what I did? I'd stop on my way for a milkshake. At first it was a small one, it went down fast and tasted so great. I did feel guilty because I had maintained my weight for a while. I told myself that I was working hard and I could get the weight off–all I had to do was eat a few salads and skip a few meals. I'd drive by telling myself that I didn't need one this week, and then on the way home the truck would get in the turn lane and exit. It was hot–I had just worked several hours, unloading furniture and restyling my area. I deserved a sweet refreshing pecan milkshake, in fact I think a large one would be a great reward. I'm working hard, eating fast food, not exercising, rolling right along. Life is good, I still had my big jeans! I slipped comfortably right back into them. I thought it was really smart of me that I had kept them! Then it happened. We went to the lake and I was wearing my big suit, with the flirty skirt and my black cover-up. Yes, I had gained weight. But so what, I'm over 50, you get bigger when you get older, right? I'm in my big suit with the flirty skirt and there she is. The cheerleader and all I can think about are those milkshakes and what they'd done to my body. I dread the trips to the lake and the site of the gorgeous cheerleader. The one that's my age and still weighs the same as she did in high school. The one that was the head cheerleader, while my husband was the quarterback in high school. I know how I want this story to end: I don't want to have another summer in the big suit with the flirty skirt. I don't want him to silently compare me to the cheerleader–I want to be the cheerleader!
Tell me your "cheerleader" story for a chance to win! Have you ever wanted to lose a few pounds to feel more confident around THAT GIRL? Leave me a comment with your honest reason for wanting to lose weight. Comment entries will be pooled between participating blogs and two lucky winners will be picked at random to each win a $1,000 SpaFinder gift card!
Rules:
No duplicate comments.
You may receive (2) total entries by selecting from the following entry methods:
a) Leave a comment in response to the sweepstakes prompt on this post
b) Tweet (public message) about this promotion; including exactly the following unique term in your tweet message: "#SweepstakesEntry"; and leave the URL to that tweet in a comment on this post
c) Blog about this promotion, including a disclosure that you are receiving a sweepstakes entry in exchange for writing the blog post, and leave the URL to that post in a comment on this post d) For those with no Twitter or blog, read the official rules to learn about an alternate form of entry.
This giveaway is open to US Residents age 18 or older.
Winners will be selected via random draw, and will be notified by e-mail. You have 72 hours to get back to me, otherwise a new winner will be selected.
The Official Rules are available here.
This sweepstakes runs from 6/13/13 – 6/30/13.
Be sure to visit the Slim-Fast brand page on BlogHer.com where you can read other bloggers' reviews and find more chances to win!