It's time for the second edition of
Tips to Shop Your Home ~
No Cost Decorating

I'm joining five designers to show you how to create a beautiful home with out spending any money. Each blogger chose one spot to decorate by shopping their home.  We all have things that we've purchased over the years, things we love and things we can use to refresh our spaces. Links to their ideas are at the bottom of the post.

 
Last month I showed you how I decorated my kitchen table for free to achieve the Pottery Barn look and all I did was walk around the house and gather a few treasures from other rooms.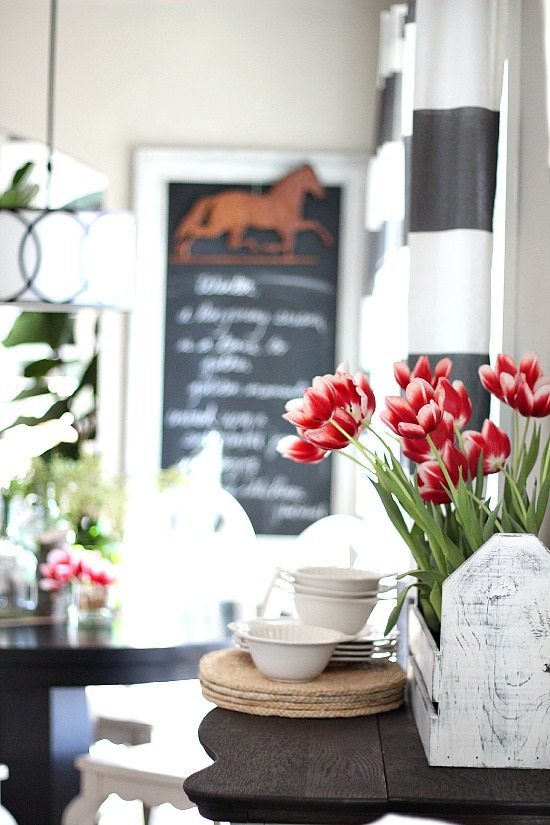 With all the dreary, cold, wet days I thought I would refresh my kitchen table with spring in mind. Here's my no-cost idea for this months decorating challenge.
 Think spring free decor idea:
1. Gather all things blue (or whatever color objects you collect)
2. Gather all things green
3. Gather all things white
4. Greenery, flowers, real or fake
5. Layer placemats
6. Mix of everyday dishes
7. Use white napkins with spring napkin rings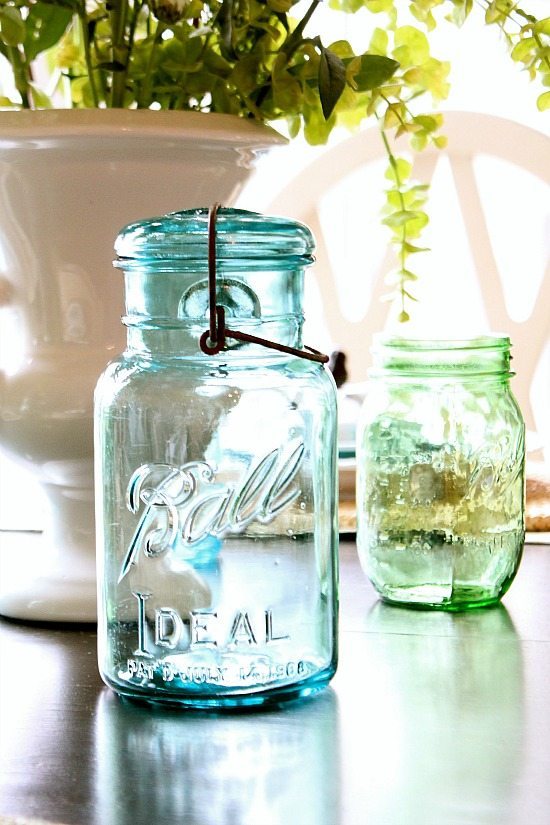 Mason jars are one things that I collect, a few years ago at a yard sale I bought a box of them for $5.  There were several blue ones in there! Recently, I've seen blue mason jars in every antique/junk store that I've been to.  The green ones are new, love the way they sparkle in the sunlight.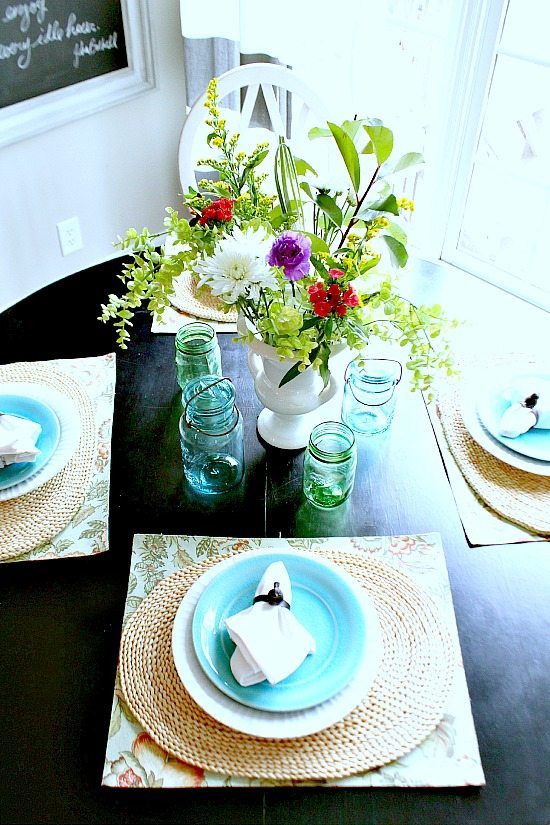 The white plates are what we have used everyday for 15 years! I didn't even realize it had been that long! I bought the aqua salad plates at Two Women and a Warehouse in Savannah, when I was a vendor there.  I layered 2 placemats, grabbed my white napkins and some cute bird napkin rings, all items collected over the last few years.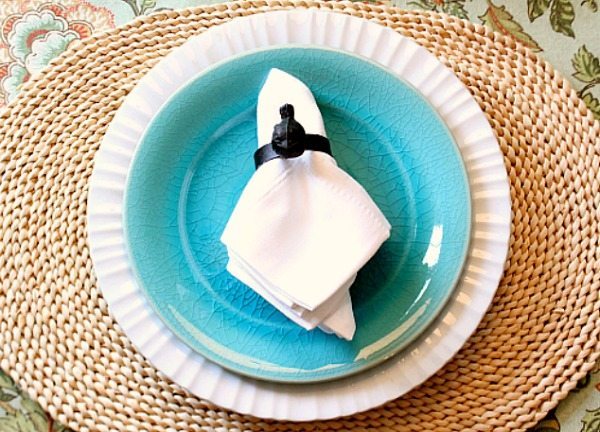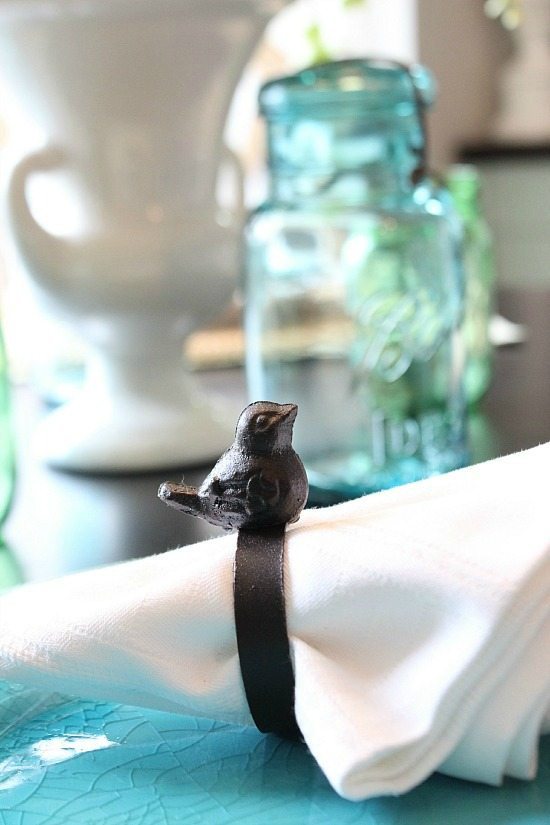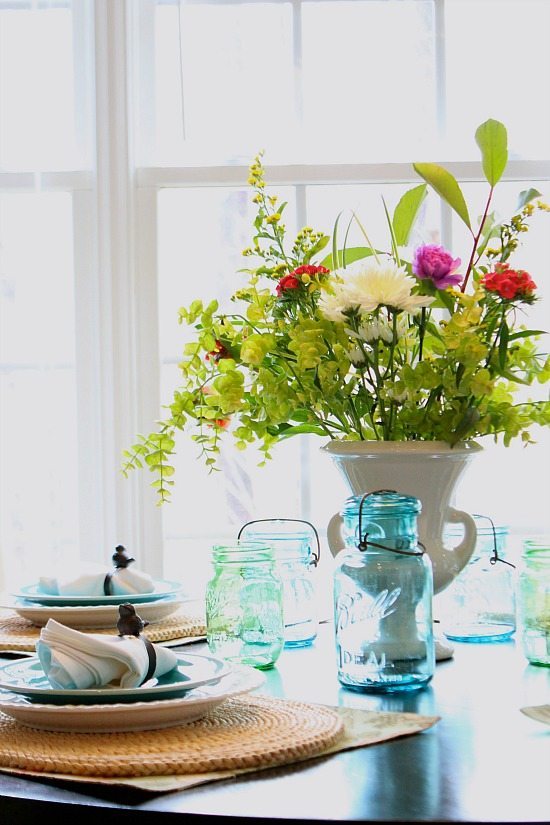 For the arrangement, place in your collected container and add flowers and greenery.
This space gets lots of natural light, even on a cloudy day, thanks to a huge window. I love how the light streams through the green and blue glass of the mason jars.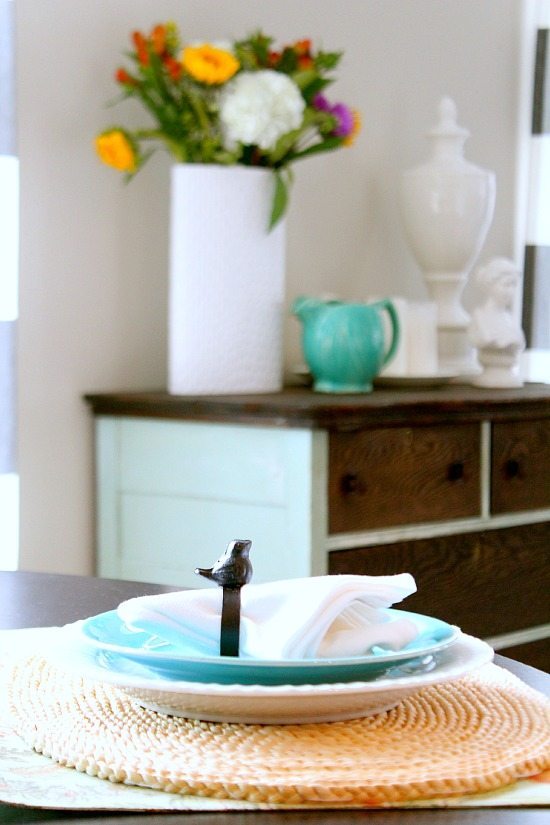 I spread the free spring theme through out the space by adding pieces of white pottery, vases and flowers on the dresser turned side board.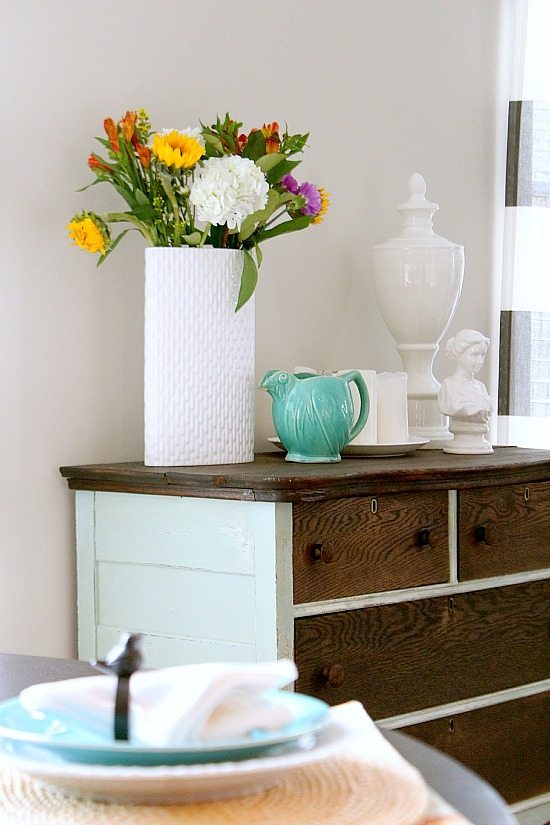 My daughter is a wonderful gifter, she found the aqua McCoy pitcher and gave it to me!  She knows me so well!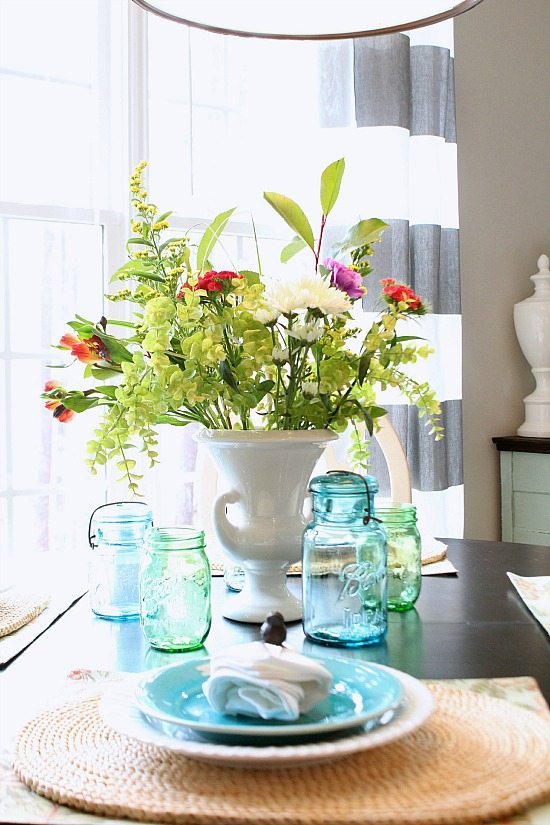 I have found that if you only buy what you love, you will keep it forever! And if you're like me, you will be able to use it in every room. The only decorating trend I follow is the one that speaks to me, I guess that's why I have so many options for free decorating, with items I never get tired of 🙂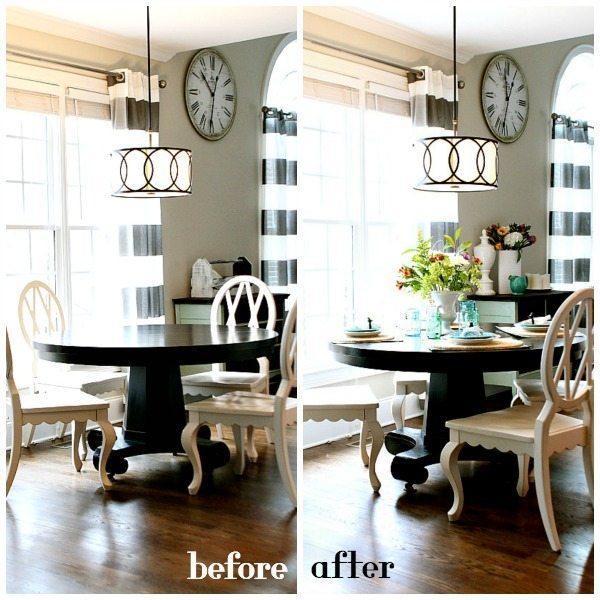 I walked around the house gathered things from other rooms, added my everyday dinnerware and fresh flowers to create my spring centerpiece.
Visit all the amazing ideas from my talented friends:
Be sure to visit these fabulous ladies below and see what they did for Month #2!
Shop my Amazon affiliate if you need mason jars:
Join our Facebook group, share your ideas with us!

Are you ready to participate with us? You can!!! We wanted to give you a chance to share your amazing decorating tips and projects and to ask questions and advice, so we have created a forum specifically to do that on Facebook. Visit the Decorating Enthusiasts page HERE to begin chiming in and sharing what you have done.
This is where you can join the challenge and share your One Space, Three Ways as well! Hope to see you there!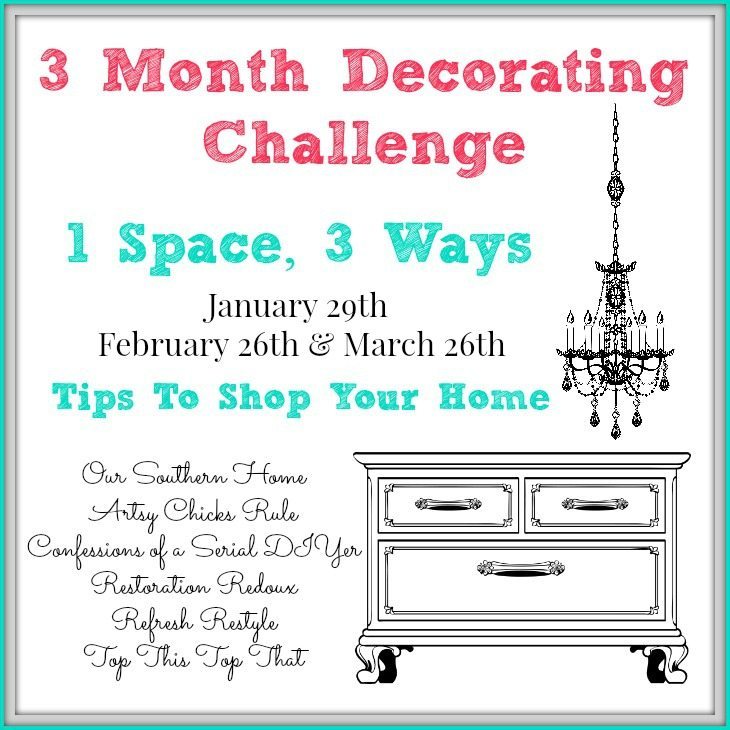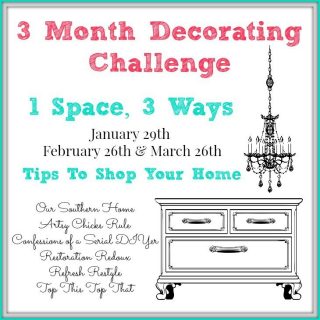 Join us next time!