Welcome to the May Power Tool Challenge! I am sharing a window repurpose garden idea!
Our group is back with DIY projects for your porch and patio that you can complete with a few power tools! Be sure to check them out at the end of this post.
We have an amazing outdoor area but the stairs to the deck above felt like an eyesore.  I have deemed it my outdoor wall and I've decided to do all I can to make it prettier.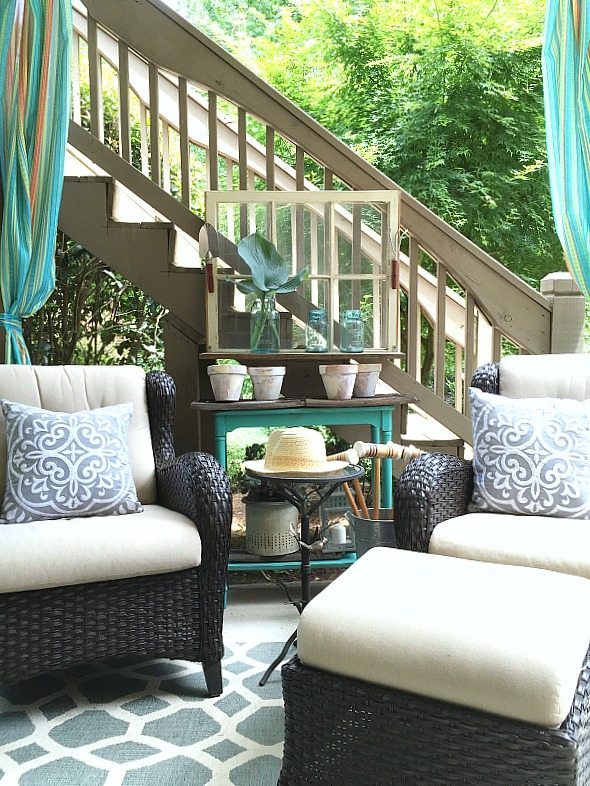 Repurpose that old window that you have stashed in the garage, oh wait, that was me.
It's a great place for hanging your hat and adding a few candles or other decor.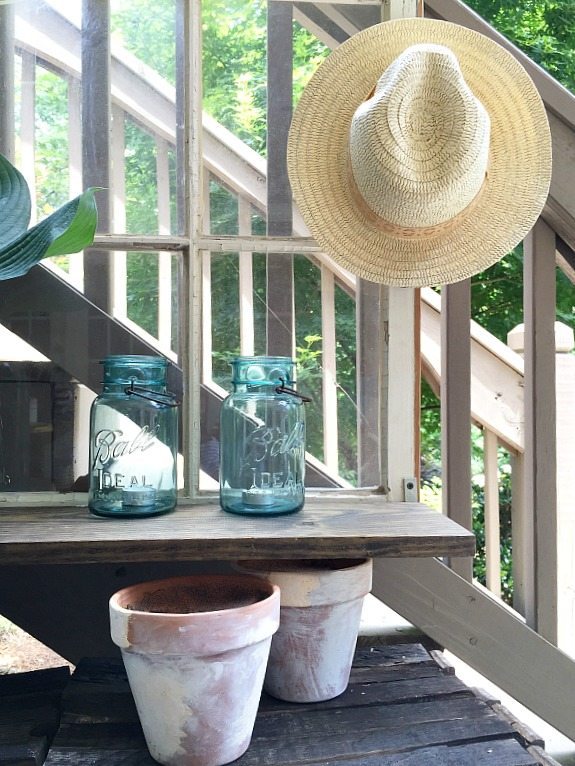 I am featuring one of my go-to tools, the Bosch right angle drill/driver. The head swivels, it's light weight and perfect for projects like this one.

Supplies:
Old Window – 27″ x 32″ (any size – this is what mine is)
Board – 1″ x 8″ cut to 32″ (mine was roughly 32″, left over from this floating shelf project)
Drill with drill bits and screw driver bits- Bosch 12-Volt Right Angle Drill/Driver
L-Brackets – 2 each
Screws – 8 each for the L-brackets ( 4 @ 1″ and 4 @ 1/2″)
Heavy Duty D-Rings with screws – for hanging
Wood handled hand shovel and rake and 2 each 1″ screws – these are optional and purely decorative
Instructions:
Measure your window and cut the 1″x 8″  lumber shelf to fit – mine was 32″ wide.
Mark the area where you will be attaching the L-brackets with a pencil
Using the drill with a drill bit to pre-drill
Switch out drill bit for screw driver bit and attach the L-bracket to the window
Position the shelf board and mark with the pencil where the L-brackets will attach and pre-drill.
Using the 4 – 1/2″ screws attach the shelf to the window.
Attach d-rings to the back of the window to hang.
Pre-drill the handles of the hand rake and shovels, attach with 3/4″ screws. Perfect for hanging your garden bonnet.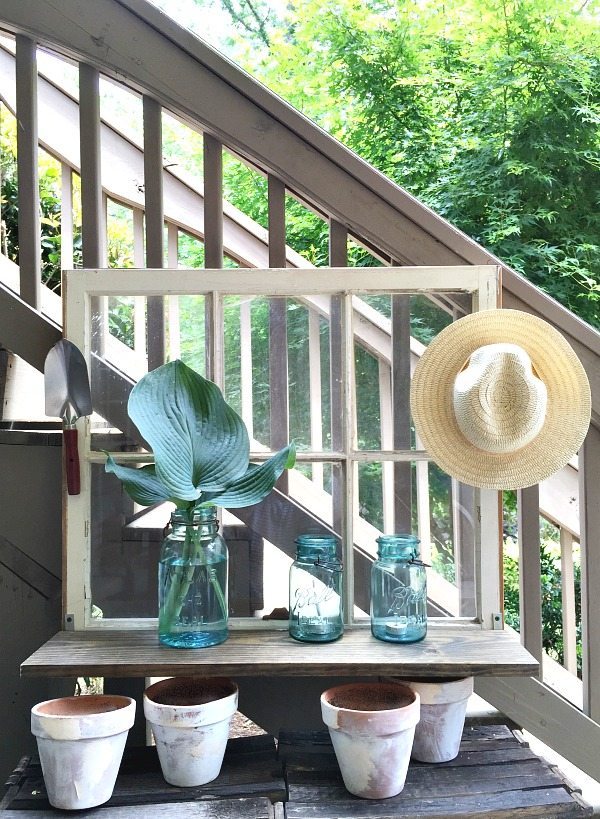 The garden shelf  is great idea for an old window and who doesn't love old window!
Paint it all if you like or leave it chic and chippy, like I did. The skies the limit!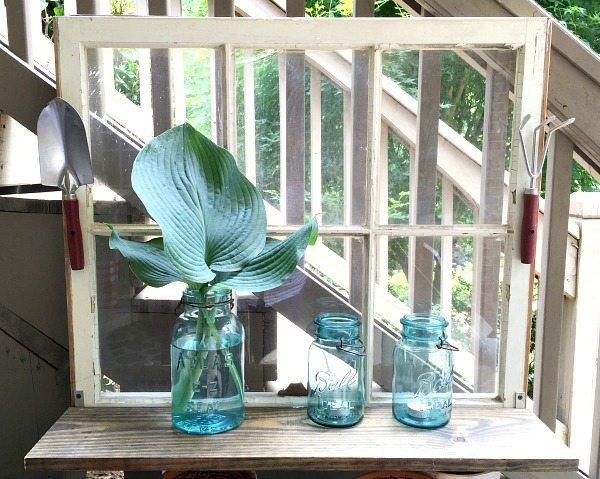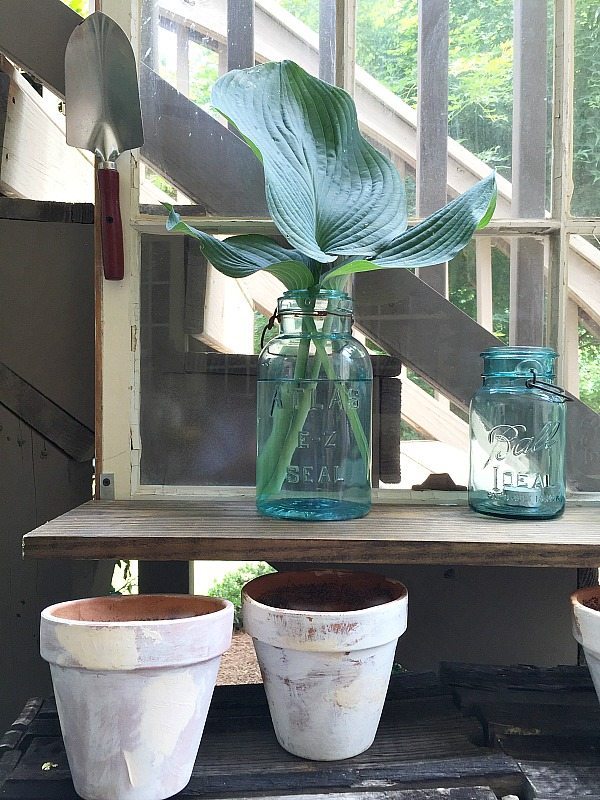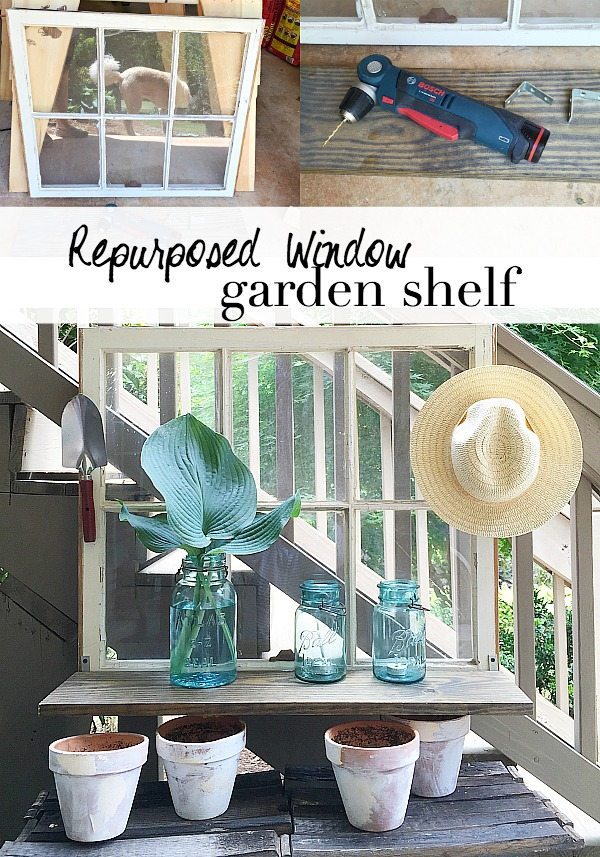 Time to check out the Power Tool Challenge projects:

1. Long Porch Planters by My Love To Create
2. DIY Flower Pot Plant Stand by Her Tool Belt
3. DIY Easy Swinging Bed by Domestically Speaking
4. PVC Pipe Vertical Garden by Kim Six
5. How to Build An Outdoor Serving Table by Create and Babble
6. Repurposed Window Garden Shelf by Refresh Restyle
7. Trimming Out Porch Posts by My Repurposed Life
8. Stenciled Concrete Topped Table by Designs By Studio C
9. 2 X 4 DIY Bench by Virginia Sweet Pea
10. DIY Outdoor Sofa Table Tutorial by H2OBungalow
11. Repurposed Electrical Spool Holder Table by Designed Decor
12. DIY Outside Standing Plant Hanger by Confessions of A Serial DIYer