Christmas Gift Wrapping with Natural Elements plus 9 more gift wrapping ideas that are almost too pretty to open!

I decided to add a few natural ingredients to gift wrapping this year. The main color on the tree is aqua – turquoise. Mixing fresh eucalyptus and feathers just seemed like the perfect addition.
I bought a bunch of feathers at the Country Living Fair in Atlanta recently. The eucalyptus is from Hobby Lobby, I remember years ago using it in every wreath in the house. I guess everything does come back around again. The evergreen sprigs are from the yard.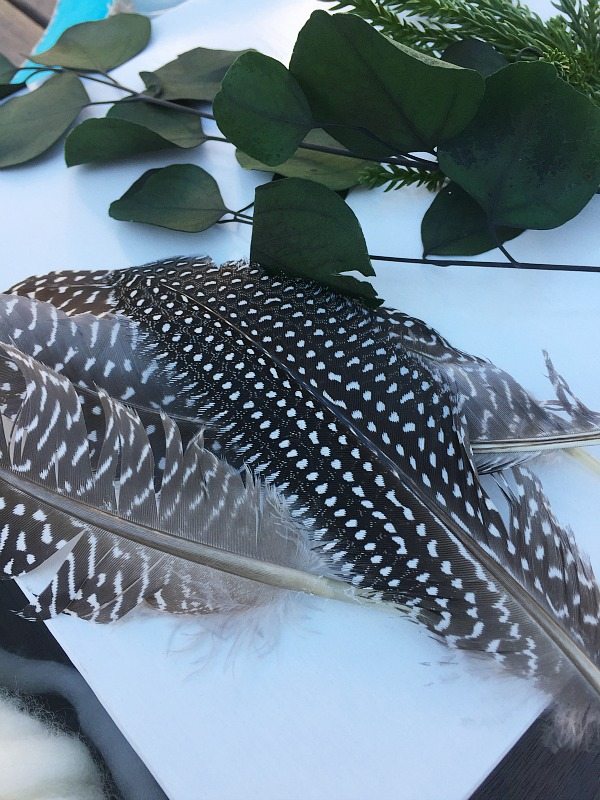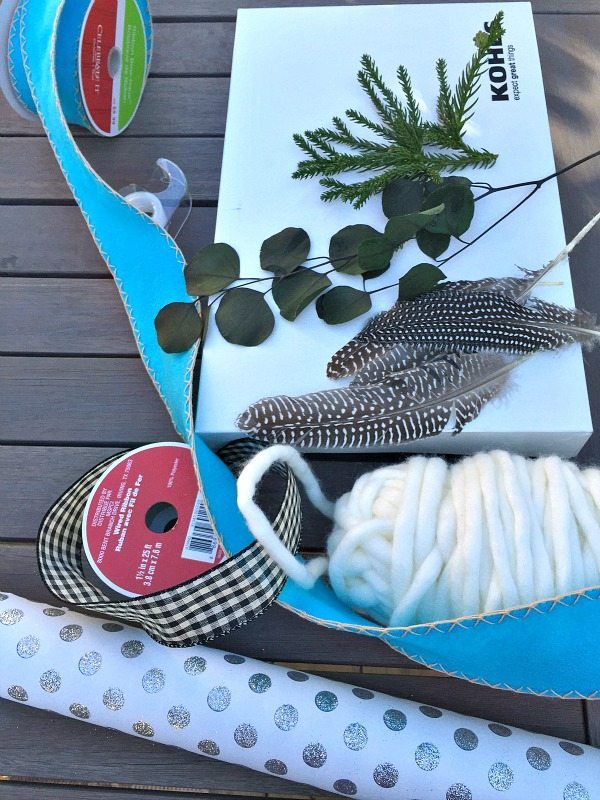 For gift wrapping this year, I'm using a variety of gray and silver wrapping paper. I found this roll of white with silver glittered polka dots at TJ Maxx. I have seen similar at Marshall's and HomeGoods. The price rage was $2.99 to $3.99. Very reasonable prices and it's beautiful.
I wrapped my gift box with wrapping paper and attached the blue ribbon around the center of the box, taping it on the back. You can get creative with your ribbon. I kept it simple on this one, one wrap around the center.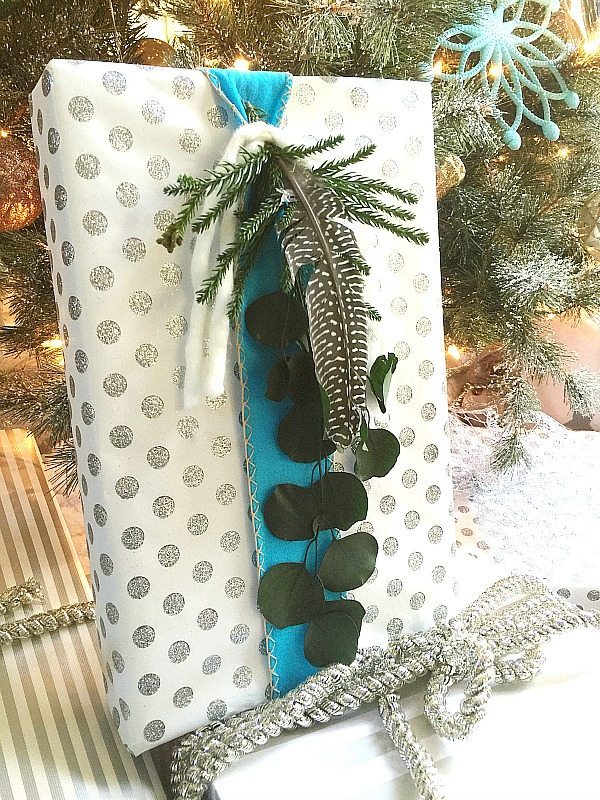 I gathered the eucalyptus, evergreen and the feather and secured it with a piece of yarn. Use a double knot for added security. Cut another piece of yarn to tie the natural embellishment to the aqua ribbon.
Simple as that, you have a one of a kind Christmas gift wrapping idea. You can vary every item to make each gift look different.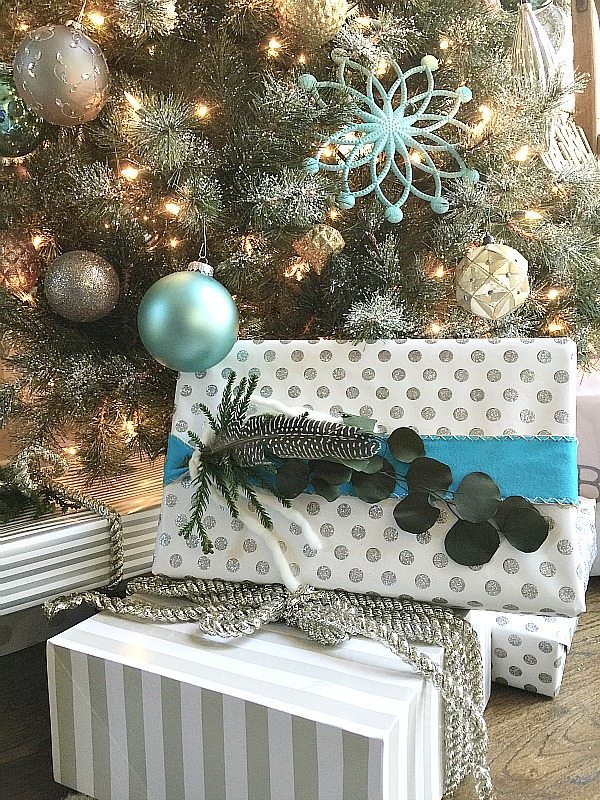 It looks so pretty with the colors of tree and the other neutral gifts.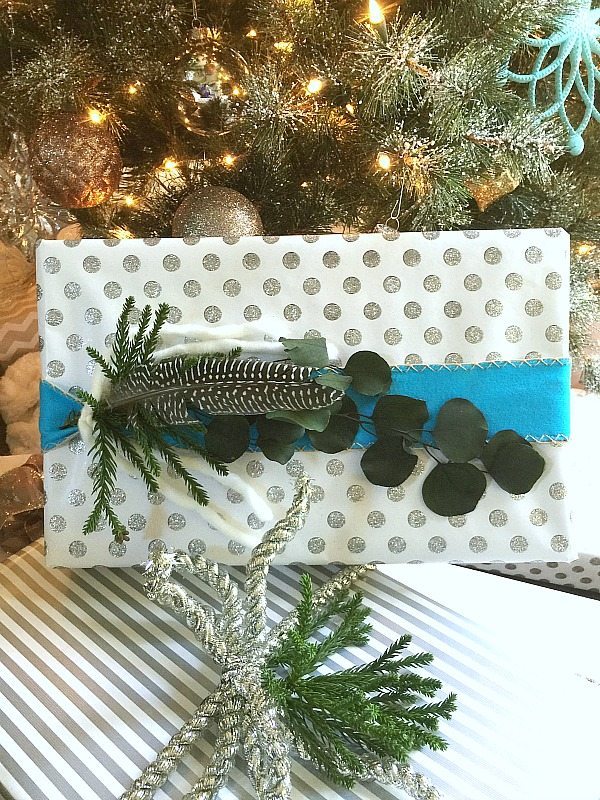 Now it's time for more Christmas gift wrapping ideas!
Please click on each link and get 10 Ideas for Gifts too pretty to open!
Sunday, November 16th
Monday, November 17th
Housepitality Designs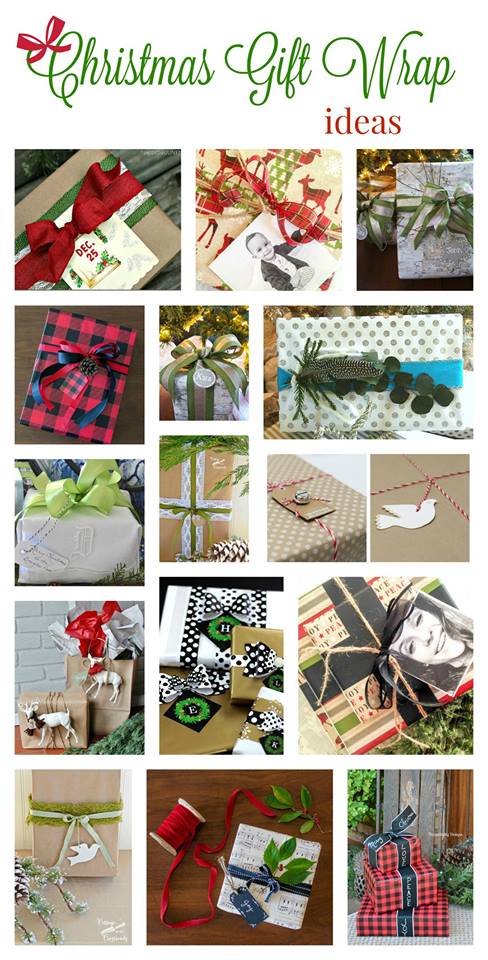 A sneak peek of my Christmas tree: